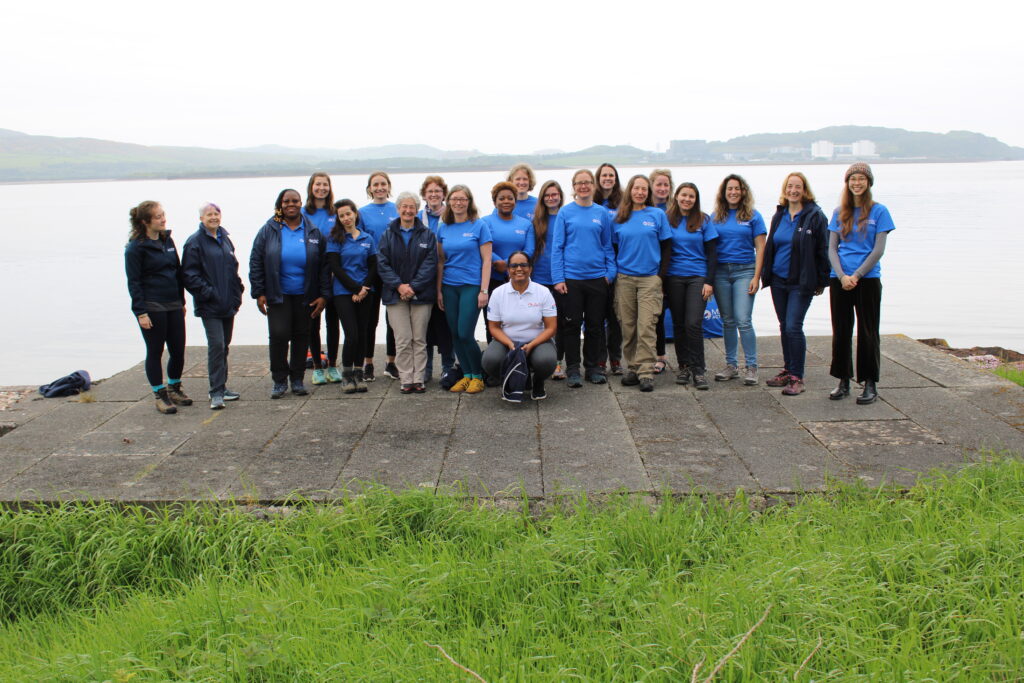 #Featured #GeoDev #People
MapAction looking for volunteers to unlock information management barriers in humanitarian sector
MapAction is looking to fill six new volunteer positions with candidates who have the right skills to support work in the following fields: geospatial, development of geospatial training content, data science, data visualisation, software development and data engineering. Help MapAction and the humanitarian sector mitigate climate change and health emergencies through innovative use of software, geospatial technology and training, visualisations and data solutions.
Every day we hear news of how climate change is having devastating consequences for communities worldwide. As the effects become more clear and prominent – floods, droughts, hurricanes and natural disasters  – it is easy to feel helpless before the mitigation task at hand.
At MapAction we are working to strengthen early warning systems, anticipatory humanitarian action, so that communities exposed to climate change and health emergencies can be more prepared and resilient.
Frontline communities affected by a health or climate emergency depend on humanitarian agencies getting decisions right. These decisions, in turn, depend on good use of data.
At MapAction, we are always looking for innovators who can bring their skills and experience to create data solutions that can support saving lives in humanitarian disasters. That is why we are inviting a software developer who can unlock information management barriers with innovative data solutions, a data engineer who can unlock devops challenges and review data and code hygiene issues, as well as a data scientist who can design innovative data-delivery breakthroughs for humanitarian agencies and partners. The geospatial volunteers will help us to continue to place the benefits of mapping and geospatial analysis at the service of humanitarians.
Data scientist and data visualiser
The data scientist performs statistical analysis of geospatial data and helps us create data visualisations and dashboards. They review literature, collaborate with partners and help design and provide internal and external training. The data visualiser, on the other hand, will maintain the highest standards for visual communication, produce and test reports and dashboards, as well as charts and infographics. Each of these roles will work closely with the others.
IN IMAGES: MapAction conducts simulated volcanic eruption response exercise on Isle of Cumbrae
Each role, however, is designed to streamline the work MapAction does: delivering a more efficient and data-driven humanitarian operations field, to support decision-makers in getting it right, so that lives are not needlessly lost or negatively affected. For a data engineer this might mean running a prototype environment to review how MapAction integrates software projects alongside mapping/data projects. It might mean cleaning script redevelopment – code hygiene – or deploying source controlled python scripts into a project workspace. For a data scientist, it might mean working with a software engineer or a specific disaster model or a tool to support early warning or relief decisions. Data and software engineers will also review coding standards and guidelines.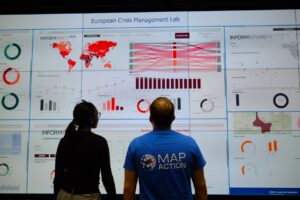 Geospatial specialists
For a geospatial volunteer, it might be one map that opens up a huge aid solution or unlocks critical early funding for a CSO or humanitarian resilience network. In 2023 alone, our geospatial volunteers have responded to major crises alongside the UN in Turkiye, Libya, Kosovo and Peru. As a geospatial training content developer, you might engage in any number of activities: from providing support to CSOs in Southeast Asia or Southern Africa, to working with regional partners like the Caribbean Disaster Emergency Management Agency (CDEMA) or developing simulation for specific disasters, such as hurricanes.
Many of these roles will entail opportunities to travel and work with some of the world's leading humanitarian organisations: from the UN, WHO or WFP, to regional disaster response coordinators in four continents.
READ ALSO: MapAction disaster mapping volunteers supporting UN on response to floods in Libya
Working closely with MapAction's inhouse tech and geospatial departments – which include software engineers and data scientists –  as well as the UN's Centre for Humanitarian Data in the Hague and other global partners, whoever fills these roles will get the opportunity to develop software, maps, training programmes, visualisations and data solutions that will broadly impact the humanitarian sector, as well as regional and national disaster relief agencies. These will pave the way for long-term impact and resilience. Working closely with national disaster agencies through the Start Network and INFORM, our innovation and tech team review national disaster models and preparedness worldwide, with a frontrow seat to enact sustainable change.
It is an opportunity for people with the right tech skills to see how the wider humanitarian system operates from the inside and where data and geospatial solutions play a role:  a front row seat to understand global trends and pressures driving world events and their consequences on people
Volunteers also provide vital support to UN agencies and other partners in emergency operations centres worldwide, both in-person and remotely. MapAction has been involved in more than 140 emergency responses worldwide in the last 20 years.
Like what you've read and want to get involved? Please click here to see the full list of roles and apply by 14 November 2023.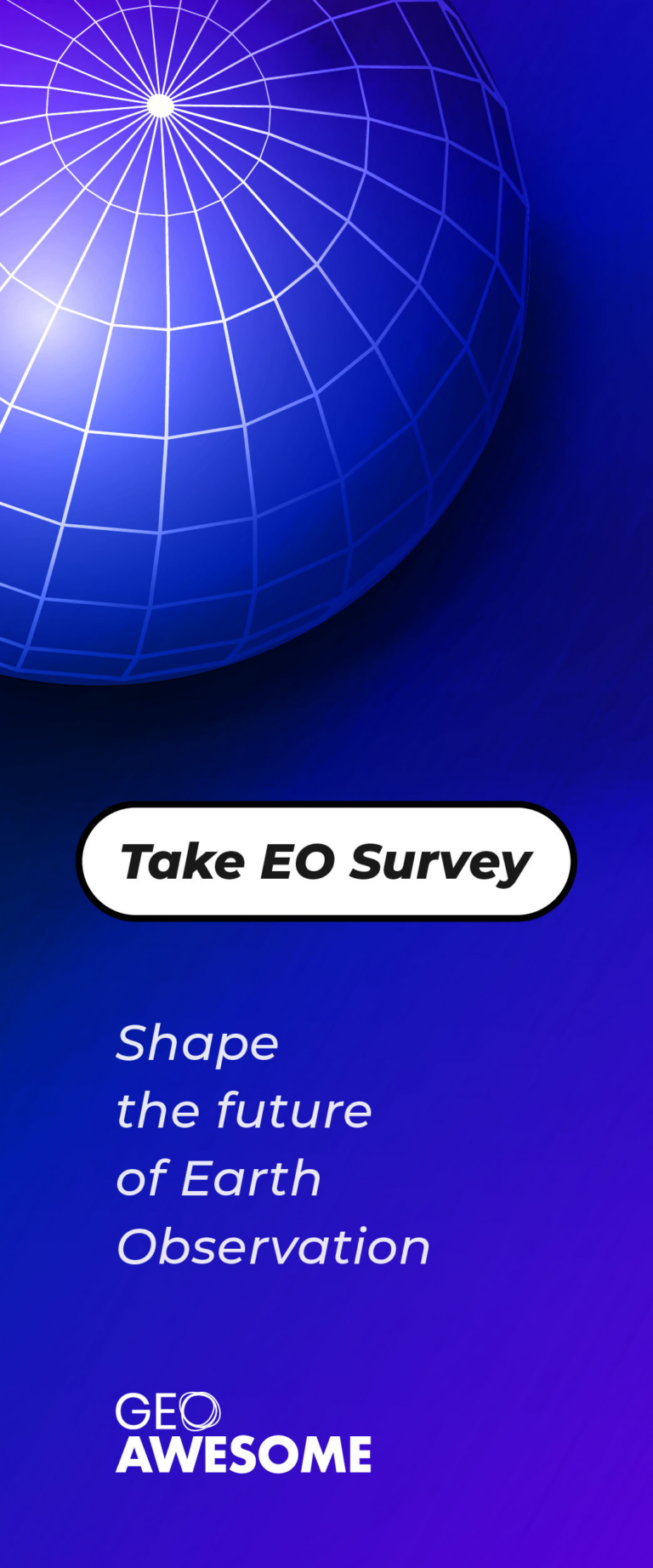 The community is supported by:

Next article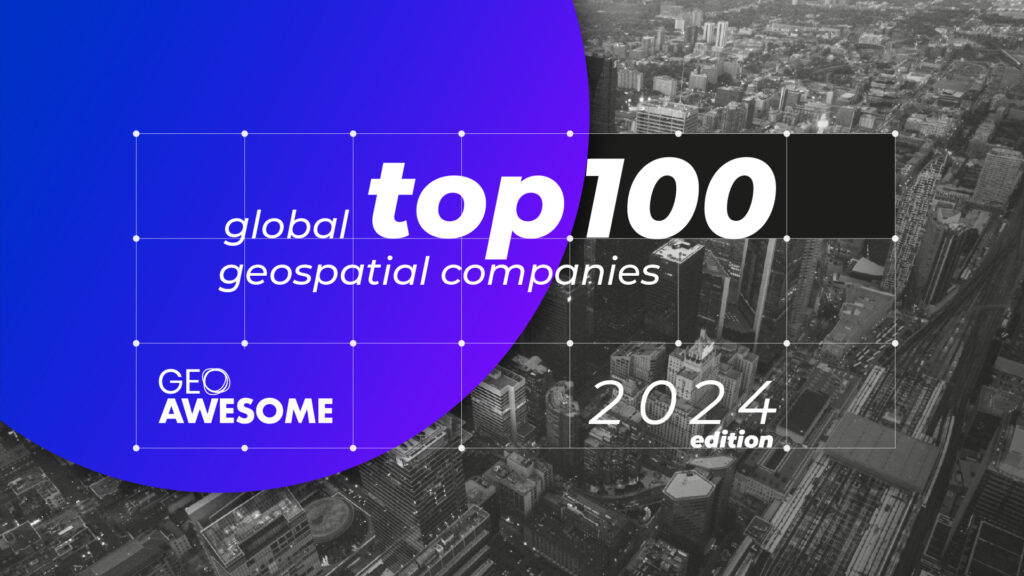 #Business
Call for nominations: Global Top 100 Geospatial Companies of 2024
Call for Nominations: Global Top 100 Geospatial Companies of 2024
Geoawesomeness is excited to launch the nomination process for our esteemed "Global Top 100 Geospatial Companies 2024" edition. We warmly invite your entries until the deadline on Sunday 31st December 2023, offering a unique opportunity for geospatial companies around the globe to be acknowledged for their transformative solutions and approaches.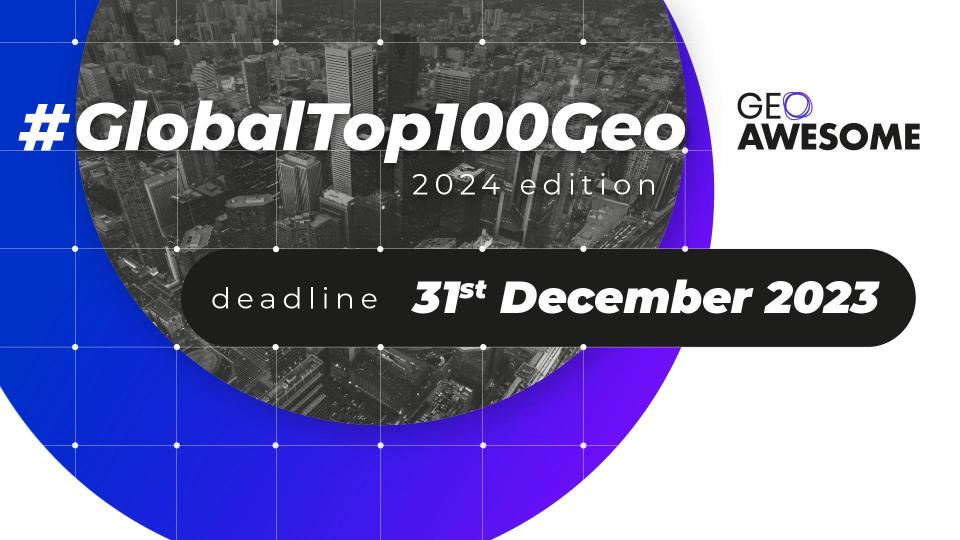 About the Top 100 Geospatial Companies List:
Since its inception in 2016, our annual compilation has recognized pioneering companies that leverage geospatial information and technology to address complex challenges. This authoritative list is not only a salute to these trailblazers but also an indispensable guide for professionals and aficionados across our diverse geospatial community.
You can check out our list from 2016, 2019, 2021, 2022 and 2023.
Selection Process for the 2024 Edition:
What is the criterion for being listed among the elite 100 in the geospatial sector? A comprehensive evaluation by our consortium of industry experts, in tandem with Geoawesomeness' dedicated representatives, Aleks, Nikita and Muthu, will meticulously curate the 2024 edition. The companies in the pool will comprise of all the companies that nominate themselves and the geospatial companies already existing in the Geoawesomeness database.
Timeline and key dates:
Open call for nominations: Monday 16th October, 2023
Deadline for nominations: Sunday 31st December, 2023

Communication under embargo to 100 companies: Thursday 18th January 2024

Publication of the list and online event:

Monday 29th January 2024
Panelists for the 2024 Edition (more names will be announced in the coming days):
and
Whom do I contact in case of questions? 
Please send us an email at muthu@geoawesomeness.com
Nomination form for the 2024 Edition: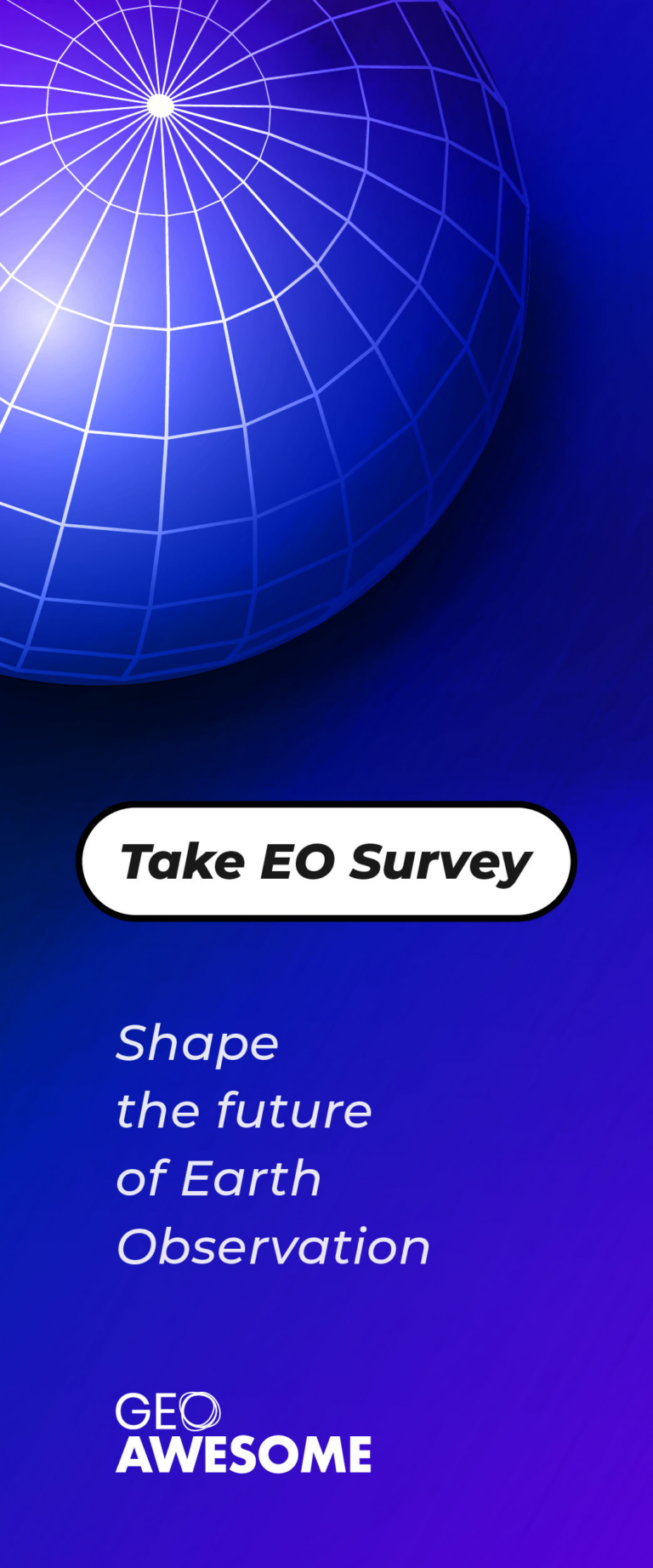 Read on