Videos
Videos for the geospatial community from all the wonderful content creators from all across the world. Here are all the videos that we recommend that you check out to expand your geospatial horizon.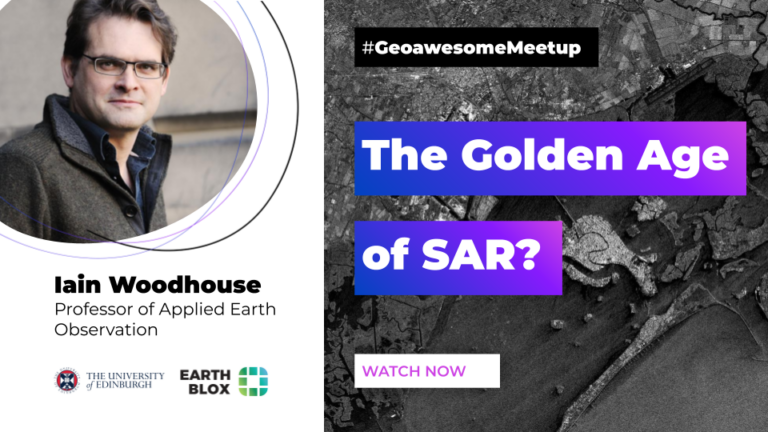 The Golden Age of SAR? | Iain Woodhouse – Professor of Applied Earth Observation at the University of Edinburgh
SAR has promised great things, but has been slow to deliver. Are we now entering the real golden age of SAR, when it becomes the go-to solution for mapping Earth?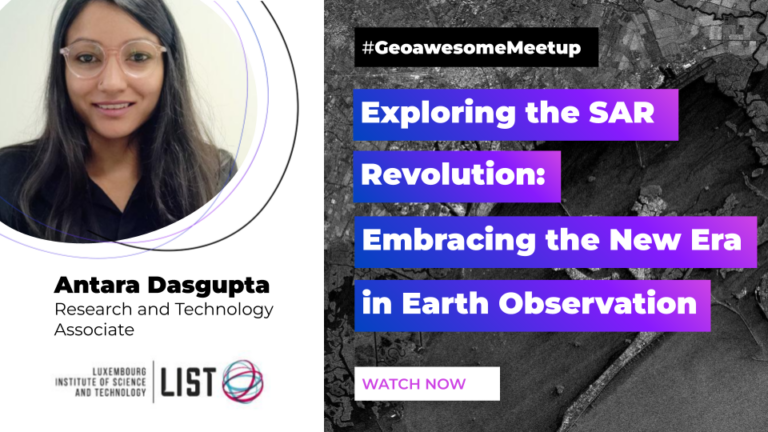 Exploring the SAR Revolution: Embracing the New Era in Earth Observation | Antara Dasgupta
Synthetic aperture radar (SAR) technology has exploded in availability as well as demand in the recent years, and with this the potential applications in academia and industry have also been revolutionized. As a SAR expert, I will offer insights on the latest advancements and applications of this technology, by exploring the current state of the art to understand how SAR can contribute to better understanding and monitoring of the earth's surface.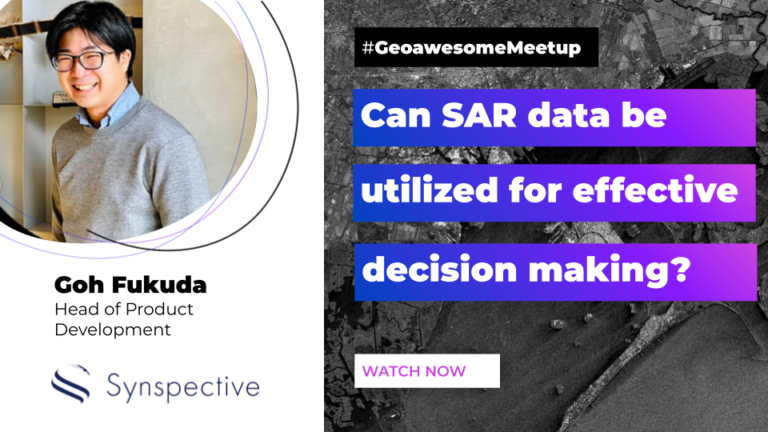 Can SAR data be utilized for effective decision making? | Goh Fukuda – Head of Product Development @Synspective
Dive deep into the realm of Synthetic Aperture Radar (SAR) data with Goh Fukuda, Head of Product Development at Synspective, in this thought-provoking presentation. He explores the crucial question: "Can SAR data be utilized for effective decision making?" Throughout this educational video, Fukuda will take you on a journey into the world of SAR technology, from its basic principles to its potential applications.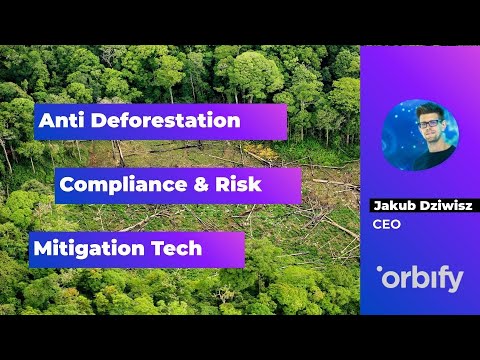 Anti-Deforestation Compliance & Risk Mitigation Tech.
Anti-Deforestation Compliance & Risk Mitigation Tech. Jakub is a problem solver at heart with a strong technical background — building products, growing teams, and scaling companies. He has 20 years of experience in software engineering, with over half of that time spent in various leadership positions. He believes in autonomous (product) teams empowered to work on specific customer problems.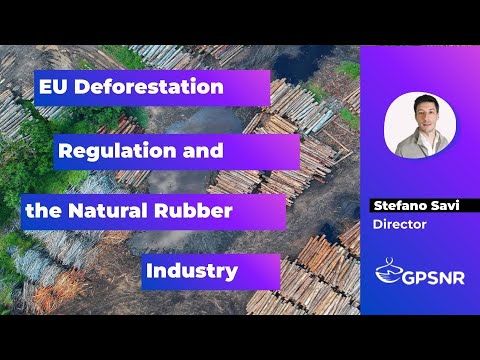 EUDR and the Natural Rubber Industry.
EUDR and the Natural Rubber Industry. Helping supply chain and civil society members of the Global Platform for Sustainable Natural Rubber. Aiming to address the growing issues arising around the natural rubber supply chain. The platform is currently hosted by WBCSD Asia Pacific. The Global Platform for Sustainable Natural Rubber is an international, multistakeholder, voluntary membership organisation with a mission to lead improvements in the socioeconomic and environmental performance of the natural rubber value chain.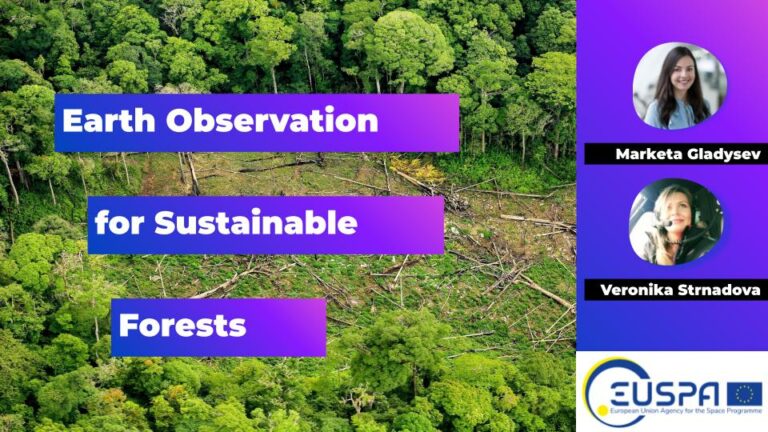 Earth Observation for Sustainable Forests | Veronika Strnadová and Marketa Gladysev
Veronika Strnadová and Marketa Gladysev of The European Union Agency for the Space Programme (EUSPA) talk about remote sensing and the new EU Deforestation Regulation (EUDR).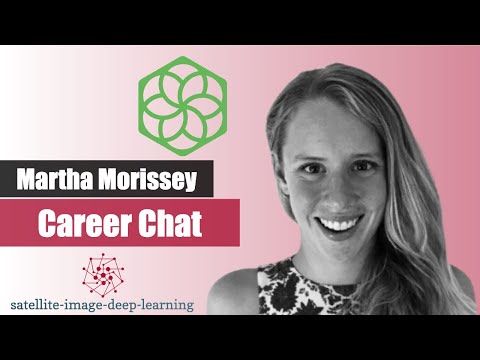 Career chat with Martha Morrisey, machine learning engineer at Pachama
In this video, Robin speaks with Martha Morrisey, a machine learning engineer at Pachama, to gain insights into her experience and career path in this field. Discover Martha's journey and the role of a machine learning engineer at Pachama. Pachama is a company that aims to fight climate change by using remote sensing data and machine learning to measure and monitor carbon capture and storage projects in forests.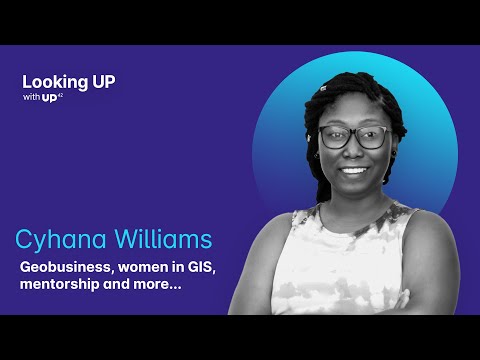 Geobusiness, women in GIS, mentorship and more, with Cyhana Williams
Cyhana is a UX Researcher with Microsoft and Co-Founder of African Women in GIS (AWiGIS). AWiGIS is an online community for African women worldwide who study, work or are enthusiasts about the geospatial industry. In this episode, she shared her experience working with geospatial data in her community.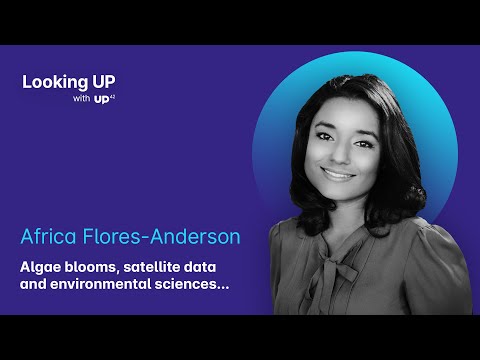 Algae blooms, satellite data, and environmental sciences with Africa Flores-Anderson
Africa Flores-Anderson is a Research Scientist at the University of Alabama Huntsville (UAH) Earth System Science Center, a Ph.D. candidate in the Department of Natural Resource Sciences at McGill University, and a Vanier Scholar. In this episode, Flores talks about geospatial technologies for environmental sciences.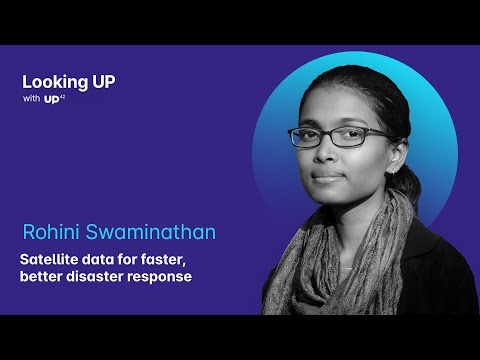 Satellite data for faster, better disaster response with Rohini Sampoornam Swaminathan
Rohini Sampoornam Swaminathan is the Head of Geospatial Support Unit at the UN World Food Programme. She focuses on geospatial applications in Disaster Risk Reduction, environmental management, international development, food security and health. In this episode, Rohini talks about her journey to Earth observation.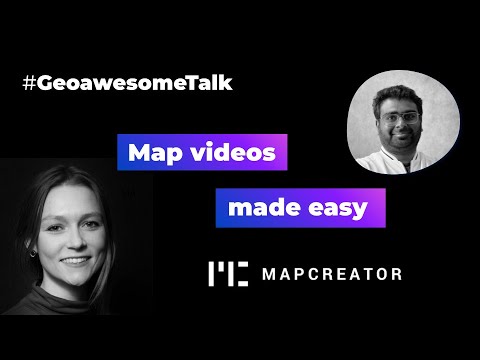 GeoawesomeTalk with Magdalena Manilal
In this latest episode of #GeoawesomeTalk, Muthukumar Kumar had the pleasure to talk with Magalena Manilal, Managing Partner and Product Manager @mapcreator-io about the evolution of MapCreator, her own journey in the industry and their animated maps product launch.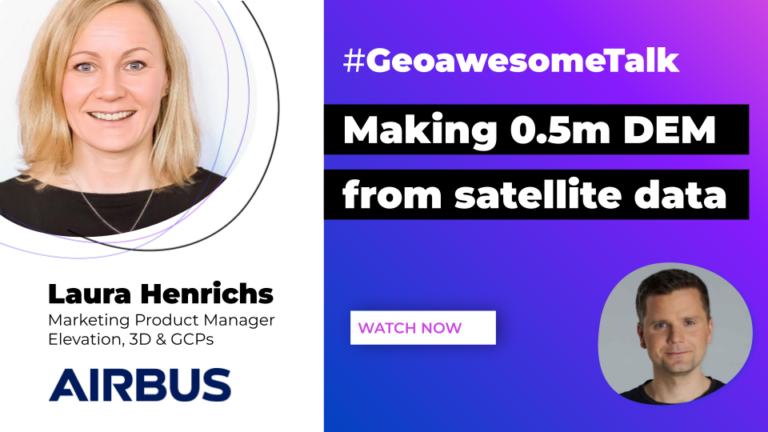 Making 0.5m DEM from satellite data | GeoawesomeTalk with Laura Henrichs @Airbus
I had the pleasure to have a #GeoawesomeTalk with Laura Henrichs - Marketing Product Manager Elevation, 3D & GCPs @Airbus. We've discussed the new excellent Elevation 0.5 product that brings Digital Elevation Models and Digital Surface Models, as well as 3D photogrammetry data processing from satellite data, to the next level. It uses Earth Observation data from the new Pléiades Neo constellation and gives unexpected levels of detail.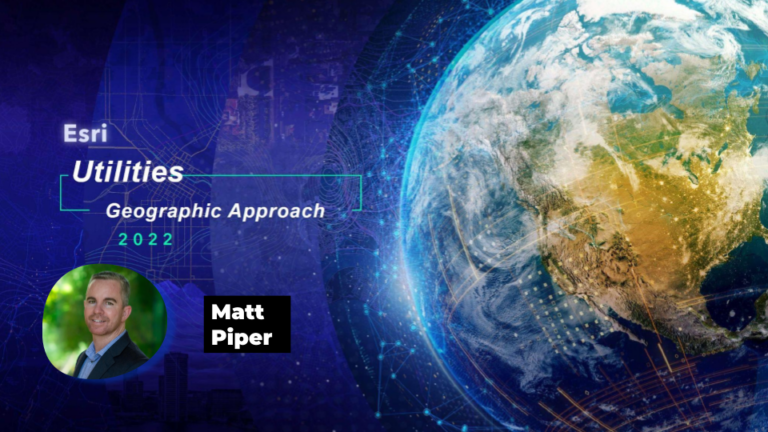 The Geographic Approach For Utilities | Matt Piper – Global Director Industry Solutions @Esri
Matt Piper from Esri gives us a tour of how power and utilities can use a wide portfolio of Esri tools to manage their assets and operations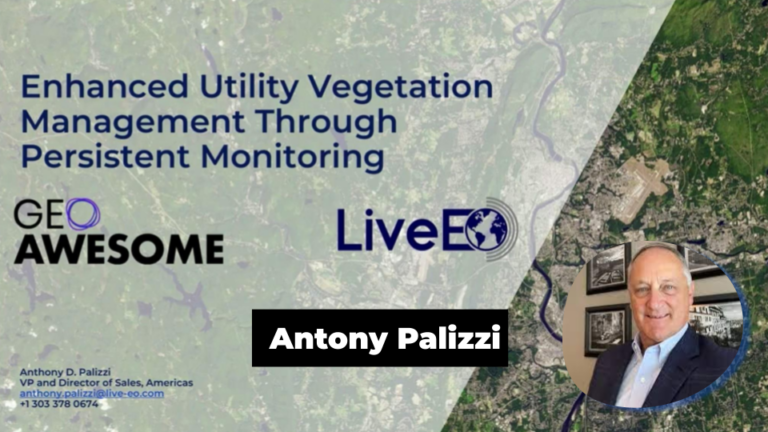 Enhanced Utility Vegetation Management Through Persistent Monitoring | Antony Palizzi @LiveEO
Antony Palizzi, Director of Sales @LiveEO gives us insights into how LiveEO extracts valuable insights from satellite imagery and turns them into knowledge used by utilities around the world.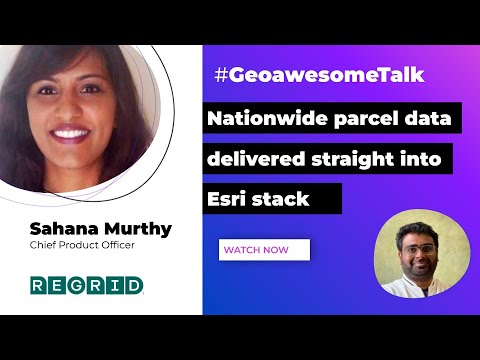 Regrid's Esri-Compatible Feature Service | #GeoawesomeTalk with Sahana Murthy from Regrid
In this latest episode of #GeoawesomeTalk, Muthukumar Kumar had the pleasure to talk with Sahana Murthy, Chief Product Officer at @Regrid about their latest offering - an Esri-compatible Feature Service. Regrid's new Feature Service delivers their nationwide land parcel data straight into Esri environments for enterprises centered on Esri technologies.
Remote Sensing Opportunities to Enhance Vegetation Management Operations | Patrick Howe @HydroOne
Patrick Howe - Business Manager for Forestry Services @HydroOne in Canada gives us an overview of what the utilities Vegetation Management process looks like in real-world and how it can be supported by Earth Observation and Geospatial technologies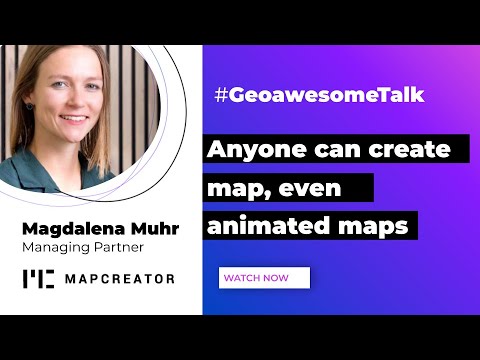 Anyone can create maps, even animated maps! | Magdalena Muhr @Mapcreator
Mapcreator is an annotated mapping tool that helps you create branded maps as easy and quick as possible. Thesolution takes away the most time-consuming part of making maps and turns it into only minutes of work.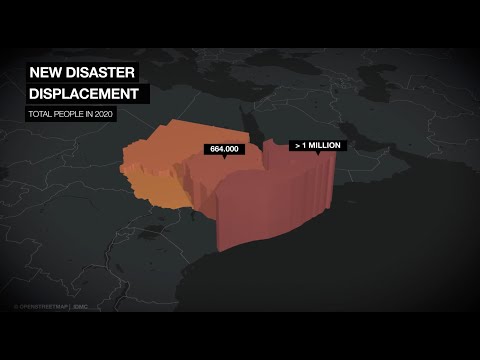 Creating effective map videos and animations
Haven't registered yet for the event? Register here: https://bit.ly/MapVideosOct18 Join @Boone Loves Video, @Mapcreator and Paul Franz on October 18th 2022 to learn about Map videos! That's right map videos, not static maps! For centuries beautiful maps crafted by cartographers captivated the imagination of explorers and their wealthy patrons. In the past century, maps have become central characters in newsrooms helping the masses understand key information in a single glance. Advances in technology meant that it is now easier than ever for anyone to incorporate maps in their storytelling. However, maps are still static characters in most stories. It's time for maps to be more animated. The future of maps in storytelling is going to be map videos!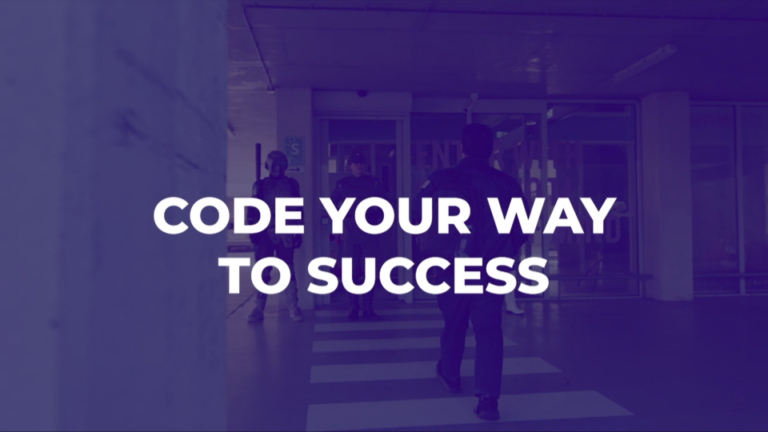 Join The Top Hackathon on Space and Earth Observation!
Join the top #Hackathon on #Space ? and #EarthObservation. This time the challenge will be to connect data from space ? with the #FinancialSector with the aim of making it more #sustainable ?. Learn more here https://bit.ly/3Ddc0Zj and register until October 27. #CassiniHackathons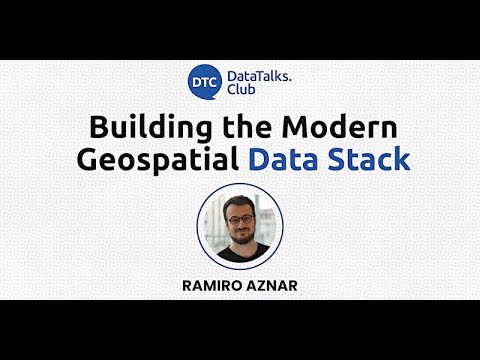 Building the Modern Geospatial Data Stack – Ramiro Aznar