Events
All digital and IRL events of relevance to the geospatial community in one place. Interested in hosting an event together with our team? Send us a quick message!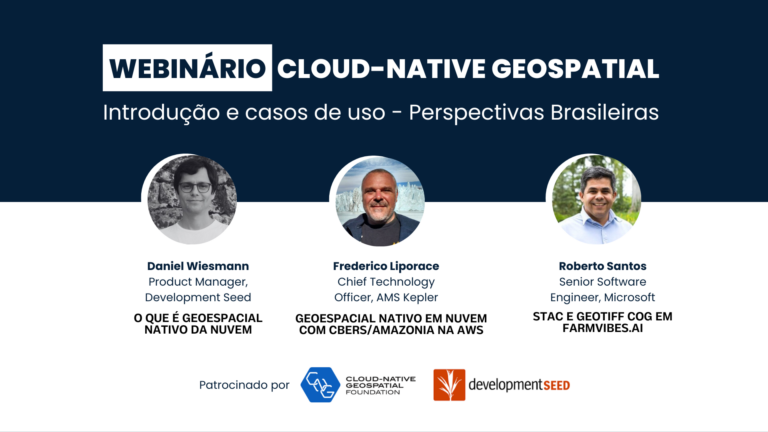 Webinário: Cloud-Native Geospatial – Perspectivas Brasileiras
Em nosso primeiro webinar em nuvem no Brasil. Realizado em português, Frederico Liporace falará sobre a otimização das imagens CBERS/Amazônia para o formato Cloud Optimized Geotiff (COG), possibilitando o uso eficiente no ambiente AWS e em aplicações baseadas em nuvem. Roberto Santos falará sobre sua experiência com STAC e Geotiff COG com seu projeto de código aberto, FarmVibes.AI.​ Daniel Wiesmann, gerente de produto da Development Seed, moderará este webinar.​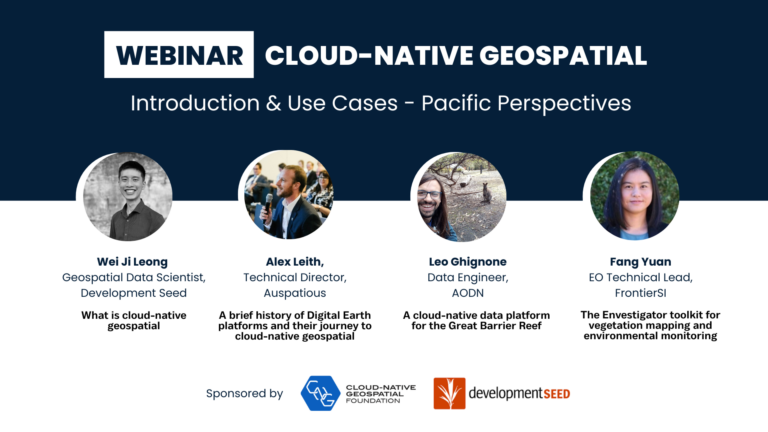 Cloud-Native Geospatial Webinar – Pacific Perspectives
​In this webinar, moderated by Geospatial Data Scientist, Wei Ji Leong from Development Seed, we explore applications of cloud-native geospatial in the Pacific region. Alex Leith will provide a brief history of Ditial Earth platforms, and their journey to cloud-native geospatial. Leo Ghignone will introduce a cloud-native data platform for the Great Barrier Reef and discuss how to convert data with a diverse range of formats and structures to cloud-native Zarr and GeoParquet. Fang Yuan will introduce an ArcGIS toolkit that FrontierSI, in collaboration with our partners, has developed. This toolkit uses Digital Earth Australia's analysis-ready, cloud-native data to map groundwater-dependent vegetation and track changes in vegetation over time.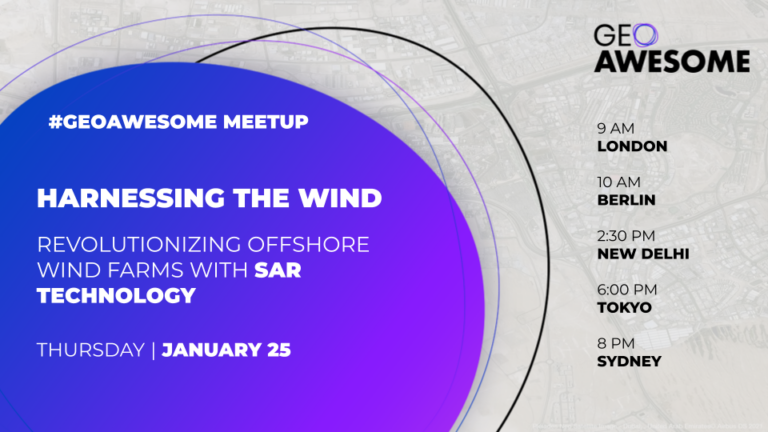 Harnessing the Wind: Revolutionizing Offshore Energy with SAR Technology
Join us for a GeoawesomeMeetup, where we'll dive into the transformative role of Synthetic Aperture Radar (SAR) in offshore wind energy. Hear from Synspective alongside offshore wind farm professionals. Discover how SAR is tackling challenges in site selection, wind pattern analysis, and project planning, leading to more informed decisions, cost savings, and efficient operations. Don't miss this opportunity to explore SAR's impact on the future of renewable energy!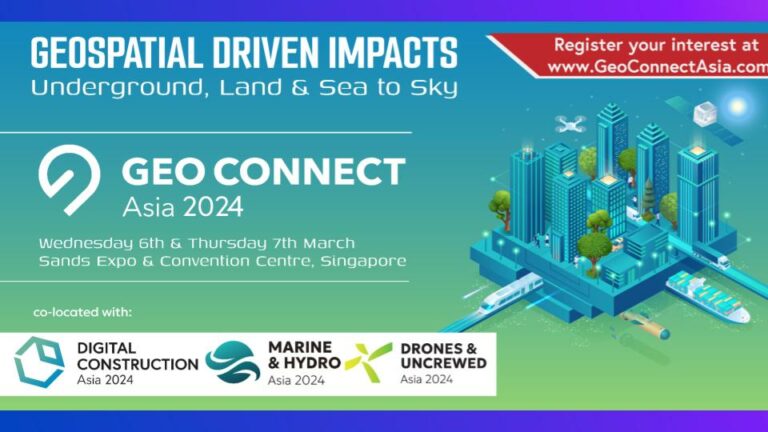 The Geo Connect Asia Show and Conference has scaled up from its launch to become the regional meeting place for the fast expanding geospatial, positioning, digital construction andremote sensing markets.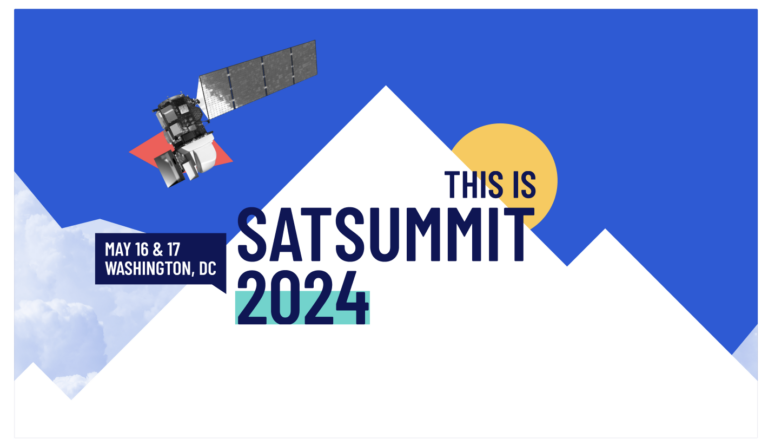 SatSummit convenes leaders in the satellite industry and experts in global development for 2 days of presentations and in-depth conversations on solving the world's most critical development challenges with satellite data.
Past events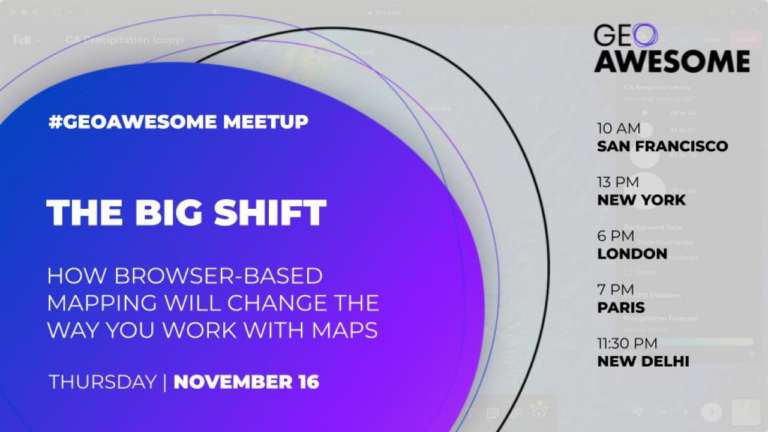 The Big Shift: How browser-based mapping will change the way you work with
Our world changes at a rapid pace. No one is more aware of this than professionals who work with maps on a daily basis. And yet the tools we use to examine, explore, and analyze spatial problems haven't kept up with our rapidly changing world. Documents, spreadsheets, images and more have all moved to the web where teams can provide feedback, edit and share seamlessly. This big shift to the browser has unlocked more productivity than anyone could have imagined, and now Felt is bringing that potential for teams whose everyday workflows rely on maps. Join Felt Designer Loren Baxter, to understand how Felt's designed the first internet-native mapping tool and why it's about to transform the way you work with maps.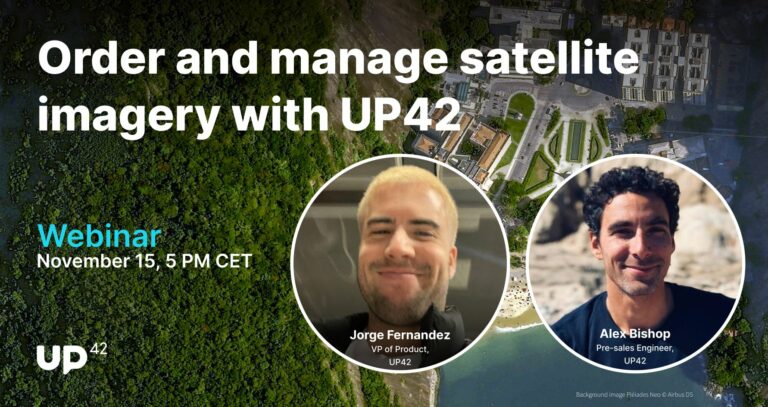 Order and manage satellite data with UP42
Join UP42 for a product-focused webinar, led by VP of Product Jorge Fernandez and Pre-Sales Engineer Alex Bishop. They'll walk you through a real-life project, showcasing the experience of placing orders on the platform, tasking satellites with minimal emails, and accessing UP42 data directly through an ArcGIS Pro account. You'll be able to interact with the speakers throughout the webinar, and the session will be followed by a live Q&A.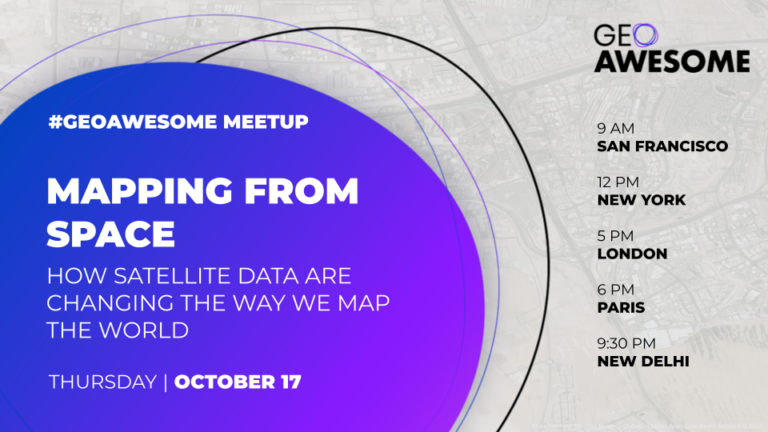 Mapping from Space. How satellite data is changing the way we map the world?
Dive into the transformative realm of satellite-based mapping in our upcoming geospatial community meetup. As very high-resolution satellite data becomes increasingly accessible, it's reshaping traditional mapping methodologies and practices. Our esteemed lineup of guests will share some of the most exciting use cases, highlighting how satellite data has revolutionized their work. Whether you're an experienced geospatial professional or just a mapping enthusiast, this session offers a fresh look into the evolving landscape of geospatial analysis and remote sensing. Discover how experts leverage the unparalleled clarity from above to craft detailed and accurate maps that redefine our understanding of the world.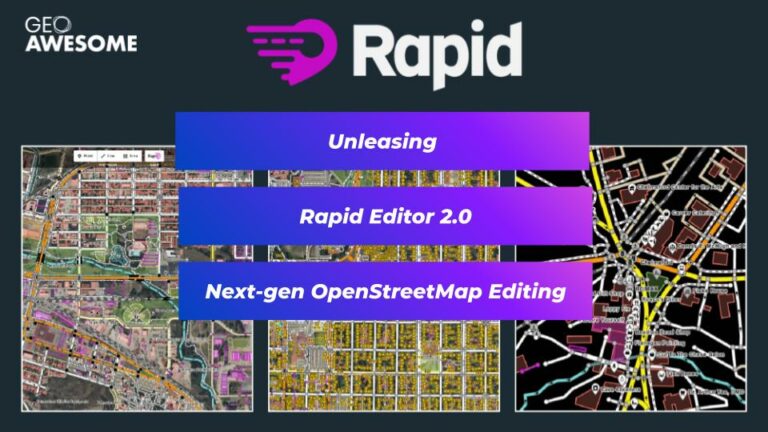 Unleashing Rapid Editor 2.0: A Deep Dive into Next-Gen OpenStreetMap Editing
Join us in this enlightening session where we will delve into the vast possibilities of the new Rapid Editor 2.0 for OpenStreetMap. Keynote speakers from Meta, Humanitarian OpenStreetMap, and leading industry experts will share their insights, offer live demonstrations, and discuss potential applications in various fields. Don't miss this opportunity to engage, learn, and contribute to the conversation around this exciting tool, shaping the future of digital mapping.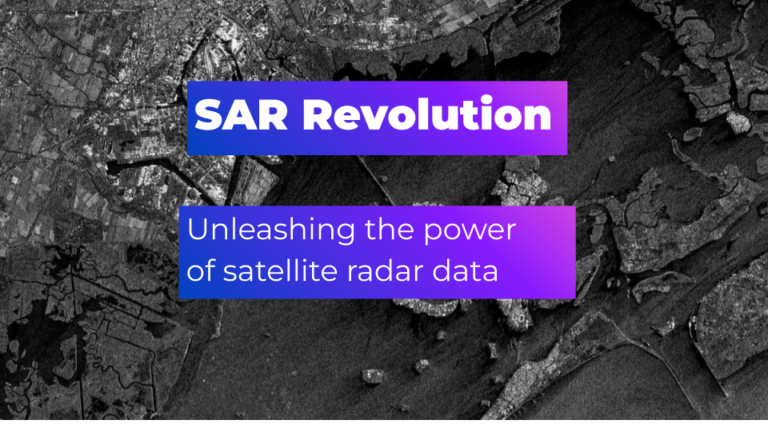 SAR Revolution: Unleashing the power of satellite radar across use cases
Dive into the fascinating world of SAR technology. This digital meetup brings together the expertise of industry experts to explore the latest advancements in Synthetic Aperture Radar (SAR) satellite data and its increasingly significant role in business applications. Witness informative presentations showcasing real-life use cases, followed by an engaging panel discussion, where attendees will have the opportunity to gain insights and exchange ideas. As SAR data continues to reshape industries, enterprises that have mastered its effective use are attaining a competitive edge in the market. Don't miss this opportunity to learn from the best, expand your knowledge, and embrace the future of satellite radar data in mainstream applications.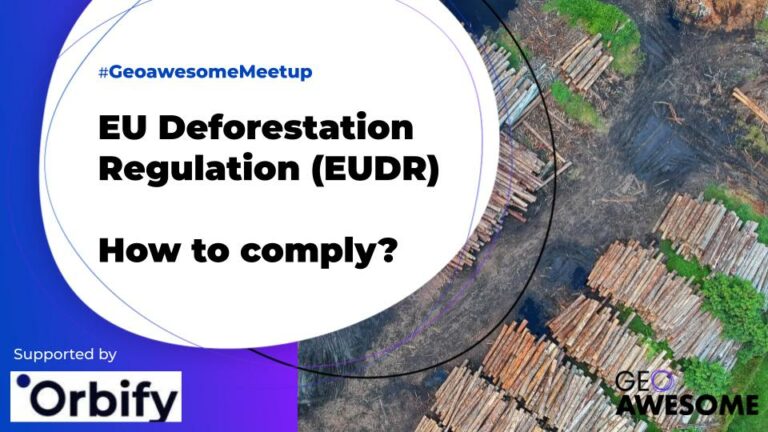 EU Deforestation Regulation (EUDR) – How to comply?
How Traders and Operators can get ahead with the Due Diligence (DD) requirements & adopt Earth Intelligence practices for deforestation free products.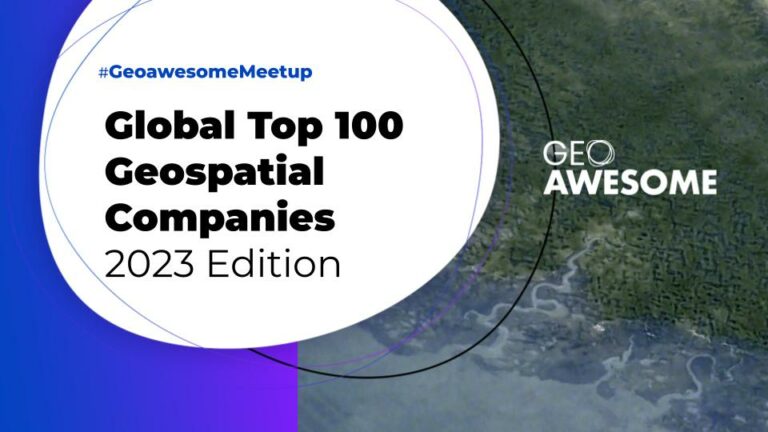 Global Top 100 Geospatial Companies – 2023 Edition
Join us on 30th January 2023 to know the top 100 geospatial companies of 2023.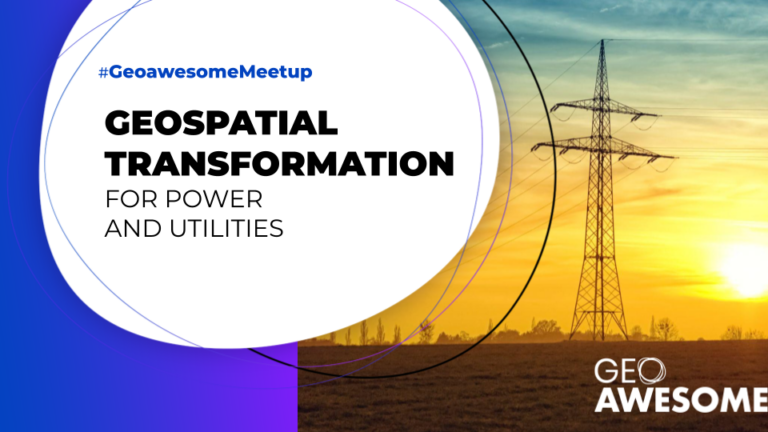 Geospatial Transformation for Utilities
The Utilities sector - companies that provide everyday basic amenities, including natural gas, electricity, and water are in the midst of a massive transformation. Many utilities companies are setting ambitious goals of reaching zero carbon emissions in the coming years and decades. Extreme weather events, aging assets, cybersecurity challenges, the emergence of "prosumers" combined with increased customer demand for clean energy are all converging to impact the industry. Join us on October 5th 2022 for an insightful discussion with our expert speakers to learn more about how geospatial technology is helping the Utilities sector.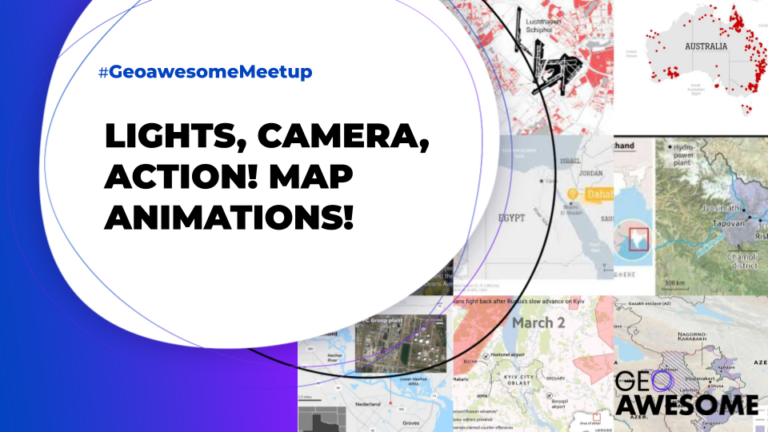 Lights, Camera, Action! Map animations!
Join us on October 18th 2022 for an insightful discussion with our expert speakers to learn more about how map animations are transforming storytelling.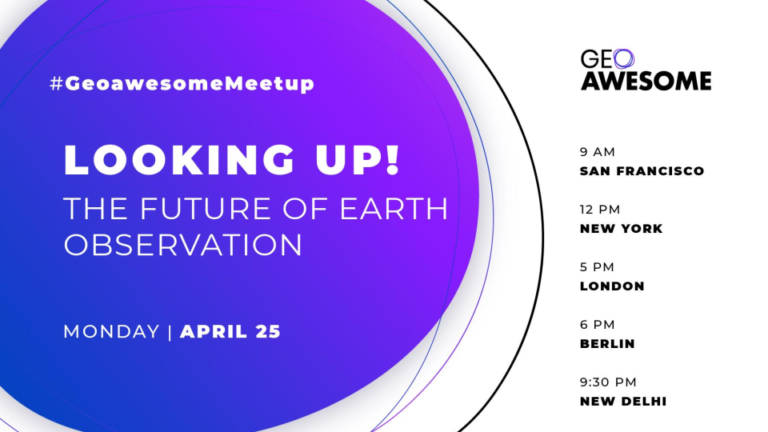 The future of Earth Observation – Emerging trends and opportunities ahead
Join experts from NASA, Airbus, Google, GEO, UP42 and industry thought leaders to discuss the future trends in Earth Observation. This is a really special event for Team Geoawesomeness since it is not only our 25th digital meetup but also an event that marks the 11th anniversary of the platform and we do have a special announcement to make during the event. Hope you'll join us!