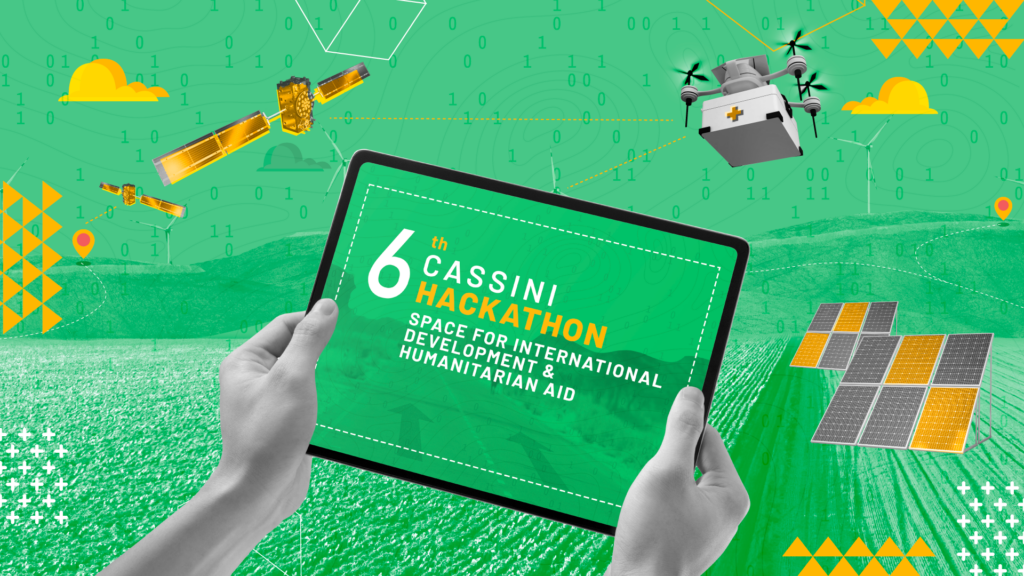 #Events #Fun #GeoDev #Ideas
Join 6th CASSINI Hackathon. Innovating with Space Technology for International Development & Humanitarian Aid
🌍 Geo-Enthusiasts! 🛰️ Dive deep into the world where space technology meets international development and humanitarian aid. While strides have been taken to uplift vulnerable communities, countless still strive for life's essentials. And now, YOU can be the change-maker, leveraging cutting-edge European space data and tools to spark sustainable solutions across the globe.
🚀 The 6th CASSINI Hackathon invites pioneers like you to harness data and services from the vanguards of European space – Copernicus, Galileo, and EGNOS. Imagine – concocting innovative geospatial solutions that not only fortify food security, amplify access to clean water and promote sustainable infrastructure solutions but also delve deep into forecasting and understanding forced migration patterns.
But what's CASSINI, you ask? Well, it's not just another hackathon. Kickstarted by the European Union and its formidable space programme, CASSINI Hackathons and Mentoring have fashioned six brilliant hackathon editions, each converging on world issues through the lens of European space technologies. Every round unlocks a treasure trove – a reservoir of space data, insights, and signals for participants to tap into.
A Glimpse of the Stars – What Awaits You:
📍 Select from 11 scintillating locations across Europe, each with its distinct panel of experts, awards, and surprises.
🌐 Get set, register, team up, and ideate! Here's where your journey begins.
🚀 Choose from three awe-inspiring challenges:
🌿 Supporting sustainable infrastructure development: From renewable energy forecasting to monitoring infrastructural calamities – the scope is vast!
🍀 Strengthening food security & access to clean water: Dive into agricultural predictions, emergency resource logistics, or the essence of water quality.
🌊 Understanding and forecasting forced migration: Craft digital solutions for population movements, combat desertification impacts, and monitor coastal erosions.
Geospatial and Space Newbies, Fear Not! This platform embraces diversity – whether you're a space geek or taking your first spacewalk, you're welcome! Just pick a challenge and explore how EU space tech can become your magic wand to craft the change.
🔗 For a deeper dive into the universe of CASSINI and to resonate with your inner geospatial and space prodigy, zoom into their official portal: cassini.eu/hackathons
Geoawesomeness awaits! Channel your inner spatial genius, join hands with fellow innovators, and craft solutions to illuminate the world with the marvel of EU space tech! 💫🌍🛰️
The community is supported by:

Next article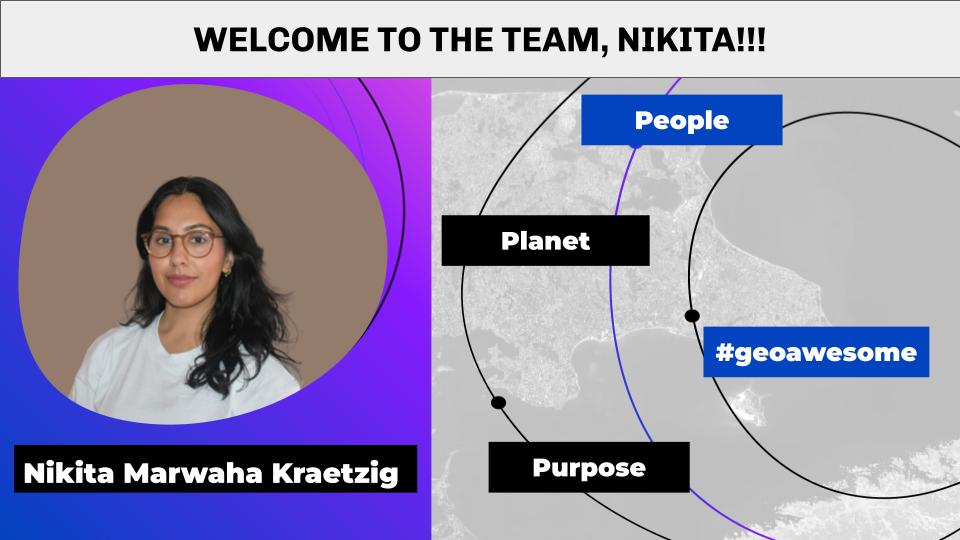 #Featured
Introducing our first ever Content Lead: Nikita Marwaha Kraetzig
We're so pleased to announce that we have welcomed Nikita Marwaha Kraetzig as Geoawesomeness' first ever Content Lead. 
We started Geoawesomeness back in 2011 with the vision of building a geospatial knowledge community connecting people, companies and ideas. Fast forward 12 years and we've grown into a thriving community of people and organisations making positive change in the world through the use of location technology. Nikita joined us this week to strengthen our content efforts as we go forward and we sat down with her to hear more.
Q: Welcome, Nikita! We're so happy to have you in the team. Could you tell us a little more about your career so far?
A: It's great to be here! My career has spanned multiple countries, industries and roles. I've described light displays on Saturn at the European Southern Observatory in Munich, personified spacecraft for ESA's Rosetta mission in the Netherlands, promoted mental health at the NHS in the UK and launched Berlin-based UP42 – geospatial platform and marketplace. 
Most recently, I've amplified the voices of green technology innovators while at environmental PR agency, Greenhouse Communications, in London and taken intentional pause to focus on parenting—very much a job in itself!
While my career is very varied, the common thread that unifies each and every place I've chosen to work at is purpose. Although this can be quite challenging at larger organisations, what motivates me the most is bringing social and environmental consciousness to the forefront. In order to progress as a society, I think this needs to go hand in hand with the definition of business as usual. B Corps are a great example of using business as a force for good!
Q: What makes Geoawesomeness somewhere with the purpose-driven projects you enjoy working on?
A: I think that more than ever before, the world around us needs location data in order to effectively solve big challenges such as global temperature rises, extreme weather conditions, ocean acidification, deforestation and much more. The team at Geoawesomeness have worked hard for years to be a force for good. They've spotlighted purpose-driven stories such as leveraging satellite data to detect and monitor oil spills, deforestation-free products and the role of Earth Observation or satellite-derived bathymetry enabling coastal monitoring and protection. 
Leading Geoawesomeness' content efforts, I'll be able to contribute towards and expand on this purpose-driven storytelling and community building. I really look forward to finding the people, companies and ideas out there that are making a tangible difference—and give them a platform to share their stories and products with others. 
Q: What's one of your favourite things about Geoawesomeness?
A: One of my favourite things about Geoawesomeness is that they are committed to ensuring that the community they are building is both inclusive and open. This means inclusivity in terms of who's part of the community, as well as ensuring access to data and knowledge is open to everyone. 
While everyone around the world feels the effects of the climate crisis, a UN report in 2022 revealed why women often experience the impacts of climate change differently than men, while playing a critical role in responding to climate change. This, in conjunction with the importance of ensuring location data is reflective of the society we live in—with the mapping community still overwhelmingly male—are big drivers for why I really want to make a difference at Geoawesomeness. 
I worked on a Reuters article, Visible women: Female mappers bridge the data gap in urban design, with Geochica's co-founder, Miriam Gonzalez during my time at UP42. In it, Yeliz Osman, a gender violence expert at UN Women says "when women map, they are more likely than men to represent women-specific needs and priorities, which is key to driving changes in local policies, plans and budgets."
I like that Geoawesomeness works with several initiatives including Sisters of SAR, Ladies of Landsat and Women in Geospatial+ to build a community for everybody and ensure data is as unbiased and representative as possible.
Q: What are your hopes for your time at Geoawesomeness over the coming year?
A: I'd like to help Geoawesomeness communicate the brilliant work their community does. Geoawesomeness wouldn't be so geoawesome (I had to do it!), without industry professionals, developers, experts and students around the world reading stories, attending events and writing articles. 
I see the site continuing to be the go-to source of answers for anyone with 'where' questions. I'll work on telling more of the stories you want to read, fostering a supportive community and leading the team in being a socially and environmentally responsible media organisation.
On a personal note, I find it's hard to turn on the news these days or scroll through my feed without feeling as though the world is on fire. Climate anxiety is very real. While location technology can provide value to lots more use cases besides the environment, it's impossible to ignore the alarming need for action. To tackle climate anxiety, I think it's important that we read climate success stories and examples of what is being done, as well as what isn't. Instilling optimism and inspiring change in the community would be another of my hopes for the coming year.
Read on