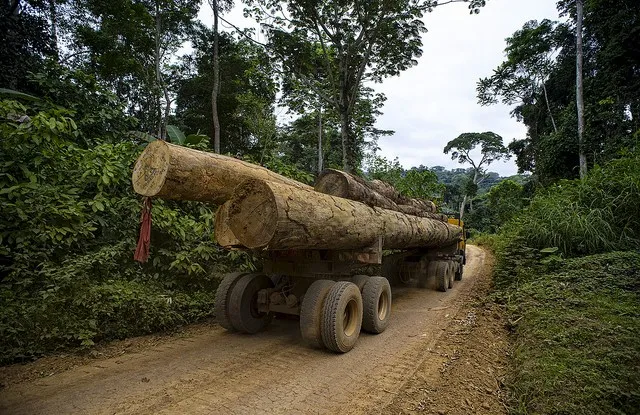 #Agriculture #Copernicus #Environment #Environmental Protection #ESG #Featured #Geospatial analytics #Hyperspectral #Landsat #Multispectral #Optical #SAR #Vegetation Indexes #Vegetation Management
The EU's Regulation on Deforestation-free Products and the Role of Earth Observation
Deforestation is a Major Threat
Deforestation and forest degradation is a significant environmental issue that has severe implications for the future of our planet and the livelihoods of millions of people globally. In spite of its damaging effects, it still continues to happen at an alarming rate, aggravating climate change and the loss of biodiversity. In The State of the World's Forests report published in 2020 by the United Nations, the agency estimates that over 420 million hectares of forest have been lost since 1990. To put that number into perspective, the total forest area is estimated to be 4.06 billion hectares. 
The main driver behind deforestation is the expansion of agricultural lands. According to the UN report, 77% of the global deforestation and forest degradation can be attributed to large-scale commercial agriculture (primarily cattle ranching and cultivation of soya beans and oil palms) and local subsistence agriculture. 
The world population is set to keep growing in the coming years, only serving to increase the pressure on agriculture. Ironically, loss of biodiversity will severely impact the resilience of our modern industrial agriculture. Saving biodiversity isn't a matter of protecting nature alone, it's a matter of protecting human civilization.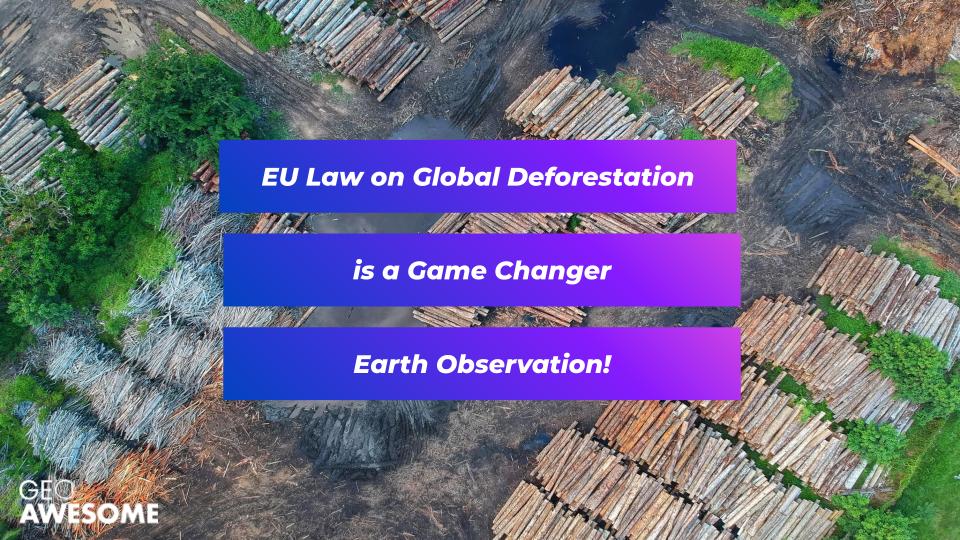 The EU Regulation on Deforestation-free Products
The EU regulation on deforestation-free products has been in the works since 2019, and is part of a broader plan of actions to tackle deforestation and forest degradation first outlined in the 2019 Commission Communication on Stepping up EU Action to Protect and Restore the World's Forests. 
The actual regulation is more than 75 pages long. In a nutshell, it aims to: 
Curb deforestation and forest degradation by banning the placement on EU market products linked to deforestation

Address deforestation and forest degradation caused by agricultural expansion 

Reduce carbon emissions caused by EU consumption and production of the relevant commodities by at least 32 million metric tonnes per year
Indirectly, it also encourages/supports the use of satellite-based positioning (EGNOS/Galileo) and Earth observation satellite data (Copernicus) for due diligence reporting and compliance checks. 
The regulation is in the last stages. A political agreement was reached on a joint proposal in December 2022 and it is set to repeal the EU Timber Regulation. Once the regulation is in force, operators and traders will have 18 months to implement the new rules. 
What are the requirements?
The regulation specifically tackles deforestation and forest degradation caused by different primary commodities and derived products, i.e.
Palm oil 

Cocoa 

Soy

Coffee

Beef and leather

Wood

Furniture 

Rubber
The regulation requires operators and traders to ensure products that they place on EU markets are deforestation-free by:
Ensuring that the commodities are fully compliant with local laws in the countries of origin 

Providing exact geo-coordinates of where the commodities were produced

Risk assessment and due diligence reports certifying that the commodities are not originating from land that has been deforested or degraded since December 31, 2020
The regulation applies to all traders operating in the EU regardless of their size. However, large traders are subject to monitoring measures listed in Article 15 of the regulation, while SMEs are subject to the measures listed in Article 16.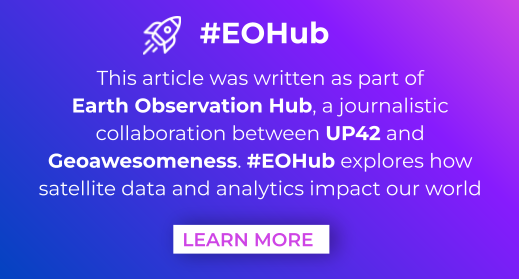 What Does the EU Regulation on Deforestation-free Products Mean for Earth Observation?
In a huge boost for the Earth observation industry, policy makers have explicitly foreseen different areas where satellite data could help to ensure that objectives are met. EU policy makers in their wisdom have mentioned "Earth observation"explicitly thrice in the regulation text, in the following context. 
Satellite-based positioning (EGNOS/Galileo) and Earth observation data (Copernicus) could be used for risk assessment and compliance checks by operators

Earth observation data (Copernicus) as a facultative measure by competent authorities as a check on the operators
However, that is only part of the story. In my opinion, Earth observation will play a key role in the following ways:
Creating a global benchmark 
A critical input to the monitoring process/control measures envisioned in the regulation is a global map of forested areas, deforested areas and areas where forests are degraded as of 31st December 2020. In addition, the EU also needs to define and designate countries and sub-national regions as high, standard or low-risk areas based on the local anti-deforestation laws and their efforts to tackle illegal land use. 
In both of these cases, Earth observation is the solution. It sounds like a straightforward answer but the huge advantage that Earth observation brings to the table is only felt when we consider the alternative – an information system that contains up-to-date land records and land use data for every country in the world. For many years now, organizations across the world have been using satellite imagery to create benchmarks for deforestation. In fact, since its launch in 2014, Global Forest Watch has been visited by millions of people from every single country in the world. 
Geo-traceability of Products and Supply Chain Transparency 
The regulation requires companies to implement due diligence systems that trace the origin of their products and ensure they are sourced from deforestation-free areas. This is the first area where EU policy makers directly identified and supported/encouraged the use of Earth observation and satellite-based positioning (GPS/GNSS). 
Satellite data analytics can help track land-use changes, such as the conversion of forest areas to agricultural land providing evidence of deforestation or degradation. This information combined together with geo-tagged commodity data can be used to create a comprehensive picture of product origins and compliance with the regulation.
Demonstrating progress 
Whilst demonstrating progress towards sustainability commitments that operators make isn't part of the regulation, creating supply-chain transparency can be a huge positive force also with consumers. 
Large-scale commercial agriculture companies can publish their supply-chain records publicly and make it available for independent organizations to verify them to create an advantage with markets and consumers. 
Check on operators
The regulation requires operators to produce proof that their products are deforestation-free whilst also laying down the obligation of competent authorities with regard to checks to be carried out on operators. This is the second area where EU policy makers directly identified and supported/encouraged the use of Earth observation (Copernicus). 
The use of Earth observation data is stated as a facultative measure by competent authorities as a check on the operators. 
EU member states could develop a unified satellite-based change monitoring system similar to what Global Forest Watch does today to monitor the global deforestation situation. Earth observation is particularly important when dealing with complex supply chains that span multiple countries and legal jurisdictions by providing robust and unbiased information. Earth observation data is universally accessible and not limited by national boundaries.
Regular reports generated by such a system can be used to identify non-compliance, and serve as evidence when appropriate enforcement actions must be taken. 
Evaluating the overall impact of the regulation on deforestation 
The regulation is only a success if it ensures deforestation is halted or at least minimized. By analyzing global forest cover over time, the impact of the regulation on deforestation rates can be accessed, serving as an input to inform future policy decisions and refine the regulation to better address deforestation and forest degradation. 
Benefits of the regulation
The EU is the second largest driver of tropical deforestation. It is estimated that EU consumption represents around 10 % of global deforestation. Any efforts that limit or eliminate further deforestation due to EU consumption is going to be a huge boost to biodiversity. Further benefits of the regulation include: 
Contributions to the global efforts to mitigate climate change

Helping the EU achieve its climate targets under the European Green Deal 

Helping promote responsible land management in countries that export to EU

Ensuring supply chains are sustainable and transparent 

Driving adoption of Earth observation and fostering public awareness about the positive benefits of satellite imagery
Challenges ahead
The EU regulation on deforestation-free products is similar to GDPR in the sense that it's the first regulation in the world and there will be many challenges ahead before the regulation is properly understood and implemented. There remain several challenges ahead that need to be addressed to ensure its long-term success and effectiveness:
A tsunami of false alerts 
Arjen vrielink, co-founder of Satelligence, coined the term 'a tsunami of false alerts' to highlight the challenges facing national authorities. Given the fact that Earth observation data is publicly available but there is no standardization for satellite data analytics, it is quite possible that different organizations may arrive at different conclusions regarding whether compliance was achieved. This is a challenge that is entirely up to the Earth observation expert community to solve. 
27 or 1?
In our understanding, it is the responsibility of the 27 member nations to define their own processes for checking on operators based on Article 15 and 16 of the regulation. Enforcing the regulation across complex and global supply chains can be challenging, particularly in regions with weak governance or limited resources. Ensuring consistent implementation and enforcement across all member states and industries is crucial to achieving the regulation's objectives. 
Ensuring the small guy doesn't lose out
Many smallholder farmers and local communities depend on forests for their livelihoods, and shifting to sustainable practices can be economically challenging for them. Providing support and incentives to help these stakeholders transition to sustainable land management practices is vital to the success of the regulation. This was one of the key messages also delivered by Stefano Savi.
What about other drivers of deforestation?
While the regulation targets key commodities linked to deforestation, it doesn't include all agricultural commodities (such as biofuels) nor does it address other factors that contribute to forest loss. Tackling these underlying causes of deforestation requires integrated and comprehensive policies that go beyond regulating specific commodities.
The EU is already contemplating expanding the regulation to address some of these aspects a few years afterwards. 
Geopolitics 
More than half of the world's forests are found in only five countries (Brazil, Canada, China, Russian Federation and the United States of America). Relations between the transatlantic partners were stressed due to GDPR and here again the effectiveness of the EU regulation on deforestation-free products depends on cooperation with countries that produce and export the targeted commodities. Engaging with these countries and promoting sustainable land management practices can help improve the global impact of the regulation. The Commission has already pledged € 1 billion to facilitate protection, restoration and sustainable management of forests in the partner countries, for the benefit of people, climate and environment.
A Leading Role in Ensuring the Success of the EU Regulation on Deforestation-free Products 
The EU regulation on deforestation-free products is a groundbreaking and significant first step in the global fight against deforestation and forest degradation. US lawmakers are looking to follow in the footsteps of the EU. Hopefully more countries will follow as well. By targeting some of the key commodities behind global deforestation activities, the regulation has significant potential to tackle deforestation and the loss of biodiversity.  
At Geoawesomeness, we are always repeating that we are driven by the power of geospatial data and tools to transform the world for the better. The EU regulation and the vital role that Earth observation plays in supporting the EU regulation on deforestation-free products is yet another proof of that transformative power. Through monitoring, traceability, compliance verification, and evaluation, Earth observation technology provides essential data and insights that help ensure the effectiveness of the regulation in preserving forests and combating deforestation. 
Despite the challenges that lie ahead, such as implementation, enforcement, addressing indirect drivers of deforestation, and supporting smallholder farmers, continued collaboration and commitment from various stakeholders will be crucial in overcoming these obstacles. By addressing these challenges and refining the regulation as needed using inputs from Earth observation, the EU can play a leading role in promoting deforestation-free products and safeguarding the world's precious forest ecosystems for future generations.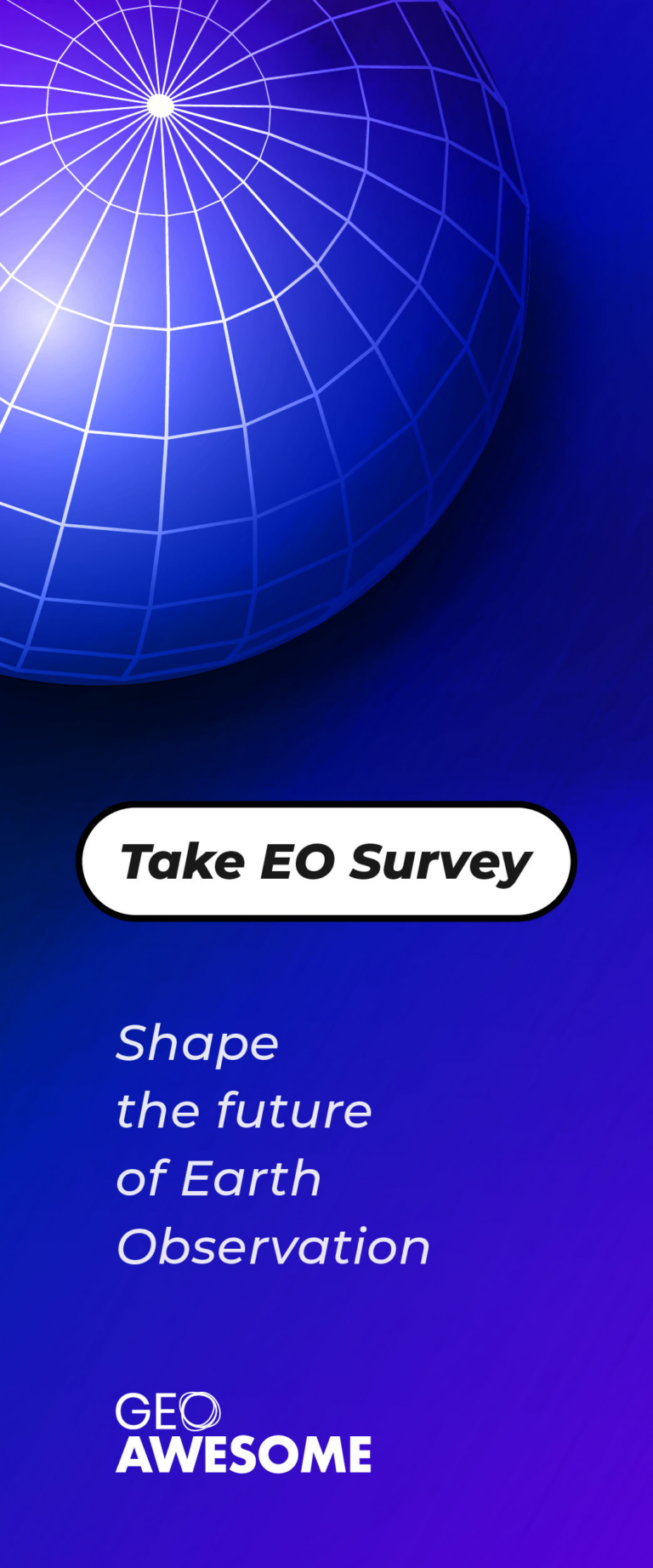 The community is supported by:

Next article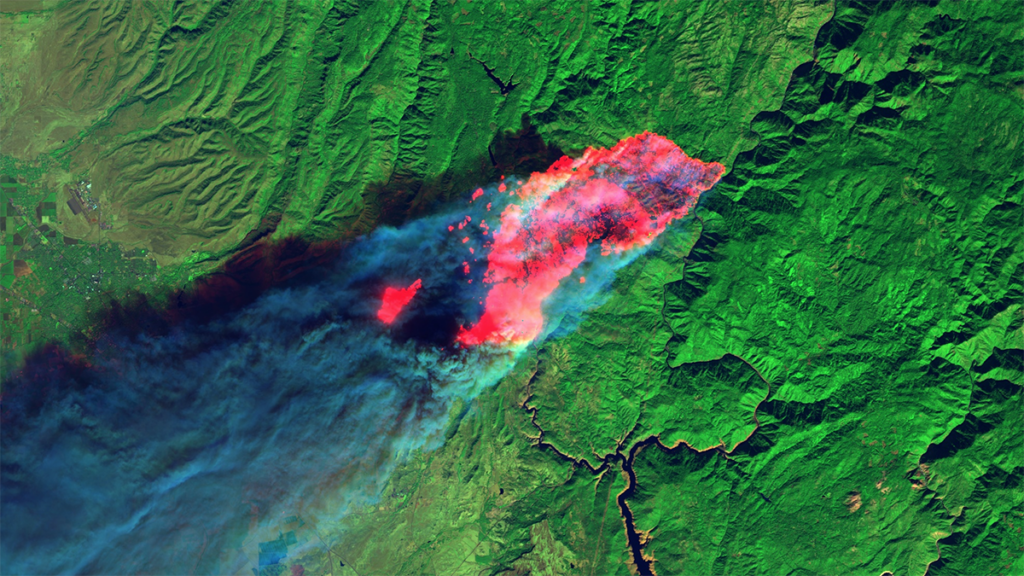 #Copernicus #Environment #Environmental Protection #Landsat #MODIS #Multispectral #Optical
How satellites assist wildfire management
How has the number of fires changed over the years, and why is it a growing problem?
Fires are increasingly posing a significant threat each year, impacting not only remote areas but also inhabited regions, endangering homes, possessions, and even lives. This escalating issue affects the entire world, and the United States serves as a prime example of the growing prevalence of large-scale fires, fueled by climate change. Since 2000, the US has experienced an annual average of 70,072 forest fires, burning approximately 7 million acres – more than twice the 3.3 million acres burned yearly in the 1990s, despite having more fires per year. Experts concur that ongoing greenhouse gas emissions intensify climate change, leading to increased surface temperatures and altered precipitation patterns, exacerbating the fire situation.
"Climate change is creating ideal conditions for larger, more intense fires," said Robert Scheller, a professor of forestry and environmental resources in NC State's College of Natural Resources, who uses geospatial analysis to study the effects of climate change and human activities on the long-term health of the landscape. "We're already seeing fires that we didn't expect to see until 2080."
As of 2021, the average surface temperature of the United States was about 2.5 degrees Fahrenheit. Experts expect this figure to increase by 3 to 12 degrees Fahrenheit by 2100.  This will result in more intense and frequent heat waves, while reducing rainfall in some areas. These conditions will make droughts worse, making landscapes across the country more flammable.
Fire monitoring is crucial for early detection, prediction, and firefighting, with satellite data providing invaluable assistance
For both humans and the natural world, wildfires are a huge ecological disaster. They negatively affect the soil cover, the forest stand, the atmosphere, and the animal world. It only takes 50°C for valuable and protected plant species to perish, while during a wildfire the soil temperature reaches 700°C. Navigating through the forest can be very difficult, and finding the location of a fire is time-consuming. These are additional minutes and sometimes hours that allow the flames to spread. To ensure that these fires do not endanger people and animals, it is extremely important to observe the first moments after the fire is lit to identify its exact location, speed and direction of spread. Unfortunately, firefighters who are on the scene do not always have the ability to accurately calculate these factors. Also, scientists cannot accurately estimate the extent of the damage without high-quality statistical data showing the size of the fire and its location. This is why the success of forest fire risk mitigation largely depends on the amount of information available and the speed of decision-making. Monitoring is crucial for effective fire management and detecting fire outbreaks as soon as possible.
Without a doubt, satellite imagery is one of the best tools for monitoring wildfires, using innovative remote sensing technologies to provide cost-effective, timely solutions. Satellite images and weather data help to assess the current situation and the affected areas, and when combined with algorithms, satellite data can also help predict the course of fires. This will assist firefighters to control the spread of fires, and potentially reduce damage.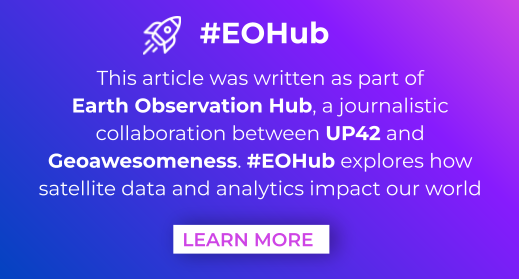 WildFireSat – a fire management solution with a Canadian example
Eighty-eight percent of Canada's 4 million square kilometers of forested land are boreal forests, which have some of the largest and most intense wildfires in the world. Each year in Canada, some 7,500 fires consume more than 2.5 million hectares of forest, a territory nearly the size of Belgium.
The planned WildFireSat mission aims to monitor daily, from space, all active forest wildfires in Canada. In a country as vast as Canada, observation from space is the only way to obtain daily information on all active forest wildfires with the necessary precision.  The main goal of WildFireSat is to support the management of wildfires, studying their behavior and the emissions of carbon, aerosols and other particles produced by fires.
The system's satellites will be equipped with infrared sensors designed to measure the energy emitted by forest fires. This energy is referred to as Fire Radiative Power (FRP), which makes it possible to determine the characteristics of forest fires and their features, such as rate of spread and intensity. In addition, accurate data on carbon emissions from fires will be acquired, which is an important requirement of international agreements on carbon reporting. WildFireSat will also provide Canadians with precise data on air quality and smoke conditions. The mission will work with existing satellites to greatly expand our knowledge of forest fire behavior, and how that behavior is changing with our climate.
It's also worth noting that losses due to fire can be reduced by improving the ability to make informed decisions, thereby defending communities and avoiding unnecessary evacuations. This will help to better protect both infrastructure and the environment, especially near populated areas. In addition, the measures will help to reduce health problems associated with smoke and air pollution.
The #WildFireSat mission will increase Canada's ability to monitor #wildfires, providing faster, more accurate, information for air quality forecasting. https://t.co/TXCmWqdoNX

— Environment Canada (@environmentca) August 30, 2019
Emergency management services of the Copernicus CEMS program
Copernicus CEMS provides a free and open access global emergency mapping service. Users can get information about a disaster event at a scale, timeline and perspective that can only be obtained with geospatial information. This gives us the ability to analyze changes across the Earth over days, weeks, months or years. Products can be quickly shared with all agencies involved. This contributes to consistent and timely emergency response. CEMS deals not only with fires but all natural disasters (floods, fires, earthquakes, tsunamis, volcanic eruptions, landslides, storms, droughts, etc.), as well as man-made hazards (industrial accidents, oil spills, etc.). The area of observation extends beyond the European Union.
CEMS offers nine service components that cover every phase of the disaster and risk management cycle. Most of the CEMS components operate 24 hours a day, seven days a week, year-round, and those relevant to firefighting include:
– Rapid Mapping – provides print-ready maps and digital geospatial data sets within hours of a disaster to quickly visualize the scope and impact of an event.
– Risk and Recovery Mapping – supports preparedness, prevention and recovery of affected areas.
– European Forest Fire Information System (EFFIS) – monitors forest fire activity in near real-time. EFFIS supports the management of forest fires at national and regional levels in EU member states and in the Middle East and North Africa.
A number of applications are available through EFFIS, such as the Current Situation Viewer, Current Statistics Portal, and Wildfire Risk Viewer, among others. All applications are available here.
NASA's Fire Information for Resource Management System (FIRMS)
NASA's FIRMS and Worldview tools provide active fire data within three hours of observation from Earth-observing satellites to users around the world. Active fire and hotspot data can be viewed in FIRMS Fire Map or NASA's Worldview, delivered as email alerts or downloaded in the following formats:  SHP, KML, TXT or WMS. Since summer of 2022, data for active fires on the continental United States are also available in real time (within one hour of satellite observation) and in ultra-real time – within one minute – using direct transmission data and new software developed by the Space Science and Engineering Center (SSEC) of the University of Wisconsin-Madison.
"The more recent the data, the higher its value in assessing the location, extent and intensity of newly detected fire activity," said Brad Quayle, manager of the Disturbance Assessment and Services (DAS) program at the USDA Forest Service. In addition, Everett Hinkley, manager of the National Remote Sensing Program at the U.S. Forest Service's Office of Geospatial Management, added, "FIRMS gives us 'at-a-glance' knowledge of where wildfires are and where the active wildfire area is … In some remote areas, it is our only window into what is happening with wildfires and allows us to track their development."
FIRMS has active fire data acquired from the Visible Infrared Imaging Radiometer Suite (VIIRS) instruments onboard the Suomi National Polar-orbiting Partnership (Suomi NPP) satellite and the Moderate Resolution Imaging Spectroradiometer (MODIS) instruments onboard NASA's Aqua and Terra satellites.
It is also worth mentioning that FIRMS is part of NASA's Land, Atmosphere Near real-time Capability for EOS (LANCE). Diane Davies, operations manager for LANCE, notes that in addition to information on active fires, "LANCE provides a wide range of data and near real-time imagery from NASA and other scientific satellite missions to help users monitor hazards and disasters, including wildfires, smoke, air quality, dust storms and floods."
Conclusions
Satellites use innovative technologies that have a lot of potential when it comes to wildfires. Remote sensing from wildfire satellites can help forest managers identify burned areas, classify burn levels and estimate the total area burned, as well as acquire accurate data on carbon emissions and environmental pollution. With remote sensing, we can obtain measurements of many different wildfires and determine their size, location, duration and temperature, data that would be unavailable without the use of satellites. In addition, current wildfire detection satellites can identify wildfires before they are observed on the ground, which is often 10-15 minutes before an emergency call arrives. Therefore, monitoring forest wildfires using earth observation data is critical.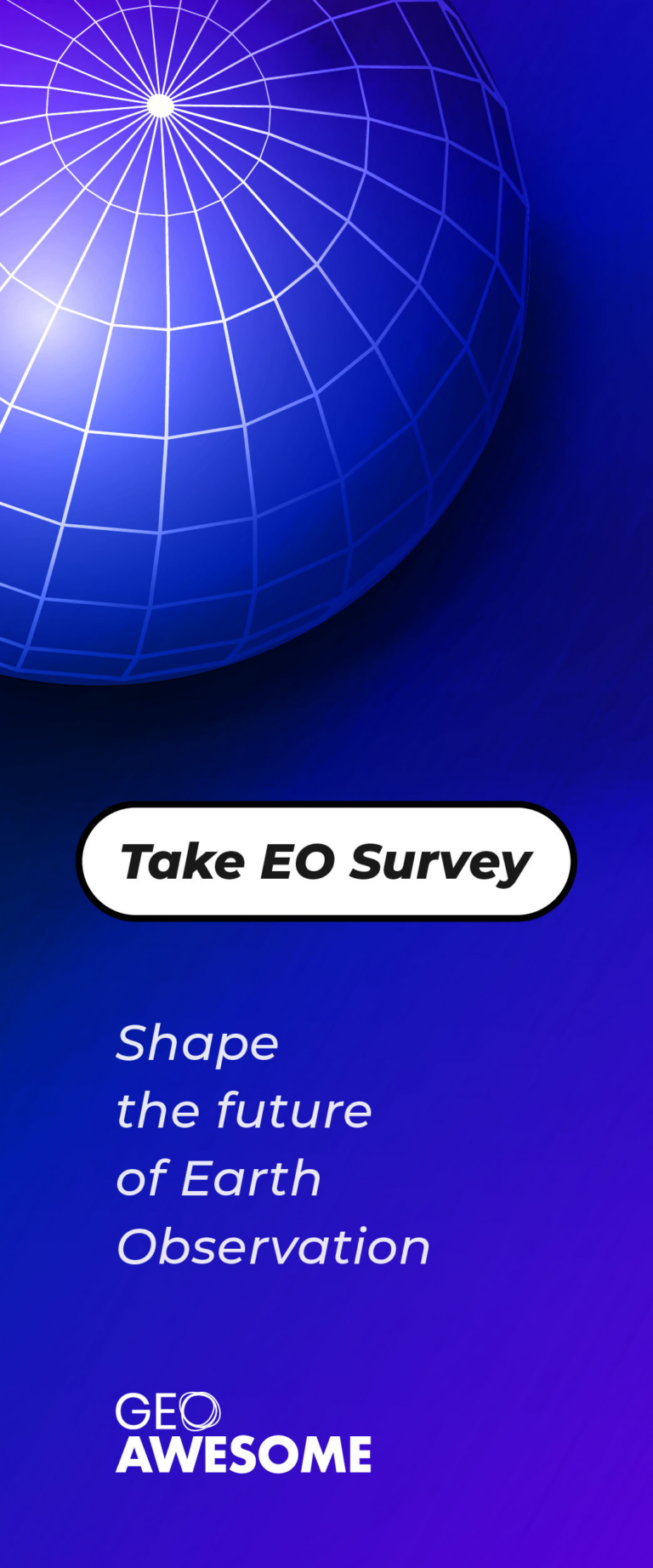 Read on