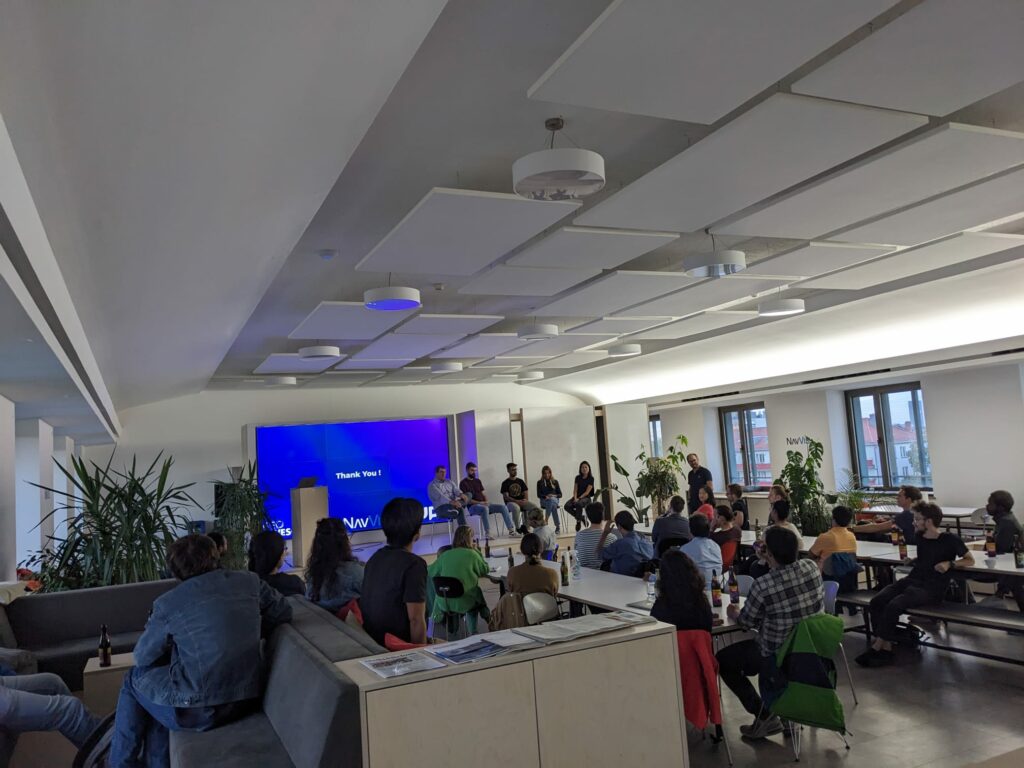 #Events #People
Celebrate the Success of the Geoawesomeness Munich Meetup: Exploring the Geospatial World!
The Geoawesomeness community in Munich recently held its July 27th meetup, and it was a resounding success! The event brought together around 50 passionate geospatial enthusiasts for our second meetup of the year.
The evening kicked off with an informative introduction by Sara, who shed light on NavVis and its technology enabling precise mobile mapping of indoor spaces and providing mapping services worldwide.
The speaker lineup featured industry experts who shared valuable insights. Christoph Rieke presented tips and tricks for GIS career development, from job searching to expanding one's social network. Florian Simetsreiter, Head of Digital Sales at Esri Germany, captivated the audience with exciting challenges for sales organizations posed by GIS advancements, accompanied by a live demo of Boston's digital twin.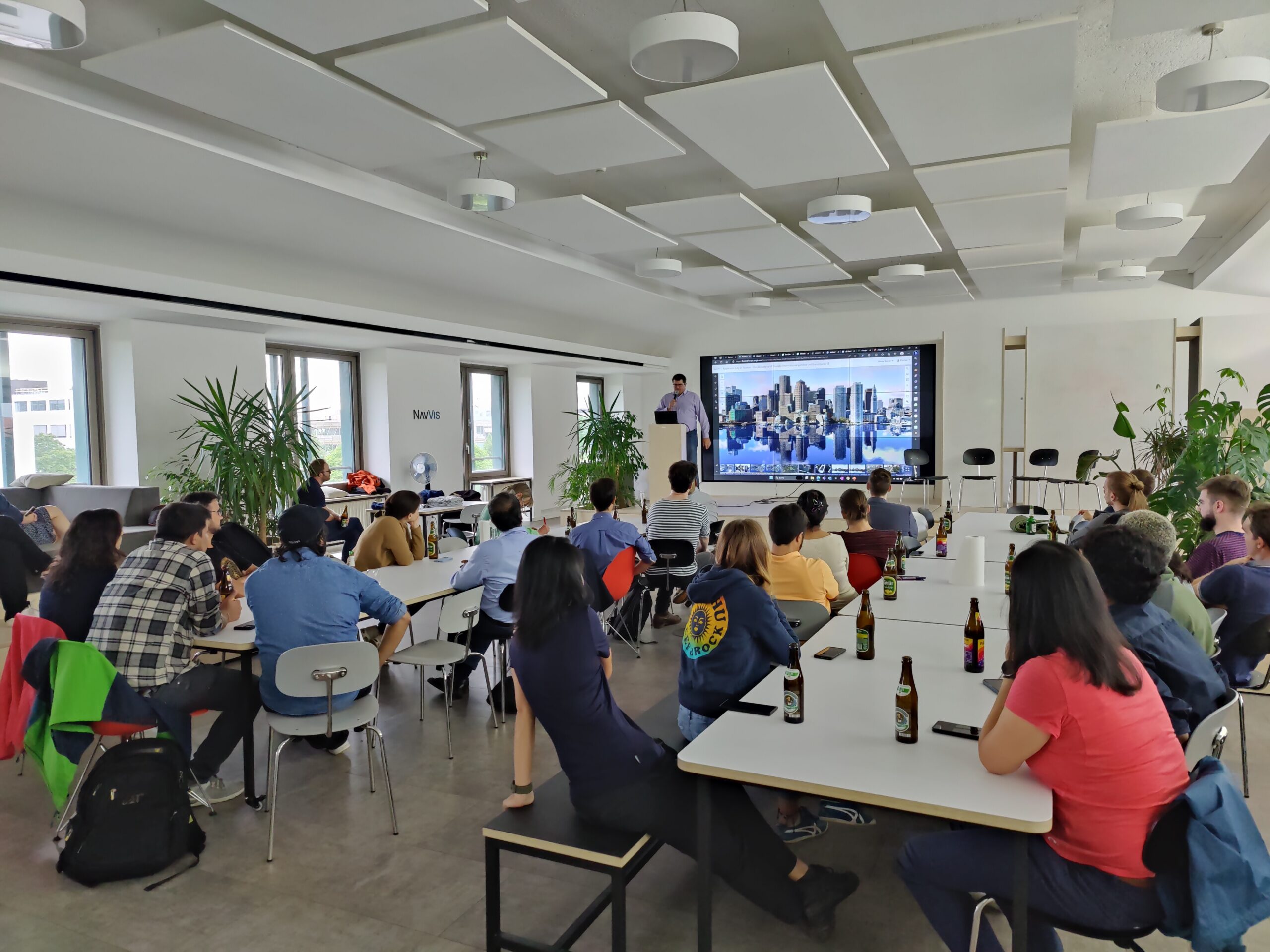 After a delightful break filled with pizza and beer, Eliza Fagiolini and Angela Chan from Overstory showcased how machine learning and earth observation are revolutionizing tree identification and vegetation intelligence. The audience was then treated to the inspiring story of Arun Bhandari, Co-Founder of Naxa in Nepal, who shared their journey of bootstrapping a business in geospatial and earth observation. A lively panel discussion followed, with enthusiastic attendees flooding the speakers with intriguing questions.
The meetup commenced at 6:30 pm and continued until 9:00 pm. Peers for beers afterward. Geoawesomeness meetup provides ample time for learning, networking, and exchanging exciting project ideas. Meetups like these offer excellent opportunities to connect with peers, discover new career prospects, and simply unwind while enjoying a beer or two.
We extend our heartfelt gratitude to UP42 and NavVis. To find out more about our supporters, visit https://up42.com and https://www.navvis.com/.
A big shoutout goes to our ever-supportive team members, Muthu and Aleks. Their constant dedication makes events like this possible. Stay tuned for updates on our next exciting gathering and join the vibrant Munich Geoawesomeness Community!
Until next time,
Your Munich Geoawesomeness Team
Abhi, Florian, Karen, Nianhua, Chris, Leo, and Sara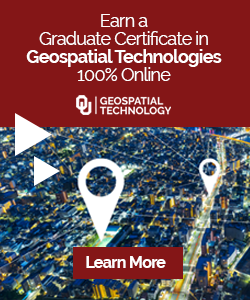 The community is supported by:

Next article
#Business #Featured #Ideas #Science
Harnessing the Power of 30cm Satellite Data for Construction Mega Projects
Traditionally, the construction sector has been one of the slowest industries when it comes to adopting digital technologies. However, this trend is seeing a sudden change, and increasingly we're seeing construction firms and projects adopting tools including CAD, BIM and drone-captured imagery to increase efficiency, reduce project overruns, and improve safety.
However, although digitalization is increasing apace, there are still significant challenges to overcome—especially when it comes to large-scale and mega projects. These are inherently complex, and often too large to effectively map and monitor using traditional methods.
This is where satellite imagery comes into play. Although it's not yet widely used, it can add considerable value to stakeholders in the sector, providing unparalleled situational awareness and a host of data insights.
Imagery data on the construction site
Drones were the first earth observation technology to be widely adopted by the construction industry. Initially used for project documentation, as data analysis techniques have become more advanced, drone imagery is now used for engineering applications, including volumetric measurement of earthworks, progress monitoring, ensuring compliance with approved construction zones, and much more.
Drones are most usefully employed over relatively small areas, up to a few km2 at most.  Providing 2-3cm resolution data, they are ideal for zooming in on specific site locations and elements, wherever in-depth or detailed technical information is required.
When it comes to monitoring an entire construction site, however, drones are simply not a practical solution, due to the time and cost required to capture that volume of data. This is especially true for mega projects, which are often spread across areas of hundreds of kilometers. Furthermore, processing high-resolution drone data is time-consuming, and converting vast quantities of drone-captured imagery into orthomosaics or 3D models can take several days or even weeks.
These are all areas where satellite data presents significant advantages, as it can be obtained mere hours after tasking, and at increasingly affordable prices. With constellations like Airbus' Pléiades Neo now providing 30cm resolution imagery with high positioning accuracy, companies can use satellite data to for high-level situational awareness and to track relevant key performance indicators.
It's important to note that satellite imagery and drone are highly complementary. Drone technology can primarily be considered an engineering tool, while satellite data serves as a management and high-level supervision tool. While satellite imagery provides general situational awareness, drones can be used to capture close-up views with higher resolution in specific areas of the construction site.
The table below illustrates some key metrics and the primary applications of each method: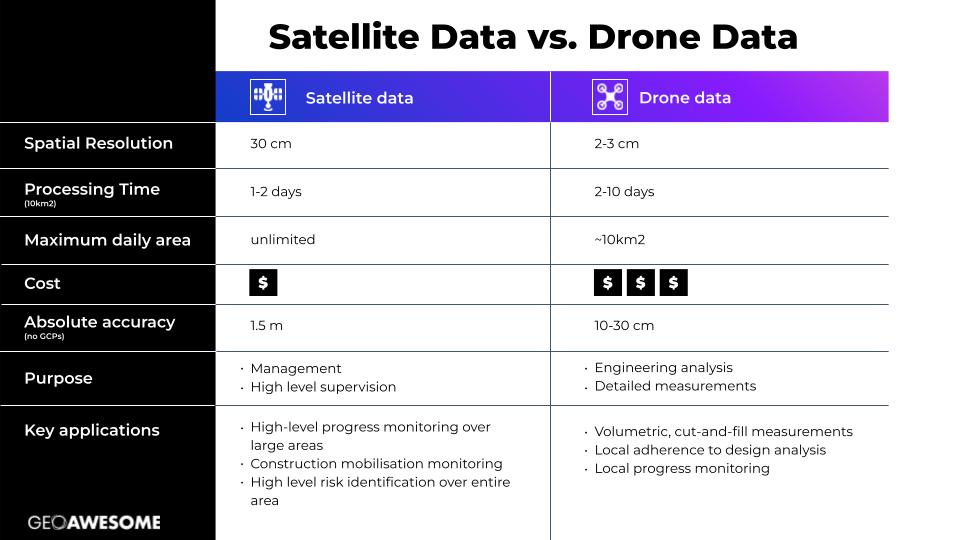 Specific applications of satellite data on the construction site
Frequent revisits by satellites and the rapid turnaround time for satellite imagery allow for near real­–time monitoring, making them an ideal tool for high-level change tracking. The applications where satellite data is most appropriate, therefore, are those relating to management and supervision.
For example, satellite data is ideal for mobilisation analysis purposes such as ensuring the correct materials are on site and ready for use, or that crews and equipment are on track to arrive on time for each phase of work. Object detection, using advanced image processing and machine learning algorithms, can be used to identify and classify different types of construction equipment or material piles based on shape, size, color, and other features. Change detection can show when and where materials have been used, and when equipment arrives or is moved. Change detection can also reveal any issues, delays, or anomalies (like activities outside the right of way) ensuring they can be resolved as early as possible.
Another advantage of using satellite data is that the entire process of site analysis can be conducted remotely (no need for on-site drone operations). This doesn't just increase time- and cost-efficiencies for management, but also ensures social transparency, and can provide all stakeholders with a consistent view of how construction is progressing. Investors or regulators, for example, can use satellite data to validate that certain construction milestones are on target.
Finally, but perhaps most importantly of all, satellite imagery is hugely beneficial when it comes to sustainability and environmental concerns. Efficient use of resources is one of the key principles of sustainable construction, and high-resolution satellite imagery can help construction managers track the use of materials and equipment, detect wastage, and plan for greater efficiency. It can also help in optimizing logistics, reducing fuel consumption and emissions. Remote monitoring can also reduce the need for physical site visits, further reducing emissions. Satellite imagery can aid in environmental compliance, in making impact assessments, and in fostering a greater understanding of how construction activities are likely to impact the ecology of the site and surrounding area.
Integrations with AI and other advanced tools
Both drone data and very high–resolution satellite data can be integrated with planning and design tools to reduce design errors and enable better decision-making. Digital representation tools like Building Information Modelling (BIM) systems and Geographic Information Systems (GIS), can utilise both effectively.
When it comes to AI integrations, however, satellite data may have a significant advantage over drone data. There have been attempts by drone analytics startups to create Deep Learning models based on drone data, and thereby automate construction progress monitoring, but with very limited success. The reason this has proved difficult is because complex construction projects are so varied, and the imagery, when viewed close-up, is hard for an AI to parse. However, when observed from a greater distance, patterns, similarities and differences in construction projects become far more evident. This suggests there is significant potential for automation of construction monitoring when applying these models to satellite imagery.
Additionally, construction mega projects may be an ideal application for the application of AI 'super resolution' models, which can enhance the readability of satellite imagery. Super resolution works best on long, linear objects (i.e. man-made structures and roads), and the resulting aesthetic improvements don't just improve interpretability by humans but also by machines and AI tools!
A revolution in mega project construction
With the latest innovations in data capture and processing, high-resolution satellite imagery is revolutionizing a number of industries. Although the construction sector has historically been a late adopter of technology, it is catching up fast, and 30cm images have significant potential to increase precision, accountability and efficiency. This is of particular importance when it comes to mega projects, where using earth observation imagery data may sometimes be the only way to ensure a comprehensive overview of activities on the construction site.
In future we are likely to see satellite imagery employed at every stage of all large construction projects, from site selection, through construction supervision including logistics and change detection, and eventually for ongoing monitoring for maintenance purposes.
Most important of all, however, is the potential impact of the technology on sustainability, as complex projects are increasingly completed within budget, on time, and with reduced waste. Indeed, the construction industry's embrace of satellite data is a strong indicator of the industry's desire to pivot towards a more environmentally friendly future.
---
Did you like the article? Check out our newsletter!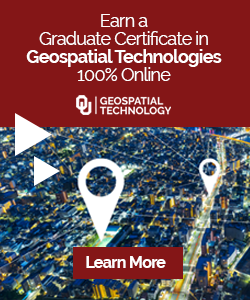 Read on