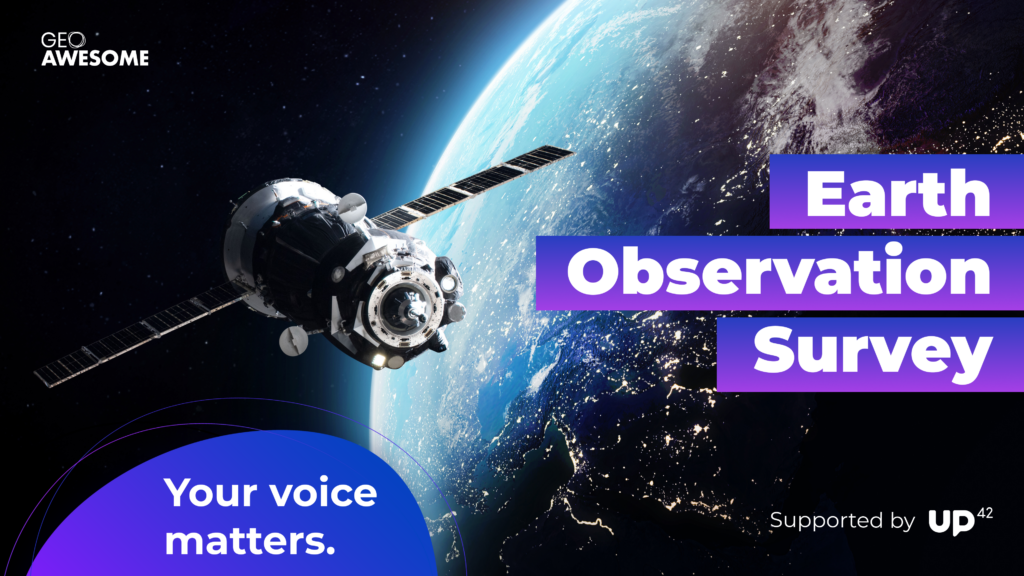 #Featured #Ideas
Have your say in the Earth Observation Survey: What's the current state of the geospatial industry?
Geoawesomeness is excited to announce the launch of the Earth Observation Survey as part of our EO Hub initiative with UP42. We're all about community at Geoawesomeness and our work wouldn't be the same without each and every one of you. That's why we want to hear your thoughts on the current state of the geospatial industry and use your insights to create a new report, launching in 2024.
What we want to know
We're running our EO Survey for the first time to find out what you think about all things Earth observation. 
What are the main challenges you face when working with satellite data? What problems do you see that need solving? What type of resolution is most important to you?
Problems, pain points, favorites, wishlists, you name it: we want to hear it. Instead of guessing what you'd like to see more or less of in our community—we want you to tell us.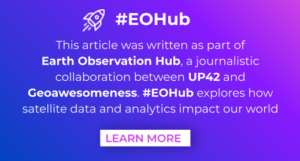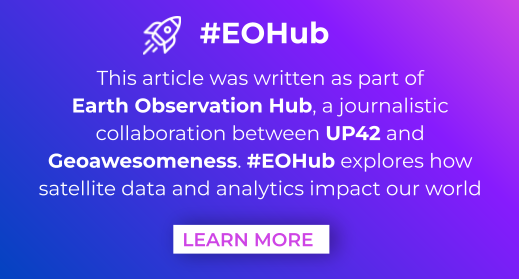 Why the survey is important
In 2023, there are a whole host of emerging geospatial technologies and solutions. But there are plenty of problems to solve.
Filling out this survey will help us find out what you like and what you'd like to change, as well as understand the impact that geospatial data and tools have on your work, studies and community. 
The feedback you share will give us a clearer picture of the geospatial industry today. We're gathering insights through this survey to create a crucial report on current and upcoming trends in Earth Observation, launching in 2024. 
By adding your voice to the conversation, you'll be helping us to represent the many perspectives in the industry and make sure our community is heard.
Why should you take part?
The report we will create using the learnings we gain from this survey will be a snapshot in time of the industry as it stands today.
Our 2024 report on the state of the Earth Observation industry will be available for you to read, download and use completely for free. You'll see firsthand what the rest of the community has to say about geospatial platforms, current gaps that need filling and how they go about accessing and using EO data. 
We hope this growth in geospatial understanding will trickle down into industries far and wide, impacting sustainability, research, product development and much more. 
Use the survey to further your work, deepen your knowledge and discover new opportunities to make a real difference in the world of Earth Observation.
How you can get involved
These insights will be incredibly useful, and we'd be super grateful to hear your thoughts.
Give us your feedback by filling out the survey below. It takes 5 minutes or less to complete. Anyone working with, studying or using Earth Observation data is welcome to take part. If you know of others who would be interested, please share the survey with them.
Add your voice to the conversation and let's change the geospatial trajectory, together. Take the survey below or click here.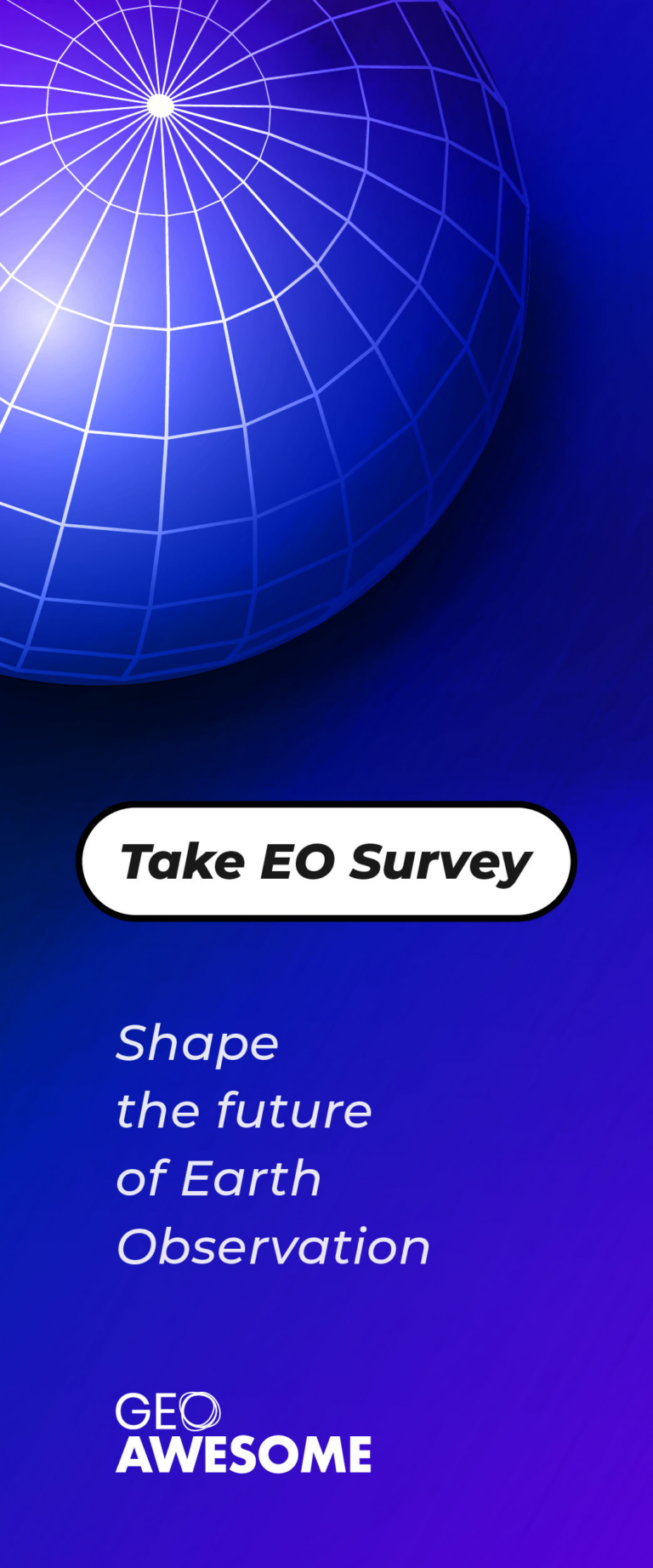 The community is supported by:

Next article
#Copernicus #Environment #Geospatial analytics #Geospatial for Good #Ideas #Landsat #Optical #SAR
Introduction to Satellite Imagery and its Relevance to Disaster Management
Since the dawn of time, natural disasters have posed a huge problem for life on earth. Consequently, in their aftermath, a rapid assessment of the extent of the damage is necessary in order to mitigate the damage as quickly as possible and to allocate aid to the affected areas. Satellite imagery is playing an increasingly important role in this process by providing comprehensive images of the damage caused by floods, earthquakes and other disasters. Satellite imaging technology has developed significantly over the years, enabling us to see and know more. It enables us to pinpoint the exact location of the disaster, the extent of the damage, and the consequent changes in the landscape. Additionally, technology can be used to monitor the progress of response efforts over time, allowing us to identify areas where further assistance is needed.
Natural disasters are becoming more frequent and destructive, and there is nothing science and technology can do to prevent or control significant disasters. Consequently, the need for better preparedness and response measures is greater than ever before. Disaster management is now the biggest challenge facing vulnerable areas. As such, it is crucial that emergency managers have access to up-to-date and accurate information on the location and severity of disasters. In these situations, every second counts, so data must be updated in real time to fully support rescue processes.
This topic will now be narrowed to a discussion of how satellite imagery can help in the event of a specific type of disaster – earthquakes. Satellite data is used extensively by emergency organisations. Scientists analyse ground movement, providing valuable information for authorities to make informed decisions about planning and reconstruction. Rescue teams, in turn, can use maps generated from satellite data to navigate through the rubble to areas that have been severely damaged to help prioritise emergency responses and determine the safest routes, including avoiding bridges that may have been damaged. This enables rescuers to reach remote areas where assistance is severely limited. In addition to providing maps, satellite imagery, and in this case radar imagery, is used to observe and study geological changes resulting from seismic events. This is valuable knowledge that provides scientists with information about potential future earthquakes.
Benefits of using satellite imagery in earthquake disaster management and recovery
As mentioned earlier, satellite imagery has become an important tool in disaster planning and management. The information obtained through EO can be used for more effective disaster management planning, as well as earthquake recovery. Here are some, in my opinion, of its most important advantages:
Rapid damage and impact assessment – Satellite imagery provides rapid and accurate information about the location of the disaster. This helps decision-makers to immediately assess the situation and plan effective responses.
Efficient resource allocation and prioritisation – EO data enables damaged locations to be remotely assessed to determine the urgency and extent of the assistance required, and therefore how to prioritise relief efforts.
Better coordination and communication between the various stakeholders – Thanks to remote data access, all parties involved have simultaneous access to the information. Situation monitoring is fast and efficient due to minute-by-minute earthquake monitoring. Thanks to satellite imagery, the progress of recovery efforts can also be monitored.
Improved monitoring of recovery and reconstruction efforts – With satellite imagery, the progress of recovery efforts can be more accurately monitored. This imagery can be used to identify areas that are particularly vulnerable to further damage, enabling local authorities to better target their response efforts.
The ability to commission tasks quickly using platforms such as UP42 – Not every disaster authority has immediate access to specialised data. Platforms that provide satellite data of interest are perfect for this. These images can be processed and analysed as preferred to extract the information that is most important.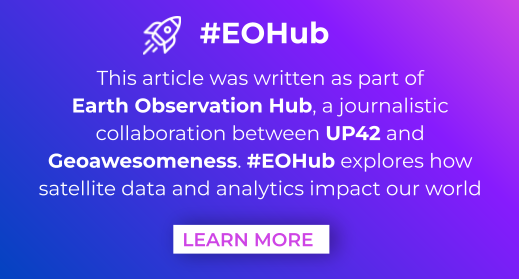 Challenges in implementing satellite imagery for earthquake disaster management and recovery
Satellite imagery has very promising potential for earthquake support. However, like all new technologies, it is not without challenges.
Technical limitations – Satellite imagery has technical limitations that can, unfortunately, make disaster management more difficult after an earthquake. The most important and common limitations include: spatial resolution (which makes it impossible to see fine details), and cloud cover that obscures part of the image, making analysis impossible.
Financial and logistical constraints – There is no denying that the cost of acquiring and analysing satellite data is high. There are times when it is too high for vulnerable communities to access the necessary resources.
The need for skilled manpower – Satellites capture a huge variety of data. This data is analysed using complex algorithms and computer models to identify potential seismic activity. To extract the information of interest and then analyse it requires staff who are specialists in this narrow field, and often in short supply.
Real-world examples of satellite imagery in action
The role of satellite imagery in the aftermath of the 2010 Haiti
On 14 August 2021, an earthquake measuring 7.2 on the Richter scale struck western Haiti, causing extensive damage and a significant number of deaths. The scale and impact of this disaster raises questions about how to better prepare for and respond to these events. One potential solution is before-and-after satellite imagery that shows the full extent of the devastation. As Space notes, images taken in January 2020 and again on 15 August 2021 show hospitals, churches and hotels before and after the quake, and the extent of the damage. Some of the buildings were completely turned to rubble.
A different view of the impact is proposed by NASA's Jet Propulsion Laboratory (JPL) on the basis of satellite images it has acquired. Using interferometric radar images acquired before and after the earthquake (3 and 15 August 2021), teams from JPL and the California Institute of Technology created a map of the deformation of the Earth's surface. The map aims to show the permanent movement of the terrain caused by the earthquake. Areas that were highlighted in blue moved towards the satellite (upwards and eastwards), while those highlighted in red moved away (downwards and westwards). The star represents the epicentre of the quake, which moved westwards along the existing fault line. The dark blue and red areas represent the greatest movement of the Earth's surface.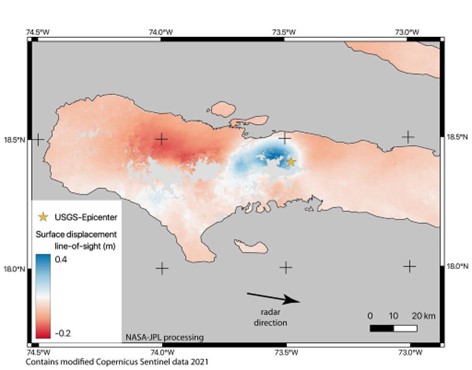 Analysis of these data provides the opportunity to better understand specific fault features, such as depth and direction, which can provide more accurate modelling of earthquakes over time. In addition, these images enable the assessment of areas of increased risk. Continuous imaging can reveal ongoing ground motion that may indicate aftershocks or a potential second earthquake, which in turn helps rescuers prioritise resources in these areas. Interpretation of the data also helps to show damage to buildings or road infrastructure that may pose problems for rescue teams.
Satellite-based assistance in the 2015 Nepal earthquake response and recovery efforts
On 25 April 2015, a powerful 7.8 magnitude tremor, the Gorkha earthquake struck just before noon, local time, along the border where the Indian plate meets the Eurasian plate. Lasting less than a minute, the initial quake killed around 9,000 people, and additional tremors and aftershocks continued for months. In a coordinated effort, analysis began to collect satellite information on the damage from both international and national sources. The data was then disseminated to partners who needed it most, such as USAID, USGS and the International Centre for Integrated Mountain Development (ICIMOD), based in Kathmandu. This effort used multiple NASA satellites, DigitalGlobe and image mosaics. These key optical data helped to initially identify which regions were damaged or destroyed by the earthquake, and where to direct humanitarian aid. Unfortunately, in addition to the initial damage, subsequent aftershocks caused additional landslides, avalanches and flash floods due to blocked rivers and interrupted glacial lakes. Thanks to observations from space and on the ground, it was possible to locate all the dangers and create a composite map of more than 4,300 landslides.
Satellite support during earthquake assessments in Turkey and Syria
The earthquake that hit Turkey and Syria earlier this year caused a huge amount of destruction in both countries, with a death toll of more than 45,000. The Turkish authorities, together with the International Federation of Red Cross and Red Crescent Societies and the United Nations, launched the International Charter, 'Space and Major Disasters'. The Charter provided satellite images of affected areas from various space agencies, which greatly assisted local teams in rescue operations. More than 350 crisis images from 17 space agencies from around the world were provided. In addition, damage classification maps were created from high-resolution optical images. The entire mapped area covered as much as 664 km2.
Simonetta Cheli, Director of Earth Observation Programmes at ESA, commented, "Space is very relevant in cases of natural disasters such as the Türkiye-Syria earthquakes. It is our job when a natural disaster or a humanitarian crisis occurs to coordinate via the International Charter with partner agencies and with the Copernicus Emergency Mapping Services. We are closely following efforts to provide timely Earth observation data to disaster relief teams on the ground."
Radar imagery was also used to enable scientists to observe and analyse the impact of earthquakes on land. The Copernicus Sentinel-1 mission is equipped with a radar that can detect land and 'see' through clouds, both day and night. This allows surface displacement and deformation to be assessed.
The future of satellite imagery in disaster management and recovery
In recent years, satellite data has become an essential tool for disaster damage assessment. Their ability to provide high-resolution imagery is invaluable in understanding the scale and impact of disasters on both infrastructure and human populations. While the technology has been on the market for a while, it is developing rapidly by integrating ever newer solutions. Increasingly, AI is being used to assess damage after natural disasters, in addition to EO data. These advanced technologies allow for the rapid processing and analysis of vast amounts of data, such as satellite imagery, IoT sensor data and social media input, resulting in more accurate and faster damage assessments. Using machine learning and artificial intelligence algorithms, it is possible to identify patterns, assess the severity of damage and extract key information that would otherwise be difficult or impossible to obtain through manual methods.
Just as important as technology development is collaboration between the private and public sectors. Partnerships enable the pooling of resources, knowledge and innovative solutions, which ultimately contribute to a more effective and rapid response to natural disasters. An example worth mentioning is the collaboration between satellite data providers such as GeoEye and DigitalGlobe and the United Nations after the 2010 earthquake in Haiti. It facilitated the identification of displaced people, and damage assessments, and enabled more targeted and effective relief efforts. Additionally, satellite imagery was widely shared, and engaged the community in mapping initiatives to support rescue and recovery efforts. Collaborations between the private and public sectors are of great value in improving disaster response and recovery efforts.
---
Did you like the article? Check out our newsletter: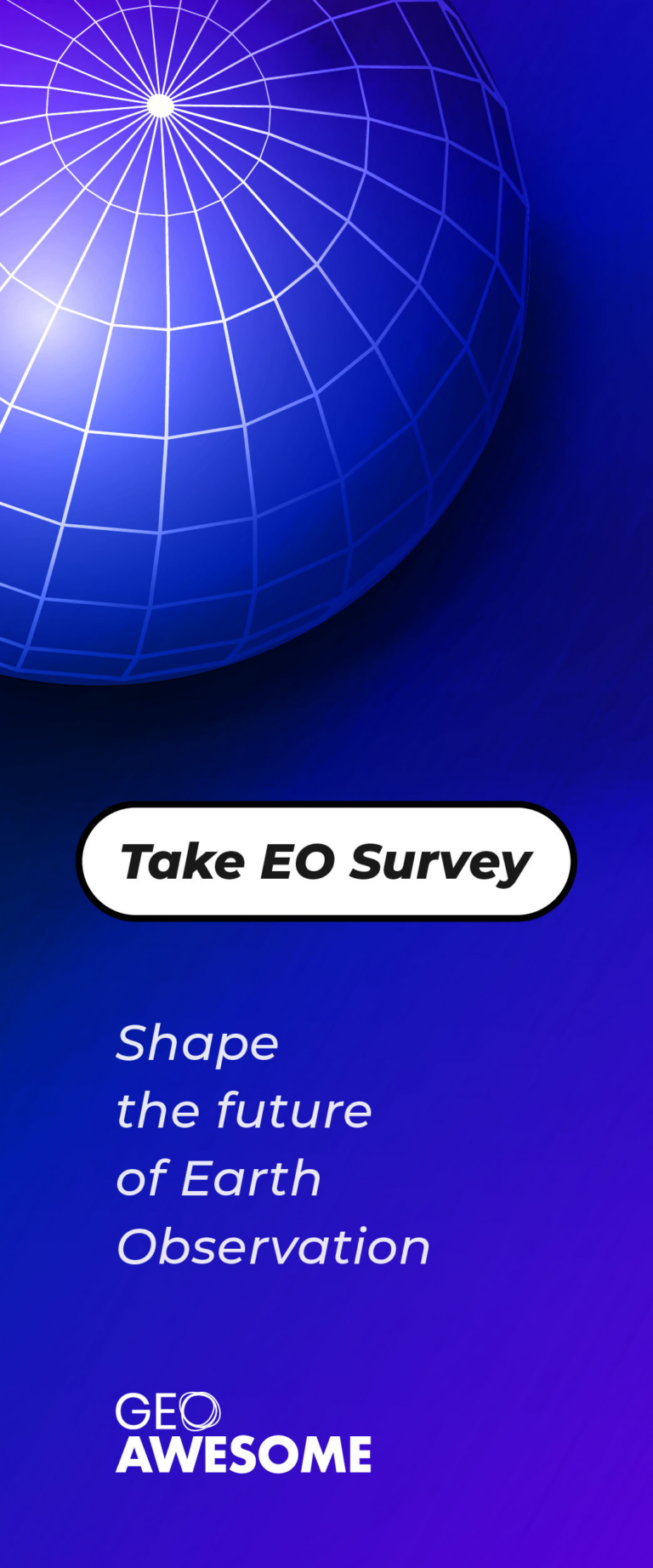 Read on