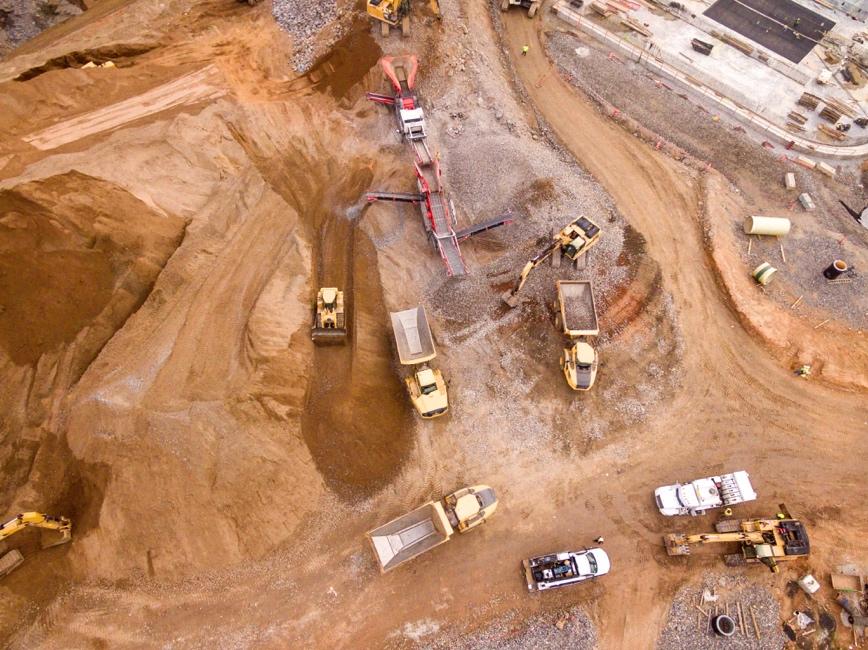 #Business #Construction #Drones #Drones #Featured #Satellite tasking
Exploring the role of satellite and drone data in construction progress monitoring
Part 1 in our EO Hub construction series
Historically, the construction industry has lagged behind other sectors when it comes to digitization. However, technological advances are increasingly permeating the construction landscape, with drone technology in particular gaining significant attention.
Recognized for their ability to capture volumetric measurements of earthworks, and with a typical resolution of around 3cm, drones are now a key engineering tool. They can also provide enhanced situational awareness for small to midsize construction sites, as high-resolution data can be captured and processed into orthomosaics and high-density 3D point clouds in as little as 24-48 hours. This has led to the wide adoption of drones by the construction industry.
However, when the area of interest expands to tens—or even hundreds—of kilometers, as is common in mega projects, challenges arise, and the shortcomings of drones are exposed. This is where the power of satellite data comes into play. With 30cm resolution data now available from several constellations, this technology has the potential to perform a significant role for the industry—provided construction stakeholders can overcome their skepticism.
As we embark on a three-part series exploring the potential use of satellite imagery in the construction industry, we begin by comparing the use of drones and satellite data.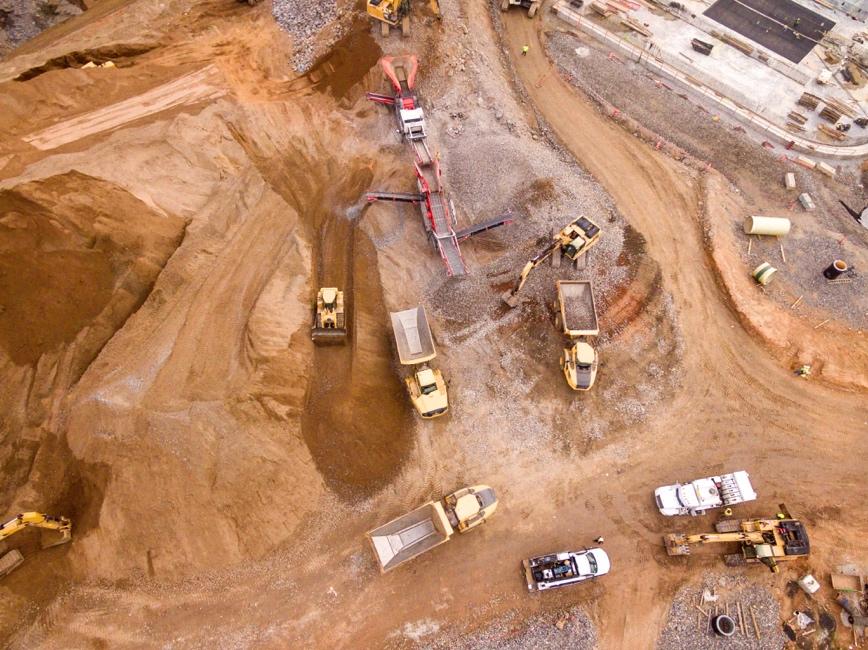 Drones: A versatile data-collection tool
Drone technology is already widely utilized in the construction industry. High-resolution aerial imagery and 3D mapping of construction sites facilitate the collection of crucial data, which can add enormous value for multiple stakeholders.
For example, drones can be used in planning, for verification of site conditions or making environmental impact assessments. During construction, they can be used for detailed engineering calculations, including volumetric cut-and-fill measurements. Drones also play a vital role in monitoring schedule adherence, budget management, quality control, and compliance, and can be used for the detection and rectification of planning and execution errors.
One of the most important benefits of drones is in increasing safety. Construction is one of the most dangerous industries globally, with construction workers 3–4 times more likely to die from on-the-job accidents than those in other sectors—rising to 6 times higher in the developing world. Drones can significantly mitigate the risk of injury and death, by enabling firms to access and capture imagery in dangerous, hard-to-reach locations without on-the-ground human involvement.
With companies like Propeller Aero providing data processing and analysis platforms, plus hardware for improving the accuracy of drone surveys, organizations don't need team of experts to incorporate drones into their workflow. Furthermore, with drones becoming more and more affordable, the entry barrier to their use is lower than ever.
In short, drones are the perfect tool for remotely monitoring sites up to several square kilometers, and with technology advancing rapidly, they have become indispensable to the construction industry. However, they do have limitations. They are not suitable for use in adverse weather conditions—and, most significantly, are not practical for projects over 10-25km2 in area.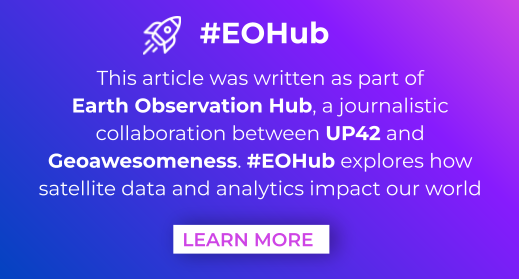 Satellites: The macro perspective
Satellites, on the other hand, provide a high-level perspective. Although they may not prove cost-effective for surveying areas smaller than 10-20km2, they hold immense promise for mega projects. These sites can sometimes be hundreds of kilometers in size, and satellites can offer a macro-level overview which are virtually impossible with traditional methods.
Resolution limitations may prevent cm-level surveying, but with resolution of 30cm (or even 15cm with super resolution) now available, the applications of satellite data are rapidly expanding. For example, satellite imagery can aid in the planning stage when investigating potential sites and assessing environmental impacts—UP42 is an example of a platform which gives construction companies a cost-effective way to conduct planning and feasibility studies through its historic collections.
During construction, satellites can be tasked to help firms to monitor productivity metrics on a large scale, or to measure ground deformation as a result of tunneling. Furthermore, satellite imagery can enhance transparency and trust, improving stakeholder communication.
Of course, as with drones, satellites have their limitations. They are not ideal for monitoring long, linear projects like roads, and depending on the type of imagery required, they may not be effective when dealing with cloud cover.
Complementary Solutions: Drones and Satellites
By combining the use of drones and satellite technology, construction firms can create a robust, multi-layered system for project monitoring and data-gathering. Each technology compensates for the other's limitations: the broader coverage of satellite data counterbalances the restricted range of drones, while the high-resolution data from drones supplements the less detailed satellite data. 
This synergy between the two technologies can ensure comprehensive progress monitoring, enhance decision-making, and sharpen predictive capabilities. When used in tandem, they can significantly reduce (although not eliminate) the need for on-the-ground monitoring, which can increase safety and efficiency, and potentially reduce costs. With the rapid advances being made in data analysis, unparalleled insights are available to organizations willing to embrace the technology.
The table below summarizes the technical differences between drone and satellite data, and demonstrates clearly that they are complementary, rather than competing technologies: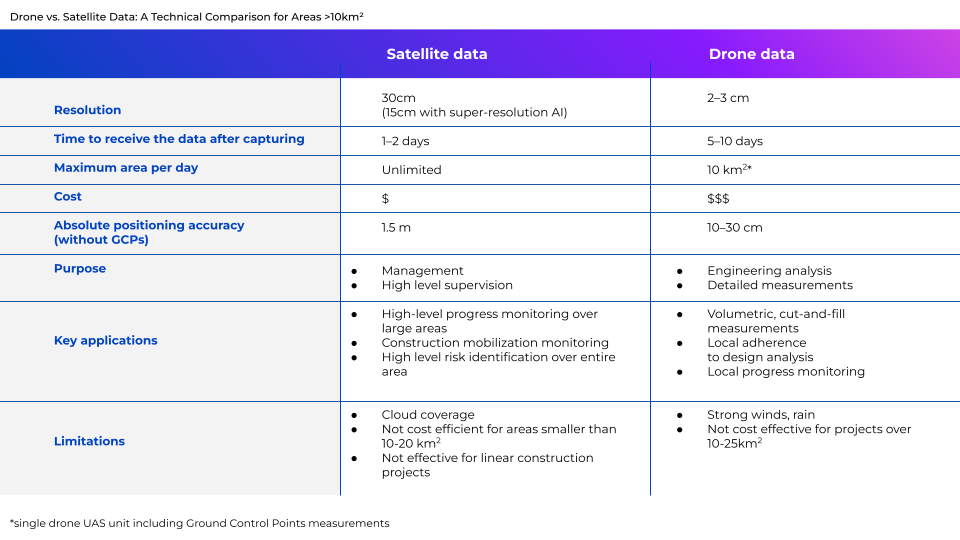 Conclusion
As the digital transformation unfolds, both drones and satellites hold vast potential for the construction industry, and have the potential to work synergistically as invaluable tools for managing large-scale projects. These technologies herald a revolution in construction progress monitoring, driving efficiency, improving quality, and ensuring that complex mega projects can be completed successfully.
However, challenges remain to widespread adoption of satellite data—not least, skepticism within the industry about both its capabilities and affordability. It's true that historically satellite data has been prohibitively expensive, with resolution only suitable for the highest level of analysis. However, the industry has come a long way in a short time. Earth observation data providers and thought leaders in the space have a crucial role to play in communicating the giant leaps forward that satellites have made, in terms of resolution, tasking abilities, and in affordability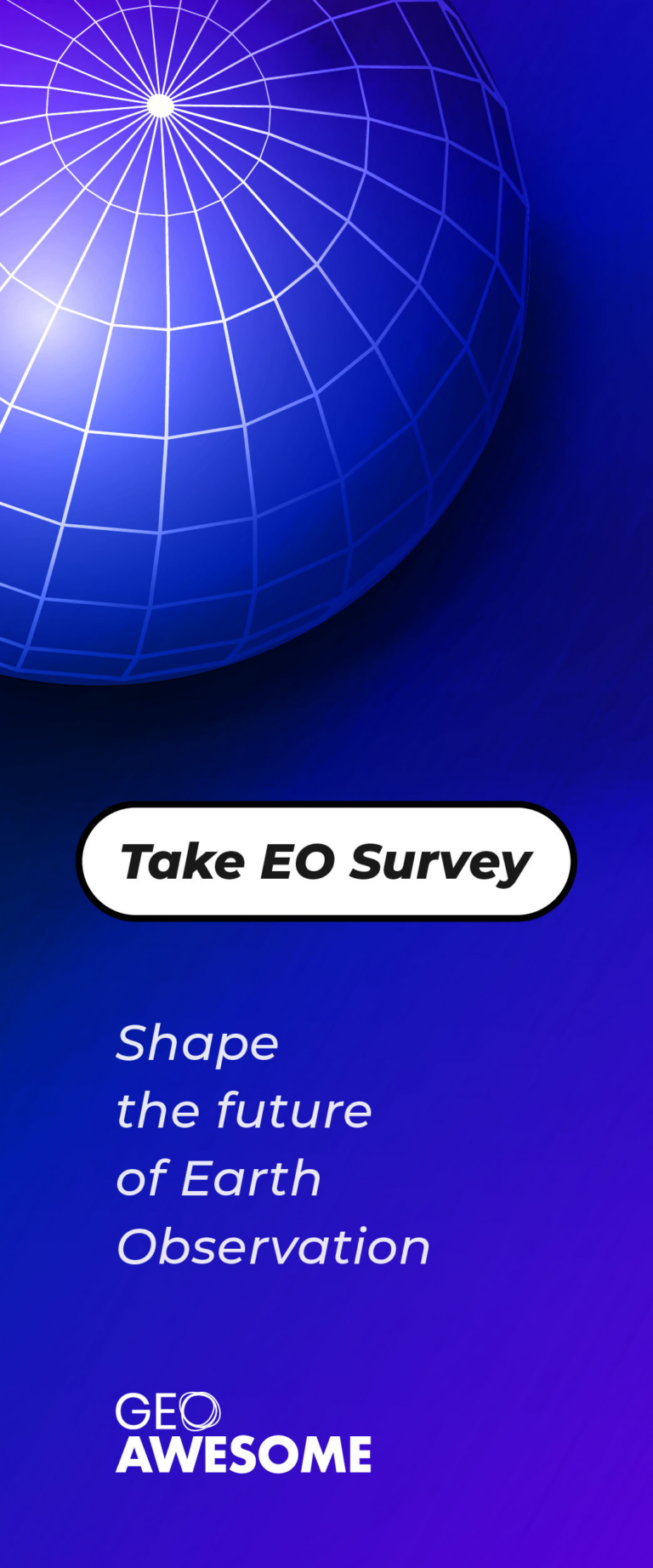 The community is supported by:

Next article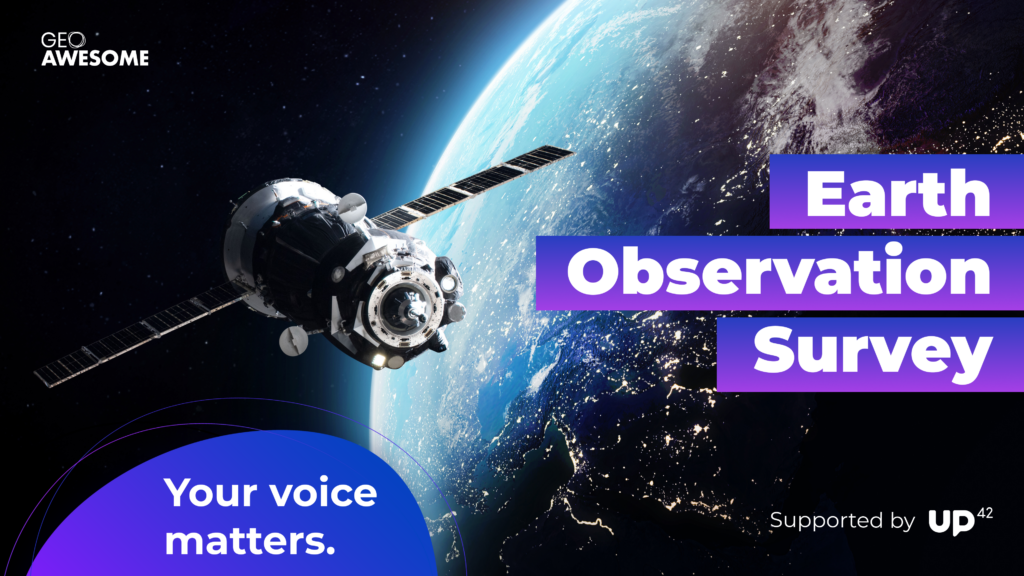 #Featured #Ideas
Have your say in the Earth Observation Survey: What's the current state of the geospatial industry?
Geoawesomeness is excited to announce the launch of the Earth Observation Survey as part of our EO Hub initiative with UP42. We're all about community at Geoawesomeness and our work wouldn't be the same without each and every one of you. That's why we want to hear your thoughts on the current state of the geospatial industry and use your insights to create a new report, launching in 2024.
What we want to know
We're running our EO Survey for the first time to find out what you think about all things Earth observation. 
What are the main challenges you face when working with satellite data? What problems do you see that need solving? What type of resolution is most important to you?
Problems, pain points, favorites, wishlists, you name it: we want to hear it. Instead of guessing what you'd like to see more or less of in our community—we want you to tell us.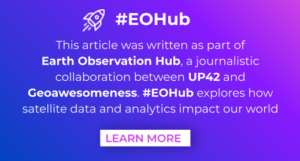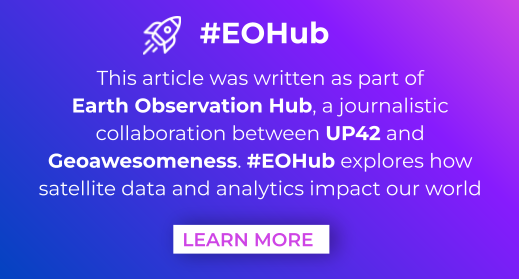 Why the survey is important
In 2023, there are a whole host of emerging geospatial technologies and solutions. But there are plenty of problems to solve.
Filling out this survey will help us find out what you like and what you'd like to change, as well as understand the impact that geospatial data and tools have on your work, studies and community. 
The feedback you share will give us a clearer picture of the geospatial industry today. We're gathering insights through this survey to create a crucial report on current and upcoming trends in Earth Observation, launching in 2024. 
By adding your voice to the conversation, you'll be helping us to represent the many perspectives in the industry and make sure our community is heard.
Why should you take part?
The report we will create using the learnings we gain from this survey will be a snapshot in time of the industry as it stands today.
Our 2024 report on the state of the Earth Observation industry will be available for you to read, download and use completely for free. You'll see firsthand what the rest of the community has to say about geospatial platforms, current gaps that need filling and how they go about accessing and using EO data. 
We hope this growth in geospatial understanding will trickle down into industries far and wide, impacting sustainability, research, product development and much more. 
Use the survey to further your work, deepen your knowledge and discover new opportunities to make a real difference in the world of Earth Observation.
How you can get involved
These insights will be incredibly useful, and we'd be super grateful to hear your thoughts.
Give us your feedback by filling out the survey below. It takes 5 minutes or less to complete. Anyone working with, studying or using Earth Observation data is welcome to take part. If you know of others who would be interested, please share the survey with them.
Add your voice to the conversation and let's change the geospatial trajectory, together. Take the survey below or click here.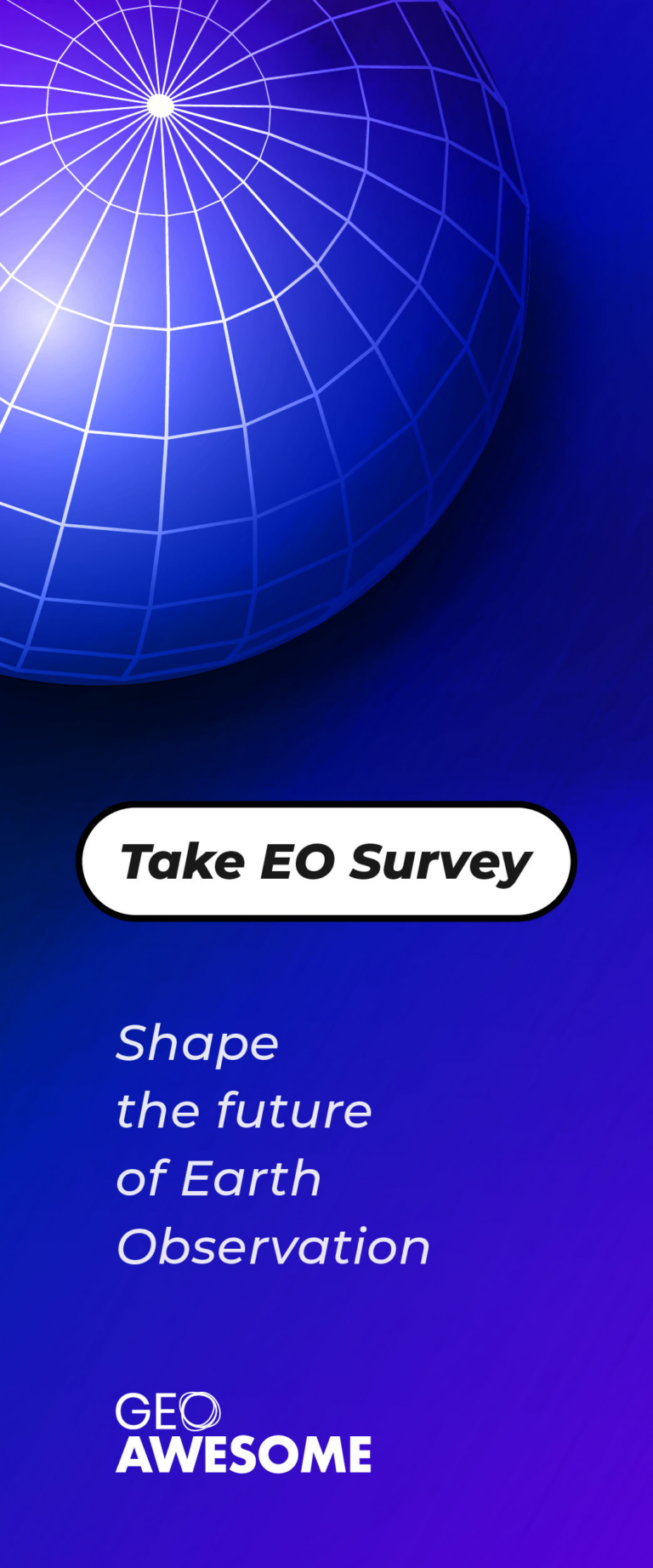 Read on