#Environment
Top satellite-based observations of summer 2022
Top satellite-based observations of July and August 2022
Below you'll find a summary of the most interesting satellite-based observations collected this summer with the use of Copernicus Sentinel-2 satellites. We focus mostly on events resulting from the effects of global climate change and also a couple of military-related events. The ongoing droughts all over the world are stretching water supplies thinner and thinner. While in other parts heavy rainstorms are causing devastating flooding at a scale that can be observed in openly available lower-resolution satellite imagery.
Season of heat
July is globally considered the month of heat. Scorching temperatures have been fueling wildfires in several countries, especially in Europe. Below you can see a fire near Ladrillar in Spain, where officials have quickly issued evacuation orders. Moving to the West, the Oak Fire in North America – up to now, the largest fire in California this year. Later on this summer, we could observe a fire that broke out in the Grunewald forest in Berlin, following an explosion at a munitions storage site and the Garceau Fire on the west of Polson in Montana US.
Extreme droughts and flooding
Many believe that extreme droughts are another consequence of climate change, just like heavy but short rainfalls which are the cause of many floods right now. Countries struggling with this problem include Yemen, Russia, Thailand, Iran, Nigeria, and Sudan. Flooding has affected thousands of people in Sudan since the start of the current rainy season with at least 13 fatalities. Below we can see the satellite image of Guli in White Nile state, right before the flooding that struck on July 10th, damaging 65 homes. Another frequently talked about flooding happened in Pakistan this year, and is clearly visible even from the orbit.
It should be no surprise that the post-spring droughts all over the world have significantly reduced water levels. A great example of this may be Lake Mead – a reservoir in the United States, that is slowly, but surely shrinking. A similar situation can be observed at Lake Urmia in Iran. Satellite images show the slow process of drying of the body water, which was once the sixth largest saltwater lake on the planet. This summer as China was suffering from the drought, Yangtze River was running dry and still is because of the general shortage of water in recent years.
Open-source intelligence
Satellite imagery enables us to follow situations and events happening worldwide. Observations below include results of intense fighting in Sloviansk, near Izium and Energodar in Zaporizhia oblast in Ukraine, where military activity is especially dangerous, because of its close proximity to the Zaporizhia Nuclear Power Plant. Moving to more static objects, at Jiangnan Shipyard in Shanghai, we can spot Fujian – a Chinese aircraft carrier. Type 003 aircraft carrier is the first one to feature a catapult aircraft launch system.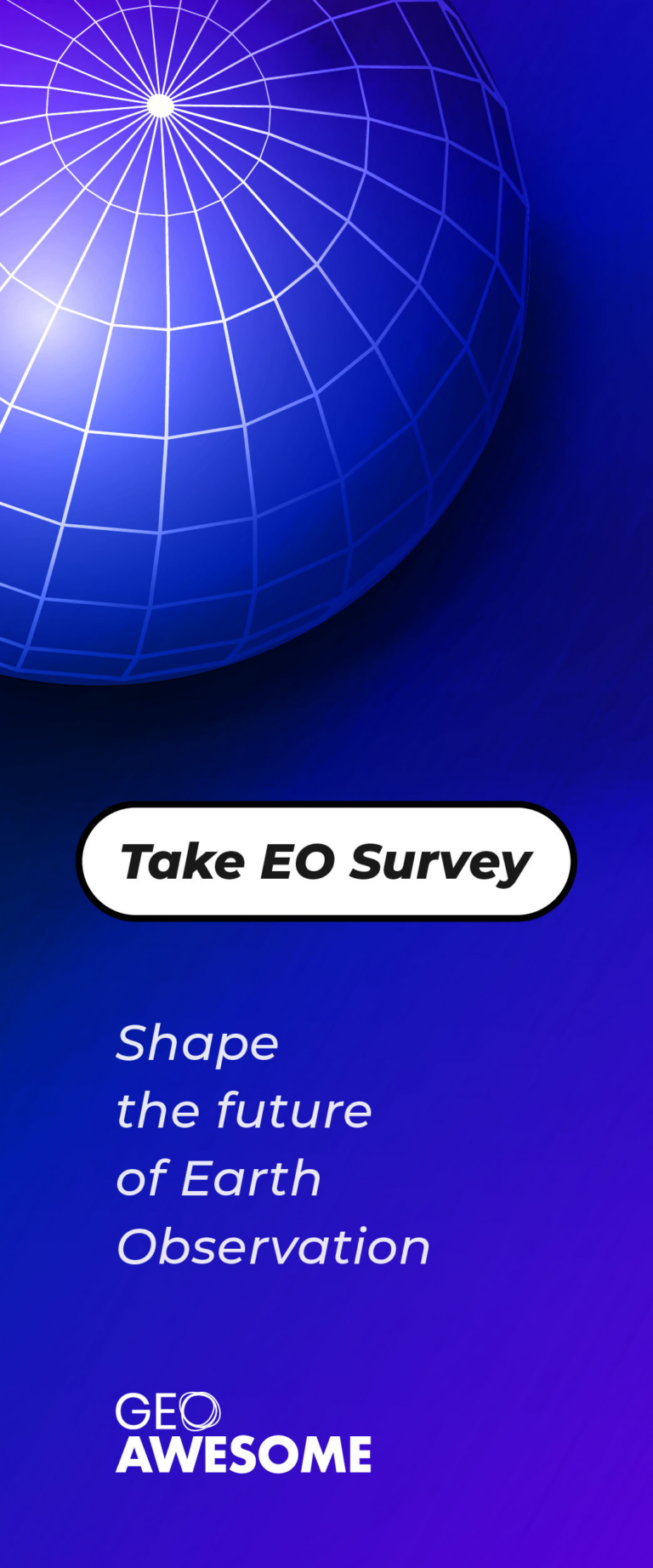 The community is supported by:

#Environment
Next article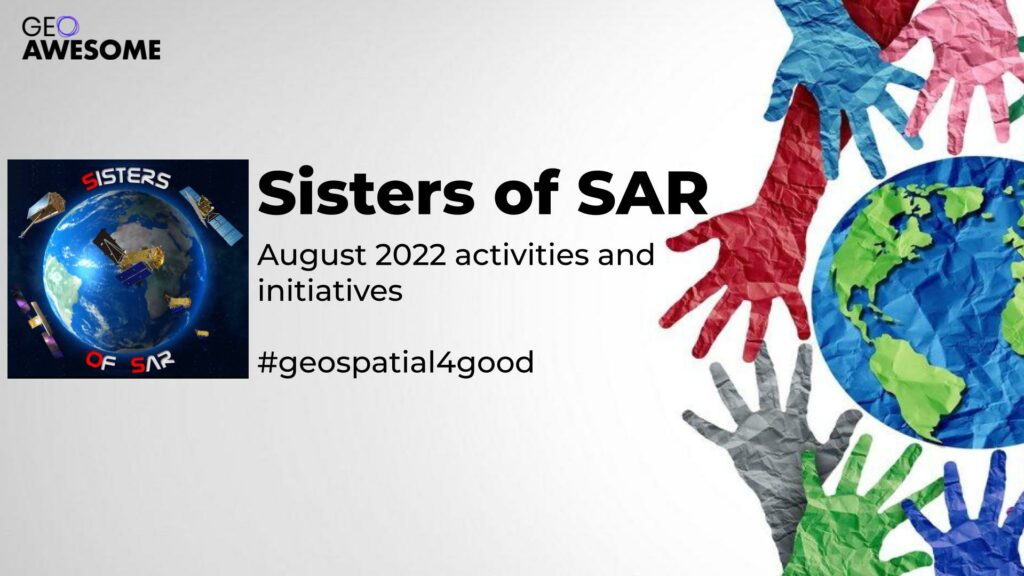 #People
Sisters of SAR – Summary of activity – August 2022
Building a more diverse, inclusive, open and welcoming geospatial industry is all about giving a voice to a more diverse group of geospatial experts and it's a pleasure to showcase SistersofSAR and the all the awesome work they do!
If you are wondering about Sisters of SAR and what they do, then please check out this introductory article on "Sisters of SAR: vision and mission".
Here's what Sisters of SAR have been up to this past month i.e. August 2022.
#SAR_Facts:
Aug 29: ?#SAR_Fact Monday! DYK ⁉️ Degree of polarization  describes the portion of a #SAR wave which is polarized & can be determined by taking the polarized power divided by the total power. The properties of the target, like roughness or moisture, affect DOP. #TheMoreYouKNow #EOChat

Aug 22: ?#SAR_Fact Day! ⁉️DYK for #incoherent targets,

#backscatter is partially or completely unpolarized (e.g. targets like #trees, #crops, etc.). Depolarization occurs from the multiple scattering occurring within the randomly oriented structures. ???#SAR #TheMoreYouKnow #EOChat

Aug 15: ?#SARFact Monday! ⁉️DYK coherent targets' backscatter is generally fully polarized & these usually are man made structure such as buildings? ??? #SAR #TheMoreYouKnow #EOChat
#TrainingTuesday:
Aug 23: ?#TrainingTuesday! ?Are you registered for the @UNAVCO ISCE #InSAR course going on right now? If not, check out➡️ https://youtube.com/playlist?list=PLzmugeDoplFNVTBMUBASLB0Dh7zVi3-IT for the lectures! Awesome opportunity to learn about #InSAR!? #TheMoreYouKnow #EOChat ?If you are attending, tweet & tag us with updates!

Aug 16:?#TrainingTuesday! Today we are looking at https://geospatialwarehouse.wordpress.com/2017/04/29/synthetic-aperture-radar-sar-remote-sensing-basics-and-applications/ a blog post by @kshahidkhurshid
summarizing really excellent #SAR tutorials & resources with links! ⬇️Check it out! #TheMoreYouKnow #EOChat
Aug 9: ?#TrainingTuesday!  ?Another #YouTube training on #SARBasics can be found at: ➡️https://youtu.be/igpXciF66L8. Every time we ?to different trainings we learn something new! #TheMoreYouKnow #EOChat

Aug 2: ?#TrainingTuesday! ⬇️Have you checked out

https://geoawesomeness.com/eo-hub/

  yet? This is a "one-stop shop" for all things EO!!! ?️Don't miss out on this excellent resource from @geoawesomeness!  #TheMoreYouKnow #EOChat #SAR #EarthObservation #RemoteSensing
#DiversityDay Wednesday's were:
Aug 24: ?️#DiversityDay! We're following @NativeScientis1 who are a "network of #scientists committed to promote #diversity in #science, #education & #society. Inspiring the next generation of scientists". ?Give them a follow & ➡️Check out https://nativescientist.com to learn more! #EOChat

Aug 17: #DiversityDay! We are following @SciGenderEquity who "advances #GenderEquity, #DiversityandInclusion in #HigherEducation & #Research institutions in Australia, including by using the #AthenaSwan framework"! ?? ?Give them a follow & learn more ➡️https://sciencegenderequity.org.au #EOChat

Aug 10: ?️#DiversityDay! Celebrating @UCDScienceWomen who "aim to recognise the achievements of women in STEM & to empower female scientists to engage equally in all aspects of scientific & academic life". ?Give them a follow & ➡️check out https://ucd.ie/wits/ #Inclusion #EOChat

Aug 3: ?️#DiversityDay! Today we are following @DataSciJedi who are the "Justice, Equity, Diversity, & Inclusion (JEDI) Outreach Group of the @AmstatNews". ?Give them a follow & find out more at http://datascijedi.org #DiversityandInclusion #DiversityinSTEM #EOChat
#PictureDay Thursday:
?Stunning! #SARisBeautiful #SARArt ?#PictureDay #Sentinel1 #GoldenAgeofSAR https://t.co/wYEk2ObXM1

— Sisters of SAR (@SistersofSAR) August 18, 2022
??#PictureDay! ⬇️Check out this #Sentinel1 imagery for Betsiboka River Delta ??? from @Jack_B_Reid! Stunning #SARisBeautiful #SARArt #GoldenAgeofSAR https://t.co/f6R7NNsnmY

— Sisters of SAR (@SistersofSAR) August 18, 2022
Our #SAR_STARs were:
Aug 26:Our ⭐️#SAR_STAR on Aug 26 was Jess Payne (@Jess_ca_98) who is a #PhD student looking at Iran's rapidly subsiding regions using #EO data, esp. #InSAR at @UniversityLeeds & has a #MSci in #NaturalSciences from @Cambridge_Uni. ?Give her a follow & ⬇️read on! #WomeninSTEM #EOChat

Aug 19: Our ⭐️#SAR_STAR on Aug 19 was Dr. Anna Maria Trofair (@WhinnyHowe) who  is a physicist & cryosphere scientist working for @esaclimate.Her expertise is in #radar remote sensing of the polar ❄️landscape with a background in #SAR. ?Give her a follow & ⬇️read on to learn more! #WomeninSAR #WomeninSTEM #EOChat

Aug 12: Our ⭐️#SAR_STAR on Aug 12 was Helen Hooker (@hooker_helen) who is a #PhD researcher at the University of Reading @UniRdg_Met @UniRdg_water @JBATrust who is improving #flood forecasting maps & systems using #SAR ? !?Give her a follow & ⬇️read on! #WomeninSTEM #WomeninSAR #EOChat

Aug 5: Our ⭐️#SAR_STAR on Aug 5 was Pavithra Raghunathan (@Pav_Raghunathan) who is a a #EO data scientist @CGI_NL, & works with #InSAR for ground motion analysis & #changedetection monitoring. She has a MSc in #Geosciences & RemoteSensing from @tudelft & a #BEng from @bms_of. Give her a follow?! #WomeninSAR
Additionally, we teamed up with the fabulous @LadiesofLandsat and a bunch of other amazing groups for a #ForestSAR after hours social networking event!
✨Are you going to @ForestSAT ?? 2022?✨

Save the date and join us for a wonderful social evening at @UP42_ with some amazing #EOChat organizations!

When ➡️ Tue, August 30, 19:00 CEST
Where ➡️ UP42 GmbH – Ohlauer Straße 43, 10999 Berlin
Registration ➡️ https://t.co/HAFy1hQOkD pic.twitter.com/TtOipYBGKm

— Ladies of Landsat (@LadiesOfLandsat) August 13, 2022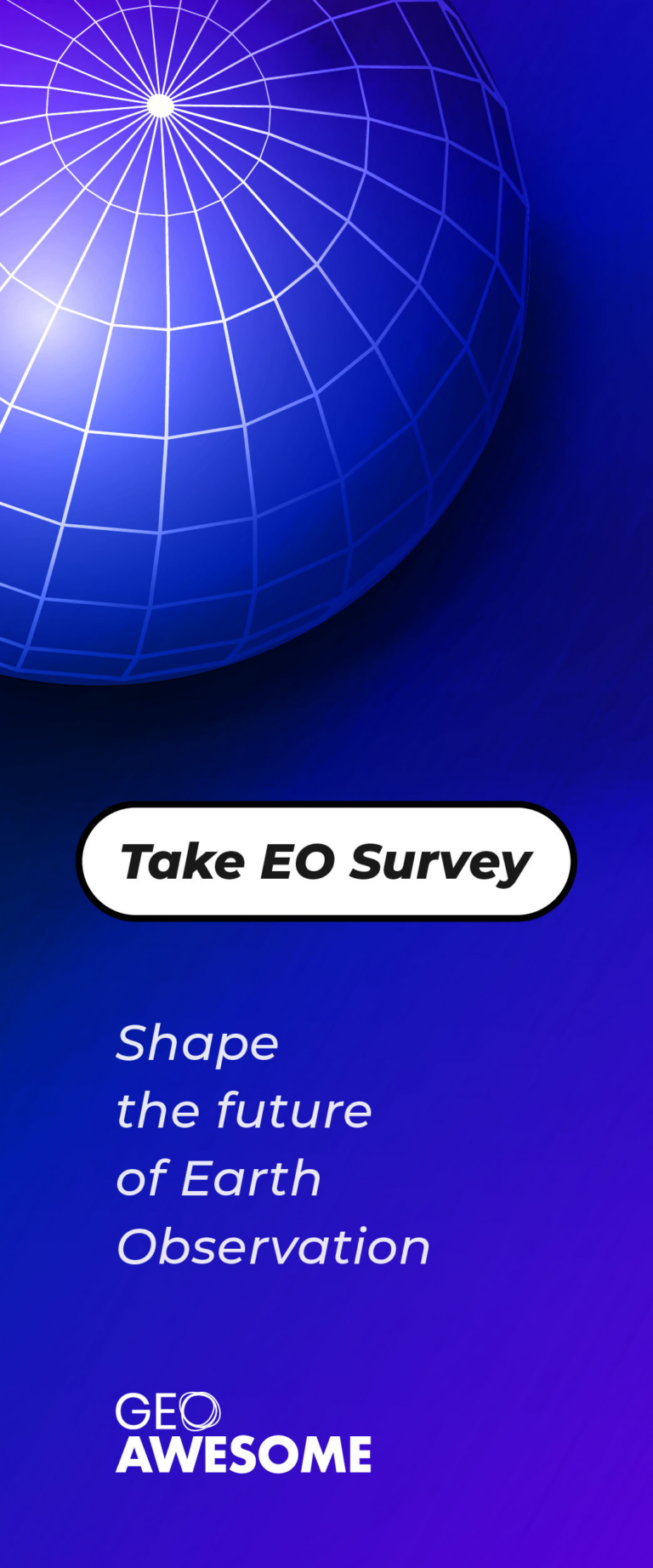 Read on