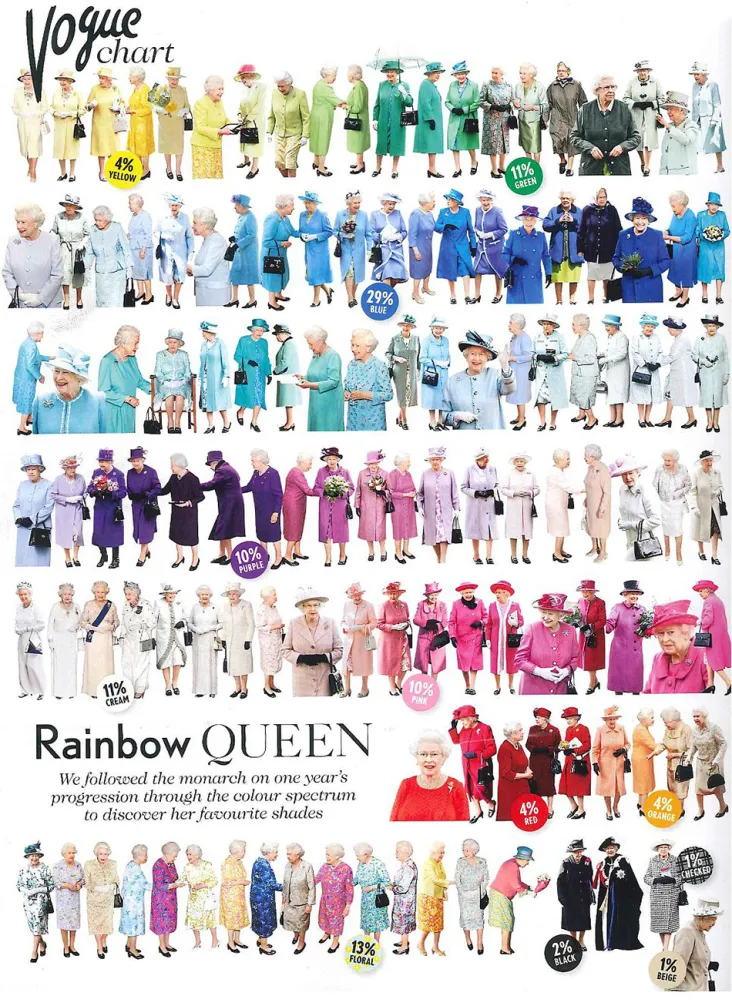 #People
Top maps and charts that explain Queen Elizabeth II
Queen Elizabeth II, the UK's longest-serving monarch, has died at Balmoral castle, aged 96, after reigning for 70 years. It marks both the loss of a revered monarch — the only one most Britons have ever known — and the end of a figure who served as a living link to the glories of World War II Britain. The Queen came to the throne in 1952 and witnessed enormous social change. She presided over its fitful adjustment to a post-colonial, post-imperial era and saw it through its bitter divorce from the European Union.
1. The key milestones of the life of Queen Elizabeth II
The life of Queen Elizabeth II began on April 21, 1926, when Princess Elizabeth Alexandra Mary was born in Mayfair, London. She was the first child of the future King George VI and Queen Elizabeth, later called the Queen Mother.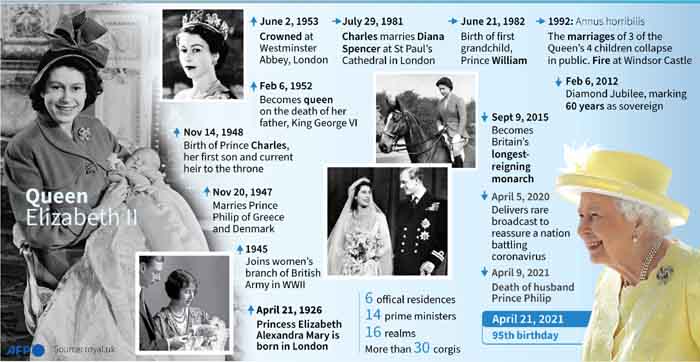 source: ewn
2. Which countries did Queen Elizabeth II reign over?

Queen Elizabeth II was the official queen of 15 different independent countries. Those countries are together known as the "Commonwealth realms" – a smaller subset of the Commonwealth of Nations, which also includes many queenless republics. Every one of the 15 Commonwealth realms is considered a fully-fledged independent country and a member of the UN, despite sharing the same monarch. Here's a list of all the Commonwealth realms that exist today, in order of when they became independent:
United Kingdom, Canada, Australia, New Zealand, Jamaica, The Bahamas, Grenada, Papua New Guinea, Solomon Islands, Tuvalu, Saint Lucia, Saint Vincent and the Grenadines, Belize, Antigua and Barbuda, Saint Kitts and Nevis.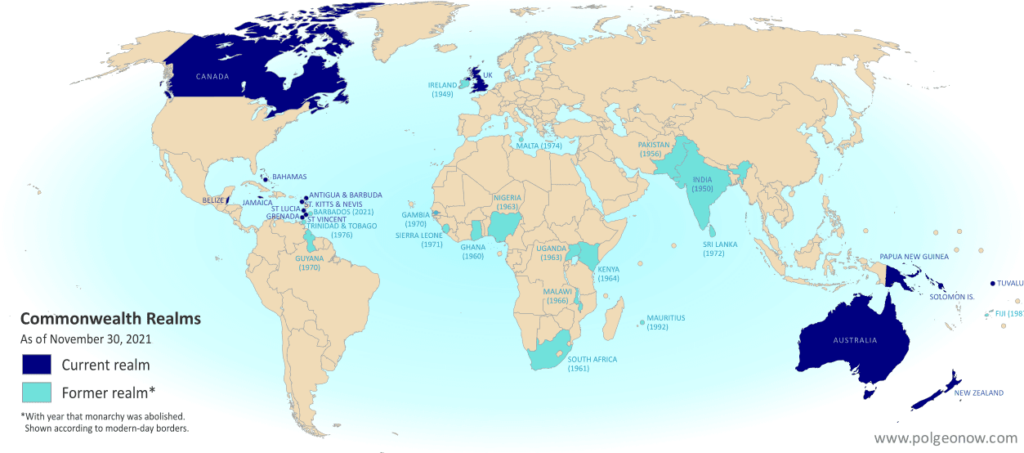 source: Polgeonow
3. Royal Family tree
The British royal family can trace its roots back nearly 1,200 years. Queen Elizabeth II, had three generations of direct heirs living, a line of succession not seen since Queen Victoria's rule in the late 19th century.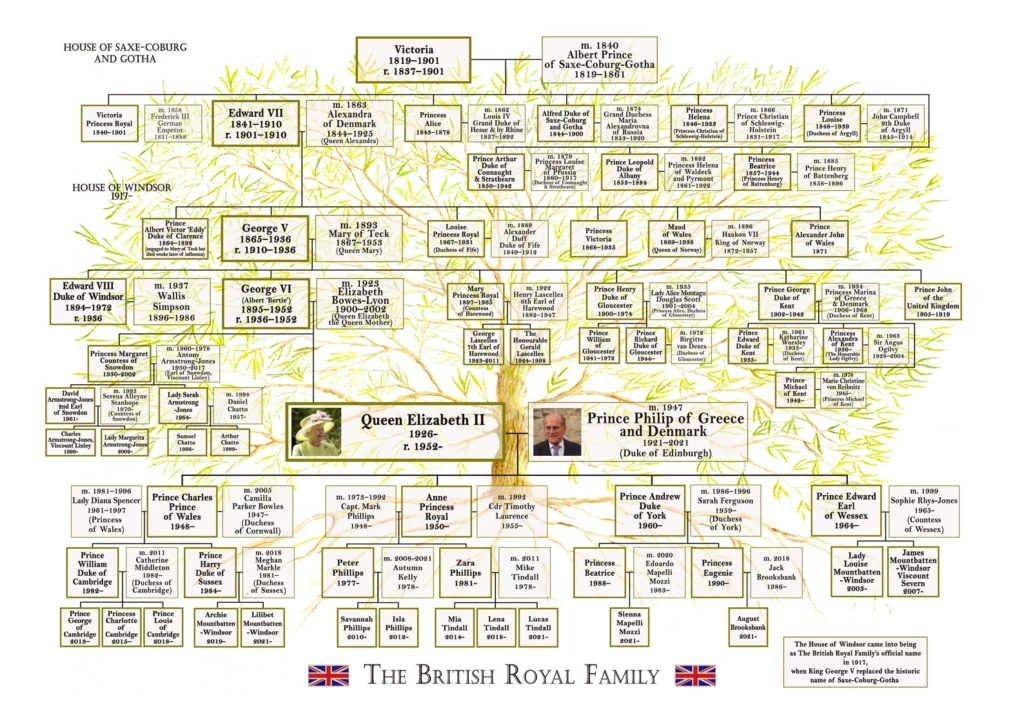 source: Etsy
4. The line of succession
With the passing of Queen Elizabeth II, there is a new line of succession to the British throne. The queen's oldest son, Charles, has become king. And with his ascension to the throne, members of his direct family, including his sons Princes William and Harry, are now higher in the line of succession. In general, succession falls to the first-born child of the heir and their children, followed by the next oldest sibling of the heir and their offspring and so on. That's why, for instance, Prince Charles' children and grandchildren are ahead in line of Charles' oldest brother, Prince Andrew, the Duke of York.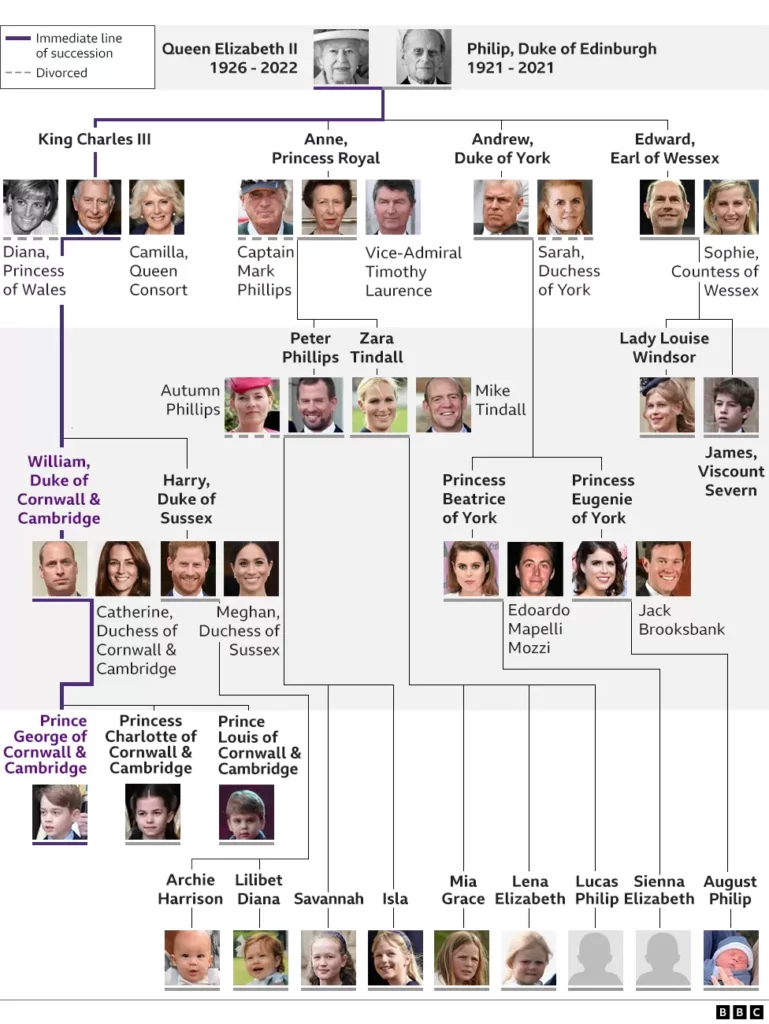 5. Queen Elizabeth II in numbers

source: Pinterest
6. Map of every royal family home across the United Kingdom
While Buckingham Palace remains the Queen's official residence, most of her time in the last few years have been spent at either Windsor Castle or other holiday homes like Balmoral Castle and Sandringham House. Of the 20 properties that you see on the map above, eight are reserved exclusively for Queen Elizabeth II and Prince Philip. The other roomy castles, manors, and cottages are home to the monarch's children and grandchildren, though many of them have purchased their private properties too.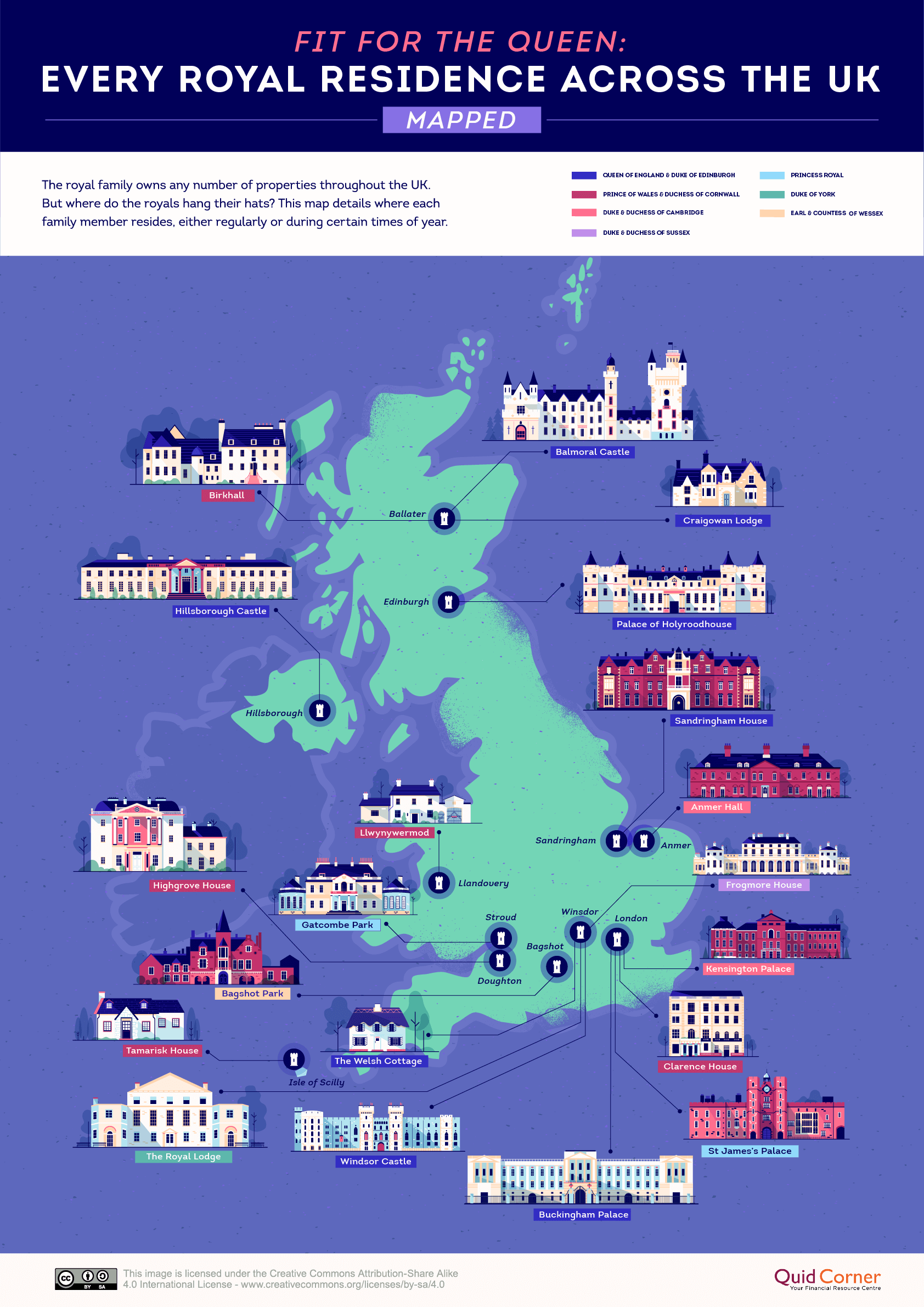 source: Geoawesomeness
7. Queen Elizabeth II is the Most Admired Woman Ever
Queen Elizabeth II had appeared more than 50 times in the top five of the Gallup list of the most admired woman, since Gallup started their annual survey in 1948.
source: Statista
8. The Costs of Maintaining the Crown
The royal household of Queen Elizabeth II receives public funding in the form of the Sovereign Grant established in 2011. It's the part of the expenses the tax payer picks up for the Queen to fulfill her official duties as the head of state and nation. The Queen also has other means of funding, for example her personal investment portfolio.
source: Statista
9. List of state visits made by Elizabeth II
Queen Elizabeth II undertook a number of states and official visits over her 70-year reign (1952 to 2022) as well as trips throughout the Commonwealth, making her the most widely travelled head of state in history.
source: Wikipedia
10. Royal outfit chart
Royal outfit data visualized in Vogue magazine. Blue was her favourite colour.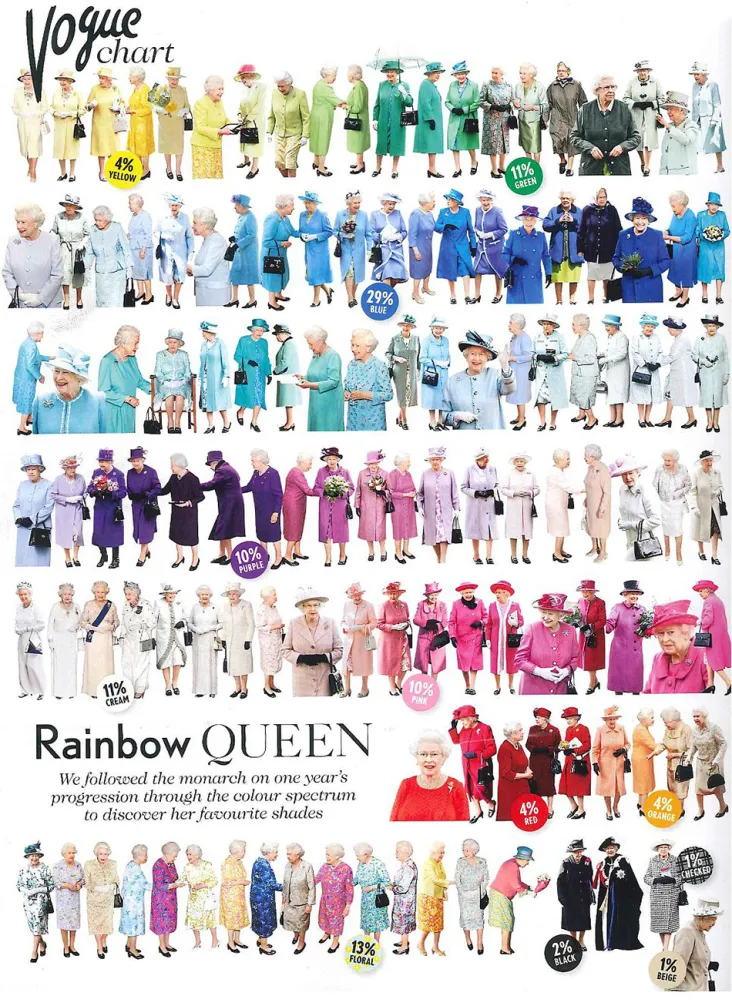 source: Vogue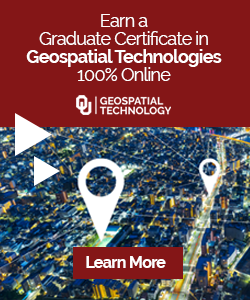 The community is supported by:

Next article
#Environment
Top satellite-based observations of summer 2022
Top satellite-based observations of July and August 2022
Below you'll find a summary of the most interesting satellite-based observations collected this summer with the use of Copernicus Sentinel-2 satellites. We focus mostly on events resulting from the effects of global climate change and also a couple of military-related events. The ongoing droughts all over the world are stretching water supplies thinner and thinner. While in other parts heavy rainstorms are causing devastating flooding at a scale that can be observed in openly available lower-resolution satellite imagery.
Season of heat
July is globally considered the month of heat. Scorching temperatures have been fueling wildfires in several countries, especially in Europe. Below you can see a fire near Ladrillar in Spain, where officials have quickly issued evacuation orders. Moving to the West, the Oak Fire in North America – up to now, the largest fire in California this year. Later on this summer, we could observe a fire that broke out in the Grunewald forest in Berlin, following an explosion at a munitions storage site and the Garceau Fire on the west of Polson in Montana US.
Extreme droughts and flooding
Many believe that extreme droughts are another consequence of climate change, just like heavy but short rainfalls which are the cause of many floods right now. Countries struggling with this problem include Yemen, Russia, Thailand, Iran, Nigeria, and Sudan. Flooding has affected thousands of people in Sudan since the start of the current rainy season with at least 13 fatalities. Below we can see the satellite image of Guli in White Nile state, right before the flooding that struck on July 10th, damaging 65 homes. Another frequently talked about flooding happened in Pakistan this year, and is clearly visible even from the orbit.
It should be no surprise that the post-spring droughts all over the world have significantly reduced water levels. A great example of this may be Lake Mead – a reservoir in the United States, that is slowly, but surely shrinking. A similar situation can be observed at Lake Urmia in Iran. Satellite images show the slow process of drying of the body water, which was once the sixth largest saltwater lake on the planet. This summer as China was suffering from the drought, Yangtze River was running dry and still is because of the general shortage of water in recent years.
Open-source intelligence
Satellite imagery enables us to follow situations and events happening worldwide. Observations below include results of intense fighting in Sloviansk, near Izium and Energodar in Zaporizhia oblast in Ukraine, where military activity is especially dangerous, because of its close proximity to the Zaporizhia Nuclear Power Plant. Moving to more static objects, at Jiangnan Shipyard in Shanghai, we can spot Fujian – a Chinese aircraft carrier. Type 003 aircraft carrier is the first one to feature a catapult aircraft launch system.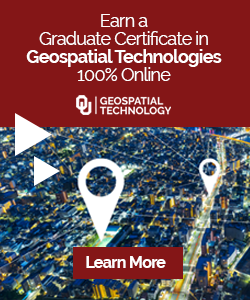 Read on