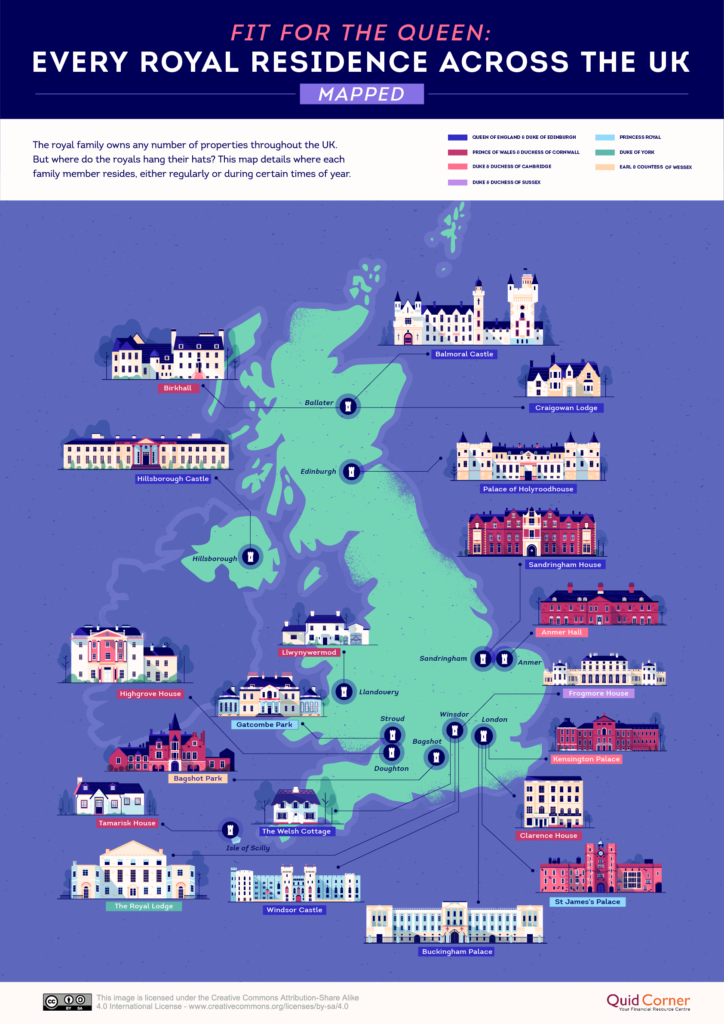 #Business #Ideas
This map shows every royal family home across the United Kingdom
Have you ever wondered how many homes does the British royal family have? If you've been watching The Crown on Netflix as ardently as I have or just following the chatter about the growing transatlantic tensions between the Buckingham Palace and the Sussexes, you're bound to be curious about everything royal! I know I am.
So, here's what we know about the insanely stunning palaces, castles, and houses owned by the royal family in the United Kingdom… The royal family residences cover all four corners of the UK, as you will see in the handy map created by Quid Corner below.
While Buckingham Palace remains the Queen's official residence, most of her time in the last few years has been spent at either Windsor Castle or other holiday homes like Balmoral Castle and Sandringham House.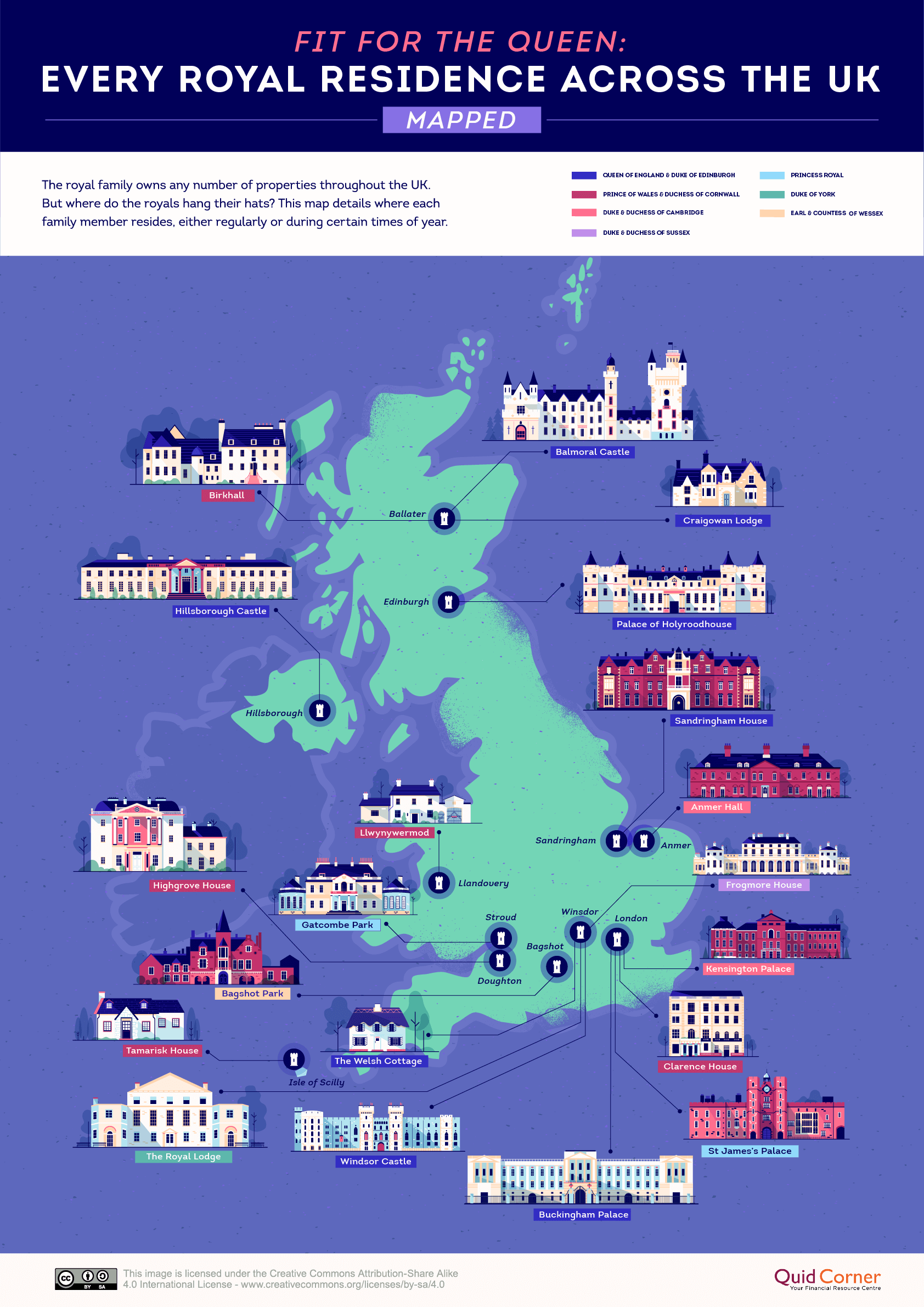 Of the 20 properties that you see on the map above, eight are reserved exclusively for Queen Elizabeth II and Prince Philip. The other roomy castles, manors, and cottages are home to the monarch's children and grandchildren, though many of them have purchased their own private properties too.
So, who hangs their hats where? See the illustration below to understand the ownership details of royal residences…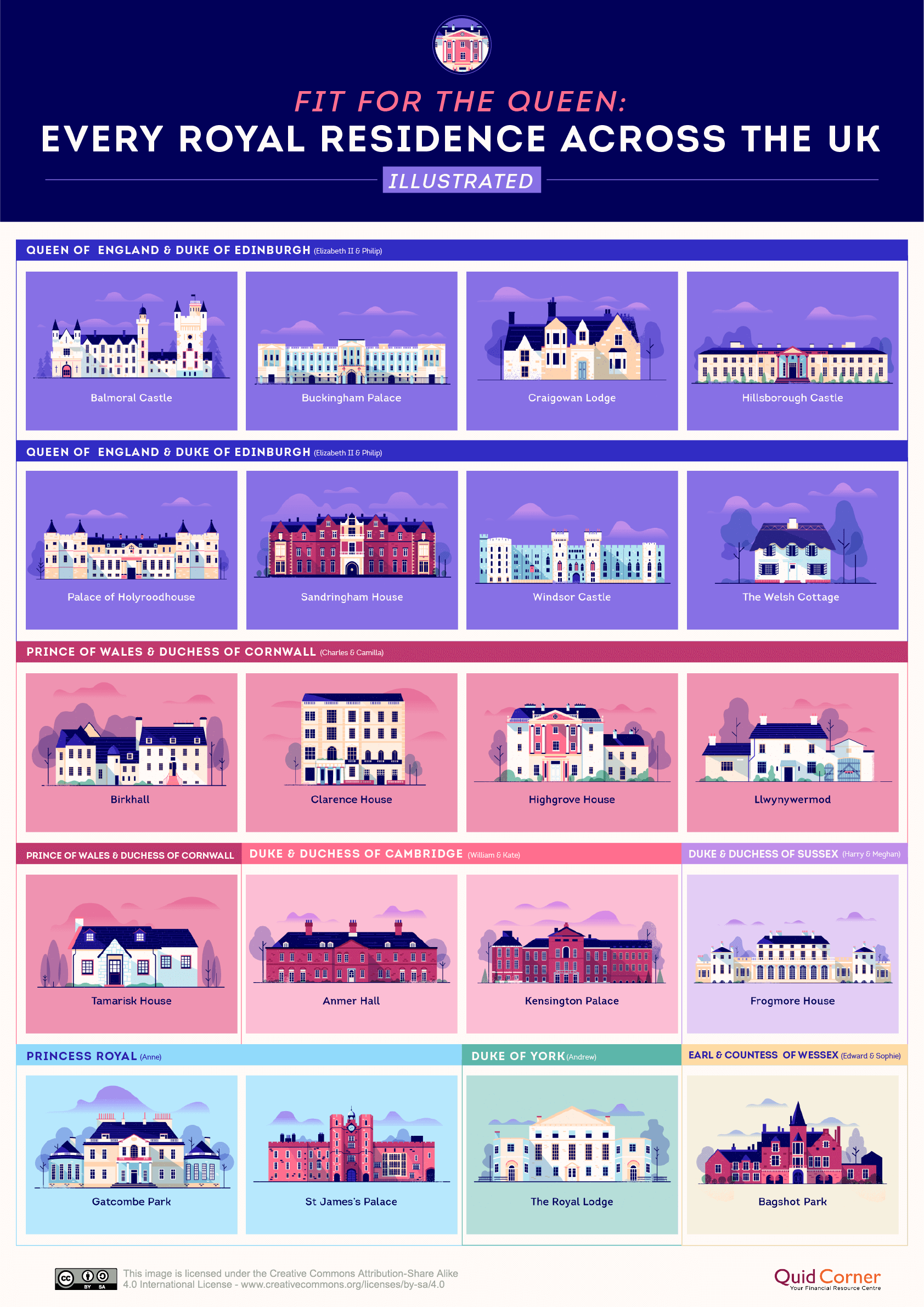 In case you're wondering what happened to Frogmore House after Prince Harry and Meghan moved to Canada in March 2020, you should know that the property was lent out to Princess Eugenie and Jack Brooksbank rent-free in November. Prince Harry and Meghan continue to be financially responsible for the upkeep of the property though.
Here are some fun facts about the royal family residences owned by the Queen and Prince Philip…
Buckingham Palace: The palace is both a residence and official administrative seat of the monarch of the United Kingdom. Prince Charles and Prince Andrew were born here.
Balmoral Castle: Serving as the Queen's summer holiday home, this granite castle is built on a 50,000-acre estate. Prince Albert bought the property for Queen Victoria in 1852.
Craigowan Lodge: Prince Charles and Princess Diana once favored this seven-bedroom stone house. Today, it is mainly used to host visiting dignitaries.
Hillsborough Castle: The Secretary of State for Northern Ireland resides here, and the royal family stays here while in Northern Ireland.
The Palace of Holyroodhouse: It is the main site of 'Holyrood Week,' the Queen's annual celebration of Scottish achievement and community.
Sandringham House: The Queen inherited private ownership of Sandringham from her father, King George VI, in 1952, and passed on the responsibility for its upkeep to her husband, the Duke of Edinburgh.
Windsor Castle: The largest and longest-occupied castle in Europe, Windsor has been home to 39 monarchs!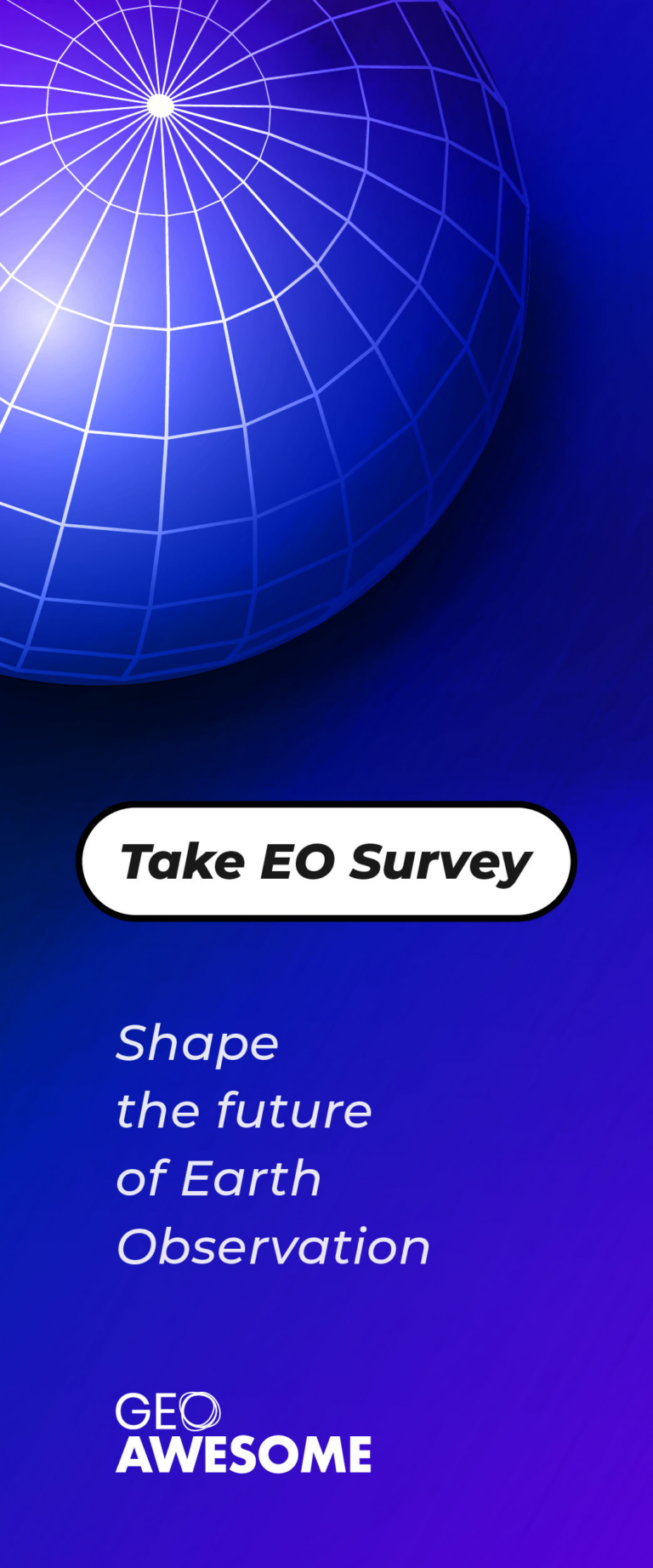 The community is supported by:

Next article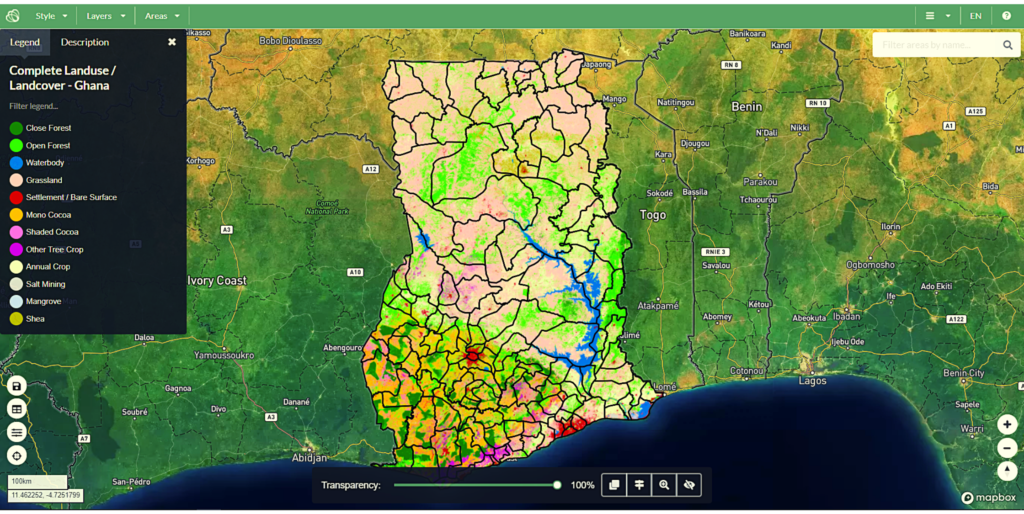 #Business #Ideas
Ghana launches National Map of Forests and Land Use
Ghana launched its National Map of Forests and Land Use on 28th January 2021.
Resource Management Support Centre (the technical wing of Ghana Forestry Commission) produced the map, with the support of among others, Kwame Nkrumah University of Science and Technology, Ecometrica Limited and the University of Leicester.
The map differentiates cocoa farms from natural forests. This is a critical measure of how cocoa farming is driving deforestation.
The aim of the map and its later updates include:
Eliminating deforestation from the production of agricultural commodities such as cocoa.
Supporting international forest conservation efforts such as REDD+.
Ensuring compliance with forest laws.
Informing international reporting on greenhouse gas emissions from land use.
It is part of Forests 2020, a project by a consortium of UK experts and international partners led by Ecometrica Limited.
The project aims to protect and restore up to 300 million hectares of tropical forests in 6 developing countries. They will do this using satellite data.
How was the data gathered?
The map was produced by combining local expertise, satellite imagery, lidar data and machine learning techniques.
Detection of cocoa utilized radar data collected from Sentinel-1 satellite in combination with optical data collected from Sentinel-2 satellite.
Cocoa can either be:
Unshaded monocrop cocoa – grown as a plantation under the sun, without shade.
Shaded cocoa agroforests – grown with trees which provide shade.
Detection of unshaded, mono-crop cocoa and segregating it from natural forests was done using Sentinel 2 satellite imagery.
While radar imagery from Sentinel 1 is effective for monitoring deforestation over large areas, it is limited to detecting the uppermost part of the forest canopy.
Shaded cocoa agroforests are challenging to detect because they are under the forest canopy. Lidar technology was thus used to detect these.
Why is the map important?
Ghana is the second-largest cocoa producer in the world, the first being Ivory Coast, (or Côte d'Ivoire). Together, they produce over 50% of the world's cocoa – the essential ingredient in chocolate.
But at what cost?
27% of total deforestation in Ghana between 1990 to 2008 is estimated to have been driven by cocoa cultivation.
Using historical imagery, a U.S. Geological Survey project uncovered the following trends in Ghana:
At three time periods (1975, 2000, and 2013) 38 years apart,
Agricultural land increased from 13% to 32% of the total land area.
Forests declined by 25%.
Settlements increased by 161%.
Conversion of forests to cocoa farmlands is threatening the remaining forested and protected areas. The drivers for this are:
Low yields from ageing cocoa trees,
Poor agricultural practices, and
Shrinking of suitable farmland land area due to climate change.
Many chocolate companies have committed to deforestation-free supply chains. This is due to the rise in consumer demand for sustainable products.
To meet this commitment, the Ghanaian government, and the cocoa sector must track where each bean is coming from and so exert pressure on suppliers to end unsustainable practices.
The lack of up-to-date land-use maps and effective forest monitoring systems hampered these efforts until now.
The map will enable companies to trace their supply chains and ensure they are deforestation-free. This will result in a reduction of deforestation from Ghana's agricultural and extractive commodities like crops, timber or minerals.
Furthermore, the map will help in near real-time vegetation change and deforestation monitoring.
Final thoughts
The map is a milestone towards ending deforestation, restoring forests and ensuring sustainability in the cocoa industry.
You can explore the map here.
Visit the links below to learn more about deforestation efforts in Ghana.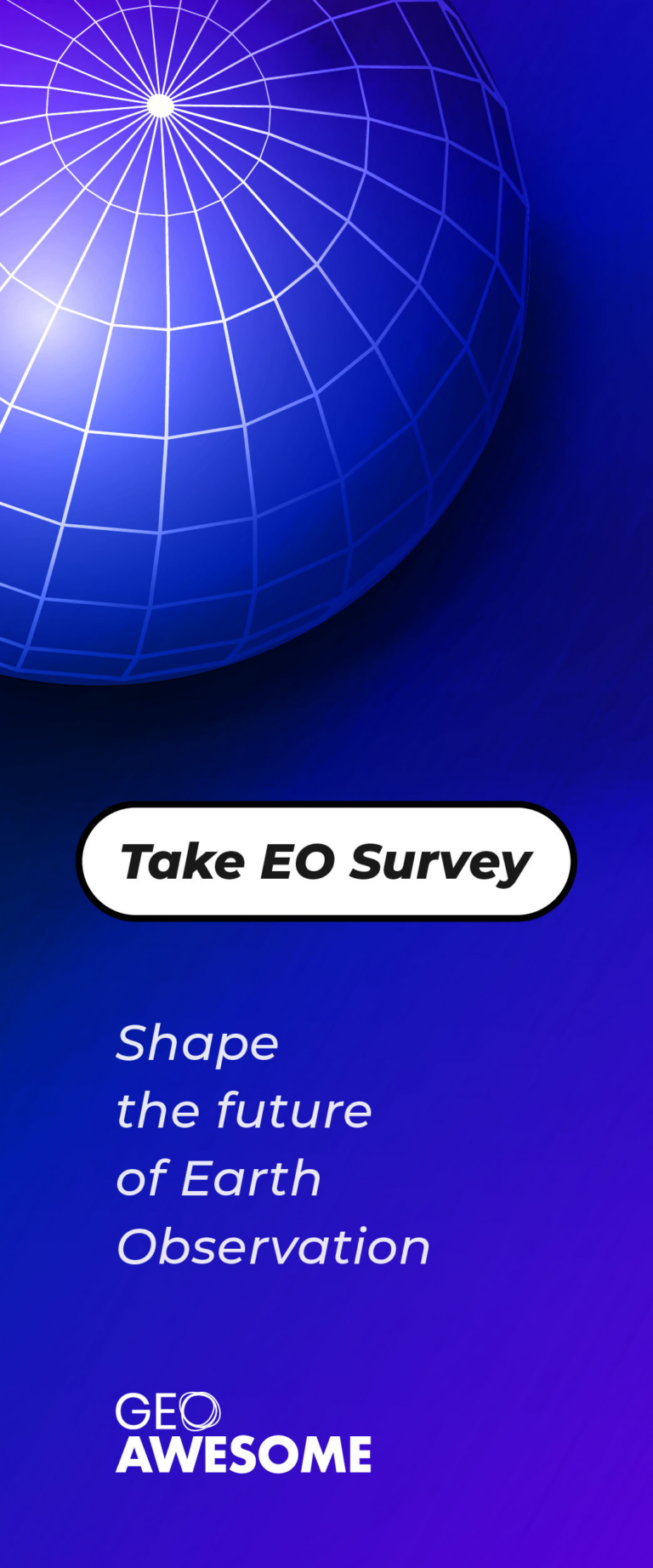 Read on