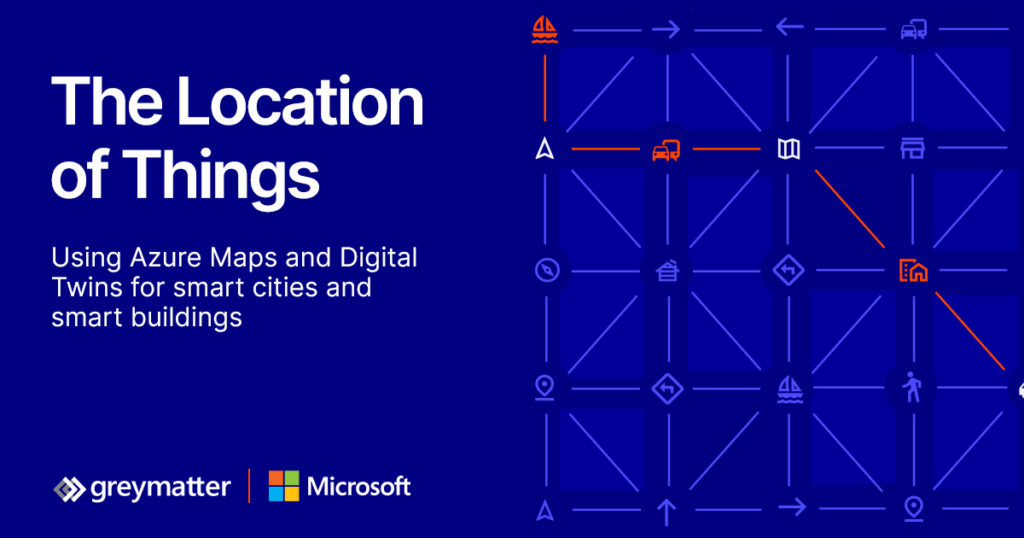 #Featured #Ideas #People
The Location of Things – Maps, IoT and Digital Twins – GDM #14
Making our cities more sustainable is one of the biggest challenges that faces humanity in the 21st century; so much so that the United Nations in all its wisdom has identified it as one of the 17 goals for the planet: United Nations Sustainable Development Goal #11 to transform our world – Make cities and human settlements inclusive, safe, resilient and sustainable.
With less than 9 years left to achieve the ambitious goals set out for our cities, 2020-2030 is being touted as the decade of action! As with many things in life, What gets measure gets managed and measuring the transformation of a city towards a more sustainable future is not simple task. How do we use the tools at hand to help local policy makers and city agencies to make their cities more inclusive, safe, resilient and sustainable? To be more precise, how can geospatial data and technology help tackle this challenge?
The Location of Things – 14th Geoawesomeness Digital Meetup
We teamed with our friends over at Microsoft Azure, Grey Matter and Evident Proof to deep deeper and talk about the role of Internet Of Things (IoT), Digital Twins and Maps in helping transform our cities and buildings.
You can join us live, listen to 4 amazing talks and network with the rest of the spatial community during the event on 23rd June (registration link).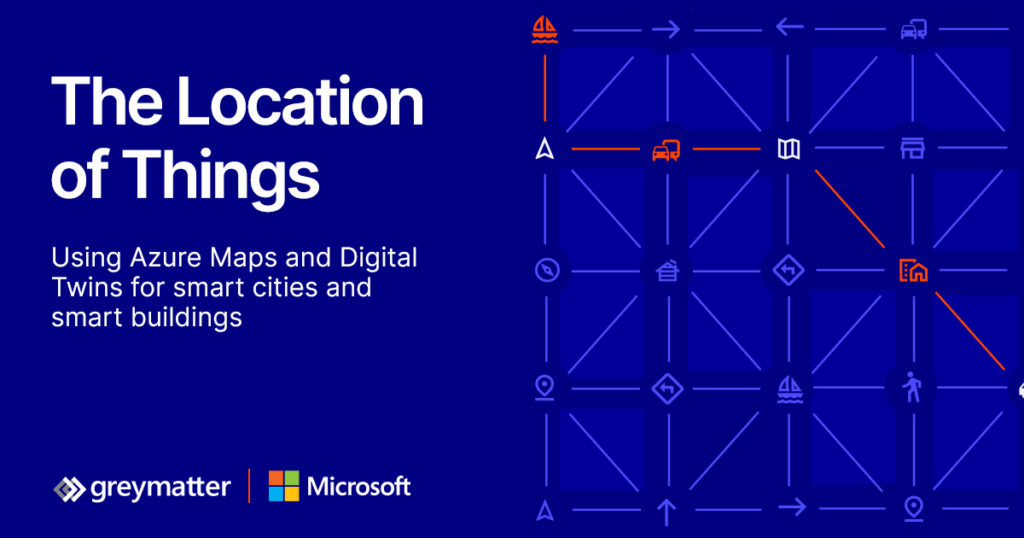 The WHAT and How of transforming our cities  
Digital technologies can transform a city and interconnect key areas of its ecosystem. Although few places in the world have moved beyond pilots or specific initiatives, more cities are beginning to use sensor data, digital twins, automation and control systems for urban planning, visualisation, simulation of the urban environment, connecting citizens to services, and operating city infrastructure through city management dashboards.
Digital Twins
The concept of digital twins – a digital model and representation of real-world environment brought to life with real time data from sensors and other data sources – has entered the realm of smart cities and promises to enable city administrations and urban planners to make better decisions with the help of data integration and visualisation from across the urban space.
Location and Geospatial services
Understanding and operating an environment as complex and interdependent as a city needs a lot of data and maps are a fundamental tool for making sense of that for planning and operations.
Maps can help you understand the data from sensors more easily by seeing them in context; they also turn out to the be a logical way to organise and manage ontologies and hierarchies of smart devices into a smart building.
The role of Microsoft Azure in all of this
Microsoft Azure Digital Twins platform enables modelling and creating digital representations of connected environments like buildings, factories, farms, energy networks, railways, stadiums, and cities, then brings these entities to life with a live execution environment that integrates IoT and other data sources. To drive openness and interoperability, Azure Digital Twins comes with an open modelling language, Digital Twins Definition Language (DTDL), which provides flexibility, ease of use, and integration into the rest of the Azure platform.
Location can also be important in modelling and predictive maintenance for gaining insight and making data-driven decisions. Azure Maps provides mapping and geospatial services including access to real-time traffic, transit planning, route-finding, and weather data that are a key part of the smart city opportunity which is why Microsoft's Smart City IoT services integrate closely with Azure Maps.
About Geoawesomeness Digital Meetup
The main objective for us at Geoawesomeness to host these meetups is to bring the community together to talk about how geospatial data and tools is transforming the world for the better. Think of these events as an open-source project aimed at enabling conversations and cross-industry cooperation. Each event has at least one speaker from the industry that is using geospatial data and tools to solve problems.
Since the middle of 2020, we hosted 13 events until date and already have plans for many more in 2021 (2021 schedule). More than 5000 GeoGeeks from all over the world attended the events so if you are looking for (virtual) opportunities to network with the geospatial community, the Geoawesomeness Digital Meetup is the place to be!
The event is hosted by Muthu and Aleks. You will find their contact details below.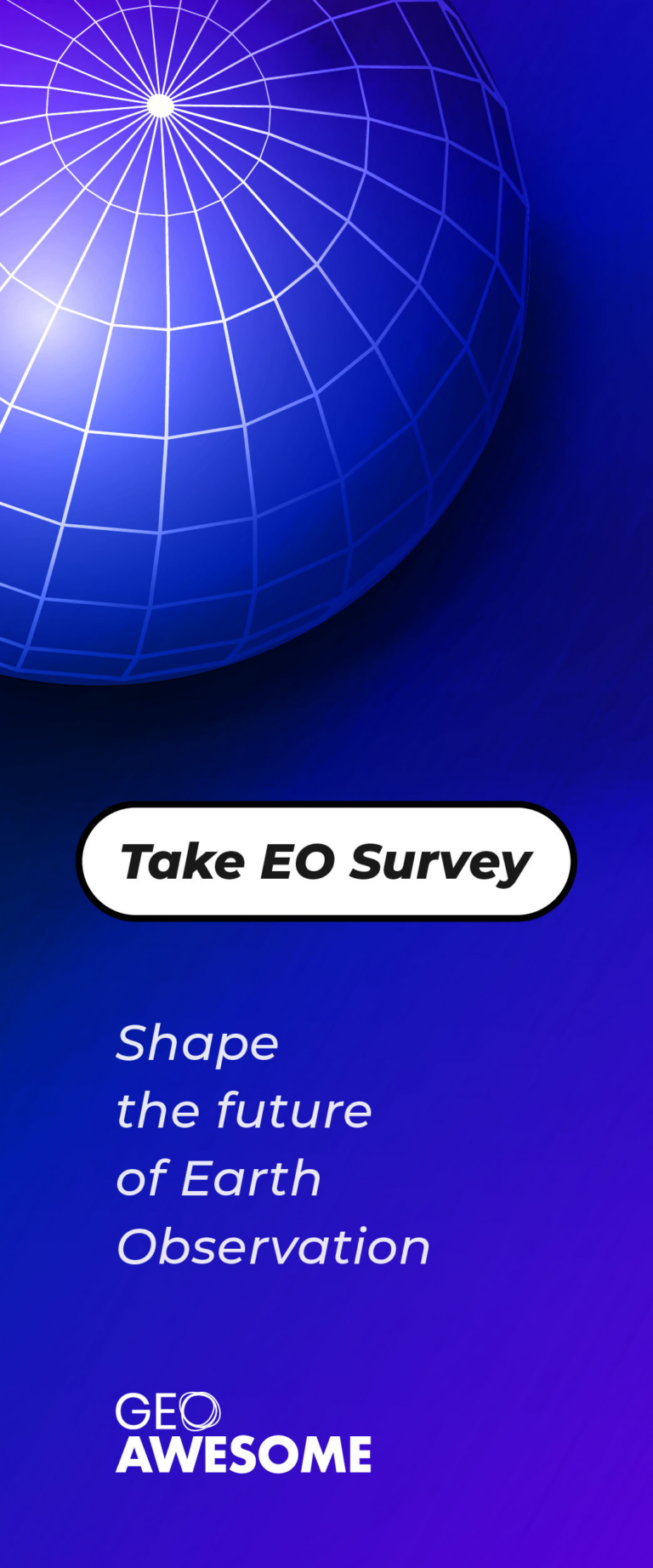 The community is supported by:

Next article
#Featured #People
Join us in Digital Earth Symposium for Sustainable Societies – ISDE12
In Geoawesomeness's 10 Year Anniversary, we are celebrating by featuring stories about Humanitarian OpenStreeetMap and MapAction. It's awesome to know that there are other groups of people working on the same goal.
Under the motto "Digital Earth for Sustainable Societies", the Department of Geoinformatics – Z_GIS, University of Salzburg is hosting "ISDE12 – International Symposium for Digital Earth 2021" in Salzburg from July 6th to 8th 2021. 
The conference addresses the 17 UN Sustainable Development Goals (SDGs) and showcases ways how the concept of "Digital Earth" can help to achieve them. In particular, the European Commission, in cooperation with ESA, is presenting the "Destination Earth" initiative that aims for solutions for climate change and for a climate-neutral Europe. Besides, GeoHumanitarian, Digital Twins, and Youth Forum are held in ISDE12 to discuss the solutions for improving livelihoods around the planet.
ISDE12 is organized as a hybrid event. The registration to ISDE12 is now open. Please use our Conference software for the registration: https://www.conftool.com/giweek2021/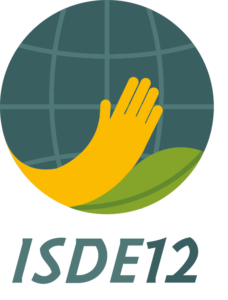 About ISDE
The International Society for Digital Earth (ISDE) aimed at harnessing the world's data and information resources to describe and digitally represent our planet, and to monitor, measure, and forecast natural and human activities on earth.
Digital Earth is the name given to a concept by former US vice president Al Gore, describing a virtual representation of the Earth connected to the world's digital knowledge. In his remarkable 1998 speech, Gore described a digital future where children – indeed all the world's citizens – could interact with a computer-generated three-dimensional spinning virtual globe and access vast amounts of scientific and cultural information to help them understand the Earth and human activities.
The 2009 Beijing Declaration of Digital Earth stated "Digital Earth is an integral part of other advanced technologies including: earth observation, geoinformation systems, global positioning systems, communication networks, sensor webs, electromagnetic identifiers, virtual reality, grid computation, etc. It is seen as a global strategic contributor to scientific and technological developments, and will be a catalyst in finding solutions to international scientific and societal issues."
Since 1999, 11 International Symposia and 7 summits on Digital Earth, organized by ISDE have been held in 12 countries around the world. ISDE also publishes the International Journal of Digital Earth and Big Earth Data journal, and Manual of Digital Earth. In addition, ISDE is a member of the Group on Earth Observations, International Science Council, and Geospatial Societies of the United Nations Committee of Experts on Global Geospatial Information Management.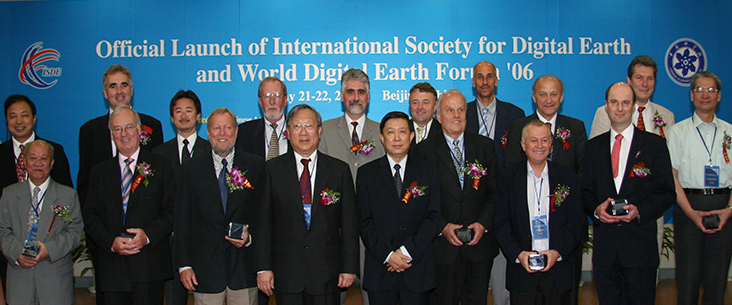 The Vision
"Digital Earth" was introduced as a vision in 1998 by the then US Vice President Al Gore. He described a digital future where everybody will be able to interact with a computer-generated three-dimensional spinning virtual globe and access vast amounts of scientific and cultural information to help them understand the Earth and human activities – with technology so easy that even a child can operate it. Digital Earth may destine to become the defining scientific and technological achievement of the 21st Century. This grand challenge will demand extreme computing for the most demanding Big Data challenges, the smartest applications of artificial intelligence, webs of sensors and actuators, and compelling gamification and visualisation methods. Most importantly, it will require agile minds collaborating in cross-discipline innovation and scientific pursuit. Young people in particular, as 'digital natives', are adept to connecting local action and global changes through mixed-reality media to open online services.

The mission
The International Society for Digital Earth (ISDE) has been dedicated to implementing this vision since 2006. This is made possible by advances in ongoing Earth observation using sensors in space and on the surface, the establishment of extensive geodata infrastructures and the development of dynamic geomedia. The Department of Geoinformatics at the University of Salzburg has contributed to these developments in a leading position for decades. This was recognized by the invitation to host the Digital Earth Symposium (https://digitalearth2021.org) in Salzburg in July 2021.
Host organization – University of Salzburg
The Department of Geoinformatics – Z_GIS at the University of Salzburg is an interdisciplinary Centre of Competence for Geoinformatics and geospatial data management, integrating basic and applied research with graduate education and outreach activities.
By applying innovative spatial concepts and methodologies, Z_GIS are contributing to the management of our societies, businesses and environments. As an Interfaculty Department, Z_GIS develop geospatial competences across disciplines, offering graduate study programme in residential as well as distance learning modes. Our global network of partners from academia and industry serves as a strong platform for joint research and exchange of students and faculty – supporting the worldwide geospatial community and fostering awareness of the spatial dimension of social and natural phenomena.
www.zgis.at | zgis@sbg.ac.at | twitter: @Z_GIS1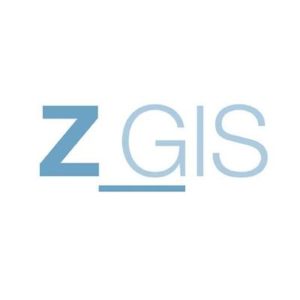 AGIT & GI_week: joint exhibition
Z_GIS organizes conferences since 1989. Over 1000 people attend the biggest scientific conference – the AGIT Symposium & GI_Forum – at the University of Salzburg in the field of Geoinformatics each year. In 2021, these two symposia together with the ISDE12 will share the innovative international EXPO in 2021 and attract an even broader audience to the University of Salzburg.
Z_GIS has strong experience in organising conferences for many years. Over 1000 people attend the biggest scientific conference – the AGIT Symposium & GI_Forum – at the University of Salzburg in the field of Geoinformatics. The goal of the conferences is to promote translating theory, methods and techniques into a broad range of Geoinformatics application domains. Young researches are especially welcome to contribute and discuss their findings. The international GI_Forum runs concurrently with the highly regarded German language conference on Applied Geoinformatics – AGIT hosted by our local conference team for more than 30 years. The two symposia share the innovative AGIT EXPO exhibit and stimulating social events.
For further information about the GI_Week and its two concurrently running conferences please visit:
– www.agit.at (for the conference on Applied Geoinformatics in German language)
– www.gi-forum.org (for the International conference in English language)
Heinz Fassmann, Austrian Minister for Science and Education and Geographer
Carl Steinitz, Haward University
Lawrie Jordan, ESRI
Huodong Guo, Chinese Academy of Sciences
Martin Visbeck, Geomar Kiel
Martin Raubal, ETH Zürich
Yana Gevorgyan, GEO director (from July, 01)
How can we combine data economy and sustainability?
As part of ISDE12, the Data Intelligence Offensive is hosting a forum for exchange and debate on the issues of the emerging data economy. There are already many technically feasible solutions, but the challenge for politics and business will be to implement them for the benefit of society, the environment, and nature – as formulated in the UN's 17 Sustainable Development Goals – and in accordance with the strictest ethical and legal standards.
The topics of the forum include presentations of the Austrian data strategy, current projects on the intelligent use of data in geoinformatics, lightning presentations of solutions offered by start-ups, discussions on the development of GIS data spaces, and various exchange formats with international experts and researchers. The RSA FG is also represented and will give some presentations. The Research Studio iSPACE is a key partner.
In keeping with the spirit of ISDE12, the DIO Forum is designed to build bridges between politics, science and society.
Speakers
Michael Wiesmüller – BMK
Günther Tschabuschnig – President of the DIO
Thomas Prinz – RSA FG iSPACE
Markus Biberacher – RSA FG iSpace
Martin Loidl – Z_GIS, Department of Geoinformatics, University of Salzburg
Gerald Spreitzhofer – CEO of MetGIS
E. Geyer Scholz – Founder of Smart City Consulting
Fred Seyr – Spot on Statistics
Jan Kinne – Istari
Peter Penzenstadler & Felix Haberl – Vloor
Lucas Kruitwagen – OXEO
A special track of the ISDE12 is going to be the Youth Forum, which aims to serves as a platform bringing together initiatives and efforts from around the world and unconstrained by disciplinary or other boundaries. We want to involve young people and their ideas to the conference – not only at the conference but they will also connect throughout spring 2021. They will create added value and synergies by learning from and with each other. Watch out for online round tables scheduled on a range of topics.
One particular idea for Youth Forum is Covid-19-Impressions:
The coronavirus SARS-CoV-2 has a fundamental impact on our lives – and this worldwide! All areas of life – be it contact with friends and family, school, vocational training, study and work, leisure time, sport, travel, etc. – have changed massively as a result of the pandemic and thus also led to new good and bad experiences. Many of these are obvious, but many more remain hidden. We want collect all these hidden, unknown experiences from all over the world and make them visible with our Covid-19-Impressions project (https://t1p.de/Covid19Impressions)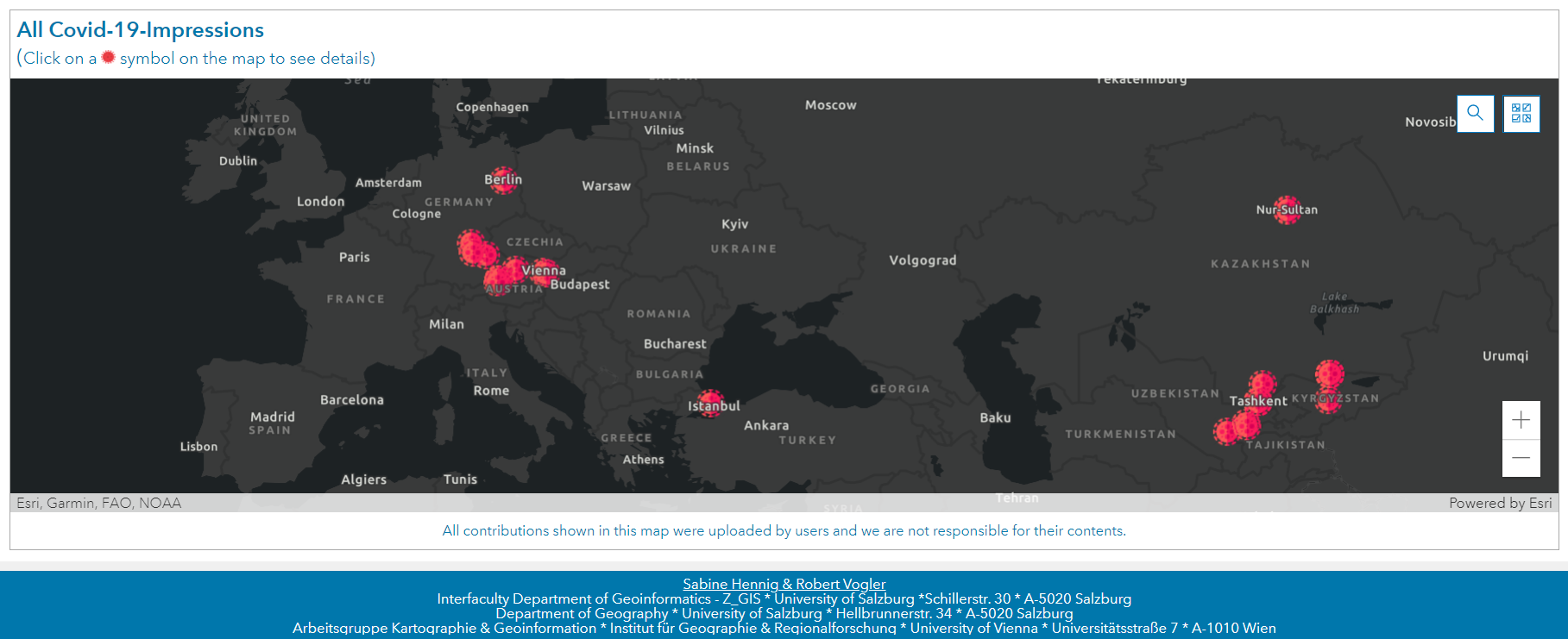 The United Nations 2030 Agenda for Sustainable Development is designed as a universal development agenda for all countries. SD Goals address economic, social, and environmental aspects of balancing the use of natural resources for socio-economic development with conserving ecosystem services critical to the wellbeing and livelihoods of everyone. Digital Earth plays a key role in providing insights into scientific foundations of informed decisions and evidence-based policy advice.
The Digital Twins Forum for a Sustainable Planet creates a space to understand the contributions of Digital Earth to SDGs, connecting scientists with policymakers. Keynote speakers from government and academia present the role of Digital Earth developments informing SDG policies. Brief flash talks from researchers sharing their Digital Earth insights and technologies will broaden the scope of different perspectives.  Based on these stimuli, a round table facilitates a dialogue with the audience.
The program of the forum includes keynotes and talks by:
Prof. Graciela Metternicht
Dr. Zhongchang Sun
Marc Paganini
Dr. Argie Kavvada & Dr. Adytia Agraval
Prof. Maria Brovelli
YOU as a student, researcher, project manager, consultant, or government official are working towards SDGs – this is the right forum for you! Do not miss the opportunities to connect with our keynote speakers to exchange knowledge, collect ideas, identify challenges, explore opportunities and initiate collaborations towards Digital Earth contributions to SDGs. Join this forum!
We are open to accepting additional suggestions of flash talks: 5-minute oral challenges as well as your research outcomes in support of SDGs. Please send your proposal and slides to emails: lixiachu613@gmail.com; gregory.giuliani@unepgrid.ch; fukui@isc.chubu.ac.jp.
On Thursday, July 08 we want to highlight recent efforts and achievements on the way from "Digital Earth vision to Digital Twins of the Earth". Our special track – the Destination Earth Forum – is co-organized with ESA and will promote the European approach of instantiating the Digital Earth concept.
The forum starts providing a high-level vision from invited speakers from all over the world and will then focus on Destination Earth and the European perspective.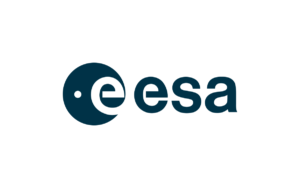 This special forum is co-organized by the Christian-Doppler laboratory GEOHUM. GeoHum-Christian Doppler Laboratory of the University of Salzburg is in cooperation with Doctors without Borders and other humanitarian organizations.
The GeoHumanitarian Action Forum is a special forum in this year's ISDE and will be held on Thursday, July 8th, 2021. The day's programme brings together experts from research institutions, service providers, and humanitarian actors, to exchange about the role of geospatial technologies and Earth observation in humanitarian operations. With a mix of presentations, panel discussions, and keynotes, the forum's interactive format will give both newcomers and experts plenty of opportunity for networking and sharing ideas.
Geospatial technologies at the interface of satellite Earth observation ( EO ) and geoinformatics ( GI ) are now widely used to support humanitarian operations. The uptake and further development of dedicated information services happen at unprecedented speed, with applications ranging from mission planning and operations in crisis intervention to population estimation for food distribution or vaccination campaigns. The global pandemic experience has even further pushed the need for objective and up-to-date information on impact on mortality rates and mitigation measures.
If you are interested in this event, please find all information here: https://geohum.zgis.at/events/ and the full program of the GeoHum-Forum here.

Call for Sponsors
Z_GIS see sponsors of the ISDE and the joint exhibition as our partners! We offer a variety of different, pre-defined sponsorship packages, from Bronze to Platinum level, which includes many benefits, as well as special sponsorships. Should you look for a more individualized sponsorship option, we'll be happy to answer your questions via mail: info_isde12@sbg.ac.at or nianhua.liu@stud.sbg.ac.at
This event is designed to bridge politics, science, and society. You will meet representatives from federal and state governments, the EU Commission, UN organizations, and international space agencies.
We invite you to present your company at ISDE12 and to actively shape the program in the form of:
pitch at the Youth Forum ("empower young talents")
give an "innovation keynote"
become a sponsor (bronze to platinum packages available)
Please find details at www.digitalearth2021.org or https://digitalearth2021.org/call-forsponsors/
Based on an elaborated Covid-19 hygiene concept, we are planning a hybrid event that can be attended on-site and online. More than 1,350 people have already expressed their interest in participating. In case it is not possible to allow on-site planning due to the COVID-19 pandemic, there is a plan B for a purely online event.
If you are interested in positioning your company and/or your solutions to the SDGs and the topic of Digital Earth / Digital Twins, we look forward to your feedback!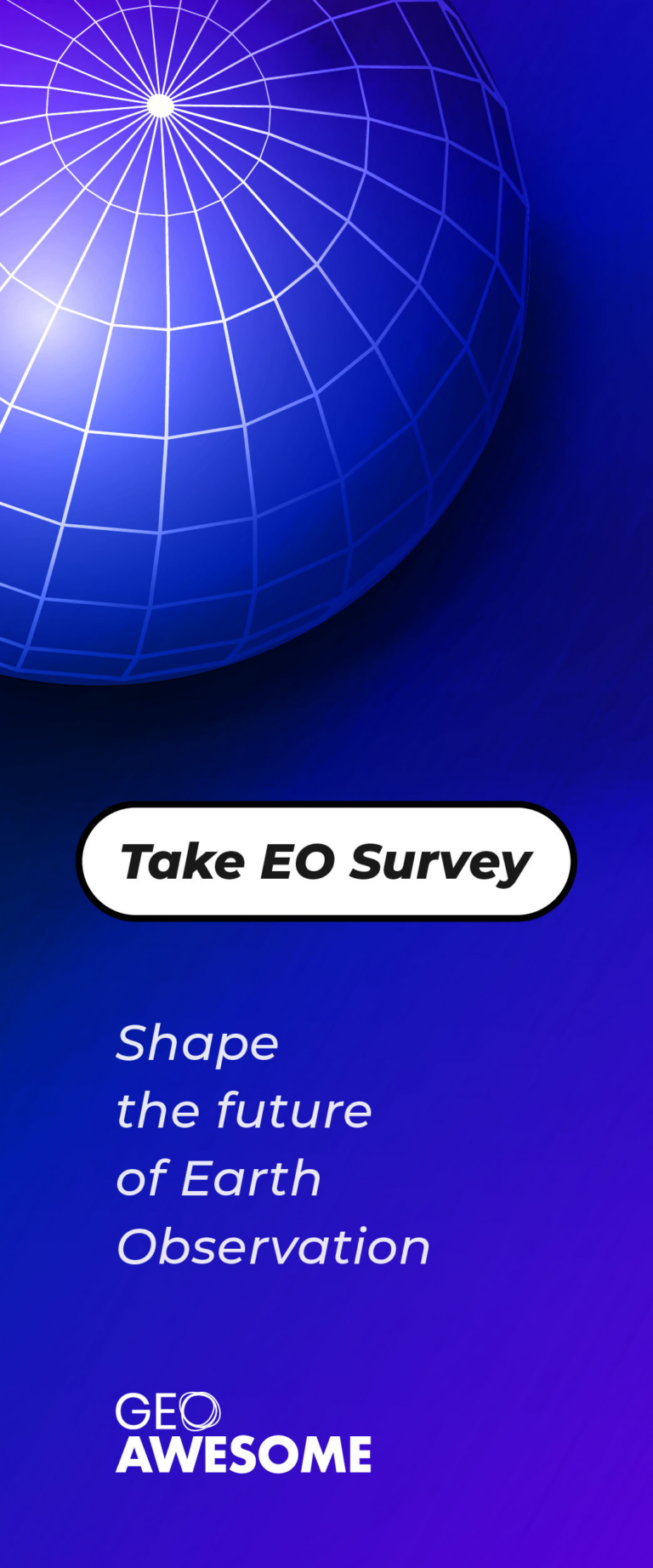 Read on