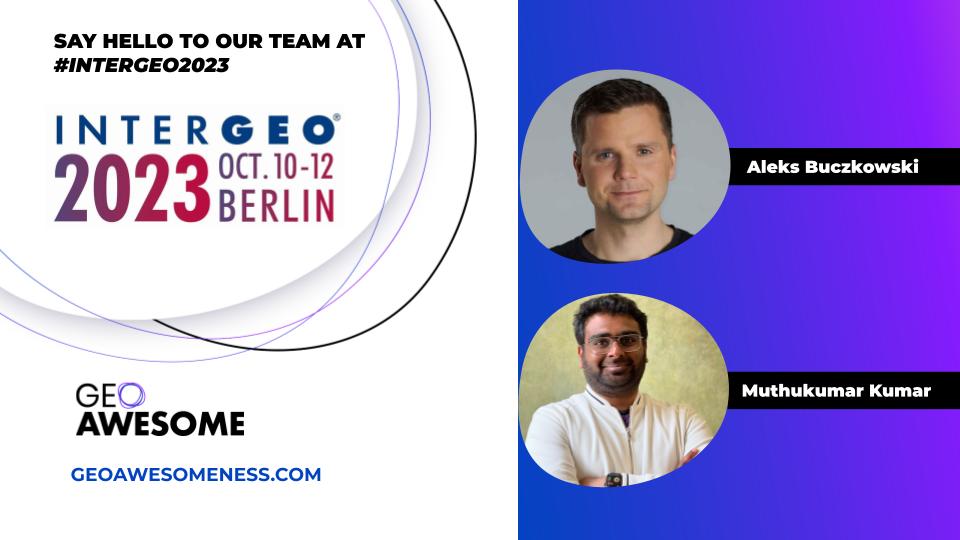 #Events #Featured
Team Geoawesomeness at INTERGEO 2023
INTERGEO 2023 is just around the corner, and we're thrilled to announce that Team Geoawesomeness will be in the heart of the action in Berlin! And we've got some exciting activities lined up.
Meet and Greet Evening – Day T minus 1, Monday, 9th October
Before the main event kicks off, we're hosting a casual meet and greet on Monday evening. It's a fantastic opportunity to meet fellow geo-enthusiasts, catch up with old friends, and make some new connections in the geo-sphere. Plus, who can resist some good German beverages and pretzels? Save the date and come join us!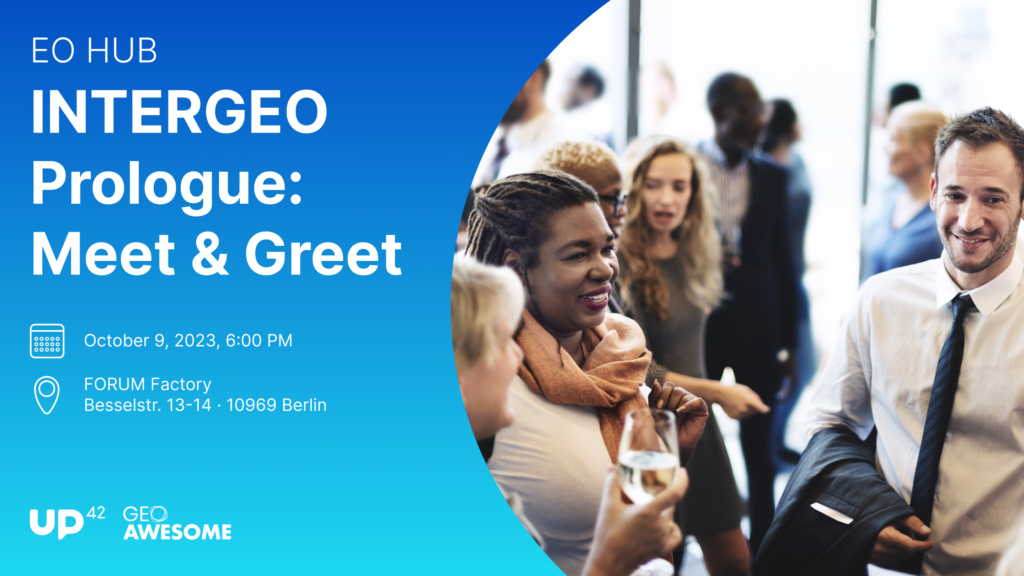 AI and Earth Observation for Sustainability – Day 1, Tuesday 10th
Day 1 promises to be packed with insights, and we're particularly excited to be moderating a panel on "AI and Earth Observation for Sustainability". It's going to be a deep dive into how cutting-edge technologies like Artificial Intelligence can help us leverage Earth Observation data to make our planet more sustainable for generations to come. We believe in the convergence of technology, sustainability, and geospatial science, and this panel is bound to spark important conversations around these themes.
Networking Galore – Day 2, Wednesday 11th
Networking is the name of the game on Day 2! We're all about forging connections and collaborations. Let's discuss the latest trends, uncover new opportunities, and pave the way for future collaborations.
Need a Coupon to Register for INTERGEO?
Still haven't secured your spot at INTERGEO 2023? No worries, we've got your back! For those in search of a registration coupon, drop us a line at info@geoawesomeness.com, and we'll help you out.
Looking forward to connecting, conversing, and celebrating all things geo with you in Berlin.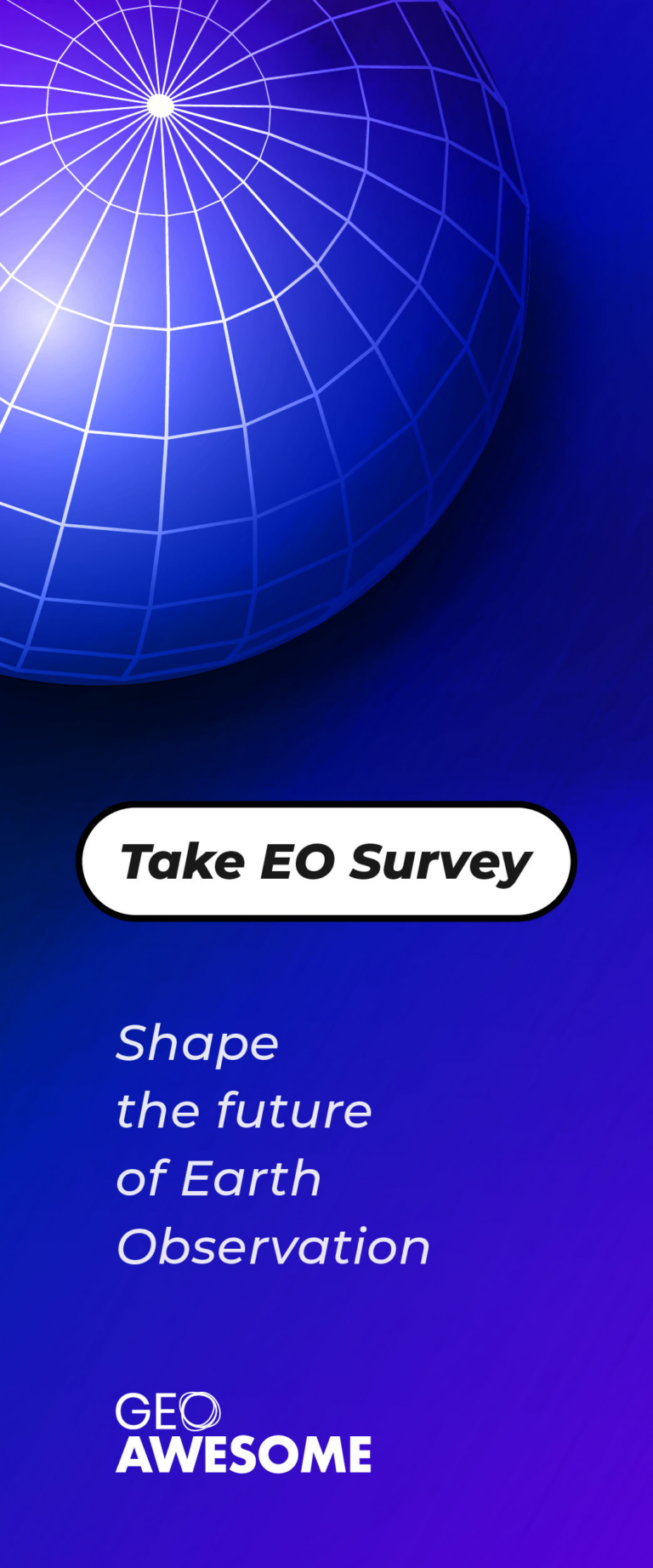 The community is supported by:

Next article
#Events
AI & Earth Observation for Sustainability: Key Trends and Opportunities @ INTERGEO 2023 BERLIN
We're thrilled to announce that Geoawesomeness is collaborating with INTERGEO for the very first time to curate and host a distinctive session at the anticipated 2023 conference and exhibition in the Germany capital – Berlin. The session titled, "AI & EARTH OBSERVATION FOR SUSTAINABILITY: KEY TRENDS AND OPPORTUNITIES" will be conducted in English and seeks to address some of the most pivotal advancements and challenges in the realm of Earth observation.
Our diverse 5-member panel, representing a spectrum of backgrounds, is set to provide attendees with an all-encompassing viewpoint on the intersection of AI and Earth Observation. Their combined expertise, spanning from the technical nuances to strategic business implications, ensures a multi-faceted conversation. Our objective? To unearth the transformative potential of intertwining Earth data with AI, particularly in paving a sustainable trajectory for our global community. By diving deep into various sustainable initiatives and the broader industry framework, we aspire to give our audience a clearer grasp of both the immediate advantages and future aspirations linked to this dynamic fusion. As we stand at the brink of what promises to be a huge technological leap forward for Earth observation, it's essential to be cognizant of the current trends shaping the sector and be prepared to tackle the imminent challenges that arise with the use of AI/ML.
Sounds interesting! How can I participate?
The session is on Day 1 of INTERGEO i.e. Tuesday 10th October at 16:15-17:15 CEST, EXPO STAGE HALL 5.2 / C5.030.
Do you have any specific questions or areas of interest you'd like addressed during the panel discussion? Share them with me via LinkedIn or send me an email at muthu@geoawesomeness.com. Your input are invaluable in shaping the discourse.
Can I get a coupon to attend INTERGEO?
In case you haven't yet registered for INTERGEO 2023, we are delighted to share the coupon code so that you get a free pass for all 3 days.
Are you planning further networking activities around the panel?
We created a LinkedIn event to help facilitate networking opportunities for everyone who is attending our session. Make sure to RSVP to the event so that we can keep you posted.
Introducing our panelists!
Laura Costa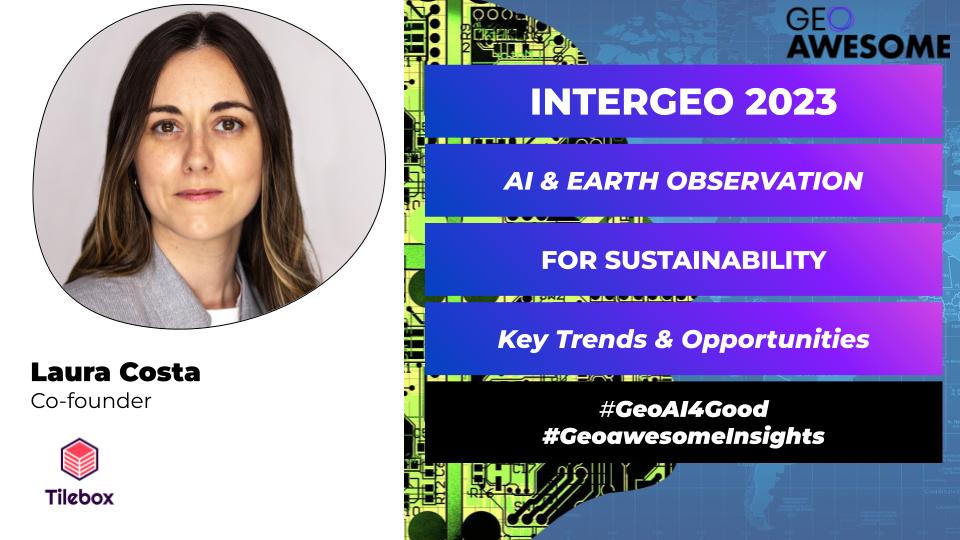 Laura Costa is the co-founder of Tilebox, an abstraction framework for companies to develop their in-house space data pipelines, right from the ground up. With a background in remote sensing and engineering, Laura has led software teams for over a decade, developing data processing services for both Earth Observation and Telecommunications sectors. With the mission to revolutionize space data management, Laura and her team are committed to building the digital infrastructure that connects space missions with downstream applications, empowering space companies to maximize the potential of their satellites to build impactful products efficiently.
Annett Wania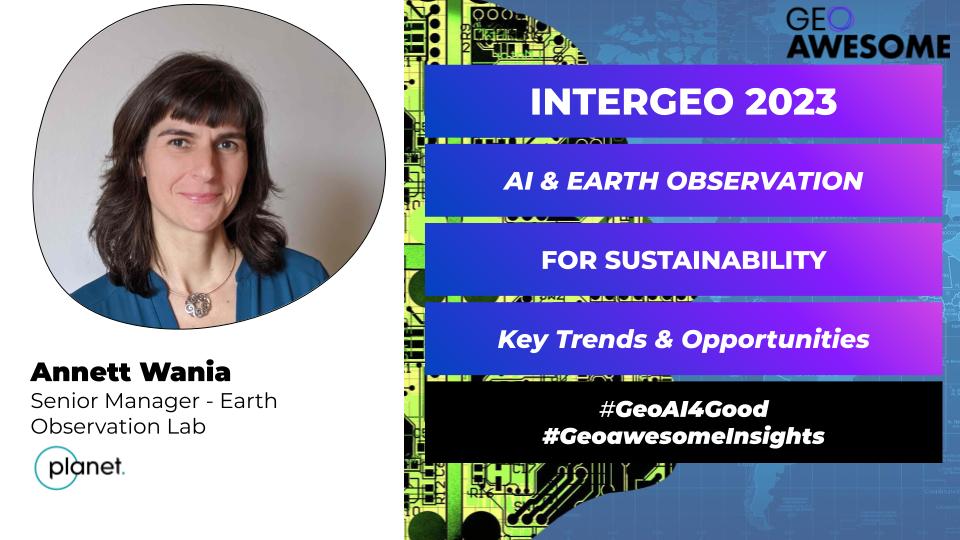 Annett Wania holds a PhD in Geography and has 20 years of experience in using geospatial and Earth Observation data for the analysis of the impact of human activities. After obtaining her PhD in Geography from the University of Strasbourg, France, she has been working at the European Commission's Joint Research Centre for 13 years on applications in the environmental and agricultural domain as well as applications on urban environments and disaster management. During the last six years at JRC she was working on satellite-based mapping for disaster management under the Copernicus Emergency Management Service. Since January 2021 she is working at Planet Labs in the Earth Observation Lab, where she is managing a small team of scientists which is implementing a number of research and development projects aiming at testing and further developing Planet's image products and Planetary variables for environmental and agricultural monitoring. In addition to traditional remote sensing methods, the team is experimenting with innovative machine learning methods to extract information from Planet's high-cadence imagery and multi-modal datasets.
Dobrina Laleva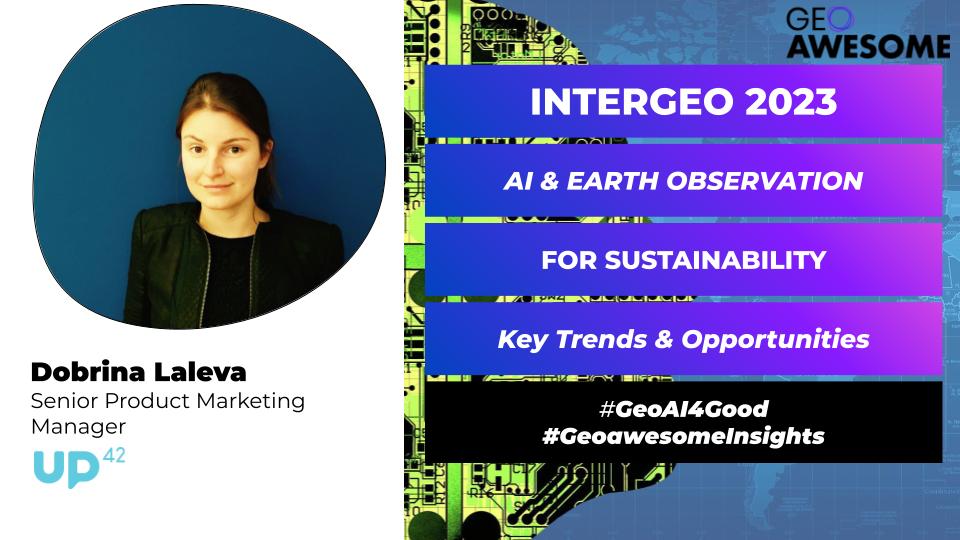 Dobrina Laleva is a Senior Product Marketing Manager at UP42. With over ten years of experience in business development and product marketing for highly technical products, she has worked for companies like Novartis, Deliveroo, and HERE Technologies. At UP42, Dobrina leads full-cycle go-to-market strategies for new features, products, verticals, and partnerships. She also contributes platform-focused content to UP42's blog and other geospatial publications. Dobrina graduated from Imperial College London and is currently living in Berlin.
Arnis Kadakovskis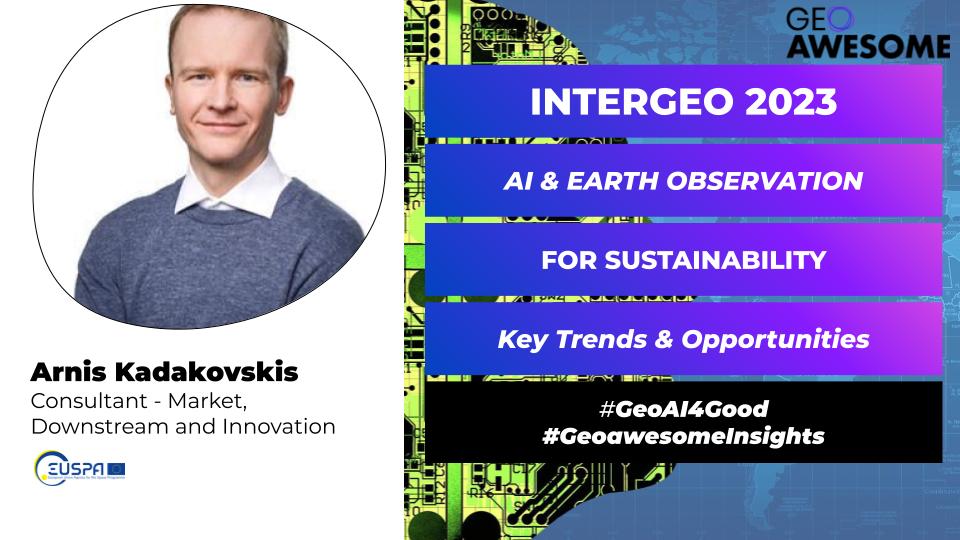 Arnis Kadakovskis is a consultant at the Market, Downstream, and Innovation department of EU Agency for the Space Programme where he brings his 17 years of experience in remote sensing. Before EUSPA, Arnis helped the Remote Sensing team at the EDI Institute in Riga, Latvia where his team pioneered the application of self-supervised machine learning techniques to address challenges in industrial forestry and environmental protection. Prior to that Arnis brought a novel aerial thermal survey method to underground heat distribution network diagnostics in the Baltics.
Aleksander Buczkowski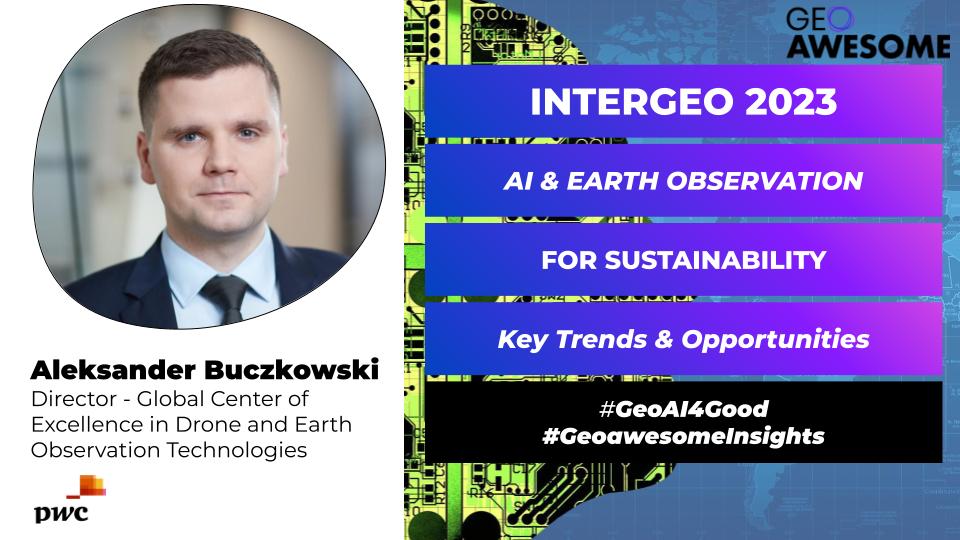 Aleksander is a distinguished professional in the domain of geospatial technologies. Holding master's degrees in GIS and Geospatial Technologies, complemented by an MBA, he brings a multidisciplinary approach to modern technological challenges. As the Director at the PwC Global Centre of Excellence in Drone and Earth Observation Technologies, Aleksander spearheads global initiatives, collaborating with clients to implement advisory and technology solutions that leverage cutting-edge drone and satellite capabilities across diverse sectors. In addition to his pivotal role at PwC, Aleksander has established a significant presence in the academic and research community. He is the founder of geoawesomeness.com, a respected platform where he delves into the intricate applications and implications of earth observation and geospatial data. His rigorous analytical approach and commitment to the field have made him a sought-after voice in geospatial technology forums worldwide.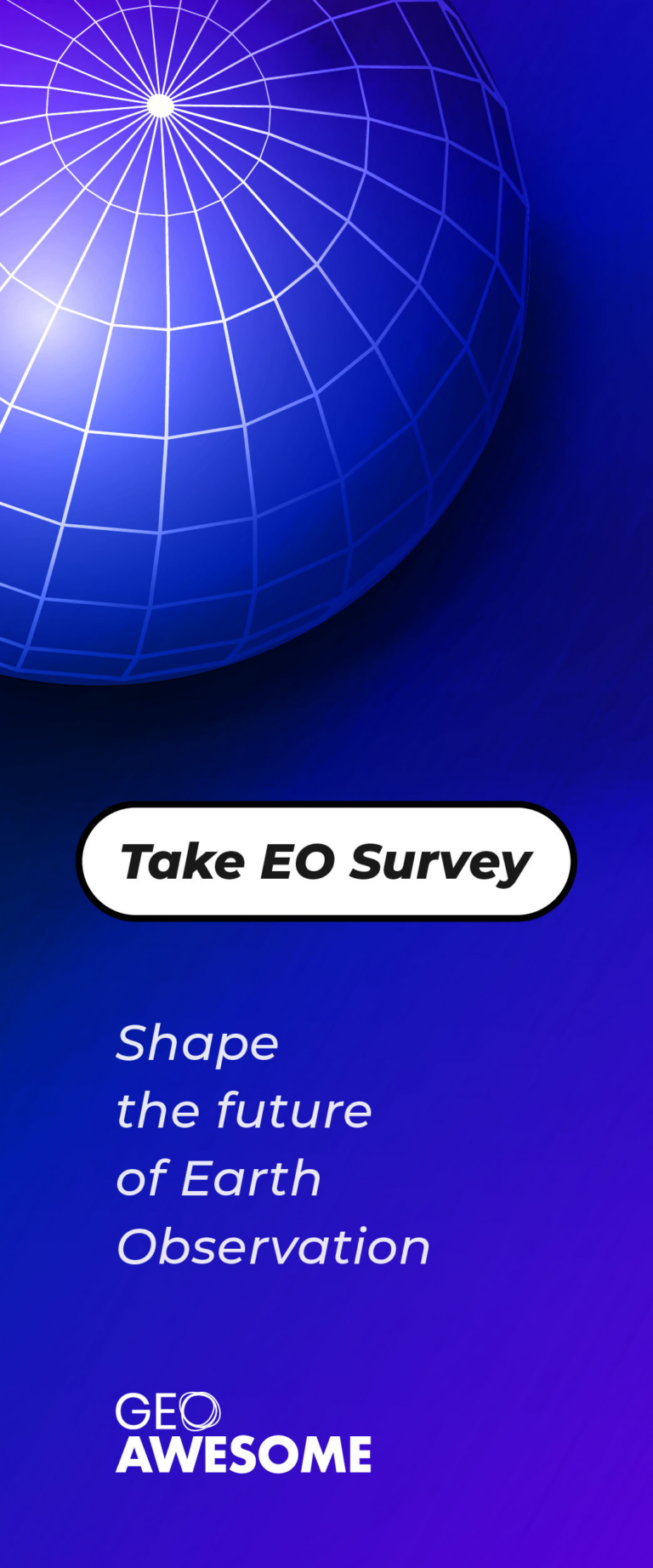 Read on