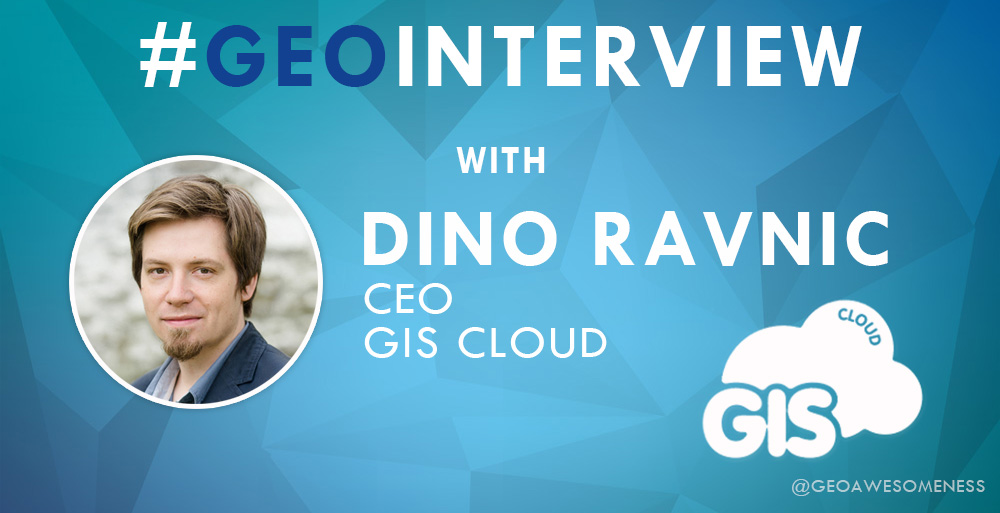 #Ideas #People
Where the GIS in the cloud began… Interview with Dino Ravnic – CEO of GIS Cloud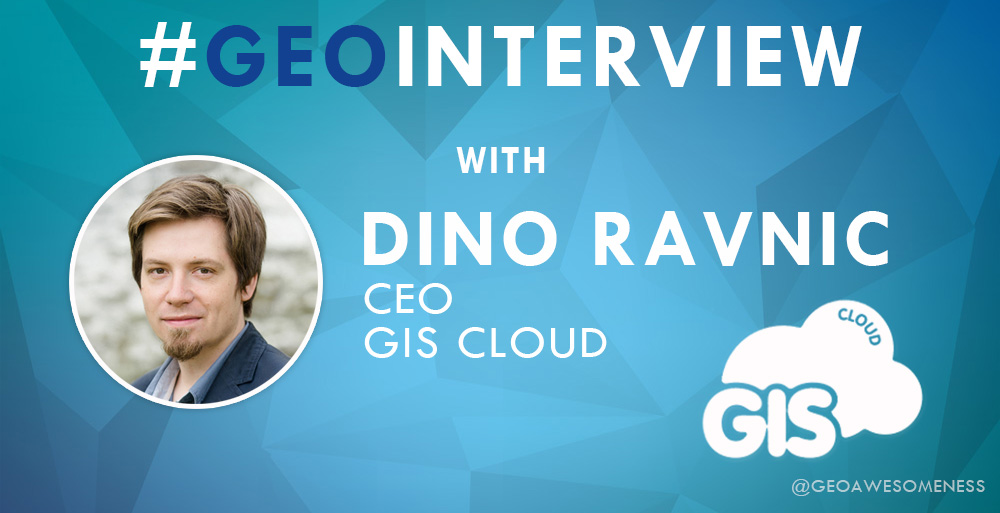 Recently I had a pleasure to talk to Dino Ravnic – CEO of GIS Cloud – one of the pioneers in "the GIS in the cloud" area. The company offers GIS as service web solutions and mobile apps that helps businesses around the world analyze and optimize their operations. Here is what we've talked about:
Aleks Buczkowski: Hi Dino. Okay. Let's start from the beginning. Tell us, what is GIS Cloud? What do you guys go?
Dino Ravnic:
Hi Aleks. Yeah, we are doing GIS in the cloud. We are actually pioneers in this space, providing the first platform for enabling geo data and geo applications in the cloud. You can access it using any device just by subscribing and connecting online. But the essence of the cloud is collaboration and we provide better ways for collaborating around geo data by enabling more people than ever before in using GIS. We also try to remove a great amount of barriers to user experience, together with technology, and also to scale GIS solutions to more people.
We have been doing this for the last 4 or 5 years now. We initially launched back in 2010 and today we have more than 70,000 registered users and we are hosting lots of data.
So how would you position yourself in the broad GIS market? Are you competitor to Google Maps or to ArcGIS?
I think we are somewhere in between. We have to admit that Google Maps is the biggest geo spatial solution today. They have the biggest user base and are reaching and educating millions of people about usefulness of maps every day. On the other hand you have traditional GIS, which is sometimes difficult to use, being a more of a scientific tool and at the same time a desktop software suitable for GIS professionals focused on more complex GIS analysis.
We believe that GIS should be easier and more user-friendly. A lot of people would use GIS across number of organizations if the applications were more intuitive and user-friendly. At GIS Cloud we are trying to leverage general knowledge about maps and provide more GIS to different organizations and to more people.
Sounds really interesting. Today GIS in the cloud and web mapping services are a common thing, but back in 2008 when you started working on the first platform it was something really unique. How did you come up with the idea that you can actually move GIS to the cloud?
Marko and me, as founders of GIS Cloud, started this journey back in 2005. Even before that Marko was creating maps in Adobe Flash. We've noticed that map engines make it difficult to render big data at high speeds and we started to think that we could provide a better and a more efficient map engine. Our take on the whole industry and the foundation of GIS Cloud was to build on our own map engine that could be faster and better than anything out there. Well… and we actually did it.
We have the fastest engine in the industry, which is one of key technology differentiations of GIS Cloud. We started from that point back in 2005 and then started building more APIs around it, more capabilities and then at one point, we realized that we actually  have a GIS solution, not just a map engine, rather the whole system. This is when we decided to launch the company. It was 2010…
So basically you two had a crazy idea which is now the industry standard. I guess that you were one of the first players in the industry…
Yeah. The fun fact is about that moment when we were trying to find the name of our company… Of course the first thing you do, you search for domain names, and I scrolled through the search engine, looking for the domain "giscloud.com" and found it available. It was a domain that was just floating around, nobody took it and we just got it for $10. It says a bit where the industry was at that time and that we had our idea in the right moment in time.
I guess that GIS Cloud domain is worth much more than $10 today…
Yeah, I guess it is.
Okay. So you've realized the idea of moving GIS to the cloud but what is your vision for the future? Where do you see GIS Cloud in next 5 to 10 years?
Today we can see that all software is moving to the cloud and users are installing less desktop apps. They use the software online. People want to have the data in their pockets… on mobile phones and tablets. The future is all about a connected world. Geo spatial data can be most useful when you have many people using it, accessing it and more people contributing to the data.
We believe that more people will move to the cloud simply because it's easier, better, more convenient and it makes more sense on many levels. The practice shows that it is not easy to build an app with great user experience, fast maps and multiple things sorted out upfront so that user could just connect the dots quickly and effectively.
We are working hard on that kind of platform. We are providing the tools but also an ecosystem for our partners to build their own apps on the top of our system. We want them to enable themselves to implement their own know-how or vertical knowledge from certain industry, and to provide smart spatial solutions to their users and customers. Our goal is to enable that entire ecosystem… not just couple of apps but thousands of apps from which all can  benefit from.
You've mentioned couple of times that the key differentiator of GIS Cloud is the speed of your platform. Exactly, how fast is it?
We are rendering maps using vector tiles. The usual way how maps are delivered on-line is through raster tiles. This means that the map tile is being rendered on a server and transmitted over network to a client as an image. We took a different approach by packing map tile data into a vector format, which means that all our maps are being rendered on the client-side. So we can produce maps on the server very quickly and we can serve lots of users at the same time. The difference in speed comparing to traditional approach is by order of magnitude or even more, it depends on specific map data.
One last question. You've mentioned that you target mainly public and B2B customers. Will an individual GeoGeek like me find something interesting for myself in the GIS Cloud ecosystem?
Of course, our focus is on enterprise solutions, but at the same time, we have a lots of non-profits using the system as well. From hosting data and building very fast maps to data collection and creating maps online, everyone will find something interesting and useful. We are always welcome to GeoGeeks. We like to work with a lot of people to provide more functionality and better systems.
Great. Thank you again for being with us today
Thanks Aleks for the interview.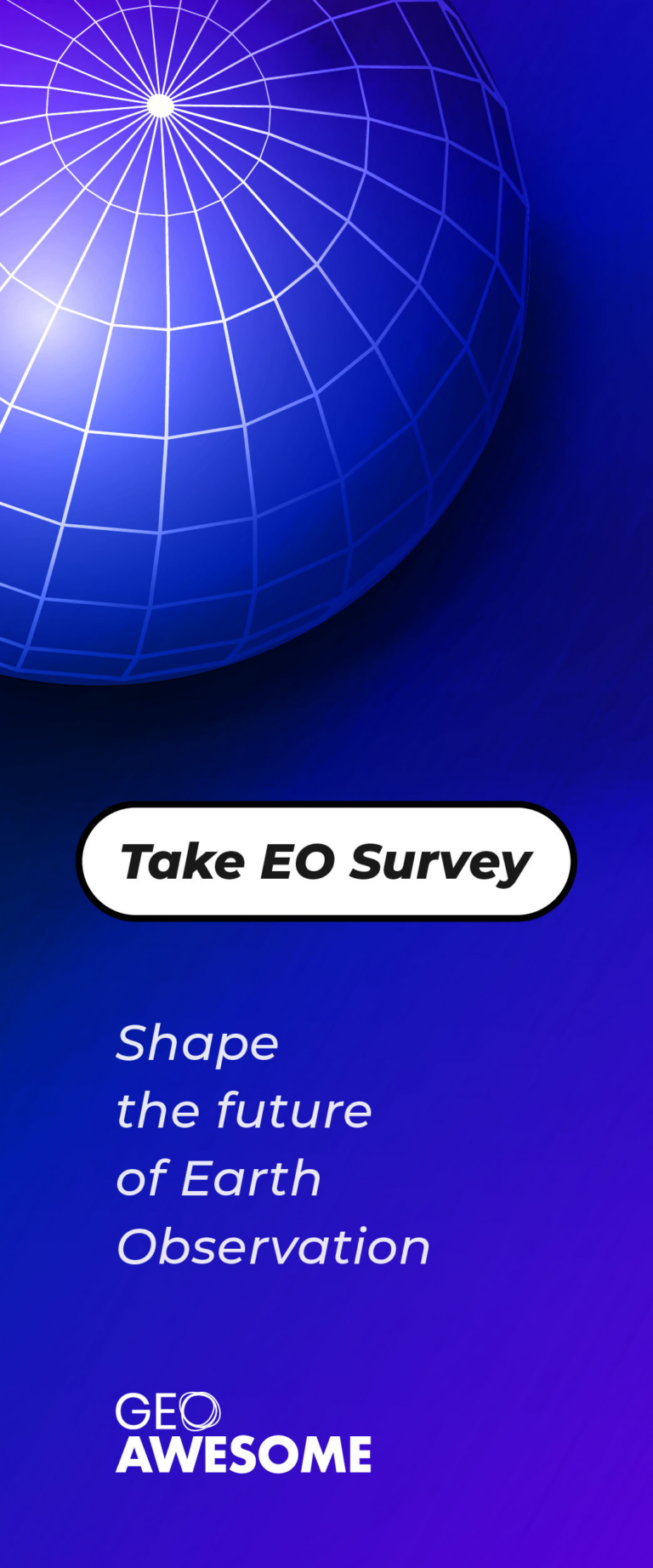 The community is supported by:

Next article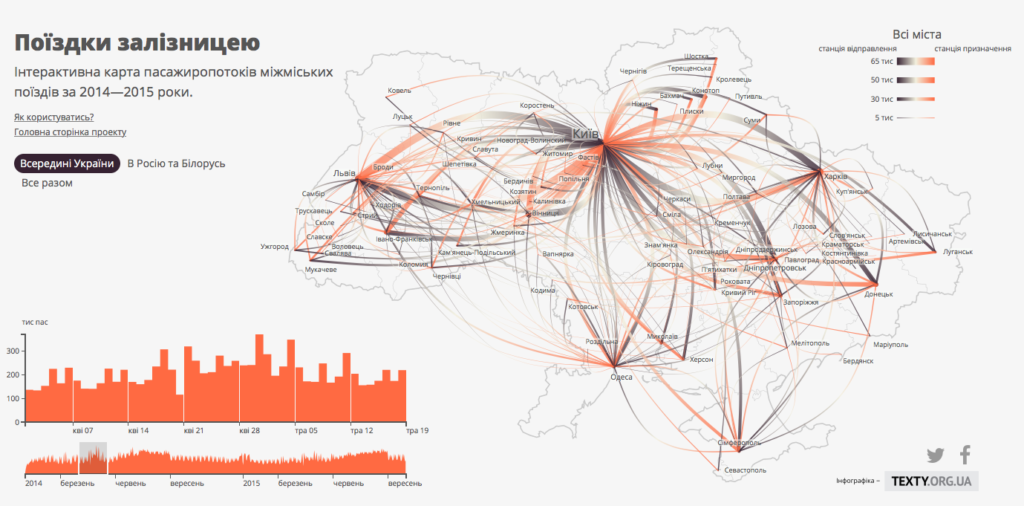 #Ideas
Awesome map of Ukrainian railway journeys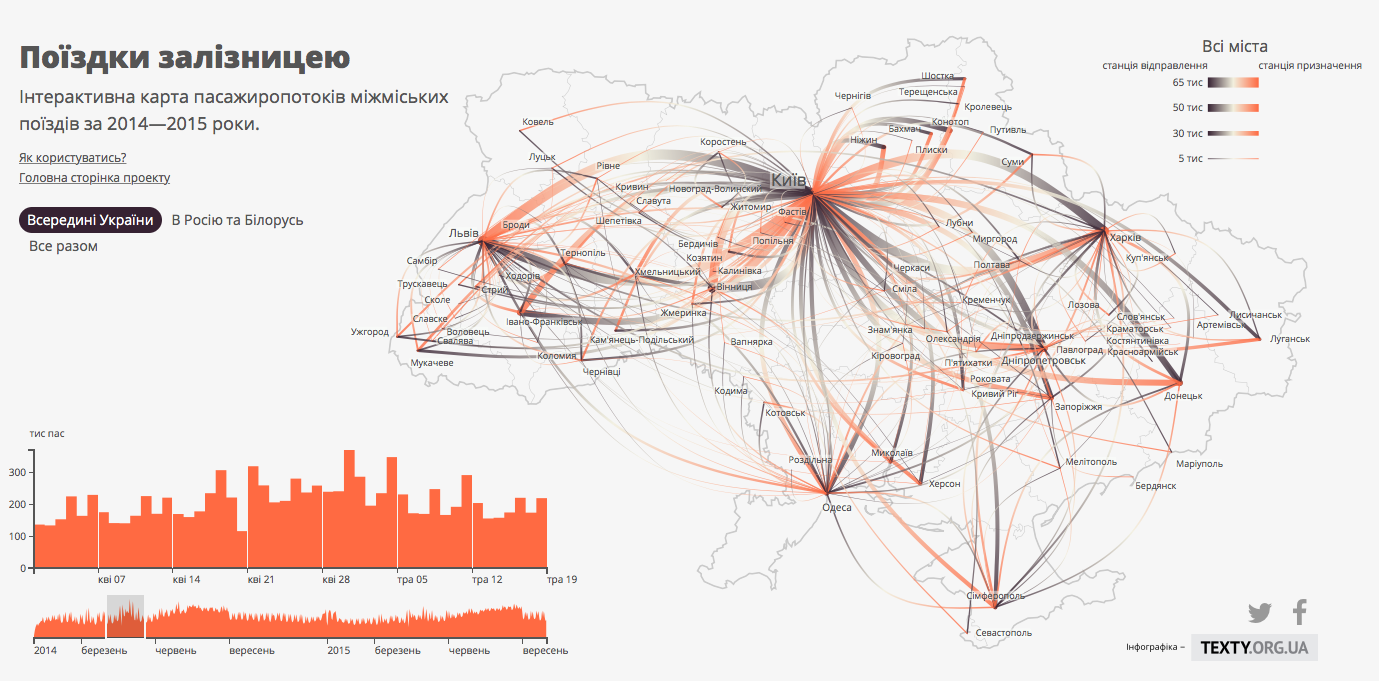 Well designed transit maps are a rare thing these days. I was really surprised to discover that one of the best I've seen for a long time comes from Ukrainian.
I believe that Travel By Rail is one of the best transit maps out there. It visualizes the number of intercity train travels between every two cities in Ukraine, as well as Russia and Belarus. It is complemented with graphs visualizing temporal distribution of train journeys.
You can click on each city to explore journeys from a given location. You can also select a range of dates on a graph to analyze the data for a given time.
Really interesting and well designed project.
Read on