27 stunning satellite images that will change how you see our world
The images come from the amazing book called "Overview: A New Perspective of Earth". that just hit the stores around the world. The book is a stunning and unique collection of satellite images of Earth that offer an unexpected look at humanity, derived from the wildly popular Daily Overview Instagram account followed by almost 0.5 million people.
Now you can win the book by subscribing to our newsletter or following us on Instagram.
1 – DAVIS-MONTHAN AIR FORCE BASE AIRCRAFT BONEYARD
32.151087°, –110.826079°
The largest aircraft storage and preservation facility in the world is located at Davis-Monthan Air Force Base in Tucson, Arizona, USA. The boneyard – run by the 309th Aerospace Maintenance and Regeneration Group – contains more than 4,400 retired American military and government aircrafts.
2 – PORT OF ANTWERP
51.320417°, 4.327546°
The Port of Antwerp in Belgium is the second largest port in Europe, behind the Port of Rotterdam. Over the course of a year, the port handles more than 71,000 vessels and 314 million tonnes of cargo. That weight is roughly equal to 68% of the mass of all living humans on the planet.
3 – GEMASOLAR THERMOSOLAR PLANT
37.560755°, –5.331908°
This Overview captures the Gemasolar Thermosolar Plant in Seville, Spain. The solar concentrator contains 2,650 heliostat mirrors that focus the sun's thermal energy to heat molten salt flowing through a 140-metre-tall (460-foot) central tower. The molten salt then circulates from the tower to a storage tank, where it is used to produce steam and generate electricity. In total, the facility displaces approximately 30,000 tonnes of carbon dioxide emissions every year.
4 – TULIPS
52.276355°, 4.557080°
Every year, tulip fields in Lisse, Netherlands begin to bloom in March and are in peak bloom by late April. The Dutch produce a total of 4·3 billion tulip bulbs each year, of which 53% (2·3 billion) is grown into cut flowers. Of these, 1·3 billion are sold in the Netherlands as cut flowers and the remainder is exported: 630 million bulbs to Europe and 370 million elsewhere.
5 – OLIVES
37.263212°, –4.552271°
Olive tree groves cover the hills of Córdoba, Spain. Approximately 90% of all harvested olives are turned into oil; the remaining 10% are eaten as table olives. With rising temperatures and phenomenal weather variations in growing regions, olive groves on high hills or slopes will probably suffer less, but groves located on low altitude areas or plains could become totally unproductive.
6 – MOAB POTASH EVAPORATION PONDS

38.485579°, –109.684611°
Evaporation ponds are visible at the potash mine in Moab, Utah, USA. The mine produces muriate of potash, a potassium-containing salt that is a major component in fertilisers. The salt is pumped to the surface from underground brines and dried in massive solar ponds that vibrantly extend across the landscape. As the water evaporates over the course of 300 days, the salts crystallise out. The colours that are seen here occur because the water is dyed a deep blue, as darker water absorbs more sunlight and heat, thereby reducing the amount of time it takes for the water to evaporate and the potash to crystallise.
7 – ARLIT URANIUM MINE
18.748570°, 7.308219°
The Arlit Uranium Mine is located in Arlit, Niger. French nuclear power generation, as well as the French nuclear weapons programme, are both dependent on the uranium that is extracted from the mine – more than 3,400 tonnes per year.
8 – QINHUANGDAO COAL TERMINAL
39.933622°, 119.683840°
The coal terminal at the Port of Qinhuangdao in China is the largest coal shipping facility in the country. From here, approximately 210 million tonnes of coal are transported to coal-burning power plants throughout southern China every year. In 2015, new data from the Chinese government revealed that the country has been burning up to 17% more coal each year than previously disclosed. The sharp upward revision in official figures means that China has been burning an additional 600 million tonnes of coal each year, and has released much more carbon dioxide – almost a billion more tonnes per year – than previously estimated.
9 – MARABE AL DHAFRA
23.610424°, 53.702677°
The villas of Marabe Al Dhafra in Abu Dhabi, United Arab Emirates are home to approximately 2,000 people. Located in one of the hottest regions of the world, the record high temperature here is 49·2°C (120·6°F).
10 – LAKE OROVILLE HOUSEBOATS
39.398691°, –121.139347°
Moored houseboats float peacefully on the New Bullards Bar Reservoir in Yuba County, California, USA. Due to a severe drought that has hit the state over the past four years, there is less space to anchor on the lake and many houseboats have been moved to a nearby onshore storage area.
11 – DELRAY BEACH, FLORIDA
26.475547°, –80.156470°
Because many cities in the American state of Florida contain master-planned communities, often built on top of waterways in the latter half of the twentieth century, there are a number of intricate designs that are visible from the Overview perspective. One particular neighborhood in Delray Beach is seen here.

12 – DADAAB REFUGEE CAMP

–0.000434°, 40.364929°
Hagadera, seen here on the right, is the largest section of the Dadaab Refugee Camp in Northern Kenya and is home to 100,000 refugees. To cope with the growing number of displaced Somalis arriving at Dadaab, the UN has begun moving people into a new area called the LFO extension, seen here on the left. Dadaab is the largest refugee camp in the world with an estimated total population of 400,000.

13 – SUN LAKES

33.208518°, –111.876263°
Sun Lakes, Arizona, USA is a planned community with a population of approximately 14,000 residents, most of whom are senior citizens. According to US census data, only 0·1% of the community's 6,683 households are home to children under the age of 18.
14 – DALLAS / FORT WORTH INTERNATIONAL AIRPORT
32.897590°, –97.040413°
Dallas/Fort Worth International Airport stretches across 70 square kilometres (27 square miles) in Texas, USA. The facility is the tenth busiest airport in the world by passenger traffic, accommodating more than 64 million passengers each year.
15 – PORT OF SINGAPORE
1.237656°, 103.806422°
Cargo ships and tankers – some weighing up to 300,000 tonnes – wait outside the entry to the Port of Singapore. The facility is the world's second-busiest port in terms of total tonnage, shipping a fifth of the world's cargo containers and half of the world's annual supply of crude oil.
16 – JACKSONVILLE INTERCHANGE
30.253048°, –81.516204°
A turbine interchange connects two highways in Jacksonville, Florida, USA. This structure consists of left-turning ramps sweeping around a centre interchange, thereby creating a spiral pattern of right-hand traffic.

17 – ANGKOR WAT

13.412505°, 103.864472°
Angkor Wat, a temple complex in Cambodia, is the largest religious monument in the world (first it was Hindu, then Buddhist). Constructed in the twelfth century, the 820,000 square metre (8·8 million-square-foot) site features a moat and forest that harmoniously surround a massive temple at its centre.
18 – LA PLATA
–34.921106°, –57.956633°
The planned city of La Plata – the capital city of the Province of Buenos Aires, Argentina – is characterised by its strict, square grid pattern. At the 1889 World's Fair in Paris, the new city was awarded two gold medals in the categories 'City of the Future' and 'Better Performance Built'.
19 – EIXAMPLE
41.393648°, 2.160437°
The Eixample District in Barcelona, Spain is characterised by its strict grid pattern and apartments with communal courtyards. This thoughtful and visionary design was the work of Ildefons Cerdà (1815–1876). His plan features broad streets that widen at octagonal intersections to create greater visibility with increased sunlight, better ventilation, and more space for short-term parking.
20 – IPANEMA BEACH
–22.983606°, –43.206638°
Ipanema Beach is located in the South Zone of Rio de Janeiro, Brazil. Recognised as one of the most beautiful beaches in the world, the sand is divided into segments by lifeguard towers known as 'postos'.
21 – BURNING MAN
40.786981°, –119.204379°
Burning Man is a week-long, annual event held in the Black Rock Desert of Nevada, USA. Drawing more than 65,000 participants each year, the event is described as an experiment in community, art, self-expression, and radical self-reliance.

22 – CENTRAL PARK

40.782997°, –73.966741°
Central Park in New York City, USA spans 341 hectares (843 acres), which is 6% of the island of Manhattan. One of the most influential innovations in the park's design was its 'separate circulation systems' for pedestrians, cyclists, horse riders, and cars. The park contains numerous tennis courts and baseball fields, an ice-skating rink, and a swimming pool. It also serves as the finish line for the New York City Marathon and New York City Triathlon.
23 – IRON ORE MINE TAILINGS POND
46.407676°, –87.530954°
Tailings are the waste and by-products generated by mining operations. The tailings seen here were pumped into the Gribbens Basin, next to the Empire and Tilden Iron Ore Mines in Negaunee, Michigan, USA. Once the materials are pumped into the pond, they are mixed with water to create a sloppy form of mud known as slurry. The slurry is then pumped through magnetic separation chambers to extract usable ore and increase the mine's total output. For a sense of scale, this Overview shows approximately 2.5 square kilometres (1 square mile) of the basin.
24 – SOUTHERN CALIFORNIA LOGISTICS AIRPORT GRAVEYARD
34.611367°, –117.379784°
The Southern California Logistics Airport in Victorville, California, USA contains an aircraft boneyard with more than 150 retired planes. Because the demand for jumbo jets has dropped significantly in the last two decades in favour of smaller, more affordable twin-engine planes, many large aircrafts such as Boeing 747s and Airbus A380s have been retired. The dry conditions in Victorville – located on the edge of the Mojave Desert – limits the corrosion of metal, meaning planes can be stored here for years while they are stripped for spare parts.
25 – NISHINOSHIMA VOLCANIC ACTIVITY
27.243362, 140.874420
Nishinoshima is a volcanic island located 940 kilometres (584 miles) south of Tokyo, Japan. Starting in November 2013, the volcano began to erupt and continued to do so until August 2015. Over the course of the eruption, the area of the island grew in size from 0.06 square kilometres (0.02 square miles) to 2·3 square kilometres (0·89 square miles).
26 – THE EMPTY QUARTER
22.182760°, 55.134184°
Rub' al Khali, or The Empty Quarter, is the largest sand desert in the world. It covers 650,000 square kilometres (251,000 square miles), and includes parts of Saudi Arabia, Oman, Yemen, and the United Arab Emirates. In the centre of the desert there are a number of raised, hardened formations that were once the sites of shallow lakes, thousands of years ago. For a sense of scale, this Overview shows approximately 350 square kilometres (135 square miles) in Saudi Arabia, near the border with Oman.
27 – SHADEGAN LAGOON
30.327274°, 48.829255°
Dendritic drainage systems are seen around the Shadegan Lagoon by Musa Bay in Iran. The word 'dendritic' refers to the pools' resemblance to the branches of a tree, and this pattern develops when streams move across relatively flat and uniform rocks, or over a surface that resists erosion.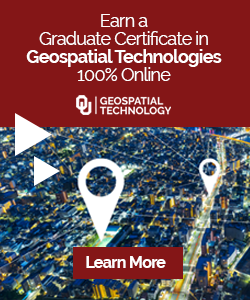 The community is supported by:

Next article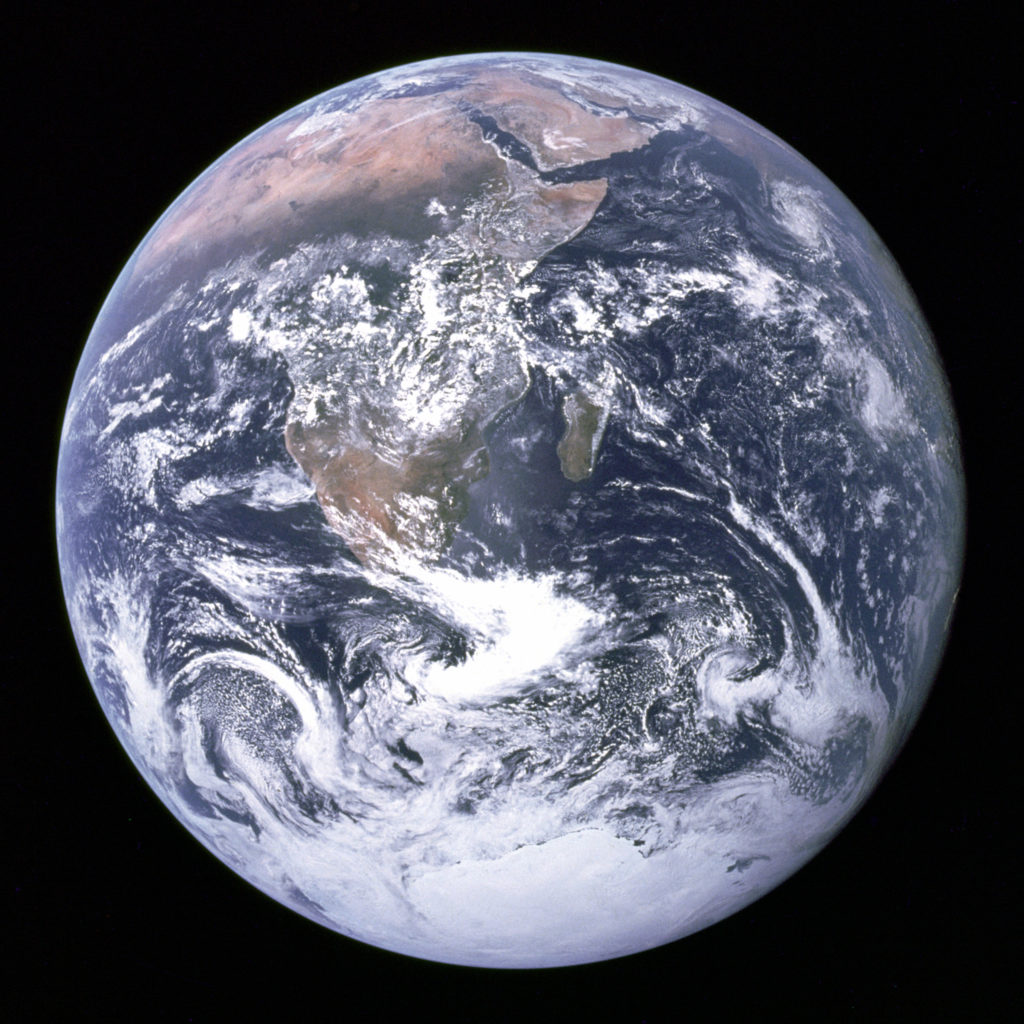 Geospatial Big Data: The Next Phase of DigitalGlobe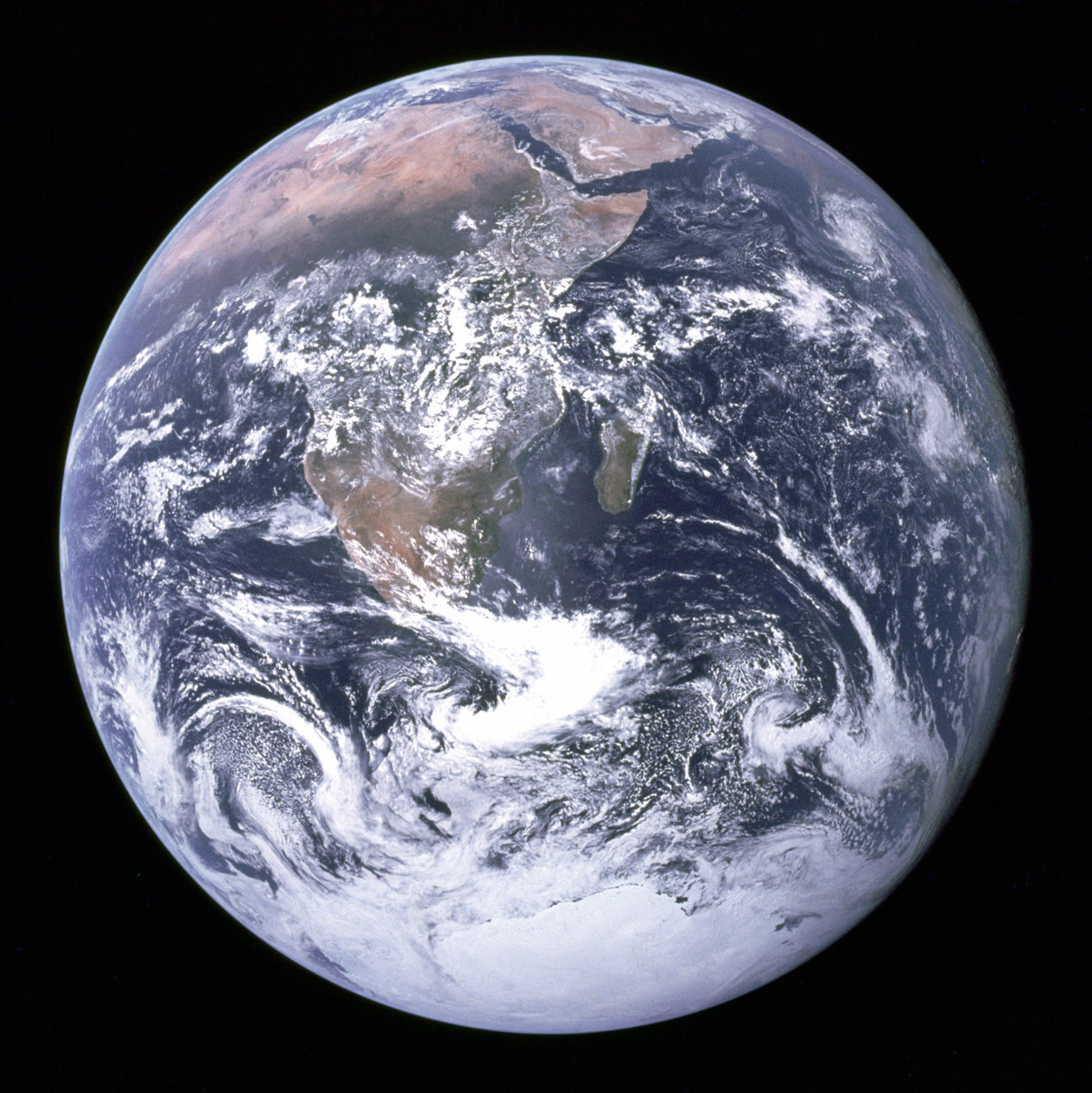 Nearly 45 years have passed since the iconic "Blue Marble" image was taken by the Apollo astronauts on December 7, 1972. At the beginning, only scientists and government agencies had access to such imagery on a regular basis, putting it to use to monitor the environment, the weather and many other purposes. Today, with our navigation apps, invariably we use satellite imagery every day to get a better visualization of our location and its surroundings. Satellite imagery is now just as integral a part of our lives as maps are. In a sense, satellite imagery has already passed the famed Toothbrush Test at Google.
Interestingly, it's one company's imagery that is widely used across the industry – DigitalGlobe. 
Be it Google, Apple or here, they all use DigitalGlobe's imagery.
DigitalGlobe was started just around the time that the 1992 Land Remote Sensing Policy Act in USA made it possible for private companies to enter the satellite imaging business. Satellite imaging is still dominated by space missions undertaken by governments, but that is changing slowly. DigitalGlobe might be the world's leading provider of satellite imagery, but its future is isn't just about selling imagery to the likes of Apple and Google.
Geospatial Big Data and the Future of DigitalGlobe
The future of DigitalGlobe's business is about deriving information from satellite imagery. A future where such a process will be as simple as typing your question into Google. Satellite imagery can be used to answer questions about:
The sales figures of a retail outlet using the number of cars parked in the parking lot

The agricultural production of a particular crop over the course of a year

The economic health of a country based on infrastructure projects
Earlier this year, we got a glimpse of that future when Facebook created the most detailed population density map to date, not by using its vast social network profile, but rather by using high-resolution satellite imagery and census data from countries across the globe. The days where only a remote sensing expert could derive information from satellite imagery are now a fading memory.
Facebook had to analyze more than 14 billion images totaling over 350 Terabytes for its population density map – a task that would have taken hundreds of years if not for parallel computing and impossible without computer vision and neural networks. William Gibson's quote "The future is already here — it's just not very evenly distributed," is just as much as applicable to the future of Geospatial Big Data as it is to every other aspect of our future.
The capability and technology behind such Geospatial Big Data analysis is already there, it's the ease of access and scalability that are hindering widespread use. Not every engineering team has access to the kind of servers that Facebook's Connectivity Lab team has access to.
The GBDX Platform
Access and scalability are exactly the two main things that Shay Har-Noy's team at DigitalGlobe is trying to solve with the GBDX Platform. The GBDX platform is in a sense what one can categorize as "The Cloud + Data in one place" kind of service. A satellite imagery library with images from the last 15 years and 80 Petabytes of data – that's 8 followed by six zeroes when you convert to gigabytes.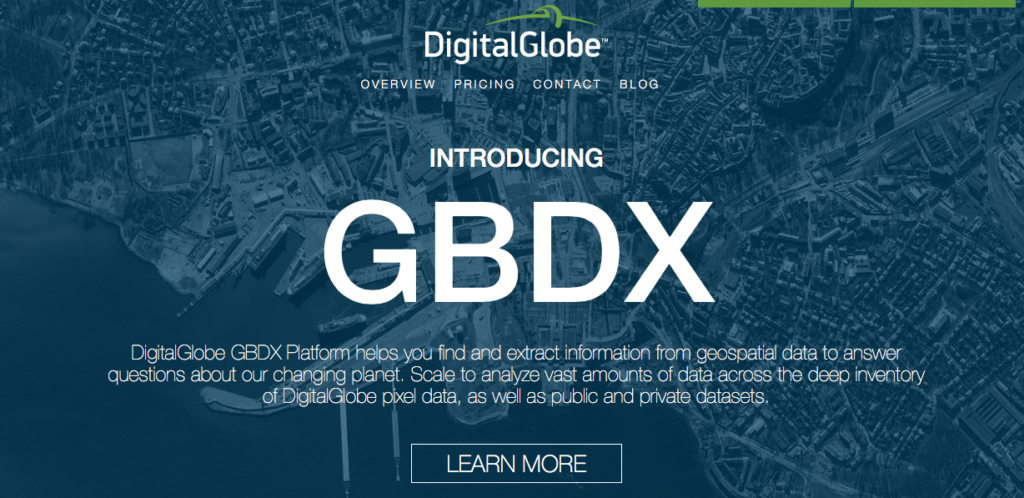 When talking to Shay about the platform, one could clearly see his passion for getting the GBDX platform and its tools in the hands of everyone. "It's all about getting non-geo people to solve geo problems," Shay mentions when I ask him if the platform is aimed towards a particular group. "An insurance underwriter is more interested in learning about the risk affecting their portfolio and if detecting building footprints and waterways with satellite imagery is going to provide him/her that risk, then that's all what he/she wants to know – not how the algorithm actually detects them!"
Making remote sensing algorithms accessible to everyone! 
"One of my primary tasks is to make the data available to everyone and make it accessible everywhere," Shay adds. Remember those days when you ordered satellite imagery and it was shipped on a CD? It all seems a distant memory now but not longer than a decade ago, CDs were the only way to get satellite imagery. Today with this platform you can access data from the last 15 years, the same way you browse your friends' vacation pictures on Facebook via the cloud and the internet.
Does this mean that we are not going to buy satellite imagery in the future? "With GBDX, you are no longer paying for perpetual rights to data. Instead you are paying for the service that enables your questions to be answered with satellite imagery." It's amazing to think that satellite imagery is now following the subscription-based model that the music industry is beginning to follow.
"With GBDX, you have the data and the tools to make use of that data all in one place" – the satellite imagery, algorithms and everything in one place. You don't have to have a degree in remote sensing to be able to remove cloud cover on an image. There is an algorithm for that! Nor do you need to have servers that can crunch all these pixels to deliver that insight for you, that's where Cloud computing on GBDX comes in.
Crowdsourcing Insights
Algorithms and neural networks need data to train, and typically that was one of the biggest hurdles in traditional remote sensing. The training set that helps identify palm trees in India, typically had to be trained again before it was able to identify palm trees in Indonesia.
"With Machine Learning and AI, it's easy to achieve results that are 90% accurate. The harder thing is to push the envelope in achieving the last 10%". Before joining DigitalGlobe, Shay was the CEO of Tomnod, a crowdsourcing platform that uses satellite imagery to solve real-world problems. Tomnod was acquired by DigitalGlobe back in 2013 and is continuing to work with governmental agencies and the UN in humanitarian efforts to help after major natural disasters by helping identify and map objects of interest from satellite imagery with crowdsourced inputs.
Machine learning algorithms need training data and with TomNod, DigitalGlobe has an advantage that its competitors don't! 
Shay's experience with crowdsourcing as the head of Tomnod is clearly visible when you look at DigitalGlobe's emphasis on the topic, listing it as a product. Crowdsourcing is definitely going to play a major role in helping train algorithms that derive insights from satellite imagery and with Tomnod, DigitalGlobe has a major advantage over the other players in the industry.
The future is here
Geospatial Big Data has finally arrived. Yes, it will still be a while before we have a search engine that can answer questions by deriving information from satellite imagery but the future looks promising!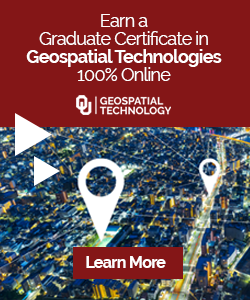 Read on