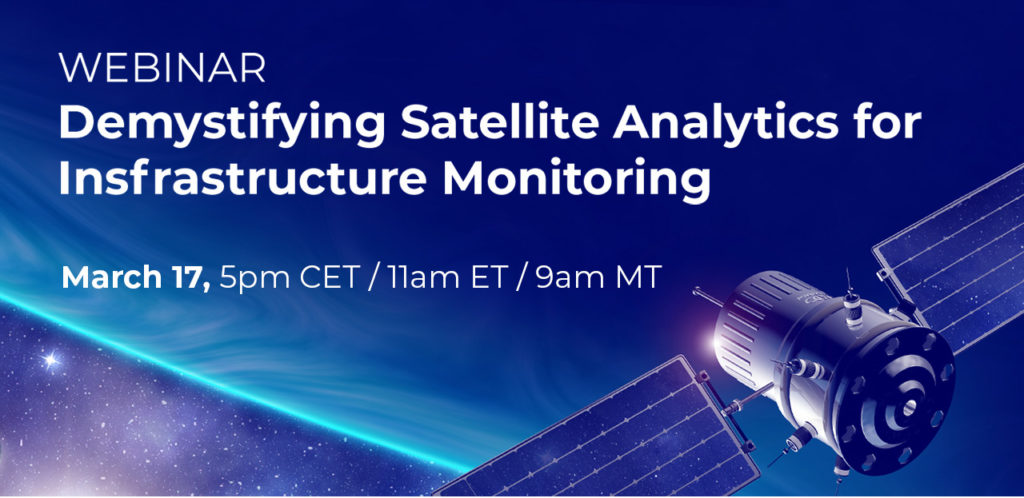 #People
Demystifying satellite analytics for infrastructure grid monitoring
The ecosystem for Earth Observation is changing rapidly, with wide-ranging implications. The entire world just witnessed the emergence of a war from space in real-time. More commercial satellites deliver more data, greater coverage, and better quality than ever before.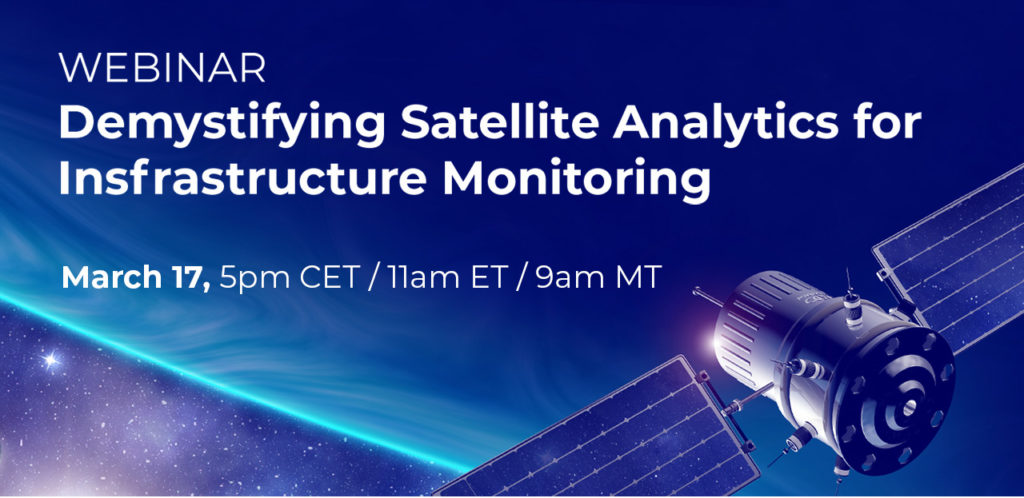 These massive new datasets are available to anyone and used by many young companies to solve civil problems in areas like insurance or infrastructure monitoring, like LiveEO.
The technology is promising, and the promises are not short of buzzwords. But between #AI and #SAR – what is possible with #SatelliteAnalytics?
LiveEO's CEO and Co-Founder Daniel Seidel will give you a realistic, state-of-the-art but down-to-earth overview of Earth observation, its opportunities, as well as limitations in infrastructure grid monitoring.
From this webinar, you will learn about:
– The rapid changes of the satellite Ecosystem
– Challenges in Analytics – how close can we look, how large can we scale?
– Real-life applications from LiveEO's labs and core products
Daniel's presentation will last about 30min and will be followed by an extensive Q&A session where he will answer all of your questions.
We hope to see you there!
Register here.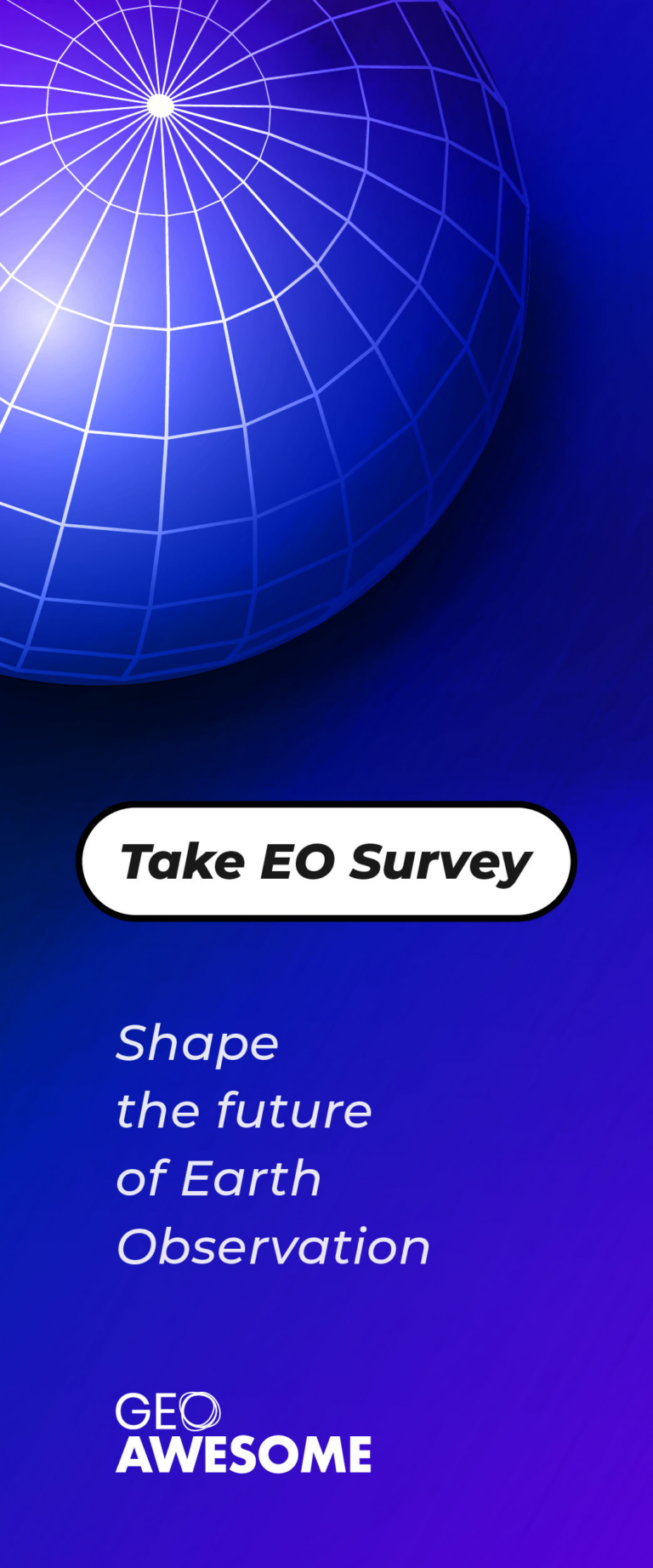 The community is supported by:

Next article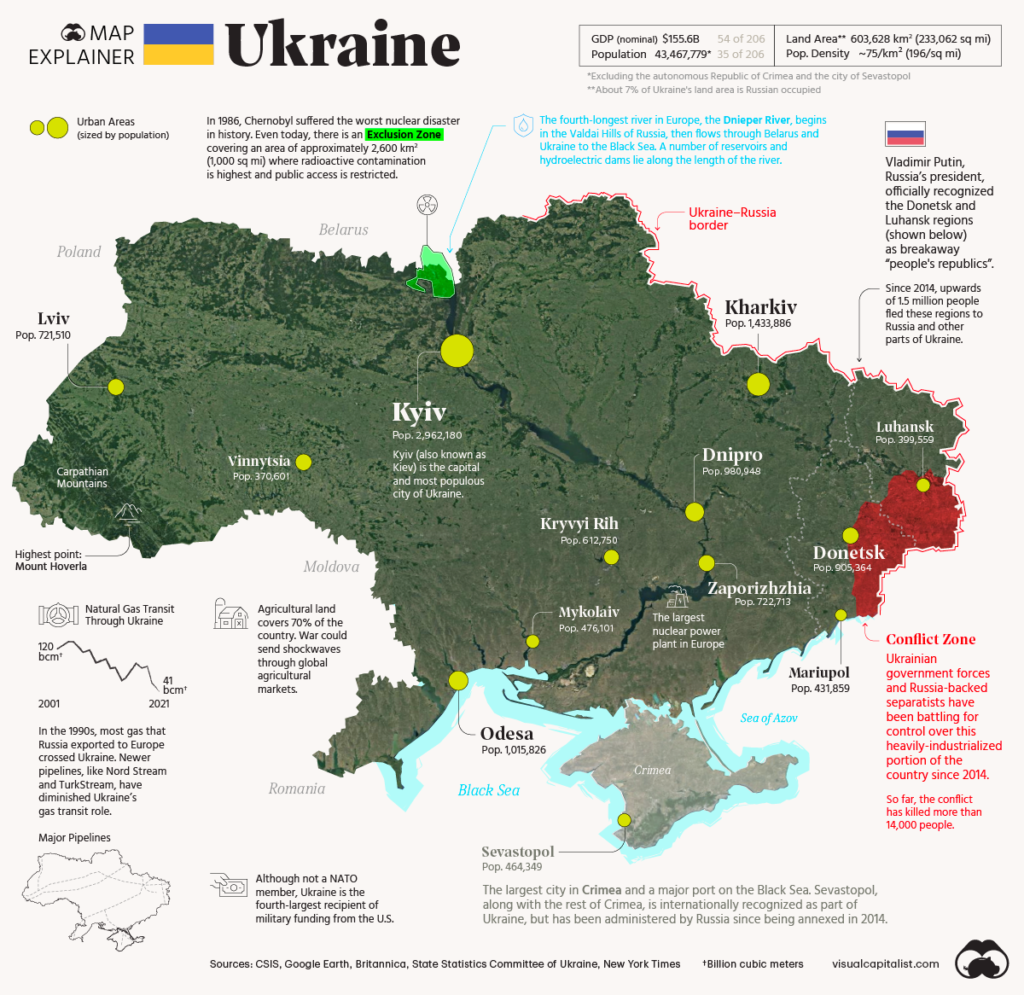 #Featured #Fun
Top 27 maps, charts and videos that explain Ukraine and the Russian Aggression
Russian forces have violently attacked Ukraine on the orders of Vladimir Putin who announced a "special operation" at dawn on Thursday, February 24. What seemed to be unspeakable, a week ago is now happening in front of our eyes. Russian president ordered a bloody war in the centre of Europe to secure its political position, which already cost hundreds of lives of innocent people and the suffering of millions.
To understand this unjustified aggression by Russian forces you need to understand Ukraine. These maps, charts and videos aim at explaining the country and the real cause of Russian aggression.
Also read: Top 14 maps and charts that explain NATO
1. Key Facts About Ukraine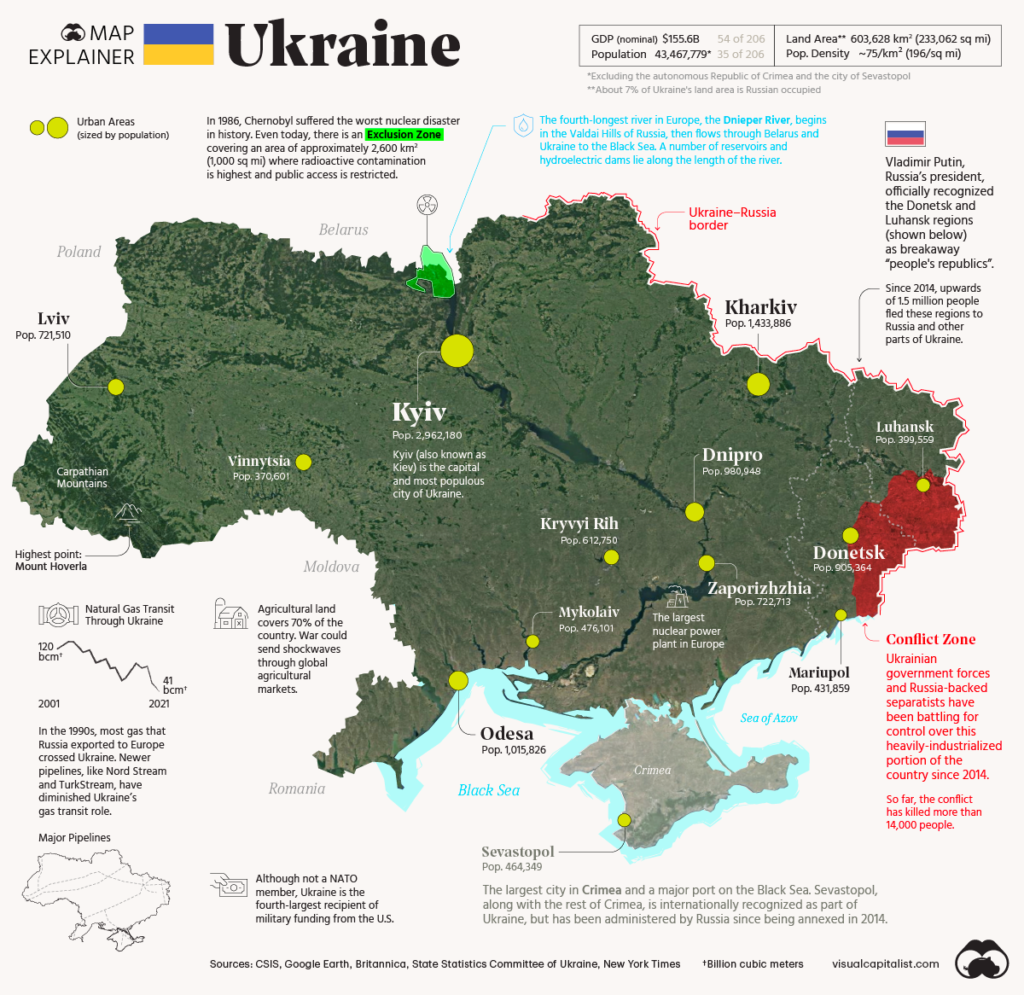 The state of Ukraine was formed in 1991 after the collapse of the Soviet Union. It borders Moldova, Romania, Hungary, Slovakia, Poland, Belarus, Russia and the Black Sea in Eastern Europe. Despite being widely tipped in the early 1990s to emerge as the most economically successful of the former Soviet republics, Ukraine has struggled to make the qualitative leap forward from authoritarian empire to European democracy.
source: Visual Capitalist
2. The size of Ukraine
It is the second-largest European country in the area after Russia with 603,628 sq. km., it stretches from Russia in the east to Poland in the west, with the Black Sea running along its southern border. It's nearly three times the size of the UK and beats France, by 50,000 sq. km.
source: TrueSize
3. Percentage of Ukraine's population that indicated "Russian" as their unique mother tongue
The vast majority of people in Ukraine speak Ukrainian. Russian is the native language of 29.6% of Ukraine's population. Russian is the most common first language in the Donbas and Crimea regions of Ukraine, and the predominant language in large cities in the eastern and southern portions of the country.
4. The GDP of Ukraine
The economy of Ukraine is an emerging free-market economy. It grew rapidly from 2000 until 2008 when the Great Recession began worldwide and reached Ukraine as the 2008–2009 Ukrainian financial crisis. The economy recovered in 2010 and continued improving until 2013. From 2014 to 2015, the Ukrainian economy suffered a severe downturn, with GDP in 2015 being slightly above half of its value in 2013. In 2016, the economy again started to grow. By 2018, the Ukrainian economy was growing rapidly and reached almost 80% of its size in 2008.
These charts do not really reflect the contribution of the Ukrainian economy to the world. Below you will find some numbers that will give you a better feeling about it.
1st in Europe in proven recoverable reserves of uranium ores;
2nd place in Europe and 10th place in the world in terms of titanium ore reserves;
2nd place in the world in terms of explored reserves of manganese ores (2.3 billion tons, or 12% of the world's reserves);
2nd largest iron ore reserves in the world (30 billion tons);
2nd place in Europe in terms of mercury ore reserves;
3rd place in Europe (13th place in the world) in shale gas reserves (22 trillion cubic meters)
4th in the world by the total value of natural resources;
7th place in the world in coal reserves (33.9 billion tons)
Ukraine is an agricultural country:
1st in Europe in terms of arable land area;
3rd place in the world by the area of black soil (25% of world's volume);
1st place in the world in exports of sunflower and sunflower oil;
2nd place in the world in barley production and 4th place in barley exports;
3rd largest producer and 4th largest exporter of corn in the world;
4th largest producer of potatoes in the world;
5th largest rye producer in the world;
5th place in the world in bee production (75,000 tons);
8th place in the world in wheat exports;
9th place in the world in the production of chicken eggs;
16th place in the world in cheese exports.
Ukraine can meet the food needs of 600 million people.
Ukraine is an industrialized country:
1st in Europe in ammonia production;
2-е Europe's and 4th largest natural gas pipeline system in the world (142.5 bln cubic meters of gas throughput capacity in the EU);
3rd largest in Europe and 8th largest in the world in terms of installed capacity of nuclear power plants;
3rd place in Europe and 11th in the world in terms of rail network length (21,700 km);
3rd place in the world (after the U.S. and France) in production of locators and locating equipment;
3rd largest iron exporter in the world
4th largest exporter of turbines for nuclear power plants in the world;
4th world's largest manufacturer of rocket launchers;
4th place in the world in clay exports
4th place in the world in titanium exports
8th place in the world in exports of ores and concentrates;
9th place in the world in exports of defence industry products;
10th largest steel producer in the world (32.4 million tons).
source: Ukrainian Congress Committee of America Ukrainian World Congress 
5. Average Monthly Salary in 2021
The labour market in Ukraine has evolved gradually. Having passed first from an agricultural state to an industrial one during the time the country was part of the Soviet Union, Ukraine started on the path of a service-oriented economy after the breakdown of the USSR, as the national labour market increasingly become oriented toward such industries as tourism, entertainment, and leisure. Today, more than half the national labour force is involved in the service sector. Though the Ukrainian labor force is characterized as highly qualified and skilled, the level of labor pay is much lower than in developed countries.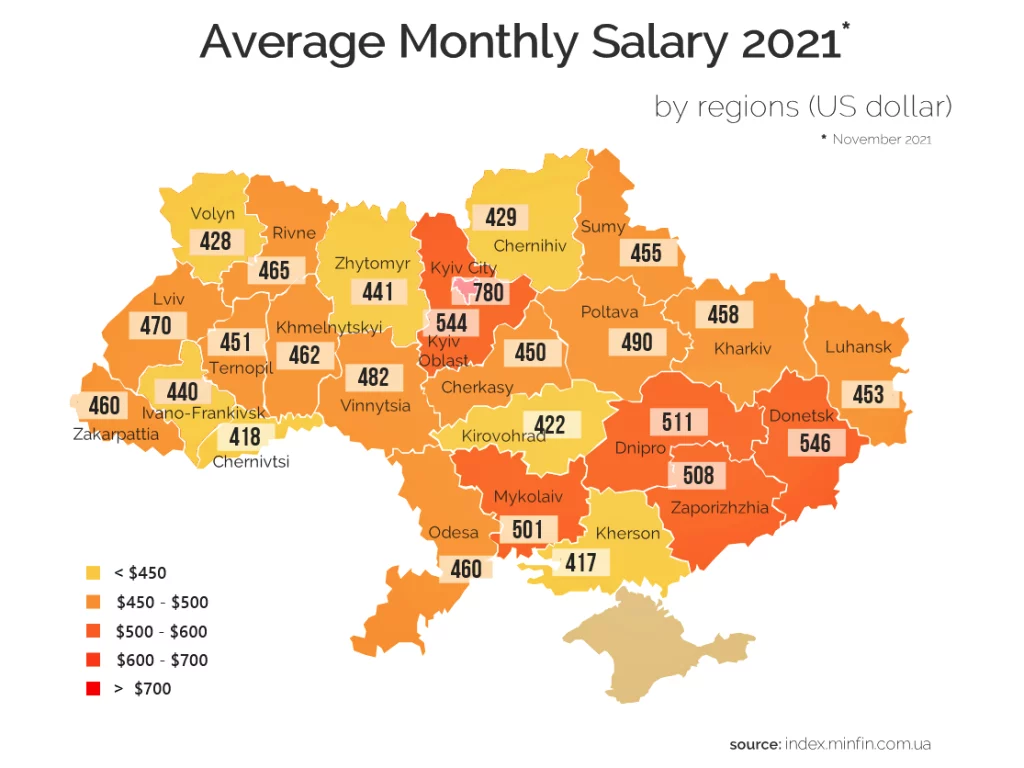 source: Loc.gov

6. The workforce of Ukraine

Ongoing political and economic instability has led to rapidly increasing labor migration, in which both skilled and unskilled workers leave the country in order to find more reliable sources of income. The countries where most Ukrainians emigrate or go to work for shorter or longer periods of time include Russia, Western Europe, Canada and the United States. It is estimated that between 7 and 9 million Ukrainians are already working abroad.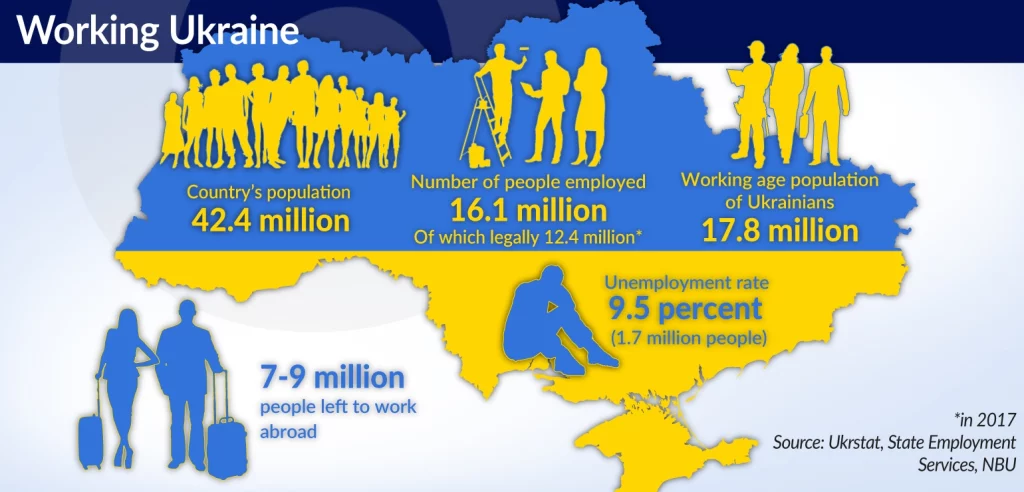 source: ObserwatorFinansowy
7. Why is Ukraine still a developing economy?
8. Education in Ukraine
Ukraine offers a competitive education system to the students, providing them with all the necessary amenities for all-round development of the students. The courses that are offered by the colleges and universities in Ukraine are well-recognised all over the world. 

9. Overview of top venture-backed startups in Ukraine
Despite numerous troubles in the economy, the industry of innovative entrepreneurship develops dynamically in Ukraine. In the last few years, several unicorns appeared in the country, and some projects are about to become unicorns. Since 2015, the Ukrainian market of information technology has grown twice, and what's important, the growth tempo is not slowing down. Some of the Ukrainian startups are tools used by millions of people around the world every day like Grammarly.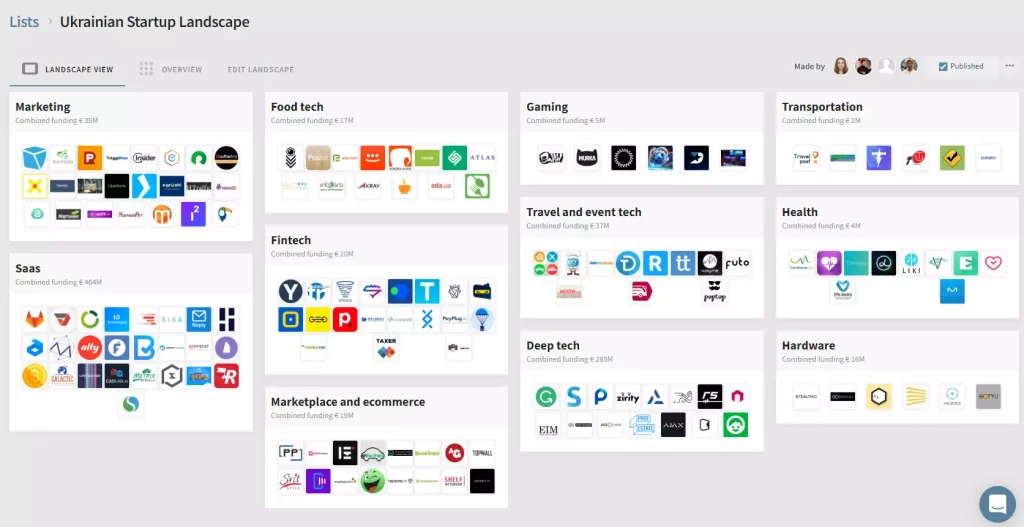 source: Dealroom, Startupjedi
10. Ukraine's economic growth in 2019
Against the backdrop of the ongoing Russian aggression against Ukraine, which means the loss of one-third of the country's industrial potential and the need to invest in the country's defence capability, Ukraine showed brilliant economic results in 2019.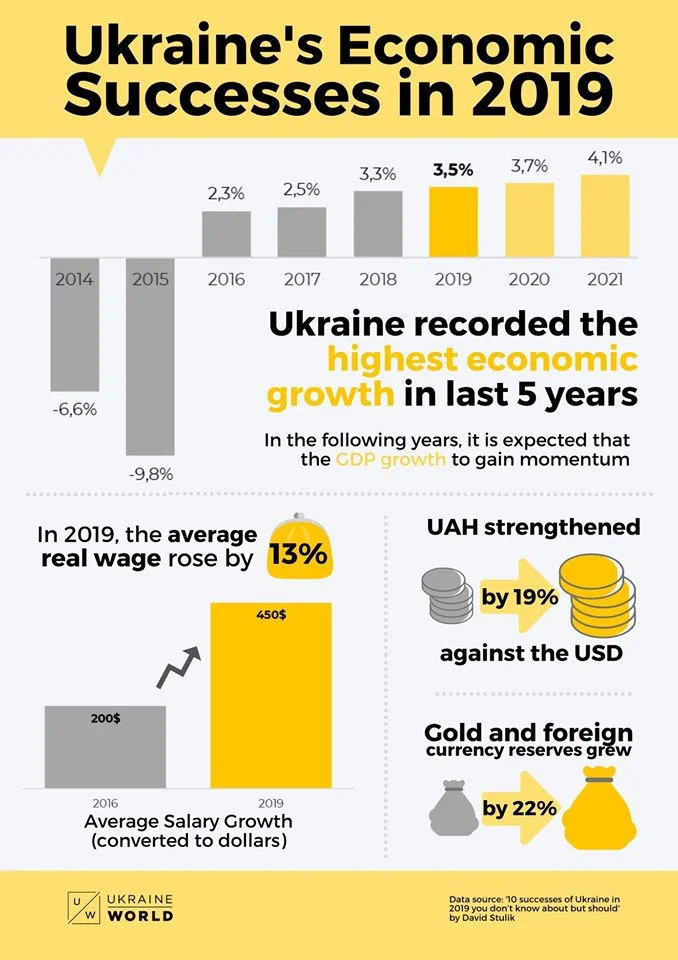 source: UkraineWorld
11. Ukraine export
Ukraine is one of the leading exporters in several areas: jet engines, rockets and satellites are all produced in, and exported from, Ukrainian plants, while the country's vast agricultural sector provides huge amounts of food to Europe and the Middle East.
source: Kyivpost
12. Exports of Ukraine Agriculture Products
In 2020, Ukraine was admitted to 12 new export markets, 35 export certificates were agreed upon and two EU audits on the State Control Evaluation System for Fish and Fishery Products, Poultry and Poultry Products were passed.
source: Latifundist
13. EU support to reforms in Ukraine
For more than 20 years, the EU has been supporting Ukraine in its reform agenda. Tackling corruption, which is a major obstacle to a country's development and runs counter to EU values, is an integral part of that. Grand corruption and state capture are endemic in Ukraine; as well as hindering competition and growth, they also harm the democratic process. Tens of billions of euros are lost annually as a result of corruption. The European Commission, the European External Action Service (EEAS) and the EU advisory mission have attempted to address this issue, and have backed several reforms to reinforce the rule of law and to fight corruption in Ukraine.
source: Europe.eu
14. The attitude of Ukrainians towards joining the European Union
More than half of Ukrainians see Ukraine's future in EU, only 13% with Russia according to a poll from 2019. The highest pro-EU support is in the west of Ukraine (71%), followed by central provinces (60%). Meanwhile, the southern and eastern oblasts support Ukraine's EU accession by 32% and 34% respectively. The second most popular opinion in the southeast is non-accession to both EU and Russia's Eurasian Union (south: 21%, east: 30%). Supporters of integration with Russia came third with 24% in the south and 27% in the east.
source: Euromaidanpress
15. Population Density in Ukraine
Ukraine ranks number 35 in the list of countries (and dependencies) by population. The population density in Ukraine is 75 per Km2 (196 people per mi2). The median age in Ukraine is 41.2 years.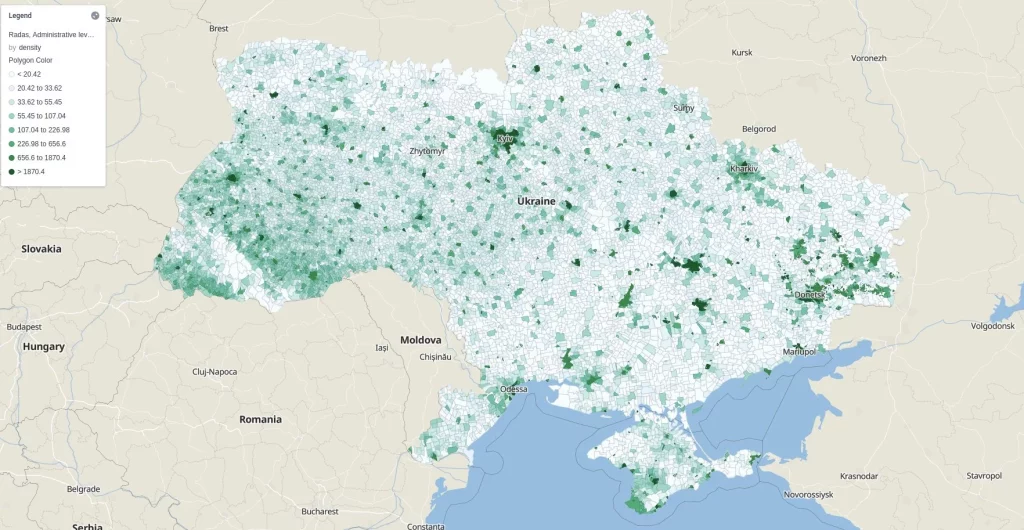 source: @MykolaKozyr
16. Animated population pyramid since 1989
On 1 January 2022, the total population of Ukraine was estimated to be 41,167,336 excluding the Autonomous Republic of Crimea and Sevastopol, which were annexed by Russia in 2014. If these two territories are included in the demographics of Ukraine, the population rises by approximately 2.25 million, to 43.4 million.
17. Environmental issues in Ukraine
Ukraine is currently following world trends in relying on coal, gas and oil as the main energy resources. However, there are measures planned which are aimed to redesign the national economy in a sufficient, eco-friendly way.
source: UkraineWorld
18. A brief history of Ukraine
19. The history of the Ukrainian Flag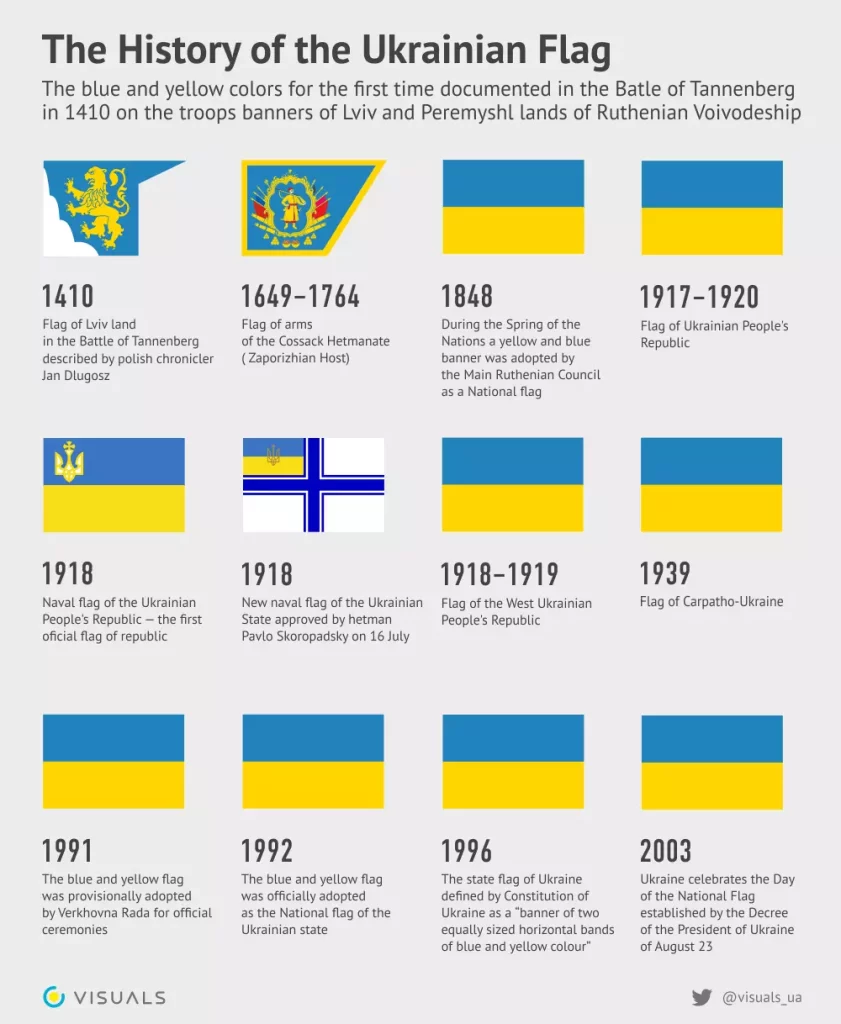 source: Euromaidanpress
20. Ukraine rail network
source: Geoawesomeness
21. Ukrainian Oligarchs
There is no consensus about the exact reasons why success has eluded Ukraine for the past three decades. However, few would argue that the main obstacles have been the destructive role played by Russia and the excessive influence of Ukraine's oligarchs over every aspect of national life. Ukraine's oligarchs may lag behind their Russian counterparts in cash terms, but they are much more politically active and they have a huge control over the media.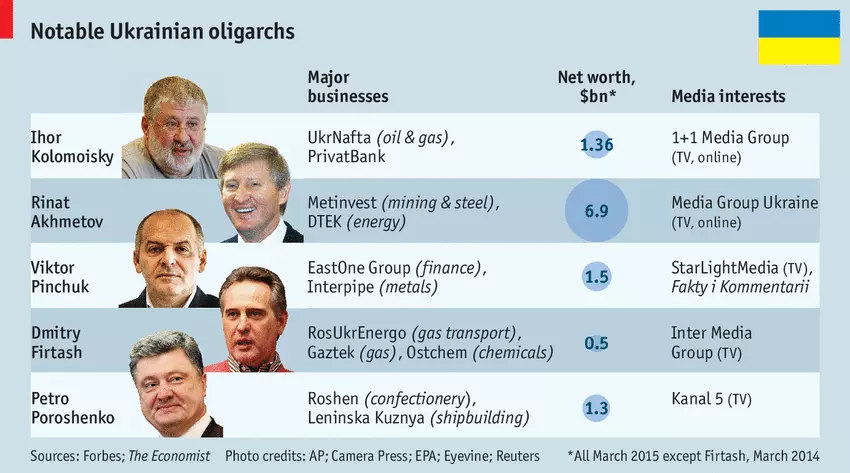 source: Kharkiv Human Rights Protection Group
22. All Ukrainian Presidents 
Over the past 30 years, Ukraine has been led by seven presidents. The country has had a rocky path towards democracy with two revolutions, first in 2005 and then in 2014. Both times, protesters rejected Russia's supremacy and sought a path to join the European Union and NATO.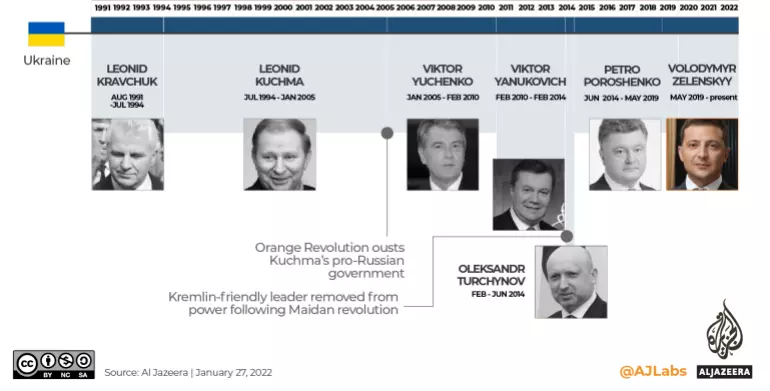 source: Aljazeera
23. Ukraine energy sources
Ukraine is reliant on nuclear and coal for the bulk of its power generation. The nuclear industry is dependent on foreign fuel for its nuclear reactors. Over 50% of enriched fuel is imported from Russia while the remaining is sourced from the US. Moreover, in H1 2019, coal imports increased by 50% while imports from Russia and the US stood at 64% and 28% respectively. As of 2018, coal (thermal) dominated the Ukrainian power mix, with a share of 40.2 % of total installed capacity, followed by nuclear power with 25.8%. Gas, hydropower and solar PV accounted for 17.1%, 12.2% and 2.7% respectively.
source: Power-Technology
24. Security of oil, gas and commodities flow
Russian attack on Ukraine has already had a major impact on prices of key commodities from oil and gas through to steel and grains. Europe is heavily reliant on gas and Urals crude via the Druzhba pipeline to refiners across the region. Ukraine is also considered Europe's breadbasket and a major supplier of wheat amongst other key commodities shipped through its ports. SOP Global Platts Analytics has said its base case demand forecast continues to assume growth of 4.1 million b/d in 2022. However, under a limited incursion scenario in Ukraine, global demand growth could ease by 0.7 million b/d.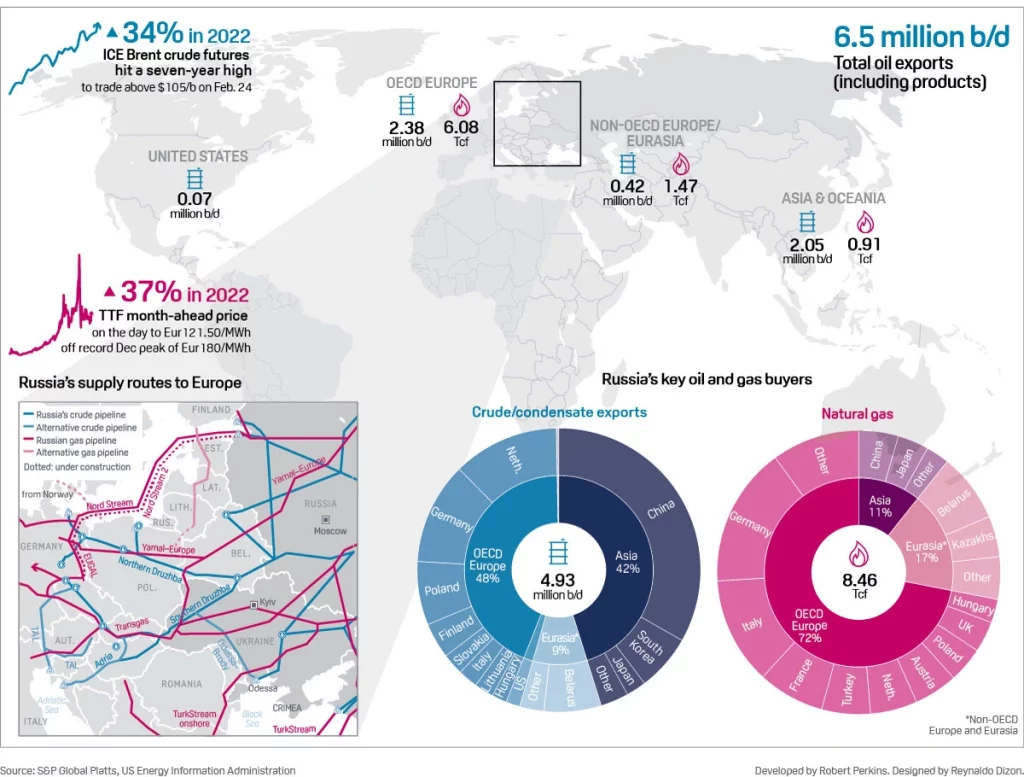 source: SP Global
25. Why does Putin want Crimea?
By annexing Ukrainian land on the Black Sea coast, Putin also annexes the rights to any hydrocarbons found in its maritime zones. There are signs the Black Sea contains a lot of wealth. Energy firms such as ExxonMobil, Chevron, Shell, Repsol, and Petrochina have begun to show real interest in working with Kyiv to explore the area. Energy companies have already found interesting deposits in Russia's Black Sea zone, near Novorossiysk, and in Romanian zones. Trans Euro Energy has even found commercially viable gas reserves under the Crimean mainland.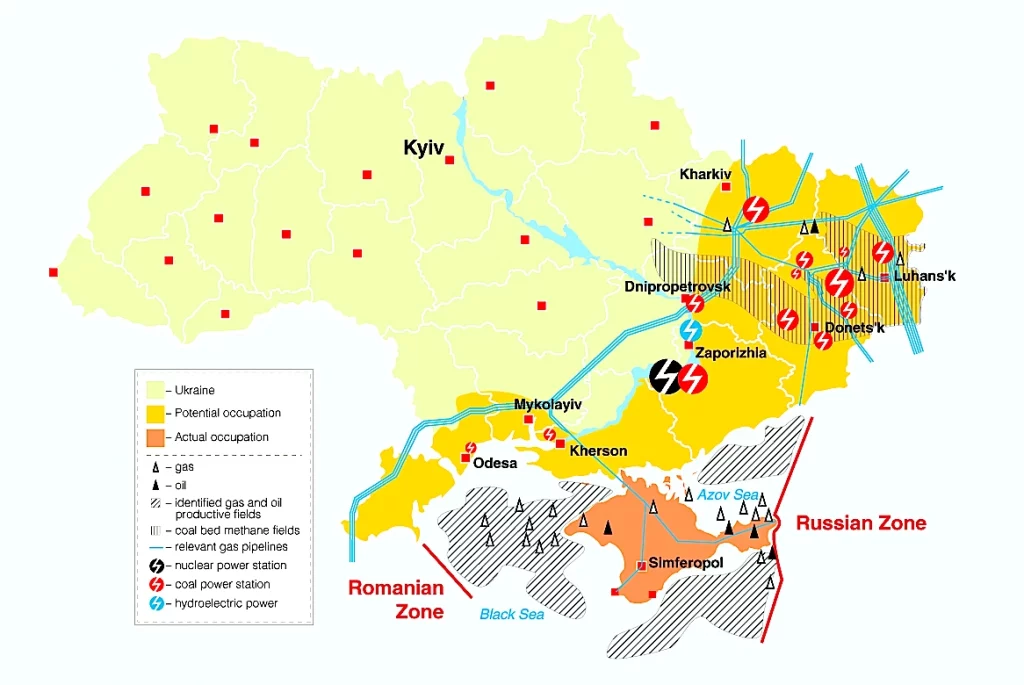 source: EU Observer
26. Ukraine vs. Russia army in numbers
In 2020, Russia spent $61.7bn on its military which accounted for 11.4 percent of government spending. In comparison, Ukraine spent $5.9bn on its military or 8.8 percent of government spending, according to the Stockholm International Peace Research Institute (SIPRI).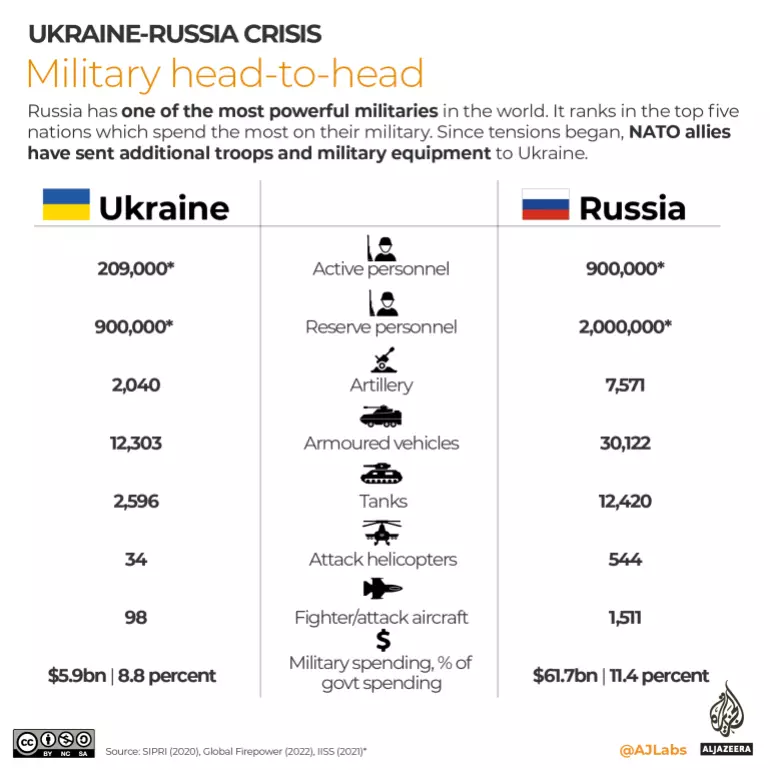 source: Aljazeera
27. The explanation why Russia is invading Ukraine
Also read: Top 14 maps and charts that explain NATO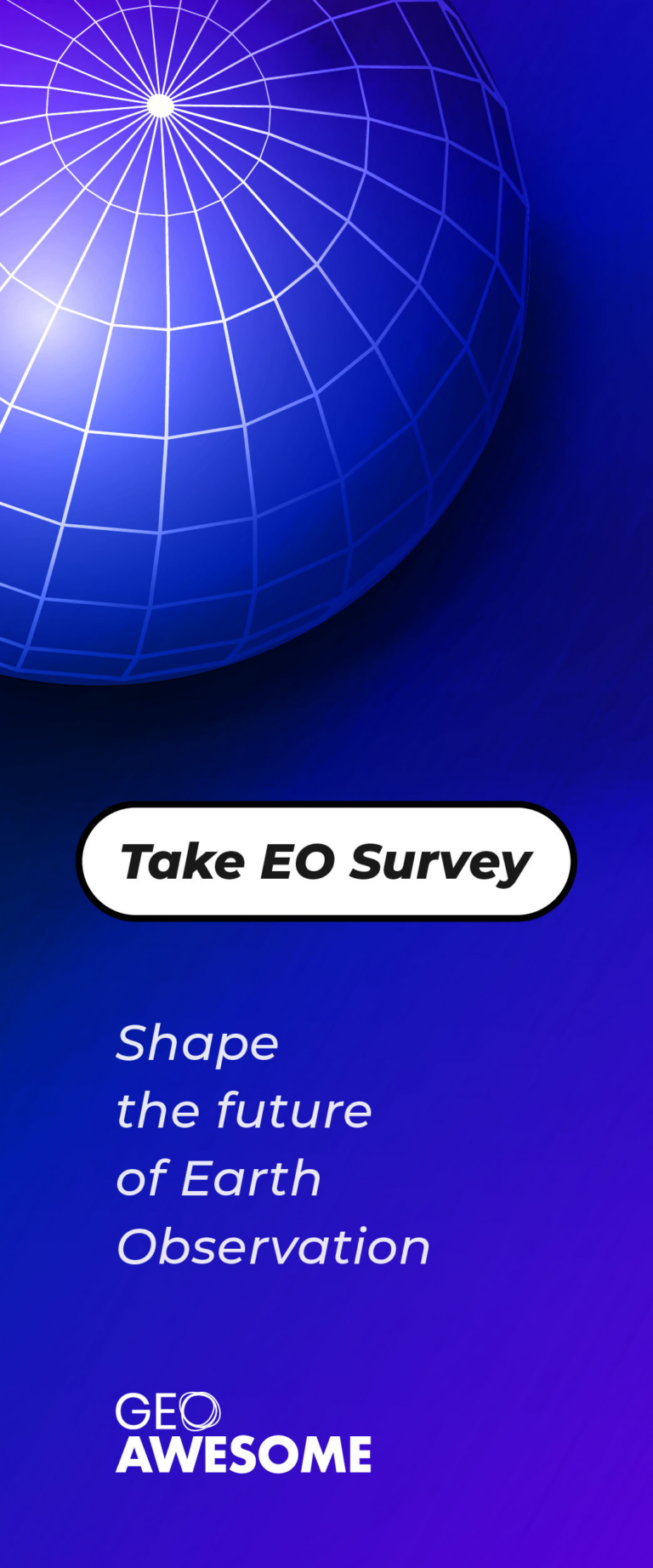 Read on