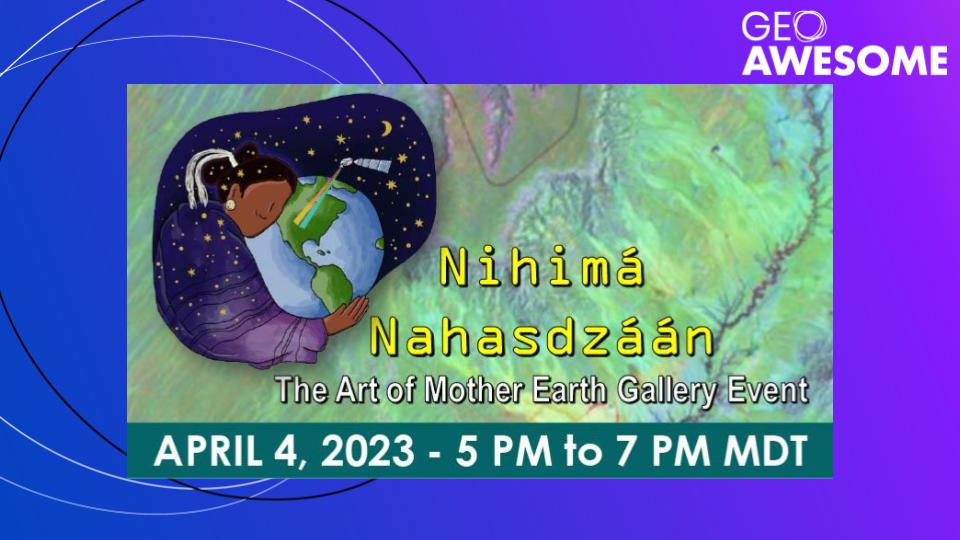 #Events #People
Call for sponsorship: Nihimá Nahasdzáán!
Ladies of Landsat, Geoawesomeness and members of the earth observation community request your financial support in making Nihimá Nahasdzáán a success!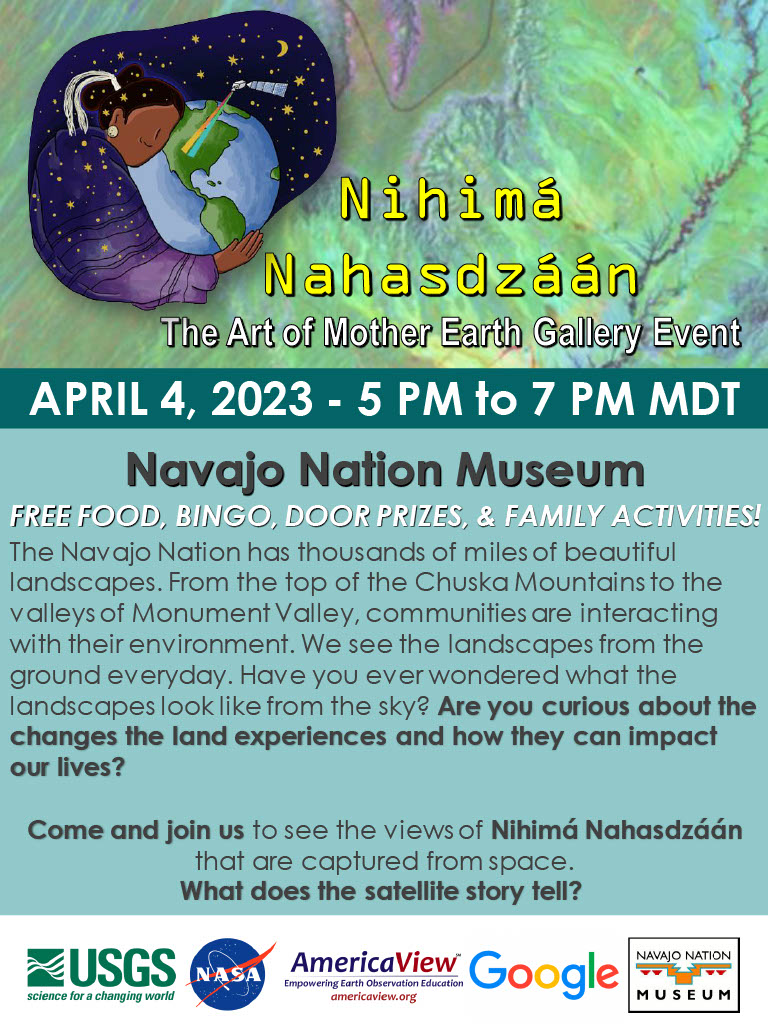 I am a tribal member of the Navajo Nation and it has been one of my greatest joys over the past few years to work with some communities in the landscapes I call home. The Navajo Nation is over 71,000 km² and is located in the southwest of the United States in the states of Arizona, New Mexico, and Utah. The landscapes range anywhere from semi-arid to forested lands. The geology within the Navajo Nation is also some of the most visited areas in the country including the Grand Canyon, Monument Valley, and Antelope Canyon to name a few. Despite the amazing vastness of the Navajo Nation and the beautiful landscapes, the reservation like many places around the world has experienced extreme influence of anthropogenic activities. Uranium and coal mining being top two of the most detrimental contributors to legacy waste. Despite all that has happened in these landscapes I call home, the people remain resilient, hopeful, and of good energy to work for a sustainable future for the generations yet to come. 
In this working for sustainable futures and community my contribution has been with my research that has focused in the area of water resources. I believe the way in which I was raised and the landscapes I grew up in have shaped me into the scientist I am now today. The first house I called home had no running water and since then I have recognized how important and vital water is to all aspects of living. I also recognize the role my first education outside of western education had in my life. Growing up in the homes of my grandmother's as a child they were my first teachers showing me how to read the landscapes. I share this brief background with you to give you some context into the moments that have contributed to this event that will be held on April 4, 2023. 
This event is the first of its kind and I believe has the potential to be the first of numerous opportunities to thoughtfully and respectfully engage with Indigenous communities to engage with more geospatial data. Numerous people in the Navajo Nation are aware of what GIS is to some extent and have used things like Google Maps on their phones, but many do not know that this is part of what is called geospatial data. In the work I do with NASA, capacity building is a large part of the role I have. In what we've done so far I have learned how important language and understanding of words being used is. Translating aspects of remote sensing into the Navajo language has been an exciting task as this relates back to the teachings I got from my grandmothers as a grandchild. I first practiced these EO capacity building with a tool that was developed for the Navajo Nation called the Drought Severity Evaluation Tool (DSET). DSET is frequently highlighted as a successful EO tool. Now, we have the opportunity to take all this work a step further with this Nihima Nahasdzaan EO event bringing elected tribal leaders, tribal employees, and community members of all ages together to interact with EO data and share how they feel it might be used and the value of the data.
There are so many layers to this event that will be addressed and unknowingly addressed that will impact the Navajo community at large for years to come. For some this may be the only opportunity they will have to learn about EO, while for some others this may be the start of a journey to become EO enthusiasts. 
Feeding people is one of the biggest forms of appreciation and care that we do in our community. It would mean so much to this event with the help of sponsorship to feed the people at this event. There are many other cultural components to the event that will shine through with this type of sponsorship. As the Navajo Nation opens back up after the height of the pandemic this event holds a layer of excitment that comes with bringing people back together. The Navajo Nation is a people of community and this event on landscape and community is coming at such a unique time to work with so many changes to the community over the past few years. 
If your organization is interested in sponsoring this unique event, please contact me at nikkitulley@arizona.edu 
The community is supported by:

Next article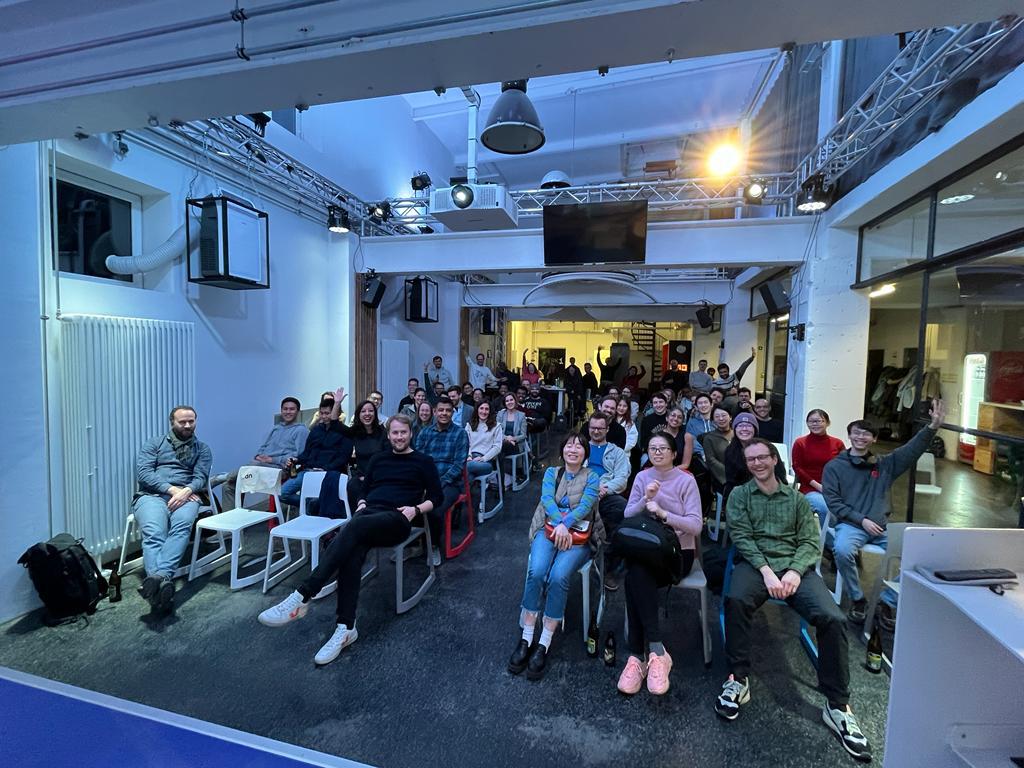 #People
A very fun, full, and informative Geoawesomeness Munich Meetup – Earth Observation and Geospatial Analytics
Thanks to our Geoawesomeness community in Munich, the Feb 2nd meetup was a smash-hit  again, this time at Werk1. We welcomed more than 60 geospatial enthusiasts from at least 24 different organizations for our first meetup of the year, with activities kicking off at 6:30pm and going all the way until doors closed at 10:00pm. 
We had an action-packed lineup of speakers that evening with the topic Earth Observation and Geospatial Analytics. We started with "A geospatial impact assessment software" from Malin Fischer, MSc., Head of Data Science at VIDA. Her talk focused on her work on a case study highlighting the lack of electrification and where to expand to underserved areas in Africa. Secondly, we heard from Dr. Marta Sapena of DLR, who spoke on "The growing threat: Earth Observation for reducing landslide risk from climate change. The talk highlighted a case study in Medellin, Colombia where devastating landslides are all too common, which sought to better inform the at-risk residents. Just before the break, we heard a shoutout from Oliver Kremer, Head of Strategy at UP42, who joined us from Berlin as a collaborator for the meetup.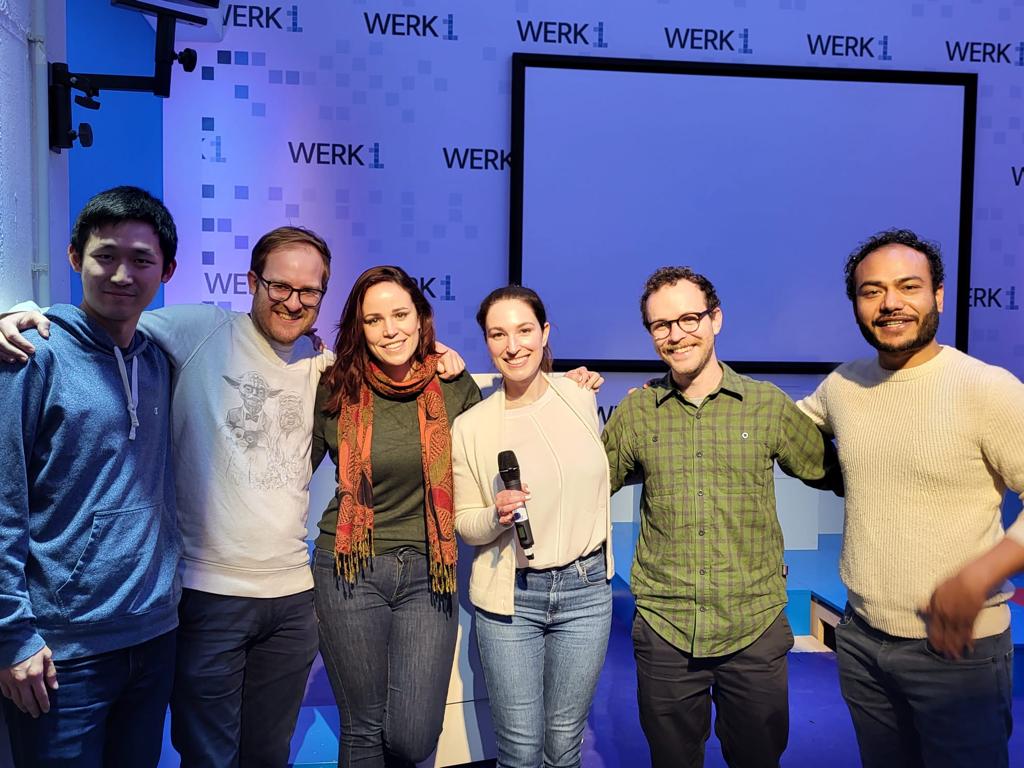 After a break for Pizza and beer, we reconvened for GAF AG's Bishwa Ale Magar, MSc., and Hausala Shakya, MSc., both Geospatial Data Scientists, who shed light on advances in agricultural intelligence via EO data and software developments designed to help both farmers and governments manage resources optimally. Next up, Dr. Flavia Souza Mendes of the Ladies of Landsat, presenting "Diversity, Equity, Justice and Inclusion in the Earth Observation sector: Examples of how the EO community has begun refining itself" with special guests from the Sisters of SAR and Women+ in Geospatial offering insight on an increasingly diverse geospatial industry. Lastly, we heard from Dr. Andreas Eich of Liangdao, who spoke on the more technical but fascinating topic of self-driving vehicles. In an industry where other methods are commonly used, Dr. Eich's team takes a different approach to autonomous driving with LiDAR and AI-enabled object detection. We finished with a lively panel discussion with questions, where no speaker was spared from the curious and engaged audience. 
Meetups are a great place to learn about exciting projects, share with your peers, network in many circles, find a new job, or just come hang out, relax, and have a beer or two. That wouldn't be possible without collaboration with our supporters. We thank UP42, who happily supplied the beers and pizza and super swag, as well as Werk1 for the welcoming space. You can check out more information about them at https://up42.com and https://www.werk1.com. Huge thanks to Muthu and Aleks for their constant support! Stay tuned for updates on our next event and join the Munich Geoawesomeness Community.  
Until next time, 
Your Munich Geoawesomeness Team
Abhi, Florian, Karen, Nianhua, Chris, Leo, and Sara
Read on