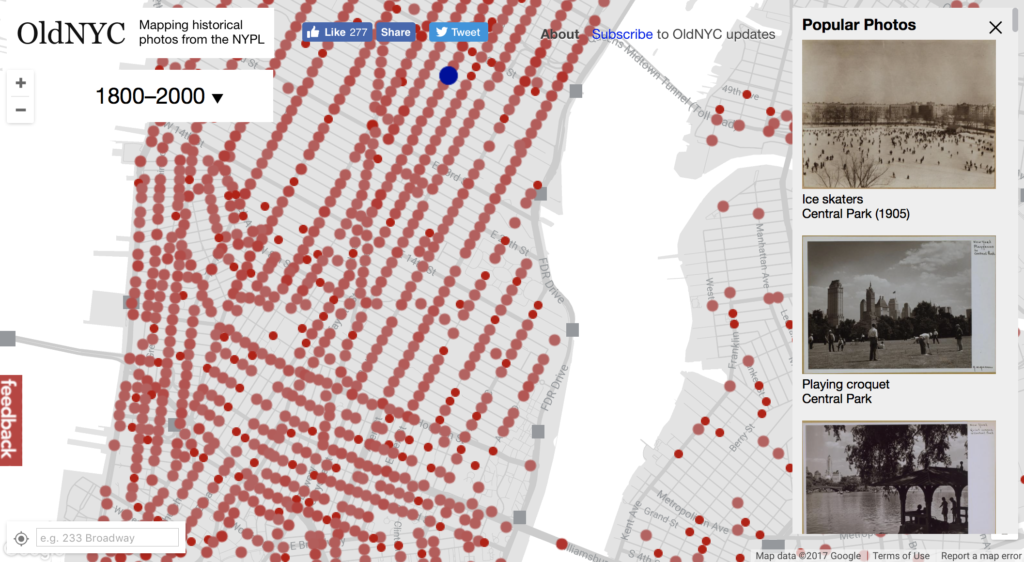 #Ideas
Travel back to old New York City with this interactive map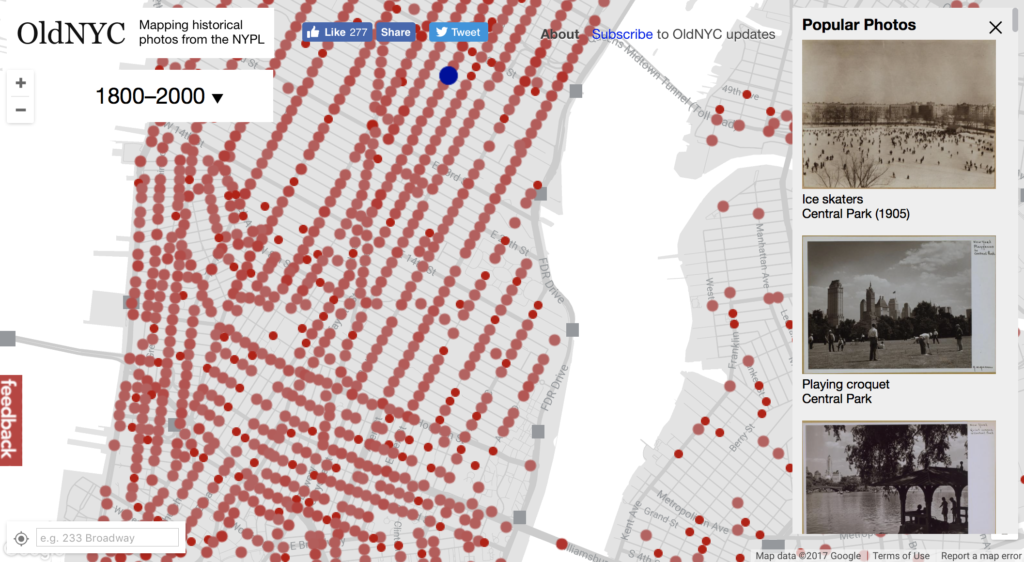 New York, one of the most populous cities on the earth, is often called the cultural and financial capital of the world. Tracing its origins back to 1624, the city is home to some of the world's most-recognized landmarks – Times Square, Wall Street, Central Park, et al. But have you ever wondered how New York used to look before all these developments had taken place?
Dan Vanderkam, a Software Engineer at Sidewalk Labs, was curious enough to find out. So he took more than 40,000 images from New York Public Library's collection from 1870s-1970s and neatly geocoded them on a present-day map over a period of 18 months. The result? An incredible interactive map called OldNYC that lets you see the history behind the places you are oh-so-familiar with!
So put on your sepia-tinted glasses and zoom into the past of the cultural icons you know and love, such as these under-construction scenes of the Manhattan Brooklyn Bridge or ice skaters in Central Park in 1905. The map has a cool little time slider that lets you narrow down your searches to specific time periods as well.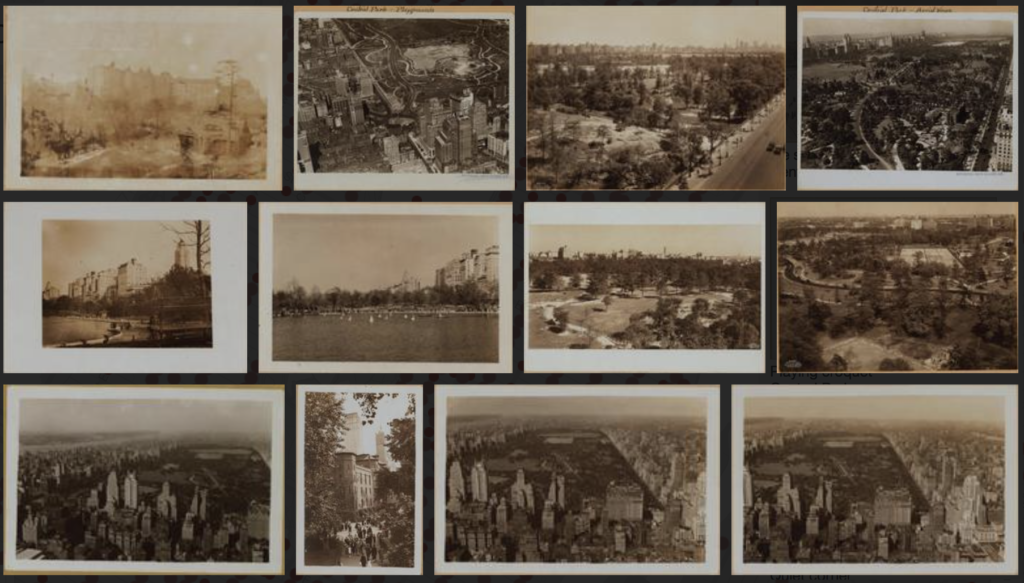 Most of the images used by Dan come from the New York Public Library's Milstein collection which catalog photographer Percy Loomis Sperr's works documenting the changes to the city between the late 1920s and early 1940s.
At an event celebrating the launch of the OldNYC website, Dan detailed how the idea for this map germinated when he stumbled upon a historic, incorrectly-labeled image of his neighborhood. "I realized the right way to present this information is not through keywords. The right way to present this information is through maps."
If you are technically-inclined, you can read about how Dan extracted the images from the library's photo cards here, and how he generated the training data for the photodetection project here.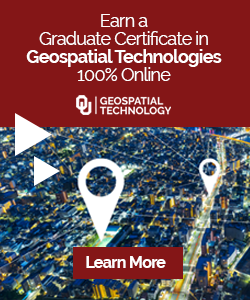 The community is supported by:

Next article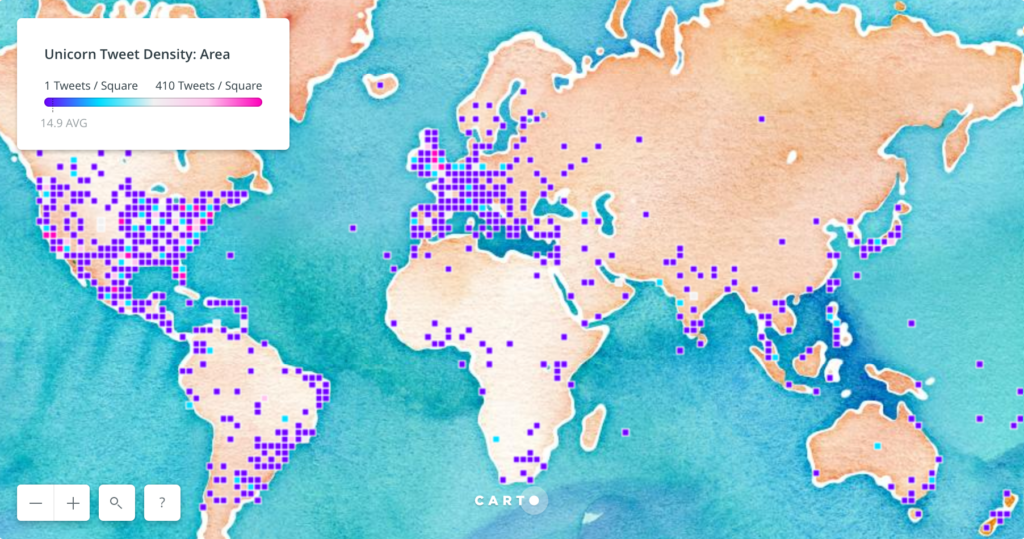 #Ideas
Fantastic Fraps & Where To Find Them
This spring Starbucks was quite literally serving unicorn realness across North America and it almost broke the internet. Available from April 19 to 23 and precisely positioned for spring and selfies, the unicorn frappuccino could not have come out at a more perfect date, unless of course it had continued two days later until April 25th.
Beyond the seasonal timeliness, we live in a near-mythical era when the bright colors and identity-mocking magic of RuPaul's Drag Race now graces a mainstream TV station, when fluorescent workout clothes look more like outfits for an EDM festival, and when unicorns rule the internet with rainbows and glitter. Simultaneously it is a time of widespread disillusionment spawning numerous post-apocalyptic movie franchises, crippling student debt, and rampant clicktivism. It seems Starbucks' unicorn frappuccino with its promise of "magical flavors", "color-changing spectacle", and "fairy powders" may offer the youth the closest consolation to the fading American dream that money can buy.
But, as always, instead of delving into why the unicorn frappuccino is so brilliant, I'm going to tell you more about where to find these fantastic beasts, or atleast where people are tweeting about them.
"Unicorn Frappuccino" and "Unicorn" Tweets in North America during the fateful five-day frenzy
The unicorns decided to join their buggy-pulling, terrestrial cousins in New York and took it upon themselves to transform the City of Angeles into the City of Unicorns, atleast, that's what the data says. The top locations that Twitter users tagged as they were enjoying these delightful drinks were Manhattan (17), Los Angeles (12), Toronto (9), and Starbucks (6), with about nine-thousand other options. Since it seems most users either wanted to tell you exactly where they were situated while consuming these colorful concoctions or perhaps were too mystified to care to where it was happening, I decided to create a tweet density map to visualize the spatial spread. Here we see New York, Los Angeles, and Toronto are joined by Chicago, San Francisco, Mexico City, Philadelphia, Washington D.C., and Seattle. There are also three smaller urban areas that a closer look reveled to be Fresno, California, Aguascalientes and Zacatecas, Mexico, and the region around Salina, Kansas and Lincoln, Nebraska.
Because the U.S., Mexico, and anglophone Canada (sorry Quebec) had the metropolitan areas with the greatest agglomerations of tweets, it's no surprise that English and Spanish were the most popular unicorn tweet languages with 7,400 and 1,200 related tweets, respectively. They were followed by undefined (398), Italian (137), Tagalog (107), other (210).
TMZ posted about Starbucks' "Unicorn Frappuccino" from it's Downtown LA location on April 23rd
In addition to speaking a plethora of earthly parlances, unicorns also speak the language of business. Anyone who doesn't believe in the power of pretty needs to check Instagram where there were over 180 thousand Instagram posts in one week. Furthermore, flocks of celerities, public figures, and various verified Twitter accounts wanted to get in on the fluorescent fun, making up 2.77% of the sample of about ten thousand tweets in this map of individual tweets. Part of the sugary sensations's commercial and social media success may be that its bright colors and high sugar and low caffeine content cater to cool kids everywhere who grew up on Instagram and internet memes.
Which countries and cities can't get enough of the unicorn frappuccino craze?
The unicorns may have made their earthly landing in North America and even captivated corporate America, but does the rest of the world care? The humans across the pond seemed to have some serious FOMO with high levels of frap fanaticism especially in London and near Carlisle. The rest of the world, on the other hand, seemed to have bigger concerns, like the French election. There were, however, some mentions of the mythical monsters in many major cities world-wide because the internet negates distances.
Starbucks lovers, fantasizing about frappuccinos
Unicorn dreamers, covering the internet in unicorns one pixel at a time
Because Beyonce's Lemonade album, which incidentally dropped at exactly the same time last year (April 23rd, 2016), spawned a frenzy of lemon and bee emojis, I was curious to see if the recent Starbucks phenomenon would unleash a similar digital unicorn stampede this spring. Naturally, I compared the geographic distribution of "unicorn frappuccino" hashtags and keywords to those for the "unicorn" hashtag, keyword, and emoji, to see if there was any spatial relationship.
Generally, the major urban centers that were excited about unicorn frappuccinos also seemed to love unicorns, although the density of tweets varied somewhat between the search terms. Seattle, birthplace of Starbucks is more interested in frappuccinos, whereas Dallas, home of cowboys, is more interested in unicorns themselves. Filled with college students and young professionals, Philly people just want a sugar high to get through the week and are more concerned with drinks than actual unicorns. In general, the frappuccino-related tweets appeared to be more concentrated around urban or suburban areas whereas unicorns themselves found their way into the hearts, or alteast the servers, of misunderstood, internet-addicted teenagers everywhere, dreaming of escaping on a mythical beast.
Since the arrival of unicorn frappuccino, it seems more sugary surprises may follow through the otherworldly wormhole, including the Green Dragon Frappuccino. Will more fantastic fraps be landing in a location near you?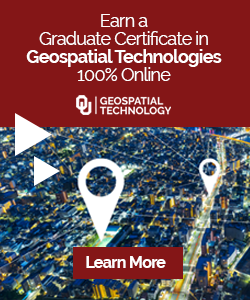 Read on