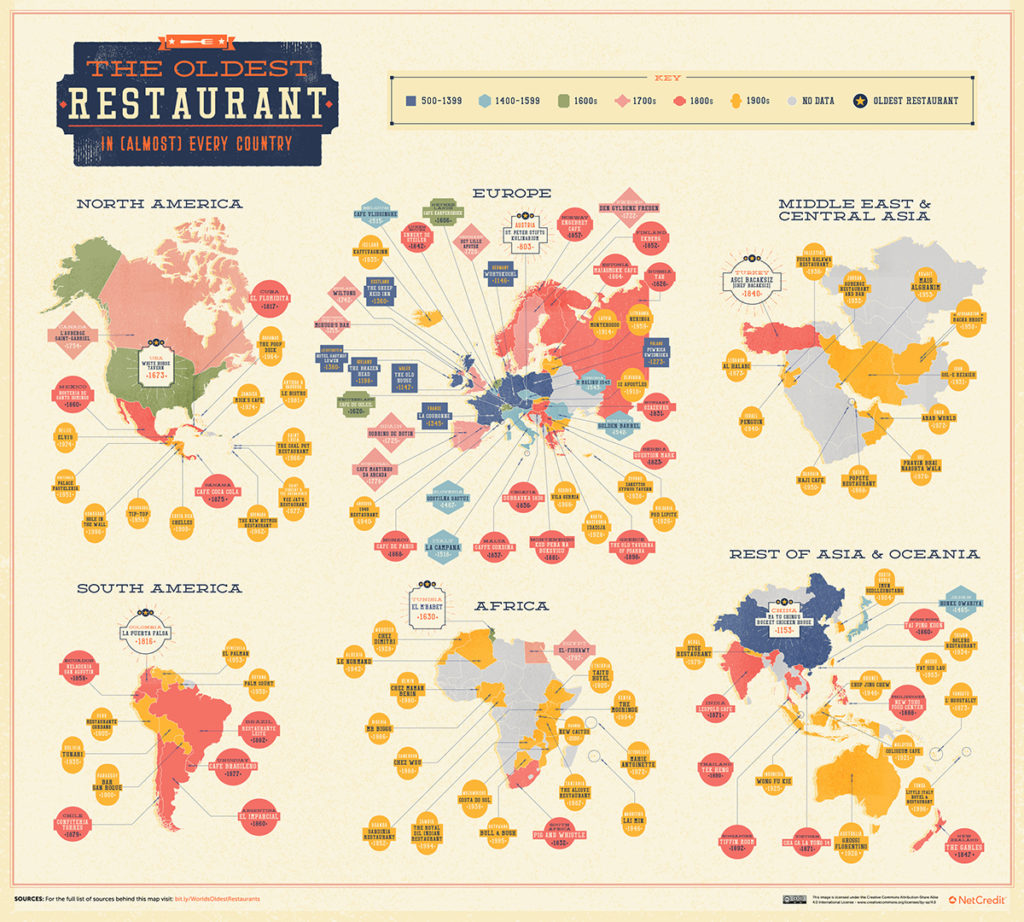 #Business #Featured #Ideas
This map shows the oldest restaurant in (almost) every country
If you are a foodie like me, you would agree that there's a certain mystique attached to the oldest restaurants in the world. These places have a serious staying power, quite simply because delicious food never goes out of fashion. And then there is the allure of the famous figures that once dined there and even the menu that predates our great-grandparents.
Below, you will find the map that shows which restaurants have lasted hundreds (and even thousands) of years, and are still serving today. It's no picnic keeping a restaurant in business across centuries of war, changing tastes, economic turmoil, and now a global pandemic. So, here's hoping these gems ride out the COVID-19 storm and keep serving their scrumptious specialties for hundreds of more years!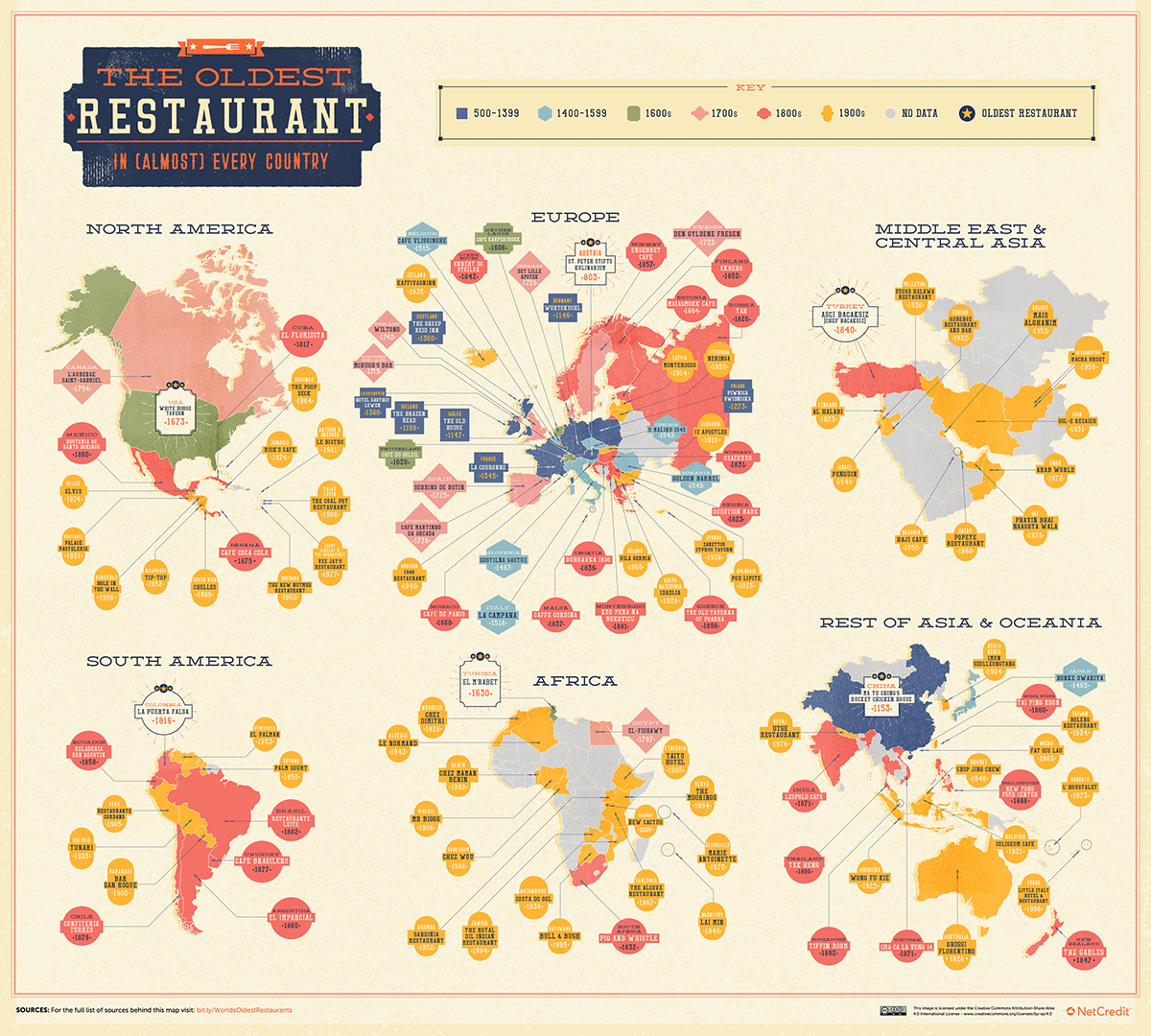 For a quick overview, here are the top 10 oldest restaurants in the world, including their signature dishes:
| | | | |
| --- | --- | --- | --- |
| Founded | Country | Restaurant | Specialty dish |
| 803 | Austria | St. Peter Stifts Kulinarium | Tafelspitz (boiled beef with minced apple and horseradish) |
| 1146 | Germany | Wurtskuchl | Charcoal-grilled sausages & sauerkraut |
| 1147 | Wales | The Old House | Old House Pie – individually made pie served with chips & peas |
| 1153 | China | Ma Yu Ching's Bucket Chicken House | Bucket of chicken |
| 1198 | Ireland | The Brazen Head | Bangers and Mash |
| 1345 | France | La Couronne | Pressed duck, standing rib roast, and classic escargot |
| 1360 | Scotland | The Sheep Heid Inn | Prime Steak with rustic chips, roasted mushroom, confit tomato, and parsley butter |
| 1380 | Liechtenstein | Hotel Gasthof Löwen | Sliced veal "Zurich style" with Rösti and vegetables |
| 1465 | Japan | Honke Owariya | Soba with shiitake mushrooms, shredded thin omelet, sesame seeds, shrimp tempura, wasabi, nori, Japanese leeks & grated daikon |
| 1467 | Slovenia | Gostilna Gastuž | Mushroom soup with buckwheat porridge |
For a continent-wise breakup and a more detailed look into their oldest eateries, keep scrolling.
North America
A local pirate named William Mayes established today's oldest restaurant in North America in 1673. The White Horse Tavern in Newport, RI, became a meeting place for the Colony's
General Assembly and Criminal Court. Mayes' son followed his father into both the piracy business and the hospitality game. Their extended family ran the restaurant for over 200 years.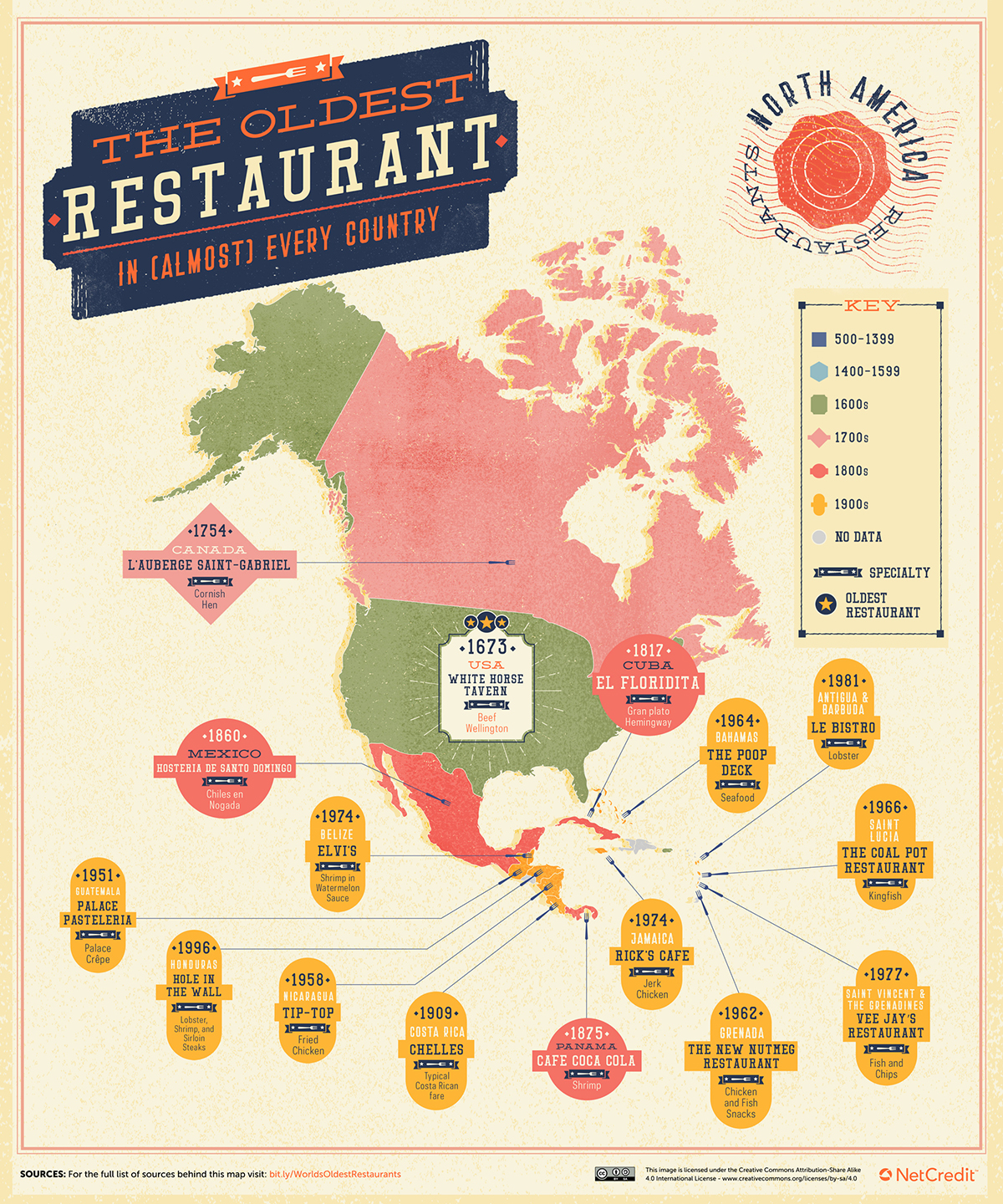 South America
La Puerta Falsa is situated in an old colonial house in Bogota. Just 20 diners can fit in the bar area and discreet wooden mezzanine. Colombia's longest-serving restaurant opened in 1816 as a hole-in the-wall to serve street food (such as its famous tamales) to passers-by.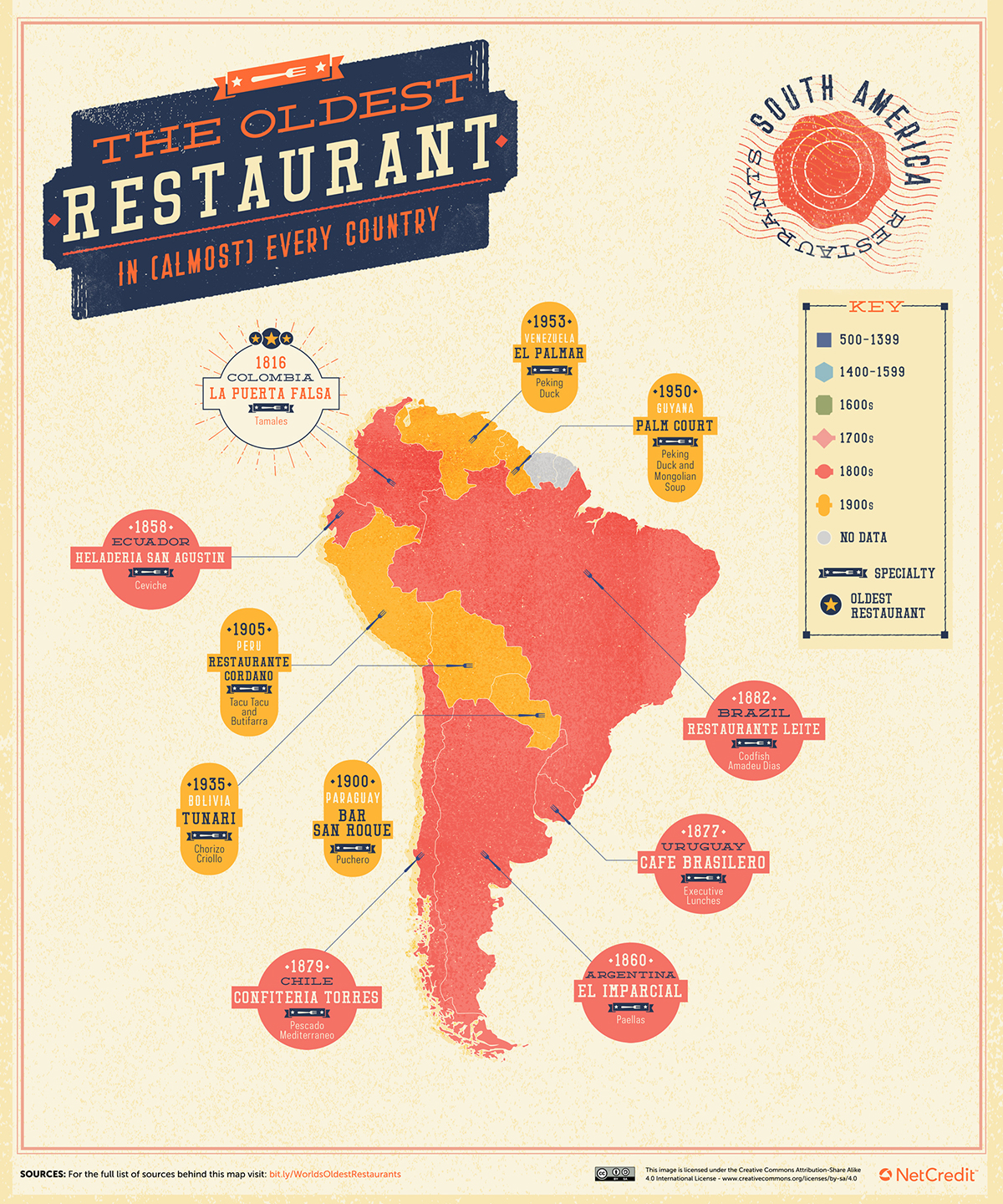 Europe
St. Peter Stifts Kulinarium in Salzburg, Austria is Europe's (arguably, the world's) oldest restaurant. Its first trace is in a poem by Alcuin of York, in 803. It may also be the only restaurant to have served both Wolfgang Amadeus Mozart and Clint Eastwood. The Stifts Kulinarium opened as an inn within St. Peter's Abbey and today offers 'upscale' cuisine amidst a celebration of Austrian tradition.
Africa
The oldest restaurant we could identify in Africa is Tunisia's El M'Rabet. Ali Thabit – a minister for the bey of Tunis – founded it as part of Zaytouna Mosque around 1630.
El M'Rabet boasts 'sublime' views of the bustling, historic Jemâa Ezzitouna marketplace.

Middle East and Central Asia
Aşçı Bacaksız has passed along generations of the same Turkish family in Afyonkarahisar since 1840. You can expect to be greeted by a member of the family before sitting in a chair that is 100 years old or more. The lamb kebab is famous in the region: it takes three days to prepare!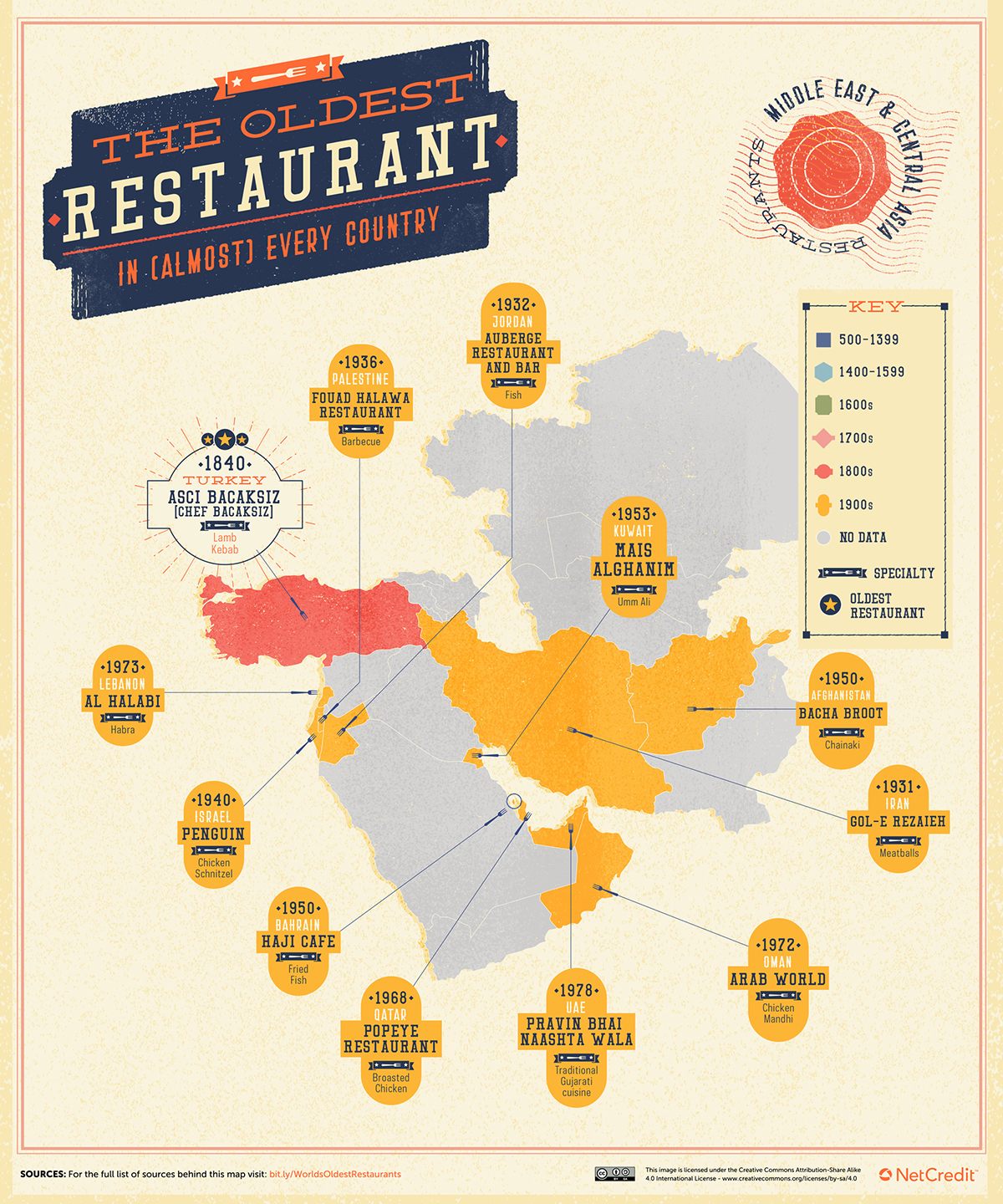 Rest of Asia and Oceania
Ma Yu Ching opened China's oldest business, a restaurant in Nanjing, China, in 1153. His descendent, Ma Youren, brought Ma's traditional sauce back to the family's ancestral home of Kaifeng in 1864, reopening as Ma Yu Ching's Bucket Chicken House.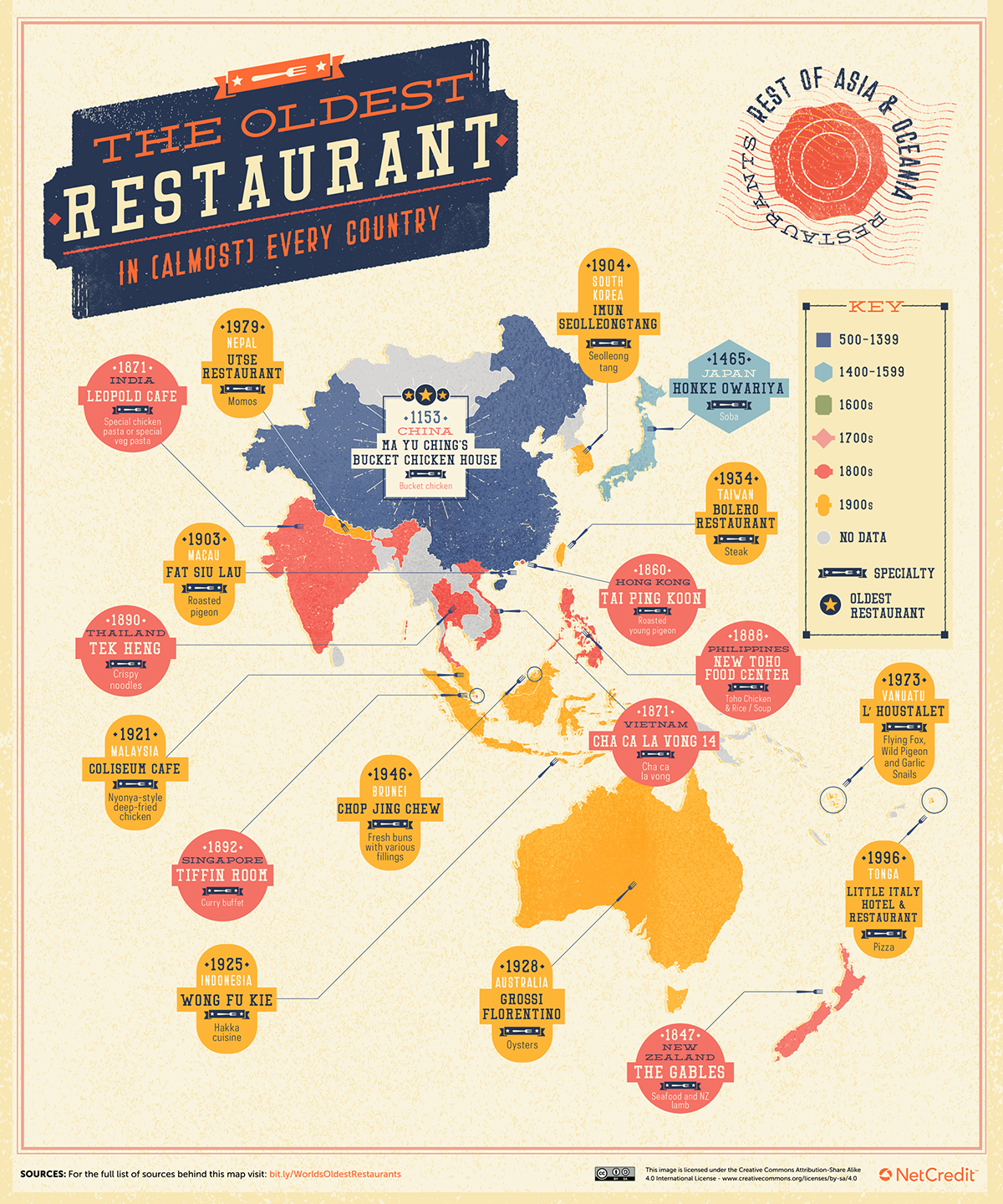 Props to the NetCredit team for conducting the research!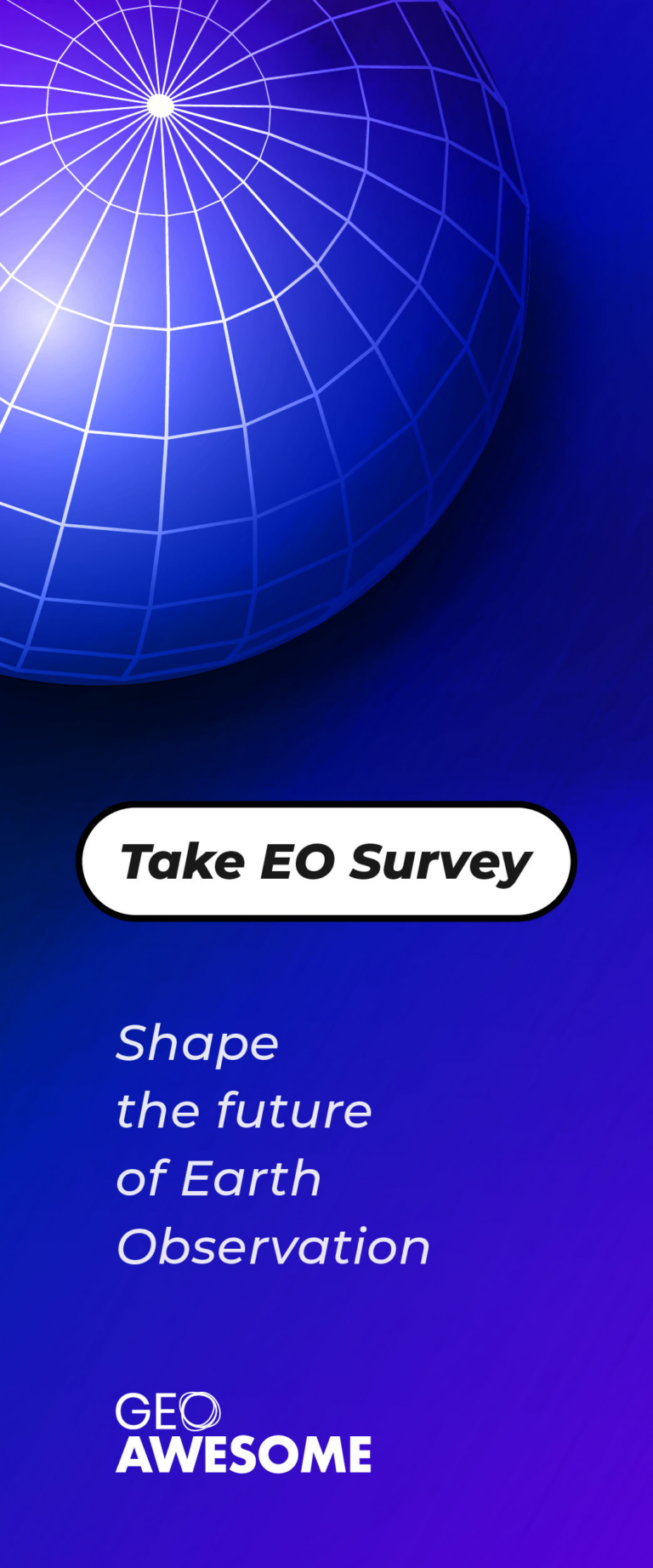 The community is supported by:

Next article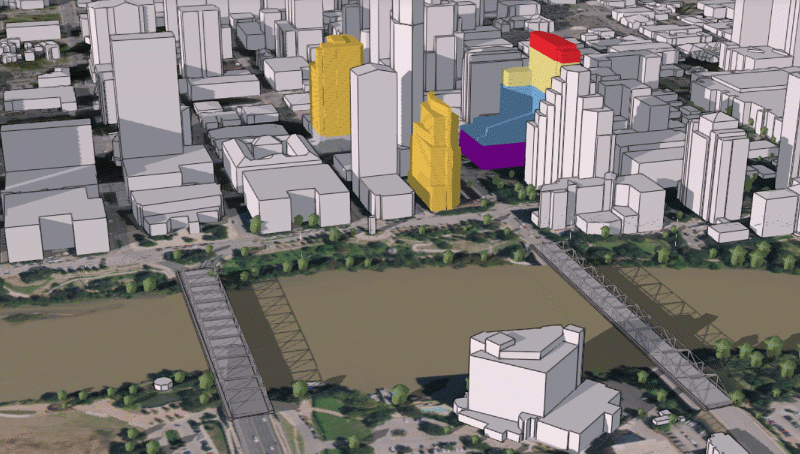 #Business #Featured
Visualize above-ground and under-ground utilities with Esri's new 3D Basemaps solution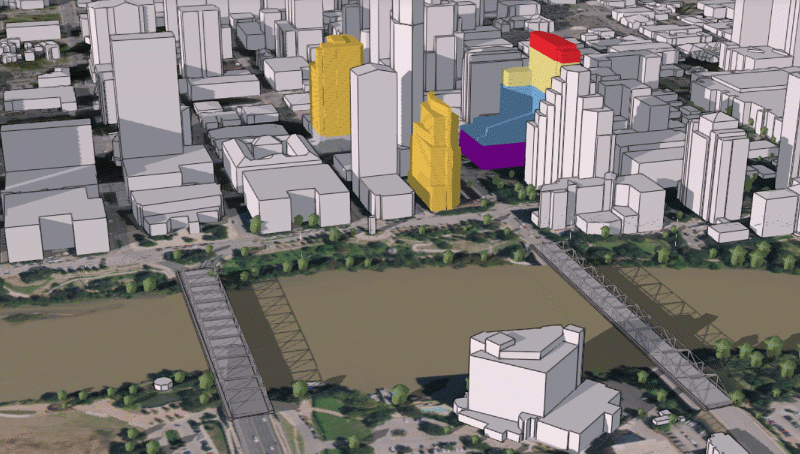 Esri has released a new ArcGIS solution that leverages an organization's existing data (LiDAR, building footprints, underground utilities, etc.) to streamline the creation and maintenance of a 3D basemap for the community. The output of the 3D Basemaps solution is a collection of 3D layers that GIS analysts can leverage as a 3D basemap for desktop, mobile, and web mapping applications.
The importance of 3D visualization and analysis in urban environments is growing rapidly for both utility companies and government organizations at all levels. With the ability to view the community in 3D becoming imperative for sustainable planning and community engagement alike, it is now accepted that 3D map resources provide stakeholders with a better understanding of what is happening where, allowing for a faster and more engaged decision-making process.
However, many organizations across the world are still struggling to create and maintain 3D basemaps that can foster the adoption of 3D visualizations for a wide range of use cases such as urban planning, emergency management, and real estate.
Esri's new 3D Basemaps solution can help these organizations to create, maintain, and share 3D basemaps at various level of details, including:
Elevation: A detailed ground elevation layer can be automatically generated from the input LiDAR data.
Buildings: Buildings with simple roof structures can be generated automatically from the LiDAR. Attributes such as building height and roof form are extracted from the LiDAR and added to the building footprints.
Floors: Buildings can be split into floors using attributes such as floor height and number of floors or according to space use type.
Trees: Tree location and size can be extracted from ground classified LiDAR as point features.
Bridges: If bridge surfaces are classified in the LiDAR and the LiDAR is dense enough, it is possible to extract the bridge surfaces as 3D polygons.
Powerlines: You can use your existing GIS data to visualize distribution and transmission lines in 3D. A wide variety of conductor and tower configurations are supported.
Underground pipes: By leveraging elevation attributes, you can also turn your existing 2D underground utility features into 3D features from existing GIS data.
Esri says that this new release is a major enhancement of the existing local government 3D basemaps solution which has been moved to mature support.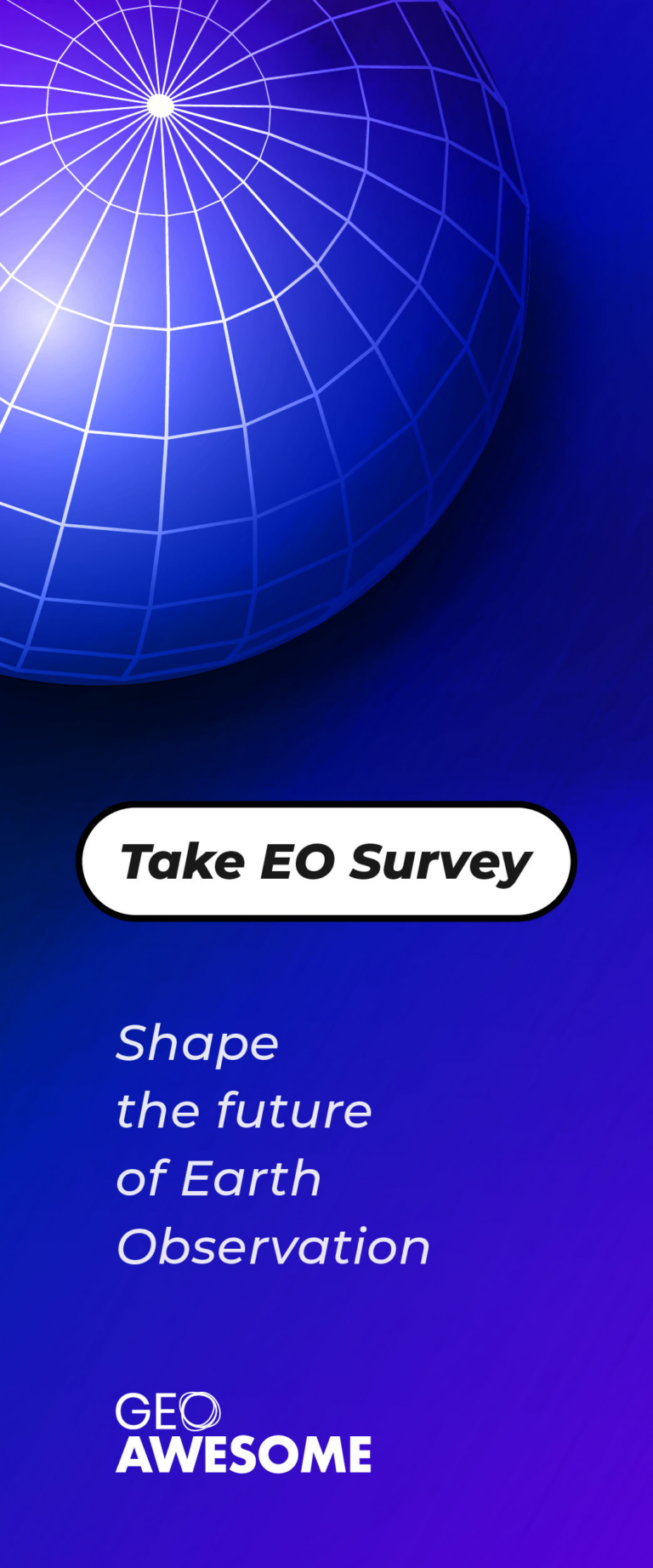 Read on