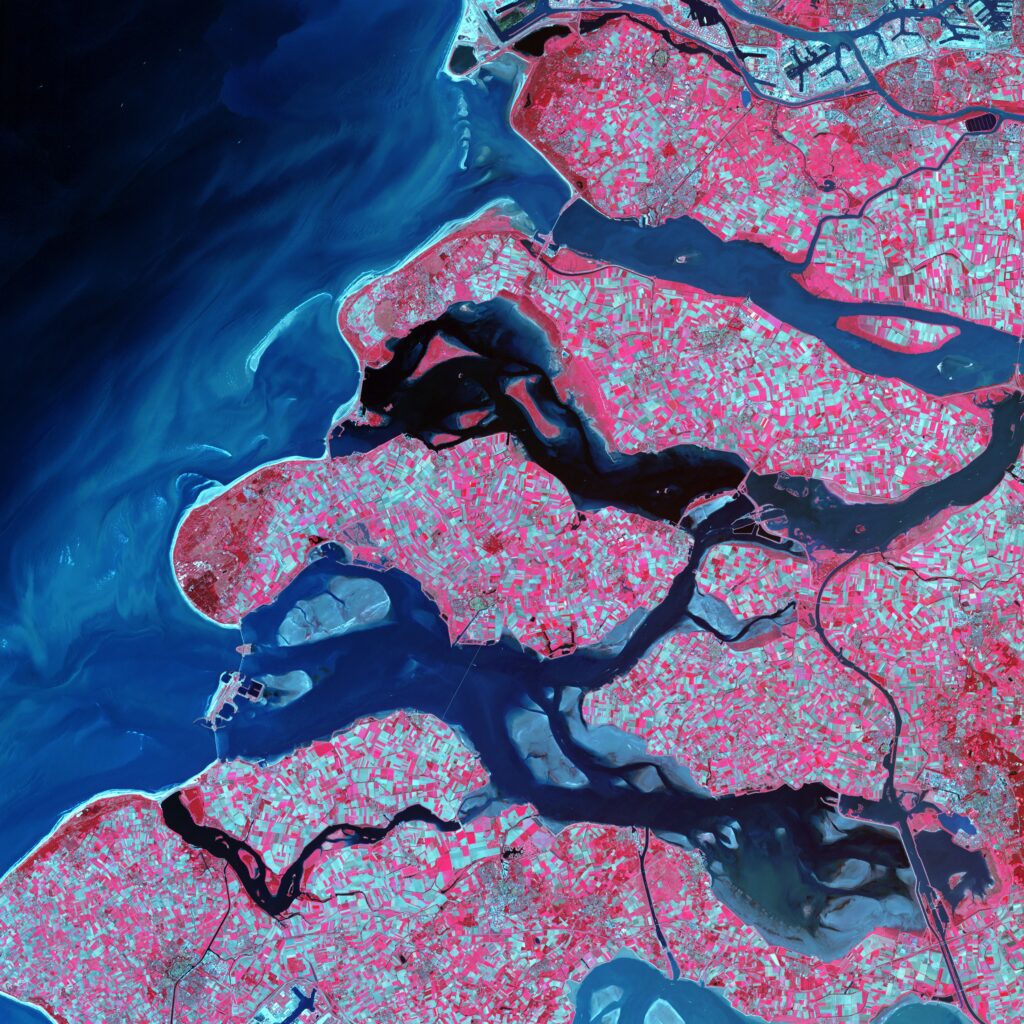 #Business #Featured
Demystifying satellite data pricing: A comprehensive guide
Buying satellite data has never been as easy as it is today. Only a few years ago, attempting to source data was hugely challenging for anyone other than government clients (as this geoawesomeness blog post illustrates), but the process has undergone dramatic improvements since then. 
Multiple marketplaces have empowered users to buy archived data or task satellites to capture new imagery—and to do so quickly and conveniently. There are options to suit all budgets, with open-source data of a low resolution accessible for free from the Landsat (>30m resolution) and Sentinel constellations (>10m), and high-resolution data available commercially from vendors such as Airbus, Planet and others.
However, despite the current availability of satellite data, it can be hard to fully understand how satellite data is priced and what to expect when we're trying to buy it. Key providers have come up with various pricing  models , including credits, subscriptions, and fixed prices, but obtaining a complete and clear picture can be challenging.
The main models available
When it comes to sourcing commercial satellite imagery, many data products and pricing models are available, depending on the buyer's needs. They can be broken down into four different categories:
1. Pay-as-you-go model
The most popular pricing model is the pay-as-you-go model. This approach allows customers to purchase satellite imagery data as and when they need it, without needing to commit to a long-term contract. The cheapest pay-as-you-go way of accessing data is to purchase archive data for a selected area of interest. This can be as small as 100m². At the same time,the pay-as-you-go model can also be used to task satellites to capture large amounts of data on specific future dates—the minimum order area is typically 50 or 100 km².
The pay-as-you-go model suits the majority of users and can be especially cost-effective for analysts working on smaller geospatial projects, those who only require data for a small area of interest, or customers with a limited budget. 
Pay-as-you-go data is easy to access on satellite providers' websites; however, for a lot of users, the easiest way to purchase data on a pay-as-you-go basis is through marketplaces, where it's possible to access data from multiple providers in a clear and convenient way.
2. Subscription model
Using a subscription is another popular model for acquiring satellite imagery. This approach allows customers to access a wide range of data for a fixed recurring fee— ensuring predictable costs that enable clients to budget and plan more effectively. Subscription models are a particularly attractive option for those looking to access petabytes of archive data captured by top providers over several years.
Typically, subscription plans will also include some basic analytics features—such as vegetation indices or change detection—which adds significant value to the data provided. A few notable providers offering data through subscription models include:
Planet Monitoring

: Access 3m resolution Planet Scope data, refreshed globally every few days or weeks. If an area of interest is identified, users can access higher resolution

SkySat

data at an additional cost.

Airbus Living Library

: Purchase premium satellite data at multiple resolutions from Pléiades, Pléiades Neo and SPOT, plus access to a comprehensive historical archive.

Maxar SecureWatch

: On-demand access to frequently updated, high-resolution satellite imagery, plus analytics and other tools.
Subscription costs for these services can start from under $30k annually, making it an affordable and convenient option for users requiring consistent access to satellite data. 
3. Basemap
A satellite basemap is actually the simplest and least expensive option of all, but will likely be insufficient for all but the most basic of uses. This model is typically used for web applications that display satellite data as a background option for any maps, but where the date of capture is of relatively low importance.
Using this method, a user has no control over the data's age, but can source an adequate 'mosaic' of imagery for the entire world with a mix of 30–70 cm resolution data between 1–5 years old. We'd recommend a helpful trick d to verify the age of the data by comparing it with archive data available on Google Earth.
Popular sources for this type of data include Bing Maps, where an annual license starts at around €5000 (rising depending on the number of expected users). Other options, which provide newer data at a higher resolution, include Airbus Basemap and Maxar Vivid—which is now able to boast global coverage at 30cm.
4. Government and enterprise contracts
Lastly, at the other end of the spectrum, it's worth mentioning the multimillion-dollar contracts that satellite providers secure with government institutions or very large enterprises. These are tailored to the specific needs of organizations and are likely to include advanced features and data access. Last year saw the largest satellite imagery contract in history being awarded to Maxar, with the National Reconnaissance Office (part of the US Defense Department) committing a massive $3.2 billion to the firm over a 10 year period.
Price drivers
It is important to understand the factors that influence satellite data costs, especially when it comes to the most popular pricing model – pay-as-you-go. When analyzing typical pricing models offered (not including those multimillion-dollar contracts!), it becomes apparent that regardless of the packaging, price per 1km² remains the common denominator and baseline.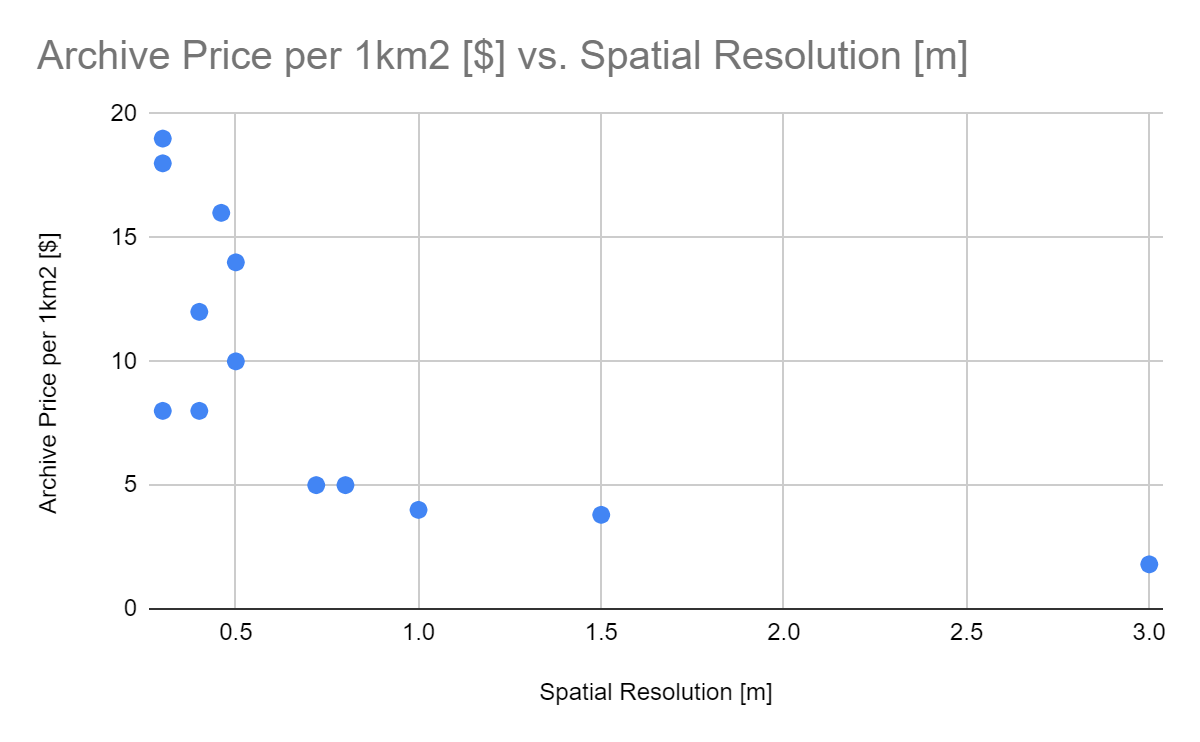 The primary differentiator is whether users are purchasing archived data or tasking satellites to capture on-demand data for a specific area of interest. In both cases, the price per km² depends mainly on the spatial resolution of the data, with higher resolution data costing more. 
However, when budgeting for satellite tasking, the minimum order area becomes another crucial parameter, as tasking generally comes with a much larger minimum order size. For example, Airbus offers a minimum order of 100km² for the first purchase and 50km² for subsequent orders of the same area of interest.
Marketplaces provide a convenient way to buy data under the pay-as-you-go model. These platforms provide customers with a user-friendly interface and data filtering methods, offering access to satellite data from 20+ vendors, so analysts can make better-informed decisions when selecting and purchasing data for their projects.
The bottom line
The first question when it comes to satellite data is often simply "How much does it cost?", but there's not one single answer—in fact, there are options to suit almost every budget. 
The price varies depending on factors including resolution, timeliness, area covered, and the data provider chosen: archive data from Airbus starts at just €3.80 for 1km2 of 50 cm resolution data, with no minimum order, but if you want 30cm resolution it's €18 per km2, with a minimum order of 25km2. You can task a Kompsat satellite to capture 100km2 of 1m resolution data for just $800; while tasking Maxar's Worldview-3 constellation to capture the same area (at 30cm resolution) will cost $2900.
Whatever the budget for a geospatial project,the main priorities for most of us will be convenience and transparency. Marketplaces are often the best way to secure both, providing a user-friendly platform where customers can find the option that suits their requirements.
Although the choice can perhaps be a little overwhelming, we can celebrate the fact that buying satellite data is no longer an insurmountable challenge. Just a year or two ago, it seemed that providers had no interest in selling their data to private customers. 
They may not exactly be falling over each other to do so now, and there are still a couple of hoops to jump through, but there has been a giant leap forward—which can only be a good thing for the democratization of the Earth Observation industry.
---
Did you enjoy reading this article? Sign up to our newsletter for more: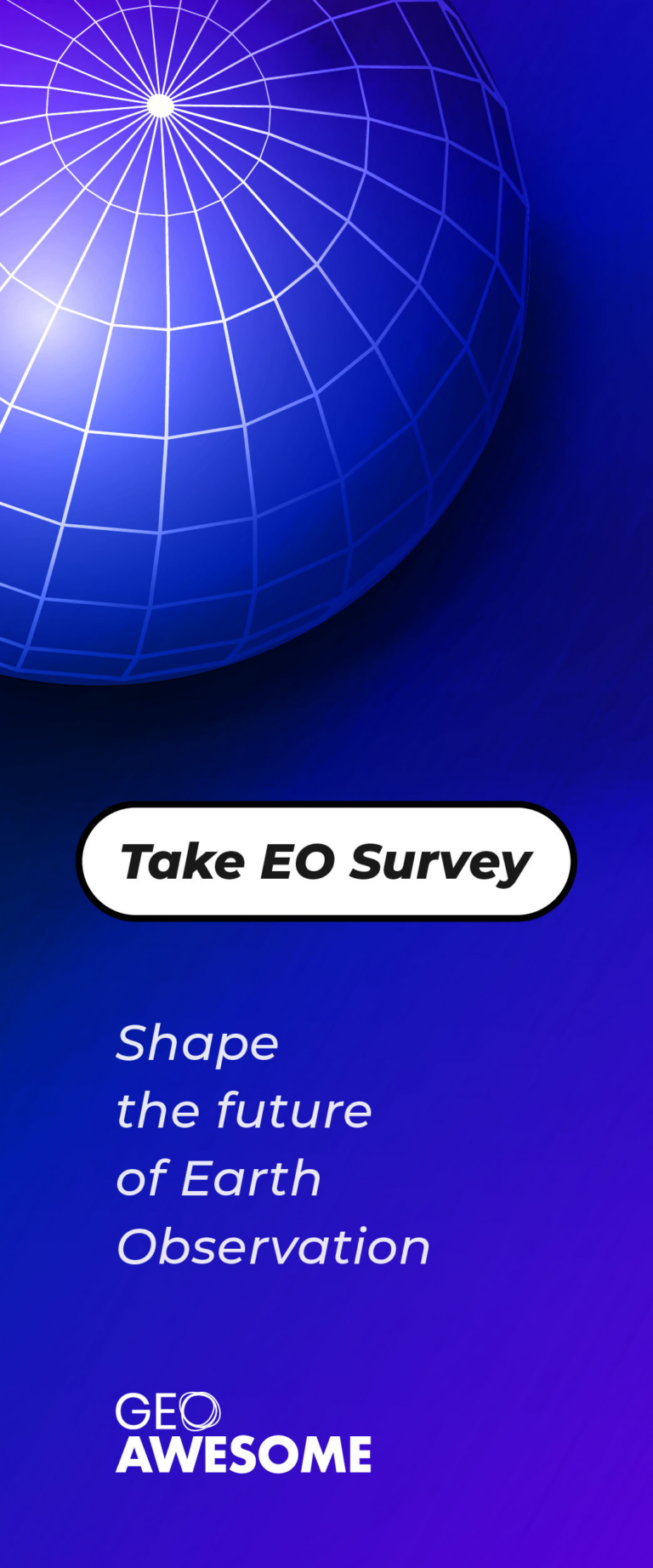 The community is supported by:

Next article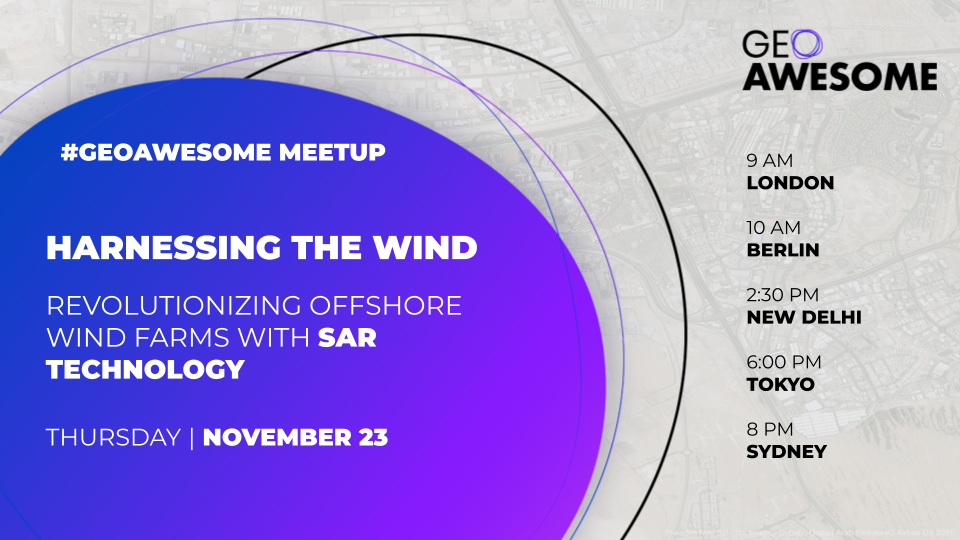 #Events
[Meetup] Harnessing the Wind: Revolutionizing Offshore Energy with SAR Technology
Geoawesomeness invites you to an engaging GeoawesomeMeetup, focusing on a groundbreaking application of Synthetic Aperture Radar (SAR) data in the offshore wind energy sector. Our distinguished panel, featuring experts from Synspective, a Japanese innovator in satellite radar technology, and leading professionals from the offshore wind farms industry, will provide a comprehensive look into the transformative impact of SAR.
In this online GeoawesomeMeetup, we'll explore the pivotal role SAR plays in overcoming traditional mapping and assessment challenges in offshore wind farm deployment. Discover how Synspective leverages satellite-based optimization to streamline the process, offering higher confidence through actual sea surface observation data. Learn about SAR's unique features, including the ability to image the Earth's surface day and night, its broad-ranging capabilities, and the implications of daily revisits for wind pattern analysis.
Dive deep into the technical aspects of SAR, understanding how it provides invaluable insights into changing wind patterns, and its responsiveness to fluctuations over large areas with high resolution. We'll examine real-world applications, discussing how Synspective utilizes SAR data to analyze and guide optimal deployment areas for wind farms, addressing placement and development considerations with unprecedented accuracy.
This session will also highlight SAR's future in offshore wind energy, detailing its role in the planning phase, impact on construction planning, asset evaluation, and the financial aspects of wind farms. Engage with our experts in a discussion on how continuous research, data gathering, and industry collaboration are enhancing project implementation confidence.
Join us for this enlightening webinar to gain a holistic understanding of SAR's revolutionary application in offshore wind energy. Learn from the best, network with industry peers, and be part of the conversation shaping a more sustainable future with SAR technology.
Register here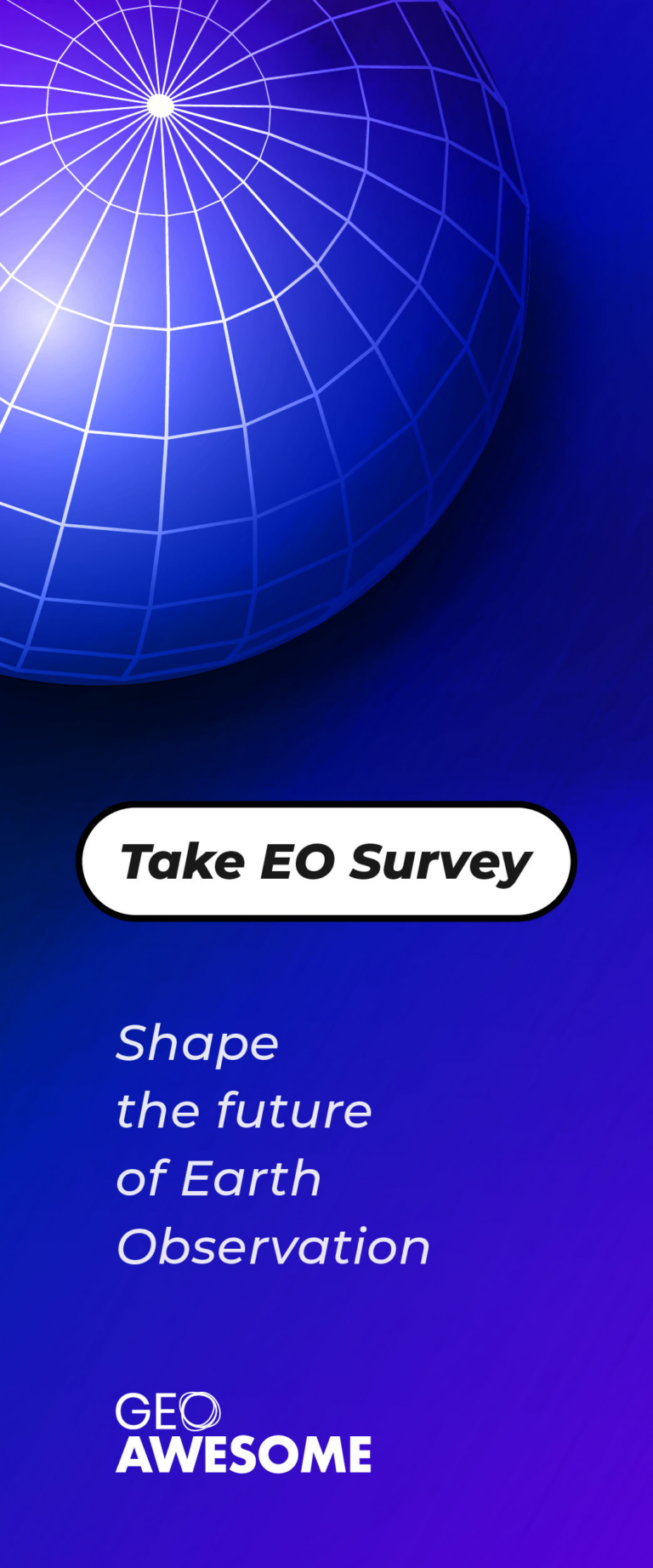 Read on