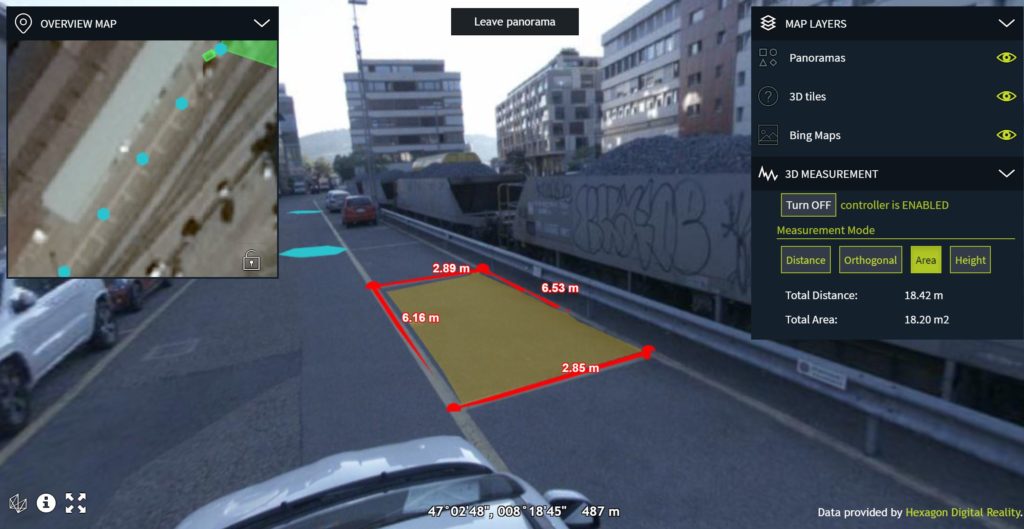 #Business
This is how 360° panoramas should be integrated with geospatial data
The recent release of LuciadRIA has been really something that caught my attention. It features new ways to integrate 360° panoramas and image data with other geospatial datasets. I've spent 3 years in TomTom working on the practical uses of Mobile Mapping data and I'm closely following all the developments in that space. What Hexagon showed is far beyond anyone else.
Luciad is 3D visualization platform acquired by Hexagon back in 2017. It provides developers with one of the most advanced engines allowing to combine 2D and 3D with real-time and dynamic data for building situational awareness and location intelligence solutions. LuciadRIA is the browser part of the platform.
Luciad solutions were catching my attention for a long time as it offered one of the best 3D experiences I've seen on the market, but the new 360° panoramic image features a real game-changer. It allows not only to visualize the image data but also to fully integrate it with other data. These integration capabilities go far beyond what I've seen till now elsewhere.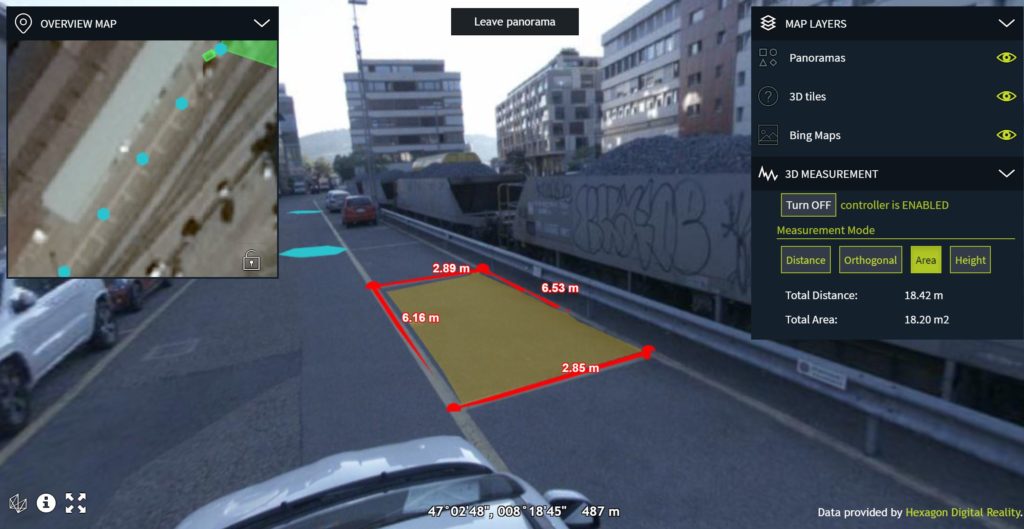 If you combine the panoramas with 3D data of the same location (e.g. mobile mapping datasets with panoramas and LiDAR combined) users can make 3D measurements on the image data directly. LuciadRIA performs projective texturing which glues the right pixels to 3D data and makes the experience really immersive. A distance-based blending of information from different 360° captures combined with the projective texturing results in smooth navigation without transition effects and realistic-looking combination of the panoramic imagery with other data layers.
Moreover, you can treat the image data as just another data layer. If you have any vectors or real-time data it would be displayed on the top. You can for instance annotate the element on an image and it will be projected to underlying 3D datasets. It's a real game-changer when it comes to user experience. Most of the platforms supporting Panoramic images offer basic interactions e.g. a side-by-side window showing image and mapping data.
You can play around with the test dataset here and I recommend you do that to really understand the experience you can build. For now, the platform supports imagery in the formats E57 and Leica Pegasus which are automatically recognized and served based on the OGC 3D Tiles protocol.
360° panoramic imagery is typically used by local governments, as well as infrastructure and utility companies. By looking at the data they can remotely monitor the condition of assets and save time. Hexagon really created a new standard for interacting with panoramic data and it is clear that others will have to follow… I really look forward to seeing further developments and innovations from Hexagon.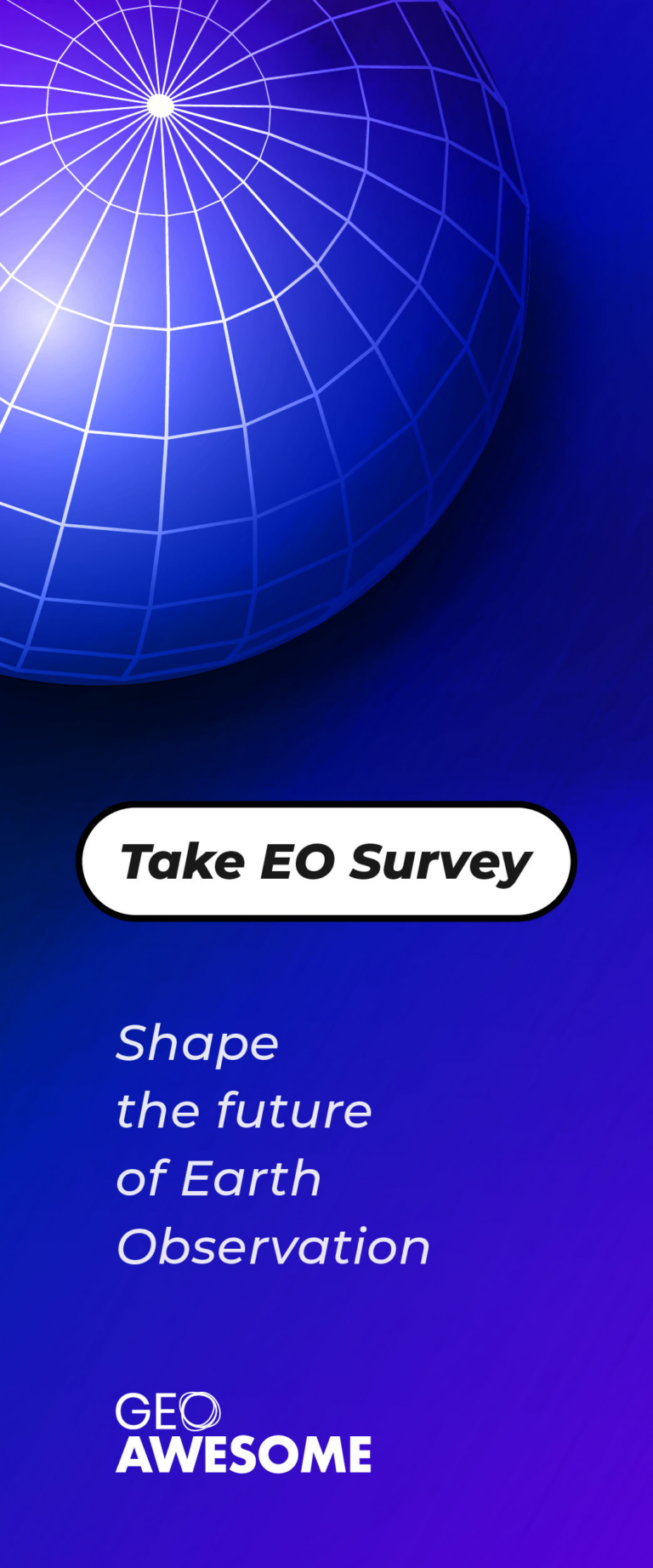 The community is supported by:

Next article
#Business #Featured #Ideas
Dad's map projections picture book for kids is winning hearts on Kickstarter
US-based environmental scientist and cartographer Dan Ford spends most of his free time (after his toddler daughter goes to sleep) designing maps and studying new software. Last year, as his daughter's first holiday season rolled around, Dan embarked on a very special handmade gift project – writing and illustrating a book that will help his daughter learn about maps.
"I remember thinking, maps are so important to how we learn about our world, and the way that we learn about it. People may not realize that there is a process we use just to put the round Earth on flat paper. And that the shape of the map influences the way we understand our world," Dan says.
And thus was born Map Projections for Babies, a 16-page board book that explains a complex geography concept in a kid-friendly manner. Vibrant graphics show unique map projection examples, ranging from common shapes like circles and squares to intricate ones like hearts and butterflies. The way size, shape, and distance change on different projections is also described in simplified phrases.
National Geographic Maps' Aly Ollivierre, an early reviewer of the picture book, describes it as a "wonderful introduction" to map projections. "The prose and illustrations are simple enough to entertain your baby, while still teaching adults a thing or two. It's a must-have for anyone who finds joy in maps!"
For Tom Patterson, who has retired from US National Park Service and also has had a chance to review a sample print copy of Map Projections for Babies, the book represents an ideal way for parents to explain to their kids how something as big as a planet can fit onto a flat piece of paper.
"Clear illustrations coupled with concise text show how world maps come in many forms, from circles to squares and even triangles. The delightful pages will pique your child's interest in maps," says Tom.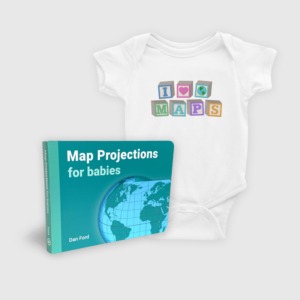 Now, hoping to make this book available to as many families as possible, Dan launched a crowdfunding campaign on GIS Day, Nov 18, 2020. At the time of publishing this story, his Kickstarter page had received pledges for over 90 percent of the funding goal.
While most backers are eyeing a first edition copy of the board book (to be shipped April 2021), Dan has come up with some unique rewards too, such as a comfy baby onesie that features the phrase 'I Love Maps' spelled out in a toy block design or an 18″x24″ frame-mounted map art print from Dan's startup Windrose Maps. Interested? Click here to visit the Kickstarter.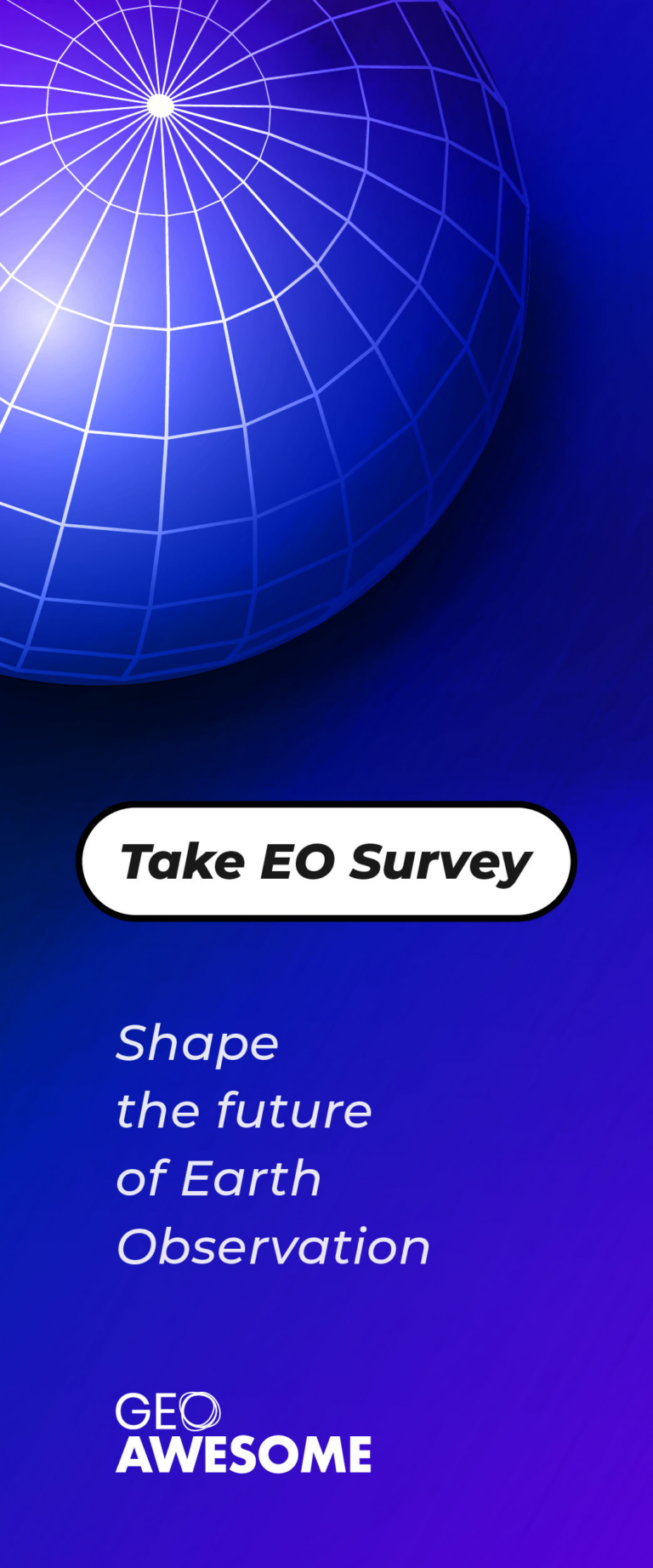 Read on