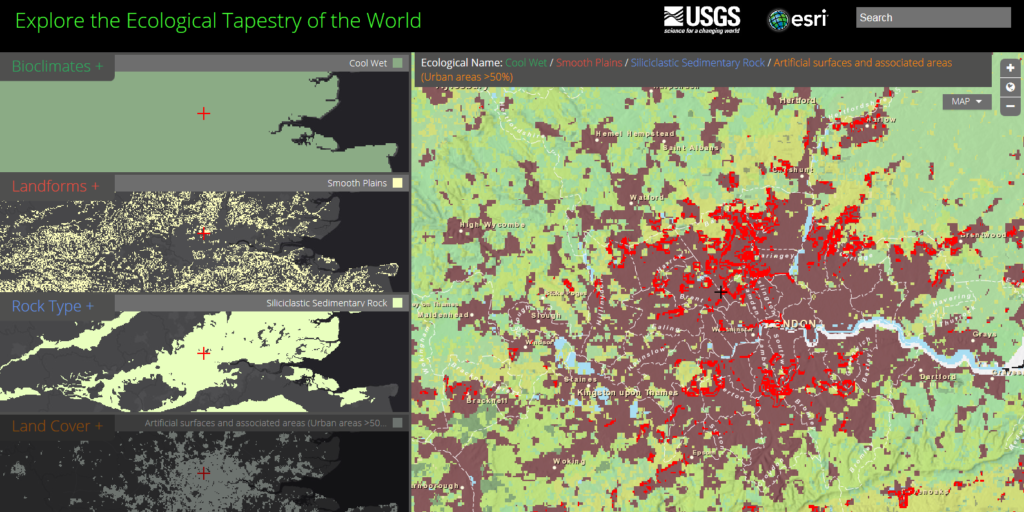 #Environment #Ideas
The most detailed ecological map of the World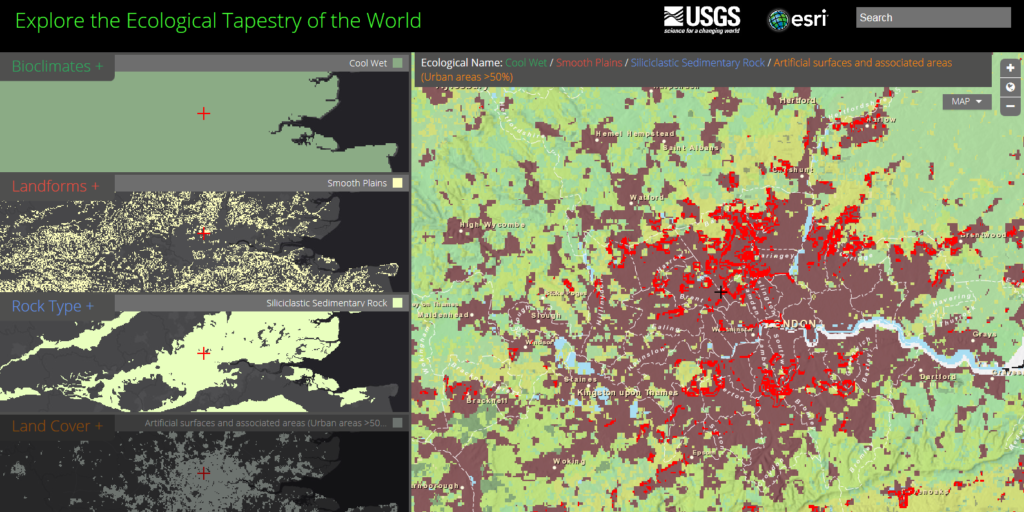 ESRI and the US Geological Survey (USGS) and Esri developed the most detailed global ecological land units map in the world. The map shows raster data of a resolution 250m and it's fully interactive. It allows for viewing 5 different layers of data in 5 separate windows which is a little bit different approach than typical GIS layers overlay but in practice it works really well. Randy Vaughan, ESRI's Manager of Content Engineering commented:
The globe was divided in cells (Ecological Facets) at a base resolution of 250 meters. The Facets were then characterized (attributed) with four input layers that drive ecological processes: bioclimate, landform, lithology, and land cover parameters.  The layers chosen were the best available in terms of accuracy, currency, and global coverage.  The result was a global raster data layer with 47,650 unique combinations of the four input layers. The Facets were then aggregated into 3,923 ecological land units (ELUs).
Esri says the purpose of the map is to provide web-based data for land managers, scientists, conservationists, developers, and the public to use for global, regional, and landscape analysis and accounting" and I must admit that we like it a lot!.
source: ESRI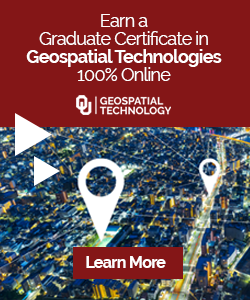 The community is supported by:

#Environment
Next article
#Business #Ideas
Location-Based Gaming The Future Of How We Play
Our mobile's apps are continually using our location. You only need to look at the recent Squack app we reviewed to see that. Or Foursquare. Or Facebook. In fact it's likely that the vast majority of your apps will use location. And it's seeping into gaming too.
Of course for many years location has been a big part of how we play. The likes of hide and seek and capture the flag were both huge games growing up as children, and as our gaming becomes more technologically advanced, so does location when it comes to gaming.
In recent times, location-based games have started to grow hugely in the last few years with the likes of Global Outbreak hitting the app stores around this time last year.
It adds a new dimension to gaming with us able to play with people in and around our location and in Global Outbreak's case, a location-based leaderboard. And brands are starting to capitalise on it.
Whether it be in-game services or simply targeting certain areas with certain offers it's really taking off.
In the mobile gambling industry for example – an industry which is growing at a rapid rate – brands such as Euro Palace who have members from across the globe, now have the power to target specific regions with marketing campaigns, not only benefitting themselves, but the customer too.
And in many cases, brands will allow you to play based on location so you can play a hand with players from your own nation, simplifying language barriers players could find and generally encouraging more engagement amongst users.
It makes sense in a world where around one in five people own a smartphone, but one brand who has really taken it to the next level is Rovio's Angry Birds. The game, which has amassed over two billion downloads has used location-based features that gives certain regions access to new characters and content, whilst they have also added the local leaderboard feature which can even give rankings provided by which coffee shop you're drinking and playing in.
With mobile gaming continuing to grow at an incredible rate games are inevitably going to advance alongside that. Location-based gaming has already touched down, and it's likely to take off as quickly as an angry bird being catapulted towards a group of little green pigs.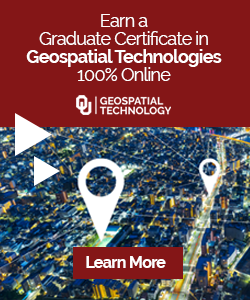 Read on