#Business #Ideas #People
Now, you can build your own Indoor App with this Indoor Positioning Engine SDK
There are a ton of (outdoor) navigation apps that ensure that we never get lost while trying to reach our destination but there are more chances of being lost at shopping malls, International forum, tech-parks, hospitals, museums, warehouses and what not. We are rather more confused inside a building than in the outside world. Navigine, a Moscow-based startup is tackling that problem by creating an Indoor Positioning Engine and making it available to 3rd Party developers as an Indoor Positioning Engine SDK that they can simply use to integrate into their apps! 
I had the pleasure to talk to them to learn more about their work and the story behind the cool startup (which BTW, is one of the top 100 Geospatial companies 😉
A Brief history
Founded by Alexey Panyov and Oleg Demidov who met while studying at Moscow University elevated their project from the Laboratory of Navigation and Control to a start-up in 2011. A classic university to startup story! Why indoor navigation? Both the founders realized that  Indoor Navigation is an emerging field which is expected to grow at a faster pace than any other navigation applications.
As of 2017 March
Navigine leads the Russian Market in performing projects for Transportation, Retail, Automotive and Banking customers. Navigine has successfully completed 400+ installations in 10+ different countries and their SDK integrated with 20+ mobile apps. Since  January this year, Navigine is based at New York focusing on the US market supported by Starta Accelerator and has raised $660k in investments so far.
Some of Navigine's project includes:
Geoawesomeness partnering with Geo IoT World 2017 interviewed Oleg Demidov, the CBDO & CFO of Navigine. The excerpts of it are briefed below.
Oleg initiated the talk by a warm and inquisitive smile!
1) Whose brain child was Navigine? Can you tell me more about the initial stages of Navigine?
In 2011 we (Alexey and Oleg) initiated this idea of Indoor Mapping. By 2013 we have completed a minimal product and started sales. Starting from 2014 we participated in several accelerator programmes followed by an International expansion in 2015 by establishing an office at Berlin. In 2016 we joined accelerator programme in New York called Starta Accelerator Programme and we are also part of HealthBox Accelerator Programme at Los Angeles. Now we have presence in USA, Europe and Russia with an International scope right now.
2) How did you manage to raise funds for Navigine?
Well, in the starting stage we (founders) invested some of our money to start our operation. Then we had one grant from Russian Institute that supports innovations. After which we were supported by first two private investors and then we attracted investments from Starta Capital and AYR Ventures followed by syndicate rounds of USA, Finnish and Russian investors.
3) When the entire world looked at mapping what is outside what made you think it's important to map what is inside?
Basically outdoor positioning is well established. When we started our company we understood that outdoor navigation is quite well-defined and the next step is to include similar functions in indoors. We spend 80% of our time indoors as buildings become bigger and bigger the need for indoor navigation is larger.
4) Can you brief me about the technologies used for Indoor Mapping in Navigine?
We usually get floor plans from the owners of the building and upload these floor plan into Navigine back-end where we can set up different layers on top of the map. For navigation, we have to set up beacon layer and then we can immediately get navigation through our application and by integrating the SDK into the mobile application we will be able to get navigation inside any third-party mobile app.
5) Understanding that you have used beacons and not Wi-Fi that consumes less amount of power or Geomagnetic Technology that doesn't requires any infrastructure setup, why specifically beacons?
Basically we use all the sensors available in smartphones that can provide navigation data such as bluetooth and Wi-Fi, gyroscope, accelerometer, barometer, compass. With current technology level it is not possible to ensure precise infrastructure-free indoor navigation for all smartphones and environments. Wi-Fi access points in most cases do not have enough density of deployment and are too costly. All these factors make beacons the optimal choice as an external infrastructure for navigation. Additionally, they enable interaction with a smartphone on operating system level which adds a lot of value for proximity marketing and customer analytics scenarios.
6) Navigine provides solution across sectors right from retail stores to healthcare, what's next?
One fast-growing sector is Automotive, where we have implemented several cases including a project Mercedes Benz. In this project we provide tracking of car position inside car repair service. When a car enters the service we put a beacon inside the car and there are trackers that track the beacon position at the territory of car service. In general the system enables a real-time checking of all cars position inside the service and alerts on car status changes.
7) What is the reason behind the partnership with ERA-GLONASS?
[What is ERA-GLONASS: ERA-GLONASS System was created to save lives and mitigate injuries of road traffic accident victims or casualties in other emergencies on Russian road.In event of a traffic accident in vehicles equipped with GPS/GLONASS system, the terminal will automatically collect data on its exact location, time, and severity, and transmit it with a high-priority alert to an ERA-GLONASS operator. Once verified, this information is passed on to the emergency response services]
GLONASS is not only a satellite navigation system but they have set of companies that focuses on different applications around navigation. We have several integration with GLONASS Solutions one such is ERA-GLONASS where a small GLONASS tracker is installed in every car and there is Bluetooth module inside the tracker. If the client wants to have indoor navigation in addition to outdoor as well, we can provide it by integrating Navigine SDK with the GLONASS system. This is how we can provide seamless outdoor/indoor navigation when we do it together with GLONASS.
8) What is your vision for Navigine and where do you see yourselves in the next 3 years?
Right now I believe that we are in the top 5 tech companies globally that provide precise real-time Indoor navigation and positioning.  Our major advantage is high accuracy with low infrastructure requirements that leads to the best total cost of ownership for indoor positioning system. In addition our platform enables quick scalability due to fast deployment and easy integration with external IT solutions. We have already performed integrations with major technology companies like Microsoft, SAP, IBM, Google, Yandex to name a few. Talking about three-year horizon our target is to become one of the major industry standards for development of Location based solutions.
9) Any piece of advice for young entrepreneurs who are looking for ideas to build a start-up?
Good question. Well, I can give different advise in different situations. In general, I would say that right now technology markets are very global and important to focus on the global market rather focusing only on the country you are coming from. It is always better to compete on a global scale.
FYI – In case you'd the opportunity to interact with Oleg and his team in person. They will be present at GeoIoT World 2017, June 6th – 8th, 2017 in Brussels.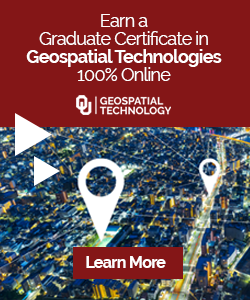 The community is supported by:

Next article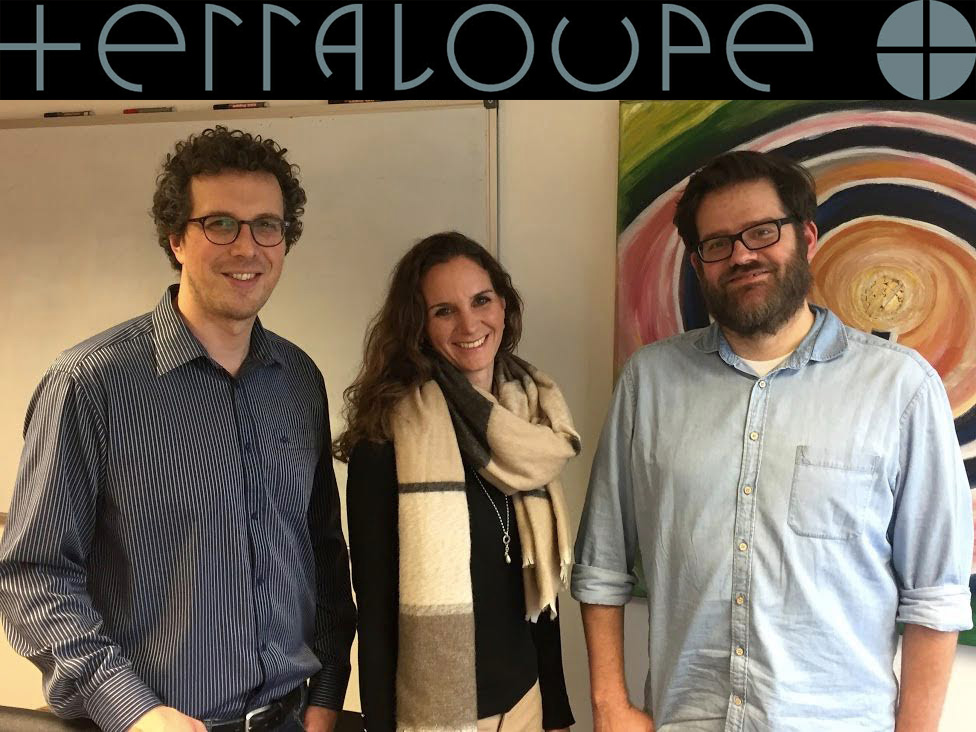 #Business #GeoDev #Ideas #People
Interview with TerraLoupe geodata, AI startup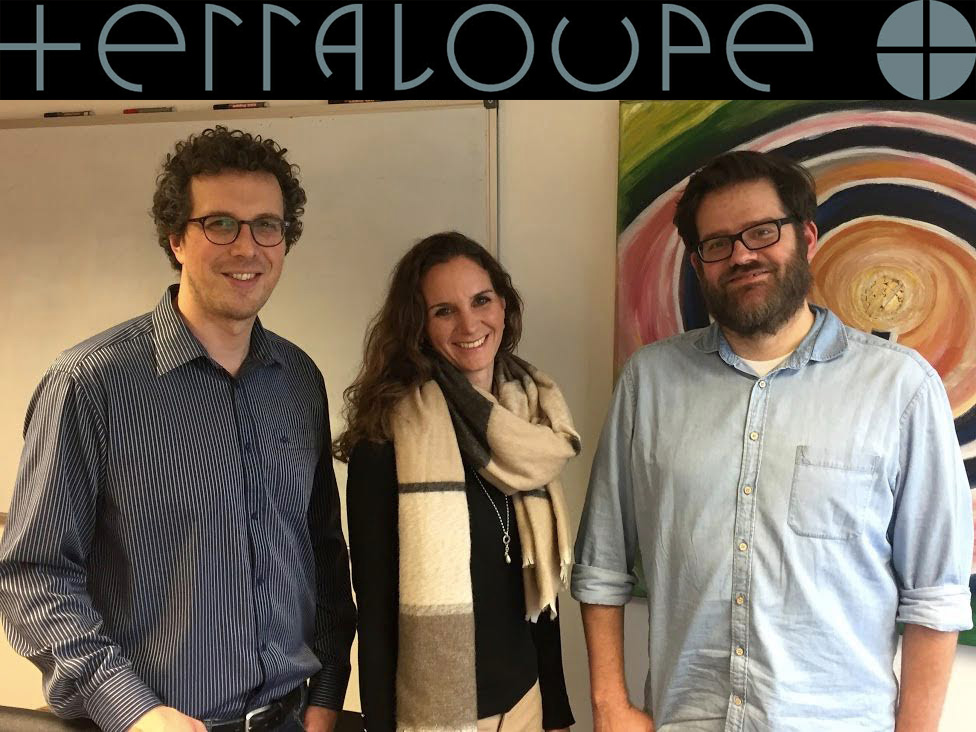 Recently I had a pleasure to talk to guys from TerraLoupe – startup that does an amazing with geo data and AI. Take a look our conversation.
Could you tell me what is TerraLoupe? What's your story?
TerraLoupe is a young people and technology driven AI company. Our core competence is the automatic recognition of objects in geo images and the full digitalization of the outdoor environment via deep learning.
Manuela Rasthofer, CEO, Sebastian Gerke, CTO, and Christian Schaub, COO, founded the company on the premise that understanding geo image data could fundamentally improve decision making. Before, Manuela has worked in the defence industry and had experiences in global sales. Thus, she came along the idea to combine geo images with artificial intelligence technologies. Sebastian was researching in the field of image recognition at the Fraunhofer Institut in Berlin. Christian worked several years in the consulting sector and beside that also in Israel and was very experienced in start-up business cases. Together they formed a balanced team of three persons with each having a different skill set.
How did you manage to grow over these years? From starting point what did you achieve?
TerraLoupe grew through a three step process. First, TerraLoupe invested in the development of its algorithms and technology. Second, TerraLoupe delivered their first pilot projects to leading DAX companies. Third, TerraLoupe is building up a scalable product via platform for its target customers.
What is your business model? Where do you aim to sell your products? Who is your client?
TerraLoupe's technology provides object recognition in aerial images via machine learning/ deep learning. TerraLoupe offers digital and automatic information of our environment especially in the domains of houses, roads, vegetation and rails. We are developing the next geo search & information engine for business.
We aim to sell our product to the industry. We currently mainly target the automotive, insurance and energy sector.
It will be a tricky question, but could explain to us what are aerial images and who provide them?
Aerial images are usually taken by airplane or drones and provide an aerial perspective on the earth. Aerial images are taken by governmental institution or private flight companies. These airplanes have certain cameras with which they take the images.
The automotive industry has strong players like Here and TomTom. How do you plan to cope with them?
We do not want to cope with Here or TomTom rather we would like to provide them our service or cooperate with them. We provide a technology that is specialized on object detection of geo images, in particular, aerial images. This is a technology that neither Here nor TomTom provides and we settle down in niches.
Data from Aerial Images are slightly less accurate than Data from fully equipped cars with sensors but provide way more feedback. Do you plan any cooperation?
Aerial images do provide a bigger scope and a very high resolution up to three cm. Thus, images from fully equipped cars are not explicitly more accurate, but provide a different angle. In order to involve every angle it could be useful to implement terrestrial images. So yes, we are interested in cooperations and are already in discussions.
Providing data for insurance companies is a groundbreaking idea! Do you think your product can change the industry from inside?
We believe that our data has the potential to make value estimation in insurance more precise and accurate. Thus, we think we can change parts of this industry from inside.
Big Data, Deep Learning, Artificial Intelligence. Could you explain to us how your application understands geo image data?
We use deep learning – more precisely neural networks – to analyze our geo images. We do that for a huge amount of data so that Big Data can derived.
I am assuming that you have a strong team behind it all?
Yes, we have a very strong, international and interdisciplinary team. We see each other not only as colleagues but also as friends who enjoy to take up new challenges and tasks.
Do you focus on EMEA only? Do you plan to expand your business to other regions?
For now, we focus on EMEA but we look forward to go abroad to the US and China soon. We have won the German Accelerator and are looking forward go to Silicon Valley this year. Furthermore, we look forward to open our US office next year.
And the last question. Do you have any advice for our readers who just entered gee business industry?
We would recommend them to work with companies who use the newest technologies in order to scale their business idea or business model. We noticed that much of the industry can be renewed and many companies use processes and data that is slow or not as accurate and useful as possible.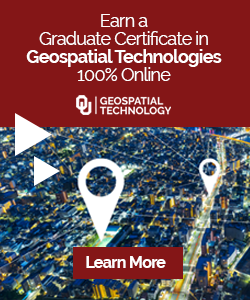 Read on