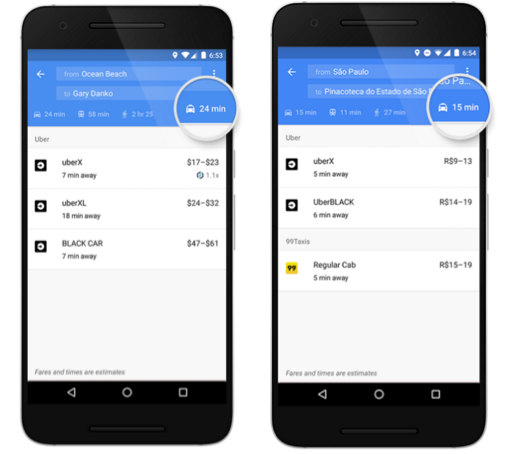 #Business
Google introduces new ride-sharing features to Google Maps app
Google introduced price estimates for Uber back in 2014. Now the company is expanding the feature to include different kinds of Uber services (Uber X, Uber XL, Uber Black) as well as other ride-sharing providers outside the US, including 99Taxis in Brazil, Ola Cabs in India, Hailo in the UK and Spain, mytaxi in Germany and Spain, and Gett in the UK.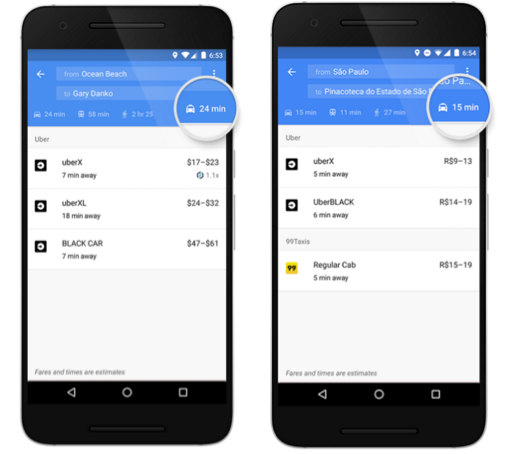 In order for the new feature to work you'll need to have the provider's app installed on your phone. Everything will be available from a dedicated tab where you'll be able to see fare estimates and pick up times if a car is available near you. Then just select a service, and you will be redirected to chosen ride-sharing app.
We can expect more service providers to be added especially in the US, as some major players like Lyft are still not included in the Google Search. There are however no details on that topic provided by Google.
The update is rolling out to Android over the next few days, and it will arrive on iOS "very soon", according to the blog post.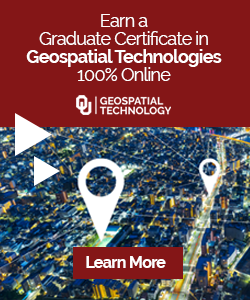 The community is supported by:

Next article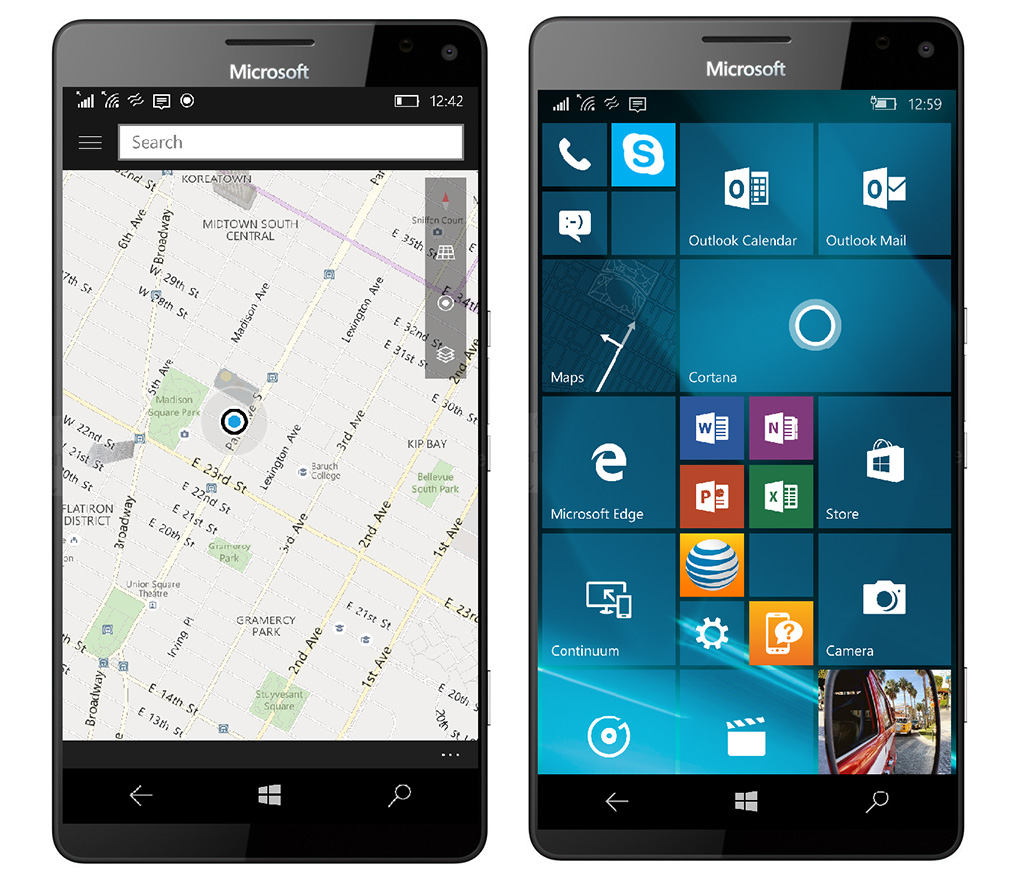 #Business
HERE will remove its maps app from Windows 10. What does it mean?
HERE mapping apps were one of the strongest points of Windows Phone OS. Here Maps, Here Drive, Here Transit, Here City Lens… these apps were the only argument that made me consider Windows as my potential future smartphone. Today, the company announced in a blog post that it will stop supporting its apps for Windows 10. All HERE branded apps will be removed from the Windows 10 store on March 29th and the support for Windows Phone 8 will be limited to critical bug fixes. More importantly all HERE Windows apps will stop working at all after June 30th. Pino Bonetti from HERE comments on the decision:
"In the last few months, we made the HERE apps compatible with Windows 10 by using a workaround that will no longer be effective after June 30, 2016. To continue offering the HERE apps for Windows 10 would require us to redevelop the apps from the ground up, a scenario that led to the business decision to remove our apps from the Windows 10 store."
It is one of the first strategic decisions affecting its consumer services after HERE had been acquired by the consortium of Audi, BMW and Daimler for €2.8 billion ($3.1 billion) back in August 2015. HERE under Nokia (which sold its mobile division to Microsoft) had definitely much different priorities, than HERE owned by automotive giants.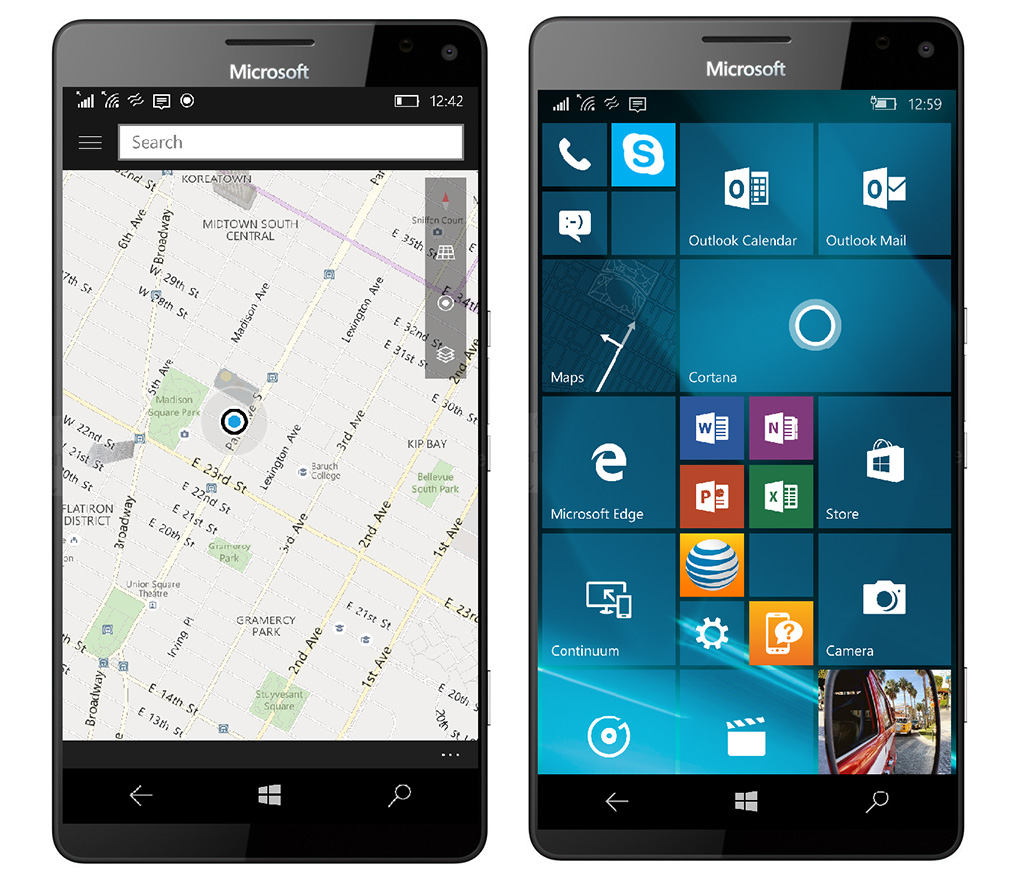 If you happen to own a Windows 10 phone you don't have to be worried that you will be left without any navigation app. HERE is actually licensing its maps to Microsoft, which offers Windows Maps app. The app is pretty basic but different sources report that we can expect new features and functionality soon.
The loss of HERE Maps is nothing to be upset about, I know of a couple awesome improvements coming to the Win10 Maps app soon 🙂

— Zac Bowden (@zacbowden) March 15, 2016
Interestingly HERE is only one of a few high-profile apps that have started to quit from Microsoft's Windows Phone store (e.g. Pinterest, American Airlines, Chase Bank, Bank of America, NBC). With the latest release of its operating system Microsoft presented so-called Windows Universal Platform strategy. These mean that developers have to write an app once, and it'll run on any Windows 10 device including laptops, smartphones, tablets or even Xbox.
On the one hand it sounds interesting, but for mobile only companies like HERE, it wouldn't bring much value added, especially taking into consideration that Windows 10 has only less that 5% of the market.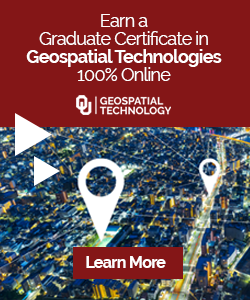 Read on