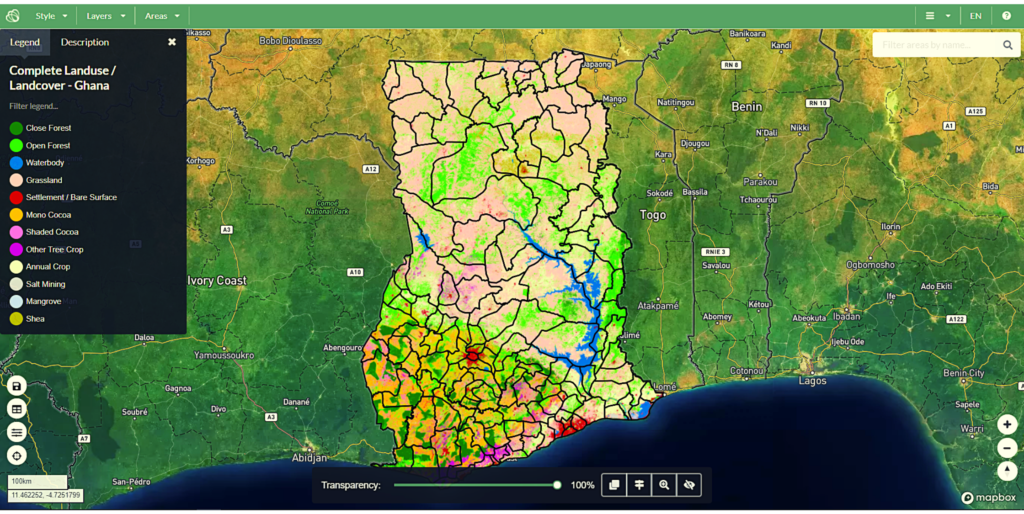 #Business #Ideas
Ghana launches National Map of Forests and Land Use
Ghana launched its National Map of Forests and Land Use on 28th January 2021.
Resource Management Support Centre (the technical wing of Ghana Forestry Commission) produced the map, with the support of among others, Kwame Nkrumah University of Science and Technology, Ecometrica Limited and the University of Leicester.
The map differentiates cocoa farms from natural forests. This is a critical measure of how cocoa farming is driving deforestation.
The aim of the map and its later updates include:
Eliminating deforestation from the production of agricultural commodities such as cocoa.
Supporting international forest conservation efforts such as REDD+.
Ensuring compliance with forest laws.
Informing international reporting on greenhouse gas emissions from land use.
It is part of Forests 2020, a project by a consortium of UK experts and international partners led by Ecometrica Limited.
The project aims to protect and restore up to 300 million hectares of tropical forests in 6 developing countries. They will do this using satellite data.
How was the data gathered?
The map was produced by combining local expertise, satellite imagery, lidar data and machine learning techniques.
Detection of cocoa utilized radar data collected from Sentinel-1 satellite in combination with optical data collected from Sentinel-2 satellite.
Cocoa can either be:
Unshaded monocrop cocoa – grown as a plantation under the sun, without shade.
Shaded cocoa agroforests – grown with trees which provide shade.
Detection of unshaded, mono-crop cocoa and segregating it from natural forests was done using Sentinel 2 satellite imagery.
While radar imagery from Sentinel 1 is effective for monitoring deforestation over large areas, it is limited to detecting the uppermost part of the forest canopy.
Shaded cocoa agroforests are challenging to detect because they are under the forest canopy. Lidar technology was thus used to detect these.
Why is the map important?
Ghana is the second-largest cocoa producer in the world, the first being Ivory Coast, (or Côte d'Ivoire). Together, they produce over 50% of the world's cocoa – the essential ingredient in chocolate.
But at what cost?
27% of total deforestation in Ghana between 1990 to 2008 is estimated to have been driven by cocoa cultivation.
Using historical imagery, a U.S. Geological Survey project uncovered the following trends in Ghana:
At three time periods (1975, 2000, and 2013) 38 years apart,
Agricultural land increased from 13% to 32% of the total land area.
Forests declined by 25%.
Settlements increased by 161%.
Conversion of forests to cocoa farmlands is threatening the remaining forested and protected areas. The drivers for this are:
Low yields from ageing cocoa trees,
Poor agricultural practices, and
Shrinking of suitable farmland land area due to climate change.
Many chocolate companies have committed to deforestation-free supply chains. This is due to the rise in consumer demand for sustainable products.
To meet this commitment, the Ghanaian government, and the cocoa sector must track where each bean is coming from and so exert pressure on suppliers to end unsustainable practices.
The lack of up-to-date land-use maps and effective forest monitoring systems hampered these efforts until now.
The map will enable companies to trace their supply chains and ensure they are deforestation-free. This will result in a reduction of deforestation from Ghana's agricultural and extractive commodities like crops, timber or minerals.
Furthermore, the map will help in near real-time vegetation change and deforestation monitoring.
Final thoughts
The map is a milestone towards ending deforestation, restoring forests and ensuring sustainability in the cocoa industry.
You can explore the map here.
Visit the links below to learn more about deforestation efforts in Ghana.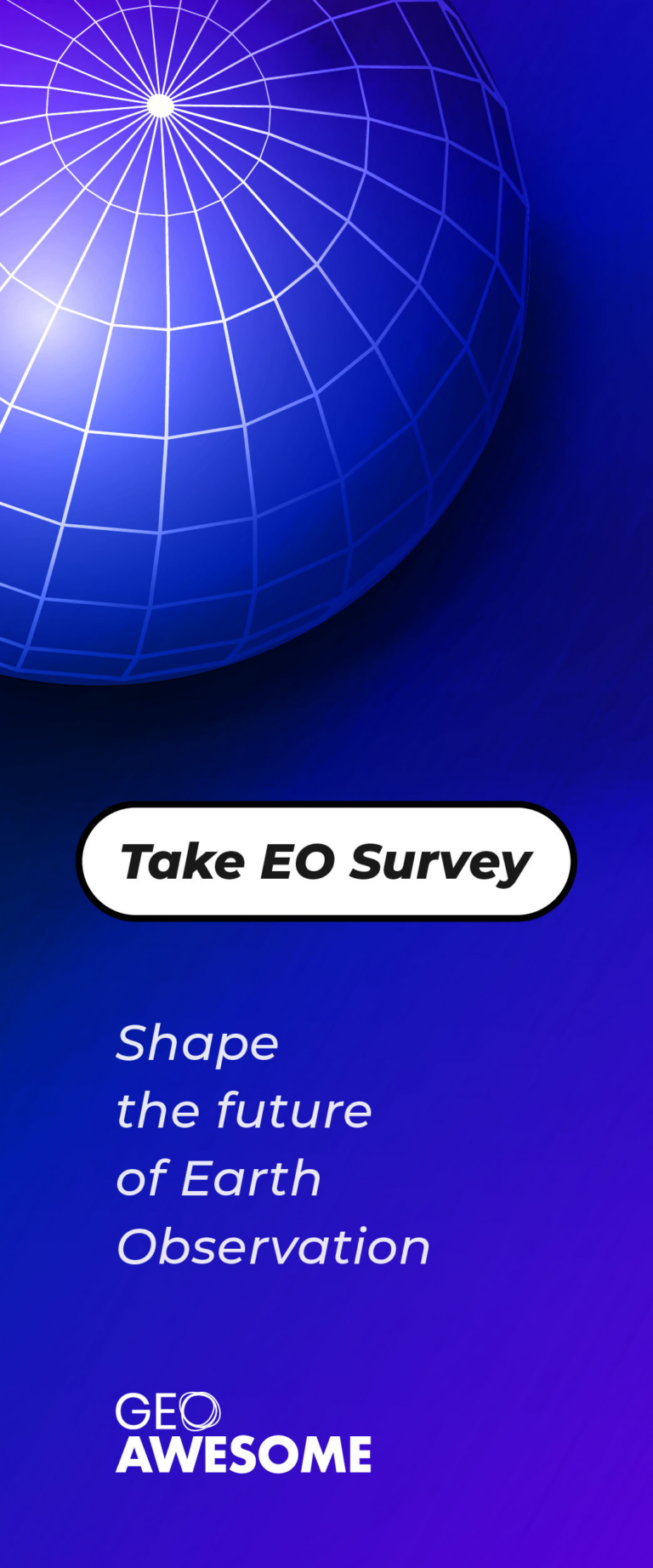 The community is supported by:

Next article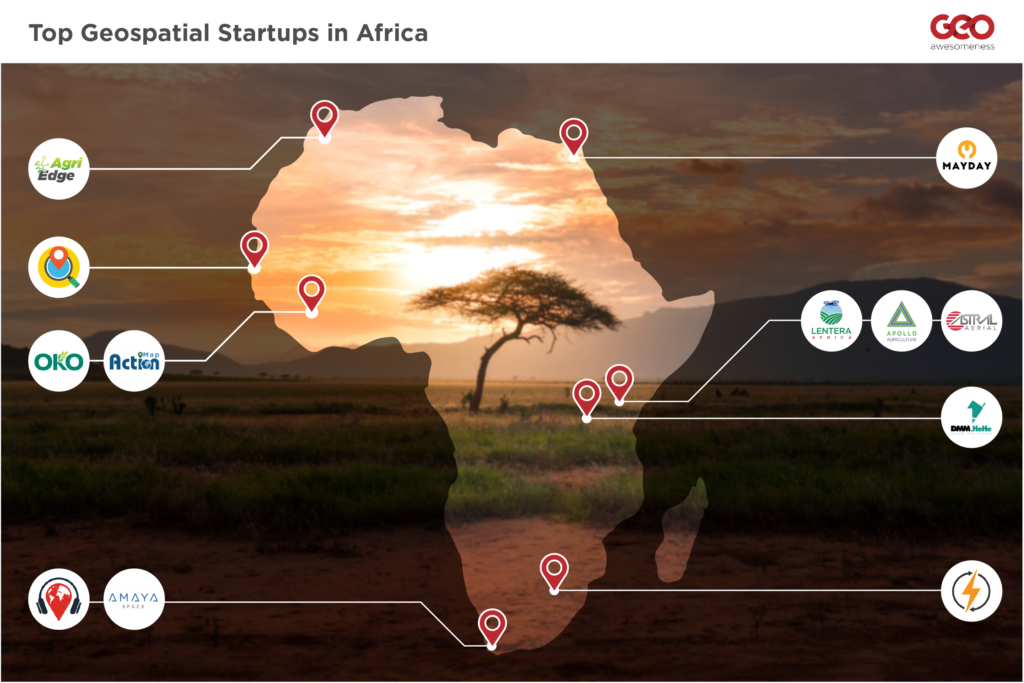 #Business #Ideas
Top 11 Geospatial Start-ups in Africa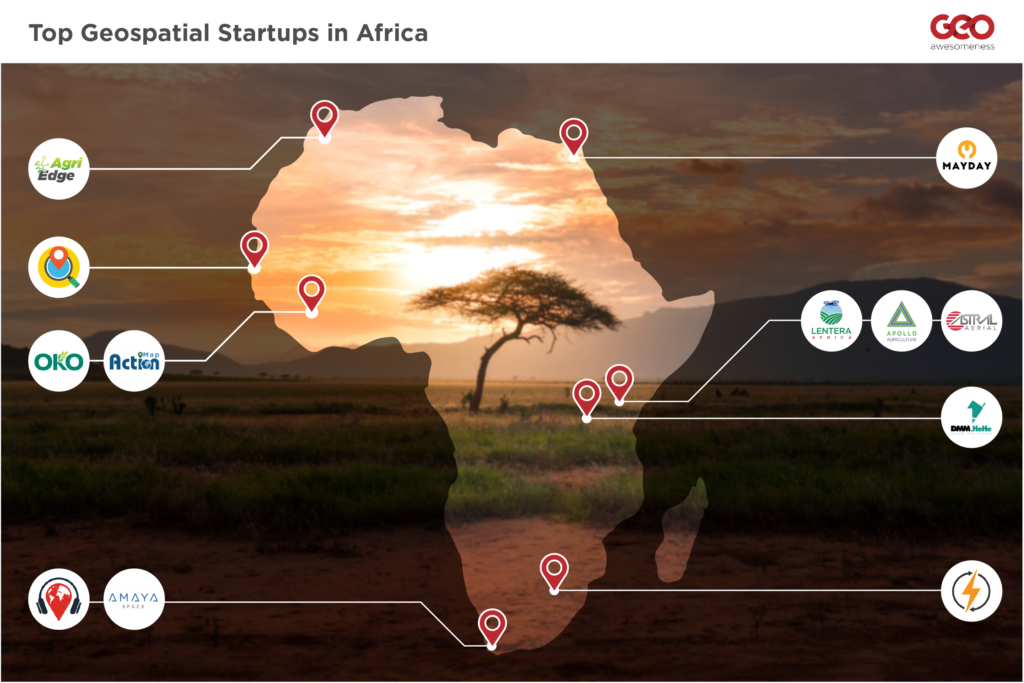 Africa. The World's second-largest continent comprising 55 countries, covering 6% of Earth's total surface area and 20% of its land area, more than the USA, India, China and most of Europe combined.
From Egypt in Northern Africa to South Africa in the South, and from Kenya in Eastern Africa to Senegal in Western Africa;
Not forgetting Rwanda in Central Africa, we highlight 11 start-ups using geospatial technologies to address the continent's political, environmental and social challenges.
The names appear in order of the founding year, from the earliest to the latest.
DMM.HeHe (Hehe Labs)

🎯Software Development, Data Processing, E-commerce
📍Kigali, Rwanda
📅2010
DMM.HeHe, also known as HeHe Labs, is a mobile technologies research and innovation company founded by a group of college students. They build software technologies that help businesses optimize their operations & services.
HeHe, which means "where" in Kinyarwanda, focused on building mobile-first geolocation technologies with the vision to usher Africa into the 4th industrial revolution through building context-appropriate solutions for the continent.
Their innovative digital solutions currently serve over 2 million users across Africa.
VoiceMap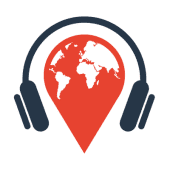 🎯Mapping, Travel, Storytelling
📍Cape Town, South Africa
📅2014
VoiceMap uses the phones inbuilt GPS in their VoiceMap Audio Tours app to enable people to experience the magic of audio walks, cycles, drives and even boat rides in over 100 cities worldwide.
The app uses your location to play audio automatically, at exactly the right time and place. They're like podcasts that move with you, to tell stories about what you're seeing right now.
Insightful local storytellers, journalists, filmmakers, novelists, podcasters, and tour guides produce VoiceMap's audio guides.
Astral Aerial

🎯Drones, Mapping, Navigation
📍Nairobi, Kenya
📅2014
Astral Aerial Solutions, a subsidiary of Astral Aviation, is a UAV operator and service provider.
Their vision is to provide low cost, efficient and innovative UAV solutions for last-mile deliveries to remote areas in Africa.
They offer drone services for agriculture, logistics, aerial photography, aerial surveillance, reconnaissance, inspections, medical deliveries, among others.
Apollo Agriculture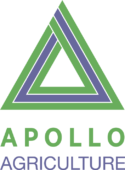 🎯Remote sensing, Analytics, Agriculture, Financial Services
📍Nairobi, Kenya
📅2016
🌐https://www.apolloagriculture.com/
Apollo Agriculture is a technology company that helps small-scale farmers maximize their profits by enabling them to access the capital and resources they need.
They address one of the fundamental challenges of improving farmer livelihoods in Africa by financing the comprehensive toolkit of inputs, agronomic training, and planting tools that underserved smallholder farmers need to increase crop yields.
Apollo assesses credit risk and customizes each package to a farmer's specific location using satellite data, soil data, farmer behaviour data and crop yield models.
WiPo Wireless Power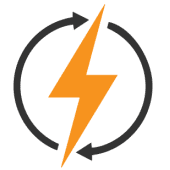 🎯Hardware, IT, Drone Technology
📍Pretoria, South Africa
📅2017
🌐https://www.wipo-wirelesspower.com/
WiPo Wireless Power cuts the power cord enabling medical devices, robotics and industrial equipment to be truly autonomous.
They provide wireless power and charging solutions for industrial and mobility devices, including drones, medical trollies, scooters, wheelchairs and other mobility devices.
Lentera Africa

🎯Mapping, Analytics, Remote sensing, Agriculture
📍Nairobi, Kenya
📅2017
Lentera Africa is an agriculture technology company focused on enabling farmers to adapt to climate change and increase their productivity.
Lentera provides farmers with a combined package of satellite-based crop health analysis, monitoring sensors, organic fertilizers, training and soil friendly tilling equipment to enable increased farm yield and adaptation to climate change.
MAYDAY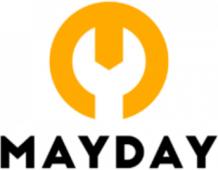 🎯Mapping, Automotive
📍Cairo, Egypt
📅2018
MAYDAY provides real-time on-demand roadside assistance services to motorists in need across all Egyptian cities and major highways.
Through their location-based mobile application, MAYDAY, they increase road safety by offering a wide range of services such as tow trucks, tire change, battery jump-starting and fuel delivery.
NIMA Codes
🎯Navigation, Mapping, Location-based Services
📍Dakar, Senegal
📅2018
NIMA Codes is a telephone number-based addressing system for places without a formal street address.
The NIMA Codes app lets you sign up for a four-digit code address using your mobile phone number. You can then share the four-digit code for people to locate/ navigate to your home via the app.
AgriEdge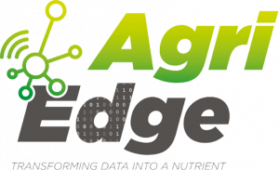 🎯Analytics, Agriculture, Remote sensing
📍Ben Guerir, Morocco
📅2018
AgriEdge is a precision agriculture services platform and digital marketplace for agricultural products.
They aim to boost yields and reduce operational cost for small-large holder farmers in Africa.
The start-up employs a wide range of data, including weather data, satellite and drone imagery, to determine the required optimum level of fertilizer and water to supply each crop.
Their freemium service offers smallholder farmers and cooperatives access to yield estimates and simple crop monitoring while their premium service targets government agencies, NGOs, agri-business platforms and large-scale farmers.
Map Action

🎯Mapping, Environment, Analytics, WASH
📍Bamako, Mali
📅2018
Map Action is a technological innovation firm specializing in the geo-localization of issues or areas of interest, mapping, monitoring and provision of databases in the fields of the environment, WASH and sustainable development.
Their tool brings together interactive mapping, geo-location and a mobile application to collect, analyze and transmit data.
The Map Action mobile app allows citizens to photograph and send environmental problems such as polluted water and waste dumping. Development partners and city authorities then rely on the information supplied by the citizens to make more informed decisions and provide rapid solutions.
Amaya Space
🎯Space manufacturing, Remote sensing
📍Cape Town, South Africa
📅2018
Amaya Space is a nanosatellite-focused space manufacturing and services company with its sights set on delivering game-changing and innovative solutions.
It is a spin-out company of the vibrant satellite programme of the Cape Peninsula University of Technology (CPUT). Amaya Space commercialises the innovative nanosatellite communications solutions and complete missions developed at CPUT over the past 10 years.
Their mission is to help alleviate poverty in South Africa, eradicate unemployment, and contribute to the transformation of a new industry, ensuring equal distribution of economic gains and job opportunities.
Conclusion
The above is not a comprehensive or definitive list; there are many more geospatial start-ups in Africa.
With the recently launched African Space Policy, we expect to see more start-ups in the coming years. The African Union (AU) introduced the policy in 2019 to provide the guiding principles for a space programme that will serve the needs of the African continent.
Which Africa-based geospatial start-ups are impacting your community? Why not share them with us in the comment section below?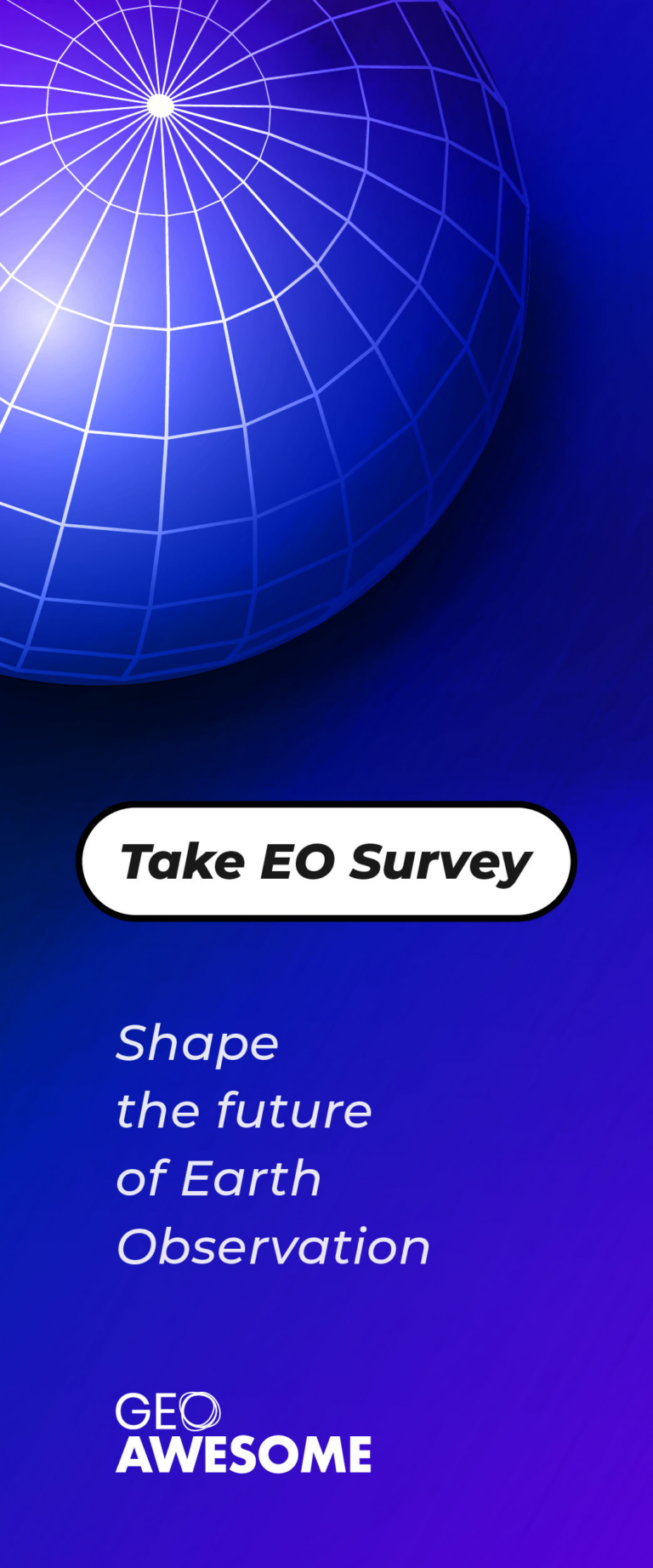 Read on