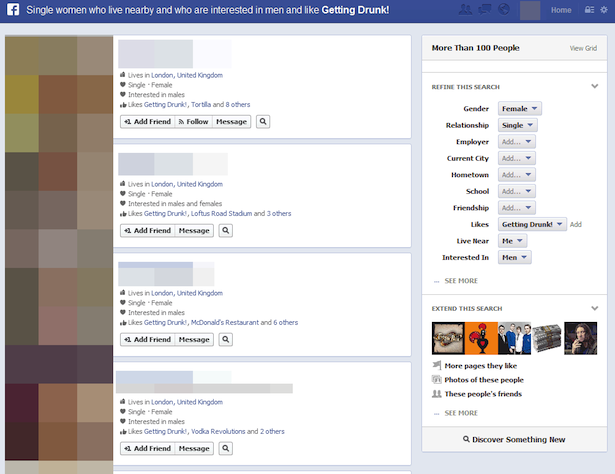 #Business #Ideas
Facebook's Graph Search: another fusion in search
People, who want to stay awake for 72 hours in a row for fun, I would ask them to be a little bit patience.  Hold your breath for few more days, the instrument is coming, what will keep you awake for long.
January 15th , 2013, Facebook announced another revolutionary feature, "Facebook Graph Search". It's a feature for social search inside the social network which is currently in private beta with a wait-list for individuals and businesses. What it does is, when you type a query, such as "friends who have visited Lisbon liked Bairo Alto", Graph Search crosses all of the relationships and find people which comply with the statement of search. So, next time when you are going to Bairo Alto, you know who to ask to go with you.  Here is another search example in the picture bellow, "Single women who live nearby and who are interested in men and like Getting Drank". Pretty kool, Ha!!!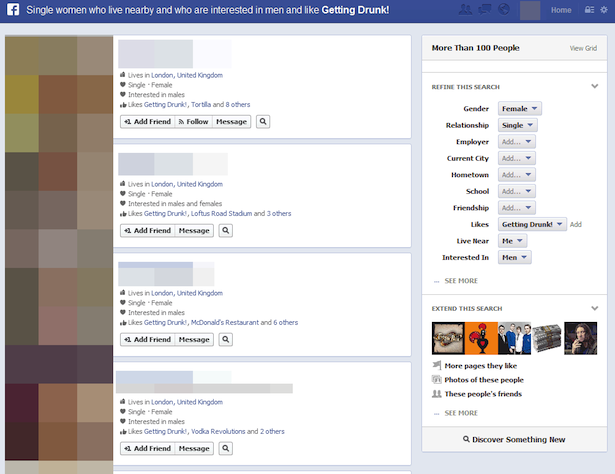 Already, I have heard my friends talking about the recent shitty privacy system of Facebook. You can't hide yourself, if you own a Facebook account; people are watching you, knowing what you like and getting to know your secret aspirations. So it's really difficult to realize the future scenario after publicizing the Graph Search. Anyway, being an optimistic individual, I appreciate this development and this is going to open a new arena to learn about people more, what can bring a big boom in production without loss as you already know what people wants what's their tests.
Then again being fascinated by the space time study, what I dream now is to have a graph search which includes spatial and temporal components. Such as I want to find, "an expert of quantum physics, within 200 km who is a scientist in this arena for last 10 years". Finally, here are some food for thought: being the best of search technologies, what's Google going to bring alongside this? In the race course, I would love to see the fittest horse of Google running against Facebook's Graph Search. Their race might solve our (researcher, business people and so) all need.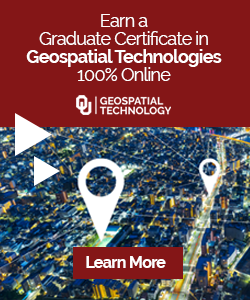 The community is supported by:

Next article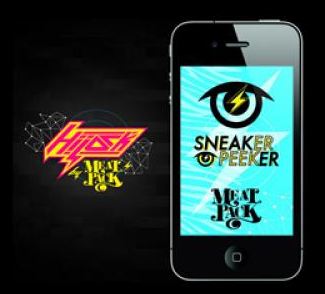 #Business #Ideas
Location-Based Campaign to Hijack Customers From Competition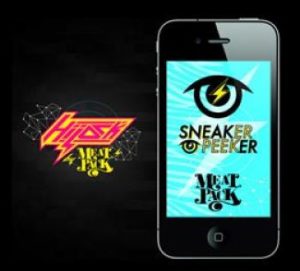 Definitely one of the best location-based marketing campaigns of 2012. Guatemalan shoe store Meat Pack launched an app called 'Hijack' to pinch customers from other stores like Adidas or Nike. The idea is to 'hijack' customers from other stores by giving them time limited discounts, when they physically enter the store of the competition.
How does it work? 
Every time customers with installed app entered geofenced competitor store it showed them a countdown timer and an offer for money off shoes. The discount started at 99% off and reduced by 1% for every second that passed. The timer stopped when the user reached a Meat Pack store.
Loyalty campaign
Campaigns which are giving innovative incentives for customers are really cool. This particular campaign has been build on the top of existing loyalty program. Some comments on the web where critical about limiting it in such a way but it might not be a bad idea to reward existing customer and motivate them to come back. It depends on the loyalty program it self. Maybe it was not giving enough incentives to retain customers. I mean how many loyalty cards from different store do you have? Probably so many that you don't even now. Anyway within the first week of the campaign more than 600 shoppers were hijacked from the competitors with one of them getting 89% of his new trainers, so the result is pretty ok:).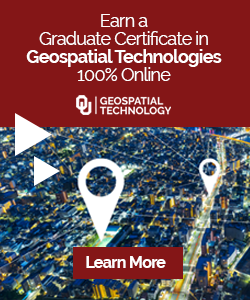 Read on