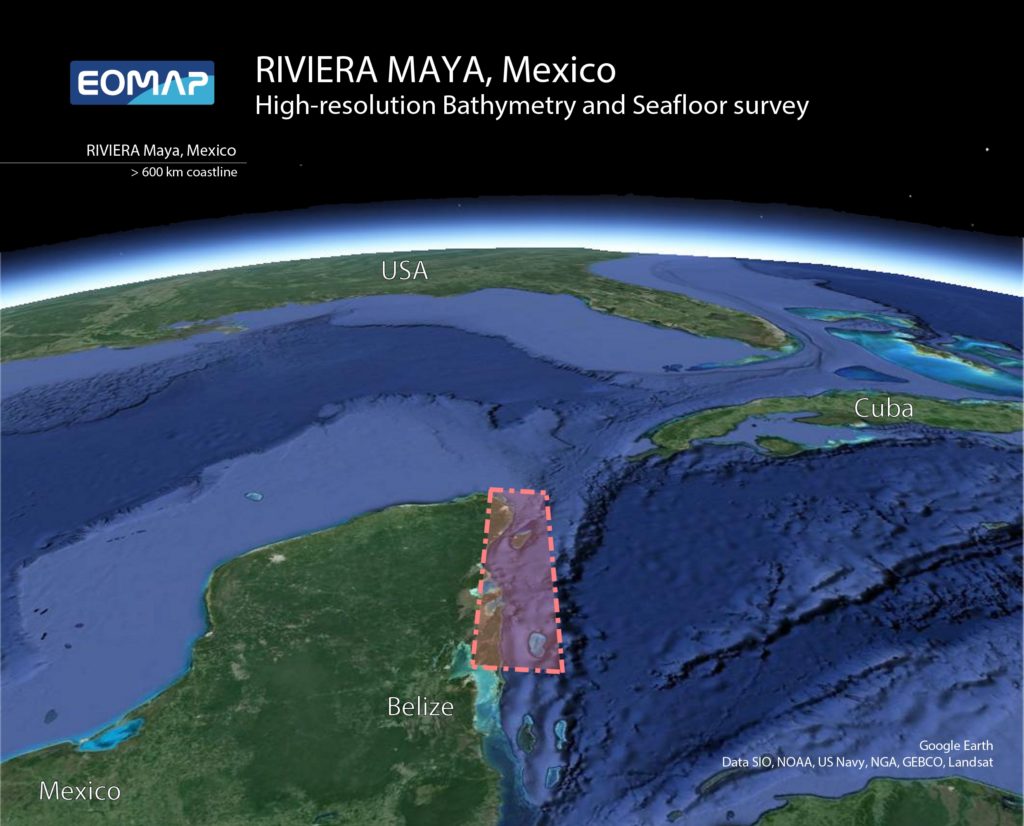 Coral protection from Space on the Mexican Riviera Maya
Coral reefs belong to one of the most anthropogenic impacted ecosystems that have been terribly suffering damage while offering great wealth of habitats, diversity of species and limitless environmental services. Examples of the destructive forces can be oil spill from petroleum platforms, considerable changes in ocean temperature and an increase in the incidence and the intensity of hurricanes as an effect of climate change causing bleaching an finally a decrease of coral colonies. The current threats and at the same time the worldwide importance of coral reefs have generated methods to develop this kind of ecosystem on a large scale, whereas remote sensing means have become important to map underwater habitats specifically with regard to the remote location of coral reefs, their vast extension and then shallow waters making navigation dangerous.
In an article in December I reported on the first bathymetry of the entire Great Barrier Reef, which was accomplished by the German-based company EOMAP. Right at the beginning of the new year they announced another achievement, which is the first high resolution seafloor and bathymetry survey of the Mexican Riviera Maya including a benthic map and environmental baseline study. I obtained a communiqué including facts and some background information about the interesting initiative along the Mexican coast. Therefore, let's jump into those tropic waters!
THE FIRST HIGH RESOLUTION SEAFLOOR AND BATHYMETRY SURVEY ON THE MEXICAN RIVIERA MAYA

EOMAP, a value-added service provider of satellite data was contracted by the Mexican National Commission for Knowledge and Use of Biodiversity (CONABIO) to deliver high resolution environmental information for the entire Maya coast. This coastline extends 600 km south from the Yucatan Peninsula to the border of Belize. In total more than 5000 sq km of the marine environment, including ecosystems such as corals, seagrass and mangroves, were mapped in water depths down to 25 m.
"The fine-scale spatial information, derived for the entire coastline, will serve as the first baseline dataset of the Maya coast, and will help to understand and preserve the vulnerable ecosystems." Said Dr. Thomas Heege, CEO of EOMAP GmbH & Co.
CONABIO is a permanent interdepartmental commission promoting, coordinating and carrying out activities aimed to increase awareness of biodiversity and its conservation and sustainable use. To fulfill its mission CONABIO relies on accurate and fine scale baseline maps for land and sea. For Mexico's extended coastlines, traditional surveys were by far too time consuming and expensive and CONABIO therefore decided to use a satellite-based approach. In early 2012, EOMAP's technology was applied for bathymetry and seafloor mapping, using the highest spatial multi-spectral resolution satellite data available (DigitalGlobe's WorldView-2 eight-band sensor).
"EOMAP was selected because we have seen their satellite-derived, high resolution seafloor and bathymetry products in very successful, previous projects. The services and products delivered for the Mexican Maya coast are exceptional and will be fundamental in developing our seafloor habitat baseline. Such a baseline is critical in assessing short and long term impacts to the environment from both man-made and natural causes." Said Dr. Rainer Ressl, Director Geomatics Department of CONABIO.
The project was completed in three phases:  satellite data was first ordered and checked for its mapping feasibility, then EOMAP delivered spatial datasets of bathymetry and seafloor properties, and finally the validated habitat classification was performed.
"Mapping the seafloor habitats and bathymetric information for such extended areas is of growing interest for both environmental as well as engineering applications. Our algorithms are operational and standardized, enabling us to survey, map and monitor extended or inaccessible areas at a fraction of the cost of traditional survey methods," said Dr. Magnus Wettle, Chief Scientist of EOMAP Asia Pacific.
EOMAP GmbH & Co. KG has been delivering satellite-derived bathymetry and seafloor habitat services worldwide for a growing number of customers in the oil and gas, engineering, environmental and hydrographic sectors.
For more information on EOMAP, see www.eomap.com or email info@eomap.com.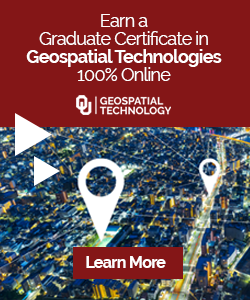 The community is supported by:

Next article
Satellite Swarms – The New Paradigm to Earth Imaging
The concept of having small satellites launched into orbit as a constellation of earth imaging satellites is swiftly changing the game.
Some smart startup coys are promising to shake up the field of earth imaging by the concept of satellite swarms orbiting the earth and sending imageries of any part of the earth in the nearest real time.
These satellites can afford imageries with very high resolutions,between 3 to 5 meters. Real-time change detection and tracking of  lots environmental phenomena including traffic jams are possible with this technology.
Existing commercial satellites can acquire very high resolution satellite imageries, but revisit periods can be days or weeks. Notwithstanding the promise from Digital Globe of 90 munites revisit period high resolution satellite on the way.
 Courtesy of dailywireless.org:
 Planet Lab aims to provide frequent snapshots of the planet, allowing users to track changes from traffic jams to deforestation in the nearest real time. 
Planet Labs,  hopes to achieve this using  the 3U Cubesats technology  of about 28 mini-satellites.
Planet Labs' fleet should be able to take more frequent snapshots of the globe. The exact frequency has yet to be decided, but "it is going to be something the industry doesn't have today," says company cofounder Robbie Schingler, a former chief of staff for NASA's Office of the Chief Technologist.
The satellites will send their images to at least three ground stations—two in the U.S. and one in the U.K. The data will be processed and uploaded for use by customers almost immediately.
Planet Labs are not the only guys working on this Satellite swarms, Skybox Imaging is also making giant strides with this concept.
Skybox Imaging aims to launch at least 24 satellites that will be able to take high-definition video of any spot on Earth and capture details just one meter across. Each of its satellites should cost about a 10th as much as a traditional ones, but are significantly larger than the Planet Labs 3U CubeSats.
The EDSN mission will form a swarm of eight identical cubesats, each cross-linked to monitor space weather. It will be launched from Kauai, Hawaii in 2014. TJCubeSat, the first satellite designed and built by high school students, was launched by Orbital in November.
On November 19, an Orbital Sciences Minotaur I rocket placed 29 satellites and two attached payloads into orbit, breaking a record which had previously been held by a Russian Dnepr rocket since 2007.
Less than thirty hours later, a Dnepr carried UAE's DubaiSat-2, an Earth observation satellite about the size of a compact car, and thirty one other satellites settinganother new record for the most payloads. Among them was SkySat 1, the first of 24 satellites planned by Skybox. An NRO mission on Dec 6 launched 12 QubeSats, including TacSat-6, a 3U communications satellite.
A CubeSat with a 2048 by 1536 pixel camera (3.1 Megapixels) produces ground resolution of 20 to 35 meters. Most modern smartphones have triple that resolution.ARGUS-IS uses hundreds of cellphone cameras in a mosaic to auto-track moving objects in a wide area.
Pocket Qubes are the smallest and cheapest satellites.PocketQube satellites are 5cm cubes, developed by small spacecraft pioneer Bob Twiggs. PocketQube satellites have used Kickstarter crowdsourced funding. Four PocketQubes were launched aboard the Dnepr in November. Jonathan's Space Report lists the 90 payloads launched just in the past month, most of them very small.
The CubeSat Bus utilizes the same connectors as thePC/104 bus, which is also used in many UAVs. PocketQubes may fit inside smaller UAVs.
Meanwhile, Inmarsat launched one the largest telecom satellites ever built last week. Inmarsat's Global Xpress is the first of a new family of three satellites. Inmarsat-5, F-1 was successfully launched Dec 8 by ILS.
The $1.6 billion program is operated by theglobal satellite company based in Britain. The three satellites each have 89 Ka-band beams and consume 15kW of power.
Global Xpress, the "world's first worldwide Ka-band mobile satellite system", will unfurl its solar panels and antennas by the end of December and take up operations at 63 degrees east next year.
Two more Global Xpress craft will join it before the end of 2014. Inmarsat's three principal sectors include maritime, land/mobile, and aviation.
In 2011 aviation made up only 14% of Inmarsat's revenue but aviation has recently outstripped growth of the other sectors by a factor of over 5.
High Throughput Satellites (HTS) are bringing massive increases in bandwidth to orbit. Over twenty new HTS and Ka-band satellites are in construction, each carrying from 10 to 100 times the capacity of today's conventional C– and Ku-Band systems.
Northern Sky Research (NSR) counts 17 high-throughput satellites, most of them using Ka-band, already in orbit, with another 30 satellites scheduled for launch by 2022.
Sources: dailywireless.org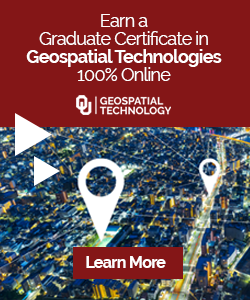 Read on