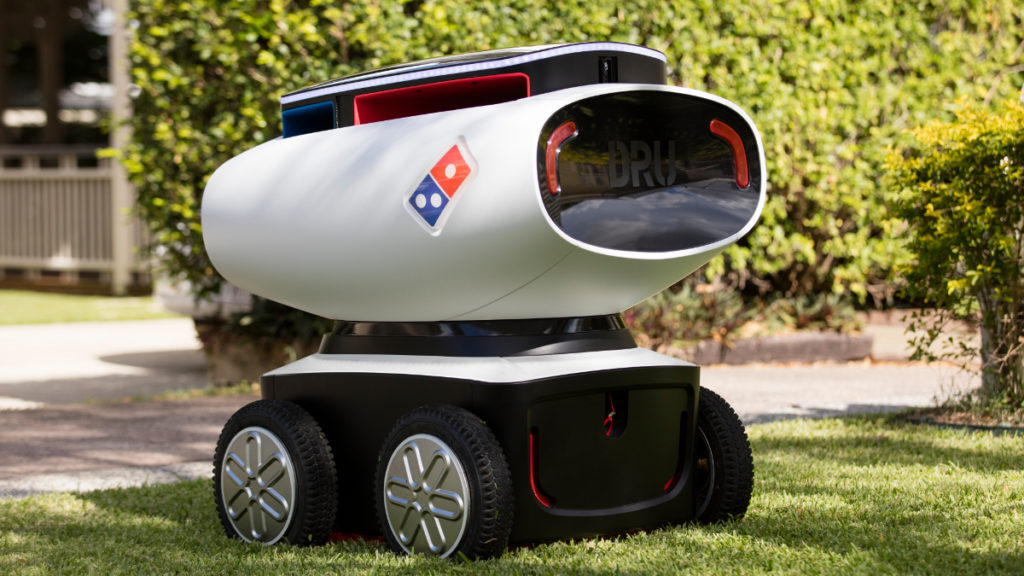 #Business
Domino trials robots for pizza delivery in New Zealand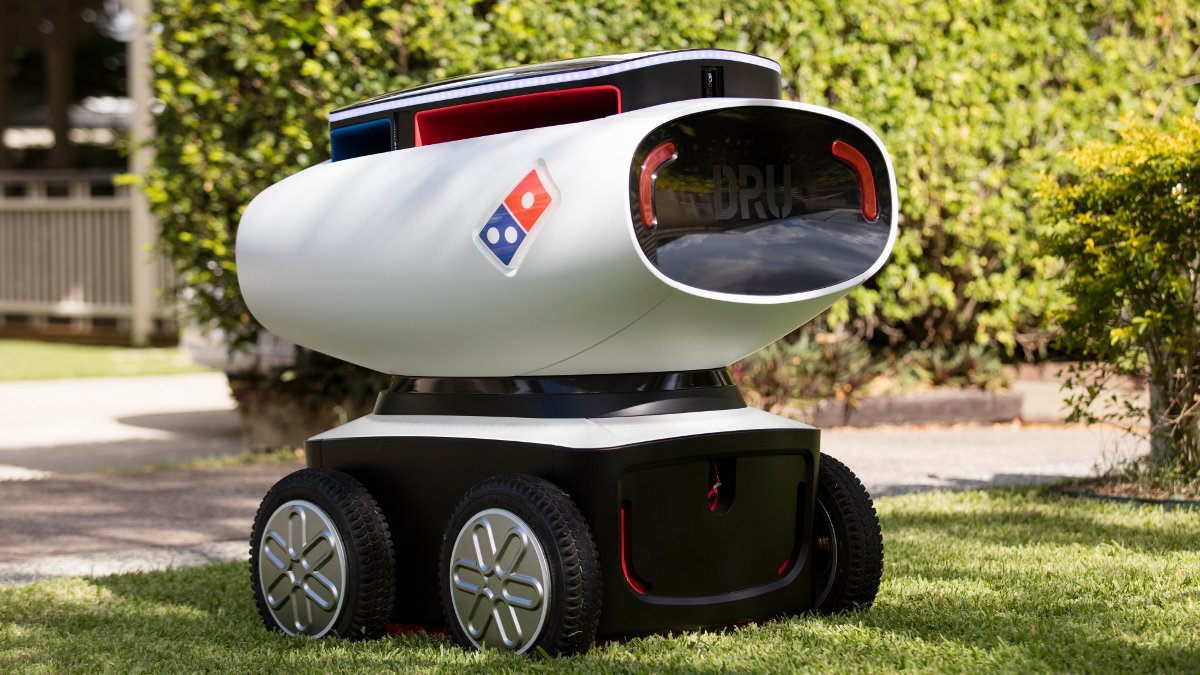 Domino's the global pizza chain is bringing location-based technologies to your doorstep. Literally. Last week the company unveiled the Domino's Robotic Unit (DRU) – a cute autonomous delivery vehicle that is now being tested in New Zealand.
The three-feet tall, four-wheel electric robot was developed in Australia and is capable of completing deliveries within a 20-mile (30 km) radius on a single charge. The unit is equipped with a heated pizza compartment which can be unlocked with a code that customers are given when they order. The DRU uses technologies utilized by self-driving cars. It is equipped with Lidar laser to identify the surrounding environment and has a built-in GPS unit used together with Google Maps data to select the optimal route.
Domino's worked with the local road authorities to ensure the robot met all the requirements to be set autonomously on the streets. Lifehacker Australia reports that the first trial started in a number of restricted streets permitted by the local authorities. Before it will expand to the whole city the driverless vehicle regulations in New Zealand must be ready. Transport Minister Simon Bridges told the AFP: "This is an exciting opportunity for New Zealand… over the last 12 months I've been actively and aggressively promoting New Zealand as a test bed for new transport technology trials", so we might expect that it will happen sooner that later.
Who knows maybe this will be the most useful usage of driverless vehicle technologies so far. Cool project.
Domino's World First Autonomous Pizza Delivery VehicleMeet DRU – The newest team member to join the Domino's family! He's the world's first autonomous pizza delivery vehicle!DRU has a passion for delivering piping hot meals and a nice warm smile to customers. While he won't be taking to the streets tomorrow, he is enjoying his early progress as a prototype and giving customers a glimpse into the future of what is possible.We're excited to welcome DRU into the team and we're sure you'll love getting to know him and his cheeky personality!#DRU #DominosNZ #MoreThanJustPizza #TheFuture #GameChanger

Posted by Domino's New Zealand on Thursday, 17 March 2016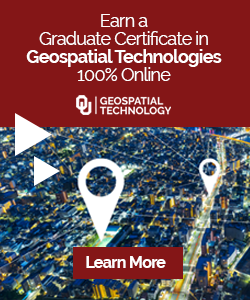 The community is supported by:

Next article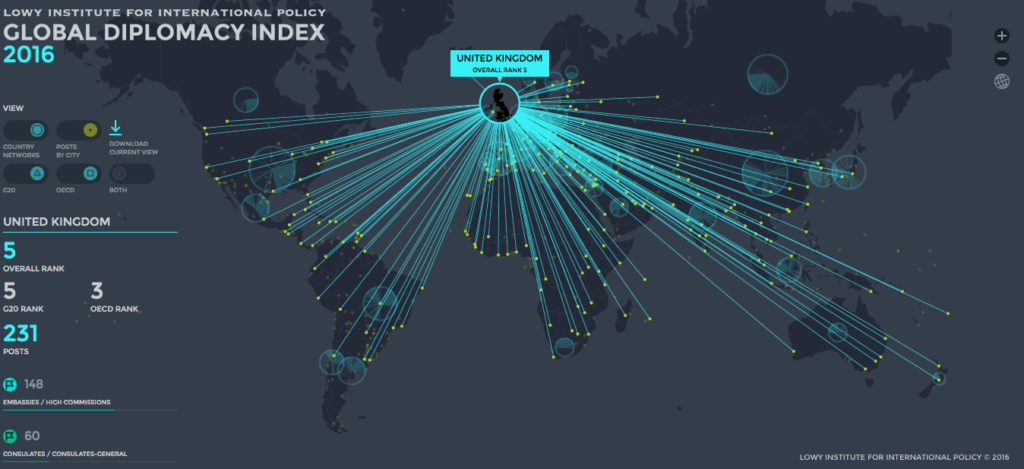 #Featured #Ideas
Global diplomacy map shows the magnitude of the world's diplomatic networks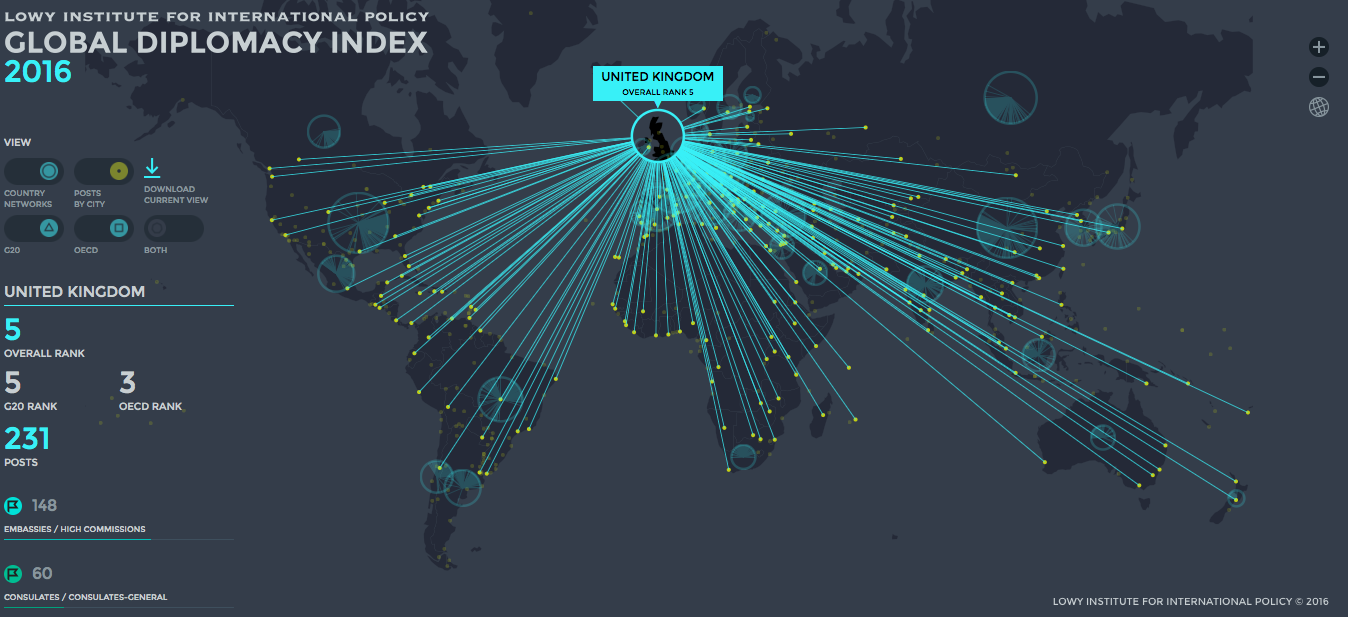 Really interesting mapping project has been created by The Lowy Institute for International Policy based on their Global Diplomacy Index. The interactive tool maps and ranks the diplomatic networks of all forty-two G20 and OECD nations.
Global Diplomacy Index is based on a number of country's embassies, consulates, multilateral missions and "other" representations as well as by the size of its diplomatic network. The map visualizes these networks, showing by type and location almost 6000 diplomatic missions in nearly 700 cities across the globe. The large blueish circles represent the size of each G20 and OECD country diplomatic network. When you select a particular country you'll visualise the lines to each country where it has a diplomatic office.
The map highlights gaps and concentrations in diplomatic networks, and indicates strengths and weaknesses in geographic coverage and geopolitical reach. The number one in the world is unsurprisingly the U.S. with post in 270 cities, followed by France with 267 and China with 257 posts. On the bottom of the list we've got small European countries: Iceland, Luxembourg and Estonia.
Really cool project.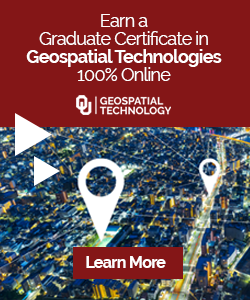 Read on