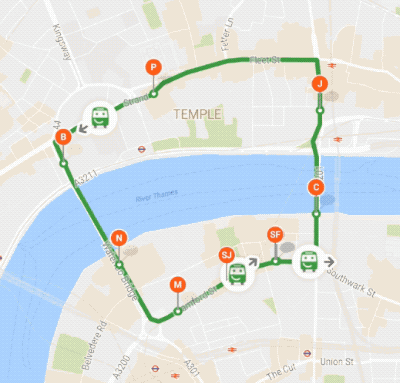 #Business
Citymapper's bus-taxi is proof why we need more public-private collabs
Remember when we told you Citymapper was starting its own nighttime bus service in London to fill the gaps in the transportation system? Well, they didn't just launch any bus. They launched a smart bus – complete contactless ticket purchasing, USB charging ports, electronic displays showing bus info with emojis, peppy music, et al. And of course, Citymapper's buses ran on the geospatial startup's proprietary tracking and management software to minimize the wait time for passengers.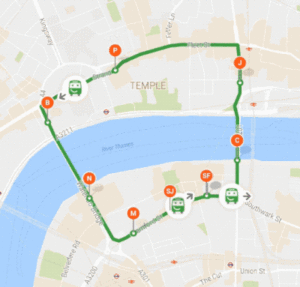 Needless to say, Londoners LOVED the bus! But Citymapper wasn't satisfied. After only a couple of days of operations, the company understood that the route the bus was following was inefficient. But, it didn't matter how much data Citymapper had to back their claims, the 'old bus world' simply would not allow them to change the route.
"Regulation doesn't reward buses and drivers for passengers or experience. They must instead follow rules, driving up and down a number of times per day, independent of demand," the company explains in a blog post.
In London, vehicles carrying more than 9 people are categorized as buses and have to follow a fixed route and schedule. But if you are carrying 8 people or fewer, you are called a taxi and the strict bus rules don't apply to you.
So, Citymapper threw away its old tech and rebuilt everything from scratch. Now, the geo geniuses at Citymapper have launched an on-demand minibus service in London, which would basically be a cross between the Ubers and the traditional bus network.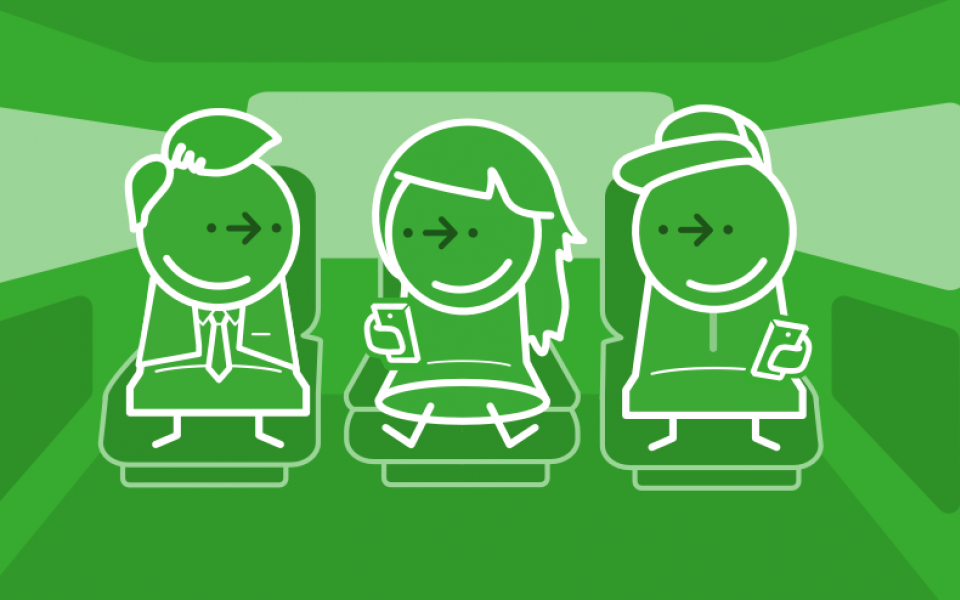 The vehicles under this Smart Ride service would be eight-seaters running on fixed routes (like a bus), but people will be able to book a seat in advance (like a cab). All rides will be shared and no minibus will be forced to run idle. They will only ply on 'responsive routes'.
Though the company has started with free trials in a small area right now, they have already acquired licenses for 500 drivers to operate their own bus-cab hybrids.
Citymapper has already dabbled with offering a cab at the price of public transport by partnering with Gett. But it knows how vital shared transport is going to be for the cities of the future. And by revolutionizing the bus industry in a unique manner, Citymapper is underscoring the fact that the only way to get to a cleaner, greener future is through public-private collaborations. It will be exciting to see how more geospatial companies become a part of this innovation ecosystem!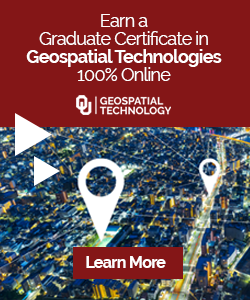 The community is supported by:

Next article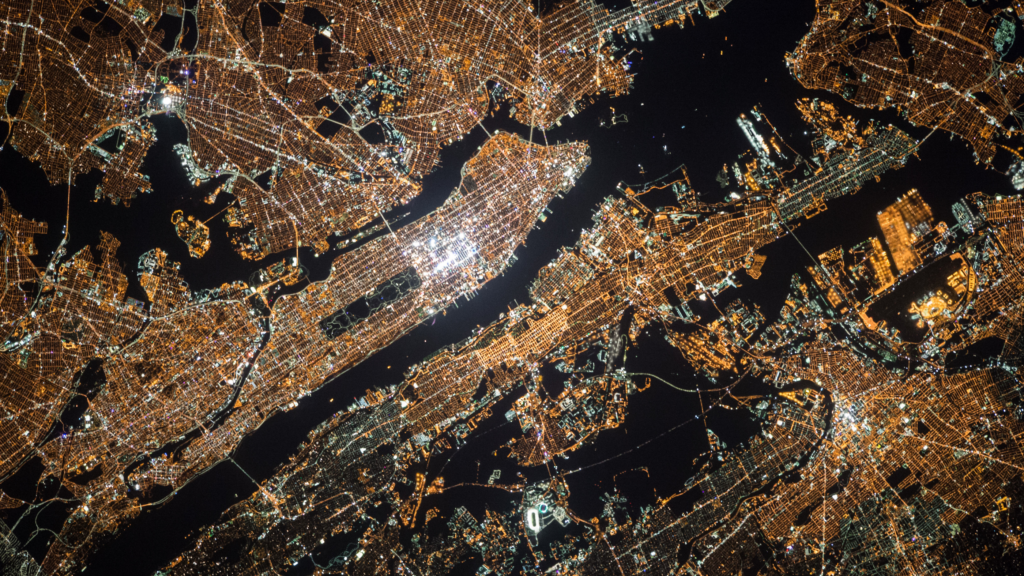 #Business #Featured
How to get real-time, personalized info on Google Maps for iOS
Nobody likes to be late for a meeting or event. And when you're on the go, juggling between different apps for essential information like where to grab a quick bite or which bus to catch could become very annoying. But with real-time, personalized commuter information on Google Maps, getting around has become easier than ever.
If you have the latest version of Google Maps, just swipe up at the bottom of the screen and you will see three tabs: the explore tab, driving tab, and transit tab. These tabs are hyper-useful and pack in a ton of information to help you explore the world around you more efficiently. While Android users may be familiar with this facility because they have enjoyed it for over a year now, the feature has just been rolled out for iOS devices. Let's see how it works…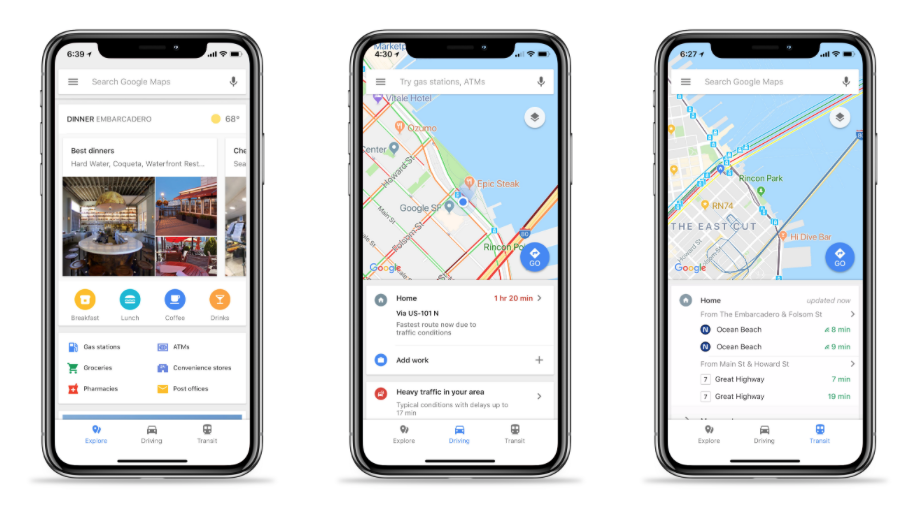 Explore tab
This is where you will find nearby dining options. There are curated lists of places to eat, like business restaurants or budget diners. Other useful everyday spots like shopping marts, ATMs, florists, pharmacies, etc., are also listed under this tab. You can see pictures of the neighboring areas and even read their short description to familiarize yourself.
Driving tab
If you have saved your home and work locations on Google Maps, this tab will give you real-time ETAs and traffic updates. It even gives you an option to get real-time traffic info without turn-by-turn directions, which comes in quite handy when you're on your usual route.
Transit tab
If you use public transport to get around, this tab is going to become your best friend. Simply save your home and work locations and leave the rest to Google Maps. You will see recommendations for which bus or train to take, and the time it will take for you to arrive at work or home. Headed to another location? You can find out when the next bus or train is coming to the nearby transit point, and never sprint to catch one again!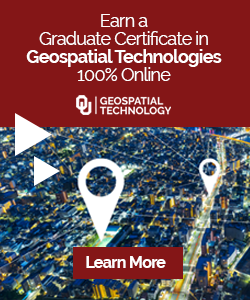 Read on