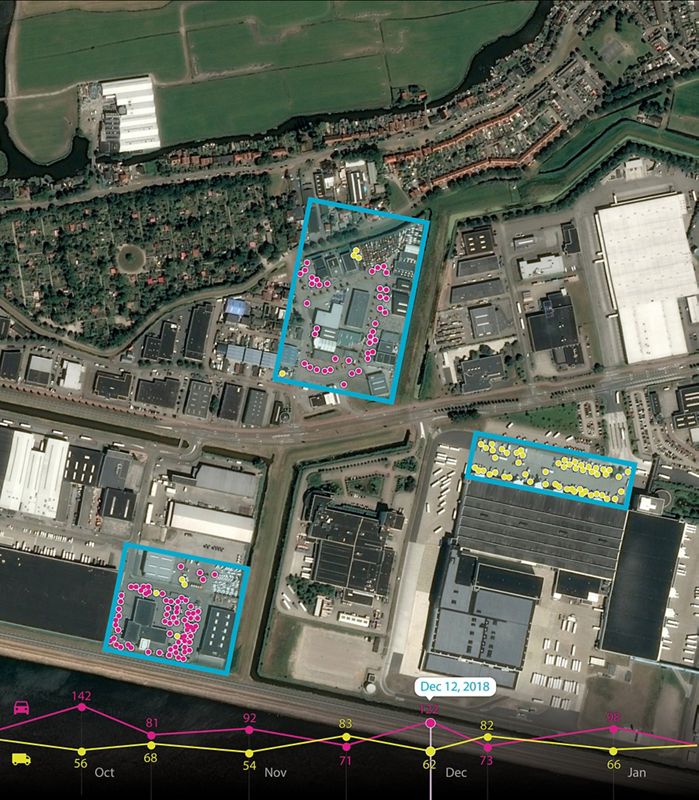 #Business #Featured
New geospatial tool makes planet-wide change detection possible in near real-time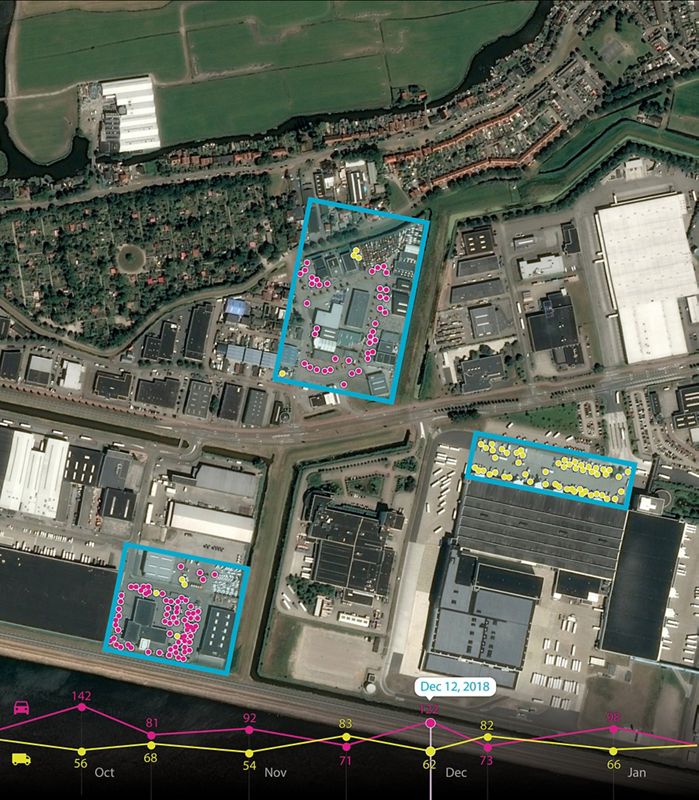 What happens when you combine remotely-sensed data with computer vision and machine learning technologies? You get to observe global socio-economic trends, and keep an eye on the planet as if it were a living entity, at the speed of business.
At Geoawesomeness, we have often written about highly-specialized geospatial startups whose only job is to dig through the wealth of satellite imagery data captured by companies like Airbus and DigitalGlobe and extract extraordinary insights from them.
Read: This startup says it can solve geospatial industry's big data problem
Last year, one of these startups – Orbital Insight – joined forces with satellite imagery bigwig Airbus Defence and Space to build a suite of geospatial analytics services and tools. Now, we are seeing the results of this partnership in the form of Earth Monitor – a geopolitical and economic insights tool which Airbus is making available through its OneAtlas platform.
Earth Monitor is powered by Orbital Insight's proven machine learning and computer vision expertise to detect changes in infrastructure and land use in near real-time. The analytics tool can even identify and count objects like roads, homes, cars, trucks, etc.
Further, by leveraging Airbus' exhaustive satellite imagery archives, Earth Monitor is able to identify trends and spot patterns, delivering advanced geospatial analysis and change-detection maps for customized areas of interest.
Dr. James Crawford, CEO and Founder of Orbital Insight, sees Earth Monitor as a unique opportunity because it allows customers to define the what, where and when in order to personalize the reports according to business needs. Meanwhile, Airbus' Head of the Intelligence Business, Francois Lombard, is stressing that using Earth Monitor will enable customers to draw precise, timely and meaningful conclusions, allowing them to gain time and allocate resources to where it matters the most.
Now, if you are intrigued by this new geospatial analytics tool and want to know whether its key functions and applications are relevant to your business, you can attend the launch webinar on May 16, 2019, by registering here. A live Q&A session has also been planned after the webinar, so keep those questions handy!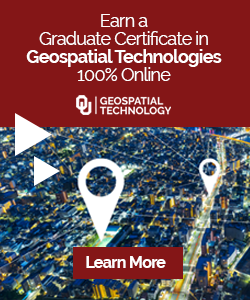 The community is supported by:

Next article
#Business #People
Jobs in Geo – Week 19
At Geoawesomeness, we're working on creating an interactive job portal for companies to submit jobs and for job-seekers to look for jobs in the geospatial industry.
If your company is looking for new talent and you want to share the opportunity with our community, feel free to submit a job using the online form for us to review and include in our list!
Product Marketing Manager at TomTom
📍San Jose, California, USA
http://bit.ly/2Vzok1j
Developer Evangelist at TomTom
📍San Jose, California, USA
http://bit.ly/2HjFNSH
Web Production Engineer – Learn ArcGIS at ESRI
📍Redlands, USA
http://bit.ly/2LIidU1
Full stack web developer at Previsico
📍London, UK
http://bit.ly/2VyDl3m
Digital Product Designer at Nearmap
📍Barangaroo, New South Wales
http://bit.ly/2WH7o5C
Sr Collection Planning Analyst at DigitalGlobe
📍Westminster, USA
http://bit.ly/2JjIQg1
Global Product Manager at Flir
📍Portsmouth, UK
http://bit.ly/2Vzs2bf
GIS/Remote Sensing Programmer Faculty Specialist/Postdoctoral Researcher at University of Maryland College Park
📍College Park, USA
http://bit.ly/2HkgfVI
Data Partnerships Manager at Carto
📍Madrid, Spain
http://bit.ly/2JCAJdL

iOS Developer Intern at Dji

📍Palo Alto, USA
http://bit.ly/2E7Zg6S
ShareFlight Control (Software) Engineer at Freefly Systems
📍Seattle, USA
http://bit.ly/2E65rbw
Research Engineer – Positioning and Location Analytics at ESRI

📍Vienna, Austria
http://bit.ly/2WGVskd
Are there any specific things you'd like to see in our job portal? Feel free to get in touch.
Want to get your dose of Jobs in Geo directly to your inbox? Subscribe to our jobs newsletter here.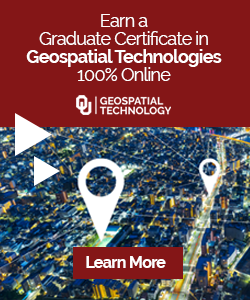 Read on