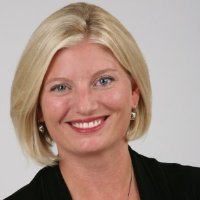 #Featured #People
4 things GIS jobseekers should focus on, according to recruitment experts
As global economies reel from the impact of the novel coronavirus, there has been a lot of uncertainty in the job market. Naturally, many GIS professionals are currently searching for ways to boost their chances of getting hired. If you are also one of them, it may be a good idea to learn more about the most important skills and qualifications that geo employers are looking for today at different job levels.
With more than two decades of geospatial hiring experience with personnel recruitment company GeoSearch, Jessica Touchard is one of the best people out there who could help you understand that.
She was recently invited on The MapScaping Podcast where she shared the advice she would give to someone interviewing for a GIS role today. Here are some key takeaways from the interaction…
Tailor your resume for the job
Most of us create a resume to seem as impressive as possible, but if you really want to make sure your CV gets noticed, tailor yours for the job. "Go through the job description line by line and say explicitly how you can do each of those things. This is the type of communication and engagement that will serve as a bridge in getting you that interview," Jessica says.
Communication skills are important at all levels
Your technical background may be the first thing an employer looks at, but great communication skills are vital at all levels. Now, this doesn't mean if you are a programmer or an analyst, you must also master the art of public speaking. But, as you may have observed yourself in the last few months of communicating remotely, being able to demonstrate your technical expertise clearly and effectively through e-mails and presentations is quite indispensable in today's work environment.
Self-motivation can get you noticed
Companies value candidates that show self-initiative. This is especially true for entry-level jobs where most applicants have similar experience in terms of education or coursework. "Internships are a great way to get some experience. Even if they don't develop into a full-time position, they're a great reference point for the next stop," quips Jessica. You can also volunteer for community projects or build your own project. For example, if you live near a hiking spot, you could make a map for a popular trail with all the facilities people usually look for.
Chase the work, not the title
Jessica stresses that there is more to the geospatial industry than old fashioned data collection and analysis. "Most people come out of education wanting to work in environmental causes or a specific area that they've learned about in school that they found interesting. Exhaust all means to get into those fields, but opportunities may be elsewhere at the time when you start your search. You should keep an open mind to other things," she says.
It's important to remember that the geospatial industry is quite vast with many layers, job areas, and salary levels. If you expose yourself to a variety of things early on in your career, the experience you gain from each of your assignments will only help you get closer to your dream job.
Listen to the full podcast here: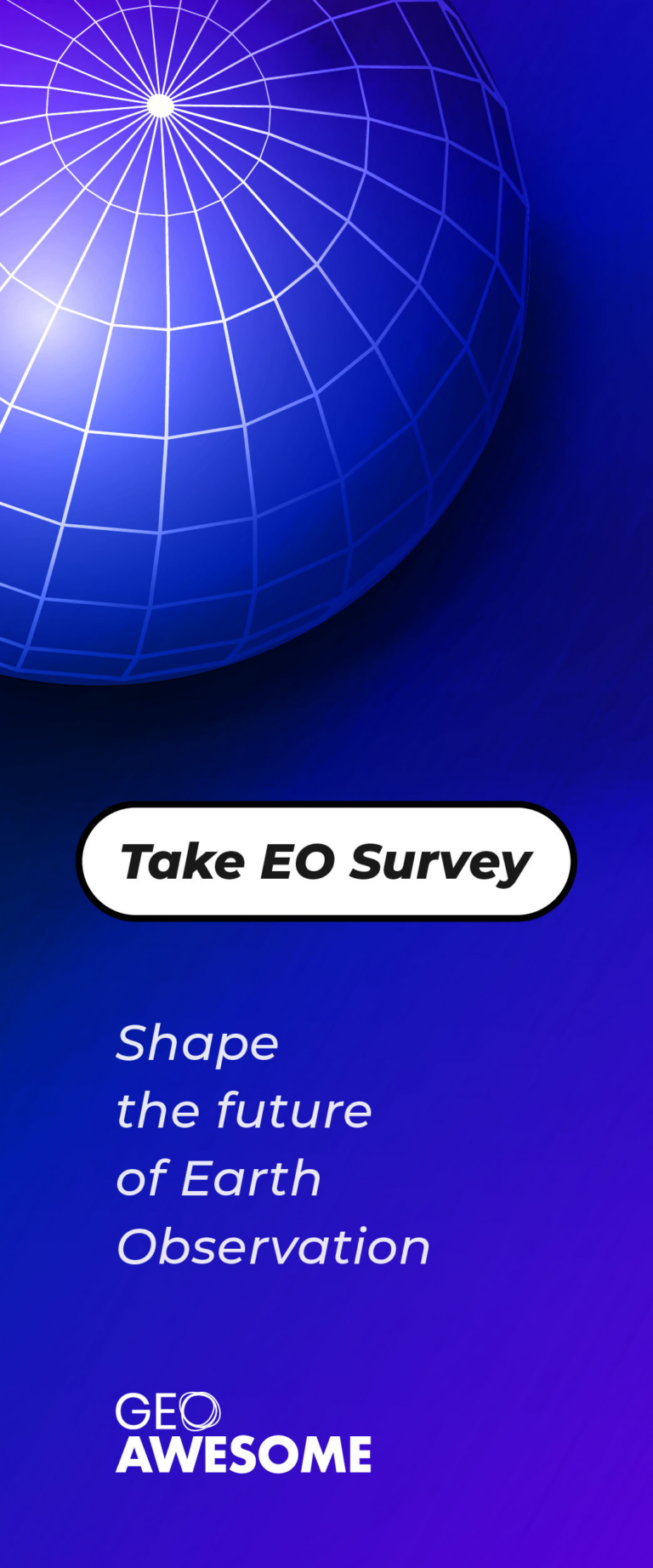 The community is supported by:

Next article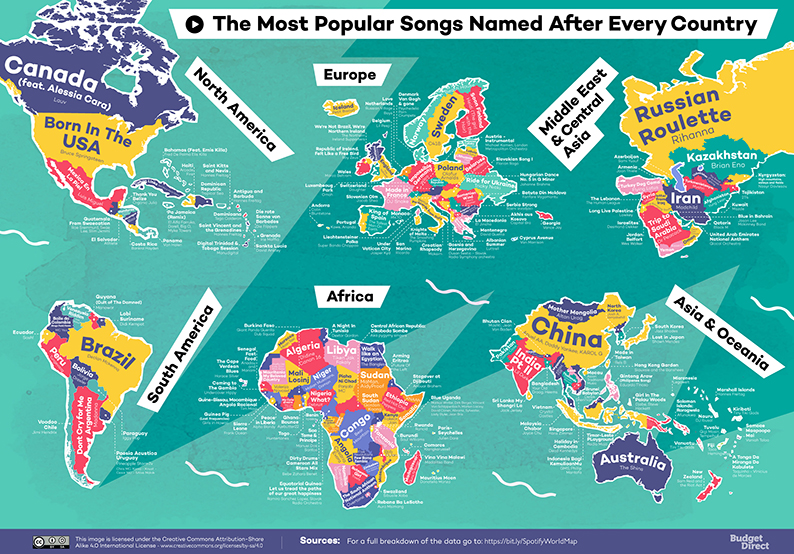 #Business #Featured #Ideas
Spotify world map shows most popular song named after every country
June 21 is World Music Day. Which means there's no better time than now to go on a melodious journey around the world.
With more than 286 million users and 130 subscribers worldwide, Swedish streaming service Spotify enjoys explosive popularity amongst music lovers. For World Music Day, Budget Direct decided to search the Spotify app for every country's name and picked out the songs with the most plays.
Did you know every country has a song named after it? From The Bouncing Souls' Letter from Iraq to David Guetta's Montenegro, there's a song for each nation on our planet!
These eclectic songs – some international hits, many little-known secrets – are the unofficial national anthems that have caught the public's imagination and got their feet tapping. Here are the top 10 most listened-to songs named after countries:
| | | | |
| --- | --- | --- | --- |
| Artist | Song title | Country | Streams |
| 1. Anuel AA, Daddy Yankee, KAROL G | China | China | 632m |
| 2. Shawn Mendes | Lost in Japan | Japan | 501m |
| 3. Vance Joy | Georgia | Georgia | 301m |
| 4. Rae Sremmurd, Swae Lee, Slim Jxmmi | Guatemala | Guatemala | 190m |
| 5. Bruce Springsteen | Born In The USA | USA | 189m |
| 6. Van Halen | Panama | Panama | 133m |
| 7. We Walker | Jordan Belfort | Jordan | 107m |
| 8. The Bangles | Walk like an Egyptian | Egypt | 106m |
| 9. Declan Mckenna | Brazil | Brazil | 101m |
| 10. Rihanna | Russian Roulette | Russia | 932k |
Can you spot them in the world map below?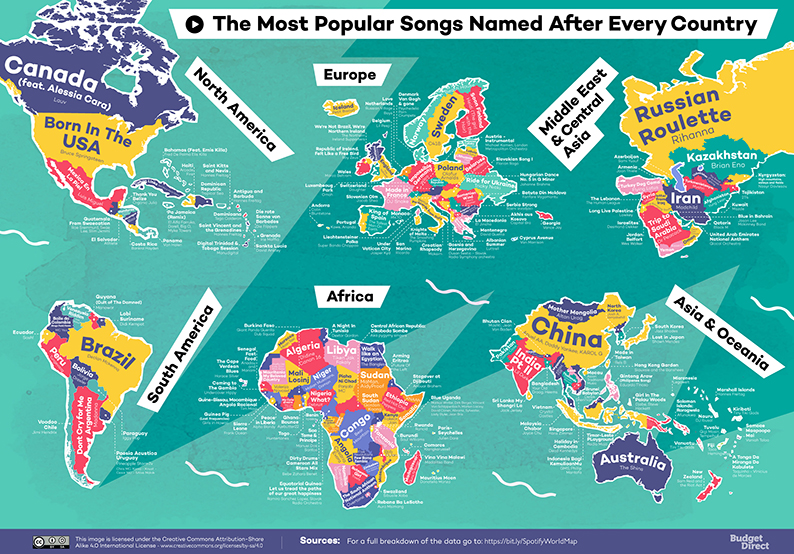 Stop struggling! Let's just zoom in…
Tens of millions of Americans search for Born In The USA on Spotify every Fourth of July.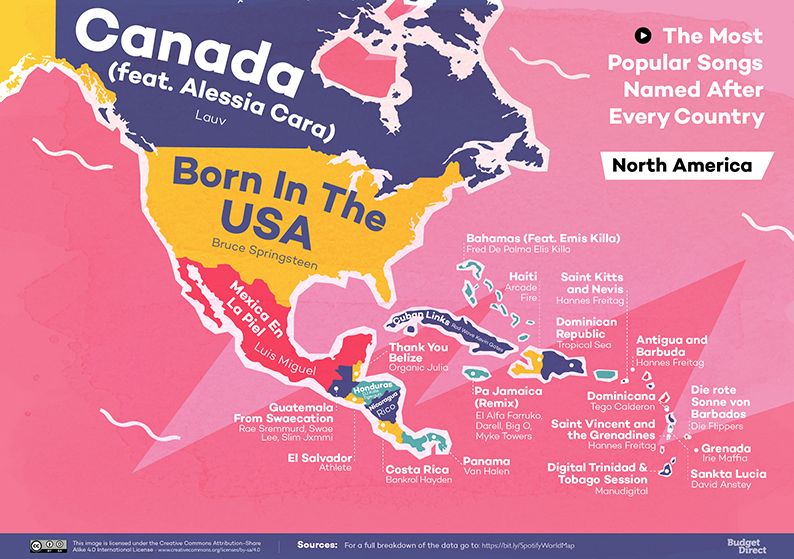 In South America, 16-year-old Declan McKenna's Brazil, produced in response to the economic inequalities surrounding the 2014 FIFA World Cup, has over 100 million streams on Spotify.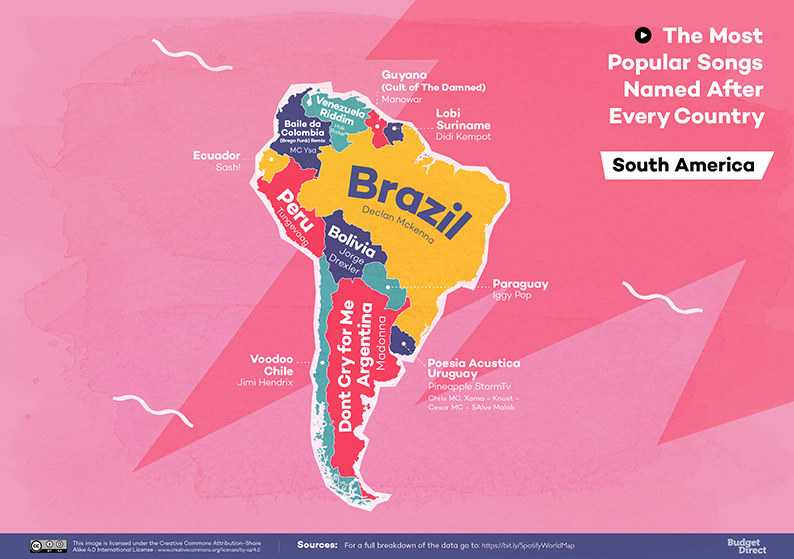 The most-listened-to country name song in Europe is actually about a girl named Georgia, but maybe she's called that because she is from Georgia?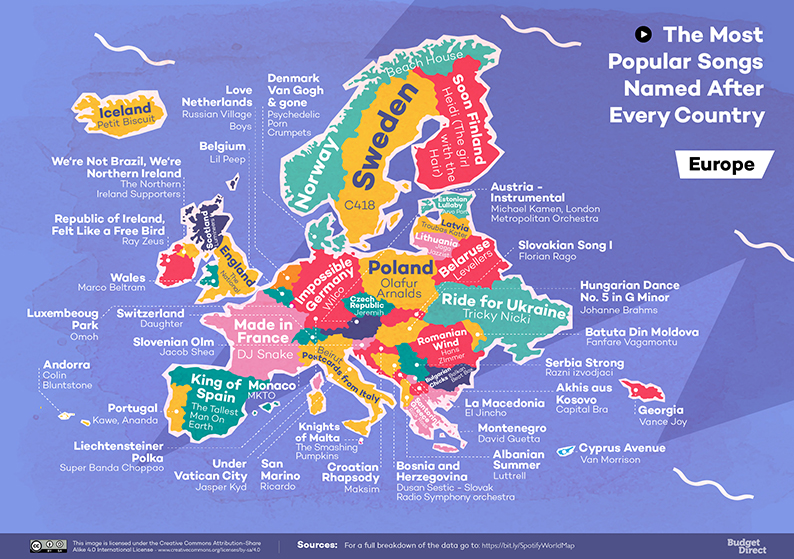 Moving on to the Middle East and Central Asia, how do you put Kazakhstan into a song? You just write an ambient instrumental piece about it with no lyrics, as Brian Eno did!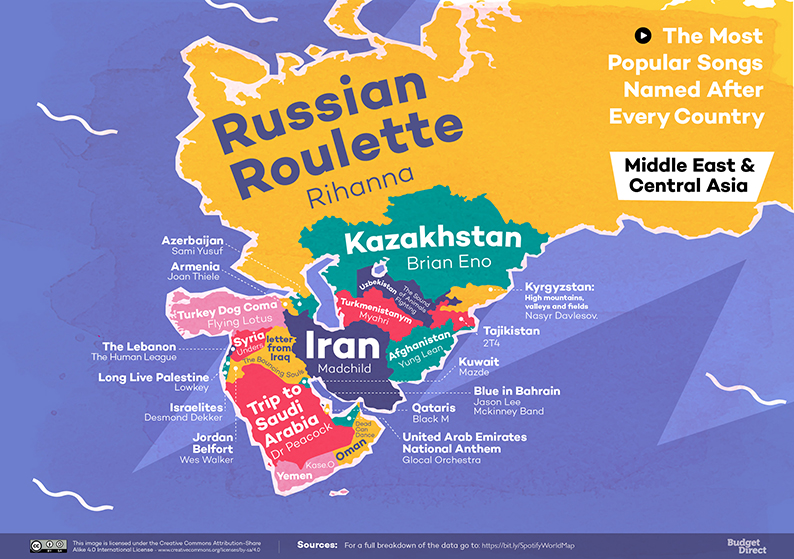 The most-streamed song in Africa, apart from Walk Like An Egyptian, is Frank Ocean's saucy tale of a boy from Sierra Leone whose teen romance quickly turns to teen parenthood!
In Asia and Oceania, the Kingdom of Tonga is represented by one of the sweetest slivers of music the map. A Tonga Da Mironga Do Kabulete is a short samba by guitarist Toquinho with the great poet Vinícius de Moraes.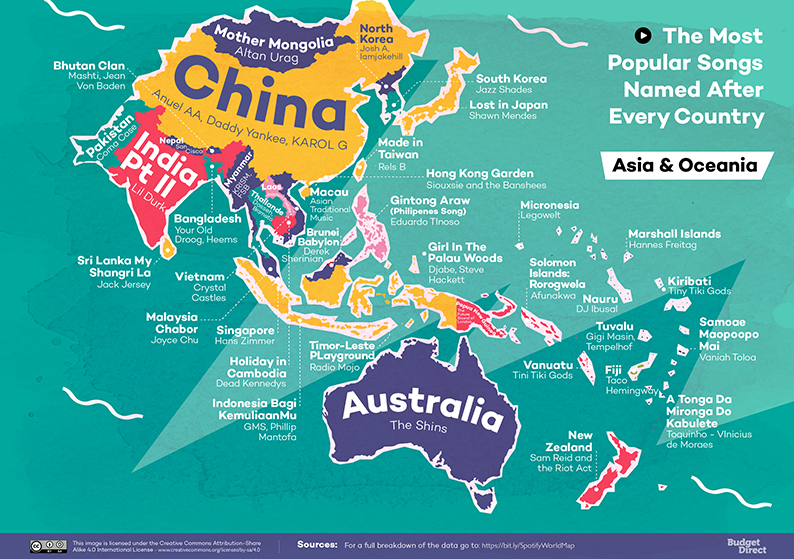 We hope you enjoyed this slice of audio armchair travel. Now, tell us, which songs would you replace if you could add your favorites?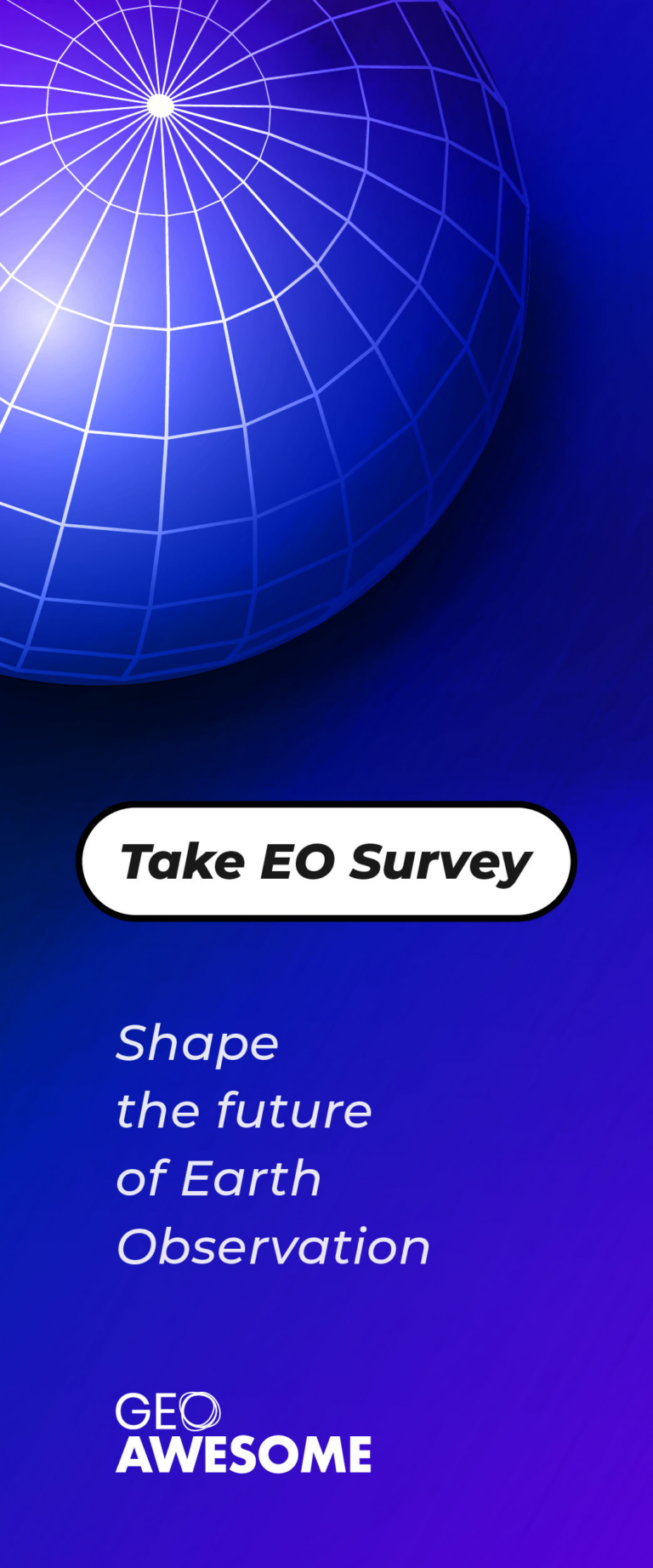 Read on