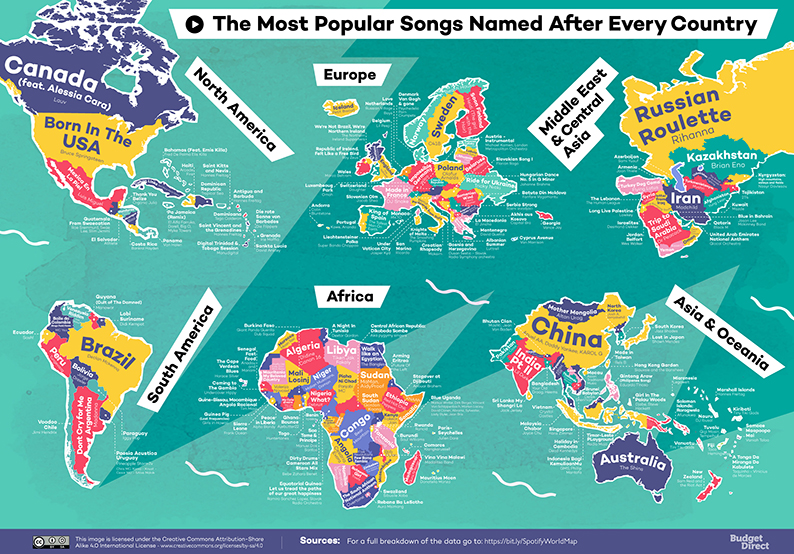 #Business #Featured #Ideas
Spotify world map shows most popular song named after every country
June 21 is World Music Day. Which means there's no better time than now to go on a melodious journey around the world.
With more than 286 million users and 130 subscribers worldwide, Swedish streaming service Spotify enjoys explosive popularity amongst music lovers. For World Music Day, Budget Direct decided to search the Spotify app for every country's name and picked out the songs with the most plays.
Did you know every country has a song named after it? From The Bouncing Souls' Letter from Iraq to David Guetta's Montenegro, there's a song for each nation on our planet!
These eclectic songs – some international hits, many little-known secrets – are the unofficial national anthems that have caught the public's imagination and got their feet tapping. Here are the top 10 most listened-to songs named after countries:
| | | | |
| --- | --- | --- | --- |
| Artist | Song title | Country | Streams |
| 1. Anuel AA, Daddy Yankee, KAROL G | China | China | 632m |
| 2. Shawn Mendes | Lost in Japan | Japan | 501m |
| 3. Vance Joy | Georgia | Georgia | 301m |
| 4. Rae Sremmurd, Swae Lee, Slim Jxmmi | Guatemala | Guatemala | 190m |
| 5. Bruce Springsteen | Born In The USA | USA | 189m |
| 6. Van Halen | Panama | Panama | 133m |
| 7. We Walker | Jordan Belfort | Jordan | 107m |
| 8. The Bangles | Walk like an Egyptian | Egypt | 106m |
| 9. Declan Mckenna | Brazil | Brazil | 101m |
| 10. Rihanna | Russian Roulette | Russia | 932k |
Can you spot them in the world map below?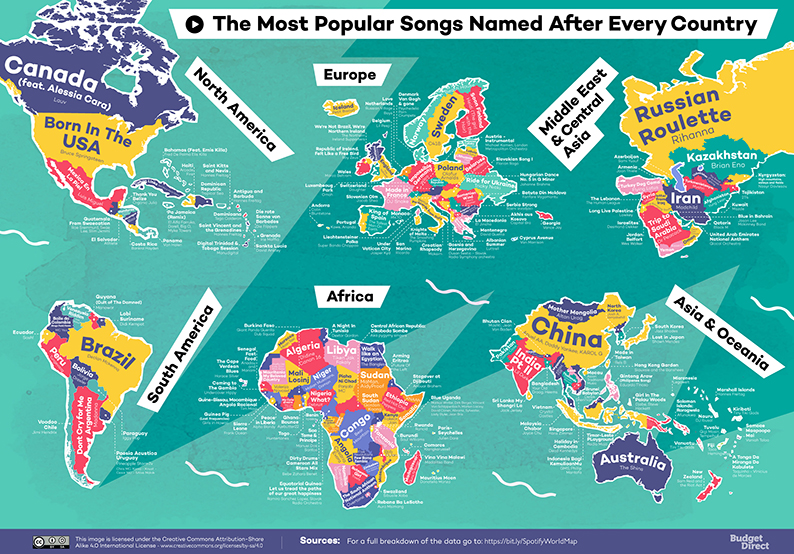 Stop struggling! Let's just zoom in…
Tens of millions of Americans search for Born In The USA on Spotify every Fourth of July.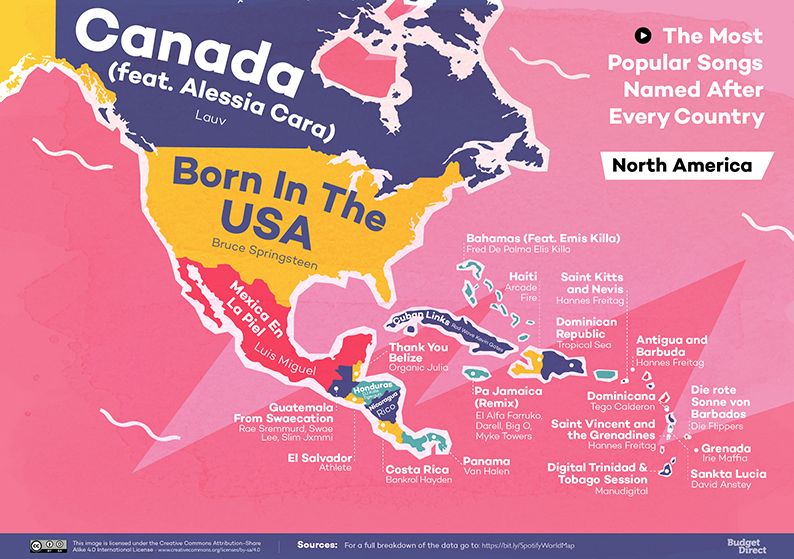 In South America, 16-year-old Declan McKenna's Brazil, produced in response to the economic inequalities surrounding the 2014 FIFA World Cup, has over 100 million streams on Spotify.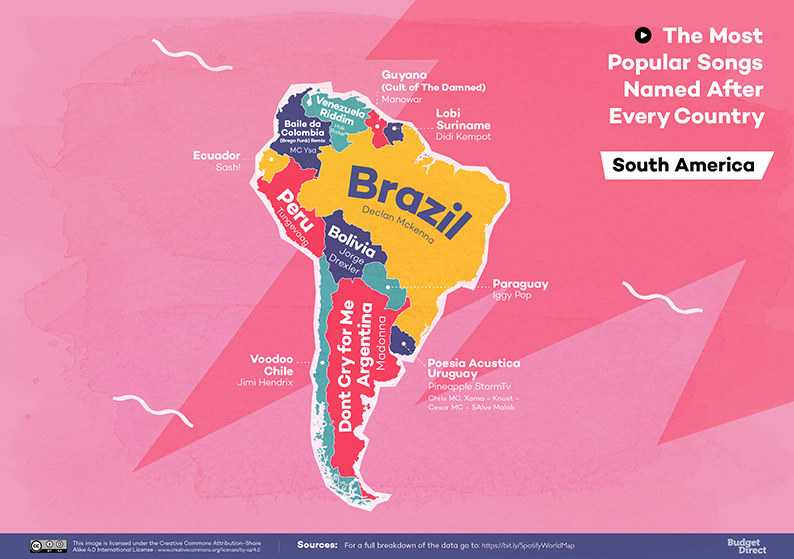 The most-listened-to country name song in Europe is actually about a girl named Georgia, but maybe she's called that because she is from Georgia?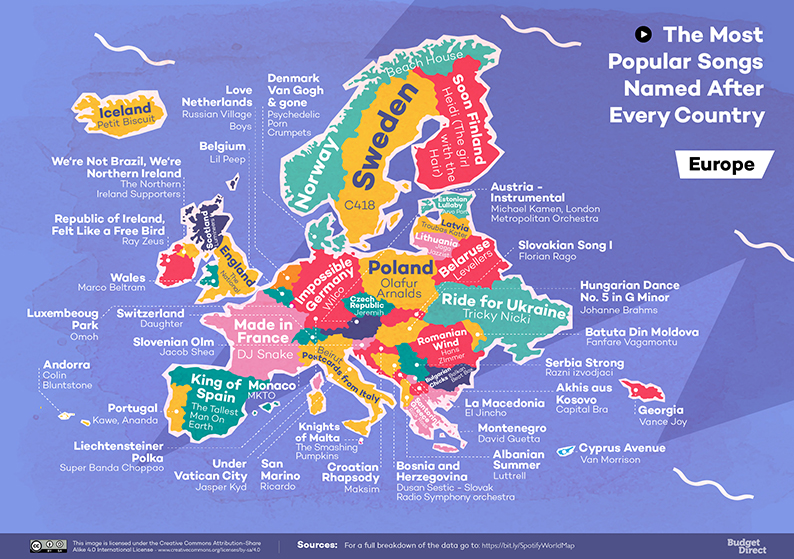 Moving on to the Middle East and Central Asia, how do you put Kazakhstan into a song? You just write an ambient instrumental piece about it with no lyrics, as Brian Eno did!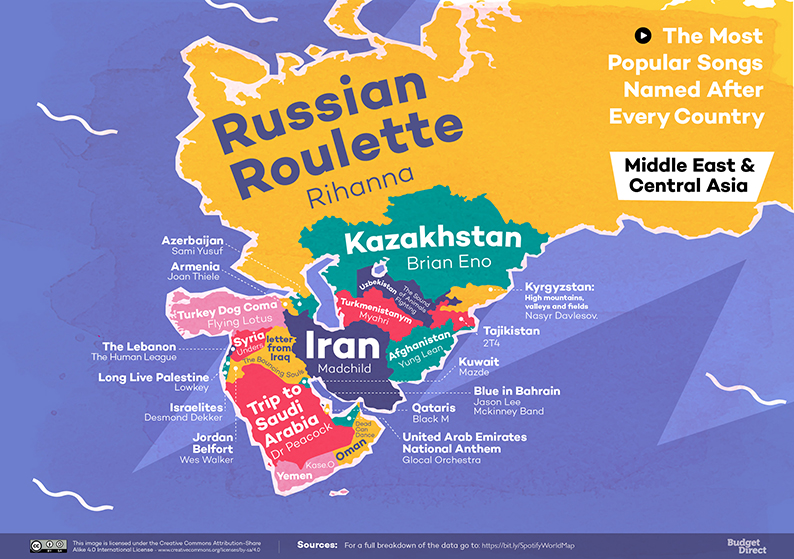 The most-streamed song in Africa, apart from Walk Like An Egyptian, is Frank Ocean's saucy tale of a boy from Sierra Leone whose teen romance quickly turns to teen parenthood!
In Asia and Oceania, the Kingdom of Tonga is represented by one of the sweetest slivers of music the map. A Tonga Da Mironga Do Kabulete is a short samba by guitarist Toquinho with the great poet Vinícius de Moraes.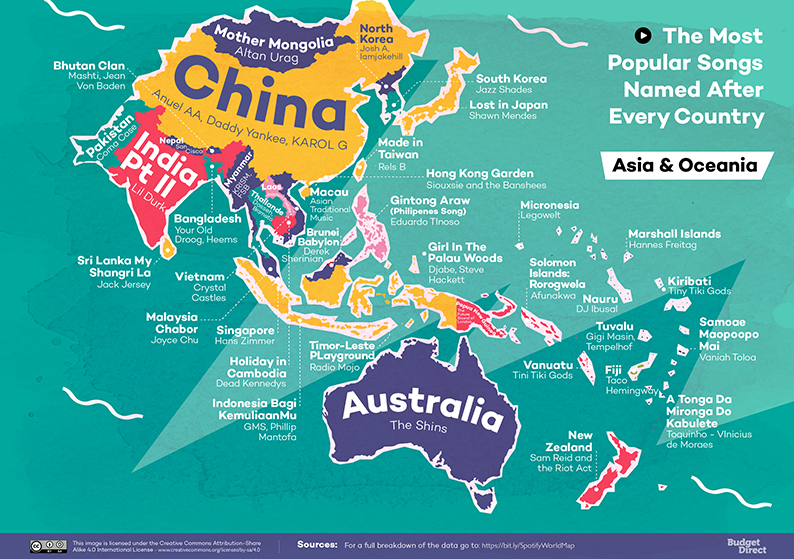 We hope you enjoyed this slice of audio armchair travel. Now, tell us, which songs would you replace if you could add your favorites?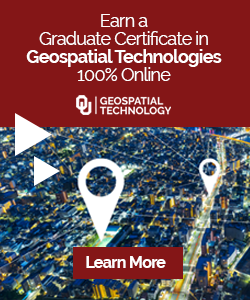 The community is supported by:

Next article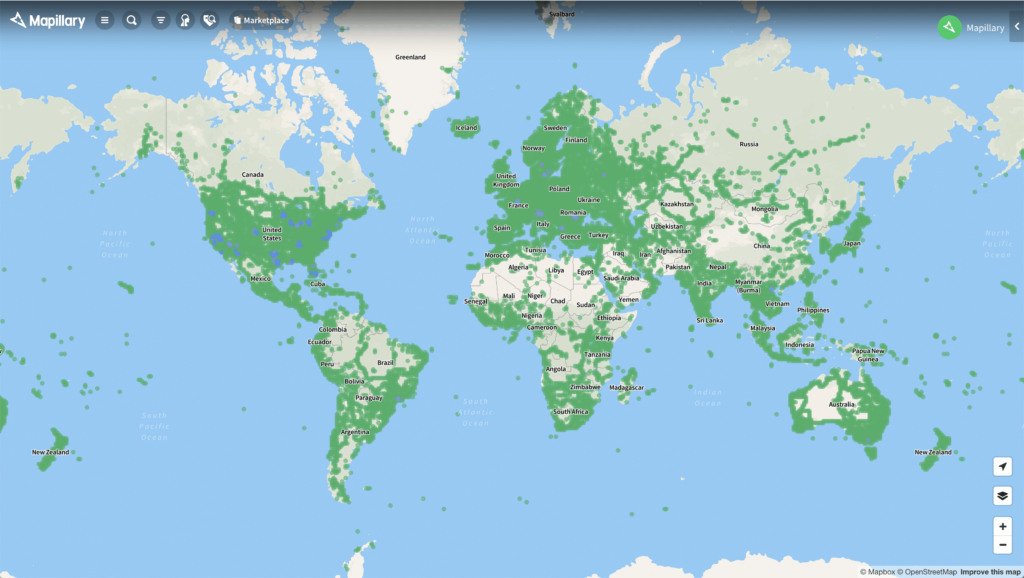 #Business #Featured
Why did Facebook acquire geospatial startup Mapillary?
Geospatial startup Mapillary has been scooped up by Facebook. Sweden-based Mapillary, which has been featured by Geoawesomeness in the Top 100 Geospatial Companies and Startups List, has created a crowdsourced database of street-level imagery. By using computer vision and deep learning technologies, the company has been able to detect and plot dozens of object types as point features on maps.
Mapillary is also deeply committed to OpenStreetMap, aka the Wikipedia of mapping. Mapillary makes all its images and derived metadata available to the OSM community to enhance map edits, and also works closely with the Humanitarian OSM Team to map the under-mapped regions of the world.
Why did Facebook acquire Mapillary?
Facebook is getting pretty serious about maps. Its Data for Good team has been creating map products since 2017, arming nonprofits and humanitarian agencies with a range of anonymized location datasets amassed from 2.5 billion active users of the social networking platform. These include location density maps, movement maps, and network coverage maps that provide disaster relief agencies with near-real-time information of affected sites.
Facebook also creates map products that aim to improve health outcomes for communities around the world. Its Disease Prevention Maps – that include insights on population density with demographic estimates, population movement and movement range, cellular network coverage, social connectedness index, and the probability of people in one area coming in contact with people from another area – are helping inform disease forecasting efforts and protective measures in the fight against COVID-19.
Also see: Facebook creates COVID-19 symptom tracking map for the US
Moreover, Facebook has been using artificial intelligence to supercharge the creation of maps around the world, including training the system to identify possible roads and highlighting them in OSM's mapping tool for volunteers to verify.
In this vein, the rich map data and crowdsourced street-level imagery (1.1 billion and counting) that Mapillary has acquired to date, along with its machine learning prowess, will surely help Facebook to improve its map products.
Street-level imagery could also play a significant role in powering Facebook Marketplace, a platform that allows users to buy things from people and businesses in their area. Facebook should likely be able to leverage Mapillary data for augmented reality products in the times to come too.
"At Mapillary, we're building the tools for creating a living and visual representation of every place in the world, made available for anyone to update the maps they care about," says Jan Erik, Mapillary CEO and co-founder. "By merging our efforts, we will further improve the ways that people and machines can work with both aerial and street-level imagery to produce map data. Lots of exciting results will come out of this, including the data we all need to make better maps."
Mapillary data becomes free for commercial use
Historically, Mapillary imagery has been open and free for anyone to use for non-commercial purposes. Moving forward, this data will be free to use for commercial users as well. This is quite interesting because the move will directly challenge Google's monopoly in street-level imagery data, even as it allows Facebook to ramp up its own mapping efforts. Mapillary's volunteer community, admittedly, has mixed feelings about this.
But, thankfully, the company's commitment to OpenStreetMap stays intact. The rights given to OSM editors will remain unchanged and Mapillary will continue to collaborate with OSM communities and companies – without having to look for ways to monetize the business model.
"So much of the world still needs to be mapped, and so many of the world's maps still require updates. As the world changes, our maps need to change with it. Together with Facebook, we'll be able to build the tools that will keep our maps detailed, accurate, and up to date – for everyone, everywhere," Erik sums up.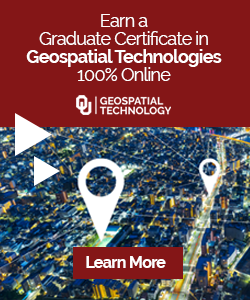 Read on