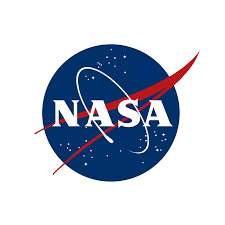 #Business #Fun #Ideas
Top Geospatial YouTube channels to follow
From finding the lyrics to a song to teaching you how to bake, nowadays you can find almost anything on YouTube. The vast space of information that YouTube provides is a great opportunity to expand on your geospatial skills and geospatial career. This article highlights 10 YouTube Channels focused on GIS, remote sensing, and career skills that you should check out and subscribe to. 
Remote Sensing
If you want to learn how to navigate and use NASA remote sensing software and products, watching the ARSET Trainings playlist is the way to go. The YouTube playlist are a part of NASA Applied Science ARSET (Applied Remote Sensing Training) program which  go over fundamentals of remote sensing and environmental  applications such as flooding, urban heat islands, air pollution and more. The YouTube videos can be found in English or Spanish, are tailored to both beginners and more advanced remote scientists, and tend to be over an hour long. You can join the larger ARSET program and attend the live webinars here. 
This YouTube channel is led by Qiusheng Wu, Assistant Professor in the Department of Geography at the University of Tennessee, Knoxville. His YouTube channel has a variety of videos on using Google Earth Engine and Python packages and softwares that interact with Google Earth Engine, but his videos cover more than just remote sensing. The YouTube channel has a playlist for spatial data management, python for geospatial use, and tutorials on using PostGIS. Videos tend not to be longer than 30 minutes and new videos are uploaded every few days. You can check out Wu's other open-source projects and blog posts on his GitHub. 
Spatial e-Learning is a massive open online course provider that offers three different certificates and individual courses at a monthly or yearly rate. However, Spatial e-Learning has free videos on their YouTube channel that covers machine learning in Google Earth Engine, using Python and Collab notebooks for remote sensing, and working with QGIS. There are not as many videos as the other YouTube channels mentioned, but there are new videos uploaded more than once every week and most videos are under 20 minutes. 
GIS coding/software
This channel was created by Brian Tomaszewski, Associate Professor at Rochester Institute of Technology. His videos focus on GIS fundamentals such as hot spot analysis, network analysis, and cartography with a focus on risk analysis and disaster modeling. Although videos are not uploaded frequently, his videos are beginner friendly and tailored to be applicable to real world situations by providing case studies. Check out his video on GIS and video games or his video on creating a COVID-19 dashboard. 
burdGIS offers tutorials on online GIS mapping software like Aspectum, plug-in software like SLYR, getting open date, and webmap making. Like Spatial e-Learning, burdGIS offers online GIS courses apart from their YouTube videos. Videos are not uploaded regularly but there are over 5 years of content.
Maxwell's videos touch on topics such as digital cartography, using tools on ArcGIS Pro and QGIS, geospatial machine learning and remote sensing. If you're looking into programming, this YouTube channel has at least a video on R, Python, HTML, CSS, and JavaScript. Most viideos are under 10 minutes. 
With over 2 million views, Geodelta Labs is one of the more known YouTube channels in this list. In its two years of existence, Geodelta Labs' YouTube channel has videos on GeoPandas, OpenStreetMap, and GIS software like ArcGIS and QGIS. By having  beginner and more advanced level tutorials, This channel is for everyone no matter their skill level. Videos are posted more than once a week.
GIS Career Tips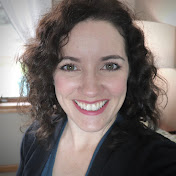 If you're looking for a YouTube channel that is more focused on career advice then check out this channel. Katie Scheurer goes over different GIS careers, career tips, and advice on building your GIS career profile. 
Dr. Chris doesn't mind talking being honest when it comes to GIS career advice. This YouTube channel has videos on academic advice, LinkedIn and networking, imposter syndrome and more. The animations and graphics are pretty cool too.
Bonus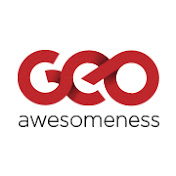 If Geoawesomeness Blog is not on your subscriptions list it's time to hit that "subscribe" button. Recordings of Geoawesomeness Digital Meetups are posted on the YouTube channel so you never miss any important content. Interested in joining the Digital Meetups live? Subscribe to our newsletter to keep up with the latest events!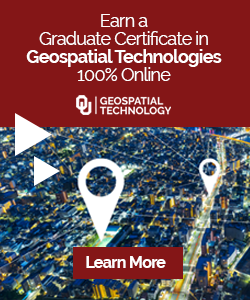 The community is supported by:

Next article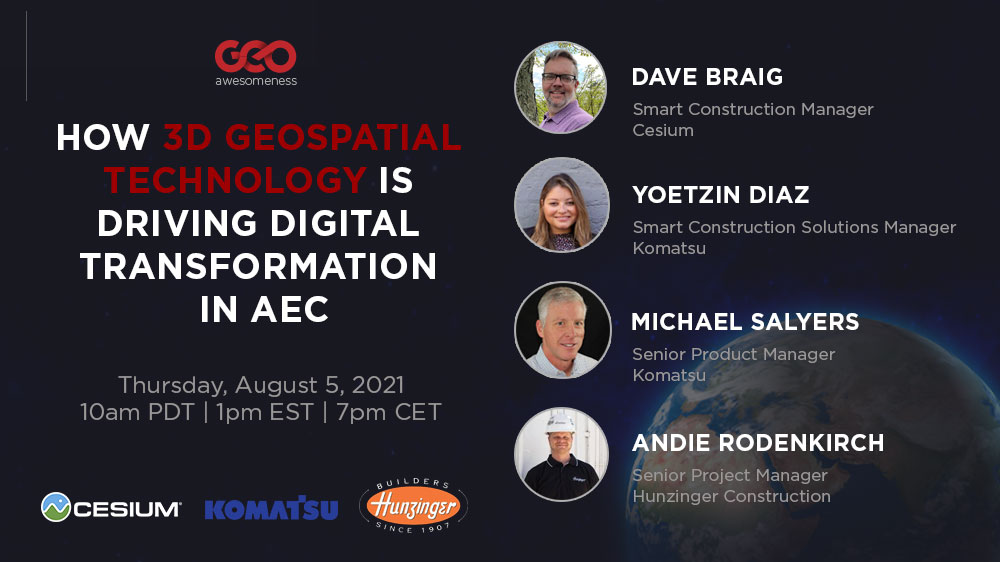 #Ideas #People
Digital transformation for Construction – August 5, 2021
Geoawesomeness Digital Meetup series is back with another exciting event! Join us on 5th August for an informative event to learn more about how Geospatial Technology and Data is helping Architecture, Engineering & Construction (AEC) experience a boom in project productivity, efficiency, and cost savings through digital transformation.
Wondering where to register? Here's the link!
We're bringing experts from Cesium, Komatsu, and Hunzinger Construction together to discuss how 3D geospatial software for construction is being built and how it's being used and tested in the field. See you at the meetup 🙂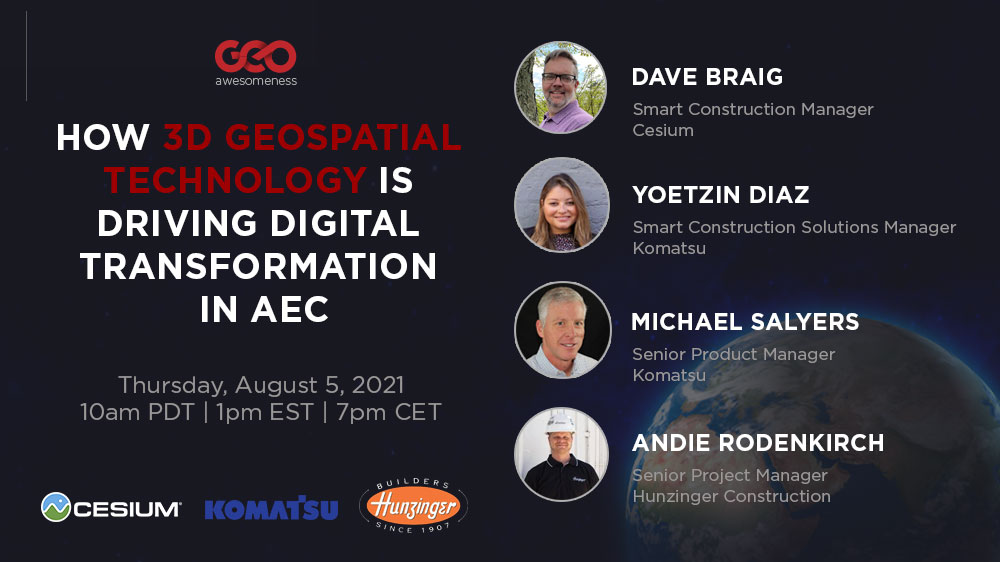 Featured Speakers:
Dave Braig, Smart Construction Project Manager, Cesium
Dave Braig is responsible for Cesium's Smart Construction projects being developed in partnership with Komatsu. With two decades of experience in the design and development of GIS solutions, Dave helps to bring the most advanced geospatial technology to customers, allowing them to make sense of massive amounts of data in ways that can transform whole industries.
Yoetzin Diaz, Smart Construction Solutions Manager, Komatsu
Yoetzin Diaz joined Komatsu's Smart Construction team in 2019 as a Solutions Manager helping to lead the efforts of pilot test Smart Construction Applications with different customers including Smart Construction Dashboard and Drone. She continues to help develop Smart Construction applications to help improve customer jobsites. Prior to Komatsu, Yoetzin spent six years in the construction industry as a Project Manager and Project Engineer at a general contractor. She holds a degree in Architecture/Construction Management from Illinois Institute of Technology and is a FAA Certified Drone Pilot.
Andie Rodenkirch, Senior Project Manager, Hunzinger Construction
Andie Rodenkirch has been with Hunzinger Construction Company, one of the oldest general contracting and construction management firms in the Midwest, for 19 years. He is responsible for leading large, complex projects that he plans, organizes, schedules, and supports to achieve project goals for quality, timeliness, customer service, safety, and profitability. Having worked in the industry for 27 years, Andie brings specialized experience working on sites that have geotechnical challenges. He is a graduate of the University of Wisconsin-Platteville with a degree in construction management and is LEED AP BD+C certified.
Michael Salyers, Sr Product Manager, Smart Construction Solutions and Development, Komatsu
Michael Salyers has been with Komatsu for 9+ years, heavily involved with Komatsu's intelligent Machine Control technology.  He is currently leading a team developing the next generation of Smart Construction applications and hardware to improve and enhance the construction process, helping Komatsu's customers visualize their progress and identify areas of increased profitability.  He holds a degree in Civil Engineering and Land Surveying Engineering from Purdue University and is a Licensed Professional Engineer and Licensed Professional Land Surveyor in the State of Illinois.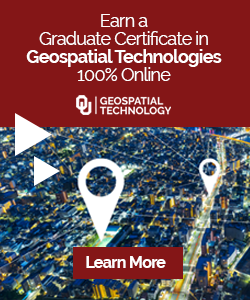 Read on