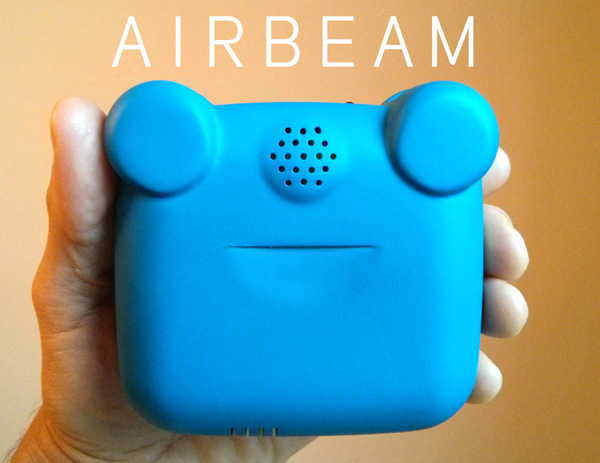 #Ideas #Science
HabitatMap & AirCasting: Internet of Things, Maps & Environmental Monitoring
One of the most famous applications of Geographic Information Science is the 1854 London Cholera Map by Dr. John Snow. A map that helped him figure out that Cholera spread through water. (How often does a map change the world). Interestingly, GI Science started off as an aid to a Doctor. GIS has come a long way since those days. Here is an interesting example of how GI Science in its version 2.0 is helping understand the impact of the environment on our health.
HabitatMap, a non-profit, environmental justice group based out of New York, utilizes online maps and social networks to raise awareness about the impact the environment has on human health. 3 days ago, they successfully crowd funded (via KickStarter) their new $200 wearable air quality monitoring device "AirBeam" that maps, graphs and shares your air pollution exposures in real time.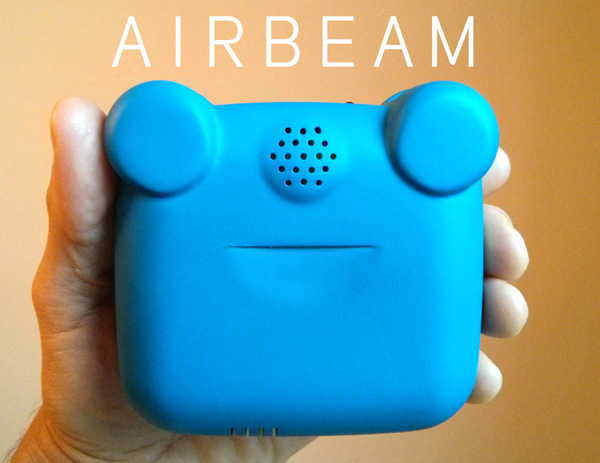 AirBeam draws air through a sensing chamber where light from an LED scatter off the particulate matter in the air. The scattered light is measured by a detector, which enables the estimation of PM 2.5 (particulate matter that is harmful to our health); The data is then shared via bluebooth to your Smartphone and to the community via the AirCasting platform, which is an open source platform for recording, mapping and sharing health and environmental data using your smartphone. You could also download their Android app – "AirCasting Android App". Here's everything the AirCasting app can do (information from the AirCasting)
Sound levels recorded by their phone microphone;
Temperature, humidity, and fine particulate matter (PM2.5) concentrations recorded by the Arduino-powered AirBeam;
Temperature, humidity, carbon monoxide (CO) and nitrogen dioxide (NO2) gas concentrations recorded by the Arduino-powered AirCasting Air Monitor;
Heart rate, heart rate variability, R to R, breathing rate, activity level, peak acceleration and core temperature measurements recorded by the Zephyr BioHarness 3; and
Heart rate measurements recorded by the Zephyr HxM.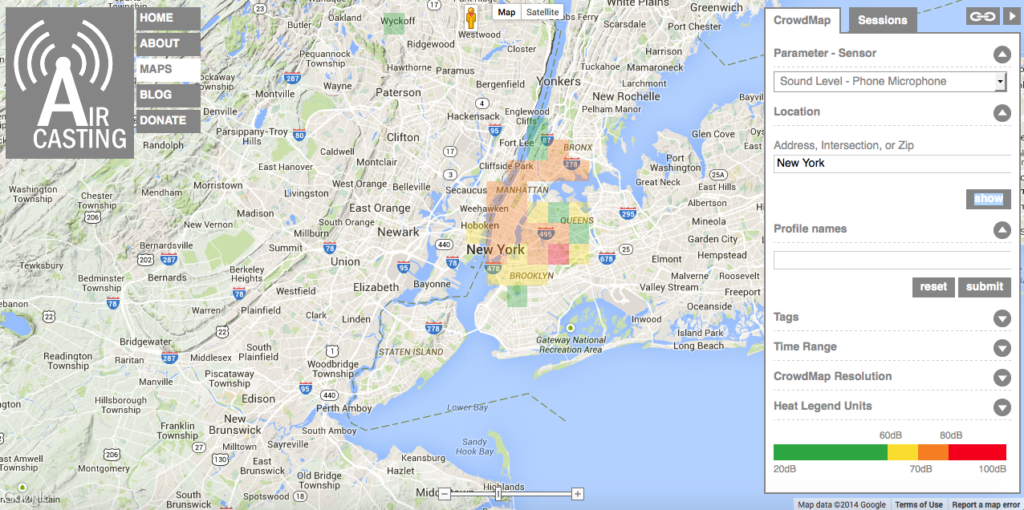 The results of the AirBeam device recording will enable us to make better choices to improve our health by either deciding to travel when the pollution levels are lower or take an alternative route or in the worst case scenario, understand the risks that we are facing and take necessary precautions for a healthy life. Since the AirCasting platform is open source, it is possible for many of the current Noise monitoring applications to coexist and cooperate. Remember, the open source NoiseTube application. Might be an interesting idea to develop a method to combine these two great services together.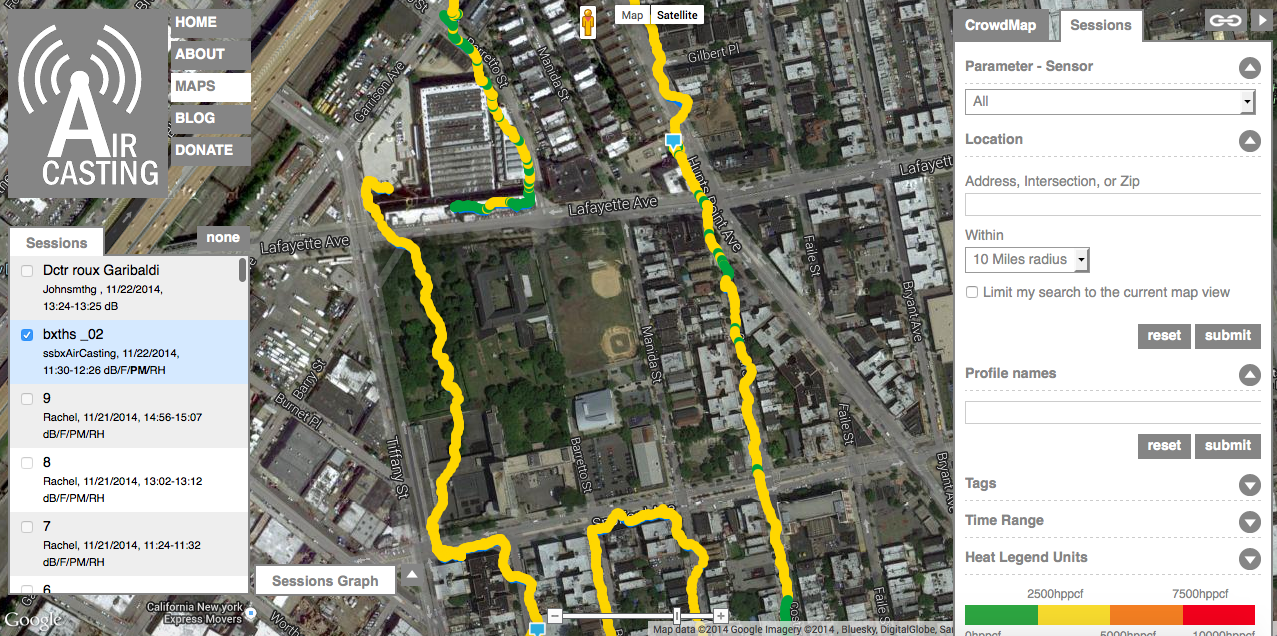 Some of us might have our concerns about the Internet of Things and Sensors that collect data, but this is definitely not one of those cases. Considering that air pollution is one of the serious forms of pollution and often the one that we hardly notice, it is a great initiative.
Source: Gigaom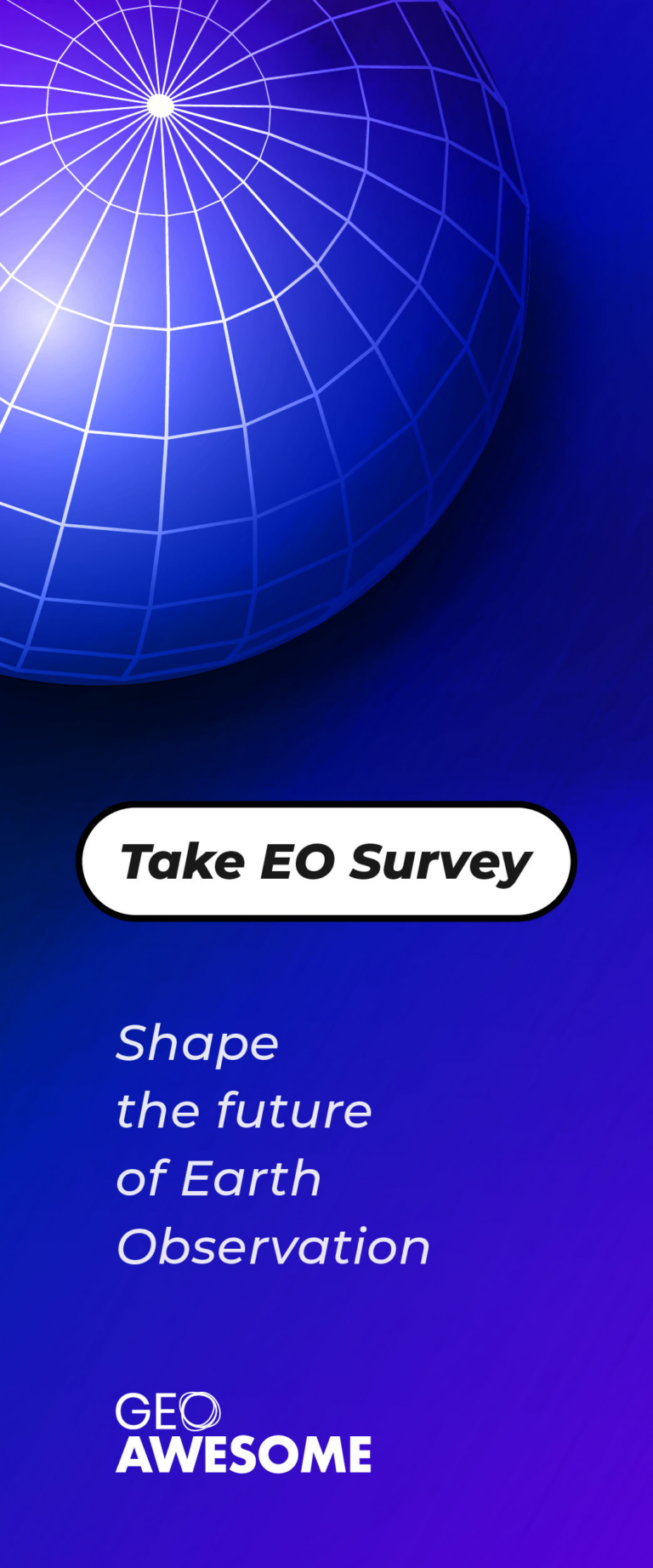 The community is supported by:

Next article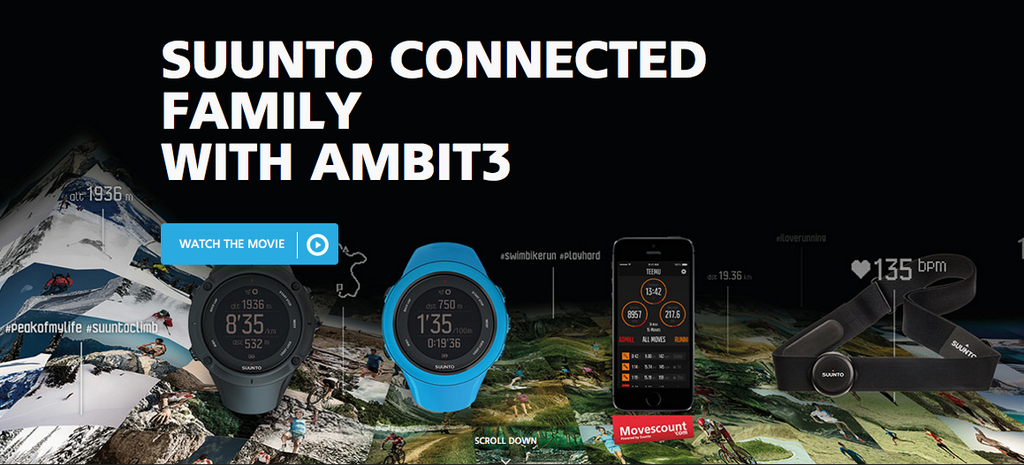 #Business #Featured
Christmas is Coming – 5 Best GPS Watches You Can Buy
The Christmas is coming… almost every week we hear about a launch of a new smart watch or fitness watch. At Geoawesomeness we are interested only in watches equipped with embedded GPS sensors. Everything else we consider a toy. Below you will find our choice of the best 5 GPS watches you can find on the market.
1. SUUNTO AMBIT 3 – $399
Suunto is a Finish company well known for its wearables for extreme athletes. Suunto's top watch model is called The Ambit 3… and I love it. I has a great aggressive and sporty design, it has a top specs, simple API which allows to create your own apps, it connects via bluetooth to your smartphone for extra features and a variety of alerts such as missed calls, text messages and other push notifications. But my favorite feature is that you can display your track trace directly on the watch. And everything works flawlessly. If you like more or less extreme outdoor activities this is the GPS watch to buy. And it's my first choice.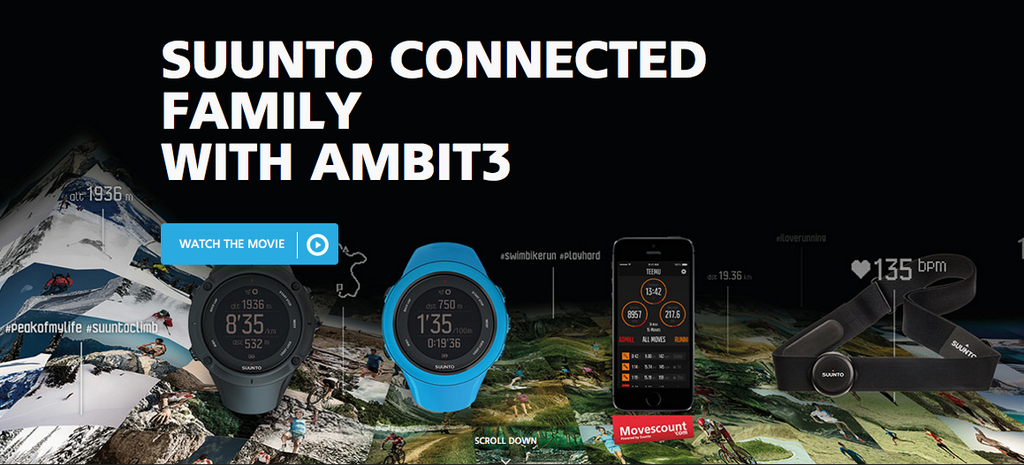 2.FITBIT SURGE – $249
Fitbit Surge is a new fitness watch made by a start-up known for its famous Fitbit fitness tracker. The watch features GPS antenna and build-in heart rate monitor. Moreover it has a cool, urban design which looks good enough to use it as your main timekeeping device. But Fitbit offer much more than that. The company had built its business on fitness bands where the most important thing is not the device itself but how the company analyzes and visualized the data gathered by a tracker. And this is the area where Fitbit is the best on the market. So for $249 you get a stylish running watch with heart rate monitor and 24/7 health and fitness tracking band in a single device + really cool extra features on the app. Not too shabby.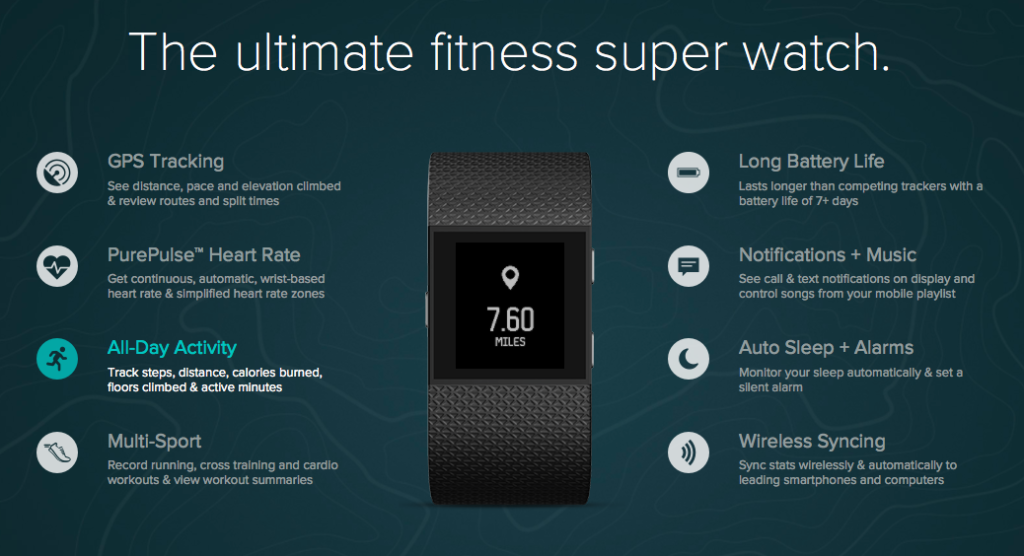 3. TOMTOM MULTISPORT CARDIO – $299
TomTom is a well know brand in the navigation segment where it offers top quality PND devices. Last year TomTom launched its first running watch which was quite successful. This year TomTom launched its first on-the-market watch with a build-in heart rate monitor. Multisport Cardio is designed for 3 triathlon activities: running, swimming and cycling. It's not a watch that you'd like to wear on a daily basis but if you're searching for an extremely lightweight and versatile watch for an Ironman triathlon, this is the model to choose.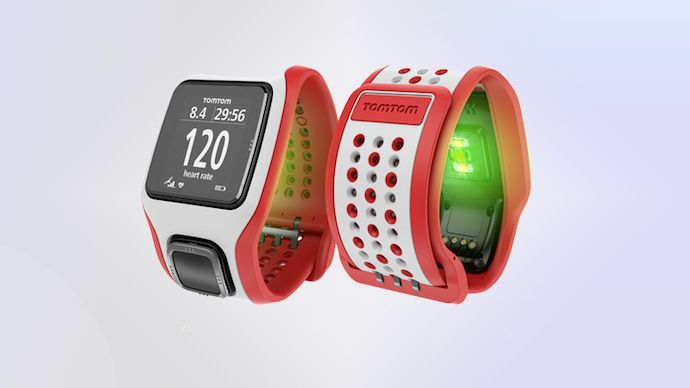 4. GARMIN FENIX 2 – $399
Fenix 2 is Garmin's answer to Suunto's Ambit 3. And it's a really good watch. Garmin advertises it as an ultimate outdoor watch for  running, climbing, riding, hiking, paddling, skiing or swimming. What I love about this watch is that it's the only one with a pre-installed map of the world.  Moreover it offers simple pedestrian navigation. Similarly to Ambit 3, Fenix 2 connects to your smartphone via Bluetooth to alert you about missed calls, text messages and other push notifications. Very solid watch. Ambit 3 is my first choice over Fenix 2 only because I like the look of the Finish watch better.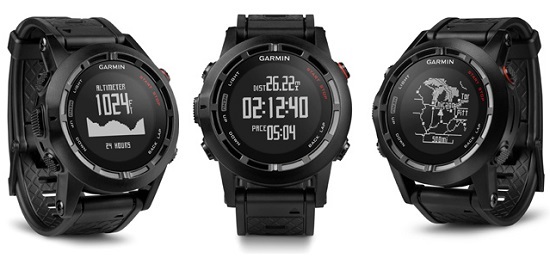 5. SAMSUNG GALAXY GEAR S – $299 + carrier contract
The Galaxy Gear S is the only 'smart watch' in our collection. Why is that? It's the only one with a build-in GPS. The watch looks really good with a 2-inch super AMOLED customizable display that curves with your wrist. Besides telling time, the watch has a sim card slot for 3G access, wi-fi, and Bluetooth connectivity. With your smartphone nearby, you can make and take calls from your wrist, text, use Facebook or play music. But is has also smartphone alike mapping and fitness capabilities. It has a built-in heart rate tracker, and with variety of apps you can use it fitness, running and even use step-by-step pedestrian GPS navigation. It has a 1.0GHz Dual Core Processor, 512MB RAM and 4GB of internal memory. The only serious con is Samsung's operating system – Tizen instead of Android wear.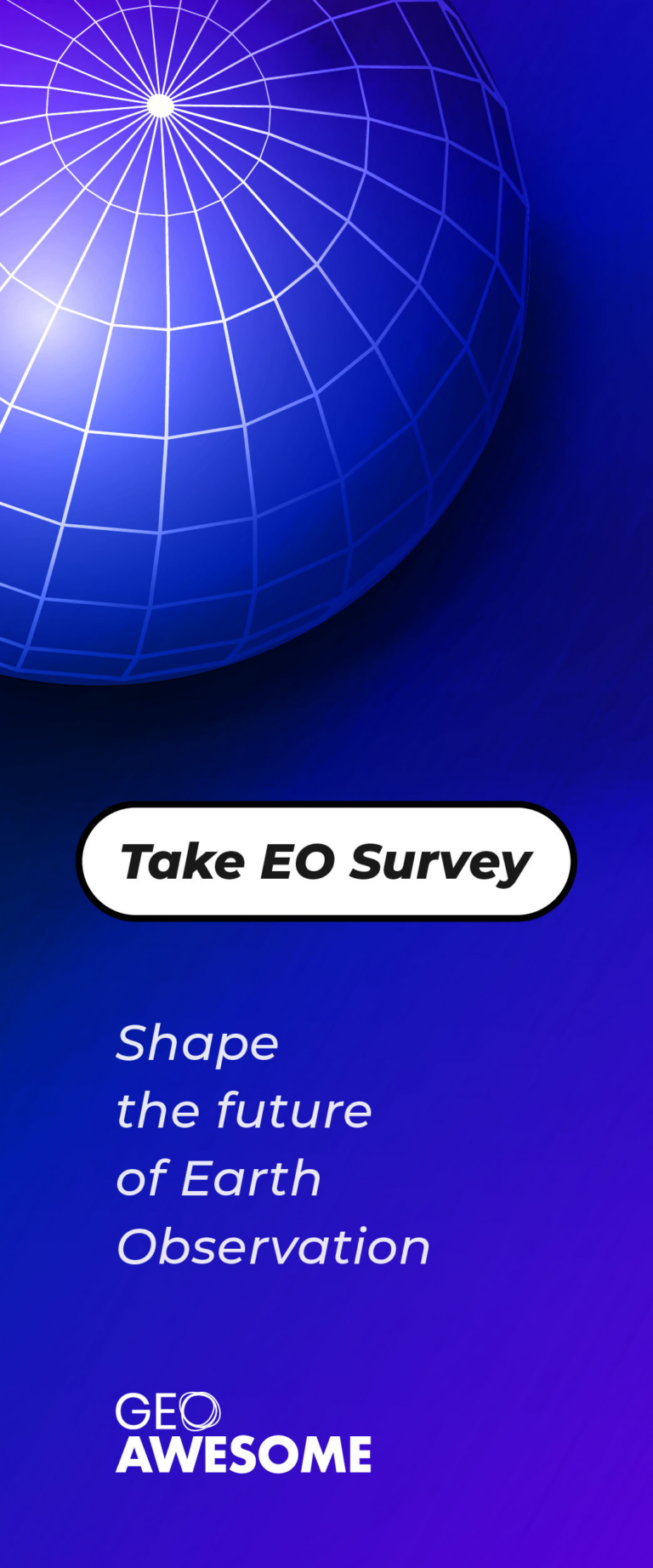 Read on