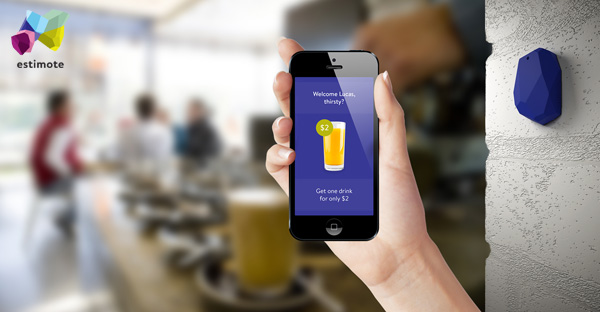 #Business #Featured #Ideas #People
Interview with the CEO of Estimote – start-up that is about to revolutionize indoor LBS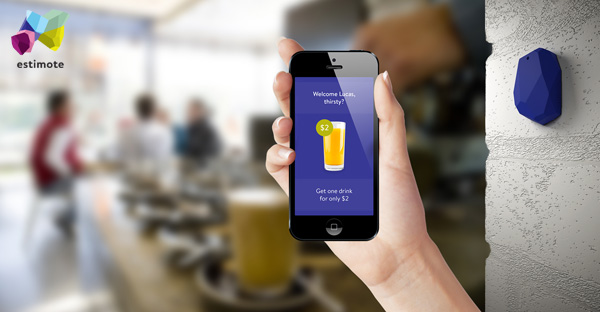 Recently I had a pleasure to talk to Jakub Krzych – CEO & Co-Founder of Estimote – start-up that is about to revolutionize indoor location-based services.  Check this out:
Hello Jakub, thanks for talking to me today.
Thanks for having me, appreciated.
So please tell our Geoawesome readers what is Estimote?
Estimote is a digital platform delivering real-world context to consumers' phones. We use small sensor devices called beacons that installed in a physical space like retail stores could detect people presence and engage by showing contextual micro-location based messages and actions on people's phones.
Why indoor location-based services? What is your vision around it?  
The technology that we use enables to make smartphones even smarter and solve basic problems like indoor-navigation, real world analytics or efficient customer service in brick-and-mortar retail.We want to enrich customers' experience in the brick-and-mortar stores and improve efficiency of the retail business. The most popular applications are: indoor-navigation (down to the inches), proximity marketing and retail analytics.
What's the model here? Does the project require a critical mass of beacons to be installed in venues around the world?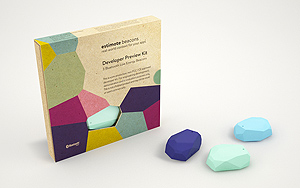 The model here is to build a network of sensors that enables to locate the phones within inches, but also make them aware of the context that surrounds them. That is because what matters to customers doing for example the shopping are not their exact geographical coordinates, but rather their proximity to the check-out or changing room. The projects requires the particular venue to set as many sensors, as could improve the experience. There is no critical mass, that needs to be achieved before the system could work.
What value will Estimote bring to users and business?
Estimote redefines completely the geo-fencing capabilities. It enables to create a context-enriched reality, where people can interact with objects through their phones. Imagine an app for a museum that shows different messages on a phone screen, depending on the distance between the user and the exhibition item. Or imagine shopping at Ikea, where an app shows you all the items you approach, enables to buy them and orders straight to your door.
How is Estimote different from other proximity solutions we've seen to fail over last decade? 
Bluetooth Low Energy and iBeacon could replace old technologies like QR codes, NFC and RFID tags and make smartphones even smarter, because they are so much more usable compared with those technologies. Our beacons send signals that are received by phones without the need to open any application or even unlock the screen. The experience is seamless – you get contextual messages, or you trigger dedicated actions based on your proximity to the sensors.
Tell me something about the technology… You have chosen new Bluetooth Low Energy over other technologies like WiFi positioning… why is that? 
Bluetooth 4.0 Low Energy called also Bluetooth Smart is a completely new, redesigned connectivity protocol which has nothing to do with old Bluetooth used for headsets and car systems. It's really low energy – battery-powered radio devices could last 2+ years on a single coin battery. Thanks to this technology the old concept of "Internet of things" is finally possible because now objects are able to connect to the Internet through phones people have in their pockets. BLE is a game changing technology, that could revolutionize many industries – from healthcare through retail to army. As for now, the retail offers biggest opportunities, as BLE could redefine completely the customers' experience.

You're based in Cracow, Poland and Mountain View, California, tell me something more about your team and how you operate. 
Our team benefits from the great intellectual talent that grows in Poland. We have top-notch developers and designers in our team. We work with a team in the US using all the tools supporting remote work. The teams actually complement each other as we operate in different time zones.
You had a cool and innovative idea and you've manage to successfully build a business around it. What hints would you give to Geoawesome readers who would like to develop their own projects? 
Be determined and stick to your vision, at the same time be flexible and open to new opportunities.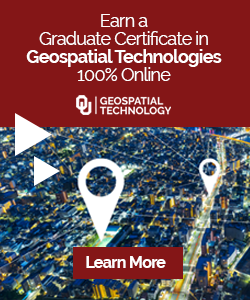 The community is supported by:

Next article
#Ideas
Roads of Death: Maps with a social conscience!
Transportation and Communication technology have helped improve connectivity and interaction between people and nations across the world, making our earth – "the global village". But sadly more than 1.2 million people are being killed on the roads each year and worryingly that number is increasingly rapidly.
More people are being killed in the developing world in road accidents than in the developed world. Countries with a poor economic background account for 90% of road fatalities. At this rate, road accidents will soon become the 5th leading cause of death in these countries. (Source: WHO Global Burden of Disease Study). In most of the cases with such accidents, it is simply because of distractions and indifference to the surroundings. People need to be lectured to and informed about the seriousness of the problem.
Sometimes mere statistics and graphs are not enough to raise awareness to such problems. Statements and articles don't create the same impact as a picture or a map. Maps with a social conscience as I like to term it are required to shake people and organizations to take the problem seriously. "Roads Kill" is a Pulitzer centre initiative that hopes to raise visibility on this growing public health crisis.
The Interactive map with a social conscience from Pulitzer Centre on Road accidents across the globe.
Highway fatalities are also a "poverty-inducing problem," according to Jose Luis Irigoyen, a highway safety expert at the World Bank. "It's costing on average between 1 and 3 percent of GDP" in low- and middle-income countries, he says, an amount that can offset the billions of dollars in aid money that these countries currently receive.
The UN had adopted a resolution in 2010 calling for a "Decade of Action" on road safety. The objective of the call is to stabilize and eventually reverse the upward trend in road fatalities—saving an estimated 5 million lives during the period.
Geoawesomeness is deeply rooted and passionate towards making the world a better and safer place to live and it's satisfying to see more and more applications of spatial science to help the world. I hope we drive more safe and be more agilent when crossing the streets. Let's make the roads a safer place! Peace.
Source: Pulitzer Centre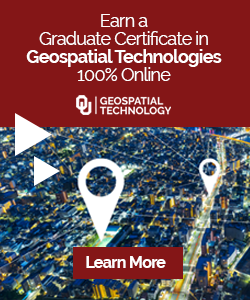 Read on