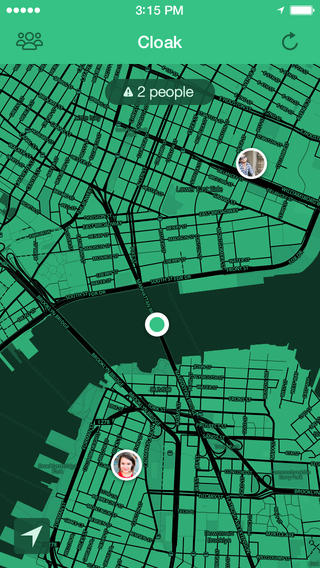 #Business #Ideas
Cloak – location-based anti-social app lets you avoid annoying friends and exes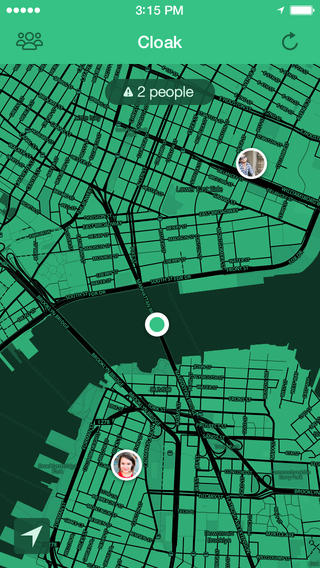 Mass usage of location-based networks and apps has a certain risk… unintentionally you might give strangers easy access to you sensitive private data about where you are. And there are a lot of strange people out there…
But the era where most smartphone users share their location creates the opportunity… to avoid particular people who you wish not to meet. This is the idea behind the Cloak – the first anti-social location-based app to avoid exes, co-workers, that guy who likes to stop and chat, basically anyone you'd rather not run into.
The app pulls in location information from your social networks and show you where friends are so you can avoid accidentally bumping into them. If there's someone you want to avoid, select "flag" and the app will alert you when that person gets within a certain radius of you.
The only problem is that currently Cloak works only with location data from Foursquare and Instagram. No Facebook or Twitter for now which is a huge drawback, as FB is currently the largest location-based social network in the world but Cloak team is said to be working adding FB to the app.
I must say that I really the idea behind Cloak. In the work of social networks where we are allowed only to 'Like' everything it is somehow very refreshing to build an app related to negative emotions, but allowing to feel them anonymously which out sharing them to the whole world. Cool idea and great implementation.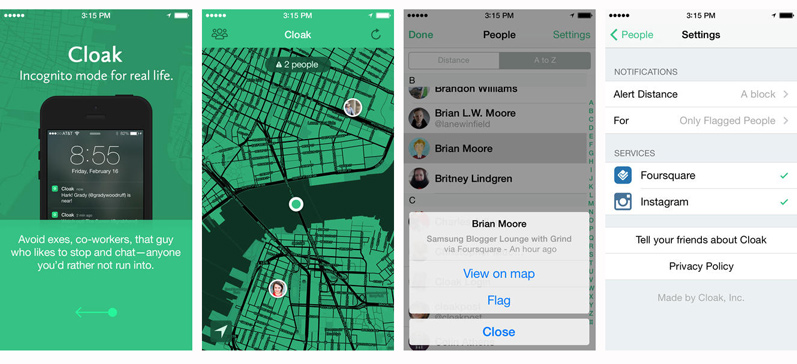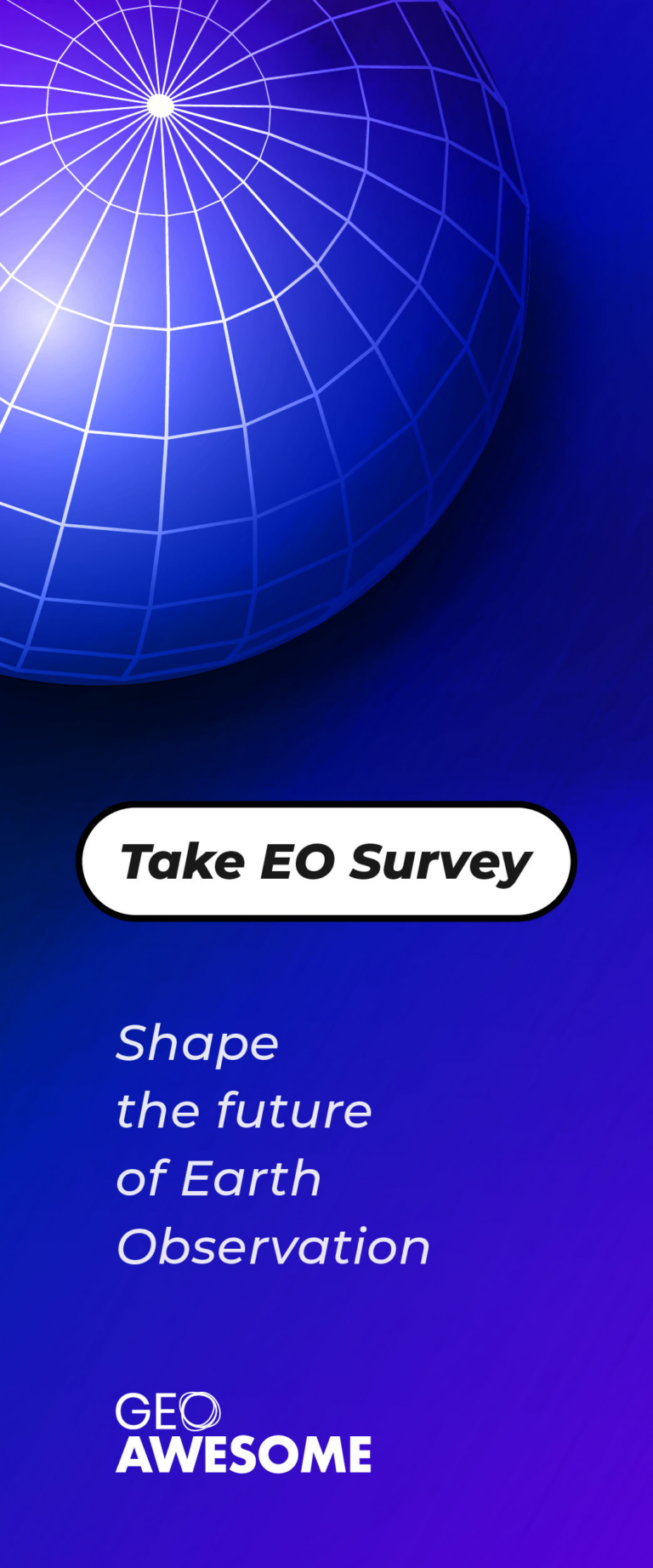 The community is supported by:

Next article
#People
Insights into the 2014 GEOSPATIAL WORLD FORUM
Happening from the 5th to the 9th May in Geneva, Switzerland, the 2014 Geospatial World Forum is a major woldwide event for anyone involved or curious about the geospatial industry. With a strong focus on the corporate side of geospatial technologies, the GWF is a unique event that brings together a thousand delegates from 80 countries, featuring partnerships with 30 leading international agencies, institutions and private companies.
This year, the forum is focusing on how geospatial technologies can play a key role in making us smarter planet managers and dwellers. Called "geoSMART Planet: Resources, Infrastructure & You", the 2014 theme will be addressed through 4 sessions: geoSMART + Resource Management, geoSMART + Infrastructure Development, geoSMART + You, and Visualization to Industrialization, , each focusing on one critical contemporary issue where geospatial data & technologies are playing a key role the 2014 GWF Program.
I've asked Ms. Sarah Hisham, Regional Product Manager (Europe) for Geospatial Media and Communications a few questions around the Geospatial World Forum, its 2014 specificities and focus.
Could you briefly introduce the Geospatial World Forum for us? What makes it such a "not to miss" event in geospatial professionals agenda? 
Geospatial Media and 
Communications has been organizing regional geospatial conferences since 1998. Our mandate at that time was mainly to raise geospatial awareness in developing countries and get them connected with experts from advanced regions. After spending a lot of time in the Asian, Middle East and African regions, ultimately we foresee the need for a larger platform to connect these regions together and offer an opportunity for experts from different parts of the world to converge. The first Geospatial World Forum came into life in 2007.
Geospatial World Forum is a global platform for geospatial community to learn, share, connect, network, brand and position themselves among the senior decision makers associated with geospatial world. The agenda is designed to facilitate participation from top management level to the technical practitioners. The pre-conference and plenary sessions will feature high level discussions with regards to policy, capacity building and overall direction of the geospatial industry, while the technical sessions will feature presentations by technical experts covering the vast gamut of technology, application and case studies from across the world. In the span of 5 days, you can listen to the CEOs of multinational companies talking about their business strategy, Minister from Africa sharing his country's geospatial policy, and technology experts from Asia showcasing their latest geospatial innovations — all in one place.
What sets Geospatial World Forum apart from any other existing conference is we consider ourselves as an 'industry' platform rather than 'academics'. Most of the speakers are from user organizations, presenting their real-life usage and success stories.
From the traditional geospatial domains, i.e. geodesy, earth observation, photogrammetry, cartography, positioning and surveying to emerging sectors such as constructions, insurance, retails, energy — we have all the topics covered in Geospatial World Forum. The highest number of participation recorded was over 2200 delegates when it was held in Hyderabad, India in 2011. The conference has maintained its 1000 mark ever since it entered European region two years ago.
Did you see an evolution between the first Geospatial World Forum six years ago and this one, regarding the number and diversity of partners involved? The topics that matter for people in the industry? 
Over the last decade, geospatial technology has matured as an industry and constantly growing. Being a global platform, it is fundamental to keep the conference current and relevant to the community. We always try to bring the latest trends into our discussion topics and bring in the people that carry such evolution to share their vision. Geospatial World Forum has featured globally influential personalities such as Dr. Dr. A. P. J. Abdul Kalam, the 11th President of India, Dr. Jane Goodall  of the Jane Goodall Institute and South Korean's first female astronaut, Yi So-Yeon.
Our partners used to be limited to national mapping organizations, space agencies and geospatial associations as these are the group of people who puts focus into geospatial. But now the paradigm has changed where municipalities, land authorities, utility companies, and transportation and infrastructure agencies too have established their own GIS units/divisions and are eager to share their experiences with other industries.
We always designed our conferences based on three pillars: policy, application and technology. I am glad to say that we have seen great evolution in terms of policy implementation – many countries have adopted a national geospatial policy, there are significant increases in the number of user segments utilizing geospatial technology, and the technology itself has never stopped evolving in line with the availability of faster processors, better displays, higher bandwidth, online databases, fixed and mobile sensors etc.
Our technical sessions require at least 8 halls going in parallel for two days to cover all these topics.
We at Geospatial Media, have not done any scientific study to measure the market size of geospatial industry. However, based on our formal and informal interactions with the key stakeholders and analysis of existing reports, we strongly believe that the size of global geospatial industry is very close to $100 billion and it is growing at an annual growth rate of 10-15%. I would say the evolution of geospatial industry as a whole is what helps Geospatial World Forum to grow. Our aim is to maximize that evolution and to be one of the stepping stones towards positioning this technology as a commodity rather than only to a specific group of stakeholders.
Could you tell us more about this year's theme "geoSMART Planet: Resources, Infrastructure & You"? Why this theme, why now (in 2014) and what will the focus be?
With technological advancements, everything on the planet earth is gradually becoming smartly interconnected. These intelligent interconnections are bringing plethora of opportunities to the world – for every business, institution and individual. Forward-thinking leaders in business, government and civil society around the world are capturing the potential of such smarter systems to achieve economic growth, near-term efficiency, sustainable development and societal progress.
The theme will address the ways geospatial technologies extend the ability to smartly harness spatial data that gives our leaders their competitive advantage in the era of "SMART" to overcome the complexity of the challenges that the world is facing. The theme will also delve into innovative and integrative systems supported by geospatial technologies for enabling better, efficient use of resources, organised development of infrastructure and last but not least, enabling the common man to live a smart and easy life.
I believe this theme is appropriate and timely to be discussed in Geneva, home of the United Nations' European headquarters and various non-governmental organizations working closely in protecting the planet and giving its people a better life. Although topics such as climate change, humanitarian aids, smart cities, and disaster management are ever-so-familiar in Geneva but the focus on geospatial contributions are always missing. This is what Geospatial World Forum aims to highlight.
What would you like to say to people who never attended the Forum, to convince them to join the 2014 edition?
We offer the entire spectrum of geospatial industry in one place: from policy planning to user applications to technology trends, and they all come from different parts of the world. It will not be possible to list everything here but if you were ever curious about how Heathrow Airport is utilizing geospatial technology, how Philippines is stepping up its disaster management system, what kind of geospatial policies are there in Saudi Arabia, what all innovative technology is being developed in South Korea, or you simply want to meet the man who invented Google Earth, please come and join us on 5-9 May in Geneva! I guess there is no need to mention how beautiful a city Geneva is in May…
Many thanks to Ms. Sarah Hisham for answering my questions! Please visit www.geospatialworldforum.org for more information.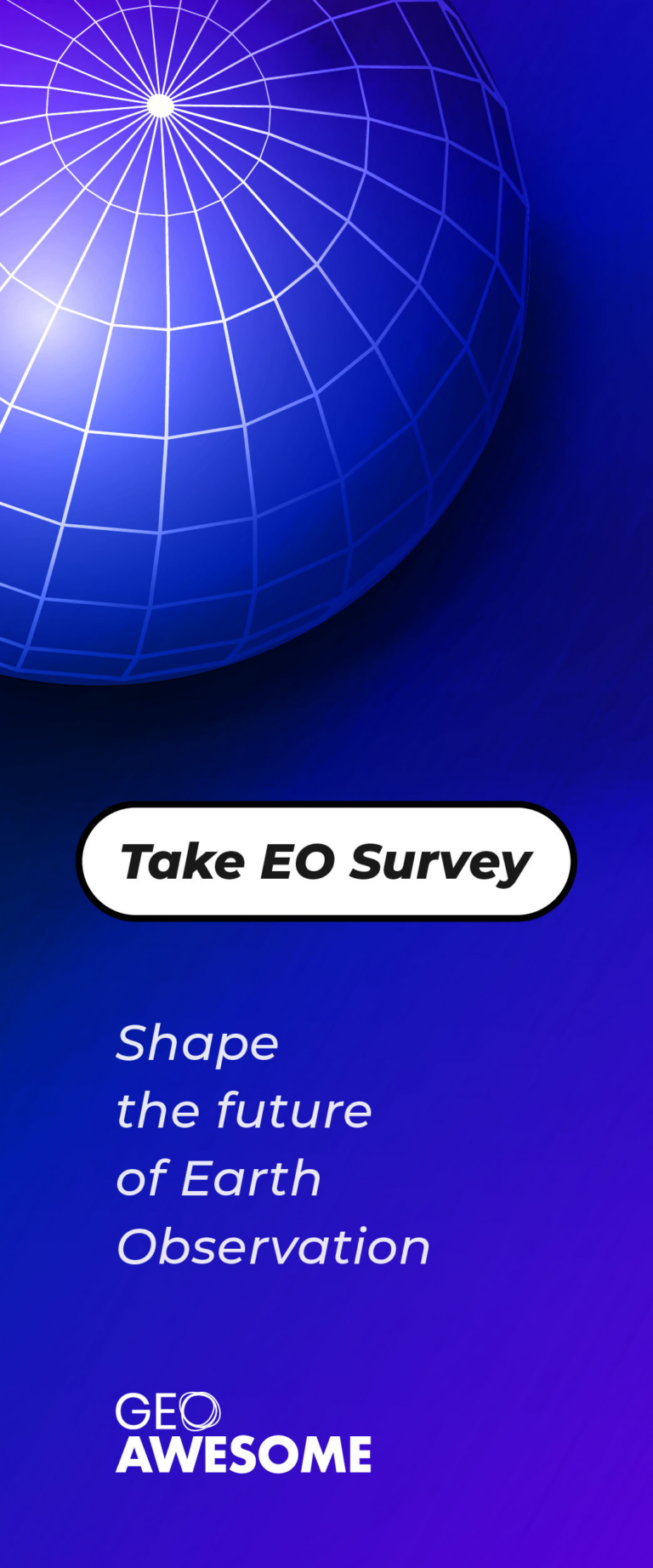 Read on