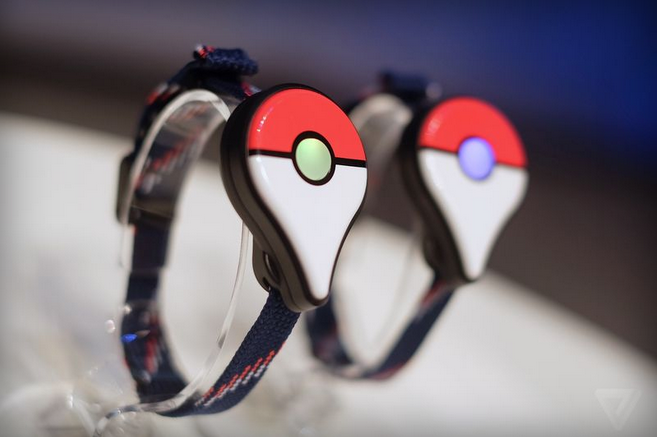 #Business
Pokemon GO: Wearable on sale (finally) + New Apple Watch App!
Pokemon GO Plus – the wearable device from Nintendo and the Pokemon Company is all set to make its debut next week! The wearable will go on sale on 16th September and will be available for sale in most of the world. The announcement comes right on the heels of another interesting announcement – "Pokemon Go on Apple Watch" by the end of this year.
The Pokemon website has no detail regarding the price of this little "Pokemon Map Pin" Wearable but guess it should be in the range of $50.
Pokémon GO Plus is a companion device that connects to your phone over Bluetooth® Smart (the Bluetooth low energy connection designed for health and fitness applications), allowing you to keep your phone in your pocket and go about your day-to-day activities while still being able to collect valuable resources and capture even the most elusive Pokémon. – Pokemon Go Live
Pokemon Go Wearable 
Pokemon Go Plus works with both Android and iOS via Bluetooth 4.0. The wearable is something only a big-time Pokemon fan is going to be interested in (the app has been downloaded over 500 million times). One thing Pokemon Go Plus will be able to do that the Apple Watch can't, is that it lets you catch Pokemon without getting your phone out.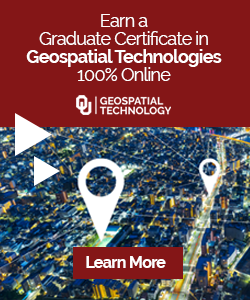 The community is supported by:

Next article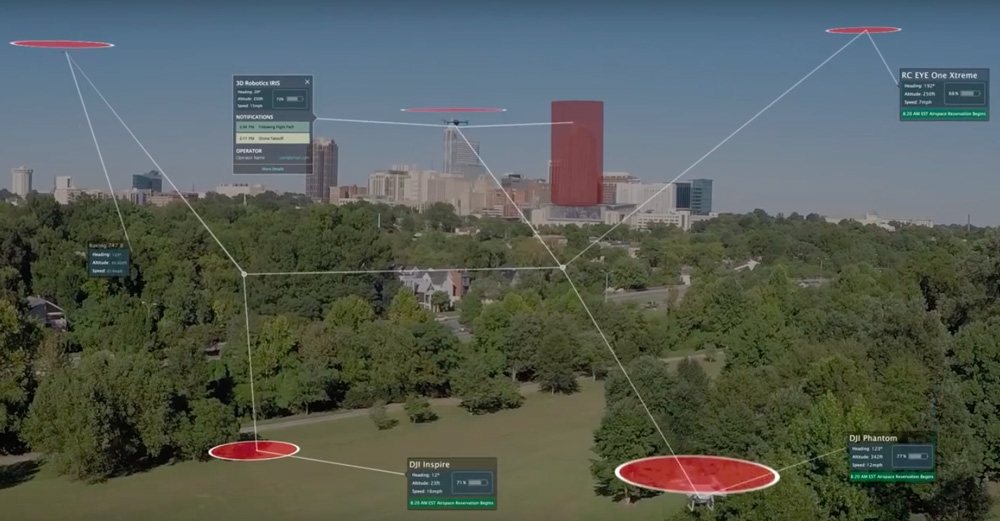 #Business #Ideas
LATAS – the advanced airspace safety app that will tell you where and when to fly the drone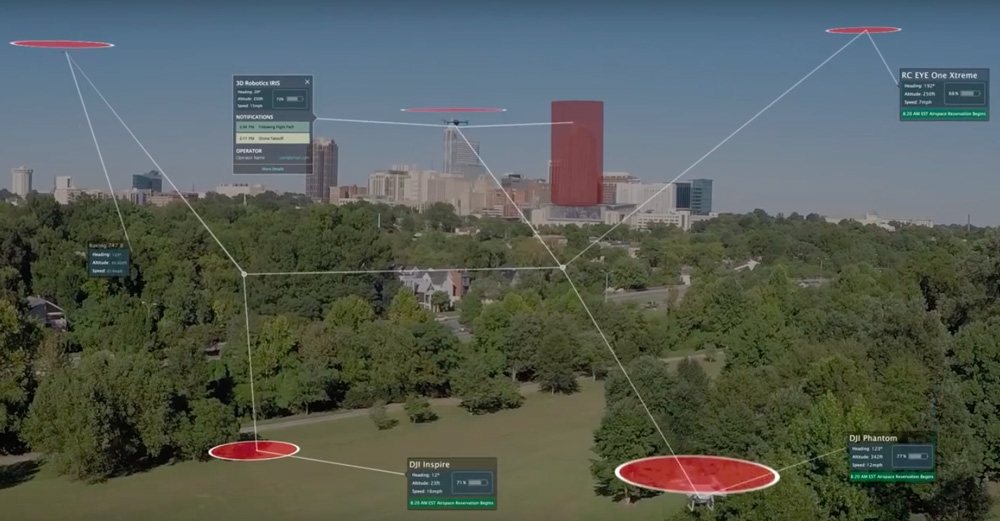 Drone safety is one of the biggest challenges for the emerging UAV industry and there is still a lot to be done around how to integrate drones safely into the air space. One of the key things to sort out are regulations. They should be the foundation of all drone safety actions but today the rules are far from being perfect, and they don't keep-up with the technology.
Another piece of that equation is awareness, education and best practices shared among UAV pilots. In practice with over one million drones sold last year we cannot assume that every hobbyist or professional pilot will act responsibly and won't make mistakes.
Finally, there is the technology. Today with all the sensors, systems and wireless connectivity, drones are getting smarter almost every month. In order to translate it to the general safety on the skies around the world all these individual smart systems must be linked together to create a common, connected and intelligent air space network. It might sound easy but in practice it's much more complicated than one might expect.
PrecisionHawk's LATAS is one of the most promising piece of tech in that area, and launched to the public today at the InterDrone conference in Las Vegas. LATAS that stands for The Low Altitude Traffic and Airspace Safety platform is one of the first digital air traffic control systems for drones. The idea behind it is fairly simple. We need to know the exact geographic position of each connected drone, combine it with data about what's happening around it (on the ground and in the airspace) and sync this data between the UAV, operator and the central cloud-based platform.
So what's needed for such a system to work? There are the two pieces: hardware and software. They can be used together or independently. The hardware is needed for the LTE connectivity that syncs data between the drone and the central system. Typically this happens via a smartphone app that is used to control the drone, like within the DataMapper InFlight app for DJI that we've recently reviewed. For the devices where it's not possible or these which are fully autonomous PrecisionHawk provides a hardware solution. A small LTE-based module that can be easily attached and integrated to almost any UAV. The company works with drone manufacturers to actually embed the LTE connectivity within the future drone models reducing the need and cost of any additional hardware to be installed.
But the software is where the whole magic happens. The key component of LATAS is data. The system combines static and dynamic information layers from multiple sources. The first data layer is a high-resolution digital elevation model that has to be built into the drone's intelligence so that it will prevent itself from hitting things on the ground. This data is enhanced with restricted areas where drones are not supposed to fly (both permanently like airports, and temporal like public events, wildfire areas etc.)
Then there are several real-time data layers that play a key role when it comes to the sky safety. LATAS is one of the first systems that managed to integrate with a radar data streamed directly from the FAA'S air traffic control system which tracks each and every in-shore flight at a given altitude. Access to this data layer is particularly important for flying drones beyond the operator's visual line of sight (BVLOS). Live notifications of a nearby manned aircraft are critical to give a drone operators a real-time view of the environment around them during flight and enough time to react in the case of a potential collision. The LATAS is currently the only platform with this capability. PrecisionHawk first proved the concept of real-time traffic alerting under the FAA Pathfinder program and then with the US Department of Homeland Security, before becoming the first company approved for beyond line of sight commercial flight in the United States.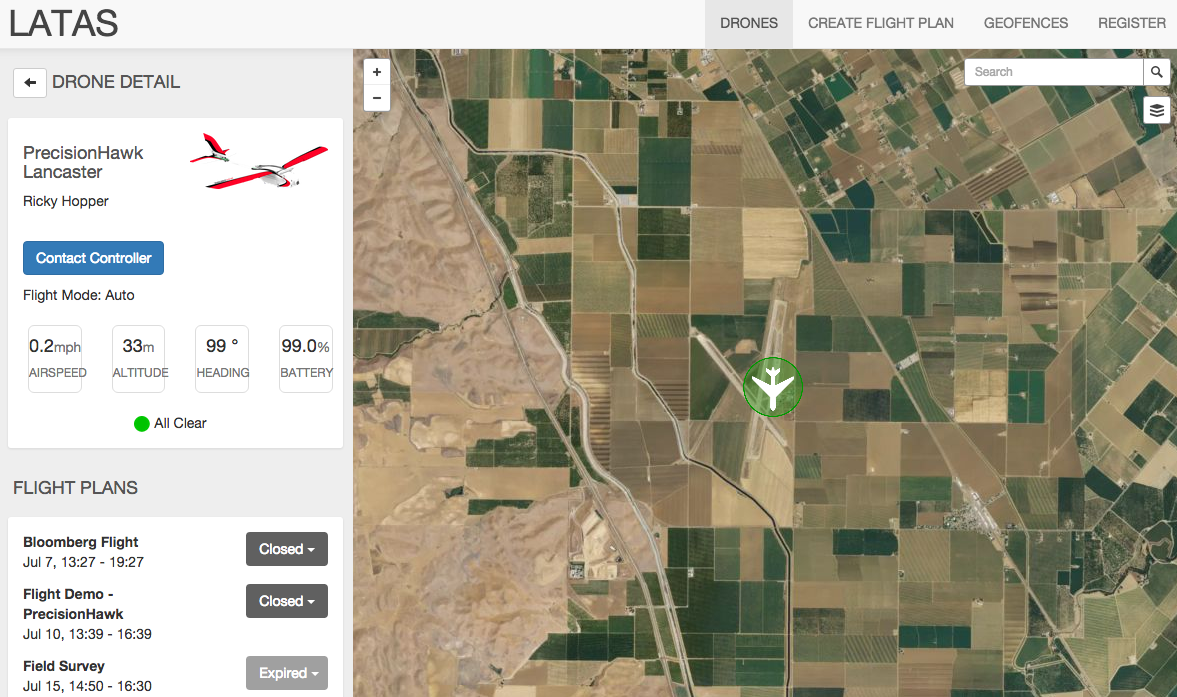 LATAS is enhanced with multiple other external layers that includes everything from weather to cellular coverage. Finally, there is real-time data shared among LATAS incorporated drones, a sort of Drone2Drone communication. The system pulls the data from positioning sensors of a drone and shares it within the network so that UAVs could avoid collisions in the air.
All this data is then offered via API which manufactures use to integrate LATAS within their platforms and apps. It can be used to simply display all the data in the app and alert operator about potential dangers but it can be also built into the drone's intelligence, so that it would autonomously make smarter decisions. With so many drone manufacturers world-wide PrecisionHawk is not trying to make decisions for them. Tyler Collins, PrecisionHawk's VP of Airspace Services told us:
The reason we do this is the manufacturers are the experts at their own auto-pilots and flight control systems. We don't want to come in and try and tell them how to fly their drones differently. We want to be able to provide the best data that will allow them to make better decisions while they are flown
Drone operators can sign up to use the LATAS dashboard for free today at www.flylatas.com. Let us know what you think about it.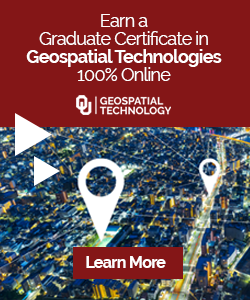 Read on