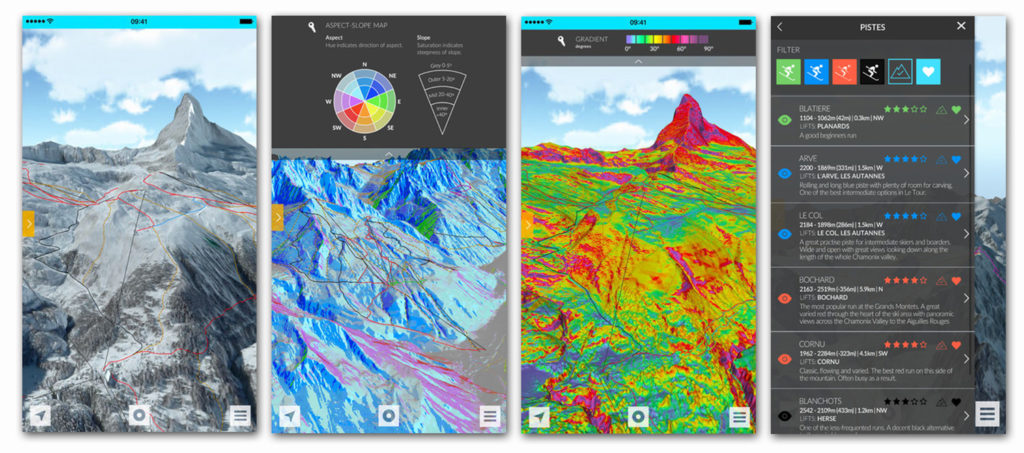 #Business #Ideas
Fatmap app brings skiing maps to the next level
I've got two passions in life: maps and backcountry skiing. There is an app that combines these two… Fatmap is a mountain resort skiing map app that brings skiing maps to the next level. The concept of virtual ski resort trail maps has been around for a while but it was notoriously unreliable and difficult to follow.
The app has been developed by London-based a group of tech entrepreneurs and Chamonix mountain guides. They've combined satellite imagery and aerial photography to build highly accurate three-dimensional terrain models of ski resorts that solved problems of previous maps and apps.
By combining GPS enabled navigation with detailed 3D maps, users can locate themselves in often complex terrains, plan their day's activities, track their progress and meet with friends. 3D fly-throughs help skiers experience the slopes before heading out, and contextual data, such as weather, season and resort facilities, further enhance the user experience. 
The app is a useful tool for all the resort skiers but also for off-piste powder skiing which often requires good preparation to get to know the terrain. With Fatmap you can easily preview the terrain using a high-resolution 3D data, and choose your line. In addition the app identifies avalanche risk zones, crevasse zones and slope gradients which increases the safety of backcountry skiing.
The app offers basic features for free and some more advanced functionality for a subscription fee that can be bought for one time trip as well as for the whole year depending on your needs.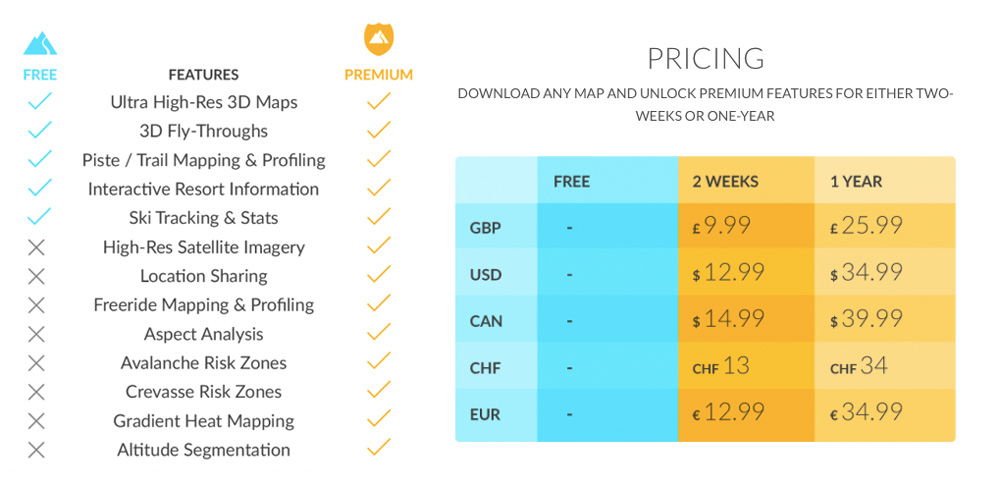 It is available for iPhone and Android and it offers a long list of resort maps in the US, Canada and Europe.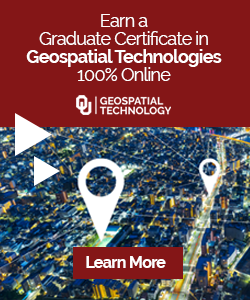 The community is supported by:

Next article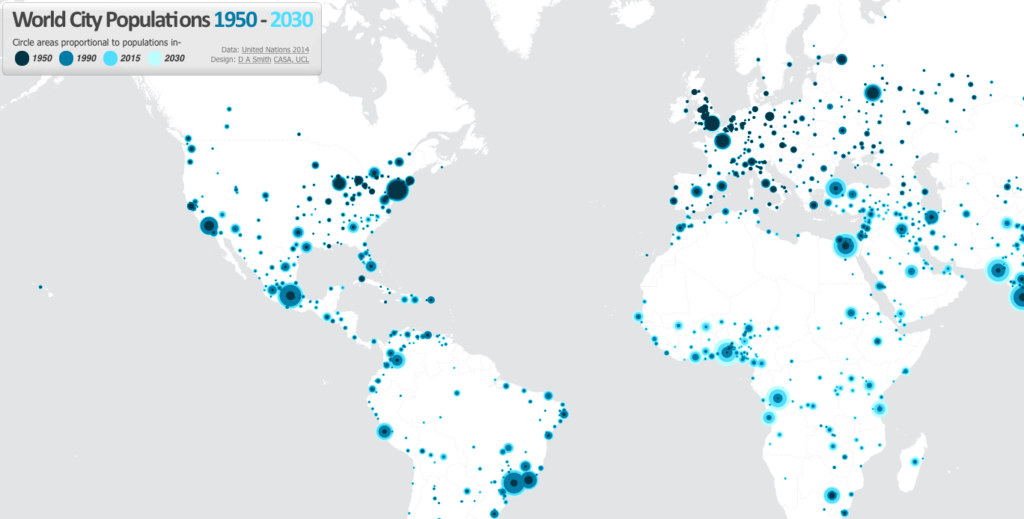 #Ideas
Mapping changes to the World's urban population between 1950 – 2030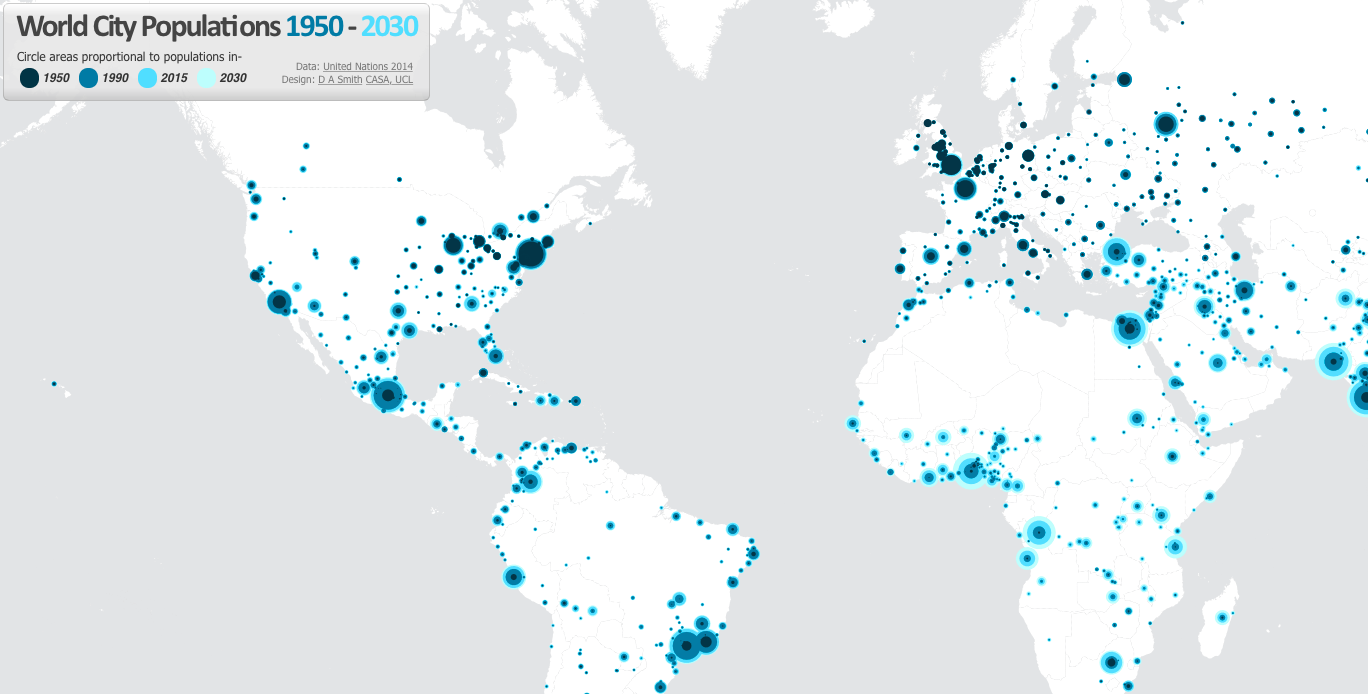 For the first time in history more than half the world's population live in cities. The world's urban population now stands at 3.7 billion people, and this number is expected to double by 2050. In 1950 only 30% of the world's population was living in cities. Today the number  reached as much as 54%.
A really cool map by urban geographer Duncan Smith is trying to capture this change. The map shows the population size of cities around the world for 1950, 1990 and 2015. The map also shows the predicted population size in the year 2030. Each city is represented by 4 circles that are colour coded according to the year and their size represents change in the population of each city. The overall effect is a really delightful and easy to follow map.
When you move mouse over particular city you'll get a detailed information its dynamics. You can observe that for some cities growth trajectory is almost exponential like for Dhaka the capital of Bangladesh: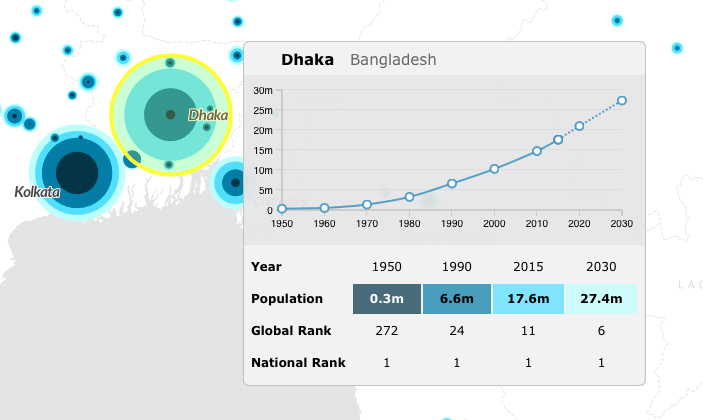 while the dynamics of several other World's largest cities are different. Tokyo for example has been growing fast between 1950 and 1980, when the growth dynamics started to slow down and by 2030 the population of the agglomeration might even shrink.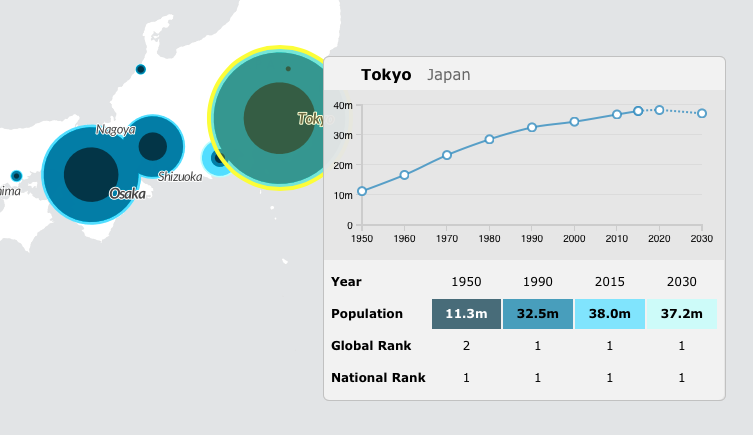 Data comes from the UN World Urban Propospects – a report where UN tracked the populations of major cities from 1950 to 2014 as well as predicted how these populations would change up to the year 2030.
The global urbanisation is a fact and it has profound implications for a wide range of issues including food, water, and energy consumption. As city life becomes a reality for an ever-greater share of the world's population, governments, companies, and civil society must recognise it and get prepared to deal with city-level problems.
One thing is sure. Spatial data and technologies are the key to properly manage this issue.
source: World City Population 1950-2030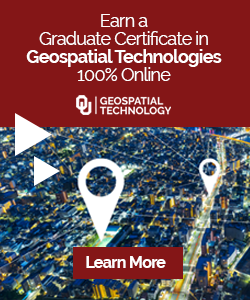 Read on