#Airbus #Cloud #Copernicus #Data processing #Featured #GeoDev #Hyperspectral #Multispectral #Other #Planet
Apply for the ESA NoR Sponsorship and Receive up to €5,000 to spend on Earth Observation Services and Data
Earth observation (EO) efforts have come along in leaps and bounds in recent years and as the technology advances, so do the potential applications. By making data collection, processing, and analysis more accessible, the barriers to entry lower and  geospatial enthusiasts  can tackle problems across every industry with high-quality, reliable data.
One barrier that still remains is the cost of obtaining this data. And that's why the European Space Agency's (ESA) Network of Resources initiative (NoR) is so exciting. NoR provideS users with a unique environment to discover EO services and their associated costs that may be useful in achieving specific project goals. ESA then provides sponsorship for these resources for selected users who want to try the various services, up to a maximum of €5,000 per user.
The network currently has over 940 service offerings available through the portal. It's a fantastic selection of resources that can be leveraged to support non-commercial projects of all shapes and sizes.
How Do You Apply for the Sponsorship?
The ESA sponsorships for NoR are meant for use in research, pre-commercial development, and demonstration projects that exploit satellite-based EO data. You can apply if you're working on a geospatial-related project that doesn't generate revenue and only requires downloading of the processed results (not the original data). 
All you need to do is explain what your project is trying to accomplish, lay out the reason why these EO services can be of assistance, and then commit to sharing a final report about your project after it has been completed.
The process to apply for a sponsorship (link to detailed instructions) is as follows:
Use the

NoR discovery portal

to review the available portfolio of resources and identify the most suitable solution.

Go through the pricing wizard procedure using the link visible on the main page of the portfolio corresponding to the chosen provider.

Select "

Ask ESA for sponsorship"

and then "Open Sponsorship form".

Export the sponsorship request from the wizard page, sign it, and email it to

NoR-SponsorshipRequests@esa.int

.
Your proposal will then be reviewed in around 6-10 working days and the team will assess your project according to your eligibility, the merits of the project and the proposed follow-on, and the appropriateness and cost-efficiency of the requested resources.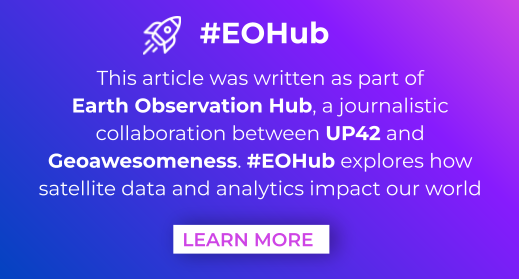 What UP42 Resources Are Available?
When you look through the discovery portal, you'll see a wide range of different service providers covering analytics, AlgoHosting, DPaaS, IaaS, IDE, and other auxiliary services. You can use the filters on the left-hand side to adjust for service type, data source, geographical coverage, and temporal period. You can also search by keyword if you know exactly what you're looking for.  From there, you can look through the detailed summaries of each service provider and compare what they have to offer. 
UP42 is a proud contributor to the network, and offers many of their services and data collections as a part of this initiative. Their platform offers companies and developers access to a range of commercial and open data sources as well as a variety of data processing algorithms for data preparation, calculation of indices and statistics, and advanced ML-based algorithms.
The data collections on offer include:
Pleiades Neo

GaoFen-7 Stereo

NightVision

TerraSAR-X & TanDEM-X & PAZ

BlackSky

Superview 2

Superview 1

HyperScan

Capella Space

DailyVision@75cm

EarthScanner

NEXTMap One 1m DSM

Superview NEO-1

ICEYE

Satellogic NewSat

GaoFen-3

Spot 6/7

Jilin Stereo

WorldDEM

JL-1GF04A

Pleiades

GaoFen-2

ZY Tri-Stereo



In terms of services, UP42 makes available various Fixed VM AlgoHosting services, as well as several DPaaS services which include the following (not an exhaustive list):
Coregistration

DIMAP to GeoTIFF Conversion

Flood Finder

Host Your Own Algorithm

K-means Clustering

Land Cover Classifier

NDVI

NDVI Threshold

NetCDF to GeoTIFF Conversion

Pansharpening

Raster CRS Conversion

Raster Tiling

Raster Zonal Statistics

Sharpening Filter

Super-resolution

Time Series Image Statistics

Vectorization

Water Finder

Count Objects



You can apply existing algorithms to data blocks or certain catalog collections (SPOT, Pléiades, and Pléiades Neo), or use custom blocks with your own algorithms and apply them to any data blocks or catalog collections. As you can see, the opportunities to leverage geospatial data and algorithms are endless as you seek to enrich and augment your analysis. You can use the pricing wizard to estimate costs for your specific use case and let that inform your application for sponsorship if you want to make use of what UP42 has to offer.
There is so much to be explored here, and it's incredibly exciting to see just how many different options you have at your disposal.
What Has Been Accomplished So Far?
The NoR initiative has already been a great success, with 420 projects having received sponsorship (at the time of writing). Some of the projects that have been completed so far include:
It's inspiring just to scroll through the list of projects and see how wide the pool of potential applications for this technology truly is. Some of the in-progress projects include cave system mapping in Denmark, characterization of forest degradation signals in Italy, coastal erosion analysis in Ireland, and data science education efforts in Turkey. 
The breadth of potential projects is staggering and it speaks to the myriad of opportunities that such a sponsorship opens up to take earth observation and geospatial analysis to the next level.
Where To From Here?
If you have a non-commercial project that could benefit from the NoR, then now is the best time to take advantage of the opportunity. By leveraging the vouchers for EO data and other services, you can take your research from an idea to a fully-fledged completed project that uses cutting-edge technology and up-to-date data. This could just be the catalyst for your future innovation and a jumpstart to your future.
To find out more, check out the NoR website or contact the team directly at NoR@esa.int. 
---
On April 26th, we launched our first sector focused newsletter. Didn't sign up yet?  Check out the edition before you do 🙂 Convinced? Sign up now!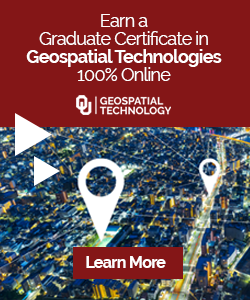 The community is supported by:

Next article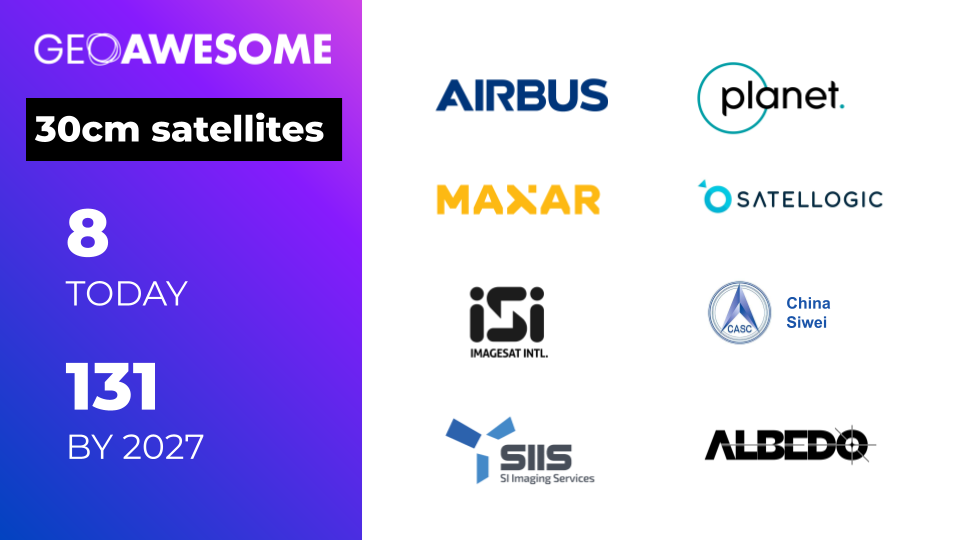 #0.30m #Airbus #Business #Featured #Maxar #Optical #Planet
A Revolution is Coming in Satellite Imagery: Why 30cm Satellites are Set to Transform the Industry
The world today finds itself more divided than ever, with an unstable geopolitical landscape and significant tension between major global powers. As a result, governments are seeking a continuous flow of information about their territories, those of their allies, and those of their enemies, in order to stay proactive and fully aware. Businesses are also looking to enable full situational awareness over large areas for a wide variety of use cases. The best way to achieve these is through leveraging the emerging technology of 30cm satellite imagery.
With the current (limited) satellites that are in orbit, you can observe a given location 2-3 times a day with 30-50cm imagery as long as there is no cloud coverage. This is useful, but it's not enough for many advanced use cases. If users could see this data every couple of minutes, it would blow open the industry and catalyze a plethora of new commercial use cases. That's where 30cm satellites come in.
The Emergence of 30cm Satellite Imagery
The ecosystem is seeing established operators launching next-generation 30cm satellites at a staggering rate, and this is augmented by newer players who are scaling up from their low-resolution satellites to take advantage of this new technology. It feels like every week we see a new startup aiming to disrupt the market with even higher-resolution data.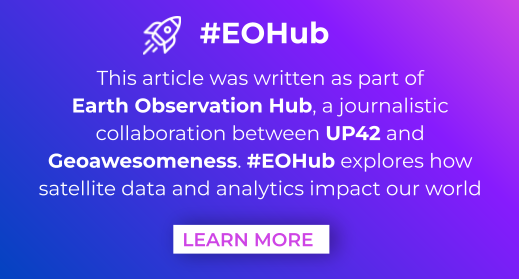 This combination of fleet upgrades from incumbent operators and new satellites from emerging players will result in nearly 10x the number of very high-resolution satellites in orbit by the end of the decade (forecast to be more than 100). Most of these future satellites will be small and with limited imaging capacity, but the sheer volume will push the industry to a place where there are much more rapid revisits.
Let's explore some of the current and planned 30cm satellites from both the established incumbents and the emerging players in the space: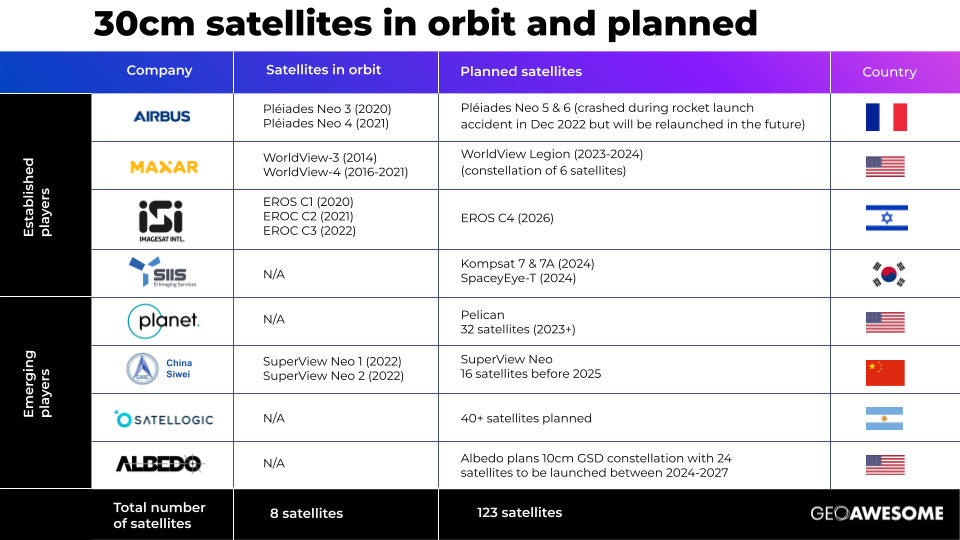 Airbus has two of their satellites from the Pléiades Neo constellation that are operational (from 2021 and 2022 respectively) and these are delivering unprecedented visual clarity. Unfortunately, the last two satellites didn't make it to orbit as planned in December 2022 as the launch rocket crashed, and as such, it will take the company a few years to get those back into orbit.
Maxar Technologies was one of the first companies to offer commercial 30cm satellite data with their WorldView-3 and WorldView-4 satellites. Unfortunately, WorldView 4 suffered a hardware failure back in 2021 and is currently not operational. However, the company is about to launch a new constellation of 6 satellites called WorldView Legion and these are set to offer 29cm spatial resolution and a 15 times per day revisit rate.
Imagesat International is an Israeli company that established itself as a key player with their EROS NG constellation which has 3 very high-resolution satellites in orbit and one more planned for 2026.
SI Imaging Services is a Korean company that plans to launch 3 new 30cm satellites in 2024, namely Kompsat 7 & 7a and SpaceyEye-T.
Planet is an emerging company that expects to begin launching its Pelican satellites in 2023. This constellation consists of 32 spacecraft and it will enable a revisit rate of 30 times.
Satellogic is an Argentinian operation that plans to launch a constellation of 30cm satellites with a 40 times a day revisit rate. We're still awaiting further details on what this might look like – but the industry is excited about this potential.
China Siwei is another emerging company on the rise with their SuperView Neo 1 and 2 satellite constellation. The company plans to expand this by building 28 RS commercial satellites before 2025 with 16 high-resolution (0.2-0.3m resolution) optical satellites, 4 wide-width (0.7m resolution + 100km swath width) optical satellites, and 8 SAR (0.5m resolution) satellites to have global coverage with high resolution, wide-width, sensor-rich, and fast receiving technology.
Albedo was granted a license to collect 10cm commercial panchromatic satellite imagery in July 2020 from NOAA and they will start launching their first satellite in 2024. This is to be followed by plans to complete the constellation of 24 satellites in 2027.
The amount of development in the space is staggering and so it's clear to see that the industry as we know it is set for major disruptions as this technology grows in scale and influence.
Why is 30cm Data Important?
30cm satellite imagery represents a significant leap in image clarity and detail when we compare it to 50-70cm, not to mention lower resolution data. The higher resolution and image clarity afforded to us by this new technology will allow users to identify objects and features on the ground with much greater accuracy which then opens up a whole range of new use cases.
For example, in the world of construction monitoring or industrial inspections, 30cm data means that companies can gather the same quality of data that they used to rely on drones or airplanes for, but using satellites instead. This makes a big difference in terms of cost when you're mapping an area that is over 20-30km2  because it's prohibitively expensive to use a drone or an airplane to capture those images and provide photogrammetry processing of the data.
Also, when the revisit rate for a given area of interest is every hour or even several times within an hour, this makes it possible to unlock new commercial use cases where rapid change detection is needed. Examples here include port management, traffic monitoring, and the tracking of construction progress.
30cm data is a force multiplier for the industry and if used effectively, can have a dramatic impact on how satellite imagery is captured, processed, and used more broadly.
What are the Challenges?
Of course, there is no such thing as a free lunch, and there are a number of challenges that come with 30cm satellite imagery that must be navigated in order to leverage its capabilities:
Business Processes that are Resistant to Change. Most people don't realize that 30cm resolution, potentially enhanced with super-resolution AI algorithms to a readability of 15cm is sufficient to address 90% of their needs – and solve most of the challenges for many industrial use cases. Until this is more widely understood, the status quo bias is going to slow progress as users stick with what they know. It's going to take a lot of education and awareness to break those habits and usher in a new era. On the other side of the coin, there is also a cohort of users that will need to be convinced that 30cm is good enough and that they don't need 1mm resolution to get the job done.
Data Storage and Processing. 30cm satellite data brings with it a vast amount of information that needs to be stored and processed. This can put strain on existing storage infrastructure and may require additional investments into cloud-based storage and other processing solutions that can handle the sheer volume of data involved.
Bandwidth and Transmission. Transmitting high-resolution satellite data from space to Earth requires substantial bandwidth. As the demand for 30cm satellite imagery increases, the availability of this bandwidth may become limited, resulting in slower data transmission and reduced real-time access to imagery. This can then hinder the effectiveness of certain commercial applications.
Cost of Access. The costs of accessing this imagery can be prohibitive for many organizations. Satellite imagery providers must invest heavily in advanced technology and infrastructure which then gets passed on to the end user. Consequently, some organizations are likely to opt for lower-resolution alternatives due to budget constraints.
Integration with Existing Systems. Integrating 30cm satellite data with existing systems and processes may pose significant challenges for organizations, particularly those that have routinely relied on lower-resolution data in the past. This integration may require updates to software and hardware infrastructure as well as retraining staff to work with the new data.
None of these challenges are insurmountable, but they are obstacles to be overcome if 30cm satellite imagery is to deliver on its promise. We're excited to see how this is going to develop as more players enter the space and we're hopeful that it will act as an accelerator for the industry as a whole – bringing more awareness and more practical applications into this domain.
---
Did you like the article? Subscribe to our monthly newsletter!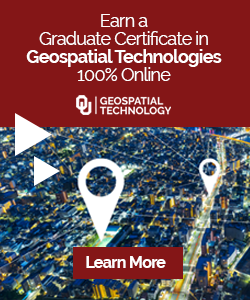 Read on