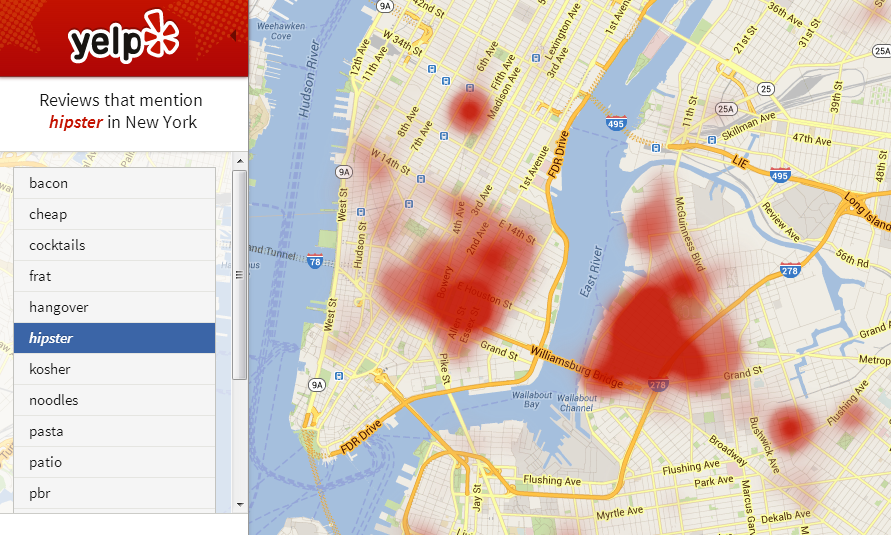 #Ideas
Yelp Mapping Hipsters In New York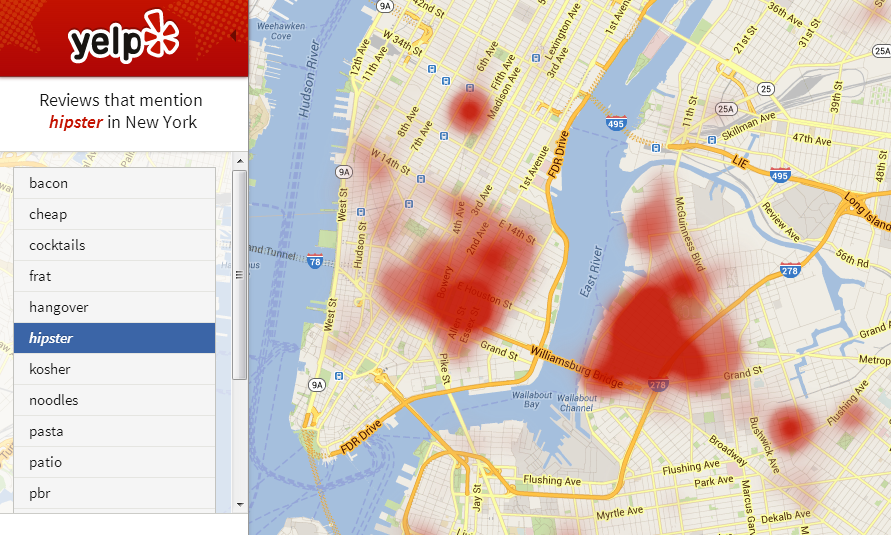 Yelp is making a use of its huge big data gathered over years and has released a new service where you can visualize heat-maps of occurrence of particular phrase in Yelp's reviews. Pretty cool! This particular map shows that most hipster areas in NY are Williamsburg, Brooklyn and the East Village you can map several other keywords from bacon to yuppie. We can read on official Yelp's blog:
With over 39 million reviews contributed to the site, Yelp plays host to a wealth of information on local businesses around the world. People come to Yelp to read and write reviews, look at photos and find business information, but that data houses even more local knowledge than we can see on the surface. Enter the Yelp Wordmap: a heat map showing density of keywords used in Yelp reviews to reveal fascinating patterns of local discovery.
So now let's look at the most 'hangover areas' in Chicago… I love this tool. It's a pity that it's not open for every city and every keyword.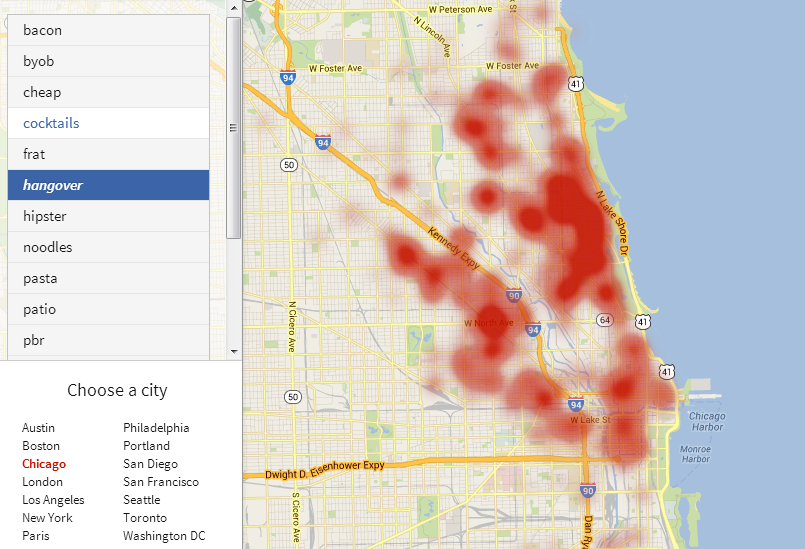 The community is supported by:

Next article
#Business
Nokia partners with ESRI: Brings HERE's real time traffic information to the GIS platform
Nokia might be struggling to retain its mobile phone market against its American and Korean rivals but they sure are making the right moves in the spatial industry. Only yesterday, I wrote about their LivingCities project where they had collaborated with CartoDB to visualize traffic information in different metros across the world in a really cool manner. Today I come to understand that they had only a day ago announced a partnership with ESRI. ESRI is not only the biggest family owned enterprise in the software industry but they are one of the leaders in the GIS market, challenged only by the likes of Intergraph (which makes this deal even better for Nokia).
What it means for Nokia?
It definitely provides Nokia the opportunity to take their HERE solution to the 3 million plus customers and clients of ESRI, more than half of whom would be big governmental agencies. It allows Nokia to explore more revenue streams by taking its propriety data/information beyond the boundaries of its own products. HERE is still a loss making division in Nokia and hopefully such deals will help it turn "green".
What's in it for ESRI?
In my opinion this deal signifies ESRI's plan of taking its platform to an even wider audience. Perhaps targeting the enterprise solutions of Intergraph's Geospatial department. ESRI for Office, ESRI's recent acquisitions of Geofeedia, Geoloqi are all indications of the shift in thought process inside the GIS powerhouse. They are targeting the location based market and this partnership will allow them to market their solutions to the likes of FedEx, DHL, Traffic agencies – portraying the products as the complete package! Clearly a boost for their Transportation Analytics extension.
The deal is significant as it signifies a requirement: it's no longer sufficient just to have the data or the products, integration is the key and how good the data and product seamlessly work as a solution will matter the most.
Source: NOKIA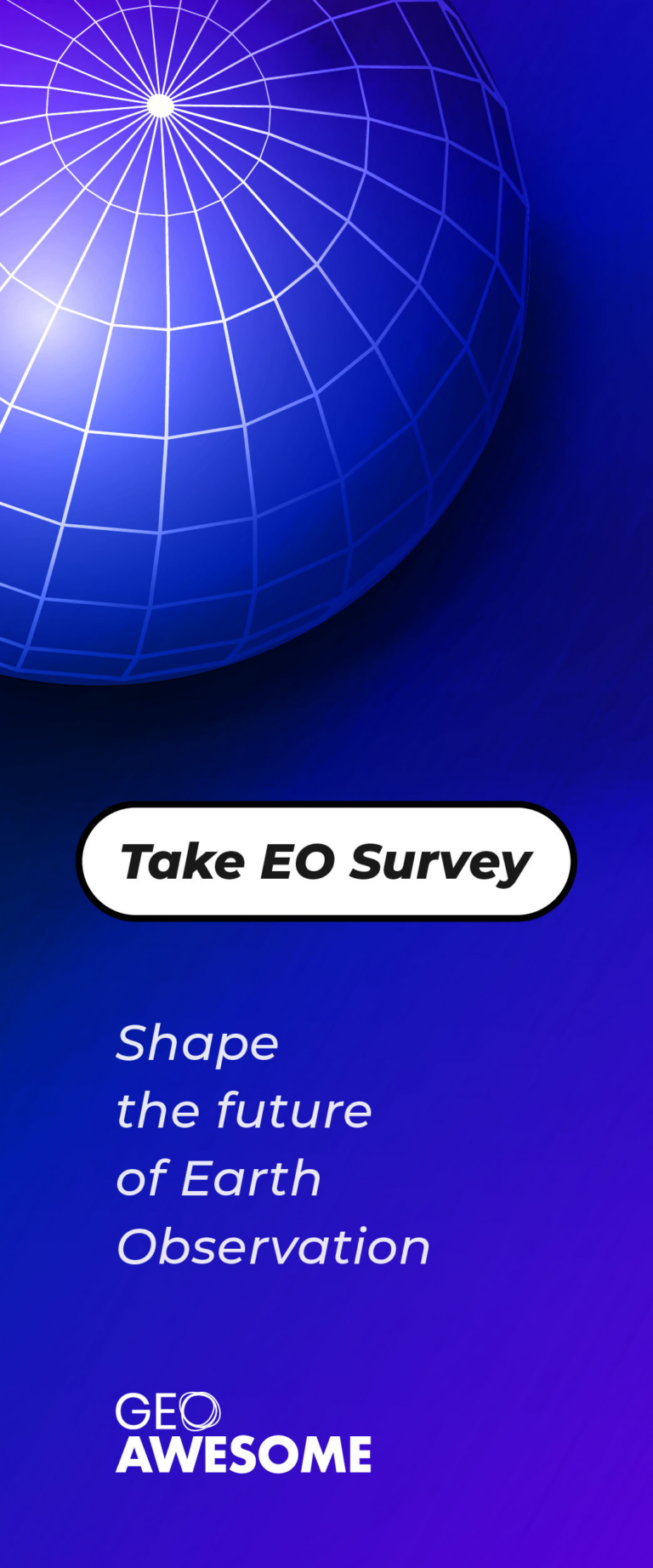 Read on