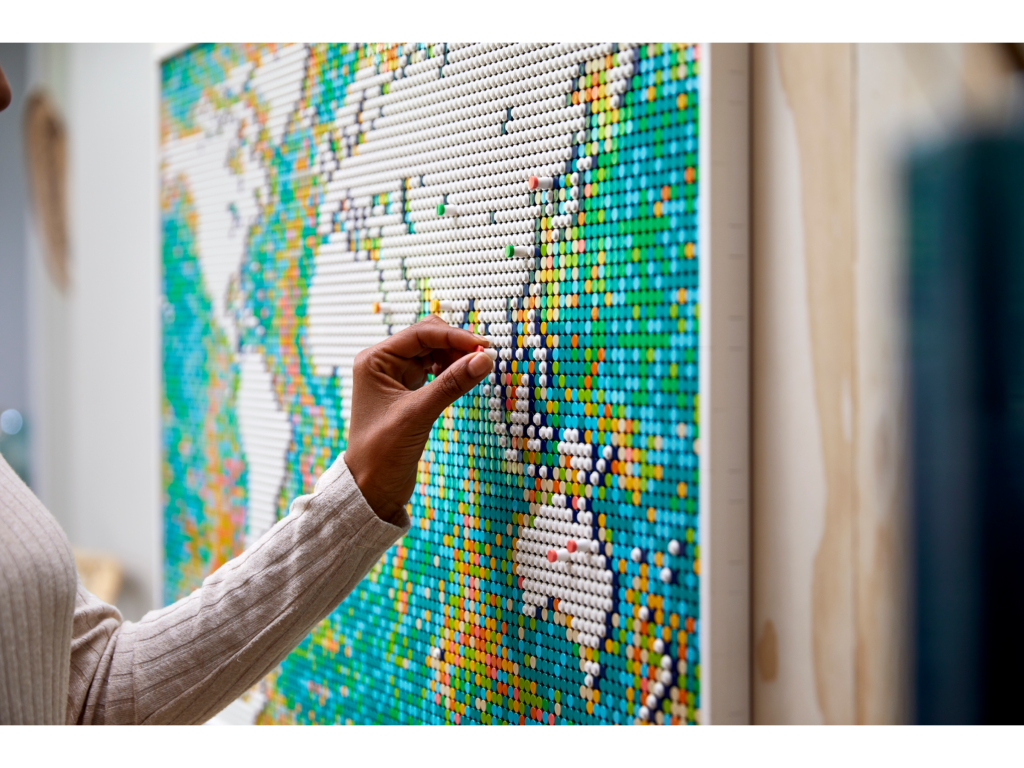 #Business #Ideas
World Map LEGO Set Lets You Build the World Your Way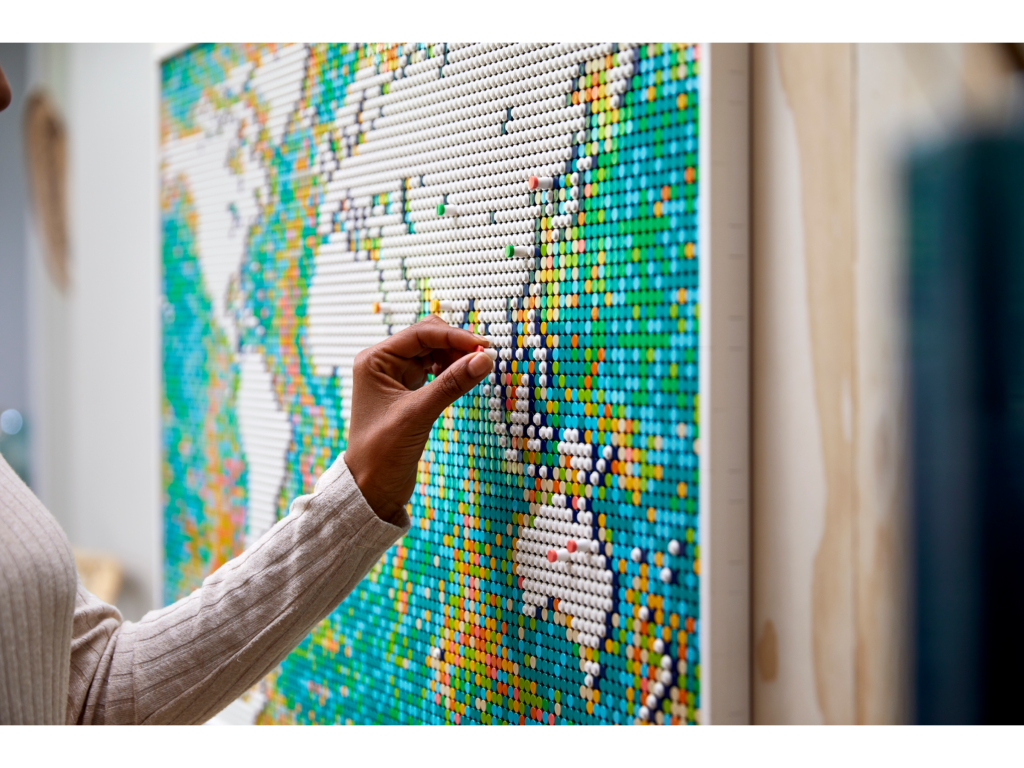 When picturing a world map, you probably think of the same version you first saw in a primary school textbook. But what if you had the ability to redesign the world to look exactly how you wanted?
The team at LEGO Art is inspiring creativity with how we view and shape the world with the new World Map LEGO set which launched on 1 June. Although the set comes with instructions to build a traditional map, the tiles can be arranged in any way you see fit.
In terms of piece count, it's the biggest LEGO set yet with 11,695 pieces, and it retails for $249.99. It's intended for those 18+, and the set doubles as wall art. 
The idea for the set came from a desire to support people's passion for travel, said Nina O'Donohue, global marketing lead for LEGO Art.
"We wanted to create a product that really fueled that passion, and what better than to do a world map?" she said.
That purpose is undoubtedly resonating with people, as the set temporarily sold out online in the first day.
Balancing Realistic Design with Creativity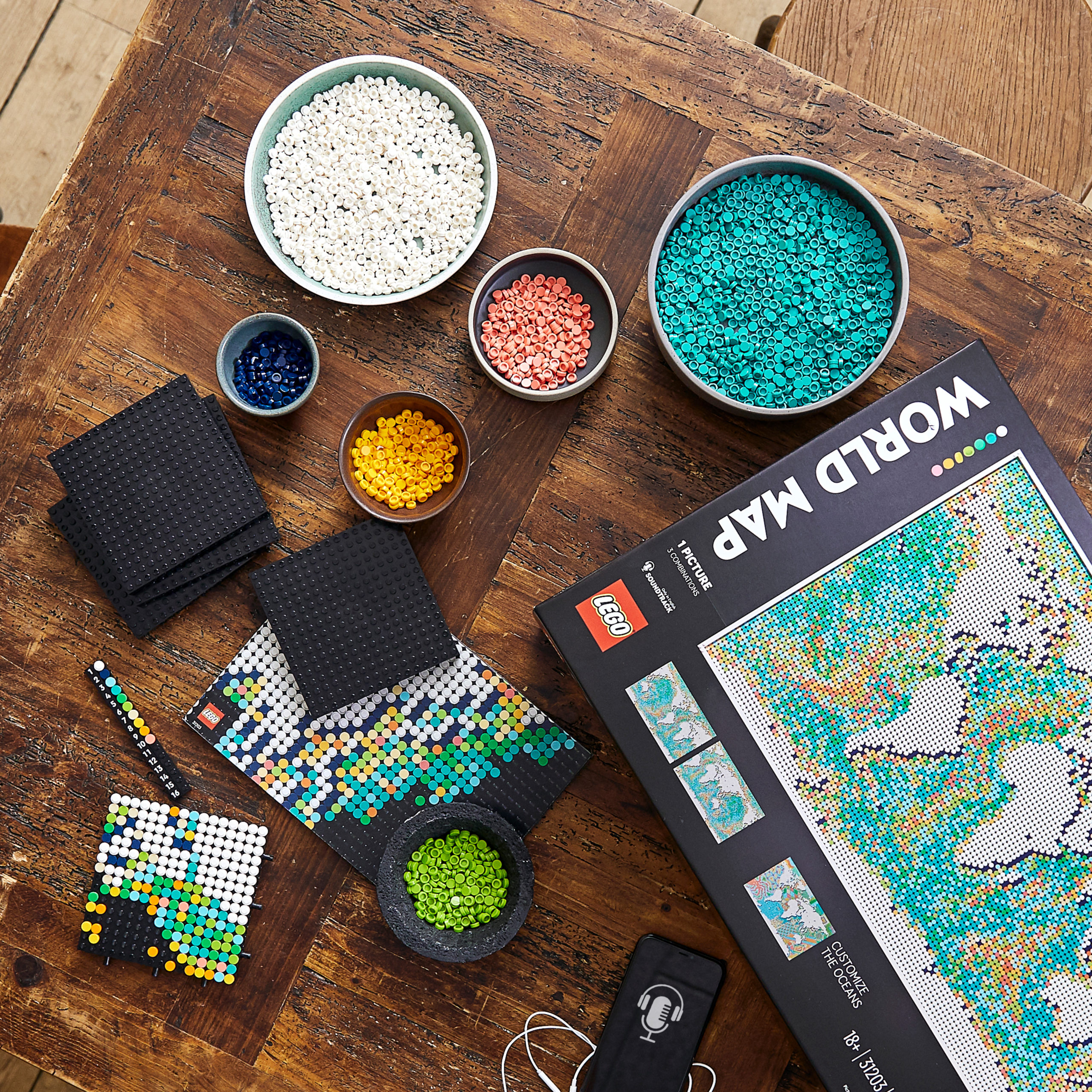 Unlike a traditional world map, the LEGO World Map offers a "creative canvas" and many possibilities for how to customize it, Nina O'Donohue said.
"You build the landmass, but you can move it around to have whatever continent you want in the centre," she said. "There's so much discussion about projections and the right placement of things and how we view things, but we wanted to give people a choice."
Nina O'Donohue said she was a bit nervous about how the geospatial community would respond to a World Map LEGO Set that isn't an exact match to any world map projections.
"We've taken inspiration from Equal Earth, but because we needed to be able to move it around for customization and because Equal Earth is curved and we had to use a flat canvas, we had to take some creative liberty," she said. "But I'm so amazed and grateful and completely overwhelmed at how well (the geospatial community) has seen the possibilities. It goes to show that there's a wealth of creative people in the GIS business."
Nina O'Donohue's husband Daniel O'Donohue, who runs The MapScaping Podcast, is one such person in the industry who accepted the challenge to build the LEGO set. His posts about the set on Twitter garnered a lot of attention from his peers.
"I was not really surprised by the positive reaction," he said. "LEGO is awesome, maps are awesome—how could a map made out of LEGO be anything but awesome?"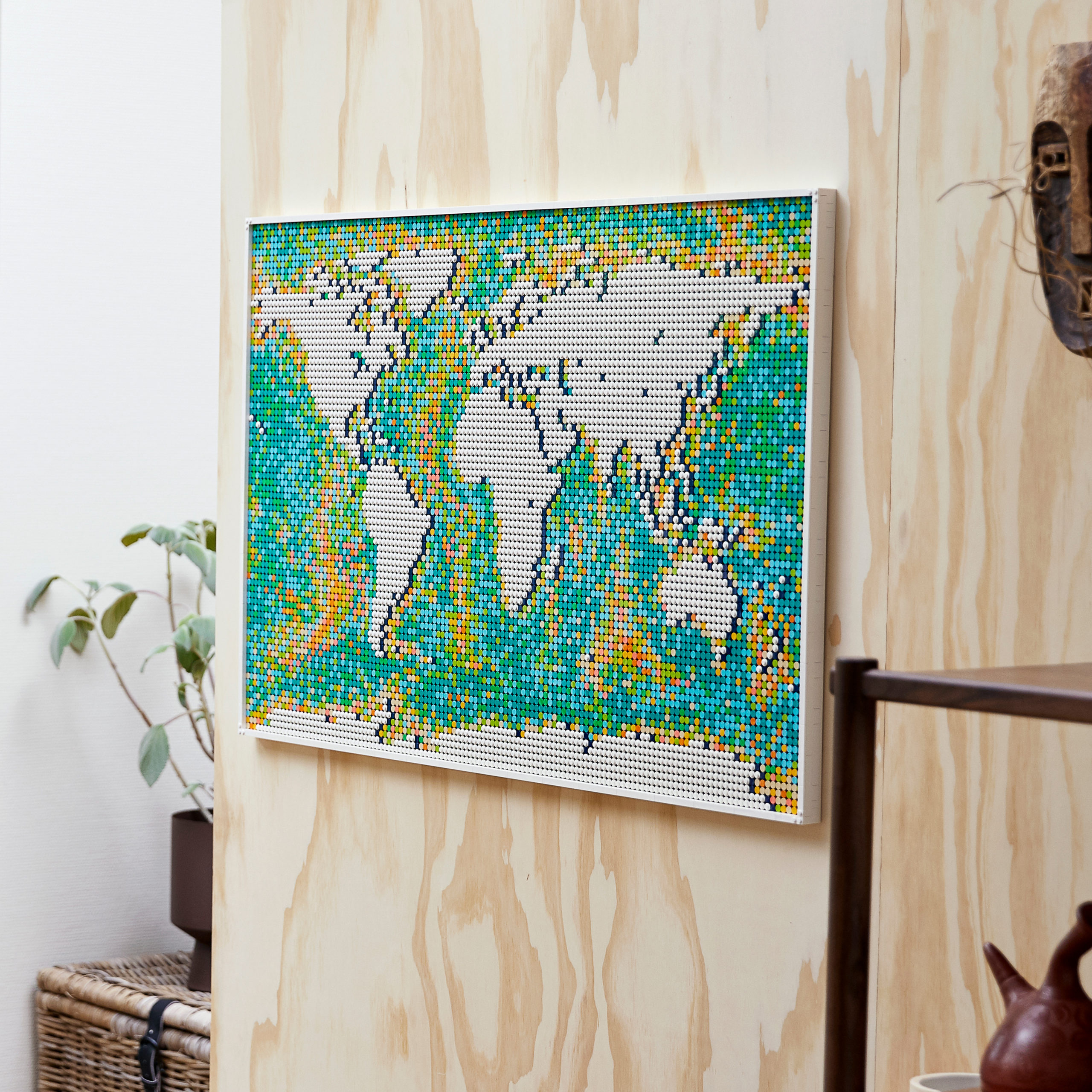 Another characteristic of the map that had the team at LEGO wondering how it would be perceived was the map's colour, Nina O'Donohue said. They originally considered traditional shades of blue and green or even a splash of rainbows, but ultimately chose a different direction. 
"It sort of dawned on us that people are looking for logic when they deal with maps," she said. "It's the bathymetric mapping of the oceans that we took inspiration from. You can see that when you look at it, where the streams run and things. You can see that in our inspiration for how we chose to lay out the colours."
Ultimately, Nina O'Donohue and her colleagues want to see people "customize the ocean," or build the map's landmass however they want.
If you're looking to build the 11,695-piece World Map set, consider Daniel O'Donohue's approach of pacing yourself and enjoying the process.
"I was not in a rush to finish," he said. "I would simply complete one plate at a time. Sometimes my kids or wife would help; sometimes it was just me. It was just enjoyable to be making something and watch it slowly but surely take shape."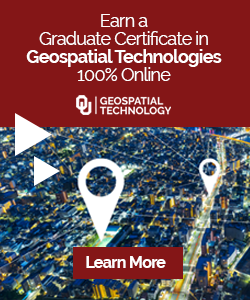 The community is supported by:

Next article
#Business
Optimising BIM processes with point cloud processing software
Certainly here in the UK, BIM is now well-established, and its popularity is growing across the world as the best way to aggregate all the information on a construction project in one place. The idea of creating a single source of truth for a project's data is central to the philosophy of BIM, and it's also the reason point cloud data is being incorporated into BIM plans using 'scan to BIM' workflows. In this blog, I want to discuss the role point cloud data has in BIM – and how recent advances in point cloud software are making the relationship between BIM and point clouds even better.
The benefits of point cloud data in BIM plans
BIM plans on their own are powerful because they store all the plans and data on a building in one place – but that data is often based on drawings and measurements manually added to the model. Point cloud data enables BIM plans to be based on accurate, real-world data. Whether it's scans of the terrain or an existing structure that's being added to or scans of a building taken to track progress on construction, scan to BIM software is ensuring that the single source of truth principle of BIM is being enhanced by real-world data.
This has knock-on benefits for multiple aspects of the construction process. Teams are able to complete their tasks with more confidence, knowing that they are working on the most accurate data possible. Deviations between as-built data and the BIM plan can be identified as they occur, and steps taken to either adjust construction or the plan to keep things on track. Clash detection is made easier as point cloud data can be compared with plans to identify clashes earlier, reducing the need for rework (which can end up being 5% of the total cost of a project, according to research). Firms can demonstrate compliance with contractual obligations and the standard of construction projects increases.
In fact, scan to BIM workflows can be run regularly during construction to give firms a constant view of progress, and even enable some processes that are usually performed onsite to be done offsite, reducing the need for site visits.
Overcoming the challenges of point cloud processing
Point clouds aren't without their drawbacks:
Point clouds are very large – hundreds of gigabytes when scanning large sites. That makes them very difficult to use on most computers, slows down the processes that involve point clouds, and makes it difficult to collaborate on point cloud files.
The density of the data and its format is often very tricky for non-experts to interpret, making it difficult to use the data in decision-making processes.
Point clouds must be registered before they can be used, which adds more time and complexity to the project.
But in my view, that challenge is equalled – if not surpassed – by the additional challenge of classifying point cloud elements.
In short, a key part of the point cloud processing workflow is to classify all the points, identifying key elements such as walls, windows, doors, wires and structural members – while also removing irrelevant data such as furniture or people. This is essential for processes such as clash detection – but until very recently, this process was largely a manual and time-consuming one. It's also a process that's prone to human error, which can lead to erroneous clash detection results if a point has been classified incorrectly. These challenges don't make point clouds useless – the data they hold is still valuable – but it means that the point cloud isn't quite as useful as it could be to AEC professionals.
Developments in point cloud software lead the way
To maximise the potential of point clouds for BIM workflows, then, organisations need to find ways of quickly and accurately registering and classifying point cloud data so it can be incorporated into BIM plans – and so that different teams can easily collaborate on the point cloud data. The good news is that a variety of tools are now coming to market that addresses these challenges. The Vercator blog I linked to above mentions a new way of registering point clouds that's faster than traditional methods; there are also programmes available that automate the process of classifying point cloud data. The best of those also converts that data into an intelligent mesh model of the point cloud, replacing the individual points with triangles of data that combine to form a mesh that is far smaller and therefore easier to work with.
These developments are exciting because they increase the value of point clouds and continue to build on the promise of digital construction. The objective of point cloud processing and scan to BIM is to improve the quality of construction projects by saving time – and thus saving considerable cost – increasing accuracy, and adding real-world data to BIM plans. The addition of point cloud processing software that simplifies registering and classifying point clouds makes it incredibly easy to incorporate them into existing workflows, making those objectives I mentioned above more achievable than ever before. It also enables digital construction teams to collaborate more efficiently and effectively, with fewer false positives and negatives getting in the way of work, ultimately providing better outcomes for the project and better stakeholder engagement. All of this further enables the construction industry to evolve and keep pace with the expectations of clients.
Author Bio
Mark Senior is a business director of PointFuse, a leading point cloud to mesh and AEC software. He has been involved with PointFuse since its conception, shaping its development from bleeding-edge technology to the successful commercial solution it is today.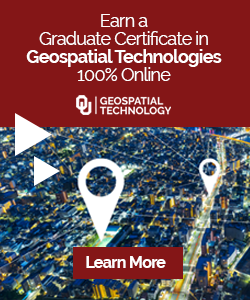 Read on