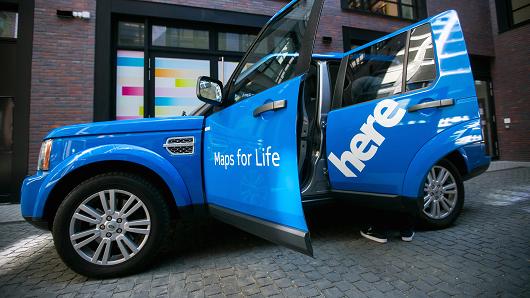 #Business
Why Uber, Facebook, German Car Companies & Others want to acquire HERE
Unless you were in GeoNews hiberation mode, Nokia's plan to sell its mapping company HERE shouldn't come as a surprise. Several companies including Uber, German car manufacturers together with Baidu, Facebook, Microsoft, Amazon, Apple are reportedly interested in acquiring HERE, Nokia's mapping company and the reason seems rather obvious – they want the maps for their own services.
It isn't just about the data. HERE is a technology company that has the technology for producing HD maps for self-driving cars, augmented reality apps, indoor maps besides having a great maps database.

Some of the companies in that list might want to use HERE maps in their platform as an alternative to Google Maps type services i.e. navigation and location based services, others in that list are probably more interested in using HERE's expertise as a mapping company for Autonomous Cars. (Related: HERE's Automated Driving Project).
Uber: Maps for its app and for Self-driving cars
Uber is a Spatial Computing company. Think about it! Location information plays an important role in everything that Uber does – Taxi App, Meal delivery and tomorrow, Self-driving cars.
Maps are at the core of Uber's business and it is no secret that Uber wants to develop its own self-driving cars and had announced a partnership with Carnegie Mellon university, earlier this year for developing self-driving car tech. HERE's expertise with HD mapping could come in handy for the self-driving cars project.
Besides, HERE's maps also have a more immediate use case for Uber, if it wants to reduce its dependency on other map providers for location information. With UberEats, Uber has most certainly showed that it does not wish to limit itself to Taxi rides alone. HERE acquisition would not only would help provide the location information to Uber, maybe it will open the door for other Location Based Service applications as well.
Facebook: Location Based ads + Augmented reality
Facebook's interest in HERE, is perhaps the most exciting prospect for some (including myself) as it is not really that clear what really Facebook plans to do with HERE's location data.
Sure, Facebook just started using HERE maps on its mobile apps and maybe wants to ensure that it has its own maps database but could that be the only reason behind the interest? Facebook has a nag of acquiring the right companies at the right moment and it recently unveiled an in-app search feature that could have Google worried, so maybe it plans to get into the Location Based Services industry as well? The more I think about it the more exciting it sounds. Facebook's primary source of income is ads and if there is money to be made with location based ads, who better to leverage that than Facebook. In addition, it would be interesting to see if Oculus can work some magic together with HERE's City Lens.
All said, it is still not clear whether Facebook did in fact bid for HERE (or for that matter, Amazon).
German Car manufacturers & Baidu
It seems that the German Car manufactures – BMW, Audi and Mercedes-Benz together with Chinese mapping giant Baidu are wary of relying on map data and technology from Google, who's self-driving aspirations are in direct competition to the interests of the car manufacturers. Baidu is reportedly also working on its own self-driving car tech as well. Besides, Baidu entered into a partnership with HERE for global maps and surely doesn't want to lose out on an opportunity to become a global player for maps.
Google, Apple and Microsoft
I guess Aleks' observation in his post "Nokia wants to sell its mapping division here" captures it perfectly.
Google doesn't need HERE's mapping data as it has built its own spatial database over the years. Apple has a long-term contract with TomTom migrating to a new data provider would create a huge mess which Apple surely wants to avoid. Microsoft might seem like the obvious potential buyer, as it already bought a big chunk of Nokia's business but previous reports claimed Nokia also wanted Microsoft to buy the HERE division as part of the original Nokia deal, but the Redmondians declined.

Why hasn't the tech industry looked at OpenStreetMap as a viable alternative?
Even before the speculation around HERE's new owner, there are really only three major sources of global mapping, location and geospatial data: NAVTEQ in their current HERE incarnation, TeleAtlas under the mantle of TomTom, and … OpenStreetMap.

When — rather than if — HERE changes ownership, there's a very real risk than the new owners will turn the data flow and services built on that data inwards, for their own use and their use only, leaving just two major global maps sources.

Surely now is the moment for OpenStreetMap to accelerate adoption, usage and uptake? But why hasn't this already happened? Why hasn't the geospatial world run lovingly into OSM's arms? – Gary Gale – "Dear OSM, it's time to get your finger out"

In addition to OSM's licensing owes, it is important to note that crowd sourcing may not be the best option for producing HD maps for self-driving cars.
When is the acquisition getting finalized?
Reports indicate that Nokia is looking to finalize the bid for HERE by the end of this month, so it is definitely going to be interesting to see who walks with away with all the maps 😉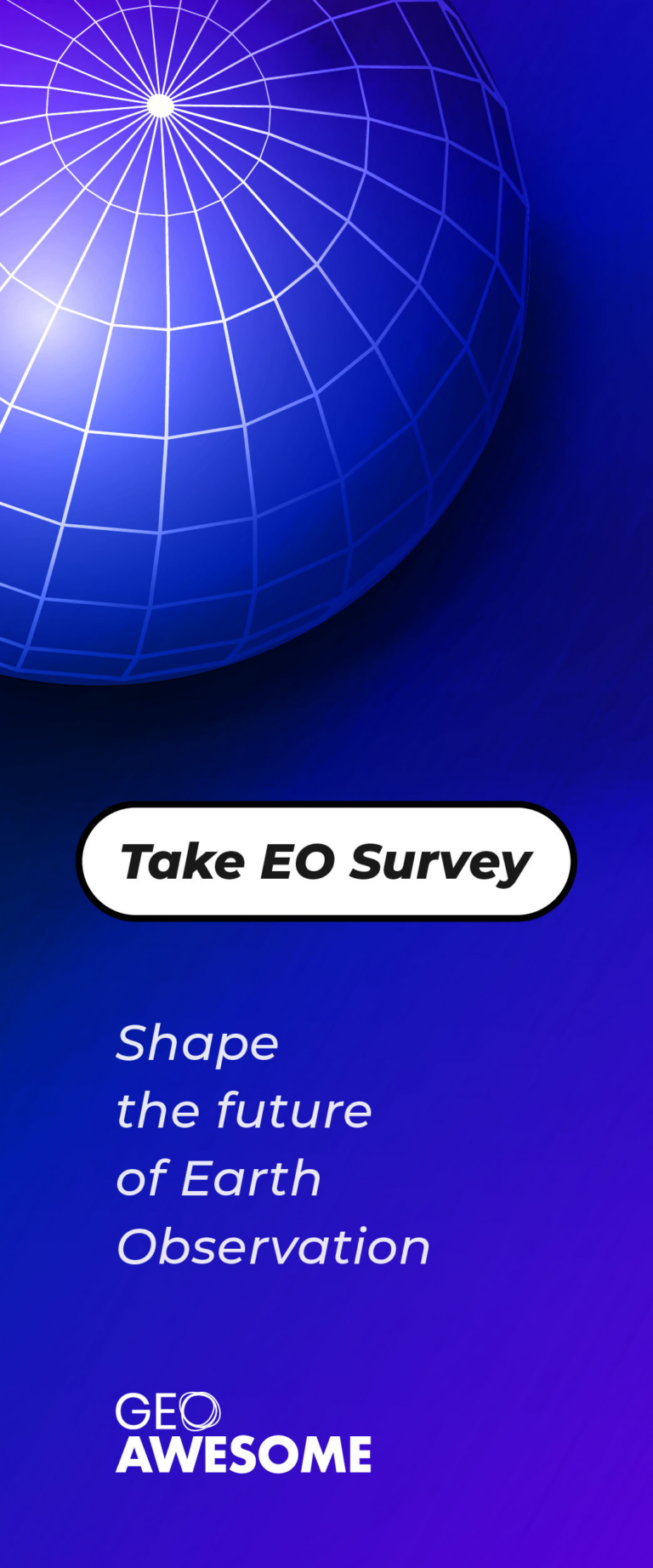 The community is supported by:

Next article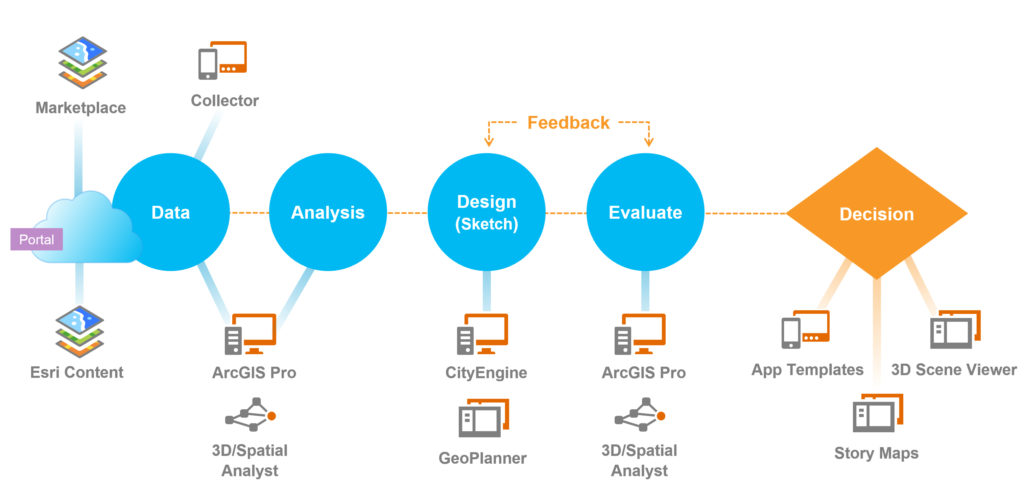 #Business #Science
GIS and Design in Harmony with Esri's GeoDesign Solutions Platform
With globalization, population growth, climate change, and increasing demands for resources, today's designers of the built environment are challenged with serious and complex issues when planning cities and spaces. There is an inherit responsibility to design with nature, providing the most suitable ways to suppress weakness, subdue threats, enhance opportunities and foster the strengths of the site through great designs.  Imagine using site data to help craft smarter designs that meet program objectives and overall goals.
GeoDesign is a new and innovative way of designing the built environment, fusing both nature and geography with design. Not just another technology to add on to an already crowded field of design programs, GeoDesign meshes design with value-based information to help designers, planners and stakeholders make better-informed decisions.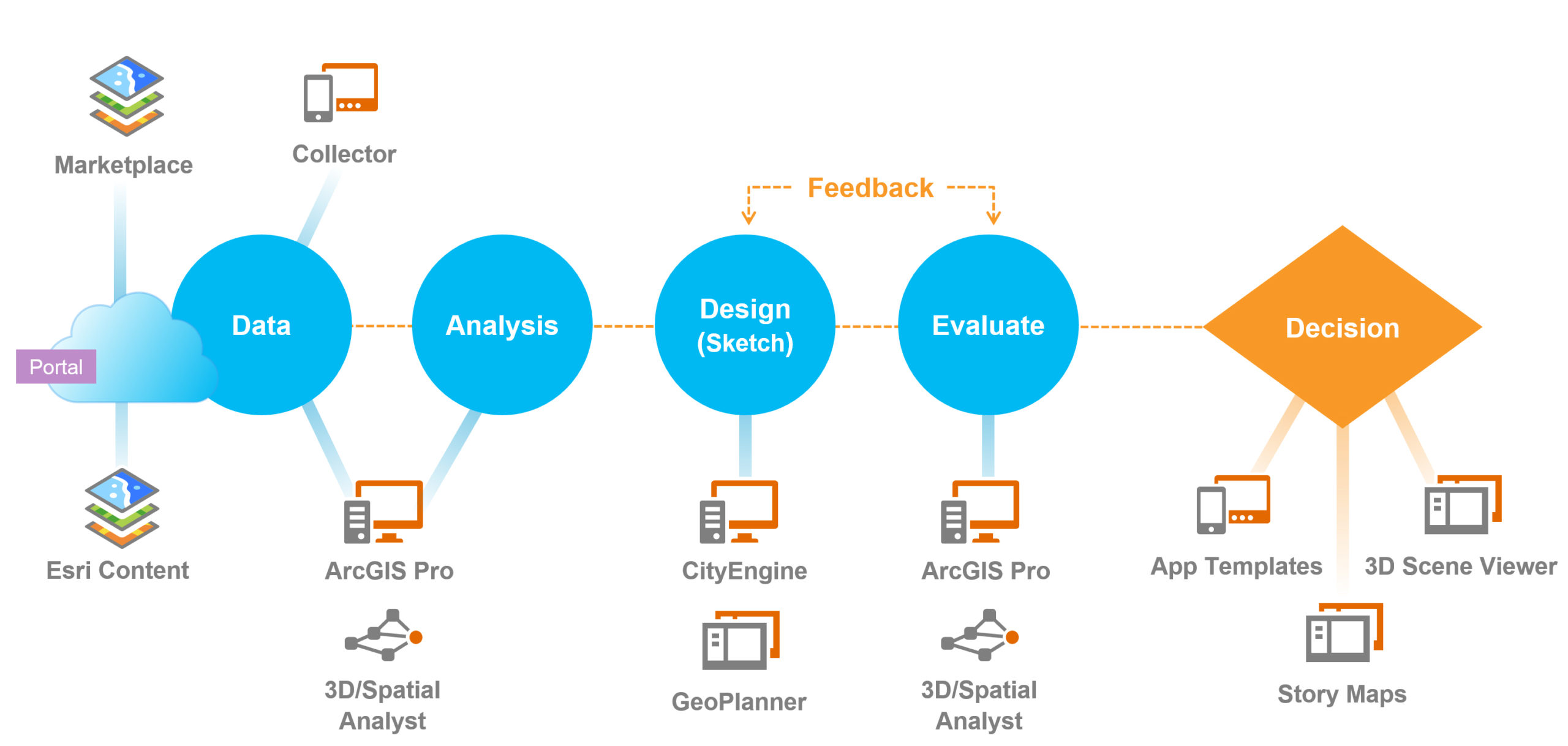 GeoDesign technology offers a set of robust tools that supports rapid evaluation of design alternatives against the impacts of those designs. Esri Inc, the global mapping and GIS company (established in 1969), has developed a set of tools, which combined together form the GeoDesign Solutions Platform. The technology is a powerful extension to GIS that incorporates 2D and 3D creative site analysis, sketching and diagramming, 3D modeling, BIM for urban design and other critical aspects as an integral part of the design process. Think of GeoDesign as a design extension from GIS, powerfully leveraging site data to produce real smart plans, and turning data into understandable datascapes.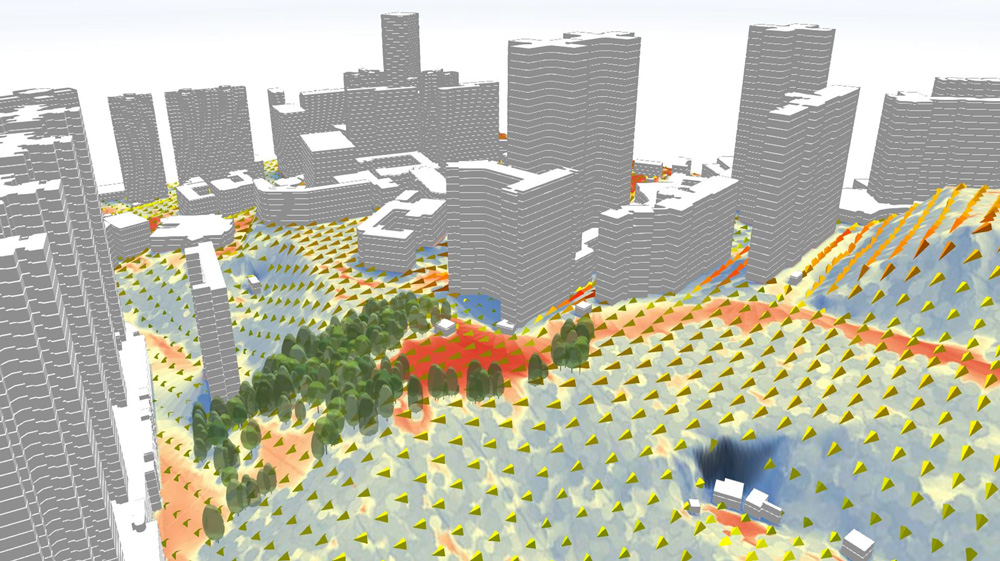 Esri's GeoDesign Solutions Platform combines sketching and modeling tools with the power of geo-data to integrate information, offering a seamless work flow that provides the designer with the tools needed to make smart design decisions.
In the GeoDesign process, Esri's GeoPlanner for ArcGIS (web-based application) enables users to create, analyze, and report on planning alternatives and scenarios through an easy to use interface. By combining web-based analytics, sketching tools and dashboards, designers and planners can visualize design impacts in real time. Using performance indicators applied to multiple scenarios, the designer can select a wise option that is supported by data. Site suitability can be assessed by combining factors such as slope, aspect, population, and distance to water to understand risks in the planning area. Compare and evaluate development scenarios using dashboards and get real time feedback.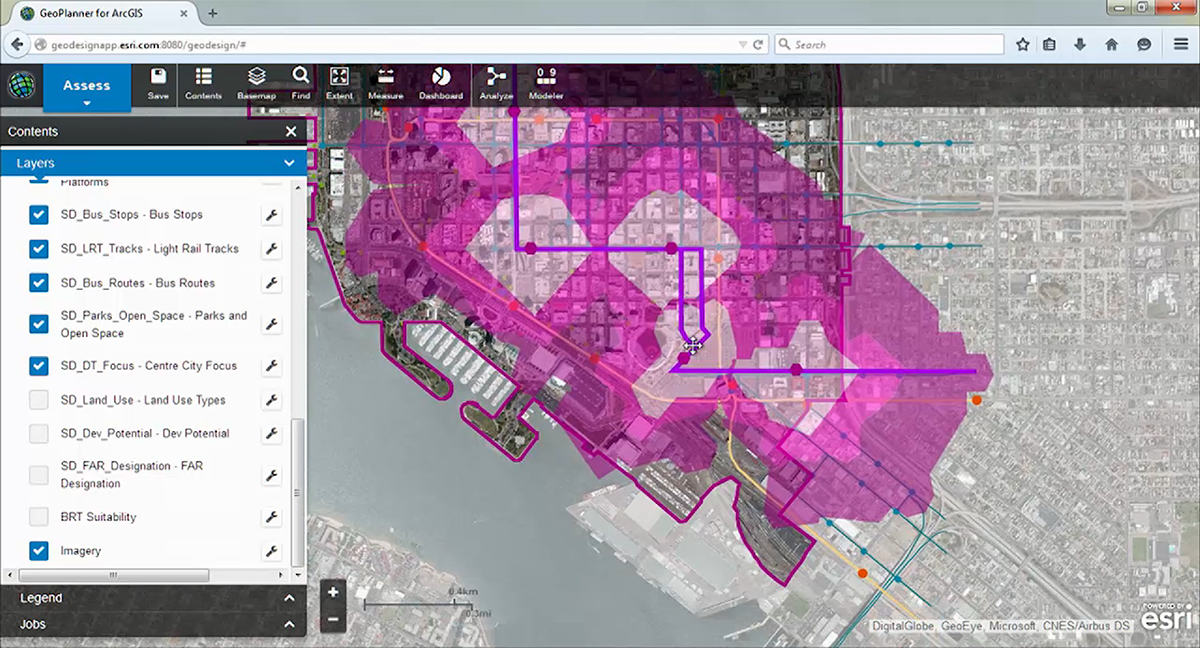 Once the analysis has been done, designers can then import their work onto ArcGIS Pro, where they can perform further analysis on shadows, wind speed, flooding, site water issues, solar radiation, glare and viewshed, all in 3D and within the context of the surrounding built environment. ArcGISPro has a ribbon interface (similar to other 3D modeling and CAD programs) that is easy to use. Populate the landscape with various tree species with the click of a button, or quickly draw and extrude realistic buildings, all in 3D. Because urban plans are attached to data, all changes to the design will reflect changing impacts on the site.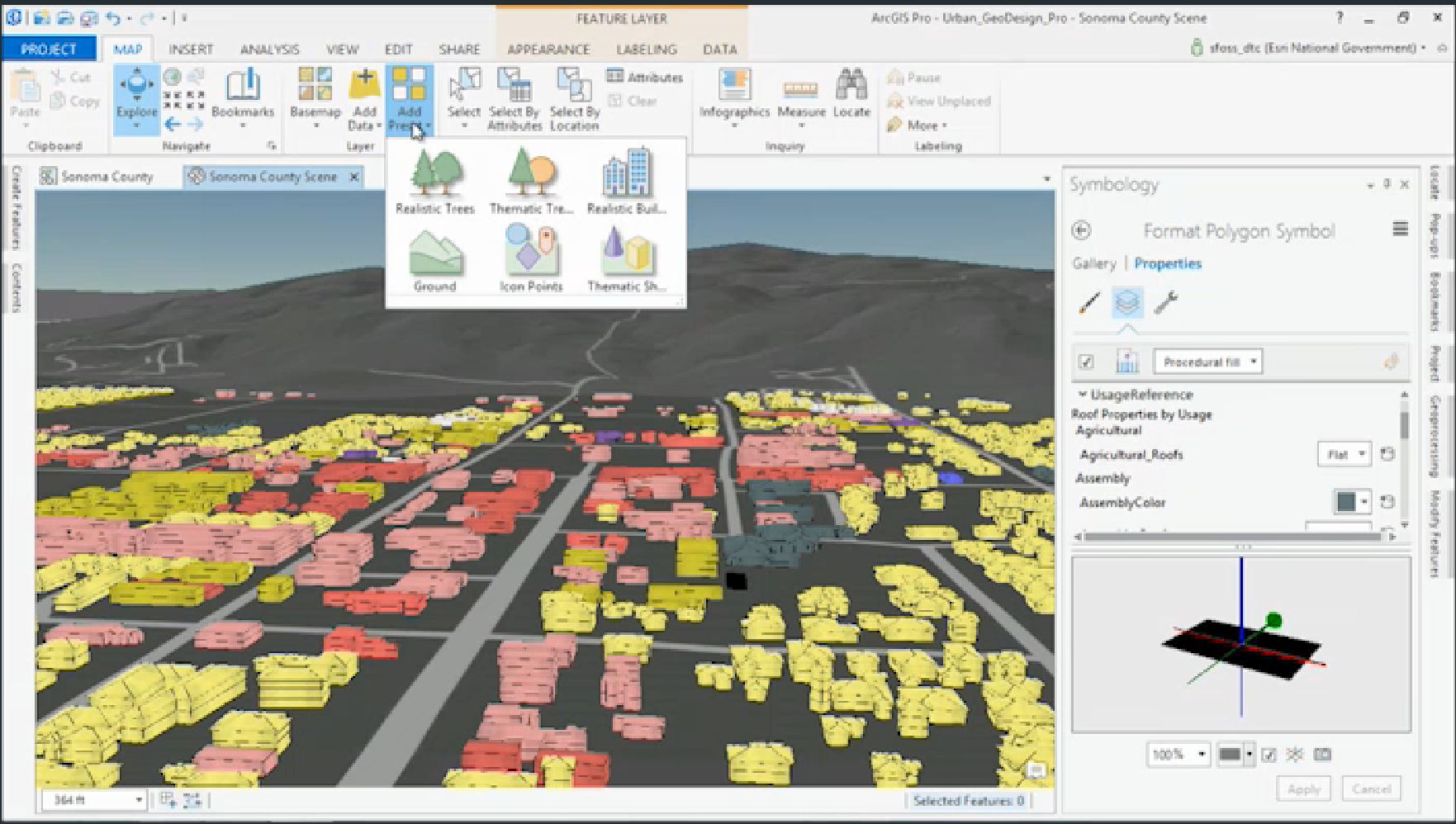 At this stage the project can easily be imported into CityEngine to create smart urban developments that respect zoning laws, reflect the site analysis and show future possibilities. CityEngine allows the user to stipulate, visualize, analyze, and store zoning regulations in 3D. This allows the designer to get instant feedback reporting, making it simple to compare planning proposals and analyze designs. CityEngine can be used to model plan recommendations, using its form-based zoning code as inputs for parametric modeling. The resulting 3D masterplans can help with public engagement during stakeholder meetings, and allow the public to understand and see the new shape of the city.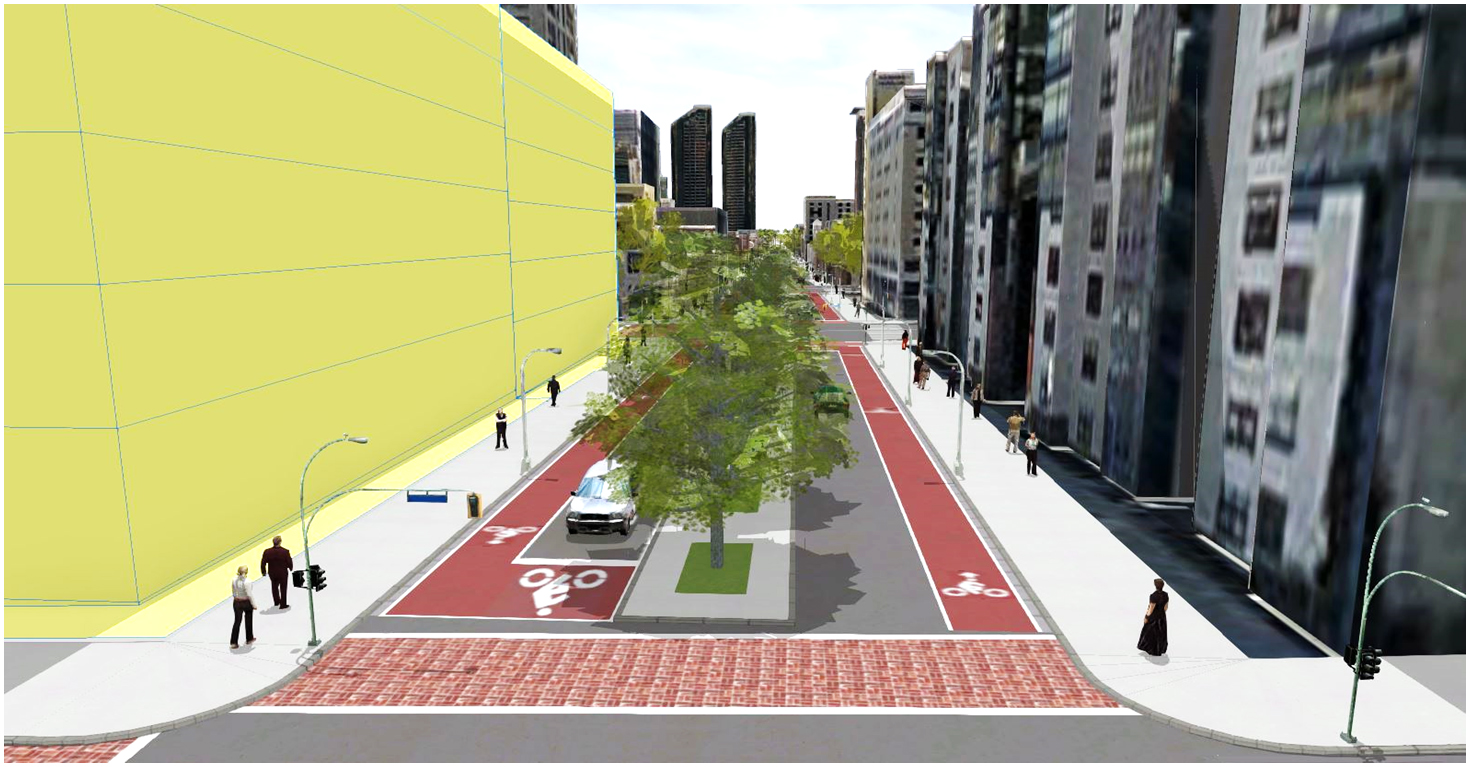 At a recent GeoDesign Summit at Esri's headquarters in Redlands, professionals and academics showcased their projects using the Esri GeoDesign Platform: GeoPlanner, ArcGIS Pro, and CityEngine. These powerful tools have become part of a strategic design approach to help them overcome design challenges. It was exciting to see how these professionals have used this new technology to create smart designs to combat complex problems, shaping resilient cities and landscapes supported by evidence-based feedback. Kongjian Yu, Professor and Dean, College of Architecture and Landscape Architecture, Peking University and President and Principal Designer Turenscape, speaks about the power of GeoDesign and the need to use the GeoDesign technology to understand complex issues and create new design solutions. Professor Yu's company has been a world leader in using GIS technology and landscape architecture to understand and integrate water systems, biological systems and cultural heritage. With these tools he has helped to plan the location of new cities in China, cities that will not put a strain on the natural ecology of the site. Turenscape has used GeoDesign to plan and implement the restoration of watersheds in highly polluted cities, thus providing storm water management, wildlife habitat, and areas of natural beauty for the citizens. Kongjian Yu believes GeoDesign is not just a reasonable way of designing, but also more compellingly, a matter of survival. GeoDesign is the solution to complex problems.
Please refer to this link for further information:
Esri's Geodesign Platform and link to Gartner Report.
TED TALK on GeoDesign by Jack Dangermond, President and Founder of Esri
Demo Overview of Geodesign Platform: GeoPlanner, ArcGIS Pro, CityEngine
Opening Remarks from the 2015 Geodesign Summit.
Lecture by Carl Steinitz, Professor of Landscape Architecture and Planning, Emeritus, Harvard's GSD
Lecture by Kongjian Yu, Professor and Dean, College of Architecture and Landscape Architecture, Peking University and President and Principal Designer of Turenscape
Special thanks to research assistant Adele Pierre.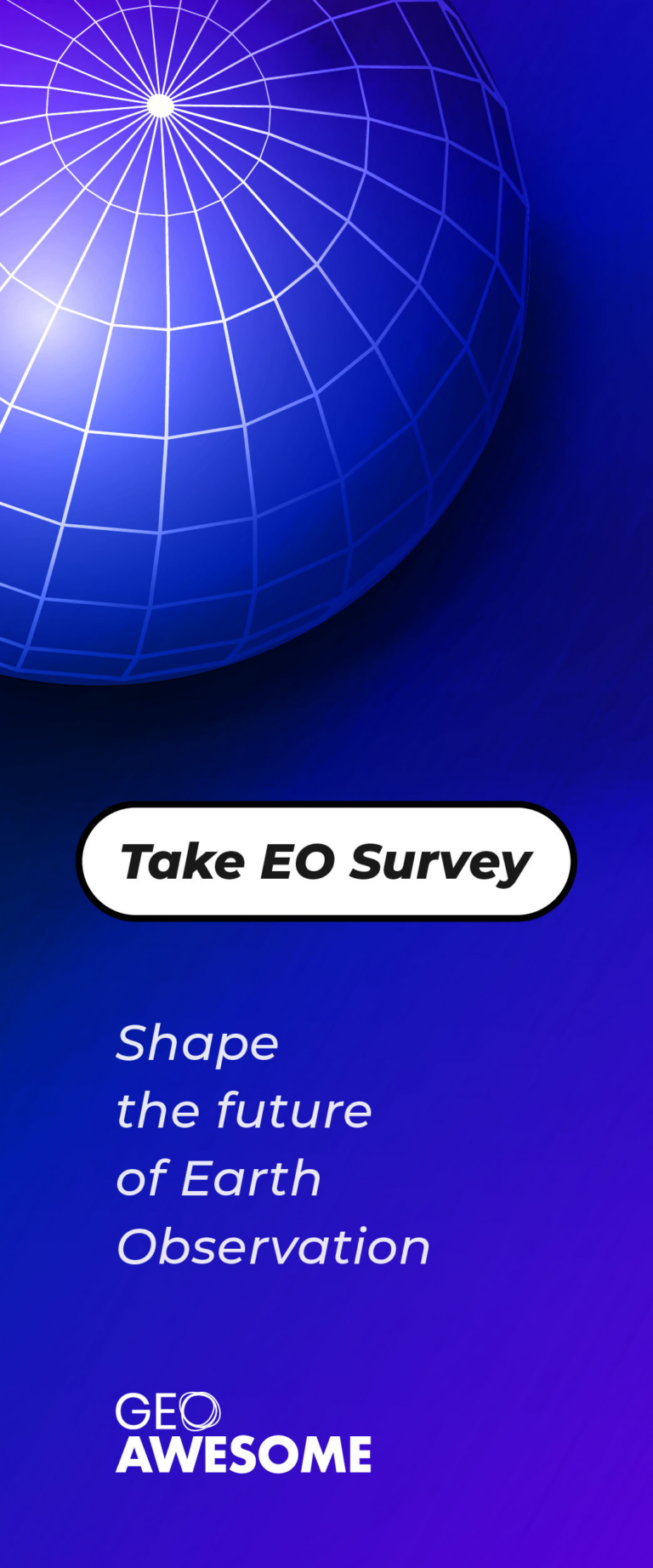 Read on