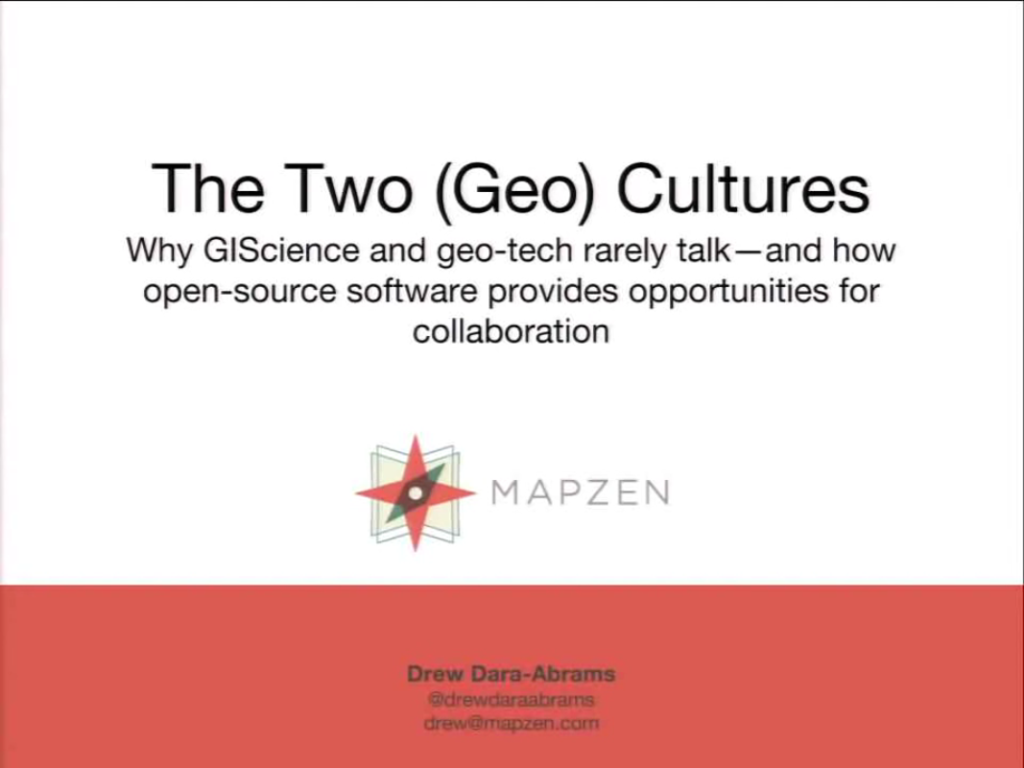 #Business #Science
Why GIScience and geo-tech rarely talk and how open-source software provides opportunities for collaboration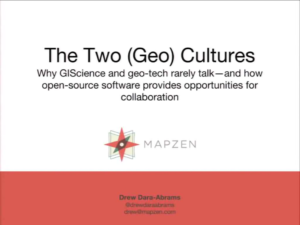 There is a lot of cool stuff happening in the Tech world, everyday there is a new product or an application that utilizes location data and analytics, the word "Geospatial" is undergoing big changes.
It's all awesome and everything but one topic that rarely gets our attention is "What are Geographic information scientists at universities and research labs working on ?".
Why GIScience and Geo-Tech rarely talk?
Drew Dara-Abrams, who leads the transit and urban design team at Mapzen delivered this amazing talk titled "Why GIScience and geo-tech rarely talk and how open-source software provides opportunities for collaboration" at FOSS4G earlier this year and (thanks to Youtube) its available online. Its a really interesting talk that focuses exactly on the hits and misses of GISciences and Geo-Tech and how Open Source can help bridge the gap between researchers and Geo-Tech people and get them to collaborate.
Geo-Tech and Research
Many of us Geogeeks rarely get to know what the research world is working on at the moment, unless you crawl though Google scholar to find out about the latest research papers chances are that we take "Geo" research at the universities to be something rather well,.. academic! But there are some really cool research projects like the PetaJakarta project where researchers from Australia combined Twitter & Geospatial intelligence to help map floods in Indonesia in real-time, Dr. Hecht who one of the lecturers of  the Coursera MOOC "From GPS and Google Maps to Spatial Computing" published this interesting paper on "SubwayPS: Towards Smartphone Positioning in Underground Public Transportation Systems" and its nice to know that the next-gen geo startups like Mapzen are looking at this gap and trying to use Open Source as a means to help bridge the gap.
The Short Summary of the Talk:

Drew delivered a great talk with some interesting examples, highlighting areas where the research papers and solutions have been missed out on being used by the Geo-Tech community and some of the hits that gives us hope. Interestingly, Open Source is touted as the solution for bridging the gap and I think its a excellent idea to try and reduce the gap between GIScience and Geo-Tech.
Routing
The Open Source Routing Machine makes assumptions about how navigation systems should word turning instructions and unfortunately for the users, the instructions have been implemented in a way that goes against findings from Penn State's Human Factors in GIScience Lab on exactly the same topic.
The psychology of navigating without Navigation apps: How the first generation navigation apps impacts people's abilities to navigate when they didn't have the navigation apps to help them to get from A to B and again the Geo-Tech world hasn't really used the findings of this Behavioral Geography research when developing the navigation apps.
Geographic Privacy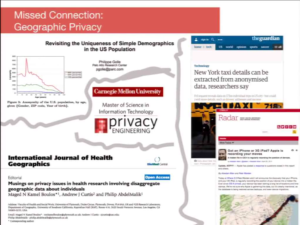 In recent times, there has been a lot of research focusing on geographic privacy – in one research paper from Standford were able to locate someone based on the smartphone battery drain. Many of these Geographic Privacy research papers are probably not being used by the Geo-Tech community to solve the LBS privacy issue (Related: The Security and Privacy issues of LBS applications).
The Hits: Color Brewer & Volunteered Geographic Information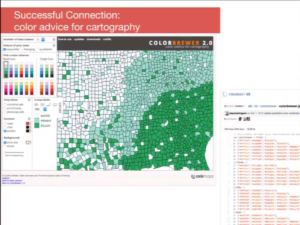 The talk also had some good examples of the hits, notably the Color Brewer tool developed at the Penn State University that is now being used by d3.js and other JS libraries.
OpenStreetMap is a great example of VGI, Research and Geo-Tech working together to create something really geoawesome. There has been a lot of research around OSM data and most of the research has been on improving the OSM data and understanding patterns behind how and why people choose to contribute and so on, for e.g. "How good is VGI data: Comparison between OSM and Ordnance Survey maps".
How Open Source can help bridge the gap between GIScience and Geo-Tech
Where GIScience and geo-tech can best meet is, I think, in the building, refining, studying, and critiquing of open-source software. – Drew, Mapzen
Note: All the slides belong to Drew Dara-Abrams and I took the liberty of taking screenshots of the Youtube video which was licensed under Creative Commons 🙂 Thanks for the great talk, Drew! It was geoawesome!!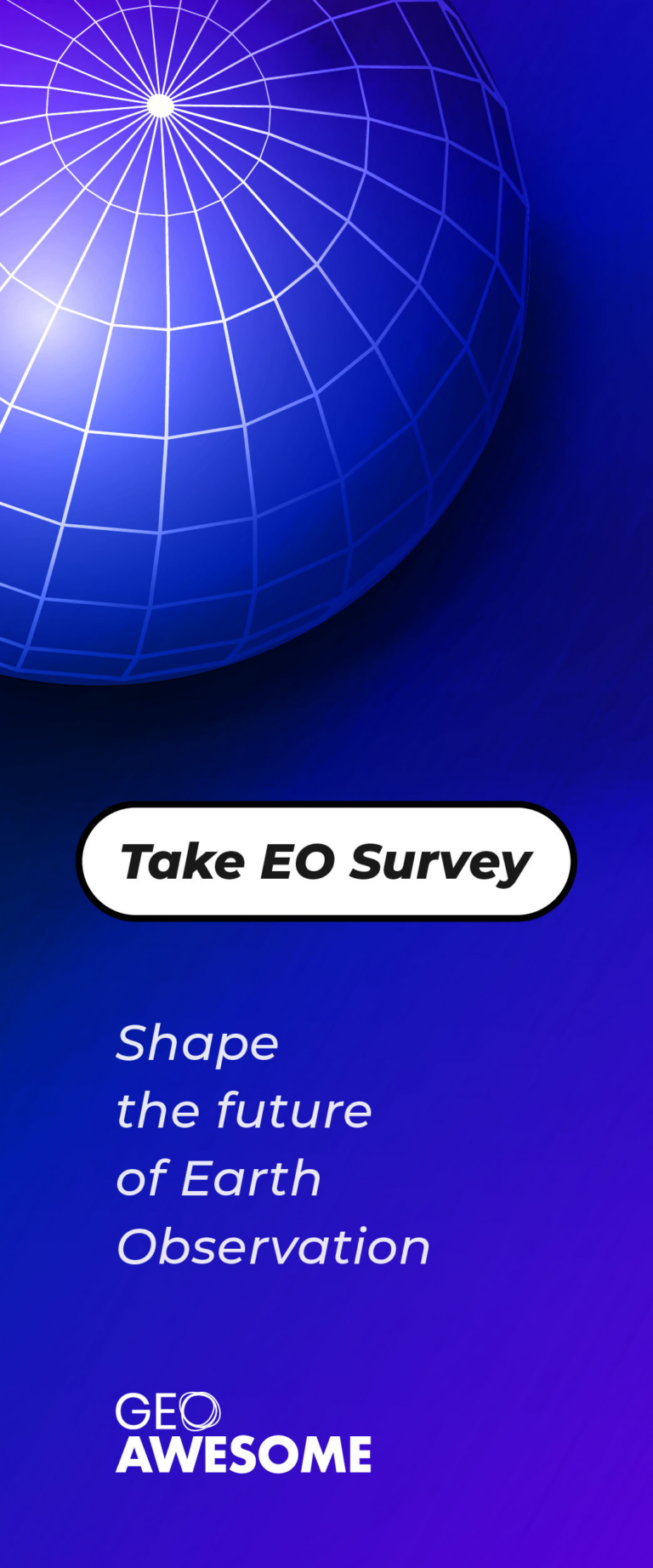 The community is supported by:

#Business
Next article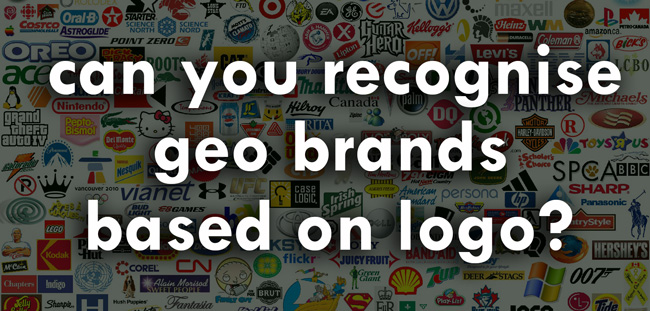 #Fun
#GeoawesomeQuiz – Can you recognise these Geo Brands based on their logo?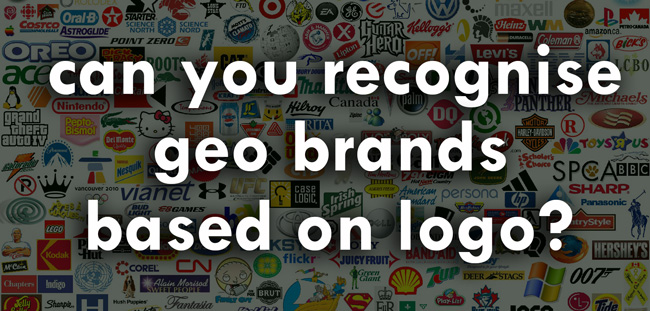 There are plenty Geo companies and start-ups around. If you're a real GeoGeek you should know most them. But can you recognise them based on their logo? Let check it out! As always remember to share your score with the world! If you had fun please check out our other GeoawesomeQuizzes!
---
CAN YOU RECOGNISE THESE GEO BRANDS BASED ON THEIR LOGO?
[viralQuiz id=33]
DID YOU LIKE THE QUIZ? SUBSCRIBE TO OUR WEEKLY NEWSLETTER
[wysija_form id="1″]
Read on