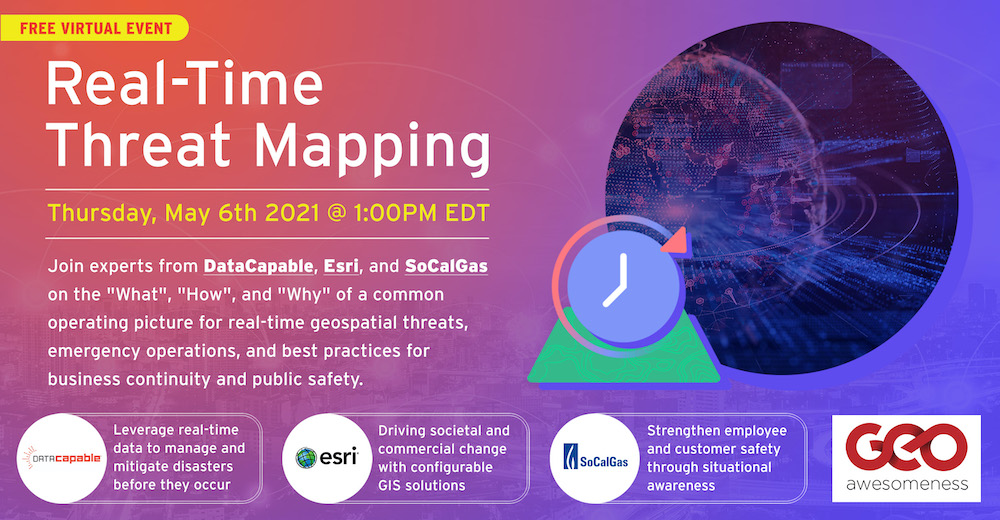 #People
"what", "how", and "why" of real-time geospatial threat mapping
Climate change, global pandemic, civic unrest and geopolitical tensions have all highlighted the need for preparedness not just for governmental agencies but also for businesses to tackle whatever challenges come their way and to be prepared to operate even under difficult circumstances.
Delighted to be able to discuss this important topic together with you and the rest of our community at our upcoming digital event on 6th May.
Join experts from DataCapable, Esri, and SoCalGas on the "what", "how", and "why" of a common operating picture for real-time geospatial threats, emergency operations, and best practices in business continuity. Here is the agenda for the event and if you haven't already done so, here is the registration link.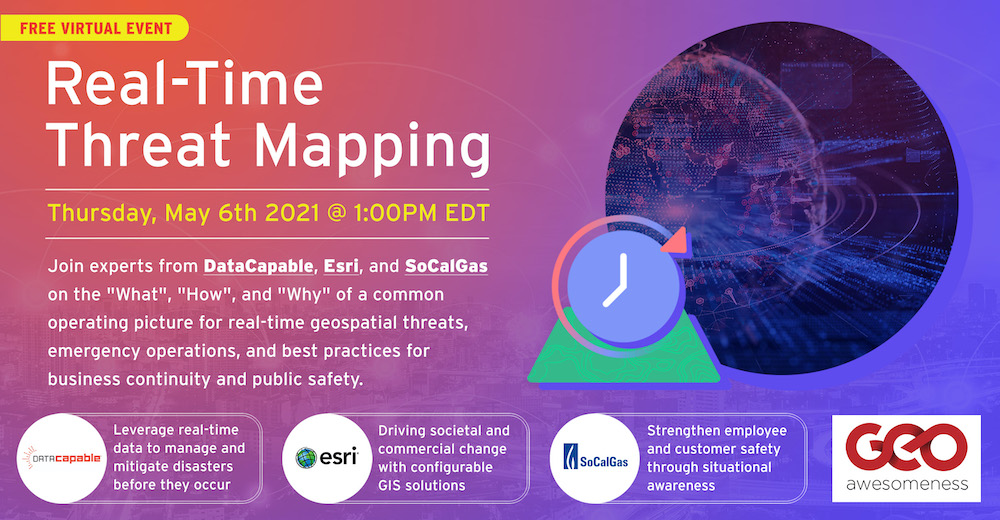 About Geoawesomeness Digital Meetup
Geoawesomeness Digital meetup is all about bringing the spatial community together and enabling interactions within the community whether it's for fun and/or profit. And along the way, we hope that the meetup will help us all better understand how location data and technology are transforming the world for the better.
We are quite excited about our digital meetup series and it's great to see that you are excited about it as well! We promise it's going to be #geoawesome! In the meantime, if you have ideas/suggestions for us to make this a regular feature on your calendar, do let us know!
You will find the schedule for 2021 here.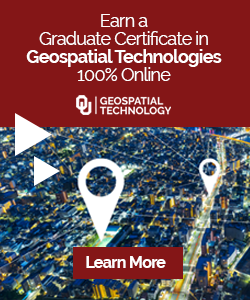 The community is supported by:

Next article
#Business #Ideas
Some roaring geospatial predictions
As we celebrate ten years of Geoawesomeness, this is a perfect time to reflect on the past decade with an outlook for the future. Here are my geospatial predictions for, what I hope will soon become, the roaring twenties.
Autonomous first
With more and more drones filling our airspace, the commodity of sensors, the aftermath of Covid-19 and climate change, autonomous operations will start to invade our daily lives. I'm not only referring to autonomous vehicles like self-driving cars, but organizations of all kinds will start to automate operations by incorporating location intelligence combined with artificial intelligence into enterprise systems and workflows. This will result in remote monitoring of assets and infrastructure, significantly reducing manual inspection processes. Think about identifying vegetation that is too close to a power line and likely to cause a wildfire, detecting missing manhole covers before an incident happens, or discovering damaged solar panels.
The real deal
For thousands of years, humankind has used maps to understand the environment and find our way home. Today, there are many visual methods for depicting real, simulated, or fictional geospatial worlds. Augmented and virtual reality can create immersive experiences anywhere in the field and can be easily consumed using a simple smart phone. One of the early adopters of this trend is Pokémon Go. Virtual reality can be used for realistic and immersive education, planning, and training. Augmented reality will, amongst other things, display different types of vehicles to make it easier for pilots to access critical information without breaking focus from the reality in front of them.
Enter GaaS
After the rapid expansion of the cloud computing market in recent years, the geospatial industry will also secure its spot in the cloud. "Where" will seamlessly be integrated into our ability to collect, analyze, and disseminate data in the cloud. Functionalities of these Geospatial-as-a-Service (GaaS) platforms will be restricted only by imagination. With GaaS, geospatial software will also be available for organizations operating on limited budgets, thanks to its "credit card swipe" approach.
The case for space
While space is already key for a number of geospatial operations, such as remote sensing, space will get a prominent place in the geospatial future with human explorations of Mars and commercial space flights around the corner. While mapping the entire universe seems a long way ahead, the use of more antennas on space systems and new signalling capacity will help us create accurate 3D maps for planning and real-time monitoring of space events.
Unfortunately, I'm not able to predict the accuracy of my predictions, but I'll conclude with the wise words of Abraham Lincoln: "The best way to predict the future is to create it."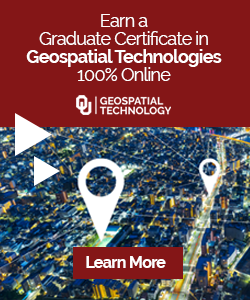 Read on