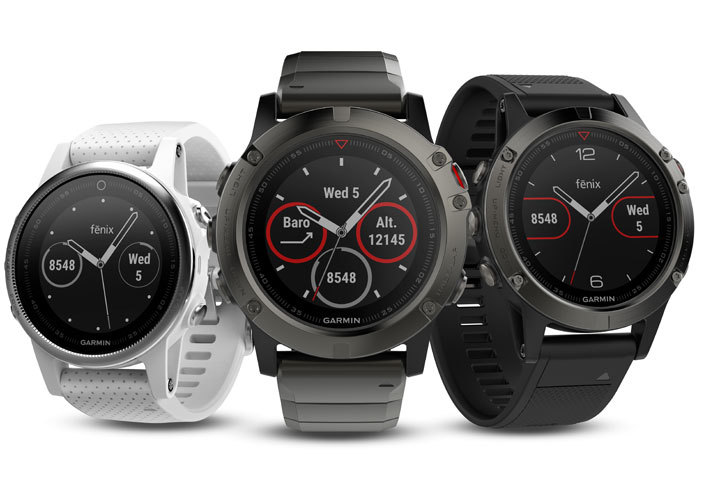 #Business
Top 4 GPS watches announced at CES 2017
CES 2017 is ending today. The event brought a lot of cool announcements of location-aware gadgets but this year was particularly full of awesome wearables with build-in GPS. Among all of them we found 4 devices that really stand out:
1. Garmin Fenix 5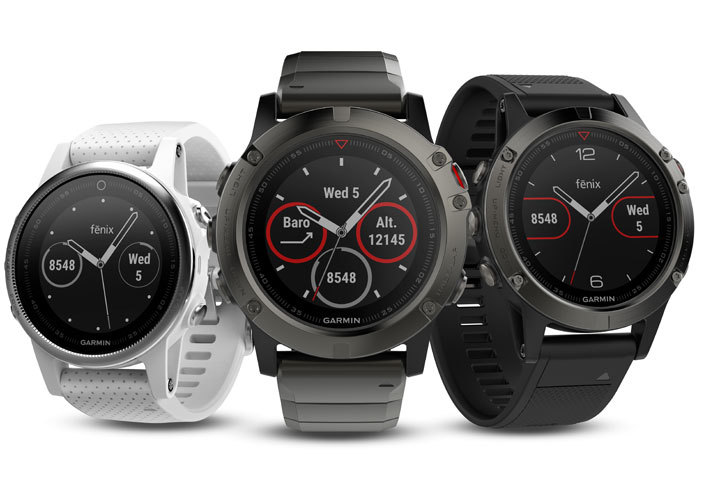 Garmin Fenix 3 is one of my favourite GPS watches (in fact I use it as my primary watch everyday) but for the past 2 years it didn't get any upgrades. At CES 2017 Garmin finally released the latest edition of the Fenix series. This time it comprises of three devices: Fenix 5, Fenix 5S and Fenix 5X. Wondering why there is no Fenix 4? Garmin explains that the phonetic pronunciation of that in Chinese roughly translates to "fast rise to quick death". In that case 5 is just fine.
Ok. So what's new? The Fenix 5 is significantly smaller (exactly 4.5mm smaller) than the previous version while keeping the same display size. But if this is still too big for you the company introduced 5S version which is almost 1cm smaller than Fenix 3 and targeted towards women. There is also the 5X version which is similar size to Fenix 3 but 1.5mm thinker. It's really a lot on the wrist but with that size you get 12GB of internal storage that can fit in a full global offline map!
Watch
Fenix 5
Fenix 5S
Fenix 5X
Fenix 3
Physical dimensions
1.9" x 1.9" x 0.6" (47.0 x 47.0 x 15.5 mm)
1.7" x 1.7" x 0.6" (42.0 x 42.0 x 14.5 mm)
2.0" x 2.0" x 0.7" (51.0 x 51.0 x 17.5 mm)
2.0" x 2.0" x 0.6" (51.5 x 51.5 x 16.0 mm)
Display
diameter
1.2"
(30.5 mm)
1.1"
(27.94 mm)
1.2"
(30.5 mm)
1.2"
(30.4 mm)
Display resolution
240 x 240 px
218 x 218 px
240 x 240 px
218 x 218 px
Weight (silicon band)
3.0 oz (85.0 g)
2.4 oz (67.0 g)
3.5 oz (98.0 g)
2.8 oz (79.6 g)
Internal memory
64 MB
available 54 MB
64 MB
available 54 MB
12 GB
32 MB
available 23 MB
Starting price

$

599.99

$

599.99

$6

99.99

$4

49.99
It's a solid upgrade from Garmin but nothing revolutionary.
2. Casio WSD-F20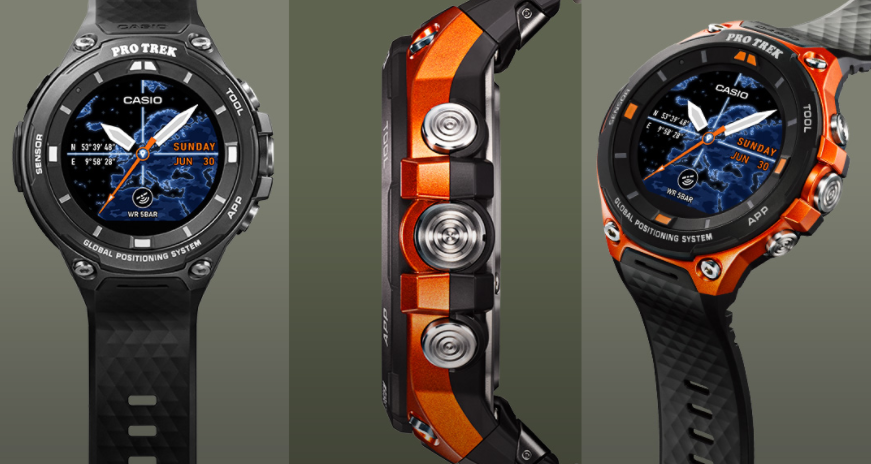 Casio announced the successor to its WSD-F10 smartwatch, called the WSD-F20. It runs Android Wear 2.0, features a 1.32-inch dual-layer display with a 320 x 300 pixel resolution. The screen let's you switch to a monochrome "Timepiece" mode that turns off Android Wear to save battery. Moreover Casio says the WSD-F20 features low-power GPS and will offer compatibility for Glonass (Russian) and Michibiki (Japanese) satellite systems to improve tracking further. Unfortunately all this cool features come at a price… The watch is huge! It's 56.4mm wide, 61.7mm long, 15.7mm thick and it weighs 92g. It will be available for sales in April with around $500 price tag.
3. New Balance RunIQ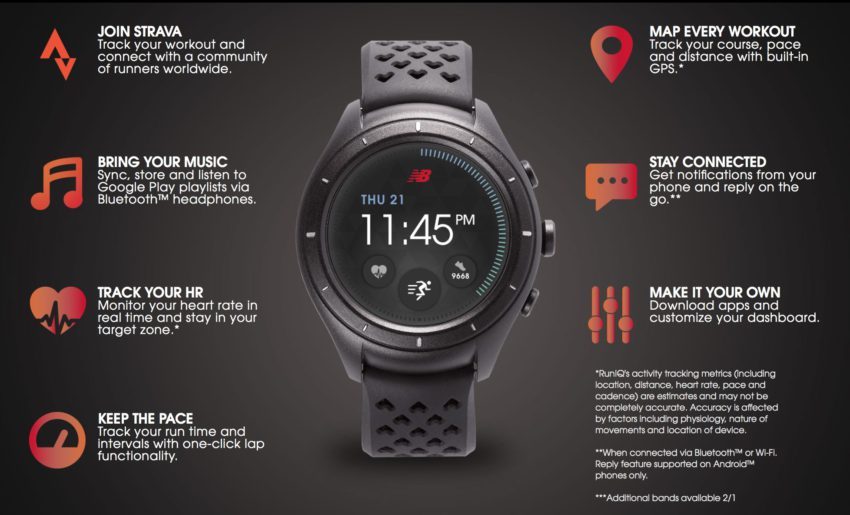 New Balance announced pretty awesome RunIQ Android Wear smartwatch. The device offers built-in GPS, 4GB of storage, real-time heart rate monitoring, a lap button, interval functionality and a 24-hour battery life, or 5-hours with continuous GPS and heart rate measuring. New Balance says that it's "designed by runners for runners". With that specs, cool design and just a $299 price tag RunIQ might be a pretty big success. I can't wait to put my hands on it.
4. Misfit Vapor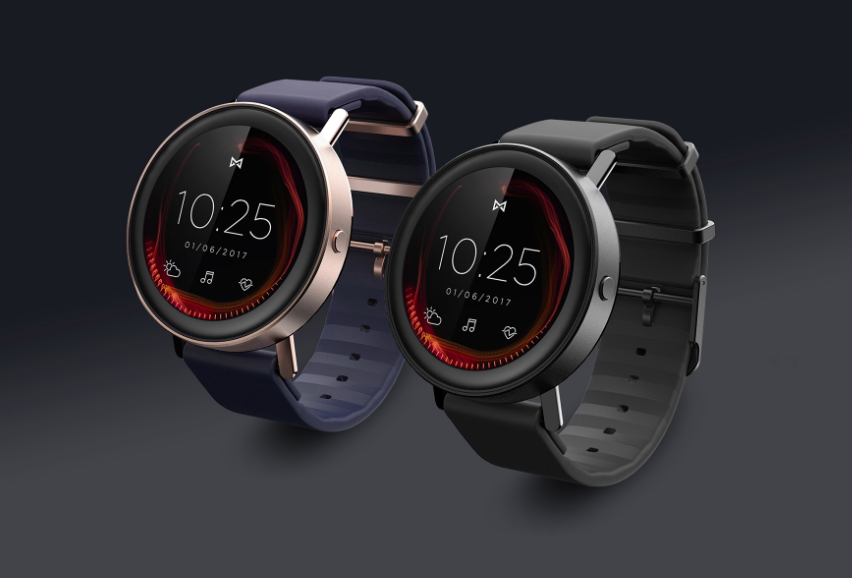 Misfit, a maker cool looking fitness wearables that was acquired by Fossil last year, has just unveiled a new touch screen smartwatch called Vapor which is supposed to cost just $199 while being packed with features and having really awesome design.
The watch has a 1.4-inch full AMOLED touchscreen display, built-in GPS, optical HR sensor, and 4GB of storage. It runs on Qualcomm's Snapdragon Wear 2100 processor and features a custom version of Android Wear.
First impression – this watch looks really great!!! I hope we'll test it soon.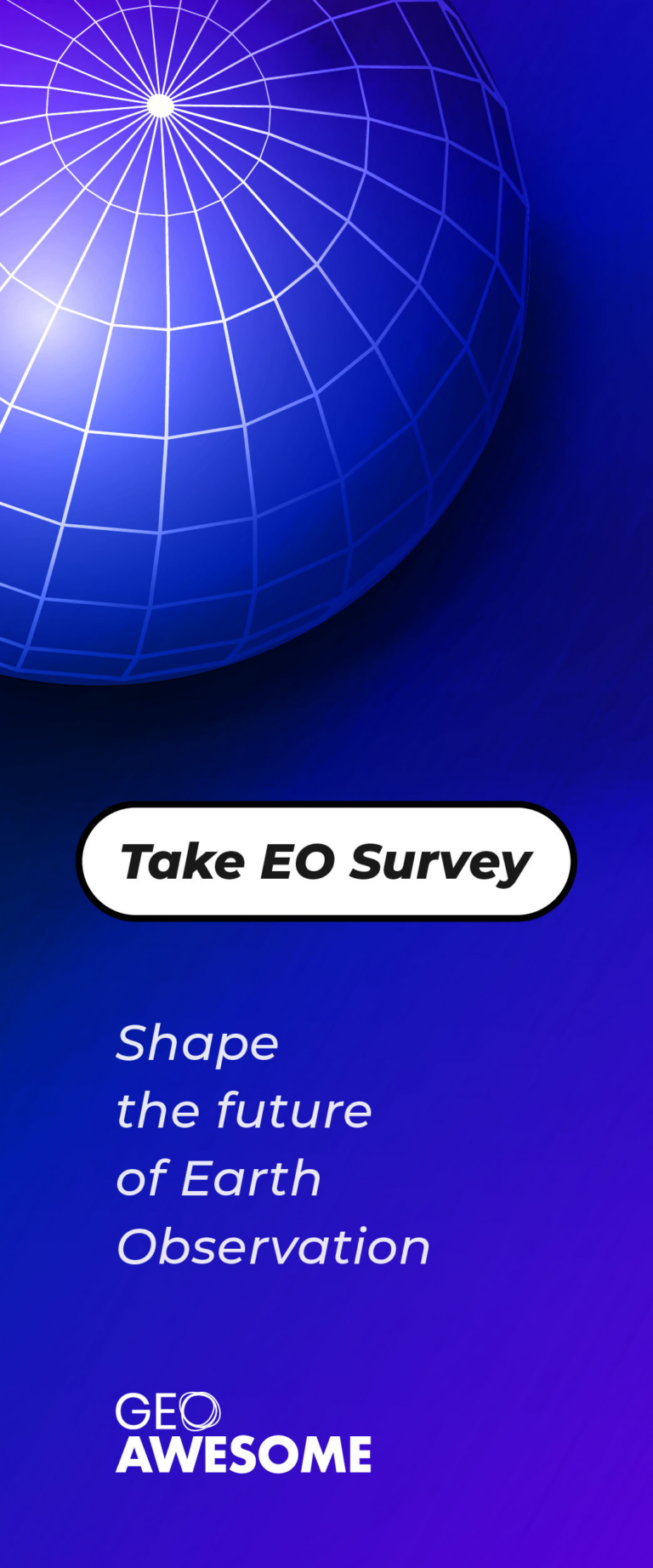 The community is supported by:

#Business
Next article

#Business
This great infographic shows the evolution of drones over the past decades
Recent years have been a breakthrough for UAVs. But how did it happen that drones gained such a popularity? Why this technology is so ubiquitous and where that leaves us? In order to answer these questions, we should look a bit more closely at UAVs history and how it affected our world. Fortunately, I found an interesting infographic by PureFunds that brings us closer to answering these questions.
The infographic chronologically shows the most important projects and historical events that have contributed to the spread of UAVs in the past. We will find out about origins of the word "drone", information about why this technology was needed in the past and why it's needed today. Interestingly, authors try to foresee how drones will affect the economy and what will be their role in the forthcoming years. It's definitely worth to look at it.

Read on