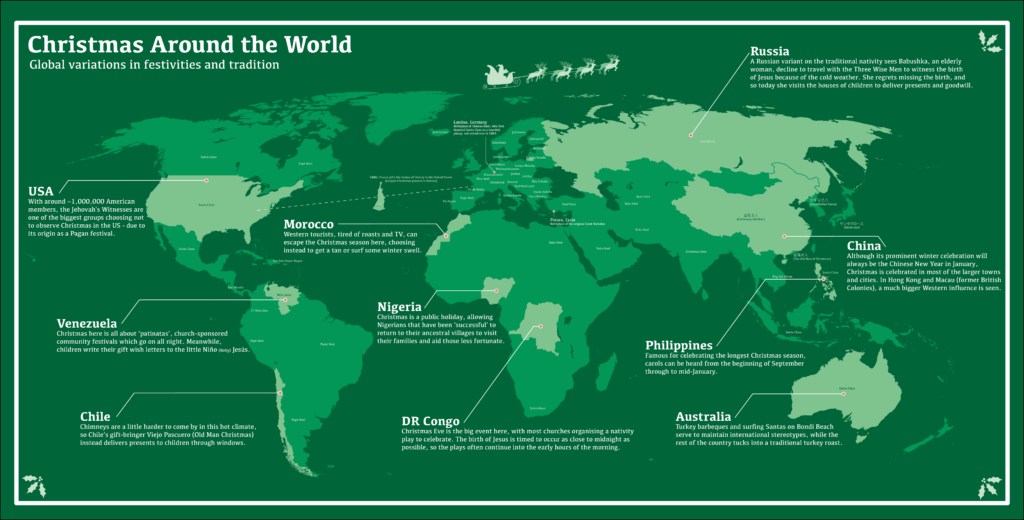 #Fun
Top 15 maps and charts that explain Christmas
It's that time of year again. Christmas time. The time when millions of people around the world celebrate the birth of Jesus Christ, meet with family and friends, give and receive gifts. But was is it all about? We try to answer that question with these 15 maps, charts and infographics.
1. Christmas around the world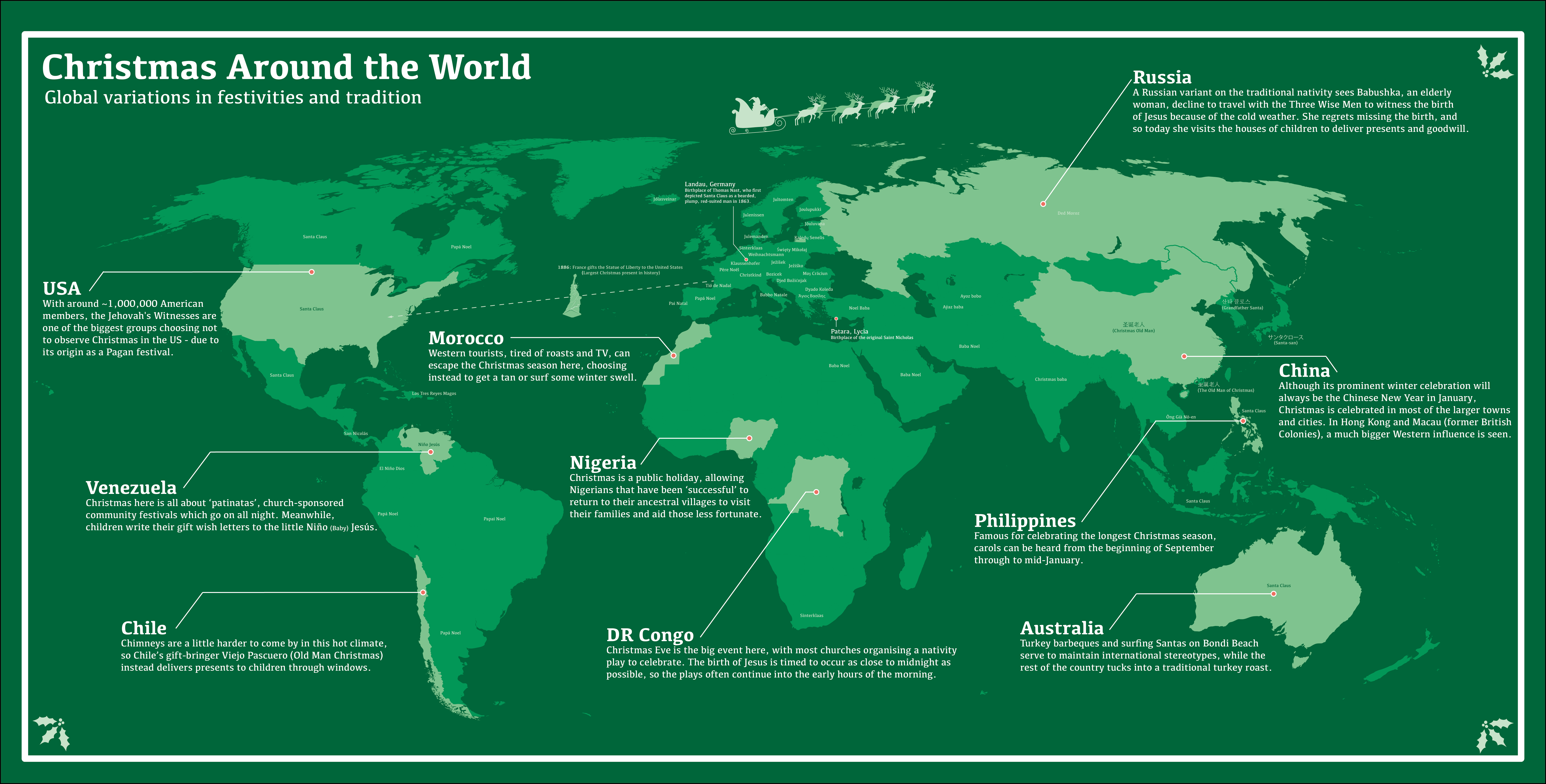 source: InfoKart
2. Christmas around the world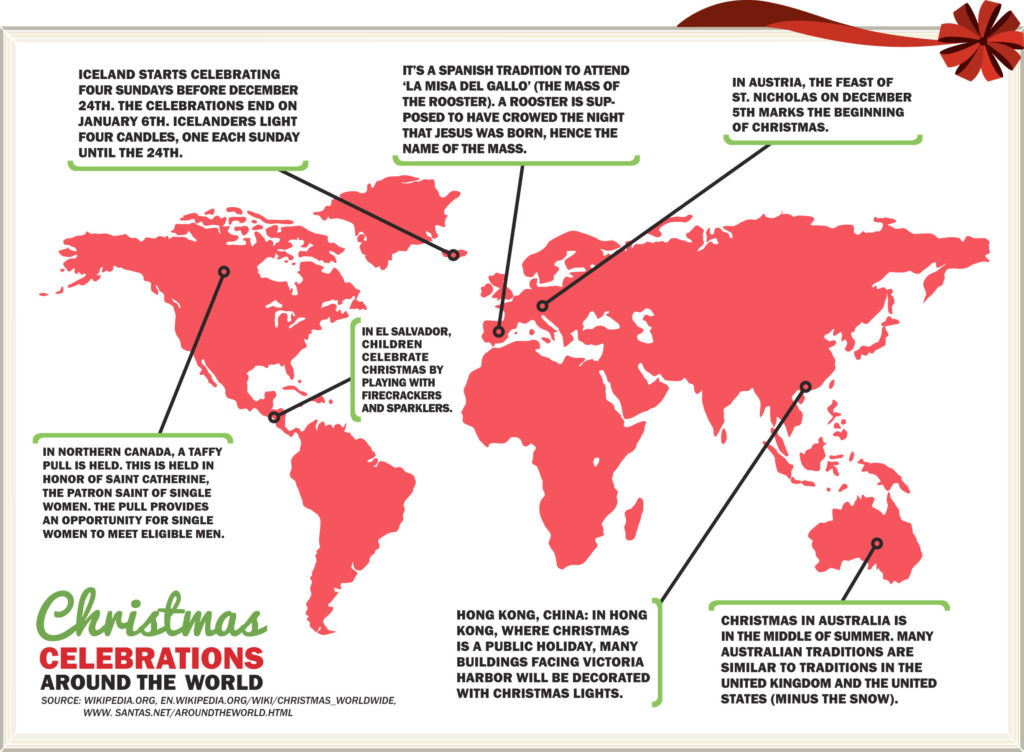 3. Bethlehem map – The Birthplace of Jesus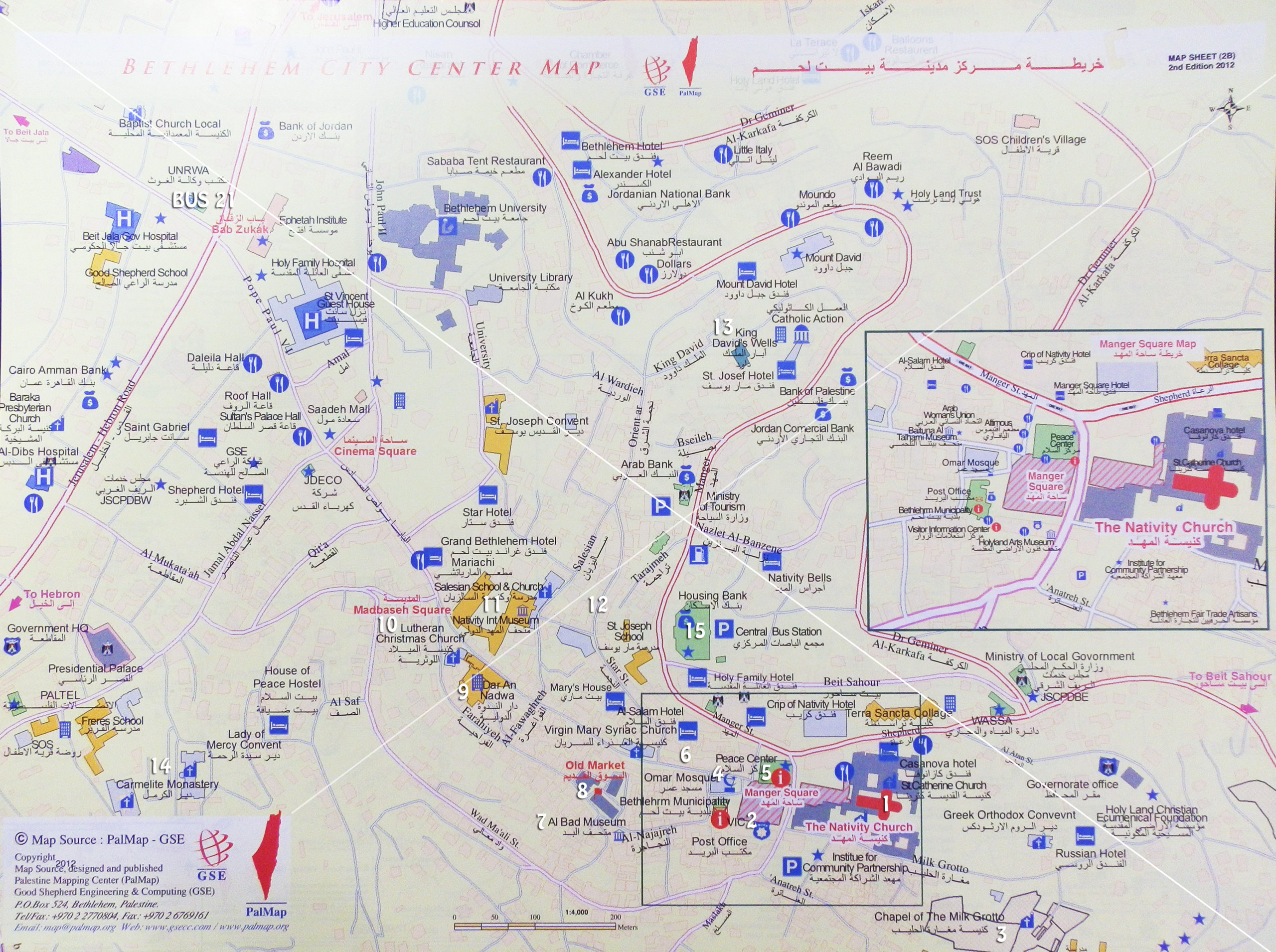 4. Map of Countries that do not recognize Christmas as Public Holiday
source: Wikipedia
5. Percentage of Christians per country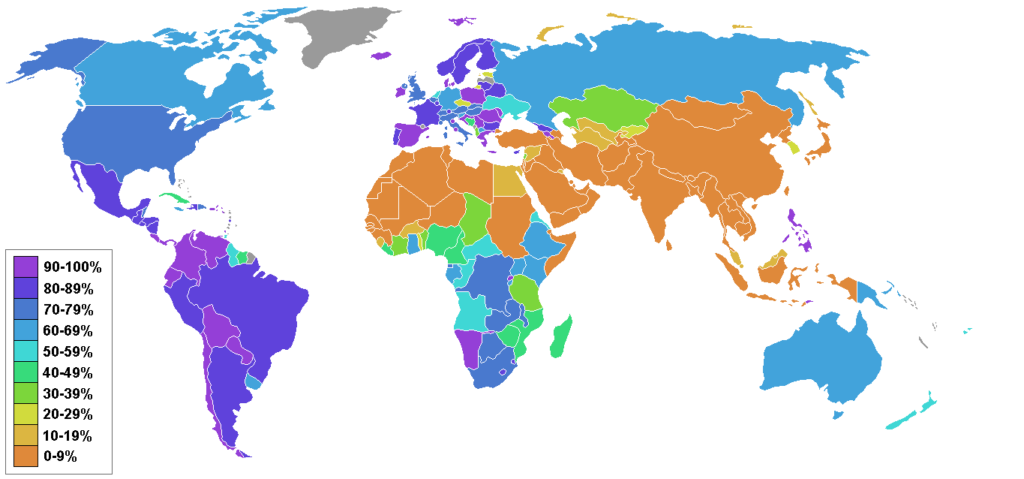 source: Wikipedia
6. Animated map shows how Christianity spread around the world
7. The history of Christmas

source: BalsamHill
8. Christmas Dinner Around The World

9. Where do your Christmas trees come from?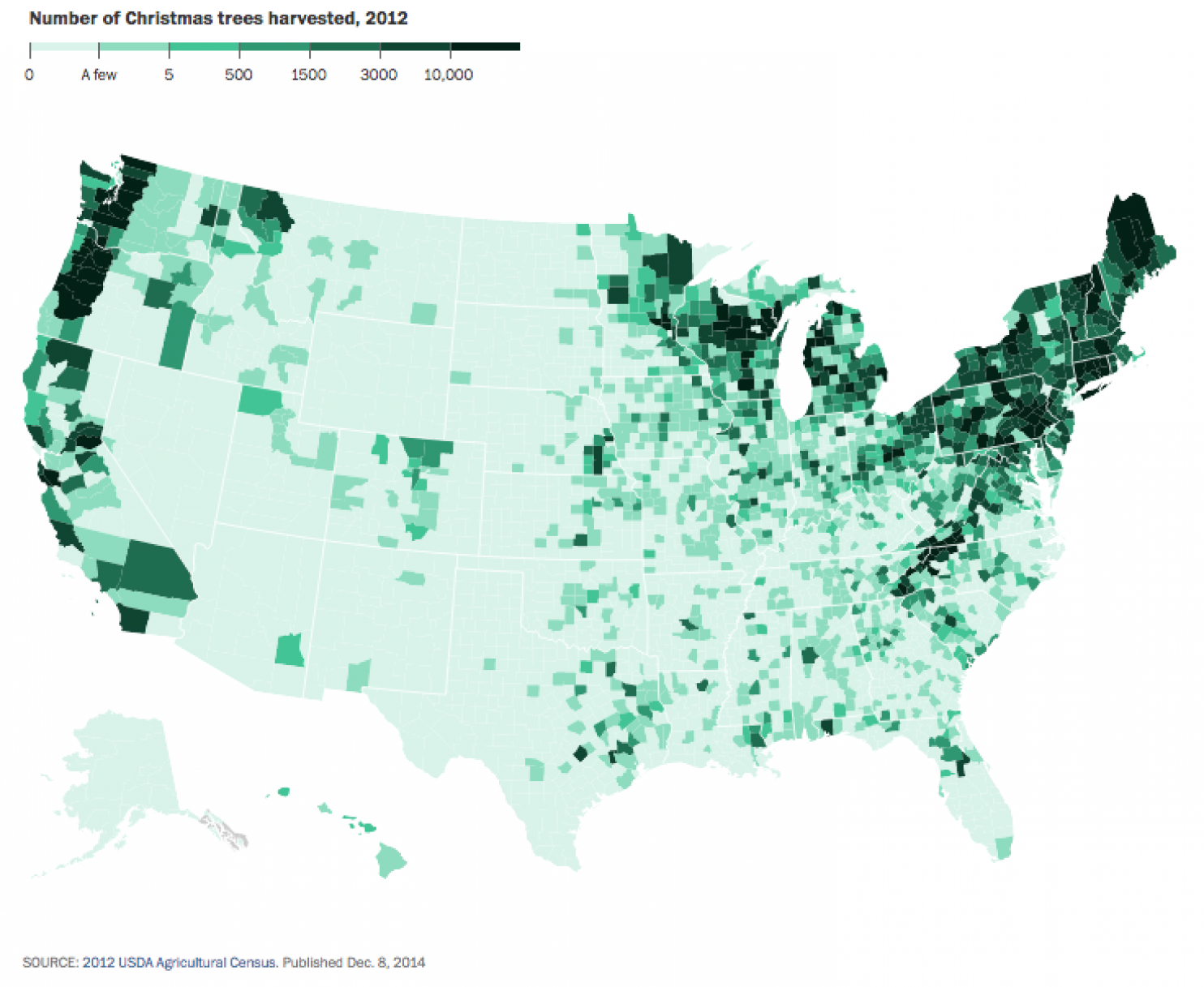 source: WashingtonPost
10. Probability of White Christmas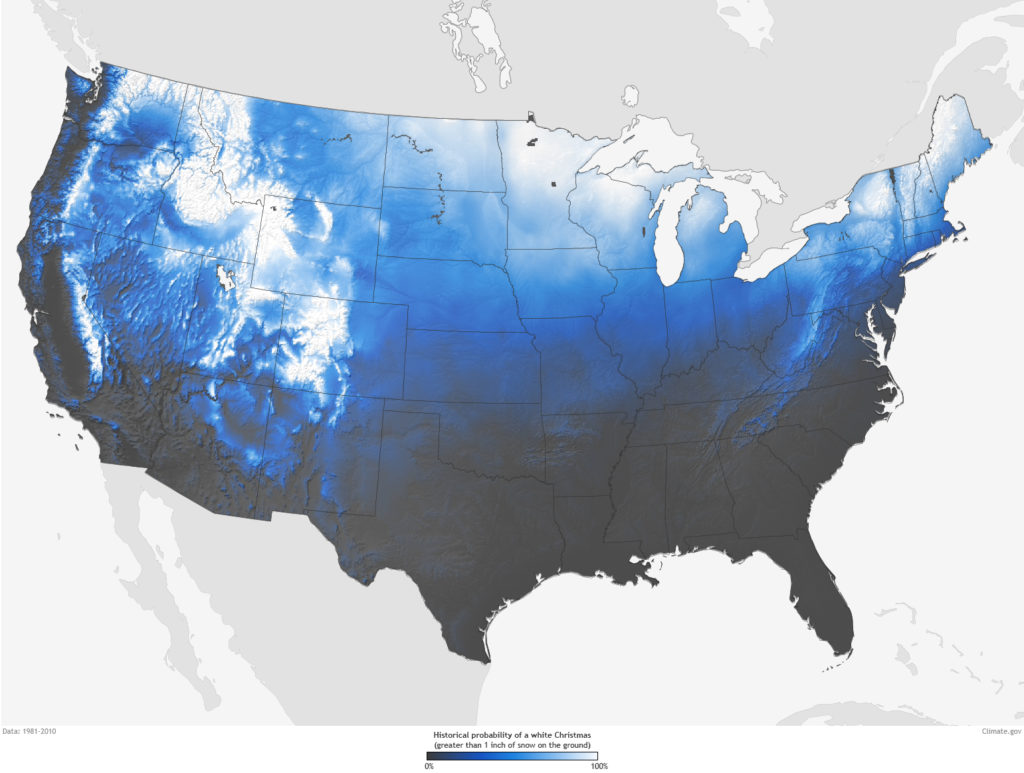 source: NOAA
11. The Origins of the legend of Santa Claus

source: Kremp
12. What Does it Take to Prepare for Christmas

source: Fantastic Services
13. The Top 50 Christmas Toys of the Past 100 Years

source: Cash Generator
14. The Business of Christmas

15. Map of America's favourite Christmas artists by state according to eBay

source: eBay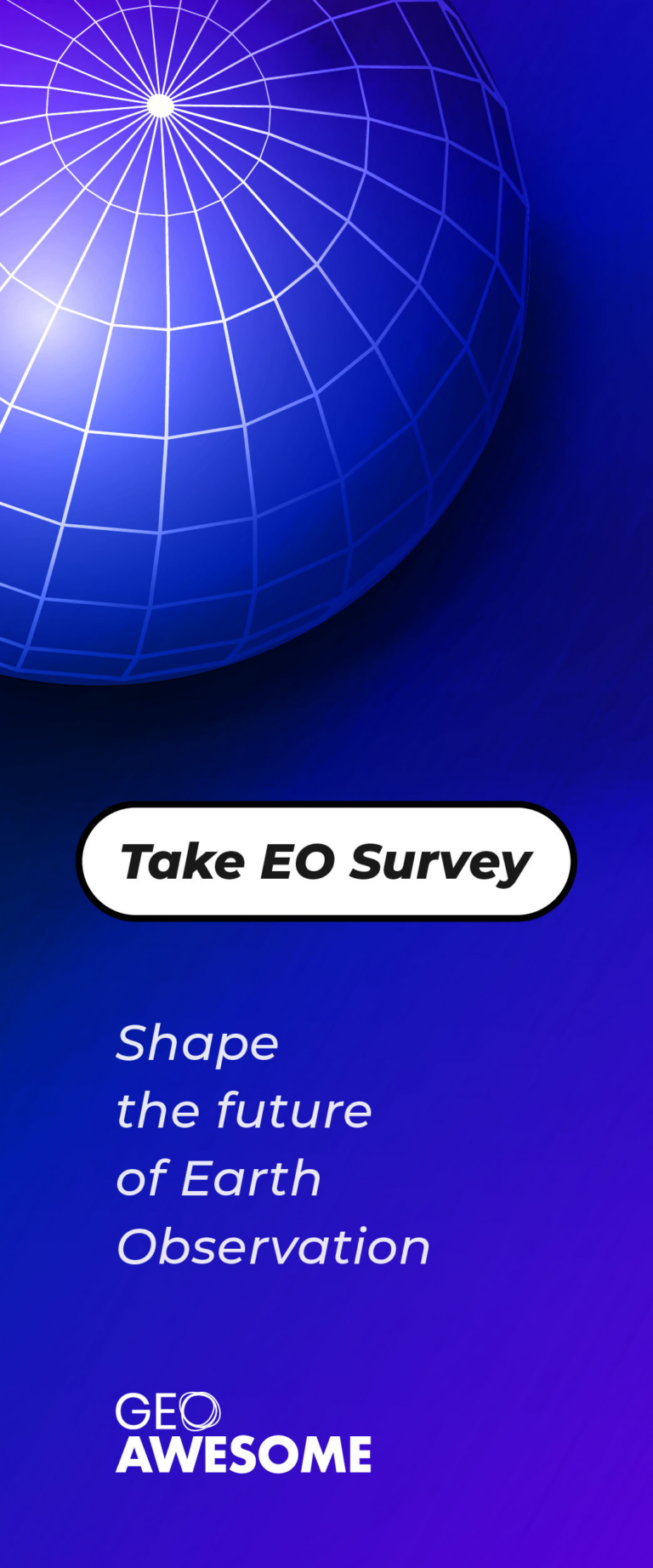 The community is supported by:

Next article
#Business #Featured #Ideas
Location intelligence platform Carto raises a $61 million Series C round
Location intelligence platform Carto has raised a $61 million Series C round, led by New York-based venture capital Insight Partners, as well as Accel, Salesforce Ventures, Hearst Ventures, Earlybird, and Kibo.
Founded in 2012, CARTO provides enable end-to-end analytics workflows and location-based service, allowing hundreds of thousands of users to display locational data on interactive maps to compare, optimize, balance, and make decisions. Whether it's optimizing billboard sites, balancing sales territories, or designing supply chains, Carto helps its clients create maps and visualizations out of disparate data points.
The main target clients of Carto come from business industries such as Real Estate, Financial Services, Telecoms, Government, and many more.
According to the data management needs of the GIS developers, data scientists, and analysts, Carto offers cloud-native, on-premise, and hybrid deployments to support them connect their various data sources, including data warehouses and business intelligence (BI) tools. Carto supports the data format from multiple sources. Users can connect to cloud data directly, but also upload local files for historical data.
With support for data warehouses (Amazon Redshift, Google BigQuery, or Snowflake), databases (PostgreSQL, MySQL, or Microsoft SQL Server), or cloud storage services (Dropbox, Box, or Google Drive), Carto provides a fully cloud-native approach to spatial analytics. This solution is more scalable, interoperable, and cost-effective for working with spatial data through Spatial SQL. Spatial SQL uses same kinds of elements and structure as regular SQL, which is compatible with all modern analytics stacks.
After that, Users can operate and enrich their data using SQL queries. Carto also provides their own data catalogue for its clients. The company has compiled around 10,000 data sets from both open data sources and private providers. Carto's spatial data consists of road traffic, human mobility, financial, housing, points-of-interest (POI), and other public and premium datasets.
After data enrichment and management, users can conduct spatial analysis and perform spatial analytics using Carto's self-service Carto Builder in the cloud, which can help teams create maps in a short time period. All of the spatial extension from Carto runs on top of all the major data warehouses, giving users a complete, performant, scalable, and secure suite for geospatial analysis. Furthermore, a Python package called Cartoframes can be used to integrate Carto into existing workflows, which is convenient for data scientists.
Carto has built a business relationship with lots of customers, such as Renault, JLL, Bumble, DHL, T-Mobile, Coca-Cola, and Mastercard. Besides, Carto also participates in Europe's NextGenerationEU program.
Except for USA and Europe, Carto also raises the interests from China. With a 1.6 billion population, China has the biggest potential location intelligence market. However, there are some potential competitors from China existed, including Geohey, GeoQ, and Changjing.AI.
After 9 years of development, CARTO has established a team with more than 150 employees spread across the US and Europe. The headquarter of CARTO is located in New York, with additional offices in Madrid, Seville, and London. Carto had raised some $31 million before now, including its previous $23 million Series B round in 2015.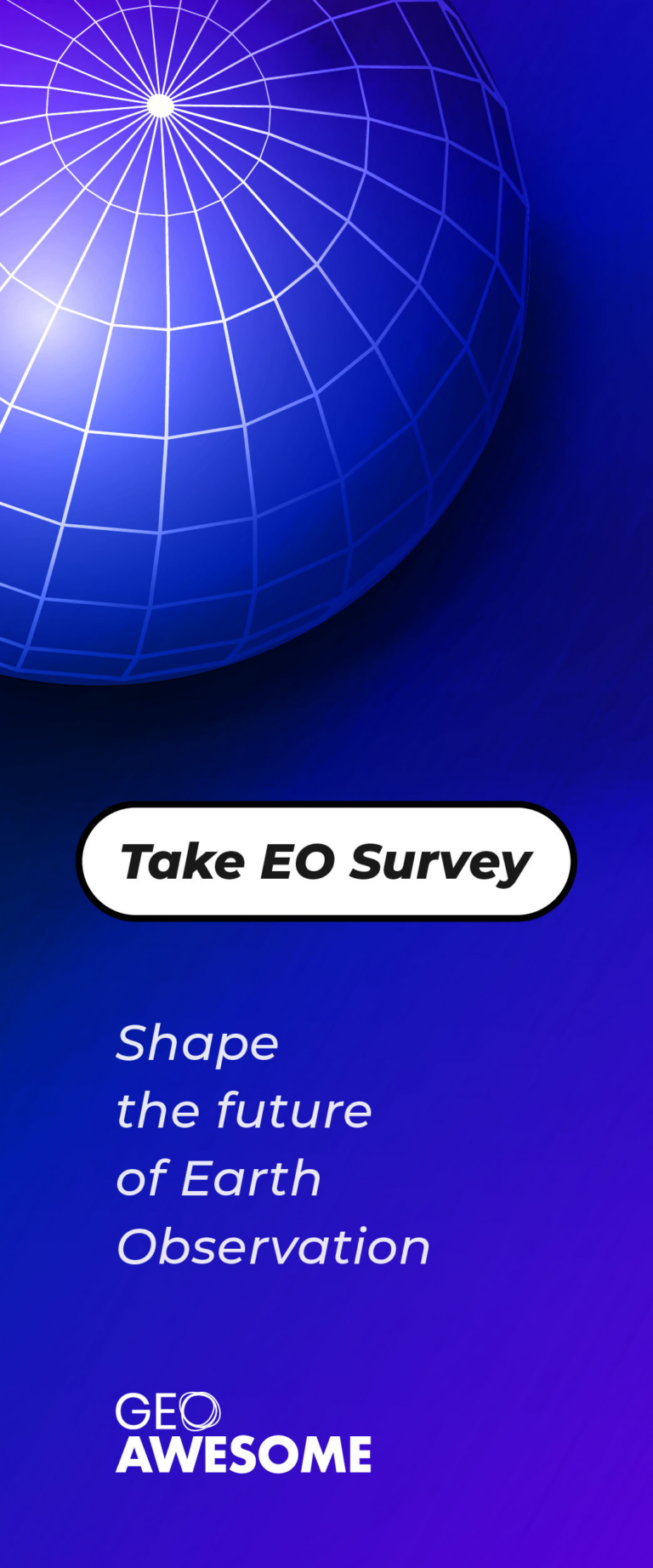 Read on