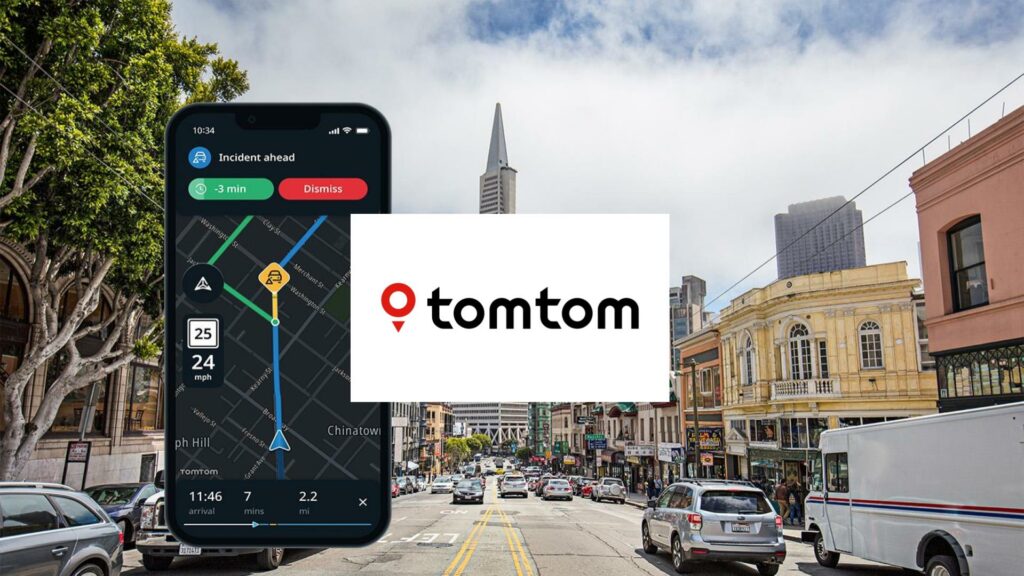 #Business
TomTom Maps Platform – the company's vision for creating the smartest map on the planet
"In a way, it's like the start of TomTom 2.0. The company is coming out of stealth." – Corinne Vigreux, Co-founder and Chief Marketing Officer at TomTom. 
Millions of users around the world use TomTom as a noun to describe the dedicated navigation device they use in their cars. TomTom GPS device was even ranked #29 on Time magazine's list of the 50 most influential gadgets of all time. The 31-year-old company has been listed on the Amsterdam stock exchange since 2005. 
So what product can possibly convince the CMO of the company to call it the start of TomTom 2.0? 
Introducing TomTom Maps Platform
Before we dive into why TomTom believes this is the start of their biggest adventure yet, let's talk about the basics of this new product: TomTom Maps Platform. TomTom Maps Platform is actually three things rolled into one  
new map,

new platform and

new ecosystem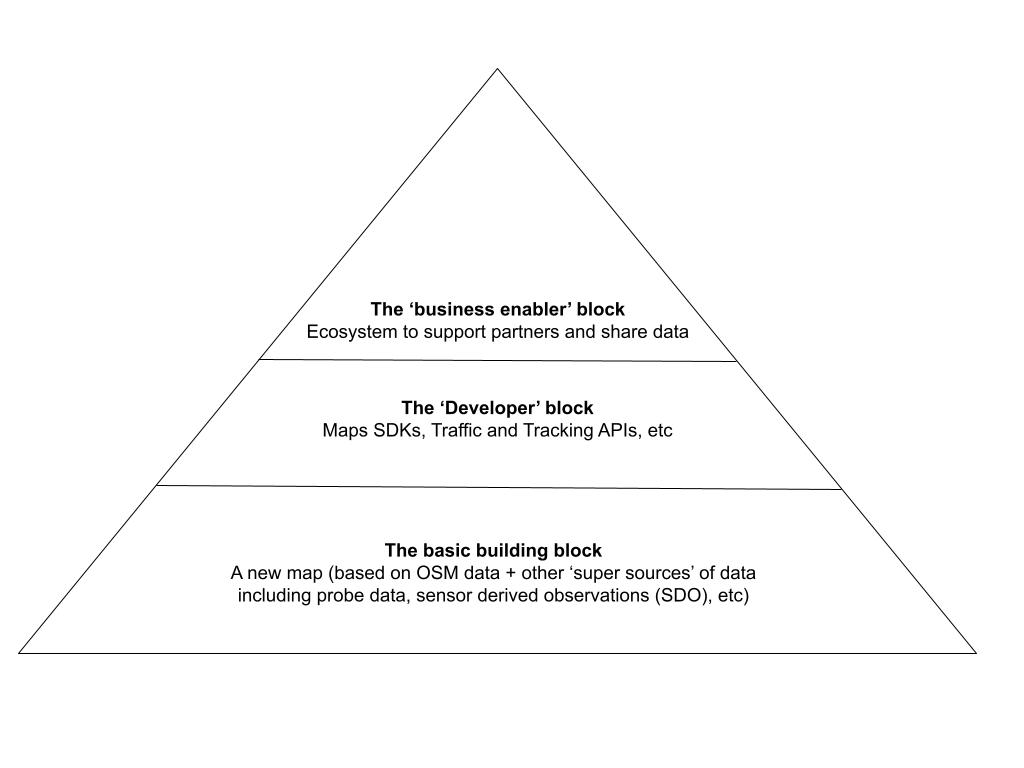 One way to visualize the map platform is to think of it as a 3-layered pyramidal structure. At the base, you have the new map. Yes, a new map and yes it's 2022. Alain De Taeye probably saw this comment coming hence the nice quote in the press article announcing the new product. 
There will always be the next new innovation to make maps in a different way. Maps will be there 1,000 years from now. It's never done. – Alain De Taeye, TomTom Board Member
The second layer is the software platform for developers to build their applications and solutions on top of maps and location data. On top of the pyramid, you have the "mapping" ecosystem to support partners and share data. 
Why is TomTom investing so much into the Maps Platform?
Location data is the base layer on top of which many apps are built to deliver value to us the customers: Online shopping, food & groceries delivery, taxis, social media, you name the app, chances are that they are using location data in one way or another. Not to forget the entirely new ecosystem that is emerging around automated/autonomous transportation. 
Quite a few organizations around the world have tried to build a map either from scratch or on top of existing data repositories. Unless selling location data is your core business or location data is somehow really important to the survival of your company building your own map can quickly become a huge challenge. So many companies end up buying or licensing (proprietary) location data from third-parties. An open data alternative would be to directly use data from OpenStreetMap. 
A quick search makes it clear that there are several location data providers that are able to provide global map datasets e.g. OSM, TomTom, HERE, Mapbox, Google amongst others. Quite a few that specialize in providing data for specific geographical areas e.g. Baidu maps, Increment P, MapMyIndia amongst others.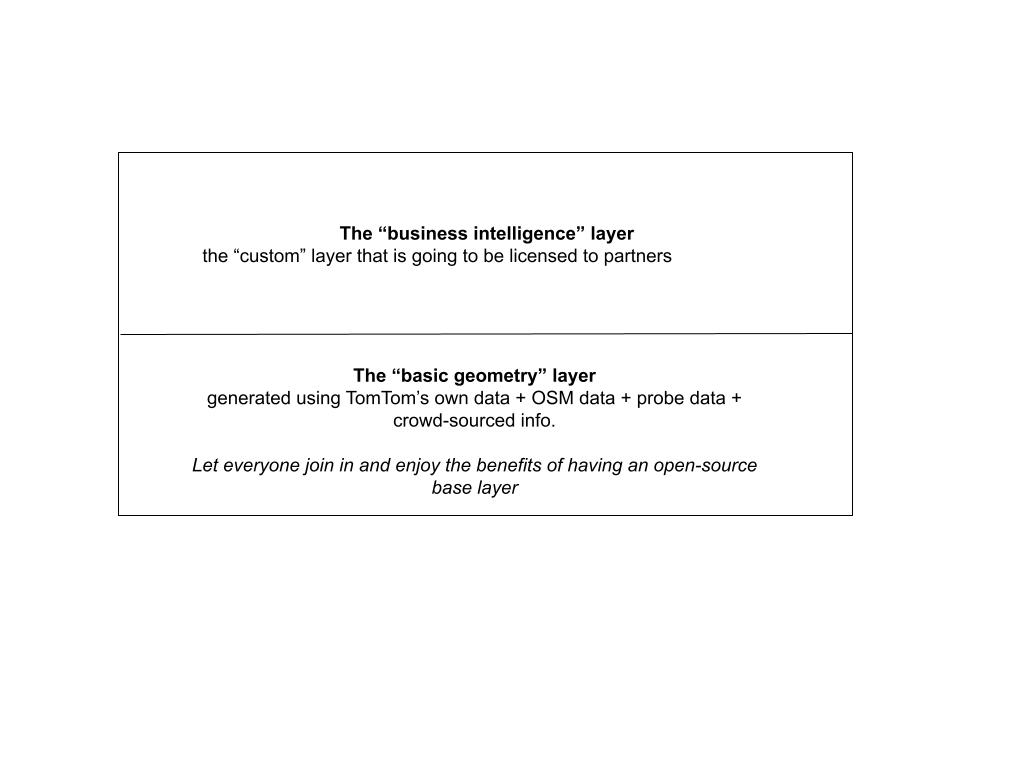 The bottom line is that a map with road geometry and basic building layout information isn't a huge differentiator anymore. The competition has now entered the higher layers. 
TomTom Maps Platform aims to disrupt the market by first opening up the base layer and then having a custom (read licensed) layer on top. From a technical perspective having millions of users providing inputs to improve your base layer is something that many mapping companies already do. Companies like Mapbox have built their entire business on top of OpenStreetMap by adding enterprise-grade quality control measures. The differentiator was already in the value-add features e.g. routing algorithms specialized for trucking, etc. Information like this seems to be part of the "business intelligence" layer (licensed) in TomTom Maps Platform. 
For the lack of a better term, TomTom Maps Platform seems to take a step towards standardizing the base layer. If all the mapping players agree on the bits and bytes of the base layer then it kind of becomes the USB-C standard of the mapping world. This isn't without precedent either. The Navigation Data Standard (NDS) aims to do something similar for the automotive industry (and yes, TomTom is a member of NDS). Google, Mapbox and many others are not associated with NDS. Interestingly, HERE is part of NDS as are many automotive companies. 
Credit to TomTom for addressing that there are several open questions especially around how the company will use OSM data and contribute back to the community. TomTom has published a blog on the 'super sources' and also briefly addressed the link to OSM. Check it out Super sources power TomTom's new map. But what are they?. Information regarding partners is also not available at this moment. 
TomTom 2.0: A big bet on their future and what stock price might be telling us 
TomTom's big bet here is that they strongly believe (to the point of calling it TomTom 2.0) that building a platform and an ecosystem where partners can contribute and license custom layers (e.g. HD lane geometry for autonomous driving, routing algorithms for trucking, etc) is the way of the future. 
As a publicly traded company the statements at the last investor call seem to indicate that the company is quite confident about their growth rate and the importance of TomTom Maps Platform in helping unlock their potential. TomTom's share price however hasn't changed much since the announcement on Nov 2, 2022. According to one report, shareholders have lost 15% if they invested in the company 5 years ago. TomTom's revenues have shrunk over the last 5 years. 
The company does need a big bet if it's going to move the needle back in the positive direction. You either reduce costs or increase revenue and in a sense the strategy seems to try to do it both together via the new product i.e. reduce the costs behind the base layer since it's not a huge differentiator anyway and try to increase revenue by expanding their reach through the new 'custom layer' ecosystem.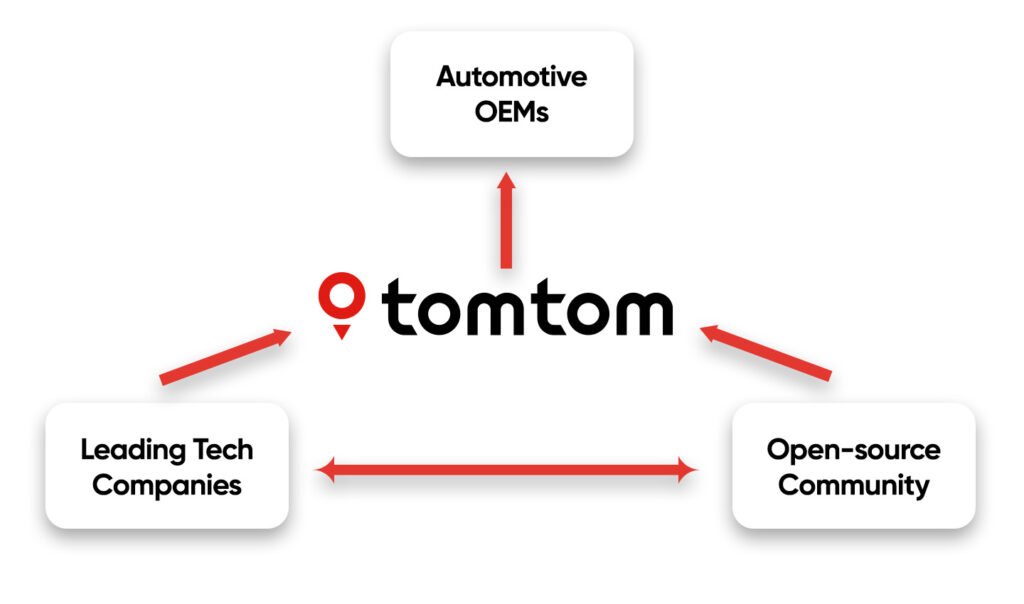 Much of the strategy behind TomTom Maps Platform hinges on collaboration, the strength of their partner network and their ability to convince new members to join their quest to standardize the base layer and build an ecosystem around custom layers. In its early days, TomTom focused primarily on the enterprise market before enjoying the biggest successes in the consumer market (thanks to their PND). In the last years, they have started to enjoy financial success building partnerships with automotive manufacturers which is now part of 2.4 billion euro backlog.  TomTom 2.0's future is going to depend on their ability to replicate their past success in building enterprise partnerships. 
It is certainly an interesting time for TomTom. We sure are curious to see how successful TomTom can be in their quest for building the smartest map on the planet!
References: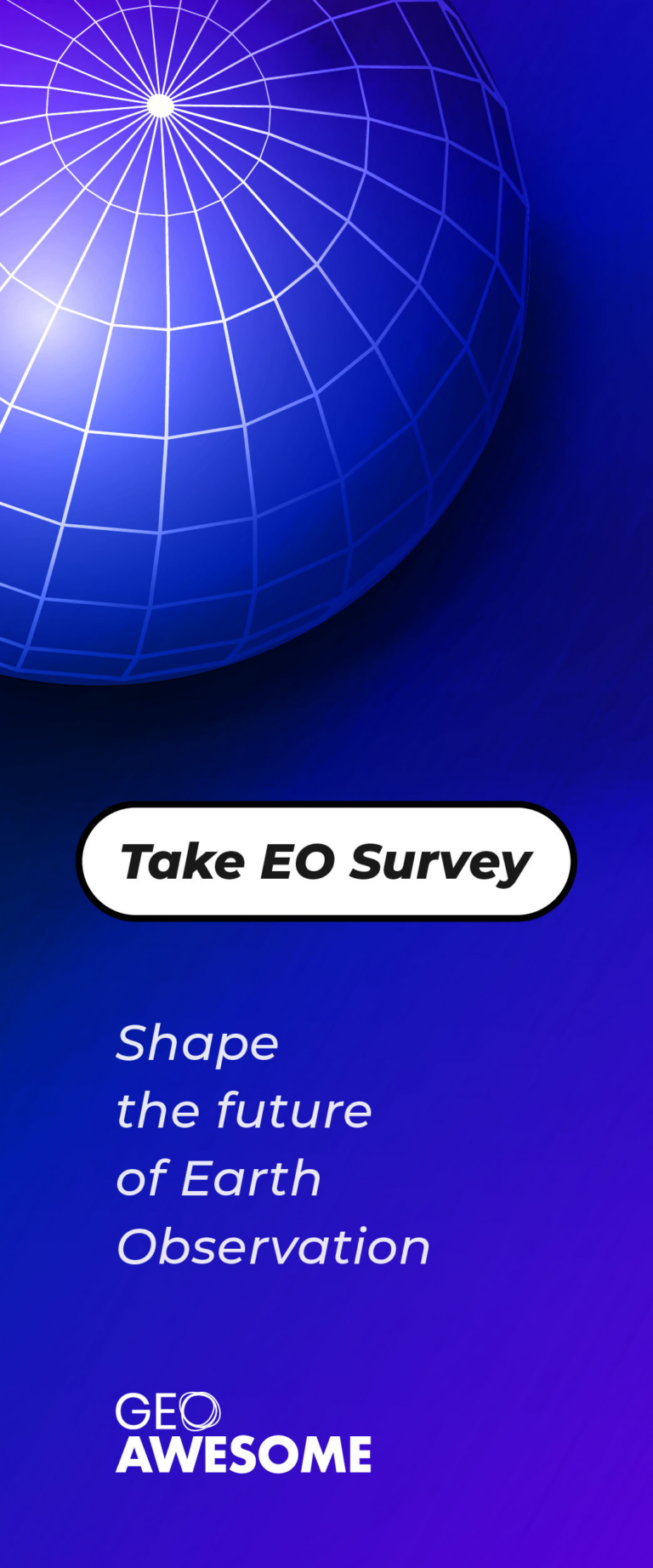 The community is supported by:

Next article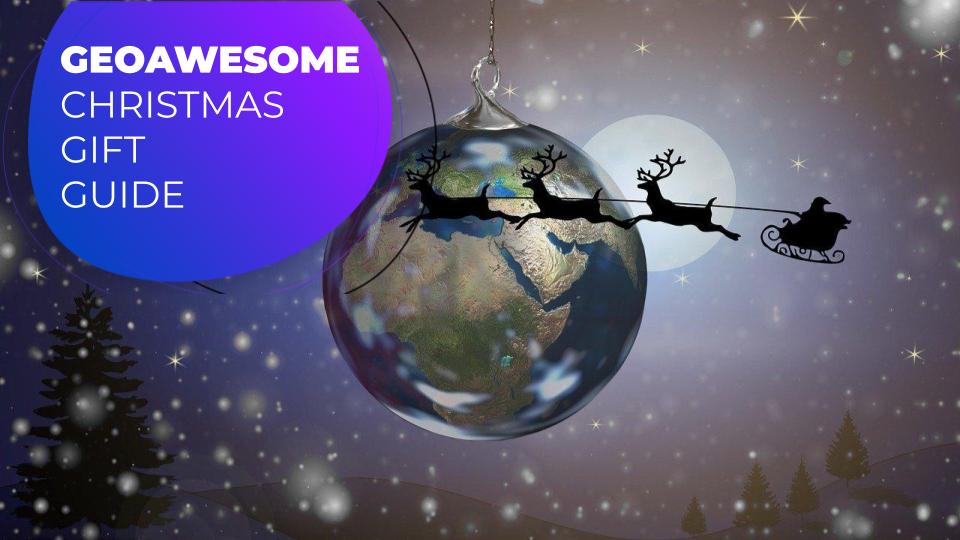 #Fun
The Best Geoawesome Christmas Gift Ideas of 2022
Christmas will be here before you know it! We will help become the best Geoawesome Gift-Giver this season. We gathered up our favourite holiday map gifts for men, women and kids. These are top-rated, Geoawesome editor-beloved gifts that are sure to make this holiday season even brighter.
1. Dymaxion Folding Globe – $10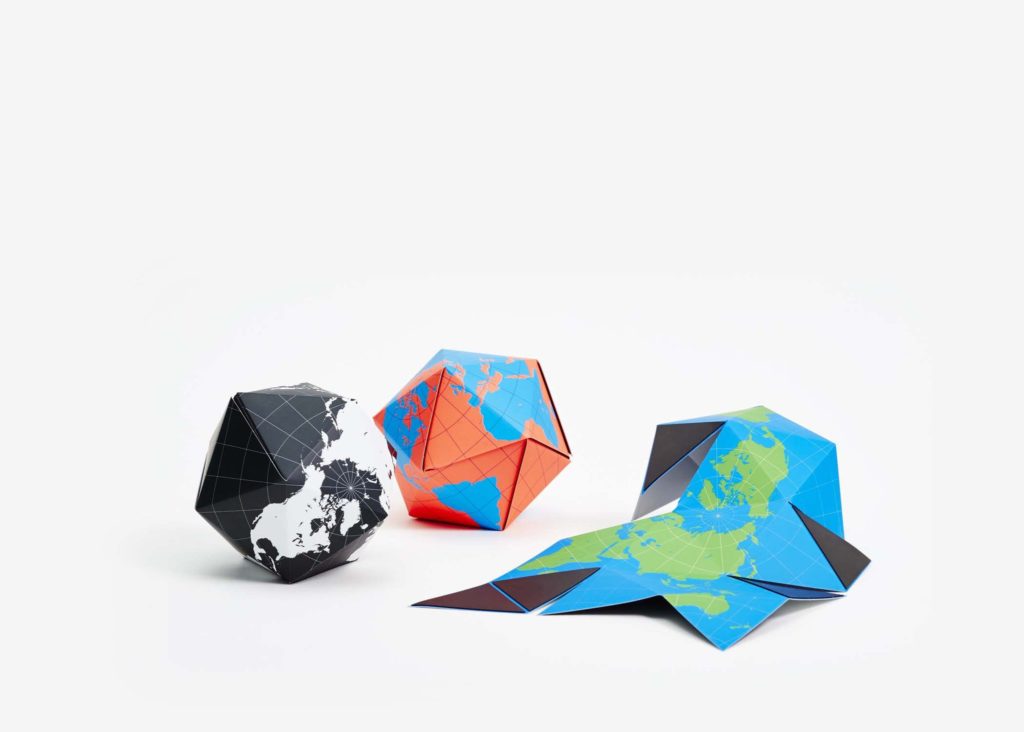 Ok. This is probably one of the coolest gifts for a true GeoGeek. It's a magnetic folding globe folding and unfolding in Fuller's projection. Every map addict will love it.
2. Compass by Silva – $16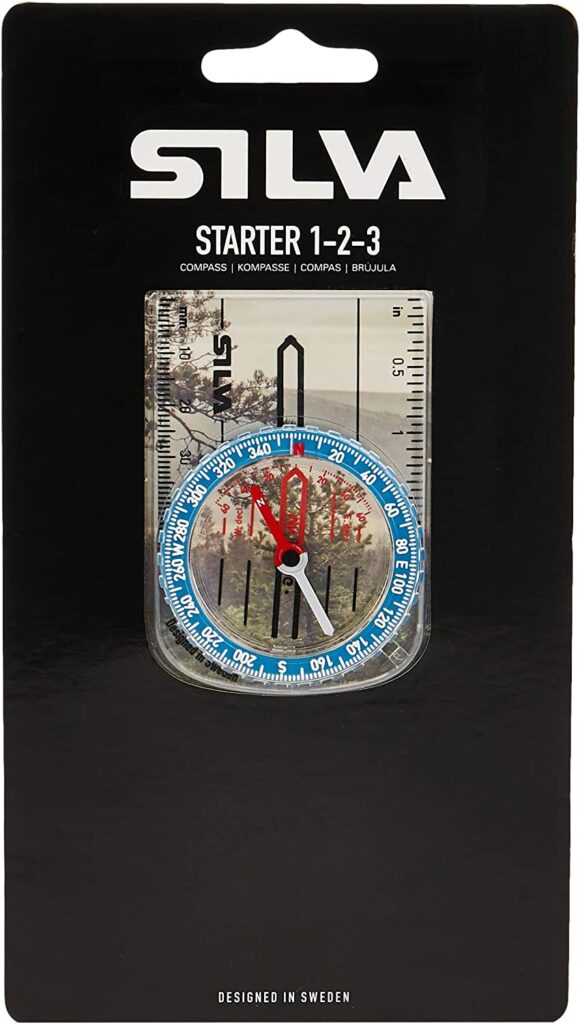 Compass is something that everyone would like to use but only few really know how to do it. Your Map addicted beloveds will surely be thankful for giving them a chance to actually learn how to use it.
3. Buff – $17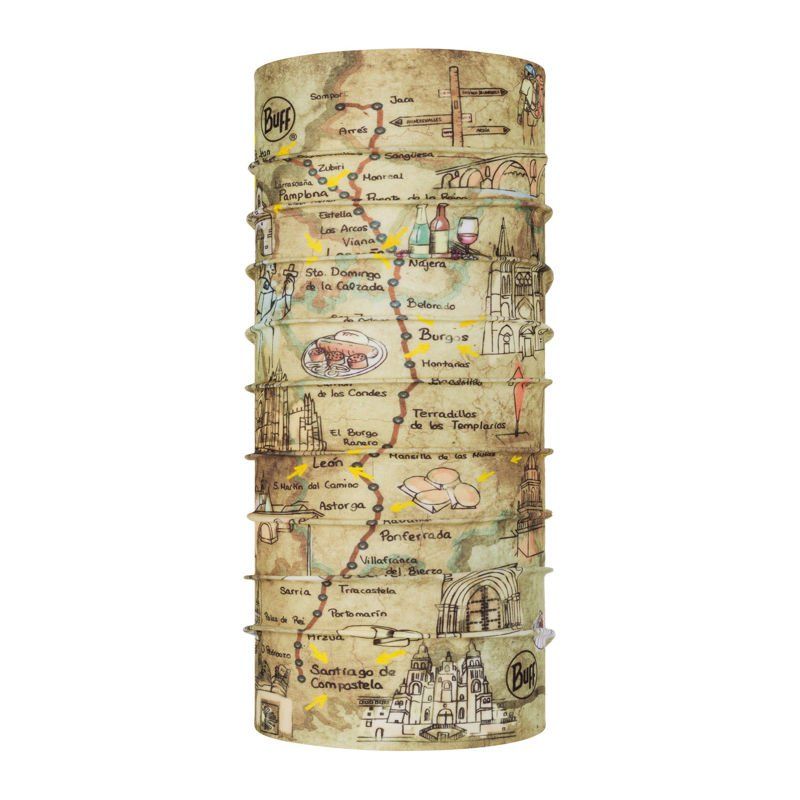 BUFF is the most versatile piece of travel gear that you'll ever own and should be in everyone's backpack or suitcase. Any GeoGeek will appreciate Buff with a map design. This particular shows a map of Camino de Santiago which is the famous network of pilgrimages leading to the shrine of the apostle Saint James the Great in the cathedral of Santiago de Compostela in Galicia in northwestern Spain.
4. Maps – map atlas for kids – $18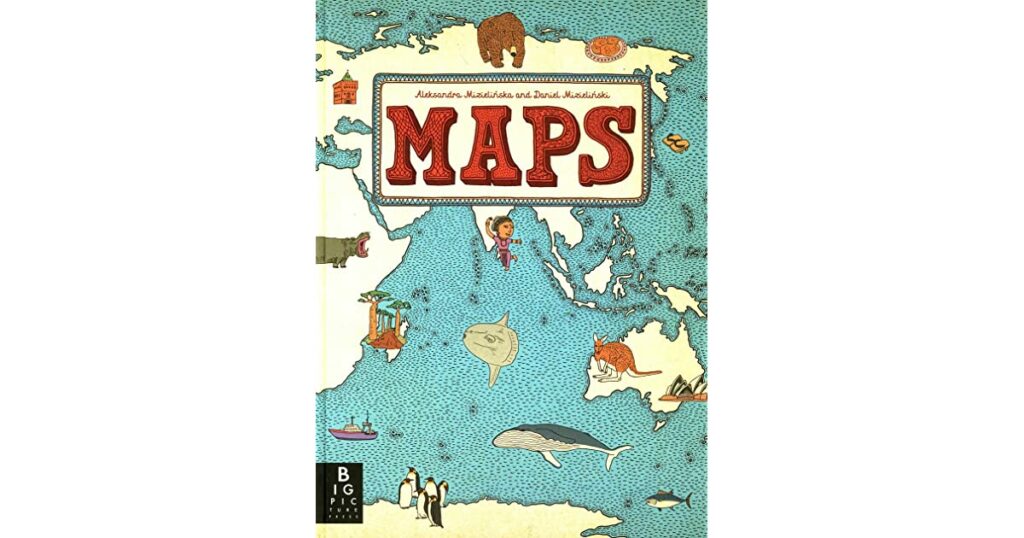 Much more than an ordinary atlas, this book of maps is a visual feast for readers of all ages, with lavishly drawn illustrations from the incomparable Mizielinskis. It features not only borders, cities, rivers, and peaks, but also places of historical and cultural interest, eminent personalities, iconic animals and plants, cultural events, and many more fascinating facts associated with every region of our planet.
5. Overview: A New Way of Seeing Earth – $20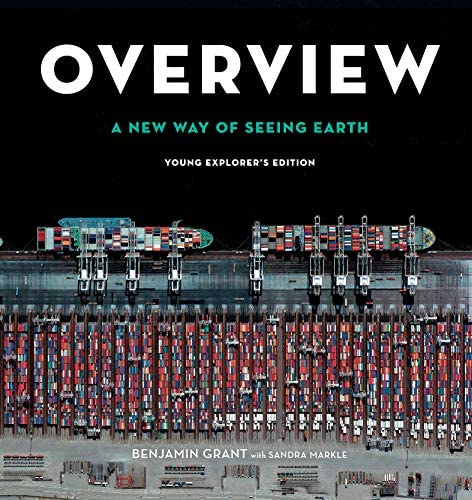 Discover Earth as you've never seen it before, in this stunning and unique collection of satellite images that offer an unexpected look at our planet.
6. Here by me – The personal globe – €26
The Personal Globe by Palomar is a unique gift for globetrotters. It allows you to trace your personal travel experience (or where you want to travel!) by coloring the countries in red to say. A soft core red pencil specifically for textured paper is included.
7. World Map Coloring Tablecloth by Uncommon Goods: $30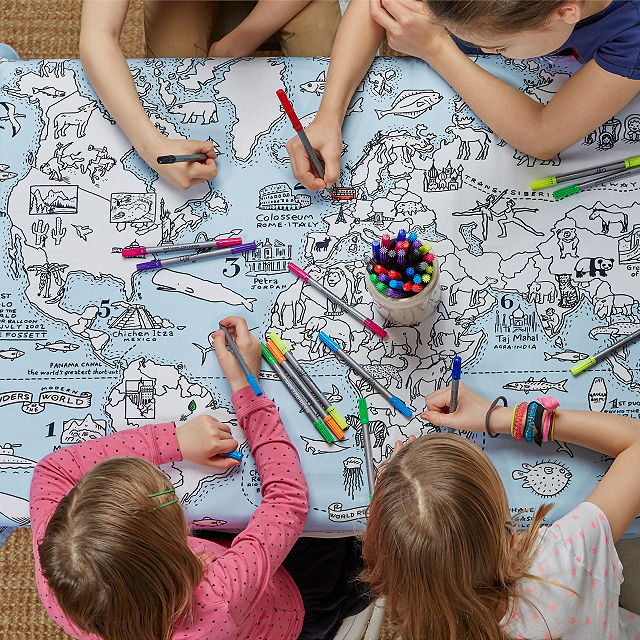 If you are looking to spark an interest for geography or maps in a young member of the family, this illustrated tablecloth could be the perfect starting place. It doesn't matter if your little one hasn't been to Machu Picchu or the Taj Mahal yet, but they could get a peek at the wonders of the world next time they travel to the dinner table!
8. Animal World Map Duver Cover from Zara Home – $49.90
This cool duvet cover made of 200-thread-count cotton percale features a world map design and the animals which live in each part of the world. Any Geoawesome kid will love it.
9. Sigg map water bottle – $50
Simple gift but every GeoGeek will love it. You can search for your design online or buy one here.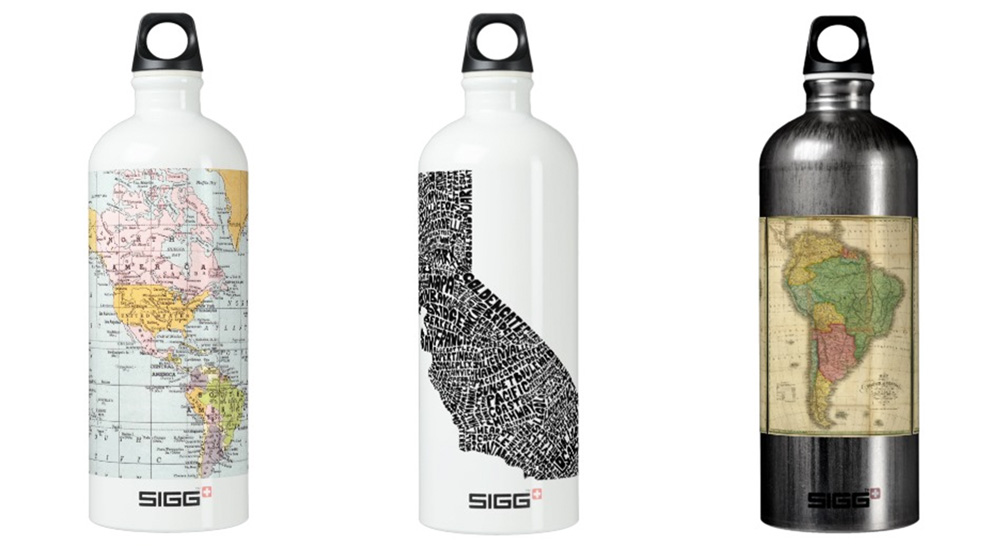 10. Awesome maps – $69.90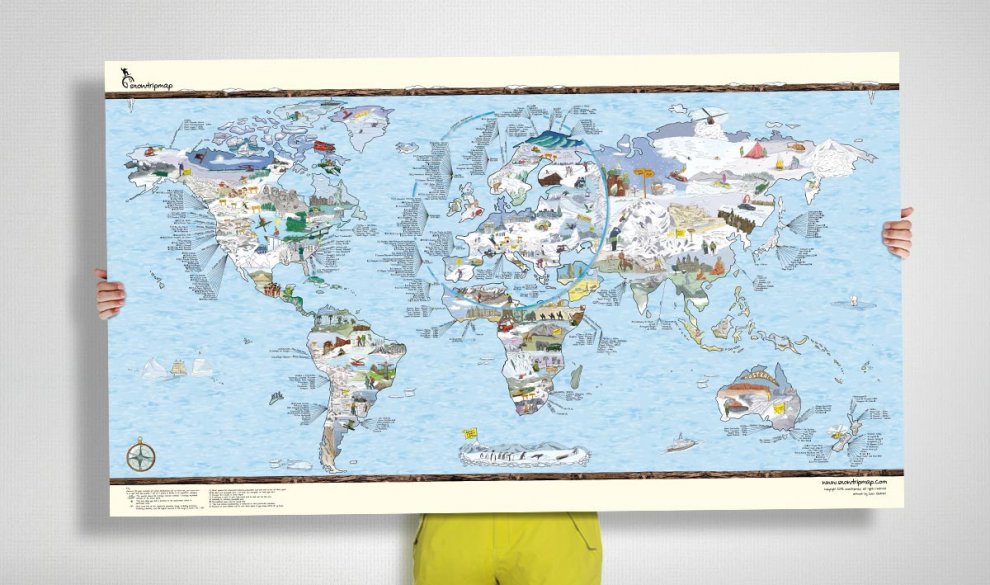 World maps used to be inspiring pieces of art. Now they're boring. Awesome Maps are dealing it that problem with a series of great, illustrated map posters. If you don't have big bucks to spend this is a gift that will be appreciated by every GeoGeek.
11. Wooden Magnetic Wall Map from BeWood – €297.94
Bewood wooden magnetic map is a special product which enriches every space with a style and visual depth. It will be appreciated by any GeoGeek and traveller. You can also check out other Bewood wooden map products on their website.
12. Garmin inReach Messenger Satellite Communicator – $299
This easy-to-use satellite communicator provides messaging and security when outside of cellular coverage. Great guide to geospatial explorers.
13. Skydio 2+ – $899
The Skydio 2+ ups the autonomous flight game. It shines when it comes to videography in terms of obstacle avoidance and brilliant cinematic shots.
14. Globe from Bellerby & Co Globemakers – £10,910.00
Bellerby & Co are the creators of the world's finest bespoke handmade globes from London. If you've got unlimited budget, this is the most classy way to go.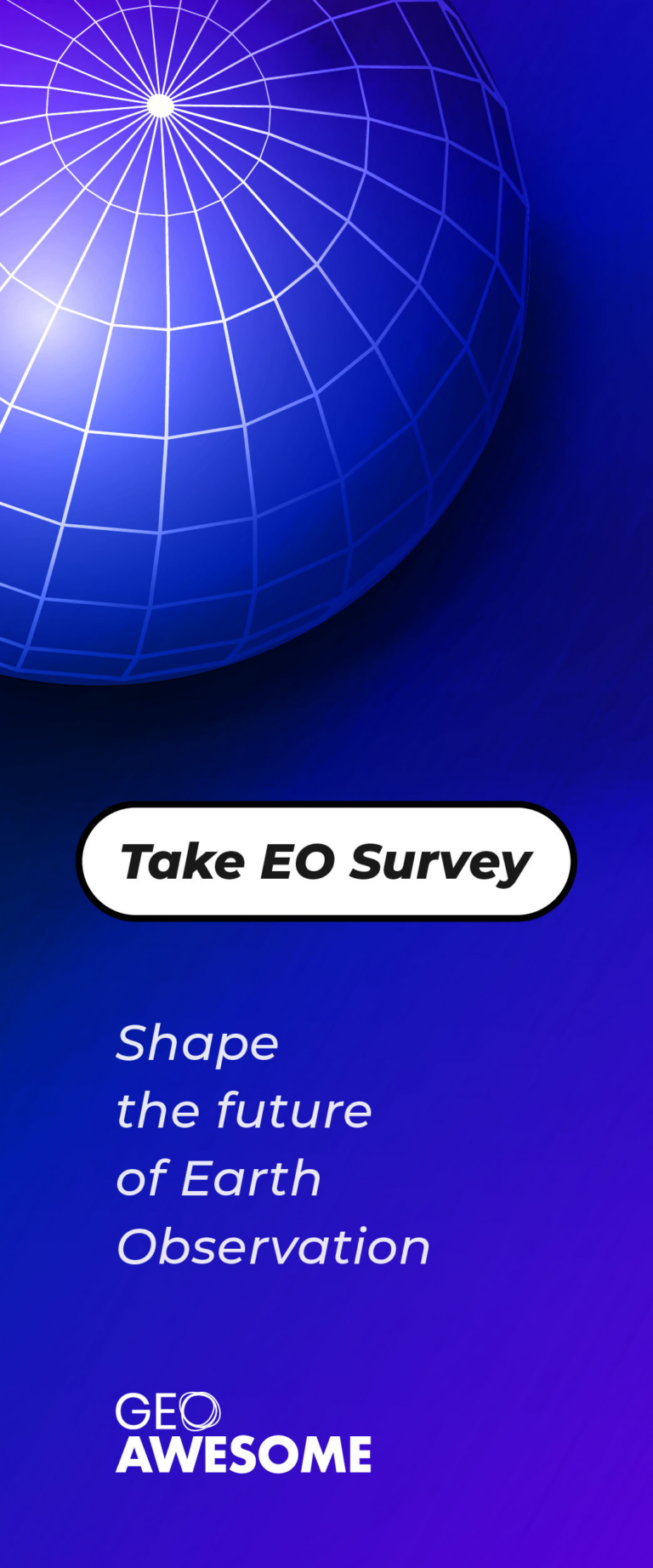 Read on