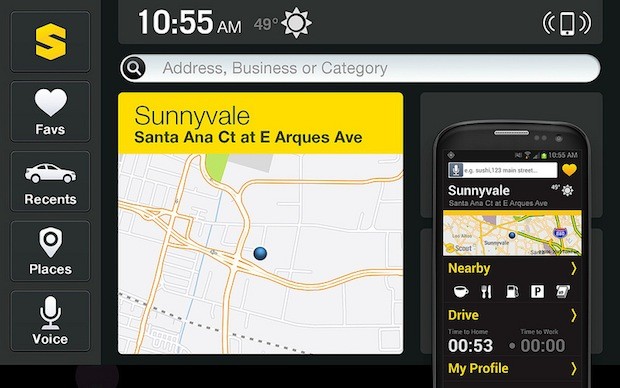 #Business #Ideas
Telenav Brings Integration Of In-dash And Smartphone Navi Apps.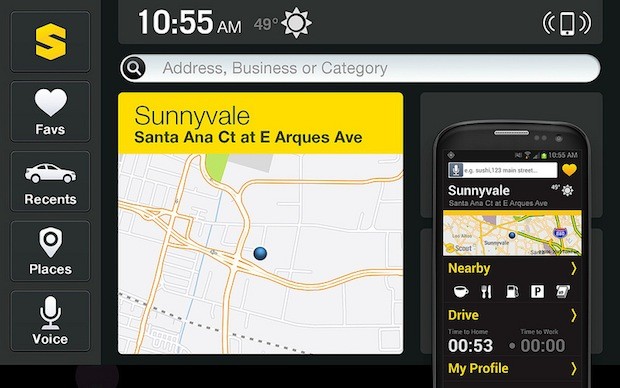 This week Telenav presented a pretty cool concept that I haven't seen at his scale never before although it seems pretty simple and straightforward – Integration of your smartphone and in-dash navigation system in your car. What it essentially give you is to sync your favorite locations, trip history, and commute times between the computer, phone, and car and launch the in-dash navi from your smartphone.
One could say that it's not much but somehow it's cool concept. It leverage the fact that you often check route on your computer, that while going to car type in all the street names and number and than once GPS connection is enabled you use your smatphone navi. Now, you simple check the route on your laptop and add the location to favourite, than start the app and select that location, and once you're in the car it will automatically launch the app and present you content on 7 inch navi screen.
Might be useful isn't it?
source: Slash Gear
The community is supported by:

#Business
Next article
#Ideas
Online Mapping and Security: Spain might limit access to online maps
Google Mapathon in India ran into a controversy earlier this year when a Member of Parliament in India claimed that Google has violated the Indian Law by mapping defense establishments. Indian Law does not allow any other agency apart from the Survey of India to map areas that belong to defense establishments and other Government establishments like the Parliament.
Now the Constitutional Commission of the Spanish Congress is set to discuss a non-legislative proposal made by the Popular Party regarding access to online maps in the country. The proposal has been made in order to protect the country from Terrorist strikes; according to the party, online maps and GIS services can be used for undesirable purposes.
According to NewEurope "However, the group explained that terrorism doesn't exist because of these new cartographic technologies, but they can make it easier the development of these actions if "the diffusion of the data is not well protected."
Source: NewEurope
Read on