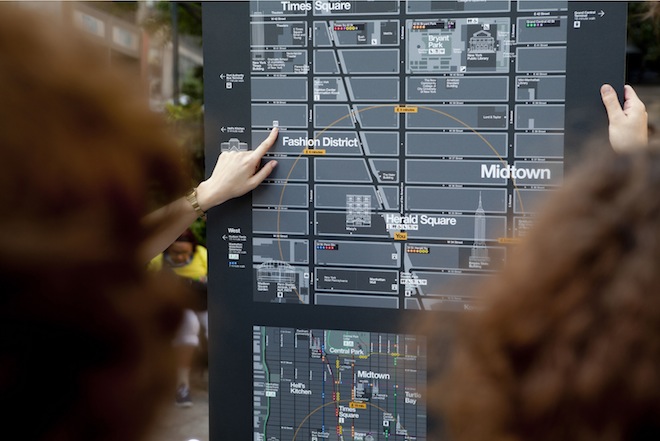 #Featured #Ideas
Somewhere Between Design And Cartography – New Pedestrian Maps In NY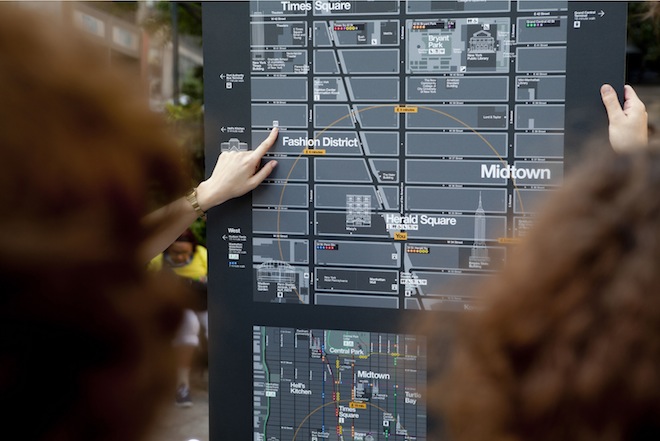 I believe that readers of Geoawesomeness are never lost… especially in Manhattan where most streets are simply a numbered grid. Nonetheless having difficulties in finding their way is a common problem for most of regular, mortal human beings (even in New York). In fact study says that 10% of New Yorkers are lost at any given time.
This year the New York City Department of Transportation (DOT) prepared something for them and for us – a new program of pedestrian maps called WalkNYC. 'The other people' will get a new set of city maps that will make it easier to navigate the city streets and find nearby interesting places. What we will get are beautiful  maps that are a combination of cartography, great design and well-thought-out user experience.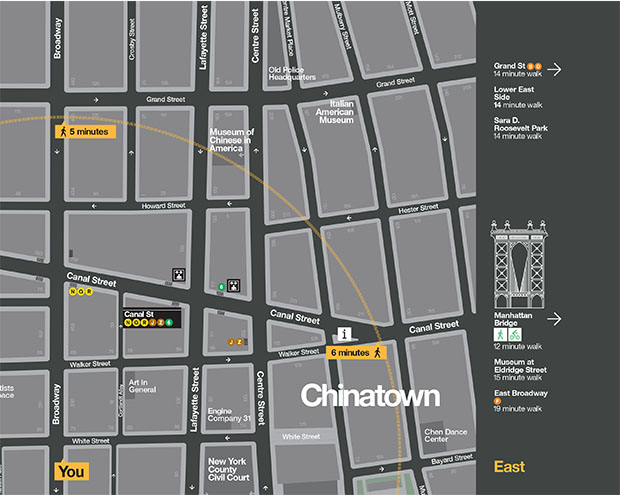 The maps are designed to encourage people to walk, bike and use public transit, and feature all local streets and major landmarks and destinations, as well as bike lanes. Kiosks displays a large map of the streets with a 5-minute walking distance marked as ring, and another map showing the area in relation to a larger section of the city. This is cool but we've seen it on many city maps.
But there is one feature which corresponds to the experience of mobile maps rather than old school analogue cartography… The orientation of the maps! WalkNYC uses heads-up orientation rather than north arrow which is one of traditional mapping dogmas. This mean that the orientation of the map corresponds with the direction the user is facing. This is a smartphone-like approach but I love it and it actually makes a lot of sense (similarly to mobile maps).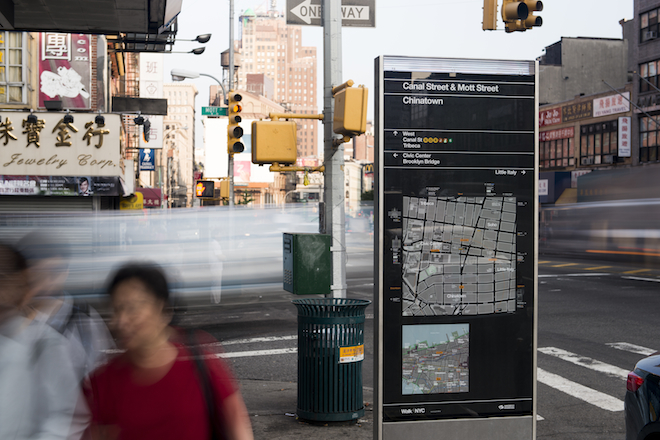 I also like the unique system of icons which includes the drawings of the landmark buildings. Such a representation makes it much easier for people to get a clue where they are. The custom version of Helvetica font family looks modern but it was designed to relate to NY metro maps from 60s'. And I must say that it works. There is something familiar about these maps. I feel like I've seen them before.
The maps are already installed on 300 kiosks of the CitiBike system. They will be located near subway stations, business districts and other high-traffic pedestrian areas, and the DOT is working with the Metropolitan Transit Authority to install the new maps in subway stations and at select bus service stops.
WalkNYC – one more reason to visit New York.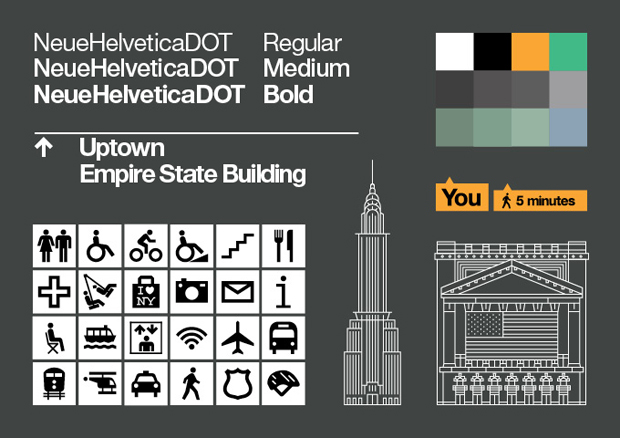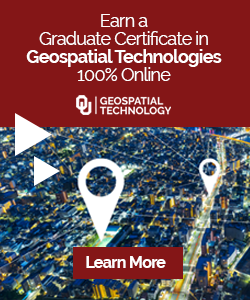 The community is supported by:

Next article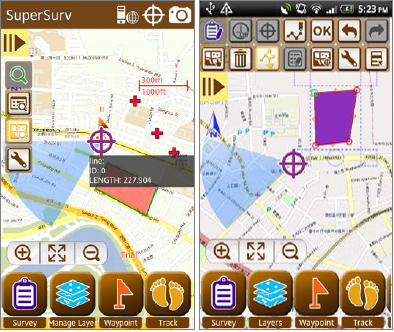 #Business #Ideas
Updated Supergeo mobile GIS for high definition devices
Supergeo Technologies belongs to one of the global companies in providing GIS software and solutions. The new mobile GIS software version SuperSurv 3.1a now supports high definition mobile Android devices. It will be also available for iOS users in the Apple Store.
SuperSurv was developed to accomplish field tasks including data display and manipulation functions, enabling field workforce to capture data, position, overlay maps, as well as edit map service published by SuperGIS Server online. The collected data features (polygons, points, lines) can be saved in commonly used vector formats like *.shp and *.geo.
The newest version of Supersurv 3.1a primarily enhances the connection of SuperGIS Server 3.1a, which permits users to edit, query and measure features online and to synchronize the update feature and attribute data with the server. Also, Online Map Tool in built in SuperSurv 3.1a to support OpenStreetMap as reference basemap for field surveys. To efficiently display the attribute data in different languages in other GIS applications, code page can be added while users are creating a new layer.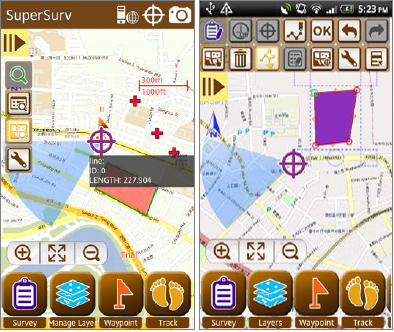 The built in Online Map Tool provides webmaps such as OpenStreetMaps or Google Maps and is able to adopt them for spatial data collection without pre-generating cache-maps.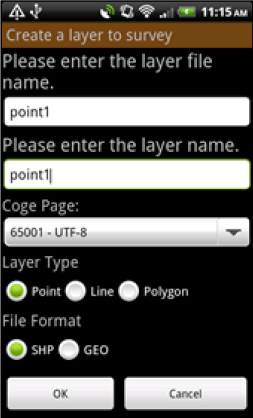 Code page settings are also added in "Creating a new layer". This function facilitates spatial data collection globally, when the attribute data in different languages can be read and applied easily. 
Supergeo Technologies: Supersurv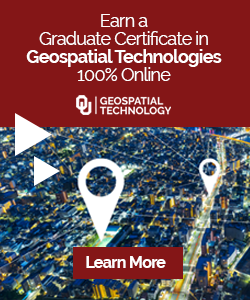 Read on