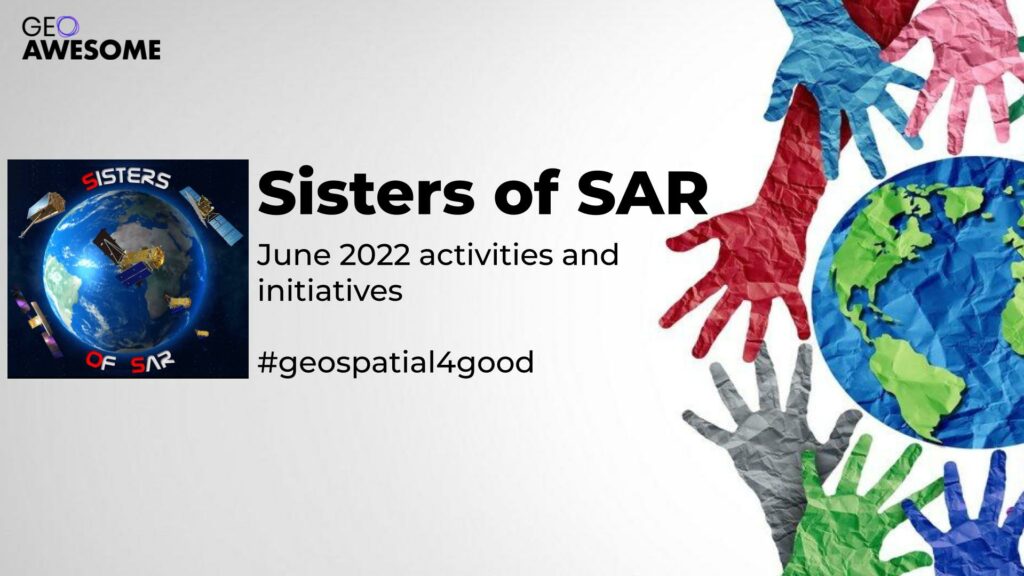 #People
Sisters of SAR – Summary of activity – June 2022
Building a more diverse, inclusive, open and welcoming geospatial industry is all about giving a voice to a more diverse group of geospatial experts and it's a pleasure to showcase SistersofSAR and the all the awesome work they do!
If you are wondering about Sisters of SAR and what they do, then please check out this introductory article on "Sisters of SAR: vision and mission".
Here's what Sisters of SAR have been up to this June.
SAR Facts on Mondays
Training info on Tuesday
Diversity highlights on Wednesday
Pictures on Thursday
SAR stars
#SAR_Facts:
?#SAR_Fact Monday! ⁉️DYK a vector is an ordered list of numbers either in one row or column & a
"Wave vector" is the simplest way to describe wave polarization mathematically! #TheMoreYouKnow #EOChat pic.twitter.com/tXBRt0lnAE

— Sisters of SAR (@SistersofSAR) June 6, 2022
?#SAR_Fact Monday! ⁉️DYK span is a quantity giving the total power (intensity) received by the channels of a radar system? In the #RADARSAT2 span image from Spring 2016 Manitoba ??,we have low span in bare agricultural fields & high span in mixed forest & shrubs area. #EOChat pic.twitter.com/EV0pbaAmnB

— Sisters of SAR (@SistersofSAR) June 13, 2022
?#SARFact day!! #DYK⁉️#SAR systems can have different polarisation configurations? #Singlepol transmits & receives a single polarisation, mostly the same direction, resulting in a HH or VV imager (first designation is the transmit & the second is receive direction) /1 #EOfact

— Sisters of SAR (@SistersofSAR) June 20, 2022
#TrainingTuesdays:
?#TrainingTuesday! Looking for a quick explanation of #SAR? @NASAEarthdata "backgrounders" provide a good overview on #SAR & other #remotesensing topics! ➡️Check them out today! https://t.co/saQzSwrNcQ #TheMoreYouKnow #EOChat #GoldenAgeofSAR

— Sisters of SAR (@SistersofSAR) June 21, 2022
?#TrainingTuesday! Here's a new tutorial using #SNAP to create #interferograms on @YouTube by @hotongminh! https://t.co/QaIyXwsfnT. Looking at the #BAM #earthquake in 2003. #SAR #InSAR #TheMoreYouKnow #EOChat

— Sisters of SAR (@SistersofSAR) June 14, 2022
?#TrainingTuesday! Here's another #GEE tutorial on #Sentinel1 processing — #changedetection with #SAR https://t.co/1fHRMxIMdD #TheMoreYouKnow #EOChat

— Sisters of SAR (@SistersofSAR) June 7, 2022
#DiversityDay Wednesday's
#DiversityDay! Today we highlight @STEM_Gender who provide "news, research & insights on addressing & improving equality & diversity in research, academia &industry in STEMM fields."?Give them a follow & check them out today! #DiversityandInclusion #EOChat

— Sisters of SAR (@SistersofSAR) June 22, 2022
?️#DiversityDay! Today we highlight @AAUW -"American Association of University Women" – who have been "advocating for women and girls since 1881 & into the future"! ?Give them a follow & check out their website today! https://t.co/dNuUh2TxJO #WomeninSTEM #WomeninSAR #EOChat

— Sisters of SAR (@SistersofSAR) June 15, 2022
?️#DiversityDay! Today we welcome @DamesOfDrones who celebrate #WomeninRemoteSensing who are using #drones for #mapping & data collection! ?Give them a follow! ?Welcome to the family! #StrongerTogether #WomenUpliftingWomen #WomeninDrones #EOChat

— Sisters of SAR (@SistersofSAR) June 8, 2022
?️#DiversityDay! Today we highlight @WomenofWaves who are "reaching out to all women passionate about lidar". Brand new to @Twitter & looking to create a space for the #LiDAR folks out there! We ? #WoW?Give them a follow & check them out today! #WomeninRemoteSensing #EOChat

— Sisters of SAR (@SistersofSAR) June 1, 2022
#PictureDay Thursday:
?#SARisbeautiful ?#PictureDay #GoldenAgeofSAR #Sentinel1 https://t.co/jWm5r8mpfo

— Sisters of SAR (@SistersofSAR) June 2, 2022
#SAR_STARs
1/6⭐️#SAR_STAR @abarenblitt is a #DataAnalyst for @NASAGoddard & #ESSIC (Earth System Science Interdisciplinary Center) in @EarthToLola's lab & she's a #PhD student at @UofMaryland ?Give her a follow & ⬇️read on! #WomeninScience #EOChat pic.twitter.com/LS3IgZEiS3

— Sisters of SAR (@SistersofSAR) June 24, 2022
(1/5) ⭐️#SAR_Star! We feature @goanonthego, Technical Project Manager at @sparkgeo & the creator of the #podcast #SARtastic Beasts & Where to Find them. Before #SAR, she worked in software product development & marketing for over 12 years. Give her a follow! #WomeninSAR pic.twitter.com/8lpr5tDQxs

— Sisters of SAR (@SistersofSAR) June 17, 2022
[1/4] ⭐️#SAR_STAR @vpllactayo is a researcher at @InaigemPeru. Her research focuses on determining the effect of #precipitation in mass-balance gradients on the glacier Huaytapallana ??. ?Give her a follow & ⬇️read on! #WomeninSTEM #EOChat pic.twitter.com/dFSFVxGfNE

— Sisters of SAR (@SistersofSAR) June 10, 2022
(1/5)⭐️#SAR_Star! We feature @SimonettaCheli, Director of @ESA_EO & Head of #ESRIN?️. Born in Siena??, she studied #Law & #Economics @Yale, #PoliticalSciences at Univ Cesare Alfieri & has a DEA from Centre d'Etudes Diplomatiques et Stratégiques. #WomeninRemoteSensing #WomeninSAR pic.twitter.com/XNjRrUokAP

— Sisters of SAR (@SistersofSAR) June 3, 2022
Additionally:
@ant_dasgupta joined the Sisters of SAR's organising team on June 15!
?Welcome to ⭐️#SAR_STAR @ant_dasgupta volunteering to help @SistersofSAR! She's bringing us fantastic ideas & helping us grow!!! ?Look for new initiatives coming soon!! #WomenUpliftingWomen #WomeninSAR #EOChat

— Sisters of SAR (@SistersofSAR) June 15, 2022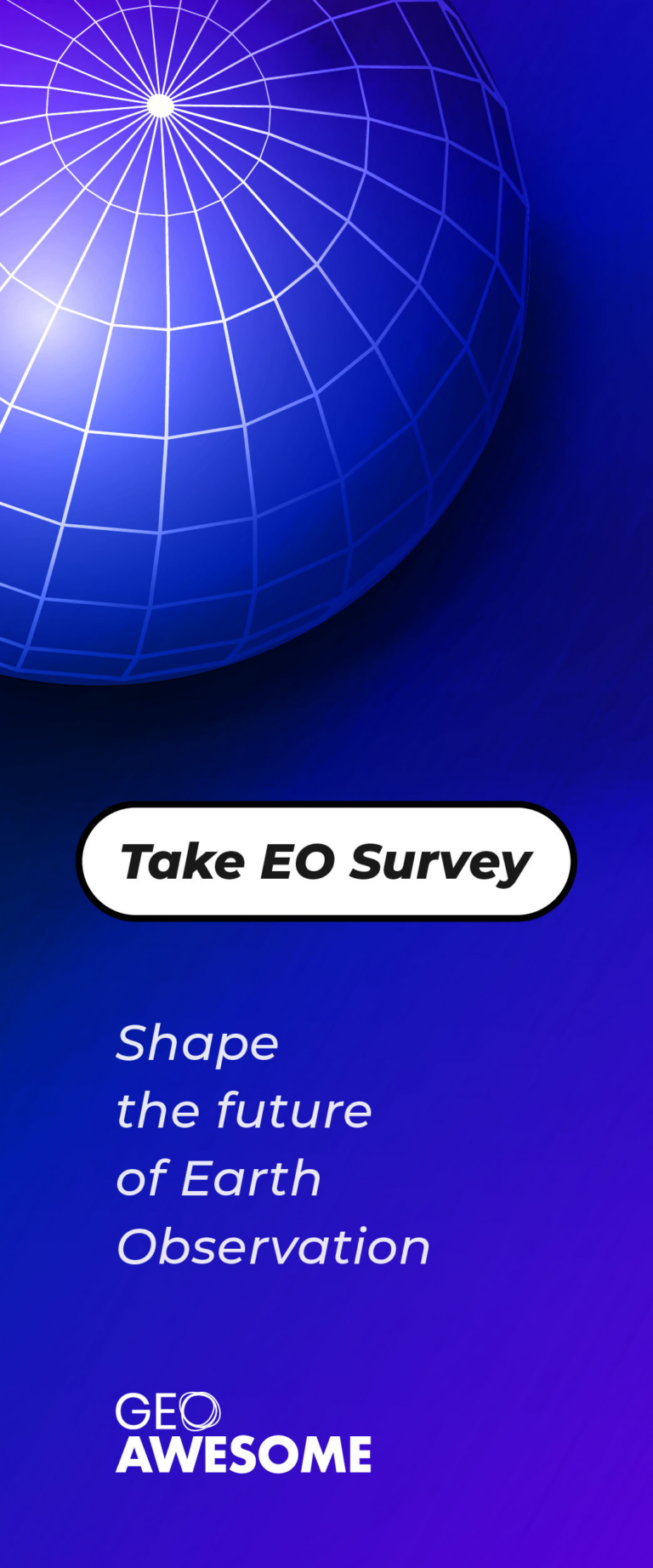 The community is supported by:

Next article
#Business #Featured #People
Global GIS Jobs Report 2022
We live in the digital age where we do our online research, then we choose our path.  We do this in everything we do like choosing a vacation, selecting a college, or pursuing a career.  If you are thinking of entering the GIS field or progressing further with your career in GIS, then this report is sure to help.  We surveyed Indeed for the top 25 countries and there are currently 36,257 jobs available that are asking for GIS skills. A summary of GIS salaries shows that the average is USD $72,995/yr but earnings rapidly increase with developer and administrator skills.  There are 5 key reasons this industry will continue to grow and offer opportunity to anyone that wants to learn GIS as a technical upskill to their discipline studies (e.g., environmental, biology, planning).  If you need encouragement, there are lots of welcoming people in our industry.  Or book a time with us and we'd be happy to talk.
GIS jobs near me: distribution by country
Who is hiring and where are the jobs?  GIS is used across the board in most municipal, engineering, environmental, planning organizations.  We see opportunities for both employment or consulting jobs with these organizations.  Urban centers produce the most jobs with lots of building and environmental requirements.  Rich Serby, Geospatial Recruiter at Geosearch, talks about the in job opportunities with funding in the United States that will be used to address the financial rebound from a COVID stressed economy.  Asia Pacific growth of GIS is forecasted at CAGR 15.71% through 2028.  China has major investments in cognitive analysis for autonomous driving vehicles.  India has a growing National Smart Cities program launched in 2019.  Meanwhile, the European GIS market has a projected CAGR of 7.1% through 2027.  This is evidenced by programs like ESA and the French SPOT program with benefits to measure climate change.
Sustainable development and alternative energy are areas demanding GIS analysis and the professional talent to support projects. It's a good sign to see consortiums like the United Nations Geospatial Network which has the mission to address global challenges regarding the use of geospatial information.
| | |
| --- | --- |
| Country | Number of GIS Jobs |
| Australia | 471 |
| Austria | 204 |
| Belgium | 320 |
| Brazil | 303 |
| Canada | 935 |
| China | 474 |
| Denmark | 131 |
| Finland | 14 |
| France | 212 |
| Germany | 2,745 |
| India | 518 |
| Ireland | 122 |
| Italy | 304 |
| Japan | 2,138 |
| Netherland | 828 |
| New Zealand | 259 |
| Norway | 715 |
| Singapore | 128 |
| South Korea | 116 |
| Spain | 231 |
| Sweden | 357 |
| Switzerland | 220 |
| United Arab Emirates | 38 |
| United Kingdom | 1,078 |
| United States | 23,396 |
| Total | 36,257 |
GIS positions and roles
As we read through hundreds of these job announcements, it was evident that there were jobs in many industries that were requesting GIS skills such as: healthcare statistician, forester, and real estate specialist.  This skill could be layered into the job requirements just like the need to know CRMs, databases, or graphic design.  But let's focus on the key geospatial roles that are typically found in GIS departments and are the center of data management, analysis, and visualization. We see job offerings all across the board. And the high numbers of GIS analysts/specialists are what we would predict as they do the majority of the data prep and analysis. But their responsibilities are growing as a lot more customized web development is needed as geographic applications become the ultimate access point to the data for larger audiences. The main area of surprise is GIS in support of marketing and sales. These could very well be GIS analysts that are asked to work with their marketing teams to produce GIS products that can be very compelling graphics to win business.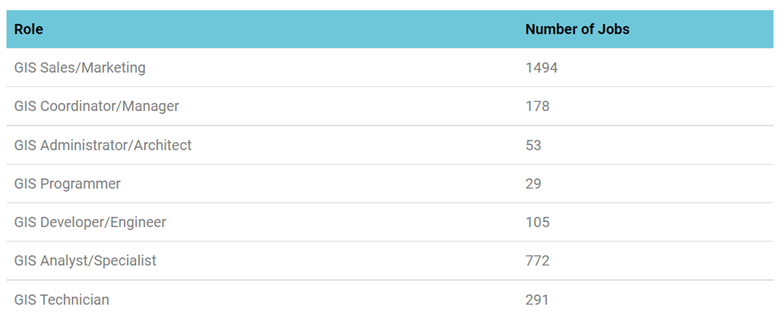 GIS experience: requisite levels
Everyone is somewhere on the spectrum of professional experience. If you are new to GIS, consider that the entire tech sector is full of upward mobility. This is because your efforts to add current technology to your portfolio can be more appealing than someone who learned the technology 10 years ago and might be outdated. Before choosing your learning route, look at the ROI seen in Masters in GIS or with getting a GIS Certificate. Some of the best GIS architects we know did not have geography degrees, but they had a desire to learn and jump into projects. In the upper experience levels, we see requests to know web GIS, system integration, and agile management skills. Everyone now has the recurring task to learn more. Here is a breakdown of the percentage of  jobs falling within various experience levels.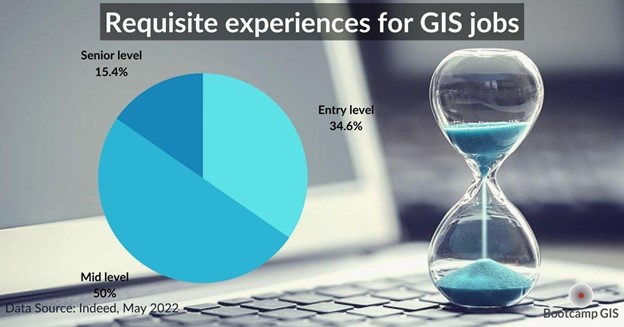 GIS software most seen in job announcements
Universities typically don't like to be known as trade schools.  Especially in tech where the tools change all the time.  Even large government organizations count on its staff to figure out their own training needs.  In both cases it becomes the responsibility of the enduser to stay on top of what is current and pursue the know-how.  Here are the most commonly requested software packages related to geospatial roles. Of note is the nearly equal AutoCAD and ArcGIS numbers. Both have different needs, dominant followings, and intersect in many projects. Whichever world you play in, it is a marketable advantage to say you have experience in converting data to and from CAD to GIS.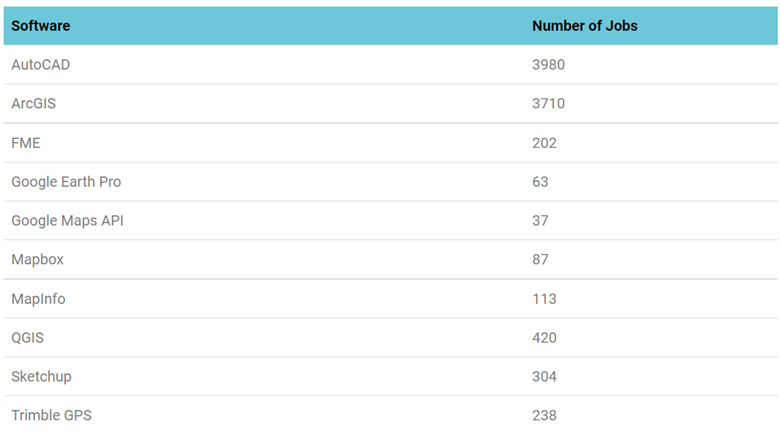 Geospatial technologies most in demand
One of the reasons GIS has grown in scope and number of jobs is its integration and blend with other technologies.  The person that can architect the 'map system' rather than just the map is extremely valuable. This definitely means you need to double time your DIY learning in 2 or more areas like you can see in the need for cloud/GIS skills.  This blend of GIS with IT might require you to look at a GISc Certification program. However, the biggest surprise is the huge number of jobs asking for Data Science skills. This goes along with the large number of Python requests, since this scripting language is used to write routines and models to automate the extraction of data trends. Those of you that have portfolios blending GIS/Cloud or GIS/Data Science will likely be rewarded with higher salaries.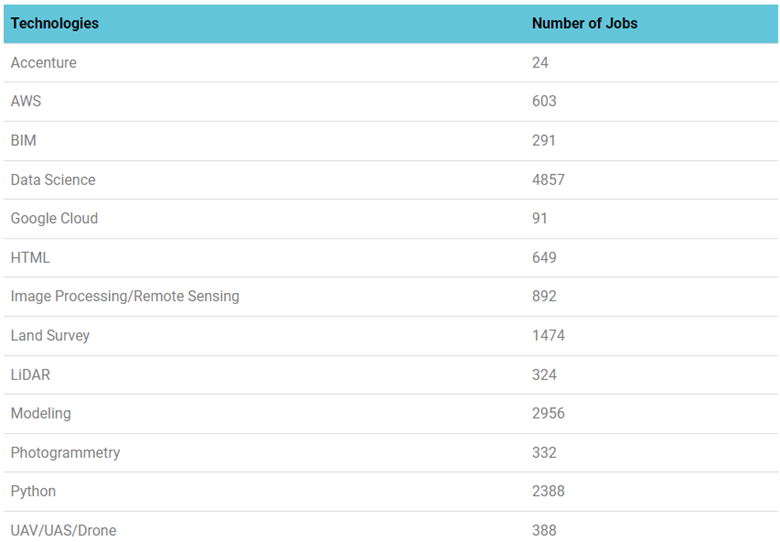 Remote GIS jobs
So you want to be paid to work remotely.  Are you crazy?  Oh wait.  It's a growing thing now all across tech.  Of course, the pandemic proved that IT consulting companies remained productive while staff was distributed.  But it's made hiring managers scratch their heads and say that this could be just as good for the company as the employee.  We can now hire people without the risk of moving them from their family, their accustomed cost of living, and without paying for extra office infrastructure.  There has been a 33% increase in remote GIS jobs and this number will continue to grow. With leaner tech business models, companies will be able to broaden their talent pool with lower turnover when they hire people who are comfortable with a work/life balance.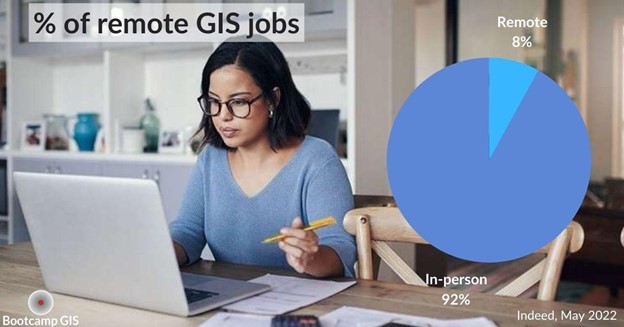 Conclusion: GIS skills are marketable
So there are your GIS job insights.  This info can arm you at making yourself more marketable by learning the right technical and analytical skills. If GIS is a new area to you, there are now many ways to learn GIS.  And if you want to look at efficient alternatives to getting a Masters degree, you can see this list of Top 10 GIS Certificate programs rated according to industry needs.  Ultimately this is the purpose of this report: to make sure that students and professionals direct their career where the rubber meets the road with industry needs.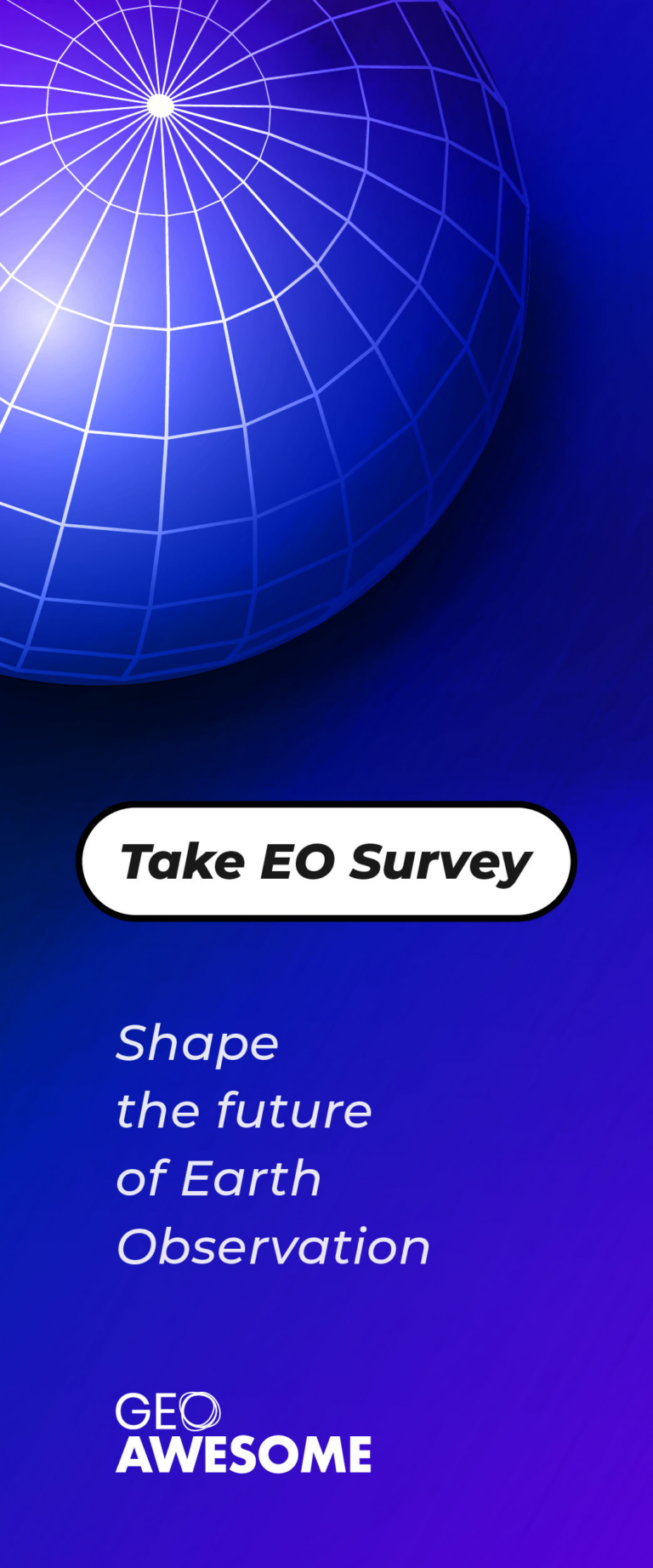 Read on